Hi, everyone, this is Gail. We have not been in touch in a while. Scotty has had a rather slow winter healthwise. He has not been ill, but he has been just cold and slow and not very interested in stuff in general, but Spring is coming and he is getting better already. He has been working on a blues project which we had mentioned earlier with Billy Swan, Boots Randolph, Bob Moore, Buddy Spicher, Bucky Barrett, Steve Shepherd, and Fred Satterfield. Scotty has been doing the recording and these guys have been making the music. They have 14 tracks finsihed and now have been offered a deal where they are to record parts of this and also some other material for a DVD to be shot live at Ground Zero in Clarksdale, MS, on April 15. I realize this is the night before Easter and the club holds 250 people, but we are trying to get a big enough crowd for the guys to play and record the entire DVD in one night. The tickets will be $25.00 (I think) and the entire show will be starring the above group. The DVD will be distributed first in Europe, where there is more of a market for this material, and also will be offered to the PBS stations and some cable channels that offer this music. You just don't know how good this stuff sounds!! These are a group of mastet musicians who have worked together for years, and they are so comfortable with each other that the music just flows out of them! I have had such a great time listening to the recording, and my one copy that Scotty gave me is not in sequence or clean-edited, but I love every bit of it, even the count-downs on the front of each take! They have selected old classic blues songs and done them in the way they want.....they have all written their own arrangements on the fly just as Elvis, Scotty, and Bill did on their early recordings before management stepped in and ruined their sound. You can not only hear great music, you can hear these guys having a good time. I'll be really glad if the companies which will be distributing the DVD will also want to distribute the studio CD, because this music is great and it will go on forever. Anyway, that's what's been going on with us and we hope to see at least a couple of hundred of you guys in Clarksdale at Ground Zero on April 15. Incidentally, one of the owners of the club is Morgan Freeman, one of my favorite actors. Don't know if he will be there for the taping, but I sure hope so....I'd like to tell him how much I admire him and his work. Thanks for all your prayers and good thoughts....he's getting older (74 now), but he's still hanging in there! love, gail
gail pollock
USA - Monday, February 27, 2006 at 19:47:09 (PST)
---
Hi, guys, so sorry I have not been in contact for a while. We have been running here and there and I just have neglected my duty. Scotty is doing very well, all except that right thumb with the arthritis. He has been working on a new project that is taking quite a bit of time, but is well worth it and he's looking forward to getting this stuff done. He is producing and engineering an album of classic blues favorites with our dear friends as the musicians. The singer is Billy Swan, and he sounds so great! He sounds more like 19 years that the early 60's that he really is. The sax is by Boots Randolph (of course!). He's just the best. He's 78, sounds better than anyone I have ever heard on sax (sorry, Ace!). The bass is our big old buddy Bob Moore, who replaced Bill Black on the Elvis sessions after Billy left and started the Bill Black Combo. He also played on more number ones and country music hits than anyone else I have ever heard of. He and Scotty have called themselves the Moore Boys for many years, and they still hang in there together. He plays his old upright bass, which is how a bass should be played. The guitarist is Bucky Barrett, Orbison's last lead guitar and also our friend of many years. Bucky and his fiancee went with us on our last European trip and were married in Stockholm. I am working on that page for Jim, and that story along with pictures will be posted shortly. The fiddle player is Buddy Spicher, and Scotty has long held him as the best fiddler in Nashville.....that's saying a lot! We're the capital of country music, after all! The keyboard player is our sweet Steve Shepherd, still our best friend and Scotty's right hand. The drummer is Fred Satterfield, who has been on almost every song cut at Scotty's studio. He's so good! Anyway, they have recorded about 10 songs, and they have one more session set before putting this together. We are going to try to get this on a label, as it is too good not to be heard. They are doing good old stuff like "She Called Me Baby All Night Long", "My Babe", "What Am I Living For", "Got My Mojo Working", and just a whole lot of great songs, done by great musicians. Scotty is loving it, and I get to cook for them! That means I can hear it being played, even before anyone else but the guys hear it. We have confirmed that Scotty will be playing at the Ponderosa Stomp again this year. The dates are May 9-10, and this year it will be in Memphis instead of in New Orleans. It will be a fund-raiser to help the musicians of New Orleans who have been flooded out of their homes and jobs. although this is not till May, there will still be a great need for help there for a long time to come, and Dr. Ira Padnos, who puts this on, knows the guys personally and knows how to do the most good with the money raised. He lives there and is in process of rebuilding his own home which was not flooded but had roof, wall and water damage. We are working on getting Scotty's wonderful English band (Pete Pritchard, Liam Grundy, Dave Briggs, Jimmy Russell, and singer Paul Ansell) over here for the shows.....we hope that works! Will let you know. Incidentally, in UK and Europe and also on Amazon, Scotty's DVD called "A Tribute To The King" which was done at Abbey Rd. Studio in London in December 2004, is now on sale. It is to be released here in the US also, but so far has not been made public. The English band is all over it! They work with Scotty in addition to Eric Clapton (Pete and Steve), Ron Woods, Albert Lee, and several other artists who were on the DVD. They also did five or six songs just as our group only, and Paul Ansell sang in front of the Bill Wyman band on a few songs. Our guys are great! Watch for them if you get to see the DVD. Well, that's all the news for now. We hope that you all are looking forward to being with friends and family for Christmas, and we hope you have a wonderful holiday, wherever you are! Love, gail
Gail Pollock
USA - Friday, December 09, 2005 at 16:30:26 (PST)
---
Hi, everyone this is Gail. We will be leaving for the Norway, Stockholm, and London shows soon. Please note that the new CD is now on sale.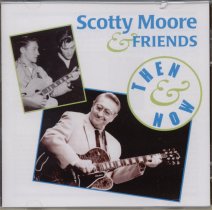 Since we will be gone for some time, any order received by July 25 will be shipped before we leave..this includes CD's, pictures, books, prints and picks. Any order received after July 25 will be shipped the last week of August. My favorite CD has always been "Moore Feel Good Music", but this one is gaining on it! There's some really fun stuff on this one, and it covers more than 45 years of Scotty's career. He's doing well, looking forward to our trip. Hope to see lots of you at the shows he's doing... best, gail
abagail pollock
USA - Saturday, July 16, 2005 at 22:25:53 (PDT)
---
Hello, everyone, this is just a note to tell all our friends in the UK how sad and horrified both Scotty and I are feeling about the terrible bombing in London. As you might know, we love that city and our dear band who live there, and in addition we have visited there so often that it's like second home. Our people there have done nothing to deserve this, and we are so sorry that they have to go through this. There was a great quote in the Nashville Tennessean newspaper today, just showing everyone how the great Brits look at this mess. It quotes Winston Churchill (rememember, they went through worse than this in WWII)-he said, "You do your worst and we will do our best." Isn't that great? And also I had a note from our dear Pete Pritchard about the situation. He said, "I blame the French, they are mad because we got the Olympics." How's that for our friend's best go-to-hell shot at the people who are trying to imtimidate the British? I love you, guys, and we will be over there in August to try to drink these guys under the table! Love, gail and scotty
abagail pollock
USA - Saturday, July 09, 2005 at 20:06:51 (PDT)
---
Hi, everyone, this is Gail. I have some great news about Scotty! He went for his last checkup last week, and the doctor told him that he's in the best shape he's been in for the last six years. And also, he said he did not know how it happened, but Scotty seems to have whipped his diabetes! He says it normally gets worse as you get older, but in Scotty's case, his blood sugar has been normal for a year, with only two pills a week to maintain the condition, and he has been eating what he likes, not necessarily what he's supposed to do! Isn't that wonderful? We are still in process of getting ready for our European trip. Have been sending material to the promoters and speaking to Pete Pritchard regularly as he acts as the tour manager and co-ordinates the stuff between our English guys and the respective promoters. We have had more company visit lately. Patsy Andersen, our good friend from Memphis, was here for a few days in early June. She was with Elvis Presley Enterprises for many years and now has her own company, My Celebrity, for promoting fan clubs and publicity for various artists. She was here during Fan Fair (or whatever the name was changed to) to contact some people. She stayed with me and we went over to Scotty's house several times. He loves her..and so do I! Last week I was visited by the cutest little person I know.. her name is Shmuela Padnos, and we call her Porkchop because that's the name given to her by her dear friend, Paul Burlison. She's the wife of Dr. Ira Padnos, who puts on the Ponderosa Stomp in New Orleans each year. She has been in the Nashville area going to the Mark O'Connor violin camp that has just finished at Montgomery Bell State Park last week. She also stayed with me. She is an artist and we went down to the show at the Frist Museum here in town and she was floored to see two paintings on display of two of her favorite Renaissance painters. She said that Ira could not believe that those painting were showing in Nashville, of all places! See, we're not total hillbillies! Anyway, we loved having Sam (another nickname -she has lots of them). And we are hoping to go back to the Stomp next year. Watch for the new cd on the order page. I sent the new stuff to Jim a few days ago, and the new CD was a long wait, but I love it! It's right up there with my all time favorite album, "Moore Feel Good Music". Thanks for everyone's prayers for Scotty....keep up the good work....you've helped make him better than he has been in six years! love, gail
gail pollock
USA - Wednesday, June 29, 2005 at 11:15:10 (PDT)
---
Sorry I haven't been in touch for a while. We have been busy. But I want to tell everyone that Scotty is fine, and is looking forward to the shows in Europe in August. WE need everyone who is going to the Stockholm shows to go ahead and contact ticnet.se for their tickets, as the second show on the 10th will be cancelled unless they have a good sale on the first show on the 9th. Their deadline is June 15, so if you have plans to come, check on the ticnet.se line and see what's available. I'm really looking forward to those shows. They are to be in the Rival Hotel, which is connected with the group ABBA, of whom both of us have been fans for years. I also have never been to Stockholm and as usual am looking forward to seeing some of your area there. (i'm the group tourist!) Miro Simic, who is putting on the show there, is sending some photos for the scrapbook and I'm writing up a piece about his and Oddweig (his wife)'s visit to my home last month and the wonderful time we had with a little jam session at Scotty's. We are both very excited about our trip to Europe in August. We will be in several different locations and also will be visiting friends in each place. Vidar will be in Norway, and we always love to be with that big ol' bear! He's just always laughing, you cannot be with him without having a good time. And the last time we were in Notodden, we had a great time. We will also be seeing Oddvar again. He put on Scotty's first shows in Norway, and we saw him when we were there four years ago. He has already said that he will be there. And also Olav and Torill. Scotty loves to hear her sing. In Stockholm we will also be seeing Ake Flodin, who has been a good friend for years and has several times visited us in Nashville and at Scotty's home. In addition, we hope to be doing some sightseeing with Miro and Oddweig if we have time. Of course in London that's like going home. We have Scotty's band and their ladies, and of course my Stella, Pete's wife and my near-sister. And I spoke to Karen McBride our friend from Manchester today. She is the one who made that great black-and-white photo of Scotty in Liverpool. She is coming down to London while we are there and also her friend Jenny who wrote an article for Guitar Magazine about Scotty a while back. She and Jenny are going to be there and hopefull Jenny will review at least one of the shows at the Jazz Club August 15 and 16 for the magazine. The first article was great! Our good buddy Jacques Vroom will be going over to London to be with us for Pete's birthday party and also the shows. He is going to actually stay with us for five days! We are truly looking forward to having some time to spend with Jacques. He is always on the go, and we just see him in passing most of the time. Also, my daughter Margi is going to go for Pete's party. She has become friends with Stella and Pete when they are in Nashville, and she is having a birthday during that time also, so we are taking her to dinner at a little Greek restaurant on her birthday. We have been to the restaurant before and we love it. Stella, who was born in Crete, says that the food is really Greek, so we are taking Margi and wishing her a happy birthday when she is there. We will be getting the printed material (FINALLY!) on the new CD and will have it up for sale in about a week. Look for it. As soon as I get something on it, I'll send it right to Jim for posting. This is a lot of info for today, but we haven't been in touch for a while. Scotty is doing well. Continue to wish him well. Love, gail
gail pollock
USA - Sunday, June 05, 2005 at 12:11:25 (PDT)
---
Hi, everyone, this is Gail. Scotty is doing well. He was visited yesterday by our friend Bucky Barrett (he's the very good-looking guitar player behind Roy Orbison in the Austin City Limits show). Bucky had Scotty doing some little overdub things on an album he is preparing. Scotty was doing bell-tones on "Jingle Bells" when I left. He was having a good time with Bucky. I want you all to look at the new piece Jim Roy has posted on the props for the new Elvis movie. Jim, you can fill in the name and the section on the website. He has done such a great job of consolidating the info on Scotty's Elvis's Bill's and DJ's instruments and equipment that he has become the authority on the subject! Isn't that great? He works so hard on this site, so everyone just stop and look at this and say, "Thanks, Jim"! We are looking forward to the trip to New Orleans in April. Billy Swan and a friend of his will be traveling down with us in the big Explorer that Ronnie McDowell and his friends and fans gave Scotty last August....that's on the Scrapbook. We are looking forward to going down, and Scotty will be playing with Billy, Deke Dickerson's band, and our friend Steve Shepherd on the show April 26 (Tues.) Just a note to say thanks to all and to say he's doing well! Thanks, Gail
Gail Pollock
Nashville, TN USA - Friday, April 01, 2005 at 19:01:46 (PST)
---
Hello, this is Gail. Sorry that my email box has been filled. If you have sent an order and received it back, it was because I have been away due to a death in my family. My dear cousin, Danny Brown, died in Atlanta last week. I was away for several days and my box filled up, mostly with spam, but it would not accept several messages. If you have a question or an order which was returned, please send it back. I have deleted lots of stuff and now have plenty of room. Scotty is doing well. He went for a checkup last week and was told that he is doing fine, no need to come back for 90 days. We have had requests for a number of interviews when Scotty is in New Orleans late in April. We will not be there for very long, probably only two days, which will have rehearsals and a show, so he probably will not have time to grant any interviews while we are there. Sorry, but he just has no extra time on this trip. Billy Swan will be accompanying us to New Orleans, and also Steve and Ella Shepherd will be going separately, so we will have pictures and a report after the trip. Last year we were not there. Scotty had just returned from England and his 14 show tour and was too tired to make it, but this year we plan to go and have a good time. Thanks for all your interest in Scotty's stuff. I will try to write more for the guest book and the scrap book in the future. God bless, Gail
Gail Pollock
USA - Monday, March 21, 2005 at 18:49:46 (PST)
---
Hi, I just wanted to let everyone know that Scotty is fine. Our friend Lew Skinner emailed us that he read in the March 9 Issue of Acoustic Guitar magazine about the tribute to the "late" Scotty Moore filmed in London last December. It's a misprint on the magazine's part and in case you wondered he is fine. We plan to have more info on that session at Abbey Road last year up eventually but it will have to wait for the moment. Thanks for the heads up Lew.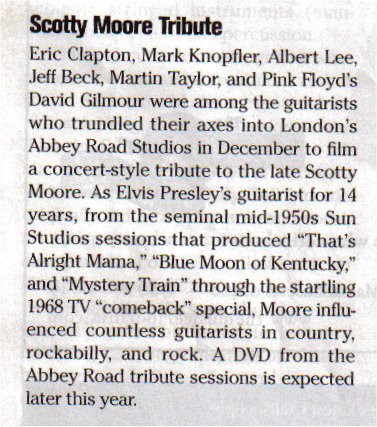 Scan from Page 22 of Acoustic Guitar March 9
James V. Roy
USA - Thursday, March 17, 2005 at 07:45:00 (PST)
---
Hi, everyone, due to the facts that I don't know what I'm doing on a computer and that I've changed my service, I have not had access to this site for a while. Scotty is doing well. He's got the music finished for the new CD, we are just doing the sequencing and label copy now. It's a killer....if you liked "Moore Feel Good" you'll love this! We hope to have it for sale shortly. Also, we have some new pictures ordered. As soon as we get them in, they will be posted also. There is something new in Nashville these days....our friend Nick Nixon has a little set every Wednesday night at the Gibson Showcase in Opry Mills Mall called "Nick Nixon's Blues Jam". We went to the first one, and it was really a blast. Nick and his group (which includes our good friend Steve Shepherd on keyboards) open the show with a few numbers, then anyone who wants to sign up at the beginning of the evening can come up and jam with the guys. They can play individually with the group, sing, or bring their own guys. The only rule is that it has to be blues. Scotty and I love it! I expect we'll be out there often. As many of you noticed on the site, Ella Shepherd's mother died recently. She wants you to know that she appreciates all the people from the guest book who sent their condolences. And this week, her best friend and our good friend, DJ Gross, also lost her mother. DJ is the one in the pink shirt fanning Scotty in the Scrapbook article on the Feel Good Mafia. So now we are crying with DJ. Scotty has not been playing shows lately...he had some trouble with the thumbs again, but we hope it will get better as the weather warms up....we are going to be at the Ponderosa Stomp again in New Orleans on April 26. We are looking forward to that.....Ira and PorkChop always put on a fun time for all. If you haven't been to that, and you can get to New Orleans during that time, be sure to come... it's old rock and rollers, old R&B players, and old jazz men....they just all get on stage and play together....it's the darndest jam you've ever seen, and a good time is really had by all!! Scotty is sending a note to the guest book today also. Thanks for all your letters and support for him...he will always be appreciative of all the fans who pray for him and tell him they still love the music!
Abagail Pollock
USA - Sunday, February 06, 2005 at 15:20:09 (PST)
---
Hi, this is Gail, just in time to tell you all that Scotty hopes all his fans has as good a 2005 as he had a 2004. He has traveled, played, met new people, been able to regain a lot of the memory and co-ordination he lost with the surgery last December, and all in all has really done so much better than in 2003 (BAD YEAR!) We went to London the first week in December for him to do a show which will come out as a tv program and a DVD at some point. It will probably be done first in Europe as it was a production done there with a French/German production company. We do not have details as to release, and Scotty has not yet got an approval copy, so we don't know how long it will be. It was a really good show...done at Abby Rd. Studio with lots of stars. I'll write up a story for the scrapbook about it. The last time I reported, we were going to a show here in Nashville with Bob and Kittra Moore Steve and Ella Shepherd, and our friend from Norway Vidar Thomt and his friend. We were going to a show at BB King's club here in Nashville starring our great friends James "Nick" Nixon, Bobby Cox, and Johnny Jones. It was a surprise to the guys that Scotty would be there, so I could not say it on the internet before the show. But it was the best R&B show I've seen in many years, and that's still my favorite kind of music...don't know how we will continue on with no Ray Charles in the world. Anyway, we had a great time and Nick, Billy, and Johnny were totally surprised when Scotty came in. They were on the stage and Nick was introducing the first song...he said, "Now we're going to play....Scotty Moore, what are you doing here?" I'll bet there was not a person in the house who could hum that tune! Again we want to thank you all for the good thoughts and messages this year. Hope next year can bring as many good things Scotty's way, and we hope you have your best year ever! Love, gail
Gail Pollock
USA - Friday, December 31, 2004 at 11:08:27 (PST)
---
Hi, everyone. I haven't checked in for a while....Scotty has been doing very well, and as quite a few of you know, has done several shows this summer and fall. We have also had a visit from our good friends Pete and Stella Pritchard from London. Many of you know that Pete is his road manager and bass player in England. They came over for a couple of weeks and we had a great time with them. A couple of weeks ago while Pete was here, Scotty went back into his studio and cut two more cuts for that everlasting "next cd" that we have talked about forever. We are just about there....he has 11 cuts, wants 12 for the finished product. The new one that I love is Billy Swan and Boots Randolph playing "Reconsider Baby" and has Pete on bass and Steve Shepherd on keyboards, along with Fred Satterfield on drums. IT IS A KILLER! Billy sounds like he is 18 years old, but as i have known him since 1974, I know for sure he's older than 18! Boots was wailin', guys! This new one might become my favorite Scotty cd past the "Moore Feel Good" which has been my favorite since we first pressed it more than 10 years ago. Scotty's and my friend, Vidar Thomt from Norway, will be in town tomorrow and we have some special plans with him, his friend and some other friends of ours. I'll tell you about that later. Thanks for all your letters and especially all your good wishes for Scotty and his further good health. Best, Gail
Gail Pollock
USA - Sunday, October 17, 2004 at 19:26:41 (PDT)
---
Hi, everyone, we just got back from Scotty's recording session with Paul Ansel, the singer who sings with Scotty in England. Paul has his own band, No. 9, and they came to Memphis to record an album here. The whole group got down about 4 songs that Scotty played on, and one of them, a song called Jody Lou, might be on Scotty's next CD, whenever that will be!!! They also did a version of "Kansas City" that was something like the one done on the UK shows, although Dave Briggs did the vocals in UK. It was fun, but we got bad news when we were there....Richard Davis, who was Elvis's bodyguard and stand-in for the movies, died very quietly in his sleep last Thursday. He was an old friend, and his wife Kim is also a good friend. They have two-year-old triplets! There is word about a trust fund or a show raising funds for the children's education, but we don't have firm word on that yet. We will let you know if that comes through. Scotty will play on the show if it comes off. He is doing well. We are both looking forward to not being out of town for a while. Pete and Stella Pritchard are to be visiting us from London in September, and we are both really looking forward to that. Pete is Scotty's bass player and road manager, and he also came here to play on Alvin Lee's album last year. He has been touring with Alvin, and I think he's ready for a vacation.....and Stella is always ready to have a good time, so we will be glad when they get here. Thanks for all your interest, and I'll be back in touch soon. Gail
Abagail <abagail AT bellsouth DOT net>
USA - Monday, August 30, 2004 at 15:40:55 (PDT)
---
Hi, everyone. It's been a long time since I checked in on this site....I lost my link and we have been out of town so much that it was a while before I told Jim to re-connect us. Scotty is doing so well.....actually better than any of us had expected a few months ago. First the guys in England took him in hand and gave him lessons in playing again, then he went back on the road with Ronnie, DJ, the Jordanaires and especially Ronnie's band (Steve Shepherd, Kevin Woods, and Wade Bernard look after him like he was their child). That helped him get back in the swing of playing again, and then he has been to so many public events too. He was one of the recipients of the first set of "Memphis Music Heroes" awards in April, was there for the button-pushing at the 50th anniversary of the recording of "That's Alright Mama", went to Bay St. Louis with Ronnie where he was visited by his daughter Tasha and her mom, Robbie, and to CasinoRama in Canada (you cannot believe that place unless you see it!), and the shows in Tunica where Ronnie gave Scotty and DJ new CARS! then on to the Legends show in Memphis with Boots Randolph, Billy Swan, Lee Rocker, Stan Perkins, Ronnie and the band, and just about the whole rockabilly world. It was a great show and it did Scotty so much good to be there with old friends and good pals....Patsy Andersen and Jerry Schilling were there, we had a fantastic dinner at our dear friend Kevin Kane's BluesCity Cafe (corner of Second and Beale....best ribs in the world...not just Memphis!) Our friends Jim and Donna Chamberlain from Nashville were there. More in the piece on all of this. See the scrapbook for those notes. Anyway, all of these things and all of this business has helped Scotty enormously to return to his former health and he is even signing autographs again! See the order page about this. He's come back so far that we are all thankful and grateful for everyone who has helped, cheered, prayed, and otherwise had a part in his recovery. We love you!
Abagail
USA - Sunday, August 22, 2004 at 19:47:22 (PDT)
---
Hi, this is Gail. Just a note to let you know that Scotty is still doing well. He's in Branson, MO, tonight with Ronnie McDowell, his band, DJ, the Jords, and Miss Millie. They are playing at the Welk Resort Theater. We will be going over to Memphis for the NARAS awards on Tuesday, then back home. Scotty has done very well lately, and he's hoping to get a chance to go into his studio and do some stuff with Tracy Nelson. He and Tracy want to do a spiritual album, very simple like the early Staple Singers things, just a few instruments and that wonderful voice! Tracy's got a new booker, and she's very busy these days, but we hope that this comes off. Peter Pritchard, our friend in London, is beginning his tour with Alvin Lee promoting Alvin's cd recorded at Scotty's house last April. Check your area if you are in UK and see them if you get a chance. Tell Pete you saw this on Scotty's site....it'll be a great show. Thanks again for all the support Scotty and I have received during his illness and recovery Love, gail
Gail Pollock
USA - Friday, April 09, 2004 at 15:50:36 (PDT)
---
Hi, this is Gail. I have not been reporting lately since we have been overseas, but this was too good to keep. He had his first bloodwork done since the trip and it came back today. The doctor said that it looked the best in two years! He asked if Scotty had them draw my blood instead of his. Kidney functopm was better, red blood cells up to almost normal...first time in two years! Isn't that great? We thought that the trip would be hard on him, but apparently the bottle of red wine in the dressing room before each show was just what he needed! Everybody go out and get a bottle of red wine and help us celebrate. Scotty will be in Branson next week, in Memphis the following week, and he is really looking forward to both. Love, Gail
Gail Pollock
USA - Wednesday, March 31, 2004 at 17:50:23 (PST)
---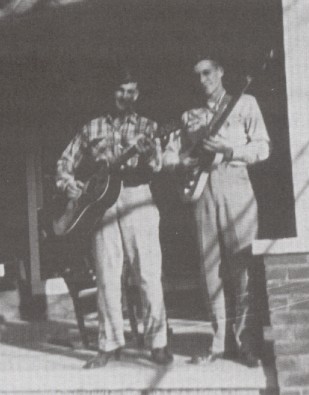 James Lewis and Scotty in 1953
Photo courtesy Scotty Moore©
Hi, all, this is Gail and we have finally returned to the USA from Scotty's tour. He is doing well, but he had a very bad piece of news on the day he arrived. For any of you who have read his book, you know about his long-time friend, James Lewis. When we arrived back home, Scotty heard from his sister-in-law that James had died that day. We went to Humboldt on Friday for his funeral. It has been a hard blow to his family as well as to Scotty. James was a good man with infinite talent to do many things, and his family is a good reflection of what a good man he was. His wife Evelyn has been very ill and is still able to go on because of the years of love and happiness between them. His children, Rex, Patricia, and his daddy's girl Neecie are all the wonderful products of his and Evelyn's raising. We love them all and cry with them and for them. James was a good man, and we need all of those that we can find. I am in process of writing about the tour for the scrapbook, so on this note, we just want to tell you that we are back and that Scotty is doing well, but very sad for the loss of his best and most long-time friend. Love, Gail
Gail Pollock
USA - Monday, March 22, 2004 at 10:24:29 (PST)
---
Well, we're just two days from leaving for London. I'm so excited and so behind in my preparations! Scotty is looking forward to seeing the guys, but apprehensive about playing the first time since the surgery. We will try to write a note while we're over there to let you know how things are going....this will depend on if we can get to a laptop somewhere, as we will be traveling every day. If we do not get into the site before then, you will hear from us on March 18, when we return. Thanks so much for your good thoughts, prayers, and good wishes for Scotty. He's back up again, partly because he's a tough old bird, and partly because so many people have been pulling for him!
Gail Pollock
USA - Saturday, February 21, 2004 at 06:39:07 (PST)
---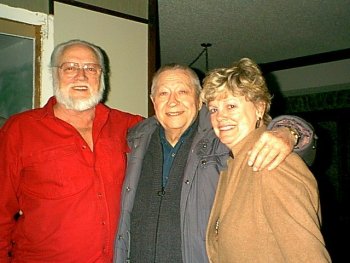 Scotty and Gail at Bob Moore's February 8, 2004
photo courtesy Kittra Moore
Hello, all, this is Gail again. Well, Scotty is still having some trouble with his voice....he had a ventilator down his throat for more than a week, and as a result, his vocal chords have been traumatized and he is still having to force talking....but he's still coming along. We went to see Bob and Kittra Moore a couple of weeks back, (Kittra sent in a picture) and then to Pat and Eloise Foley's home this weekend....he was head of Gibson London for 4 years, finally back home in Nashville). Last night we went out to eat compliments of Steve and Ella Shepherd.. she's "the back" in Scotty's pictures and guest book, he's Ronnie McDowell's road manager and keyboard player. So Scotty is getting out some, beginning to socialize again. He's still having trouble with more than one person talking to him at once, but he'll get there! There is a question in the guest book about Scotty signing autographs....unfortunately he will not be able to sign on this trip. He has pre-signed some pictures and CD's which we will sell at the shows (and we guarantee that they really were signed by Scotty) but he will not be available to sign in person. He's actually going to be doing this tour earlier than his doctors said he would be able to play and travel, and the two hours of signing after each show is just a little too strenuous this time. Please don't be mad at us....he's trying hard to do the shows, cannot do it all yet. Thanks for understanding!
Gail Pollock
USA - Tuesday, February 17, 2004 at 15:34:46 (PST)
---
Hi, this is Gail. Haven't been in touch because I'm mostly at Scotty's house and he does not compute. He had a couple of shots last week to help his hand...helps when he is not playing, but he still hurts when he plays, so he's doing some other stuff for that right thumb....hope it works soon he's getting nervous about playing 14 shows with a sore thumb. We still plan to go to England, are leaving on Feb. 24, home March 17 or 18. A long trip, but I always love to go over and see our friends there, and the fans are so good to Scotty....we always feel welcome in UK! Not much to report....he's coming along slower than before, but we expected that. Hope he will be back to where he was before long.
Gail Pollock
USA - Wednesday, February 04, 2004 at 18:30:14 (PST)
---
Hi, folks, this is Gail...late as usual. Scotty is still doing well, but is being bothered by that old arthritic right thumb again. We are going to have it checked, hope there is something that can be done. Don Dean, our friend from Louisville, was here for a few days, setting up Scotty's new guitar (L-5 CT) that he received at the 50 years at Gibson party...well, I received it, he was operated on that day! It is a beautiful guitar, but it needed quite a bit of work before it was ready to play. Don is a super luthier, and he has it playing like a dream! Hope Scotty will use it on stage soon....it is a beauty especially under the lights. He's still looking forward to going to England in late February, and I'm so looking forward to it, too....we have made some very dear friends there, and I'm anxious to see them again. Scotty wants everyone who has written, called, emailed, and sent get-well wishes on the website to know that he has read, heard and looked at every one and he so much appreciates the many people who have thought about him, prayed for him and most of all wish him well. All this helps his morale more than you will ever know. THANKS!!
Gail Pollock
USA - Monday, January 26, 2004 at 18:16:11 (PST)
---
Well, he's still doing great and this time I have his dr. to back me up! He went to see his personal physician last Friday and was told his bloodwork was better than when he left the hospital and that Scotty was better than the dr. had expected him to be. He gave his blessing to the UK tour, saying that at this time he thought that was the best thing for Scotty to do...get out and just do it! We are deep into the plans fot the tour, looking forward to seeing lots of our UK friends over there, and also meeting some new ones. Scotty wants me to thank everyone for the good wishes and the cards and stuff sent to him, and for all the prayers which have been said on his behalf. He has looked at the things sent to him, read the messages from the site, and feels that the prayers have put him back to where he is. Thanks, everyone!
Gail Pollock
USA - Monday, January 19, 2004 at 13:42:36 (PST)
---
Hi, this is me again. It's Wednesday night. Sorry I'm so far between these messages, but I'm mostly over at Scotty's and he has no computer. He's doing great!!! He's so looking forward to the trip to England, Scotland, Wales, and Ireland! His physical therapist, Leonard, is coming three times a week and they get along great! Leonard is the only person in history who has gotten Scotty to do exercises, but he is doing them.....he's convinced that he's better every day, and that Leonard is the reason. An old friend called tonight and talked to Scotty...afterward he said to me, "He sounds just like the old Scotty...with shorter hair." How does short hair sound? They were on the phone! He'll be going for checkups with various doctors in the next few days, so I'll let you know what they say afterward but just looking at him, talking to him, and being with him, I'd say he's in better shape right now than before the episode. I just simply have good news tonight, not a word of caution or a single downer...he's coming back, and he's coming back fast!
Gail Pollock
USA - Wednesday, January 14, 2004 at 19:05:09 (PST)
---
Hi, It's Friday and I haven't put any update on for a few days....sorry, Scotty is now home and I have been staying with him most of the time. I have to come home to get to my computer. He's doing very well....he's got a really good physical therapist who is helping him to play again. His fingers still know how to play, but his hand and arm are very weak, so Leonard is helping him with his strength and flexibility. Scotty has spoken to Pete Pritchard and Liam Grundy in London, and he is still planning on making the shows in UK in late February and March. Leonard says that if he will work hard on his exercises, there is no reason for him not to be able to make the trip and play. So we were really glad to get this encouragement, as we both love to go to England. This time, he has shows in all four areas: England, Scotland, Wales, and Ireland. It's gonna be great. Again, thanks so much for all the people who have sent messages and cards and called about his health. It has been a big lift to him to have so many people interested. I'll give you little updates as I can get home, but for right now, just be assured that he is coming along even better than we expected, and soon will be the old Scotty... I think it will take longer to grow out the hair than to get back to playing...but at least the hair is growing back. No need for a hairpiece, he still has lots, thanks!
Gail Pollock
USA - Friday, January 09, 2004 at 14:54:10 (PST)
---
Well, he's finally home! He escaped today! He was so glad to get home that he just ate three pancakes with syrup and lay down in his own bed and went to sleep....his only remark was, "My bed feels so good.....zzzzz." He will be in out-patient therapy for a while. He is doing very well physically, but his speech is still a little off. He has no trouble speaking, but he still cannot remember names. When I explain who I'm talking about, all the details are clear except for some stuff which happened in late Nov. and most of Dec. which are still blank. He's very happy to be home, and I have to make this short because he'll be awake soon and ready for some real food.. he has been on a no-salt, no sugar diet in the hospital and he is so ready for something with taste again! More soon.
Gail Pollock
USA - Monday, January 05, 2004 at 14:19:07 (PST)
---
Well, we were told on Tuesday that Scotty could come home today (Friday), and I have spent the last few days getting ready for him to be released. But this morning they told him he could not come home....it seems that they are still giving him a medication to prevent any further seizures like he had just after surgery, and the dose was too large. As a result, his bloodpressure dropped and his platelet count went way down. So his medication has been changed and he will have to wait a couple more days to come home. The current take is that his blood will be checked tomorrow and Sunday, and if the count goes up enough, he will be released on Sunday or Monday....here's hoping......he was so disappointed, you would have thought he was a flower without water for a week....you could see him droop in his chair as he received the news! He's still doing well with his therapies, and he will continue those on an out-patient basis after he comes home. Hope for us that he will be out in a couple of days....he can't take disappointment like that very often.
Gail Pollock
USA - Friday, January 02, 2004 at 18:13:58 (PST)
---
Hi, it's been a couple of days....but I have been to see him each day, and he is continuing to get better. His speech is the biggest problem right now, he knows just what he is thinking, but certain words just won't come out. I spoke to his speech therapist yesterday, and she said that she would put Scotty on a priority list of people to see twice each day possible. I hope that helps. His physical progress is still great. He leaves that walker behind every time there is not a nurse or therapist to make him take it along. He carries it as much as leans on it. We had around 15-20 people who came to see him for his birthday.....did not get an accurate nose count. His daughter Andrea and her husband and daughter came up from Memphis to be with him, and came back to see him in private the next morning. He is always glad to see them. We also had local friends as well is Jerry Townsend from Little Rock and Donnie McGuire from Russellville, AL. And of course our dear Ronnie McDowell was there. And Tracy Nelson had the same birthday, so she was there....we had to sing to her in a group because none of us had the nerve to sing in front of Tracy alone. Bob and Kittra Moore came in after the cake....seems Bob had to have lottery tickets for that night's drawing, stood in line forever, and still did not win! I talked last night to our friend Ira Padnos in New Orleans, who was the doctor who convinced Scotty to go and get his head checked, probably saving him from brain damage if not death. He told Scotty to wait till Scotty got his bill! He told me last night what he was going to charge....Scotty has to come and play guitar at Ira's 40th birthday party in September.....you can bet Scotty will be there! This is more like a gossip column than a health report, but be sure that Scotty is doing well, and we plan on his being able to travel and play again.
Gail Pollock
USA - Tuesday, December 30, 2003 at 08:57:25 (PST)
---
Today is Scotty's 72nd birthday, and we are going to go down to rehab and celebrate....Tracy Nelson is also having a birthday, but I won't tell which! She's going to be there, too. I made a German chocolate cake for her and a PRUNE cake for Scotty! It's his favorite kind......really! Last night he was fine, in good spirits, ready to get up and at'em today. May we all have that kind of drive at 72! His rehab is going well. He needs less and less help doing stuff, is more and more inclined to tell me that I'm doing stuff wrong....see, I told you he's better! I got a new digital camera for Christmas, will try to make some pictures today. Haven't had time to practice, but maybe some kind soul at the party will help. We should all drink a toast to the New Year, or maybe just to the end of this one! Scotty is going to have a much better year this time.....more good health, more shows, and maybe finish that long-coming next CD! Have a good day...and holler "Happy Birthday, Scotty and Tracy!" right at 2 pm today!
Gail Pollock
USA - Saturday, December 27, 2003 at 06:48:06 (PST)
---
Good morning and merry Christmas to everyone who does Christmas, happy holiday to all else! Scotty is looking forward to seeing the end of 2003, since it started with his left ear dropping dead on Jan 2 and ended in rehab from brain surgery! But he has high hopes for 2004. This is the beginning of 50 Years of Rock and Roll, and he has lots to do this year. Pray God that he can do every date! He's still in rehab, was doing well yesterday. Today I'm going to take him about the last 25 pages of his guest book. While he was unconscious, he did not read much, so he can catch up today. It will give him a good Christmas feeling to know that so many people have been wishing him well. The new dates are up for the England tour beginning on Feb. 26, and he is determined that he is going to do them. So get ready, England/Scotland/Ireland! Scotty with short hair is coming. We are going to give him a little cake-and-ice-cream day on Saturday for his 72nd birthday. At around 2 pm Central time, everybody holler "Happy Birthday, Scotty!" If all you do that, he can probably hear you all the way to Nashville! Happy holidays, all, and a very BLESSED new year! Love, gail
Gail Pollock
USA - Thursday, December 25, 2003 at 07:49:36 (PST)
---
Hello, it's Tuesday night and I have just returned home from the hospital. Scotty is still doing remarkably well, still no complications. His rehab is going on at the rate of about 5 or 6 sessions a day, and he is really making progress. Last Friday when he was moved from the hospital to the rehab wing, it took three of us to wrestle him into a wheelchair, but tonight when he started to walk across his room, I said, "Remember to use the walker," and he picked up the walker and carried it across the room. So he's coming along strong. He talked to a friend today and said, "In a day or two, I'm going to start playing again...I kinda dread seeing if it does not work, but am looking forward to just holding my guitar." So the Chet goes back to the hospital tomorrow. I'll let you know how it goes. Pete Pritchard called from London tonight, and he said that he now has a list of the venues for the March tour. Scotty told him not to break any of them....he plans to be there and to play! Hold that thought!
Gail Pollock
USA - Tuesday, December 23, 2003 at 18:10:18 (PST)
---
Good morning! This is Sunday and I have not updated in two days....we have been moving Scotty from the hospital to rehab, and it has been busy. I am just amazed at the progress he has made in the two days! DJ and Karen Fontana had visited him in hospital, and they were back yesterday. They could not believe how much better he spoke and moved in just two days, and he has gone from unable to move alone to doing most things by himself. His right hand was badly swollen due to an infiltrated IV in the back of the hand while he was still in NICU, and he had been unable to lift it much or to use it adequately, but now most of the swelling has gone, and last night he was unbuttoning his shirt with that hand. That's a huge leap from not even able to lift it. His personal physician has said that while most patients learn to re-use their hands by putting pegs in holes, Scotty's dexterity in playing should be used. Instead of the usual pegs, he says that Scotty should use his guitar as rehab, as his ear will tell him when his hand is moving correctly. I am going to take either the Chet or the L-5 down soon with a small amp...both those guitars are his friends, and they will help him get better. He talked to several friends on the phone yesterday, and he is determined to whip this thing....he is telling everyone he has shows to do in UK soon, and he plans to do them. He's a hard-headed old man, and if he says he can do it, don't get in his way....Merry Christmas to us all!!
Gail Pollock
USA - Sunday, December 21, 2003 at 06:28:07 (PST)
---
It's Thursday, and Scotty is still improving. He is in a regular room, but will be moved tomorrow morning to the rehab unit to start his re-training. He had an evaluation today, and the therapist said that he had made really good strides in just two days with his right hand, and he is very determined to get the rest of the job done. He will be in rehab for 3-4 weeks, depending on how fast he recovers. He was visited today by Tracy Nelson, and they both were so glad to see each other....they have been best friends for more than 30 years, way more than half of Tracy's life. He wanted to know about his party that he missed, and they laughed and talked for about an hour. He was in much better spirits after talking to someone besides his medical personnel and me. He also talked to his daughter Andrea by phone. That was the first time since the surgery he has tried the phone, and he did pretty well. We are encouraged by his progress...keep on prayin', He's still listening.
Gail Pollock
USA - Thursday, December 18, 2003 at 14:48:43 (PST)
---
Well, the good news continues....we're really on a roll! Scotty will be getting into his own room later today. He is off all IV's, even off oxygen, and is doing really well! I stayed over past visiting half hour last night and fed him his dinner. He ate the first good meal he's had since the surgery. As soon as he gets into his room and settles a little, the serious physical and speech therapy will start. He still has some aphasia (spelling?) but is making more sense every day when he talks. I told him today that Darwin Lamm called and said Scotty had to get better so he could play again in Memphis in August, and Scotty said to tell him he WANTS to get better and play in Memphis this August....that's the spirit!
Gail Pollock
USA - Wednesday, December 17, 2003 at 12:59:02 (PST)
---
Hello, it's Tuesday afternoon and all the news continues to be good. I went to see him this morning and he was more alert and was speaking more intelligibly than he has so far. He wanted to know if I had spoken to DJ (Fontana) and I told him I had. He said, "Tell him I'm okay." He also talked about Bob Moore and some other people who had called about him. He seems to be aware of all his people, and even remembered that Andrea (his daughter) had been to see him. That was Saturday, when he was still pretty out of it. I saw his neurologist and he said that he was ready for Scotty to leave ICU and go into a regular room as soon as his other doctors okayed it. That's good news...I can spend more time with him, and he can get back to normal by at least seeing if it's daylight or dark. He started his speech therapy and physical therapy, and he's coming along. As soon as he feels like himself, he'll refuse to do all the things they want, so they'd better hurry while he's co-operating! Keep prayin'....God must be listening to us, because he is getting better faster than we had thought.
Gail Pollock
USA - Tuesday, December 16, 2003 at 12:27:39 (PST)
---
Hi, it's Gail and it's Monday. Lots of good news today. Scotty has lost the feeding tube, had his first meal, and ate pretty well, considering that he was still full of the intubated food. He also had his first physical therapy session (which he hated, of course...the ones who know him know that he thinks heavy exercise is from the house to the car) and his first speech therapy. Apparently having your brain shuffled around your head does funny things. He is very obviously in there, but it's going to take work for him to get back out here. His nurse had on the Country Music Channel on tv, and a video came on with Pam Tillis. He asked, "Who's that?" and I said, "That's Pam Tillis, she's M-m-mel's daughter." He gave me a silly grin and said, "She sure don't look like M-m-mel!" So he's still in there. We do not know when he will be in a regular room, but we hope shortly. The hospital says that they have had quite a few requests for his condition, and they only give "Stable" or "Satisfactory" but they are telling people that he has an update on the site each day. He's improving and has had no complications, so keep on praying and he'll be back playing again soon.
Thanks,
Gail Pollock
USA - Monday, December 15, 2003 at 14:28:01 (PST)
---
When I visited Scotty today, he was asleep, so I did not get to talk to him. His last CT scan (Friday) still shows all is normal, and he was able to squeeze my hand with his right hand last night (Saturday). That was the first time he has used his right hand, indicating that feeling and movement are coming back to the side which was affected by the hematoma. Good News!
Gail Pollock
USA - Sunday, December 14, 2003 at 13:28:08 (PST)
---
It's Saturday, Dec. 13, and Scotty continues to progress. His two daughters came up from Memphis to see him yesterday and he was obviously very glad to see them, attempting to talk more and laugh more than he has been doing. His doctor was there, and he told us that he is progressing slowly, but he is better every day. He has had no sign of infection or other complication, and as soon as he is able to swallow on his own, he can have his feeding tube removed and be sent from intensive care to his own room. WE hope that happens early next week. All of us are so glad that he seems to be responding well and all three doctors still predict that he will be playing again. That's our big goal. More tomorrow.
Gail Pollock
USA - Saturday, December 13, 2003 at 10:26:15 (PST)
---
It's Friday, December 12. Today I visited Scotty and he continues to become more aware. He is off the ventilator, but his throat is sore from 6 days of a tube in it, so he is not talking much. When I started to leave, I said that I would be back later, and he mouthed, "When?" so apparently he is aware of my being there and also somewhat of time passing. Not much to report, but at least we know he's still in there. The doctors still predict full recovery, and I'm just waiting for him to be in a regular room so he can begin to get back to normal. It's hard to be anything like normal in intensive care!
Gail Pollock
USA - Friday, December 12, 2003 at 15:22:04 (PST)
---
Hello, this is Gail again. It is Dec. 11, 2003 and I have just returned from the hospital today. Scotty is coming around, was able to focus his eyes today. His doctor said that he had been breathing without the help of a machine all night and that his ventilator tube would come out today. As soon as this is gone, he will be able to try to talk to us. As soon as he is able to talk, I will tell him how everyone is praying and cheering him on. I'll let you know tomorrow any progress he makes.
Thanks,
Gail Pollock
USA - Thursday, December 11, 2003 at 11:01:23 (PST)
---
In early December, Scotty suffered a problem which started as a difficulty in his right side which we first feared might be a stroke. IT WAS NOT A STROKE!!! He had a beautiful party planned for Friday December 5th by the great people of Gibson (thanks, Henry, Robert, Nina, and especially Mickey Butler for starting it rolling!) and he did not want to miss that, so he let his problem run for more days than it should have. (Heís a bad example, so donít follow his lead!)

But on Wednesday, December 3, he asked me to take him to the hospital for examination. A CT scan showed that he had a subdural hematoma. I emphasize that he has no blood nor damage inside his brain. He had a bleed between his skull and the sac which contains the brain which was putting pressure on his brain. The result was temporary impairment to his right hand, his right leg, and slowness, but no slurring, of his speech.

On Friday morning, December 5, he underwent surgery to remove the blood, stop the bleeding, and return his brain to its normal position without the pressure. It was entirely successful and all three doctors primarily concerned (his own Internist, the neurologist who did the surgery, and the cardiologist who is attending that big heart) agree that with some physical therapy, he can return to his previous state of being able to play his guitars! Isn't that great?

Of course the usual rumors started at once, so we are trying to quiet them. Please pass on the information that he will try to have a daily update here on his website as to his condition, and be sure to tell anyone who says different, that he is not dead and he is not dying and he is not permanently impaired!

AS of today, December 8th the doctors are raising his level of consciousness so that he will be able to communicate with us. We hope by the end of today to report that he is again speaking and is aware of his surroundings. Thatís todayís report.

Gail