1938 Epiphone Spartan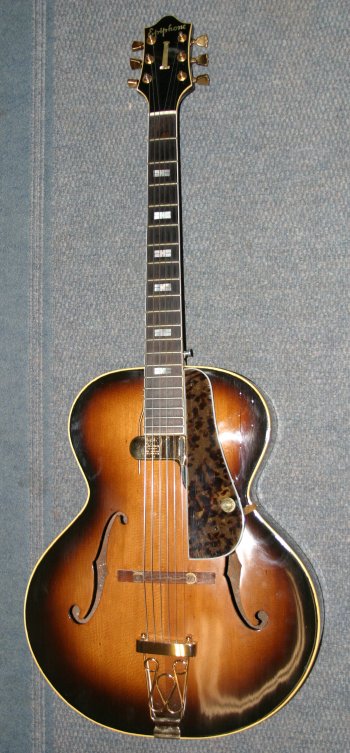 Scotty's refurbished 1938 Masterbuilt Epiphone Spartan

Masterbuilt label bearing serial #12784
Scotty traded something for this at a guitar show. It came out of an attic and was in dire need of a restoration. Introduced as a round hole guitar in 1934, the Spartan was given f-holes in 1936, much like the Gibson L-4. It features a hand carved solid spruce top; black walnut back and sides; one piece mahogany neck; Brazilian rosewood fingerboard with notched block mother of pearl inlay; abalone Doric column peghead inlay, single-bound body, bound fingerboard and head stock.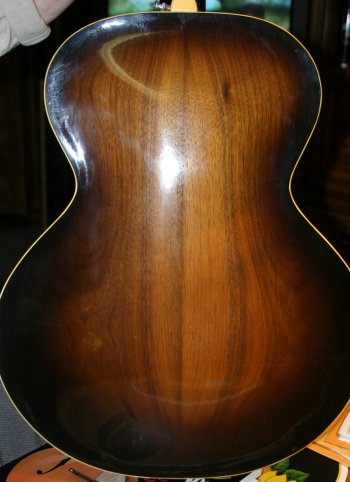 Black Walnut back with single binding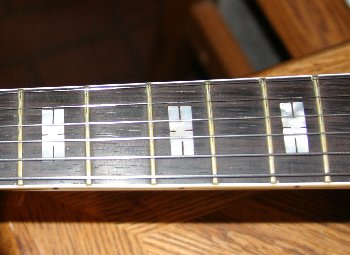 notched block mother of pearl inlay

Abalone Doric column peghead inlay
Like the prewar Broadway, the Spartan was produced with back and sides of black walnut, and is particularly prized for its unusually brilliant response and exceptional projection. With its 16 3/8" lower bout, the Spartan also had the same body size and bracing of the prewar Deluxe, Broadway and Triumph models. The 16 1/2" body has projection exceeding that of many larger guitars, and a shape sits very comfortably under the arm as well.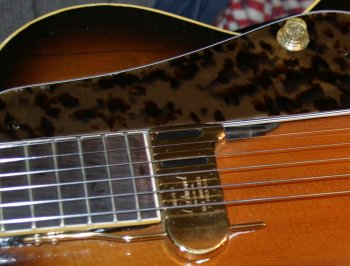 Floating DeArmond Pickup
Though originally an acoustic archtop guitar Scotty's has been fitted with a vintage DeArmond floating pickup.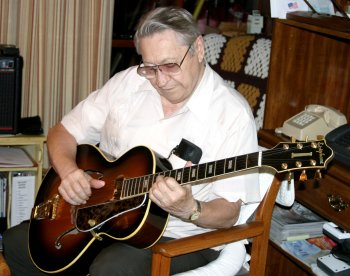 Scotty doesn't use this guitar for performing, Its one of his favorites and he generally just plays it at home.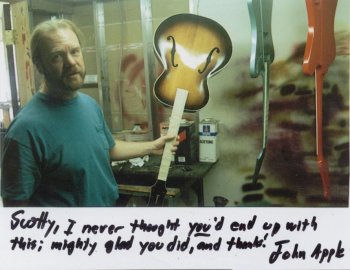 Restoration by John Apple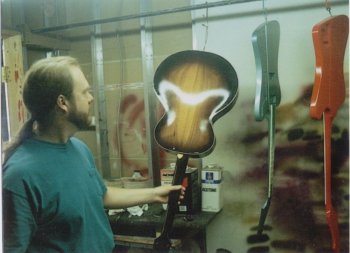 Scotty eventually gave this guitar to his longtime companion, Gail Pollock, who after keeping it along with several others for several years gave them away individually prior to her death in 2015. This Epiphone was given to their long time friend, Bucky Barrett. The DeArmond pickup though was removed first and installed in the Hofner retuned to Pete Pritchard.
Epiphone history Info courtesy Archtop.com