Elvis' 1960 Gibson J200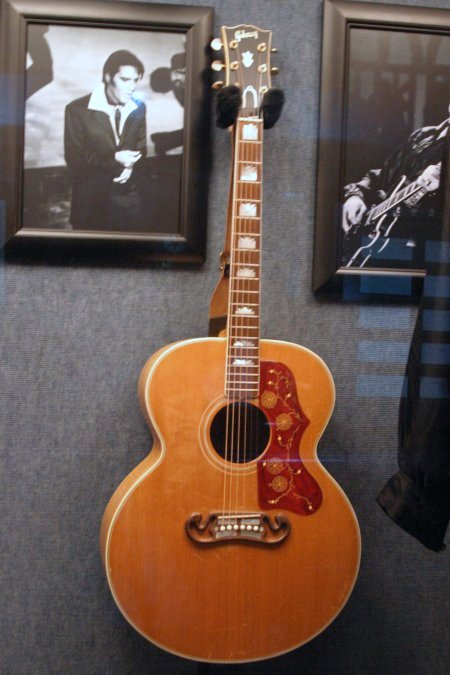 Elvis' 1960 Gibson J200 serial #A32944
Photo © James V. Roy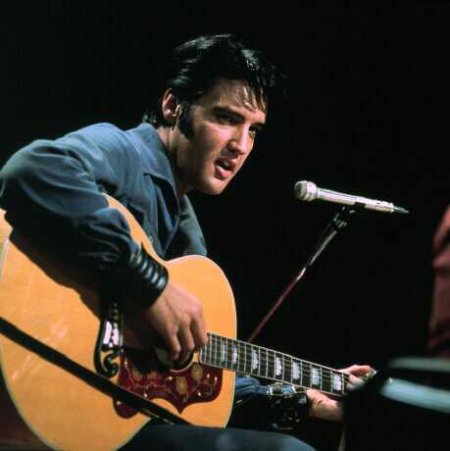 Elvis with 1960 J200 - NBC TV Special 1968
Photo courtesy MPTV.net
In 1960, when Elvis returned to civilian life after two years in the U.S. Army, Elvis asked Scotty to send his well-worn 56 J200 out to be refurbished. Scotty shipped the guitar to Gibson in Chicago via O. K. Houck's and wrote to Gibson reps Gerry Woodworth and Clarence Havenga specifying the guitar was to be refinished, repaired and his name inlaid on the fretboard. He also requested that they do some additional inlay work on the front, not too elaborate but something different, a design of their own discretion.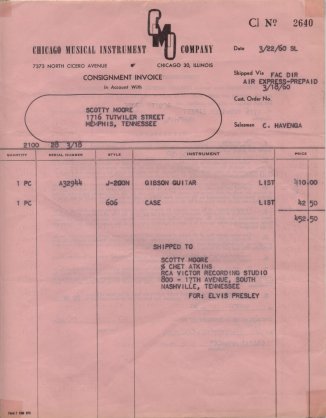 Consignment Invoice for 1960 J200N
Photo © James V. Roy
The work wasn't done in time for Elvis' March 20th recording session in Nashville, so this new 1960 J-200N, serial number A32944, was shipped on March 18, 1960. The guitar was invoiced to Scotty and at the time Gibson was completely out of their #600 cases so shipped it with a #606 flannel lined case instead. This was explained in a letter written to Chet Atkins and the guitar was shipped to Scotty c/o Chet at RCA in Nashville (Studio B). This may explain some of the confusion regarding the serial numbers and the return of the original '56.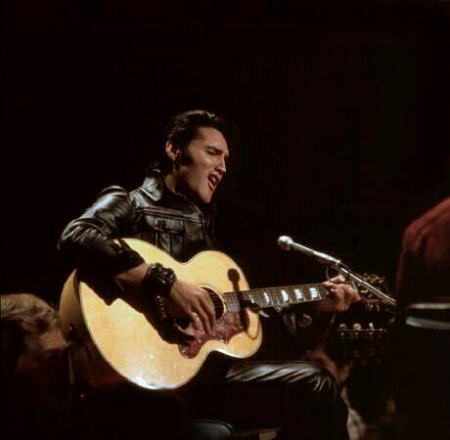 Elvis with 1960 J200 - NBC TV Special 1968
Photo courtesy MPTV.net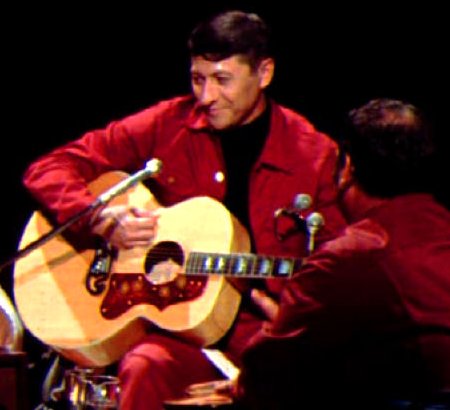 Scotty with Elvis' 1960 J200
Photo from Tiger Man-Elvis 68 by Joseph A. Tunzi courtesy FECC/rizzy56
The guitar looked almost identical to the 1956, red floral pick guard and all, except for the Grover rotomatic tuners. Elvis kept this new one the rest of his life. It can be seen in the 1968 TV special being played by both he and Scotty and being played by friend Charlie Hodge in various Elvis concert footage during the '70s. The guitar remains part of his collection at Graceland to this day.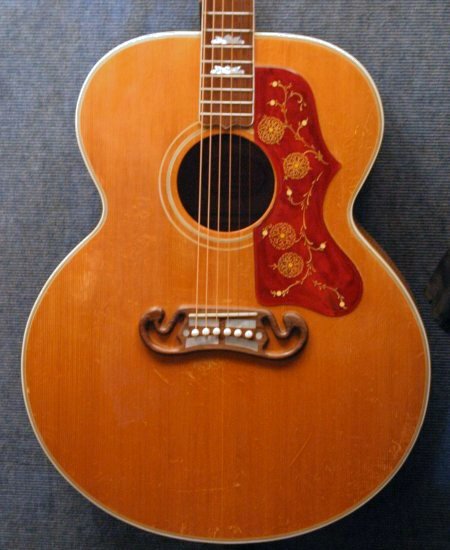 Elvis' 1960 Gibson J200
Photo © James V. Roy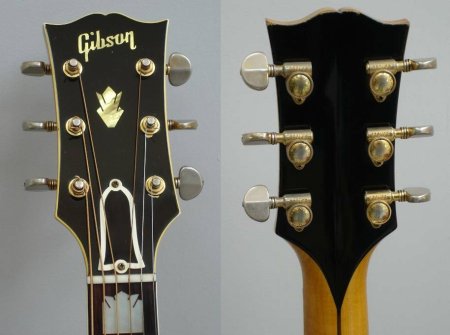 Grover Rotomatic tuners
Photo courtesy Kevin Mabus
The 1960 Gibson J200 flat-top guitar has a 25 1/2" scale length and features a solid Sitka Spruce top, Solid eastern curly maple back, sides and neck, Rosewood fretboard and bridge with Mother of Pearl Crown inlays on the fretboard and double inlay on the bridge, Grover Rotomatic tuners. Mfg. 1937 -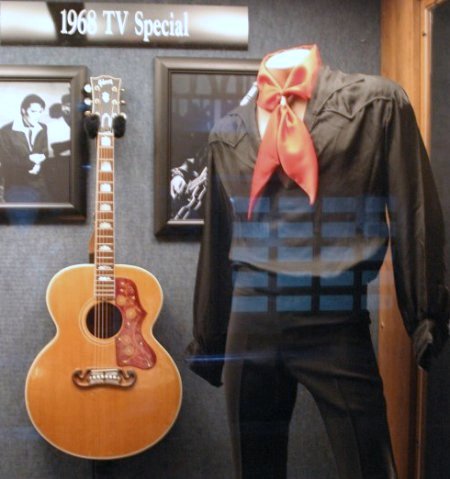 Elvis' 1960 Gibson J200 on display at Graceland
Photo © James V. Roy
(original) page modified June 2, 2011