Scotty Moore signature ES 295
In July of 1999 Gibson commemorated the launch of the latest Gibson signature guitar - the Scotty Moore model - based on the original ES 295 Scotty played in the early '50s. Initially these guitars were ordered from the custom shop and sold by catalog by Scotty's long-time friend Jacques Vroom. Only 15 were believed to have been produced. Each of 12 of the guitars ordered through Jacques' catalog were personalized by Scotty for the owners before the last clear coat was applied. Another was sold to a friend of Stan Perkins and the last was donated for to an auction for a Carl Perkins charity.

Henry Juszkiewicz, with first 'Scotty Moore'
signature ES 295 in 1999
photo© courtesy Gibson
The first of the new 'Scotty Moore' instruments, #SM001 was presented to Scotty by Gibson CEO Henry Juszkiewicz at a party held at Beatles producer Sir George Martin's North London Air Studios. The signature guitars marked the start of an aggressive campaign by the Nashville-based company to step up sales across Europe. The guitar had been on loan and display at the Rock 'N Soul Museum in Memphis, TN. At some point the guitar was re-equipped with a different tailpiece and bridge to more accurately resemble the way Scotty had modified his 1953. During the fall of 2003 it was on display at the Valley Arts Guitar store in Nashville to commemorate his 50 years playing Gibson guitars and has since been returned to the Memphis Rock 'N Soul Museum.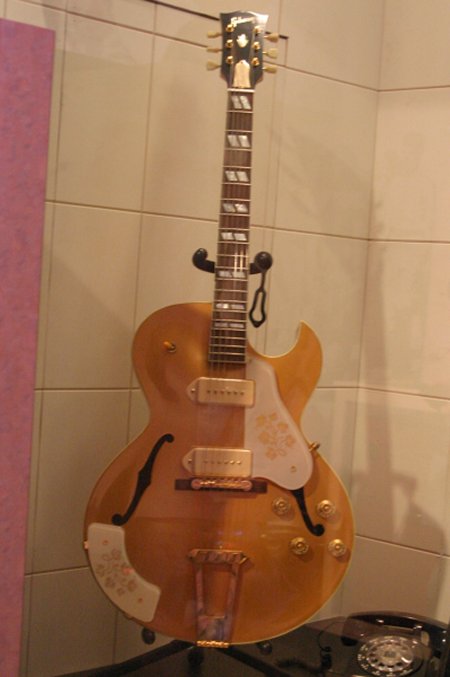 The guitar on display at the Memphis Rock 'N Soul Museum
* As per Scotty's will, this guitar, when returned to the estate, was auctioned along with other items and proceeds distributed amongst his heirs. The guitar sold at auction at Graceland on August 12, 2017 for $20,000.00 ($25k including the buyers premium).
---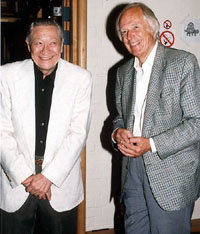 Scotty and Sir George Martin

Alvin Lee and Scotty at Air Studios - July 13, 1999
The event at Air Studio was held July 13, 1999. In attendance that day with Scotty and DJ were, among others, Sir George Martin, Jeff Beck, Jimmy Page, Alvin Lee, Jack Bruce, Gary Moore and Steve Howe.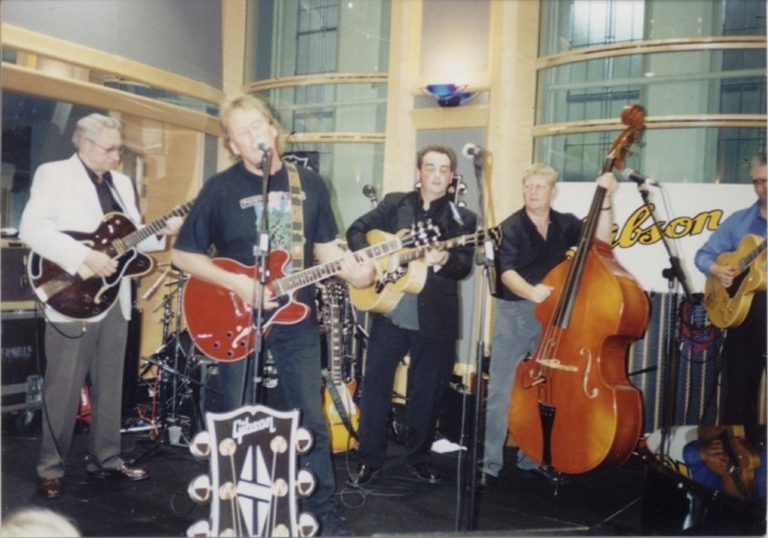 Scotty, Alvin Lee, Ian Conningham, Pete Pritchard and Peter Davenport at Air Studios - July 13, 1999
---
From Gordon Minto
Our friend Gordon Minto had been friends with Scotty and Gail since Scotty first toured the UK in the early 90s. He and his wife visited with them many times over the years and in 1999 was invited to attend a ceremony for Gibson at Air Studio's in London when Scotty was presented with a Gibson ES295 as described above. He wrote a review for the publication Now Dig This and sent it to us along with a few pix. We've reprinted it below.
Section added September 14, 2020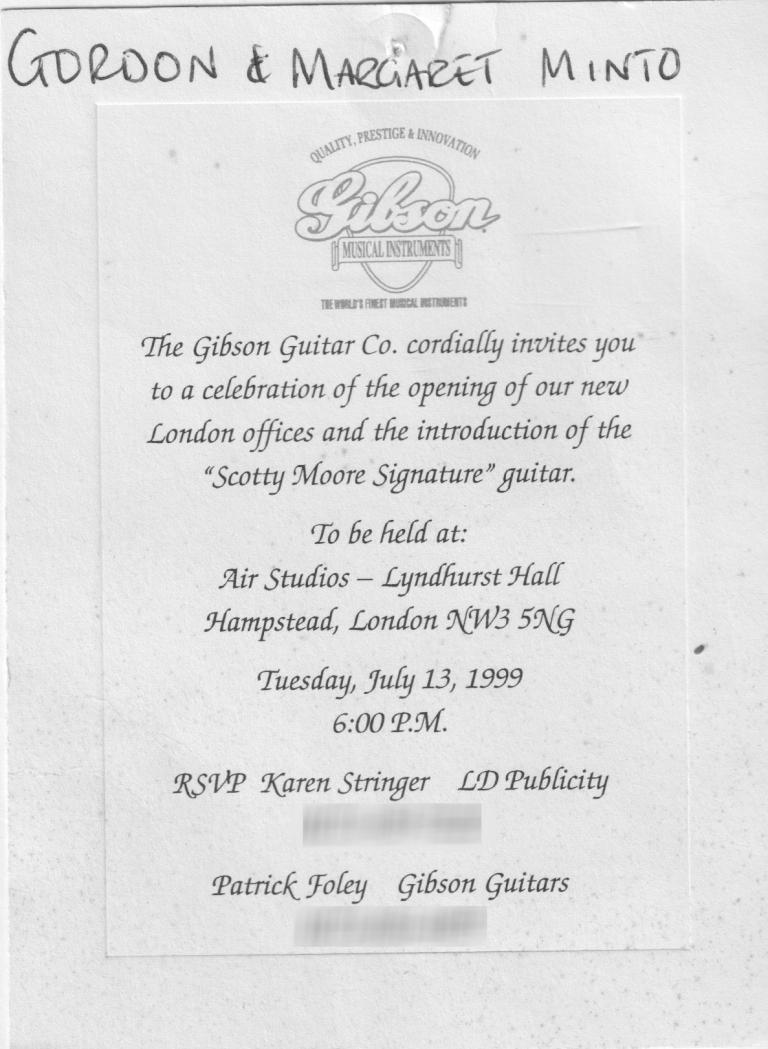 Invite to Gibson - July '99
Photo © Gordon Minto
NOW DIG THIS - AUGUST 1999

The latest guitar hero to be honoured by Gibson Guitars is Scotty Moore, who flew into London in mid-July to be presented with a plaque and a 'Scotty Moore Signature' guitar before a select audience of media folk and celebrity musicians.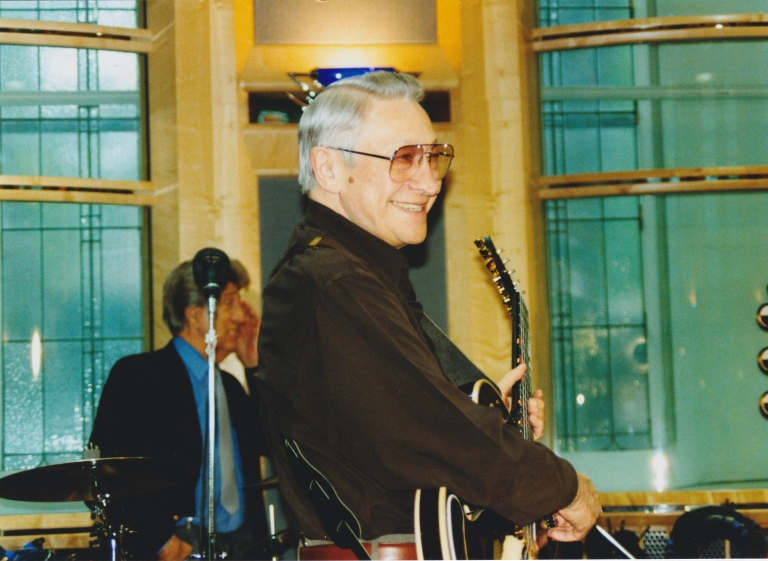 Scotty (+DJ)- Air Studios - London, July '99
Photo © Gordon Minto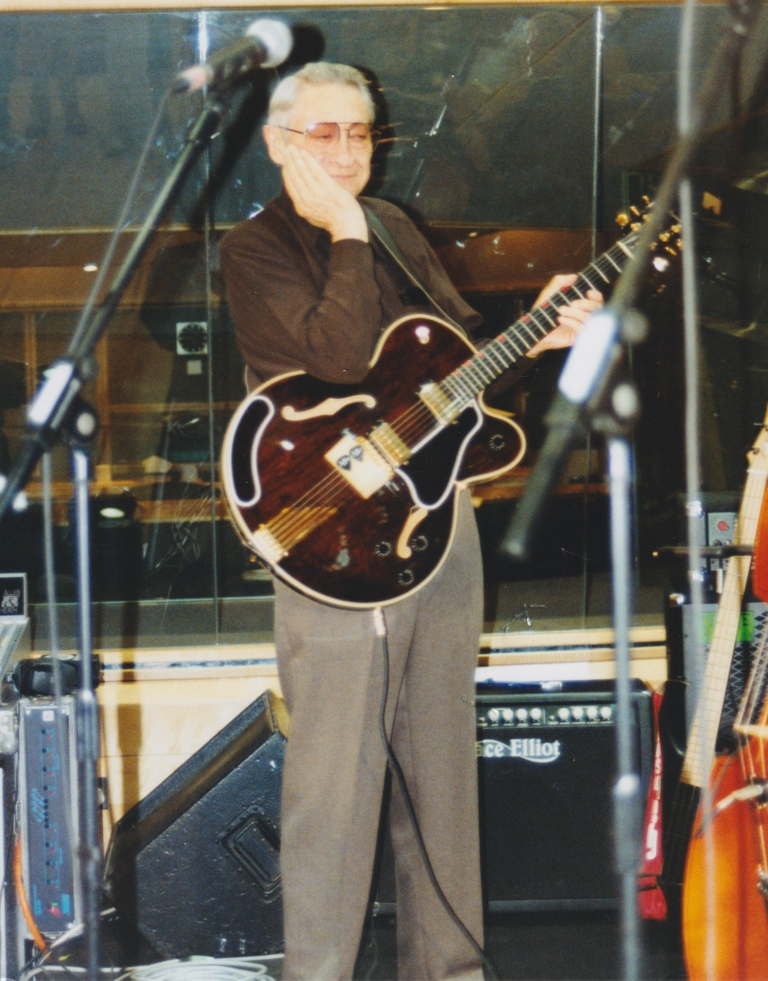 Scotty - Air Studios - London, July '99
Photo © Gordon Minto
Held at Air Studios, it was a fairly informal gathering, where no-one knew quite what to expect. However, following the official presentation by Gibson's Patrick Foley, who paid tribute to the incalculable contribution made by Scotty Moore and Bill Black way back in the very early years – though he erroneously included DJ Fontana in this – Scotty said a few words (as self-deprecating as ever) as he received his awards, before taking the stage.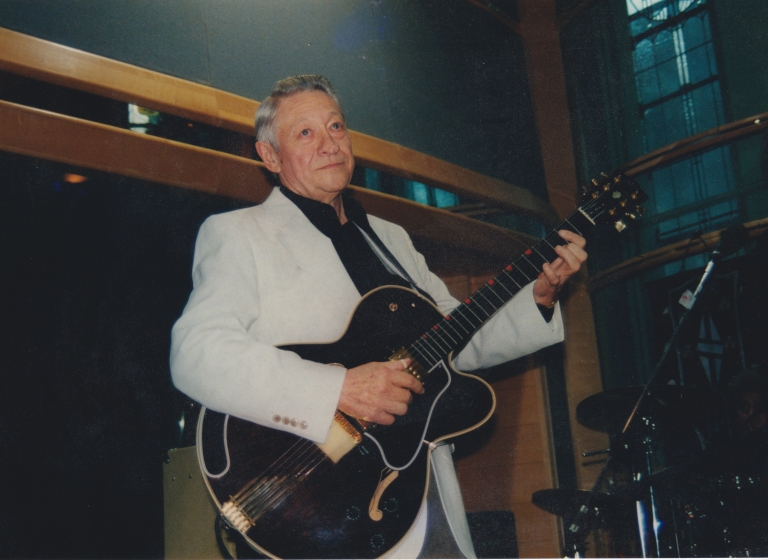 Scotty - Air Studios - London, July '99
Photo © Gordon Minto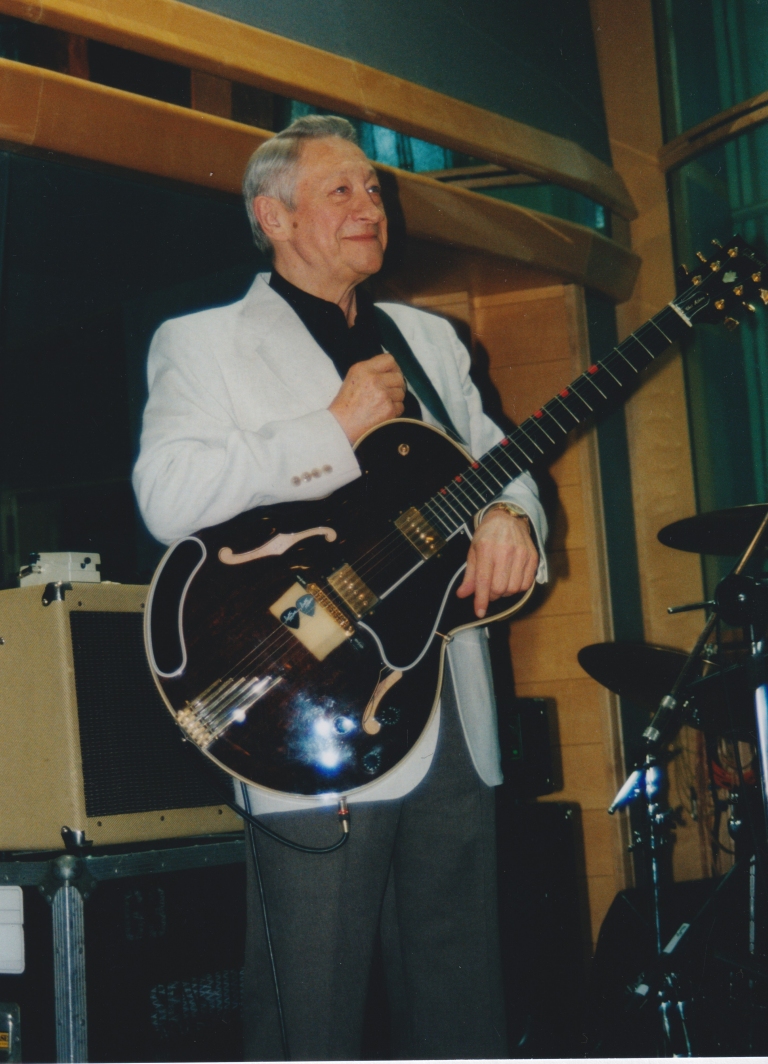 Scotty - Air Studios - London, July '99
Photo © Gordon Minto
Accompanied by the same musicians who backed him during his recent UK tour (including the irrepressible DJ Fontana), the idea was to play for about thirty minutes. But this where things departed from what script there was, as a roster of rock musicians – including the likes of Alvin Lee (Ten Years After), Steve Howe (Yes), Jack Bruce (Cream), Phil Manzanera (Roxy Music), Gary Moore (Thin Lizzy) etc. - took the stage to play along with the band. Even comedian Frank Skinner sang (but don't give up the day job, Frank!) Yes, musically it was a sloppy as blancmange at times, but nonetheless terrific, and all credit must go to the core of Scotty's band who played superbly well. Singer Ian Cunningham gave the performance of his life as he romped through well over two hours' worth of Elvis songs. Great stuff lads. Well done. Scotty looked both amused and bemused at times but clearly enjoyed the experience, generously allowing lead guitarist Peter Davenport to strut his stuff alongside the somewhat 'embellished' contributions of the guest musicians! An unforgettable experience. Incidentally, several people were filming, including VH-1, so some this may be screened before long.

Scotty receives his award - Air Studios - London, July '99
Photo © Gordon Minto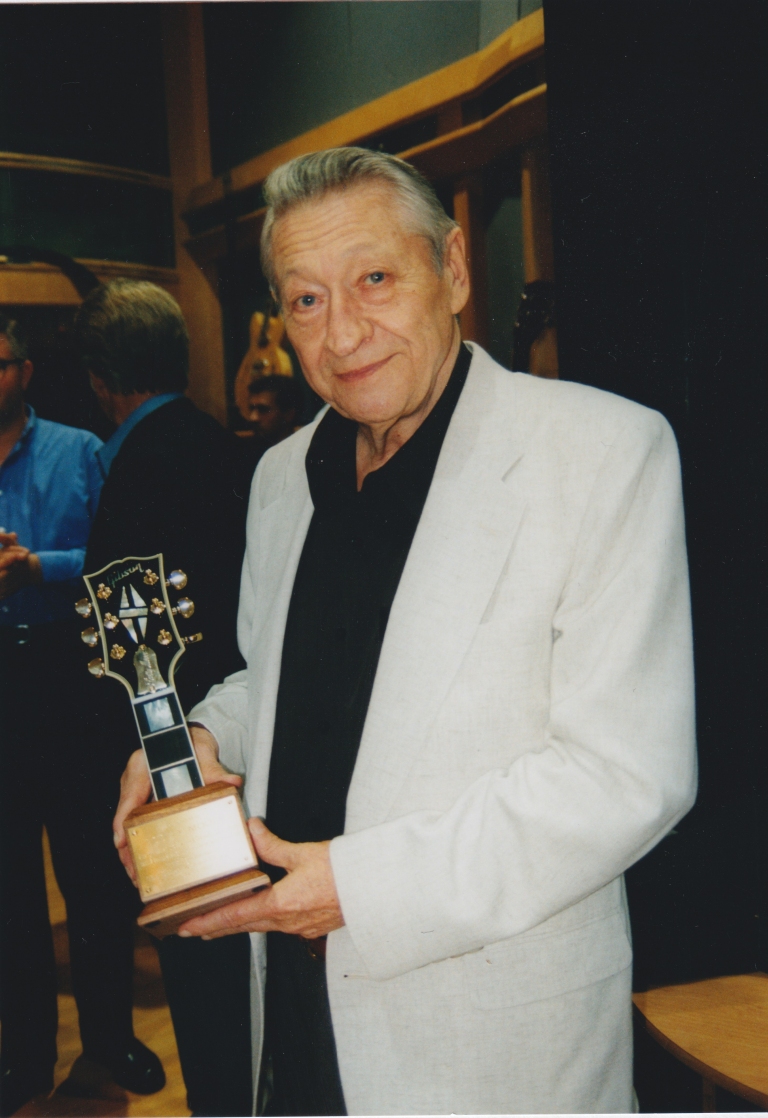 Scotty holding his award - Air Studios - London, July '99
Photo © Gordon Minto
© Gordon Minto - July 1999

Gordon (with Scotty's new guitar) - London- July '99
Photo © Gordon Minto