SPECIAL ISSUE OF BILLBOARD HONORS THE KING OF ROCK 'N' ROLL ON THE GENRE'S 50TH ANNIVERSARY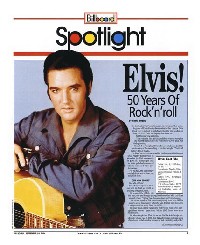 Commemorative Elvis Presley Issue Hits Newsstands on September 18th
New York, New York (August 25, 2004) - Billboard, the world's leading music and entertainment trade publication, salutes Elvis Presley and the 50th anniversary of Rock 'n' Roll, with a special report in the Sept. 18 issue of magazine. The special issue will be available on newsstands Sept. 18th and will also be posted on www.billboard.com. Fans can also purchase the Elvis Presley special issue online at www.orderbillboard.com.

"Elvis: 50 Years of Rock 'n' Roll" reports on the enduring impact of the King of Rock 'n' Roll, 50 years after the recording of his first hit, "That's All Right," at Sun Studio in Memphis in 1954. His music has stood the test of time and even 27 years after his death, Elvis is still considered one of the most influential figures in pop culture and music history.

Elvis Presley has had over 149 songs on the Billboard Hot 100 Chart and earlier this year, the Recording Industry Association of America (RIAA) confirmed that Presley is officially the best-selling solo artist in U.S. history. Billboard will honor Elvis by comprehensively exploring his role in society and how he helped change music forever.

The Billboard report will feature:
An introductory essay on Presley's ongoing cultural significance, written by veteran music journalist Wayne Robins.


A comprehensive overview of the campaign by Presley's record company to introduce his music to a new generation through hit albums such as "Elv1s: 30 #1 Hits" and the recent release of expanded DVD versions of "Elvis: '68 Comeback Special" and" Elvis, Aloha From Hawaii."


An exclusive Q&A interview with Jack Soden, president of Elvis Presley Enterprises, on keeping Presley's legacy alive -- including news of the upcoming TV and book project, tentatively titled "Elvis By The Presleys."


A look back at that Sun Studio recording session in July 1954, which help launch Rock 'n' Roll, with comments from Presley's guitarist, Scotty Moore.


An exclusive recap of every No. 1 single Presley recorded on the Billboard charts.
"At the heart of it all," says Jack Soden president of Elvis Presley Enterprises, "is always the power of the music."

About Billboard:
Now in its 110th year, Billboard is the world's premier music industry publication and a diverse brand-licensing platform. Billboard publishes the most trusted charts and offers unrivaled reporting about the latest music, video and digital entertainment issues and trends. Billboard is the flagship property for the Billboard Information Group, which also consists of Billboard.com, Billboard.biz, Billboard Chart Alert, Billboard Information Network (BIN), Billboard Directories, Billboard Licensing & Events and Airplay Monitor. The Group is a unit of VNU Business Media, a worldwide media company that provides specialized publications, electronically delivered data, expositions and marketing services and is owned by VNU Inc., a wholly owned subsidiary of Netherlands-based VNU, an international publishing and information company.