Boots Randolph 1927 - 2007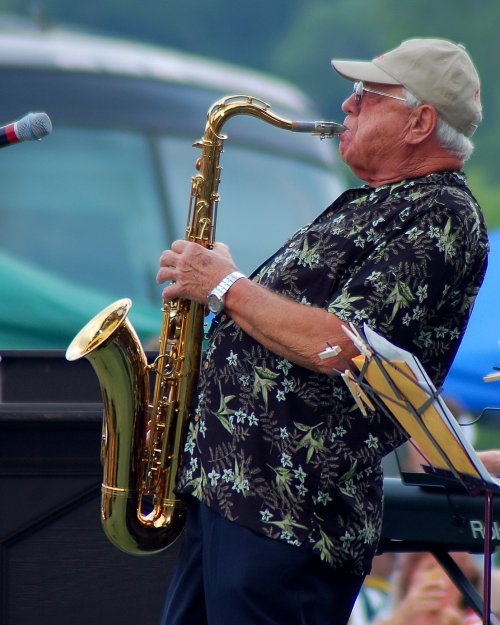 Boots' last performance during "Singing On The Mountain" at Grandfather Mountain, NC. - June 24, 2007
This is how he'll be remembered by his fans, and those that knew him.
Photo © courtesy Bucky Barrett

On behalf of Scotty, Gail and the rest of us we wish to express our deepest sympathies and regrets to the friends and family of Boots. He will be sadly missed. May he rest in peace.
---
Tuesday July 3, 2007
Saxophone Legend Boots Randolph dies at 80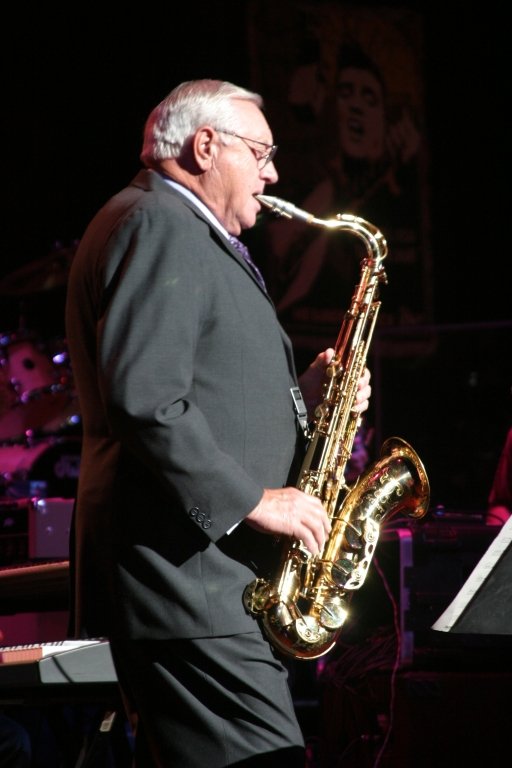 Boots Randolph - Aug 13, 2004
By BILL FRISKICS-WARREN
Staff Writer
THE TENNESSEAN

Boots Randolph, Nashville's most celebrated saxophonist and a member of the city's vaunted "A-Team" of session musicians, died this afternoon after suffering a subdural hematoma last week. He was 80.

Mr. Randolph played a major role in the development of the Nashville Sound, where his always soulful playing galvanized popular recordings by the likes of Elvis Presley and Eddy Arnold.

As singular as his work as a sideman was, however, Mr. Randolph was best known for his 1963 hit "Yakety Sax," a juking instrumental inspired by King Curtis' saxophone solo on the Coasters' 1958 R&B smash "Yakety Yak."

Written with guitarist James "Spider" Rich, Mr. Randolph's record later became the theme song of the long-running British comedy The Benny Hill Show.

"Chicken pickin' saxophone" is how Country Music Hall of Famer and fellow A-Team member Harold Bradley described the short, spluttering notes that hooked "Yakety Sax."

Mr. Randolph, too, invoked rural imagery to describe his playing, routinely joking from the stage that he was "the world's only hillbilly saxophonist."

Ironically, it was his gift for improvisation and command of dynamics in genres ranging from jazz to blues that in many ways stood out most.

"The sax is a loud, blare-y instrument," said A-Teamer Bob Moore. "But Boots had a way of playing something that would fit with the style and the mood of the song. Whatever he came up with was always outstanding."

Brenda Lee, discussing Mr. Randolph's swinging solo on her 1960 hit "Rockin' Around the Christmas Tree," said, "I don't care who has recorded that song since, they all copied him."

From his salacious wailing on Elvis' 1960 recording of "Reconsider Baby" to the staccato riff he played on Roy Orbison's "Oh, Pretty Woman," Mr. Randolph's contributions indeed were inimitable.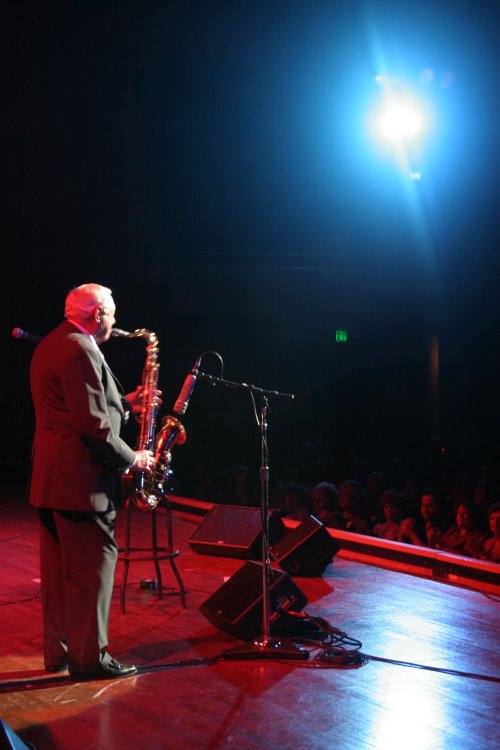 Boots Randolph - Aug 13, 2004
Born in Paducah, Ky., in 1927, Mr. Randolph grew up playing ukulele and trombone in his family's band, which supplemented their household income with public performances during the Depression. He didn't take up the
saxophone until he was in high school.

Mr. Randolph worked in nightclubs in Indiana and Illinois for a decade after serving in the Army during World War II. His big break came after he sent a tape of "Yakety Sax" to Chet Atkins, then the head of RCA Records in Nashville. Atkins liked what he heard and hired Mr. Randolph to do session work for such artists as Perry Como and Homer & Jethro.

Atkins also signed him to a solo contract but it wasn't until Mr. Randolph moved to the fledging Monument label that his career took off. He became a regular on the Grand Ole Opry and was a frequent guest on such network TV programs as The Ed Sullivan Show and The Tonight Show With Johnny Carson.

In 1977 he opened his famous Boot Randolph's nightclub in Printer's Alley, a popular tourist attraction until it closed in 1994.

Just last month, he released A Whole New Ballgame, an album of standards like "Nature Boy" and "'Round Midnight" that found him in fine form.

Mr. Randolph continued to work as a sideman even after he became a headliner. Bradley called him a consummate team player and believes that Mr. Randolph's contributions helped lend the Nashville Sound broader popular appeal.

Bob Moore remembered Mr. Randolph as someone who would pitch in where needed. At the same time, he said, "If you didn't watch out, Boots would become the star, it didn't matter who he was playing with.

"I've always said that, as the bass player, I have the best seat in the house," Moore explained. "I stood right behind Elvis and I stood right behind Tammy. No matter who I was playing with, I'd look out at the crowd
and could always tell by the looks on people's faces when Boots would take his turn at the center of the stage. He knocked them out every time. And when he would step back to the side, they would still be watching him."

Beyond his unassailable musicianship, Mr. Randolph was an avid golfer, a devoted family man and a friend to many.

"He was not only a definitive musician," said Lee, "he was also a true gentleman, and a wonderful friend to me, as he was to so many in the Nashville recording community.

"He was a precious, sweet man," she added. "His passing leaves a void that will be impossible to fill."

Mr. Randolph is survived by Dee Randolph, his wife of 59 years, his son Randy Randolph and daughter Linda O'Neal, all of Nashville.

Funeral services are pending. A memorial service will be conducted by the Nashville Association of Musicians Local 257 at a later date.

This article © courtesy The Tennessan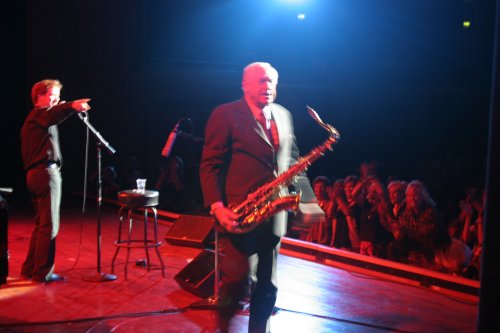 Boots Randolph - Aug 13, 2004