Bill and DJ to be Inducted to R 'n R HOF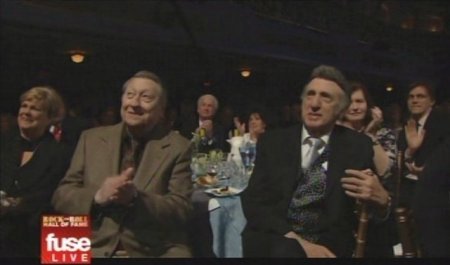 Scotty applauds as Bill and DJ are inducted - April 4, 2009
scan courtesy Fuse TV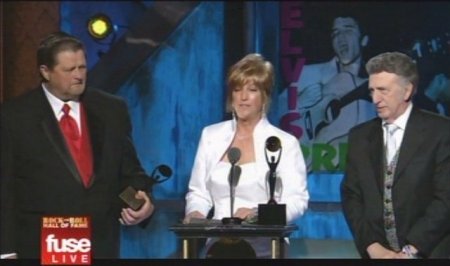 Louis Black, Nancy Shockley and DJ accept the awards - April 4, 2009
scan courtesy Fuse TV

Scotty at the RnR HOF induction ceremony - April 4, 2009
scan courtesy Fuse TV

Ron Wood, Jimmy Page, Scotty Moore and Jerry Townsend - April 4, 2009
Photo courtesy Angela Justice
---

Bill, D.J. and Scotty backstage at the Louisiana Hayride, spring 1956
Photo© courtesy of Louisiana Hayride Archives - J. Kent
I received an email from Louis Black today, Bill's nephew asking if I had heard about this. I hadn't but asked if it was ok with him to share this info with the fans. The following is an email he forwarded to me that he wrote to Bill's daughter Nancy (you may remember her from the page we put up about her visit to Paul McCartney to see her dad's bass):

I have some wonderful news to share with you. Today, I got a call at my office from the President of the Rock and Roll Hall of Fame Foundation, Mr. Joel Presman.

The foundation is headquartered in New York City. Mr Presman said that "Bill Black is going to be inducted into The Rock & Roll Hall of Fame" !!!!!!

He got my name from Howard Kramer, the Curatorial Director at the Rock & Roll Hall of Fame Museum in Cleveland, OH.

Mr Kramer had contacted Alan and I, soon after our Dad passed away, about us allowing the museum to borrow the violins, that Dad left us, to put on display.

Mr. Peresman wanted to speak to one of Bill Black's children and he asked me which one he should speak to.

I told him, "Nancy is who you need to speak to first and then you guys can go from there".

I am thrilled that Uncle Bill is "finally" going to be recognized !!!

Please give me a call

Regards,

Louis Jr.
I heard from Nancy since as well, it has been confirmed and will be announced officially next week that both Bill and DJ will be inducted. Scotty, as you know, was inducted in 2000.
James V. Roy
January 8, 2009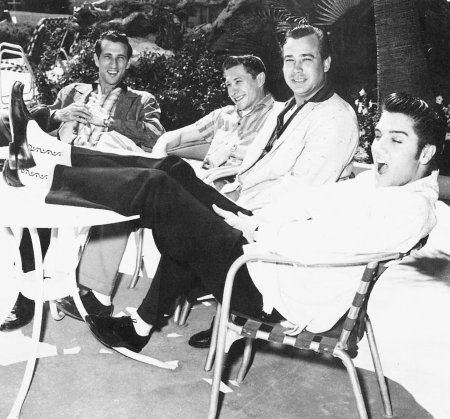 Relaxing by the pool between shows April 26, 1956
Photo © courtesy EPE, Inc.
---
Memphis rocks Hall of Fame with Bill Black, DJ Fontana, others
By Bob Mehr (Contact), GoMemphis.com
Wednesday, January 14, 2009
It proved to be a big day for Memphis on Wednesday as the Rock and Roll Hall of Fame announced its annual list of inductees, including bassist Bill Black and drummer DJ Fontana of Elvis Presley's band and Southern soul musician Spooner Oldham.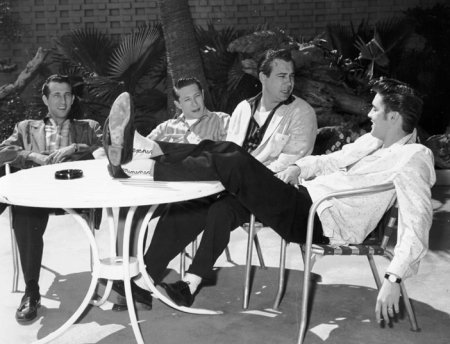 Elvis Presley with the boys; D.J. Fontana (left), Scotty Moore (center) and Bill Black in Las Vegas May 4, 1956. Elvis was making his first Vegas appearance at the New Frontier Hotel April 23 - May 9, 1956. Hotel hype named him "The Atomic Powered Singer".
Las Vegas News Bureau courtesy GoMemphis.com

The Cleveland-based Hall of Fame confirmed an eight-member class that included British rock guitarist Jeff Beck, heavy metal merchants Metallica, rap pioneers Run-DMC and early R&B outfit Little Anthony and the Imperials.
The late Black, Fontana and Oldham were elected in the sidemen category.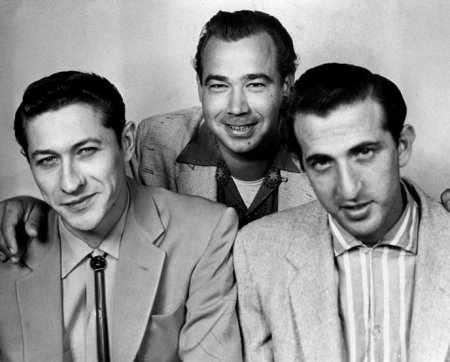 From left: Scotty Moore, Bill Black and D.J. Fontana in an undated photograph. The three backed Elvis Presley
The Commercial Appeal files courtesy GoMemphis.com
Black and guitarist Scotty Moore -- who was inducted in 2000 -- met Presley in early 1954 and formed the core of his backing outfit, known as the Blue Moon Boys. Fontana, a Louisiana-raised drummer, joined the outfit late that year and remained with Presley until 1969.
After leaving Presley's group, Black went on to enjoy success with his own Bill Black's Combo, scoring a succession of instrumental hits for the local Hi label. He died in 1965 at age 39. The Bill Black combo would carry on for another decade without him, winning a country Grammy in 1976.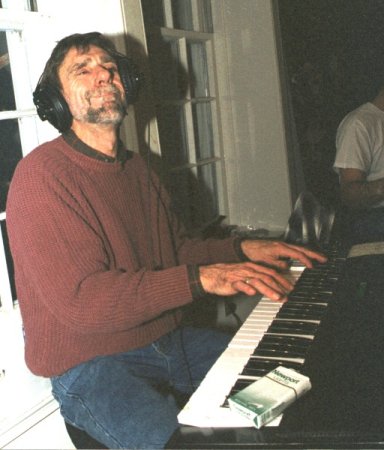 Spooner Oldham
courtesy GoMemphis.com
Southern songwriter and ace session pianist Oldham spent a good portion of his career in Memphis. The Alabama native made his name playing on records by Wilson Pickett, Aretha Franklin and many other R&B and soul artists in the '60s and '70s.
Oldham, who also worked with Bob Dylan and Neil Young, continues to be an in-demand studio and road hand for contemporary bands including the Drive-By Truckers and Amos Lee.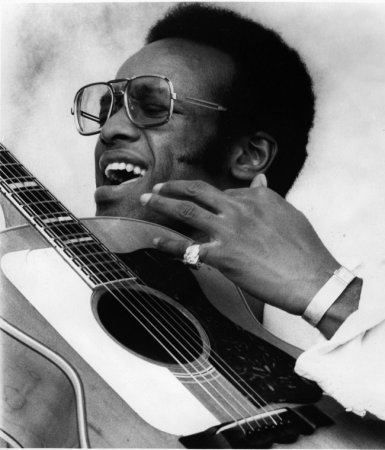 Bobby Womack during the mid-1970s.
EMI Archives courtesy GoMemphis.com
Another honoree in the performer category was soul man Bobby Womack, who spent several years in the late-'60s in Memphis, working at Chips Moman's American Studios as a guitarist and songwriter before launching his career as a solo hitmaker.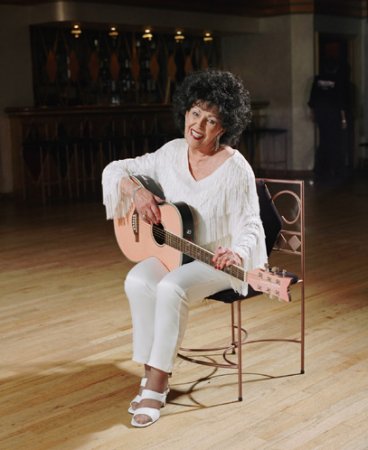 Wanda Jackson
courtesy GoMemphis.com
In the "early influence" category, the Hall chose to honor rockabilly hellcat Wanda Jackson, one of the earliest and most influential female performers in the genre. The Oklahoma-born Jackson, originally a country performer, was encouraged to embrace rock and roll by Elvis Presley in the mid-'50s and the two also briefly dated.
Inductees are chosen by the 600 voters of the Rock and Roll Hall of Fame Foundation. The induction ceremonies will be held at the Public Hall in Cleveland on April 4.
-- Bob Mehr: 529-2517

Rocking into history
Tickets to this year's induction ceremonies at the Rock and Roll Hall of Fame in Cleveland will be available to the general public for the first time in the event's history. The April 4 program will broadcast live on Fuse TV. For more information, go to rockhall.com.
---
Elvis' musicians get Rock and Roll honor
Reported by Justin Hanson
Updated: Jan 21, 2009 07:40 PM EST

Video Gallery - Going to the Hall of Fame (01-21-09)


MEMPHIS, TN (WMC-TV) - Two of Elvis Presley's band members are set to be inducted into the Rock and Roll hall of fame in just a couple of months. Elvis' bass guitarist Bill Black and drummer DJ Fontana will be among those included in this select group of musical royalty.

Bill Black's children, Louis and Nancy, say it a well deserved honor. To them, the bass guitar is their key to history.

"Daddy wasn't just a musician...he was a friend to a lot of these people," Louis Black said.

"To me, he was Daddy. He'd come home with his bass, set his bass down, he'd hug his kids and spend as much time as he could with us," daughter Nancy Black Shockley added.

Black, played bass on early Elvis Presley recordings including Heartbreak Hotel, That¹S All Right Mama, Hound Dog, and Jailhouse Rock. Now, nearly 45 years after his death, Bill Black is getting the recognition his children say he deserves.

"I'm thrilled," Louis Black said. "It's been a long time coming."

Black was known for his humor, and would always warm up the crowds before Elvis came out on stage. His children believe a God-given talent for music helped him lay the groundwork for an international superstar.

"Bill Black and Scottie Moore were the stabilizing force behind the young man from Tupelo, Mississippi, as he rode the wave to stardom," Nancy Black Shockley said.

Bill Black's music touched many, including a former Beatle. In 2007, Nancy traveled to London to meet Beatle Paul McCartney and see one of the famed bass guitars that once belonged to her father.

As Black's children prepare to represent their father, they waste no time in saluting his short but monumental musical career.

"Its like 'mission accomplished,'" Louis Black said. "Finally we got him there, because I think he deserved it all the time."

Fontana will accompany Black's children to Cleveland, Ohio for the induction ceremony, which is set to take place on Saturday, April 4th.

These articles added January 22, 2009 are courtesy Alan Black