Casino Rama Resort July 4 and 5, 2003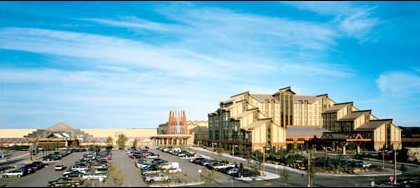 Photo courtesy Casino Rama
Well, Scotty just returned from a real fun trip to the Casino Rama in Orillia, Ontario just north of Toronto, Canada. He was playing with Ronnie McDowell, D.J. Fontana, and the Jordanaires. Ronnie's regular bass player was unable to make the trip, so Scotty contacted his old friend Bob Moore, who also played many sessions with Elvis and also was the number one bass player on sessions in Nashville studios for many years before his semi-retirement several years ago. Bob went along with the guys on the super-luxurious Prevost custom bus and a good time was had by all…I would have loved to be a fly on that wall and listen to all the stories told on that bus!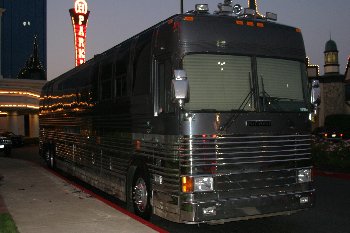 Ronnie's Prevost Custom bus
Both the shows were sold out. Scotty did a couple of interviews with media while he was there, and in addition, they signed autographs for two hours(!) after each show. It was the first time Ronnie had played that area with this group, so both Ronnie and the Elvis guys had a whole new audience to play to…we hope that some of the people who attended write in to the site. He met Rod Hand, who had flown all the way from Newfoundland just for the shows. Scotty said that the whole audience was very receptive, and he thought that both shows really went well.
After the show on Friday night/Saturday am, he was wandering the casino with our good friends, Steve and Ella Shepherd (Steve is Ronnie's road manager and keyboard player) and trying to lose a few bucks for good International relations. Ella loves to play the slots, and Scotty loves to watch her have a good time, so they were wandering around together. All of them were winning a little, losing more, when Ella let out a loud shout! She had hit a red seven in the middle, a 10x on the left, and a 10x on the right. She said, "What is that? $1500.00?" and Steve said, "Hell, no, that's $15,000.00!" It was in Canadian dollars, so it was around $10,000 American, but still more than any of them had ever seen before! They called me at 2:05 am and woke me up in Nashville to tell me about it! Go, Ella!
While the guys were gone, some fresh vegetables had been coming ripe in mine and Scotty's little vegetable patch, so when they got home, we had Bob Moore and his beautiful wife Kittra come home with us to eat a fresh summer dinner. Again, a good time was had by all. Sorry I did not go on the trip, but the ones who went had a great time, and they all hope to have a chance to play there later.
Gail Pollock
July 7, 2003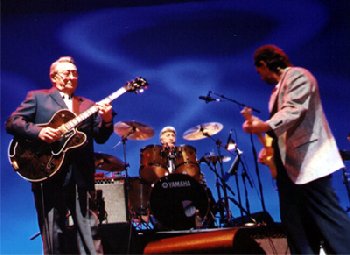 Scotty, D.J. and Kevin Woods
Photo© courtesy C. Hunter Ladyluck Music

Bob Moore
Photo© courtesy C. Hunter Ladyluck Music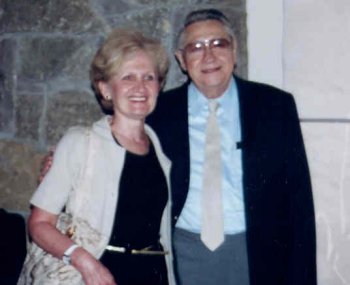 Carol Hunter and Scotty
Photo© courtesy C. Hunter
Recently, I attended the two shows at Casino Rama in Orillia, Ontario, Canada which featured Ronnie McDowell, along with Scotty, DJ, and the Jordanaires. As a life-long Elvis and Jordanaires fan, and one whose "music heroes" are Scotty Moore and DJ Fontana, this was a genuine thrill for me. DJ Fontana often comes to Elvis events in Canada and I have enjoyed meeting him several times..but I hadn't met Scotty before and it was such an honour -- like DJ he is quiet, humble, and unassuming.....and yet is a truly legendary talent. I hope Scotty will come back to perform again in Ontario, Canada soon!! Thanks to everyone for the great entertainment!! (click here to read Carol's full coverage of the show)
Carol Hunter
August 1, 2003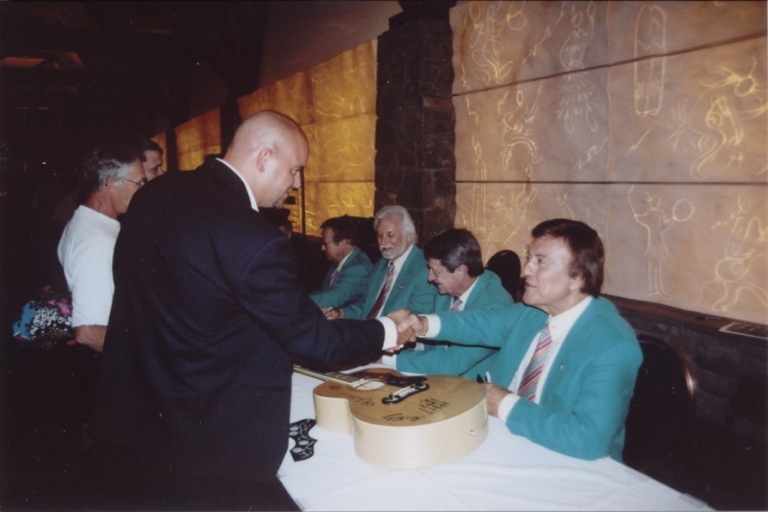 Rod Hand and The Jordanaires
Photo© courtsey Rod Hand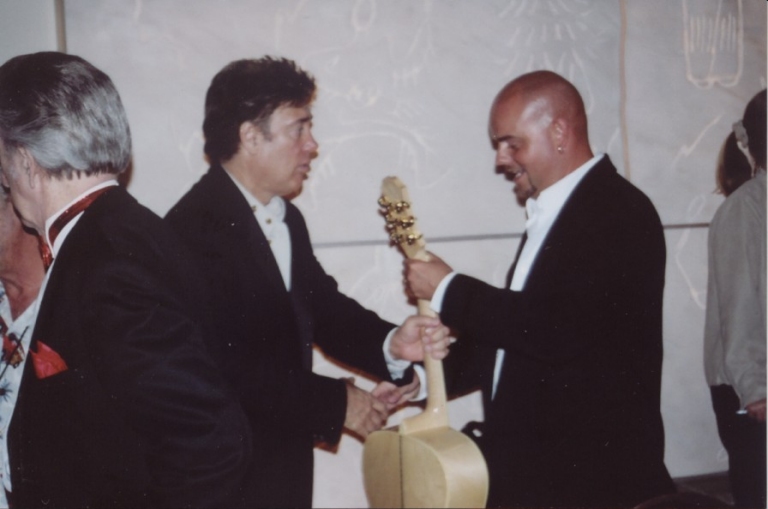 Ronnie McDowell and Rod Hand
Photo© courtsey Rod Hand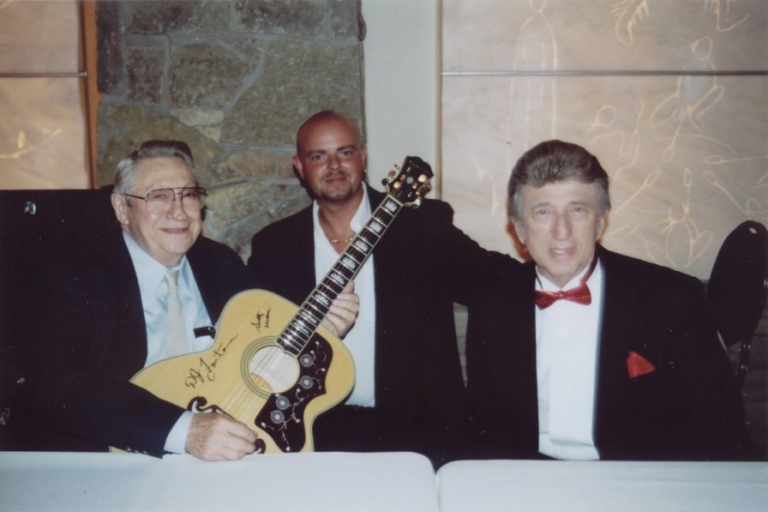 Scotty, Rod Hand and D.J.
Photo© courtsey Rod Hand
Hi Scotty and Gail. Well I just returned from your show in Orillia Ontario and I got to say its been the most wonderful experience I have had in my life. You are such a rock and roll gentleman. To see you in concert was amazing, its truly the highlight of my life. Thanks for the photo shots after the show and you signing my EJ 200 guitar. I will treasure it forever. I am not sure if you know what kind of impact you have on peoples lives, but you left a lasting impression with me. Thanks for the memories and keep on picking that guitar.
ROD HAND
ST. JOHNS, NEWFOUNDLAND CANADA - Monday, July 07, 2003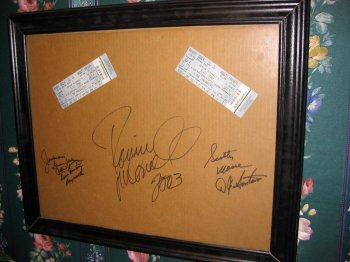 Photo© courtesy Freddy Vette
Scotty, Saw you in Orillia last weekend with DJ, Ronnie, and The Jordanaires. Great show! And hey, what about Bob Moore on bass....what a treat. Anyway, you guys were so nice to stick around for autographs for so long after the show! By the time I got to you...they didn't have much left to sell at the souvenir table, so I grabbed a chunk of cardboard that was laying under the table and got you guys to sign it. It's framed on my wall now! I told you I learned to play guitar from your records and you said "I hope it didn't get you in too much trouble. " Well, it didn't...now I'm trying to make a living keeping Rock & Roll alive. Thanks for everything....
Freddy Vette
Stirling, Ontario Canada - Saturday, July 12, 2003