Casino Rama Resort July 29 and 30, 2004
Just had to write and tell you what a great honor it was to sing "That's Alright Mama" with my idols Scotty Moore, D.J. Fontana and The Jordanaires. The night of July 30th. at Casino Rama in Ontario Canada was and will remain the greatest day and thrill of my life. The standing ovation and the hundreds of great comments I received have definitely placed me on cloud nine for some time to come. Just getting to shake the hand of the greatest guitar player and one of the innovators of Rock and Roll is truly an Honor. Not to mention singing with the great Jordanaires and D.J. playing drums. Once again, Thank You for the greatest day of my life.
Wayne Knights
August 2, 2004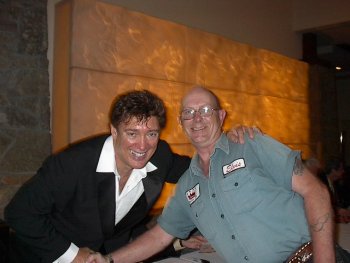 Ronnie McDowell and Wayne Knights
Photo© courtesy W. Knights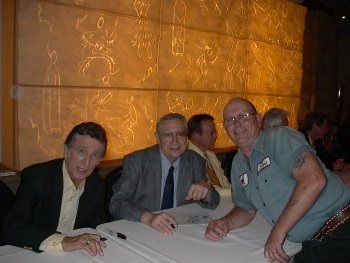 D.J., Scotty and Wayne Knights - July 30, 2004
Photo© courtesy W. Knights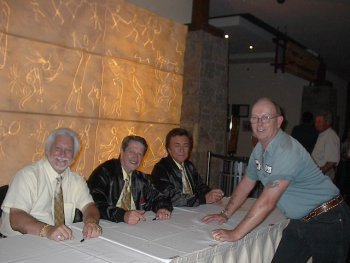 Curtis, Louis, Ray and Wayne Knights - July 30, 2004
Photo© courtesy W. Knights
Jim, on Thursday another guy went up and sang. His name was John and he was from Carlyle, Ontario. He was the one Ronnie selected from the audience as the biggest Elvis fan, and he had him come up on stage and sing "Hound Dog" with Ronnie, then do the Elvis twist-leg dance to it! This guy did it with the greatest nerve you ever saw! Ronnie kept calling him Carl, till finally he said, "I'm John" and got a huge laugh....Ray Walker escorted him off the stage and gave him a dollar for dancing, and John told Ray "I'm drunk, you know!" He really added to the show.
Gail