Veterans Memorial Auditorium
Des Moines, IA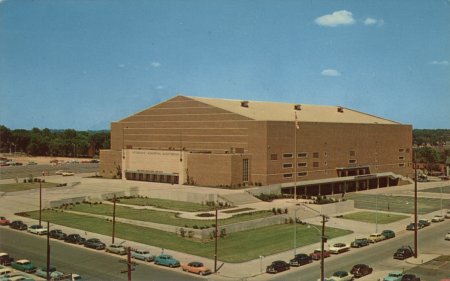 Veterans Memorial Auditorium in Des Moines, IA - ca. 1955
courtesy eBay
When the cornerstone to Veterans Memorial Auditorium in Des Moines, Iowa was laid in 1954, it was one of the largest arenas and exhibit halls in the country, competing with the leading venues in Chicago, New York and Los Angeles.1 It opened on February 1, 1955, and was named to honor the World War II veterans of Polk County.2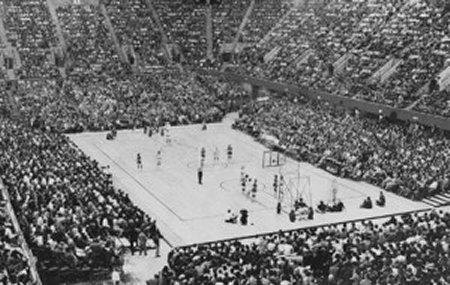 Girls State Basketball Championship at Veterans Memorial Auditorium - Mar 30, 1955
Photo courtesy Iowa Events Center
Vets Auditorium served as the primary venue of sporting events and concerts in the Des Moines area for many years. "Vets" became a part of Iowa's history, playing host to everyone from leading entertainers to future Presidents to high school athletes seeking state titles. It has 7,227 permanent seats, with the capacity to add an additional 4,000 seats for concerts and an additional 7,500 bleacher seats for basketball games.1
On May, 22, 1956, Elvis, Scotty, Bill and DJ were the first major act to perform there while on tour of the upper Midwest. They had performed the previous evening in Topeka, Kansas. It would be the only appearance in Des Moines by the band and the first of several for Elvis.
The show at Vets was booked by Des Moines' legendary country music promoter Smokey Smith, who with help from fellow promoter A.V. Bamford, secured the 21·year-old Presley to play the first concert at the new Des Moines venue. The top ticket price for the show was $2.50.


courtesy Brian Petersen


Elvis backstage (reputedly) in Des Moines - May 22, 1956
Photo courtesy ebay, Sheila Roth, added Oct. 20, 2015

Though Smith says that Presley's concert was a financial disaster because it only drew 3,900 (mostly teenage) fans during high school graduation weekend. Still, the legendary singer left an indelible mark on Smith and the fans.
"Number one, he was a gentleman. 'Mr.' and 'Mrs.' so and so. Very polite with everybody," Smith says. "He was a good entertainer and put on a good show.
"I was a victim of circumstances and learned after that not to book any shows during high school graduations because moms and dads want to see their boys and girls graduate. The other thing was he didn't have a lot of airplay up here because a lot of the stations wouldn't play him because they thought he was vulgar. He played Kansas (Topeka) the night before and did well, but didn't do as well up here."
Smith says that he talked to Presley about the sales of his new record at the time and how he used to sing in church during his youth.
"His comment to those who thought he was vulgar was, 'That`s my music coming out,"' Smith says.
Hans and Wanda Goeppinger of Boone were 15-year-old sweethearts and fans of Presley's music when they saw Presley perform that night at Vets and briefly encountered the singer before the show. They were on a double date with another couple and Wanda's mother had dropped them off in the parking lot when moments later they spotted Presley and his entourage walking from their hotel to Vets.
"He was wearing black loafers, lavender socks, a white shirt with a thin tie and a lavender sport coat. At that point in time we had never seen a lavender sport coat. He was about 20 feet away from us," recalls Wanda Goeppinger, now 70.
"He looked at us as if he expected us to fawn all over him, but we were with our dates and we were too cool for that," says Hans Goeppinger. "We didn`t have the nerve to talk to him or ask for his autograph. We were too mature for that."
The Goeppingers say that Presley waved to them as he walked into Vets. Once inside, the couple and their friends found their seats on the main floor. After sitting patiently through opening performances by Rick Flaim and his six-piece orchestra, singer Jackie Little, Irish tenor Frankie Connors, comedian-dancer Phil Maraquin and the Jordanaires, fans left their metal folding chairs behind to dance to Presley's headlining set.


Elvis, Scotty, Bill and DJ onstage in Des Moines - May 22, 1956
Photo courtesy ebay, Jove Pascual, added Oct. 20, 2015

"I really wanted to hear Elvis and 'Heartbreak Hotel,`" says Hans Goeppinger, also 70. "People were pushing away their chairs and dancing and screaming and were really happy.
"Elvis was intense. He was uninhibited and sang with a high frequency pelvic motion equal to a male rabbit mating. I had never seen anything like him before."
Nick Lamberto, who reviewed Presley's 20-minute performance for the Des Moines Register; wrote that Presley, "WHO is six feet tall and weighs 180 pounds, loped across the stage like a starved panther. Merely striding across the stage set off a loud chorus of screams. He grabbed the microphone and started to sing and squirm ... things got worse in a hurry. As Presley staggered and jerked his way through "Heartbreak Hotel", the shrieks and whistles of the crowd were so loud his voice could hardly be heard."
After performing Little Richard's "Long Tall Sally", Lamberto wrote that Presley stepped to the microphone and said, "I dread to sing this next number because when I'm through I've just about had it. I'm just too pooped to pop after singing it," before swaggering his way through "Blue Suede Shoes." Presley closed the show with another hit, "Hound Dog".

A similar scene reportedly played out the next day in Sioux City, where Presley performed at the Sioux City Auditorium on May 23, 1956. 3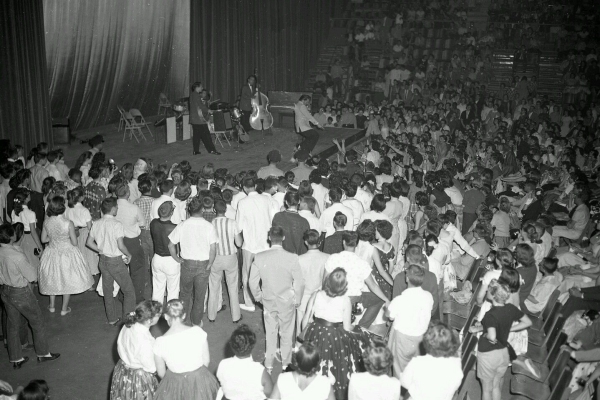 Elvis, Scotty, Bill and DJ onstage in Des Moines - May 22, 1956
Photo courtesy ebay
Elvis would perform in the auditorium two more times, on June 20, 1974, and his fourth to last concert ever on June 23, 1976.
CRITICS' REVIEWS of Presley's concert at Veterans Memorial Auditorium in Des Moines on June 20, 1974 was more favorable after Presley returned to Iowa two decades later.

Presley performed for approximately one hour before a sold-out crowd of 11,000 people in 1974 at Vets. Tickets sold for $10. Clad in a white jumpsuit with blue sequins, Presley performed a Caesars Palace-style show with a mix of old favorites ("Heartbreak Hotel", "Hound Dog", "All Shook Up", "Don't Be Cruel"), covers ("C.C. Rider", "I Got A Woman"), gospel numbers ("Amen, Amen", "Why Me Lord", "Help Me") and newer tunes ("Suspicious Minds", "Let Me Be There").
"During those numbers which brought him fame and notoriety in 1956, he gave a sedate version of the famed 'Elvis the Pelvis' leg action that once caused television network officials to order cameramen to show the Presley body only from the waist up when he appeared on the Ed Sullivan Show," wrote Dan Piller for the Des Moines Register in 1974. "When Elvis did 'Love Me Tender', another oldie, he brought shrieks from females in the balcony by giving them the seductive, side-eyed glance."
Piller also wrote that, "Elvis' trademark these days is not the hip-grind, but the handkerchief throw. On too many occasions to count, he took the large handkerchief from around his neck, briefly touched it to his face and then tossed it to an eager pair of female arms, prompting more shrieking."
Sandy McCarthy of West Des Moines went to the 1974 show at Vets and watched the show from the second row on the main floor.
"There was a lot of screaming when he would wiggle his hips but the crowd wasn't unruly. They were excited," she says.
Then something happened that McCarthy, 69, says that she will never forget.
"After Elvis finished his last song, he came out and shook hands with people close to the stage. So I got up close and shook his hand," she says.
"He threw his handkerchief into the crowd toward me, but some big old broad jumped up and grabbed it. I tried to chase her, but she was gone. That baby was inches away from my outstretched hand. Then they tuned out the lights and said 'Elvis has left the building.'" 3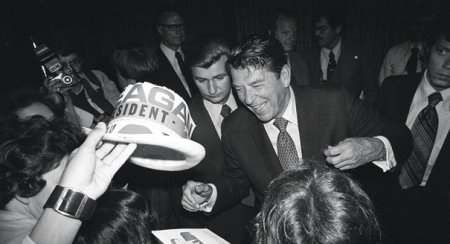 Ronald Reagan with well wishers at Veterans Memorial Auditorium - June 19, 1976
AP Photo
In 1976 California Governor Ronald Reagan made an unsuccessful bid for the Republican candidacy for the Presidential election, losing to incumbent Gerald R. Ford. While campaigning he appeared at Veterans Memorial Auditorium only four days before Elvis' last appearance there. Four years later he would be elected the 40th President of the United States.

Elvis at Veterans Memorial Auditorium - June 23, 1977
Photo courtesy Elvis Presley In Concert

Presley's final performance in Iowa was at Veterans Memorial Auditorium in Des Moines on June 23, 1977, less than two months before he died. Backed by a 10-piece choir and 15-piece band, Presley performed songs like "Blue Suede Shoes", "Little Sister", "Jailhouse Rock", "Teddy Bear", "Hound Dog", "If You Love Me" and "You Gave Me A Mountain" to a sold out crowd.
"Only a lout with no appreciation whatever for modern popular music could have escaped Presley's spell at Veterans Memorial Auditorium ... It's safe to say none of the 11,000 folks who filled every chair in the hall felt cheated by his show," wrote Jim Healey for the Des Moines Register. "Whatever slump Presley was in a year ago at the Hilton Coliseum in time has vanished. His spirit, his wit, and thankfully, his voice, were intact. If anything, he was bigger than life.
A slight slur remained in his voice, reminiscent of the near-tragic Ames show, but Presley's voice was slurred only when he spoke, never when he sang. The cause of the slur remains a mystery.
"The most notable difference between Thursday's show and the one last year in Ames (aside from his trimmer profile) was that here Presley seemed to be singing strongly and consistently throughout the performance. In Ames, he didn't hit 100 percent until close to the end, and it badly flawed the show."
Presley, who Healey described as "a consummate entertainer", donned a Mexican sundial suit and handed out scarves to adoring female fans throughout the show.
"The nostalgia pieces so inspired the crowd that all types of adult and middle-aged bodies rushed the stage from the far corners of the main floor, just like the kids used to do at rock shows," wrote Healey. "In fact, it was such a fine night of entertainment that the only ones who lost on the deal were the last minute ticket-scalpers.
The market the day of the show was depressed and some were selling tickets for whatever they could get - often less than they had paid." 3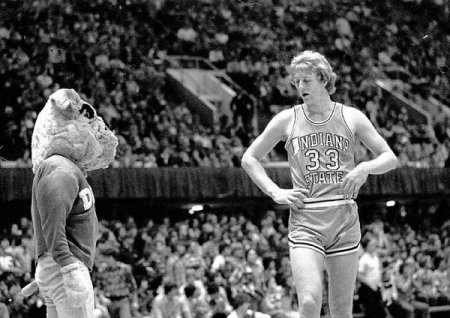 Larry Bird played basketball against Drake as a college student at the auditorium before going on to his NBA career. Bird scored 45 points against the Bulldogs in a 1978 game.
Photo courtesy Des Moines Regisiter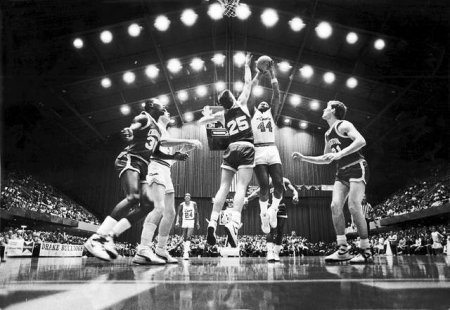 Creighton's Ed Johansen strains to block a shot by Drake's Melvin Mathis in a Feb. 24, 1986, Missouri Valley Conference basketball game at Veterans Memorial Auditorium. The Bulldogs played at the facility until 1992, when the Knapp Center was built.
Photo courtesy Des Moines Register
As the primary venue of sporting events and concerts in the Des Moines area Vets Auditorium would also play host to other performers such as Lawrence Welk, Neil Diamond, Wishbone Ash and AC/DC. It was also the site of the January 20, 1982, concert where Ozzy Osbourne bit the head off a bat. World Wrestling Entertainment also broadcast from the venue and it was the longtime home of the Iowa state high school basketball and wrestling tournaments until 2005. It hosted Drake University basketball games until 1992 and the Des Moines Dragons professional basketball team from 1997 to 2001. Vets began to show its age as newer and larger arenas were opening in other cities and concert promoters began to bypass Des Moines.2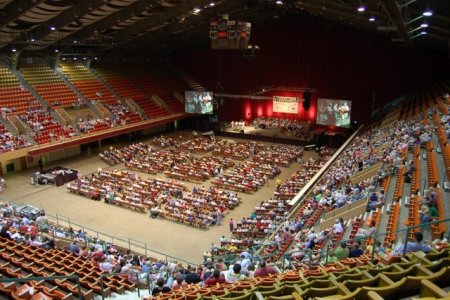 Church of the Brethren Annual Conference - July 2006
Photo courtesy COB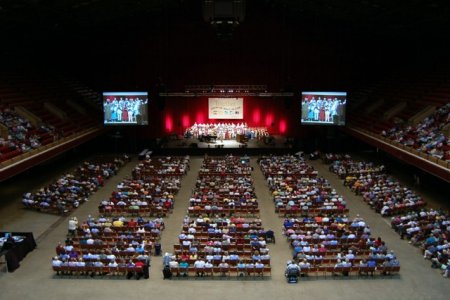 Church of the Brethren Annual Conference - July 2006
Photo courtesy COB
In 2004 the Veterans Memorial Auditorium received $5 million in renovations and became part of the Iowa Events Center. Finished at a price tag of $217 million, the complex is the most costly public project in the state's history. It consists of the renovated 7,200 seat Veterans Memorial Auditorium, the 250,000 square-foot Hy-Vee Hall, and the 17,000 seat Wells Fargo Arena.3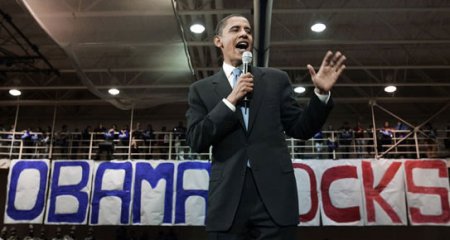 Senator Barack Obama at Veterans Memorial Auditorium - June 2008
Photo courtesy Garling Gauge
Presidential hopeful Senator Barack Obama was the final speaker at Iowa's annual Jackson Jefferson dinner held at Vets in June of 2008 where the leading Democratic presidential candidates paid their mandatory election cycle dues. With an estimated 9,000 attending the dinner he stole the show. "If we are really serious about winning this election we can't be afraid of losing it" said Presidential hopeful Barack Obama, capping the evening.4 He would go on to win the candidacy and the election that year becoming the 44th President of the United States.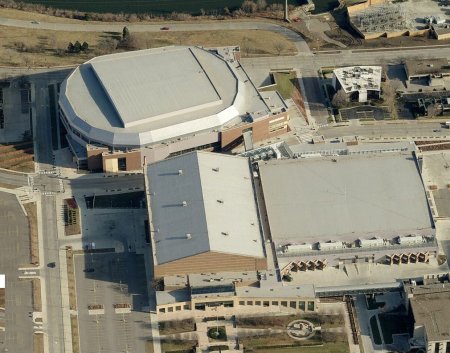 Aerial view of the Iowa Events Center in Des Moines, IA - 2009
Photo courtesy Microsoft EarthData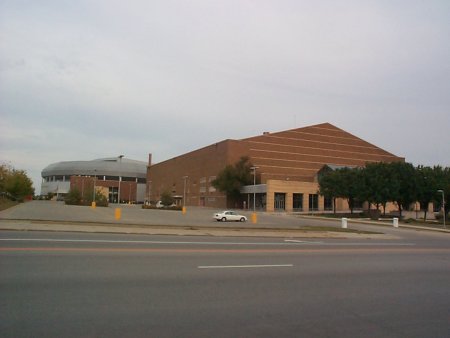 Well Fargo Arena and Veterans Memorial Auditorium in Des Moines, IA - Sep. 19, 2009
Photo © James V. Roy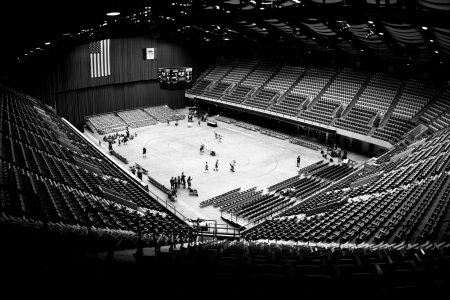 Veterans Memorial Auditorium in Des Moines, IA - July 17, 2010
Photo © Nieuwenhais Fotografie
Veterans Memorial Auditorium has been a part of Iowa's history for nearly a half century and continues to play a role in the future of Iowa. As a major component of the Iowa Events Center, it is now a part of the future. Directly joined to Hy-Vee Hall, and connected by skywalk and tunnel to Wells Fargo Arena, Vets Auditorium provides maximum flexibility for events. Its two levels offer nearly 100,000 square feet of floor space for exhibits and trades shows, along with more than 7,200 seats for smaller arena events.5

Veterans Memorial Auditorium in Des Moines, IA - Sep. 19, 2009
Photo © James V. Roy

Veterans Memorial Auditorium in Des Moines, IA - Sep. 19, 2009
Photo © James V. Roy
page added August 1, 2011

Special thanks to Clovis Bowles for the tip on the story in the Iowa History Journal.
1 according to Church of Brethren online
2 according to Veteran Memorial Auditorium - wikipedia
3 excerpts from Elvis held court in Iowa 5 Times by Michael Swanger for Iowa History Journal - May/June 2011
4 according to Garling Gauge » presidential candidates - June 26, 2008
5 according to Iowa Events Center - Arena Info Vets Auditorium