Ed Sullivan Performances on DVD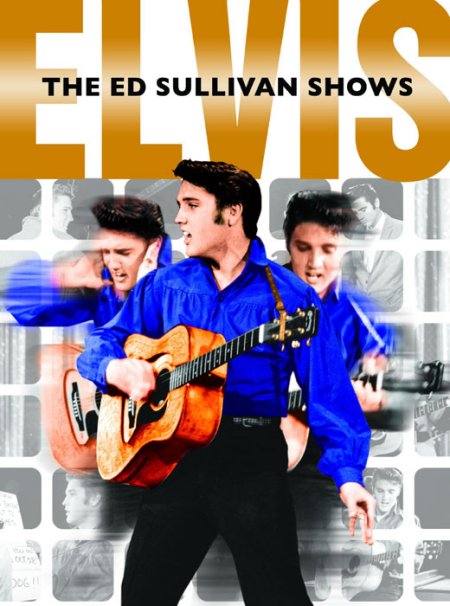 Image Entertainment to Release ''Elvis Presley: The Ed Sullivan Shows''
Image Entertainment, Inc. (Nasdaq: DISK), a leading independent licensee, producer and distributor of home entertainment programming in North America, celebrates the legend of ELVIS PRESLEY with the first-ever DVD release of the undisputed king of rock 'n' roll's historic earth-shattering performances in ELVIS PRESLEY: THE ED SULLIVAN SHOWS. This 3-disc special edition DVD set will debut November 21, 2006.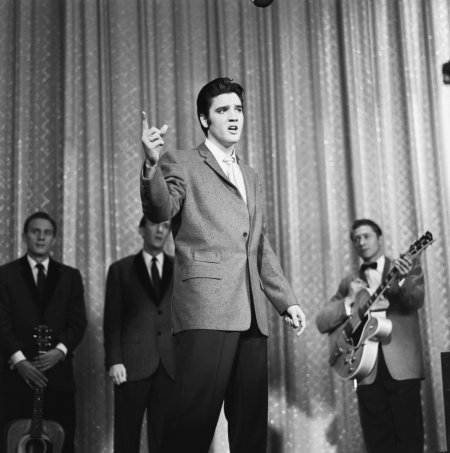 Hoyt Hawkins, Hugh Jarrett, Elvis and Scotty on the Ed Sullivan Show - October 28, 1956
Photo © courtesy EPE, Inc.
Produced by Grammy and Emmy-award winning producer Andrew Solt (Imagine: John Lennon, his Is Elvis, The History of Rock 'n' Roll, Heroes of Rock 'n' Roll), the DVD consists of the three complete Ed Sullivan Shows on which Elvis made rock 'n' roll and TV history. Elvis first appeared on the show September 9, 1956 and sent shockwaves through a repressed post-war America -- effectively opening a generational rift between parents and their children -- with his soulful singing, sexual hip gyrations and raw rock 'n' roll energyT. Elvis attracted a record-breaking audience of over 72 million people -- more than 80% of the television-viewing audience -- which equaled one of every third man, woman and child in the U.S. at that time. Viewing Elvis Presley's three appearances on the Ed Sullivan Show in their entirety frames the context of the country's appetite for entertainment in 1956. By glimpsing this time capsule Elvis's raw, confident and casual performances illustrates why he was so charismatic and how he captured the imagination of the world.

DJ, Elvis and Bill rehearse for the Ed Sullivan show broadcast from LA - Sept. 9, 1956
Photo © courtesy EPE, Inc.
On his first Sullivan appearance, Elvis performed from CBS Television City in Hollywood while he was on the West Coast shooting his first feature film Love Me Tender. Although the movie was two months away from release and the single was not available in stores, Elvis debuted the song "Love Me Tender" that night on the show; he followed it up with "Don't Be Cruel" (with the Jordanaires), "Ready Teddy" and "Hound Dog." Elvis returned on October 28, 1956 this time in New York , triggering ecstatic screams from the largely teen audience while performing his current hits "Don't Be Cruel," "Love Me Tender" and "Hound Dog." This time around, he added Lieber & Stoller's "Love Me" to his playlist. Elvis's inspired performances as well as his growing reputation for hip shaking and sensual gyrations convinced CBS's censors that the Ed Sullivan Show should film him only above the waist during his third and final appearance on January 6, 1957. On this final Sullivan show, Elvis performed "Hound Dog," "Heartbreak Hotel," "Love Me Tender," "Don't Be Cruel," "Too Much," "When My Blue Moon Turns To Gold Again" and "Peace In The Valley." After the show went off without incident, Ed Sullivan proclaimed him, "A real decent fine boy." Sullivan, in his inimitable style, further thanked Elvis by adding, "We've never had a pleasanter experience on our show with a big name than we've had with you ... You're thoroughly all right." This was the last time Elvis would appear live on American television.

Hoyt, Hugh, Elvis and D.J. rehearse for the Ed Sullivan show - Sept. 9, 1956
Photo © courtesy EPE, Inc.
Since the DVD features the three Sullivan shows in their entirety, there are other historic variety show appearances by guests such as Carol Burnett, novelty artist Senor Wences, various Broadway stars, athletes such as boxer Sugar Ray Robinson, tennis great Don Budge, baseball legend Jackie Robinson and numerous comedians. Each of the three shows run about one hour and all include the original commercials, which aired as part of the show's live broadcast. The 3-disc special edition DVD features re-mastered Dolby Digital 5.1 audio as well as the original mono soundtrack. The Kinescope video has been enhanced by a breakthrough technical process -- created by a company called Live Feed -- resulting in an optimal sound and visual experience.

Bill and Elvis on the first Ed Sullivan show appearance, broadcast from LA - Sept. 9, 1956
Photo © courtesy EPE, Inc.
Special bonus features include: a rare color 8mm home movie shot in 1955 which is the first-ever recorded footage of a very young Elvis (age 20) who was not yet managed by Col. Tom Parker; special Elvis moments including an appearance by comedian John Byner; and home movies of Elvis and Priscilla with some of the earliest shots of their daughter Lisa Marie. In addition, the package includes insightful interviews and reminiscing with legendary producer Sam Phillips of Sun Records, Gordon Stoker of the Jordanaires, Marlo Lewis, producer of these three historic Ed Sullivan Shows, renowned television host Wink Martindale; High School buddy and Memphis DJ George Klein and Elvis's close friend and Memphis Mafia member Jerry Schilling, author of Me And A Guy Named Elvis. The impressive package also includes a collectible booklet about Elvis on Sullivan featuring liner-notes written by pre-eminent rock scribe, Greil Marcus.

Rehearsal for the second Ed Sullivan appearance - October 28, 1956
Photo © courtesy EPE, Inc.
About SOFA Entertainment:
SOFA Entertainment is an independent production company in Hollywood and the exclusive owner of "The Ed Sullivan Show," which holds 23 years of the Golden Age of Television. Since it was formed in 1990 by Andrew Solt, SOFA Entertainment along with its sister company, Andrew Solt Productions, has produced hundreds of hours of television and DVD programming. SOFA Entertainment is 50% owner of Historic Films Archives, LLC, which holds over 30,000 hours of music, pop culture, history and entertainment programming.

About Elvis Presley Enterprises, Inc.:
Elvis Presley Enterprises, Inc. (EPE) is based in Memphis , with additional offices in Los Angeles . In addition to Graceland and its related attractions in Memphis , including the Heartbreak Hotel, EPE is aggressively involved in a worldwide licensing program, merchandising, music publishing, and television, film, video and Internet projects. For more information on EPE and Graceland , visit www.Elvis.com . EPE is a subsidiary of CKX, Inc. (www.ckx.com), a publicly traded company listed on the NASDAQ National Market System (NMS) under the ticker symbol CKXE.

About Image Entertainment:
Image Entertainment, Inc. is a leading independent licensee, producer and distributor of home entertainment programming in North America , with over 3,000 exclusive DVD titles and approximately 200 exclusive CD titles in domestic release and approximately 300 programs internationally via sublicense agreements. For many of its titles, the Company has exclusive audio and broadcast rights and, through its subsidiary Egami Media, Inc., has digital download rights to more than 1,500 video programs and over 150 audio programs containing more than 2,500 tracks. The Company is headquartered in Chatsworth , California , and has a domestic distribution facility in Las Vegas , Nevada . The Company's subsidiary Image Entertainment (UK) maintains a content acquisition office in London , England . For more information about Image Entertainment, Inc., please go to www.image-entertainment.com.


Click to purchase