Good Rockin' at Ellis Auditorium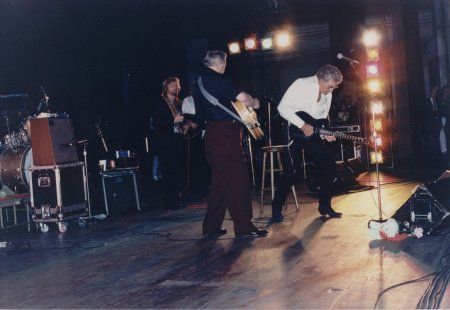 Onstage with Carl at Ellis in August 1992
In August of 1992 Scotty performed live again for the first time in 24 years. The last time was the 1968 NBC-TV special with Elvis. This time he accepted a booking with Carl Perkins at Ellis Auditorium in Memphis.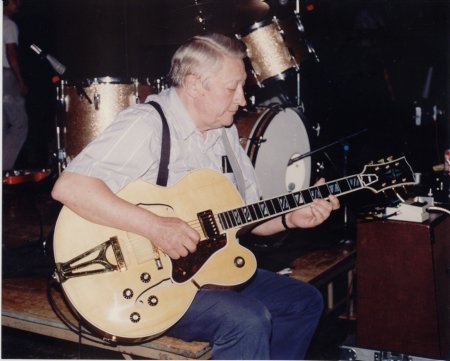 Scotty with his Super 400 at rehearsal
The concert was part of the "Good Rockin' Tonight" show, a festivity of the annual "Elvis Week" celebration. It would mark the beginning of his return to touring and performing live as well as his emergence into the public eye.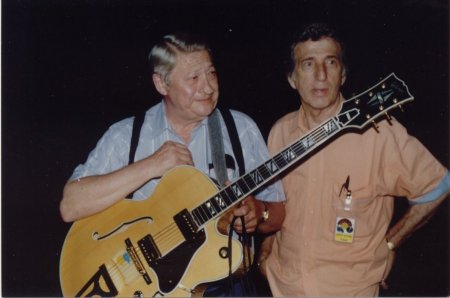 Scotty and D.J. Fontana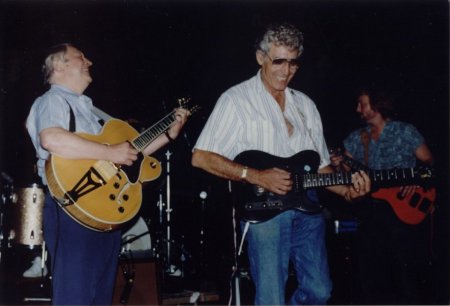 Scotty and Carl rehearse
Scotty had first played at Ellis auditorium in the '50s with Elvis. The last time before this was with Elvis in February of 1961. Ellis auditorium, formerly situated on the corner of Poplar and Front St. in downtown Memphis is no longer there. It was razed in 1999 for the expansion of the Memphis Cook Convention Center.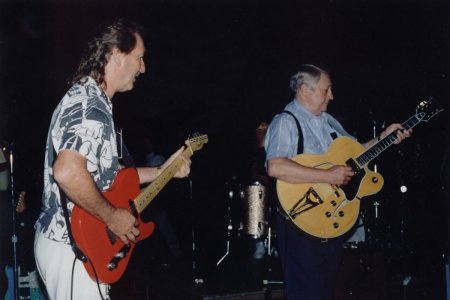 James Burton and Scotty rehearse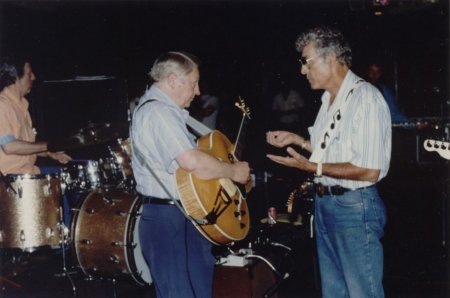 D.J., Scotty and Carl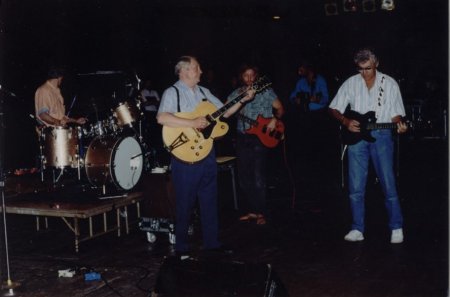 Also appearing on the show were the Sun Rhythm Section (minus Paul Burlison), James Burton, D.J. Fontana, Ronnie McDowell and the Jordanaires.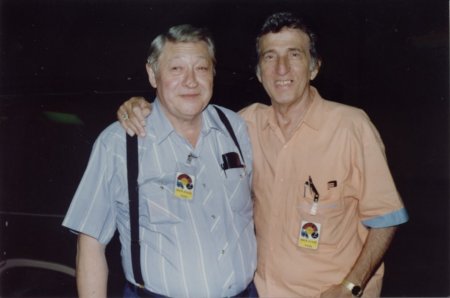 Scotty and D.J.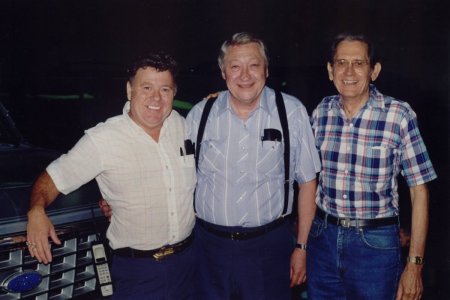 Jerry Lee "Smoochy" Smith, Scotty and Stan Kesler
"Smoochy" Smith, instrumental in creating the great Memphis Pumping Piano Sound, played on numerous record sessions at Sun and other studios in Memphis and was an original member of The Mar-Keys. He played on their monster hit, Last Night, that he was co-writer on. Stan Kesler was a staff musician and songwriter for Sun Records, playing steel guitar or Bass on many Sun sessions with artists such as Carl Perkins, Roy Orbison, Jerry Lee Lewis and many more. He wrote five songs for Elvis including "I Forgot To Remember To Forget". He also produced "Wooly Bully" and Lil Red Riding Hood" by Sam The Sham and the Pharoahs.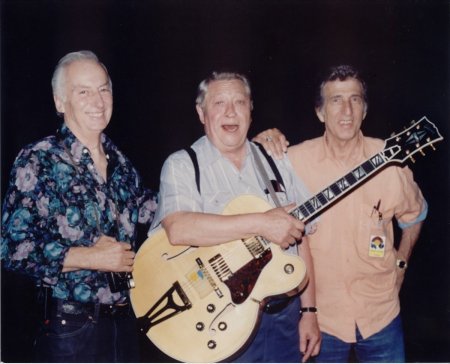 Sonny Burgess, Scotty and D.J.
Sonny Burgess was a recording artist for Sun Records and leader of a group called The Pacers, one of the most sought after Rockabilly bands of the 50s. He was known for his Sun recordings of "Red Headed Woman" and "We Wanna Boogie".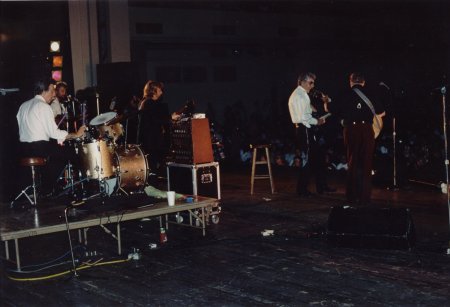 Gail Pollock who watched the show from the rear of the auditorium said "It was one of those, 'You have to be there' performances - it was electric!"
Between sets Ronnie McDowell and Scotty got to know each other and began discussions that would eventually lead to Scotty periodically touring with Ronnie and his band, a relationship that has grown and continues to this day.
Carl who was recently cured of throat cancer was told by his doctors that he could only perform for 20 minutes but he did an hour and twenty. He could hardly talk afterward. A week after the show Scotty went to England with the Jordanaires for performances at more than a dozen venues. Carl was booked as the headliner, but had to cancel at his doctors insistence and was unable to make the trip.