Delivery of the Signature Harley-Davidsons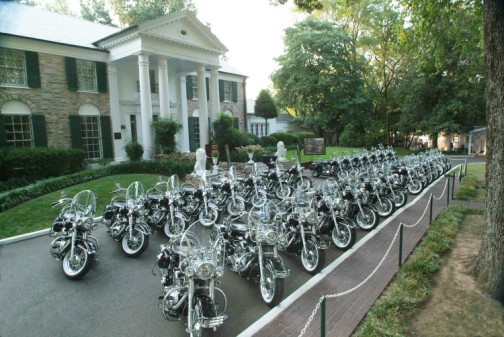 Elvis Presley 30th Anniversary® Signature Harley-Davidsons numbers 1-29 at Graceland
Photo by Phillip Ridings © Zucker PR, Inc.
To commemorate the 30th Anniversary of Elvis Presley's passing, Bruce Rossmeyer, CEO of 12 Harley-Davidson® locations including the all new Graceland® Harley-Davidson located in the Elvis After Dark Plaza in Memphis, partnered with renowned painter David Uhl and sculptor Jeff Decker to create the unique Elvis Presley 30th Anniversary Signature Collection. After debuting the prototype at Graceland earlier this year the series of one of a kind collection of 30 motorcycles that replicate the 1957 Black Harley-Davidson FLH that Elvis once owned. On August 15th, 2007, at an invitation only presentation at Graceland the first 29 bikes were delivered. Bike number 30 is tentatively planned to be auctioned on January 8, 2008, Elvis' birthday.1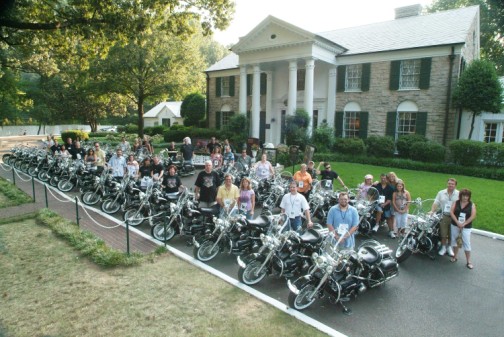 The owners with their Elvis Presley 30th Anniversary® Signature Harley-Davidsons
Photo by Phillip Ridings © Zucker PR, Inc.
Although appearing as a classic custom vintage bike, the motorcycles feature a 2007 Softail Chassis and drive train maintaining all of today's engineering and safety features. The motorcycles also feature Royalite® Bubble Saddlebags like the 50 year old originals now commercially reproduced by BB Reproductions. In addition to the motorcycles and certification each of the owners received unique pieces created for this occasion by painter David Uhl and sculptor Jeff Decker numbered one to thirty and paired with the corresponding motorcycle.1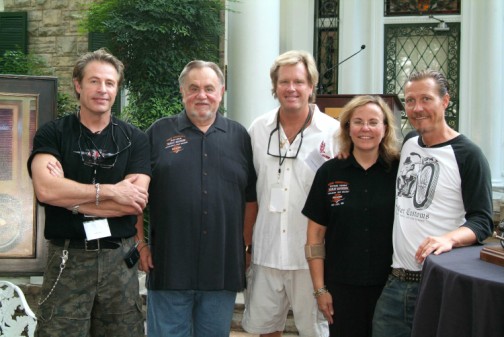 David Uhl, Bruce Rossmeyer, Mitch Omar of O's Custom Paint, Lisa Rossmeyer Wade and Jeff Decker
Photo by Phillip Ridings © Zucker PR, Inc.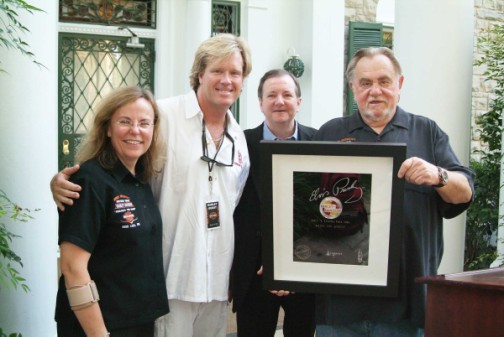 Lisa Rossmeyer Wade, Mitch Omar, Jack Soden, CEO of Elvis Enterprises and Bruce Rossmeyer
Photo by Phillip Ridings © Zucker PR, Inc.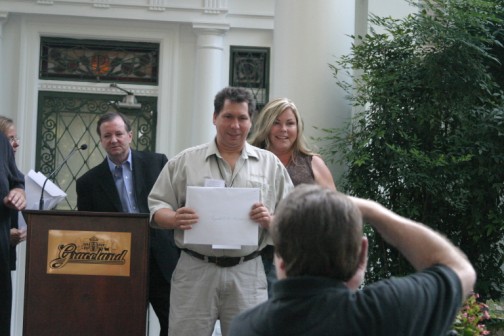 The owner of motorcycle number 1 of 30 receives his certification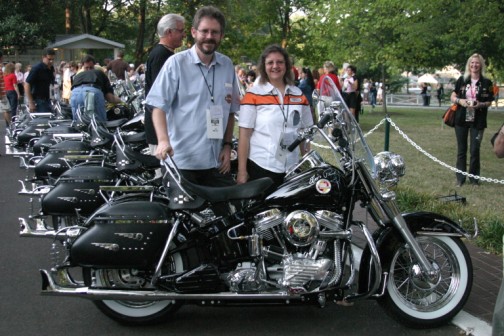 Kendal and Wendy Maroney with their motorcycle number 9 of 30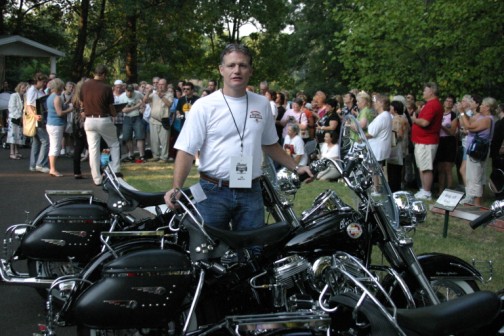 John C. Hamlin with his motorcycle number 12 of 30
As a sculptor, Jeff Decker's artistic ability far xceeds his mechanical talent, yet his custom built bikes speak for themselves. Long before he became the only officially licensed sculptor for Harley-Davidson, he sought to immortalize in bronze early American racing. This is undeniably his all-consuming passion.1 After completion of a life size version of this piece Jeff plans to create a piece in honor of Elvis' first motorcycle, a 1956 Harley-Davidson KH.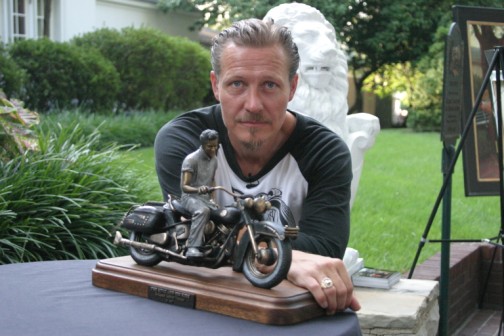 Sculptor Jeffrey Decker with one of his creations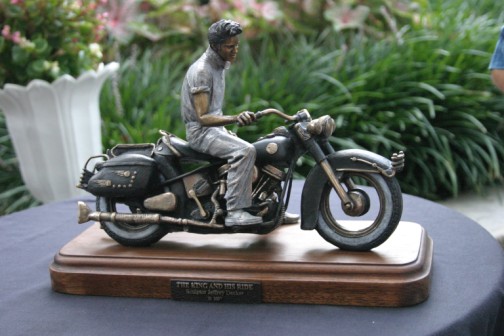 "The King and his Ride" - Sculpture by Jeffrey Decker © 2007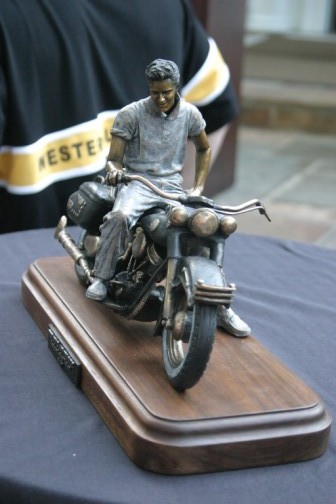 "The King and his Ride" - Sculpture by Jeffrey Decker © 2007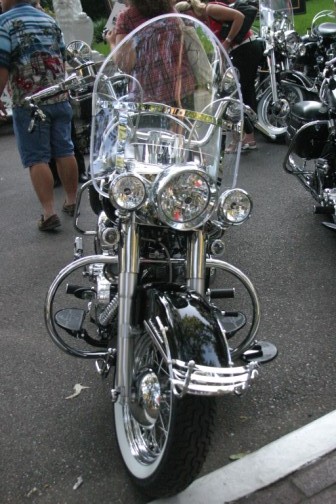 Entering his tenth year as a fine artist for Harley-Davidson, painter David Uhl continues to display an uncanny ability to capture the nostalgia and romanticism of Harley-Davidson's rich history. His art is displayed throughout the world in museums and galleries and has been sought by serious art collectors to celebrities alike.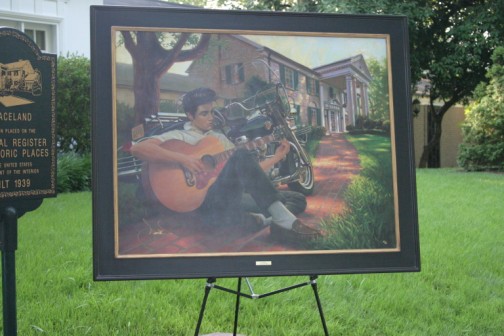 Painting by David Uhl © 2007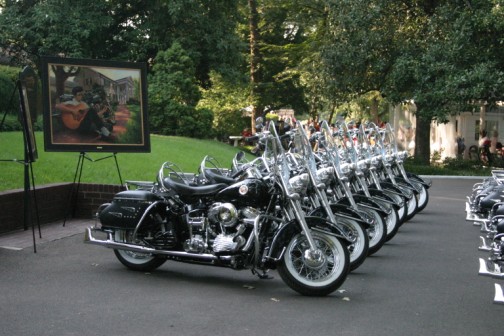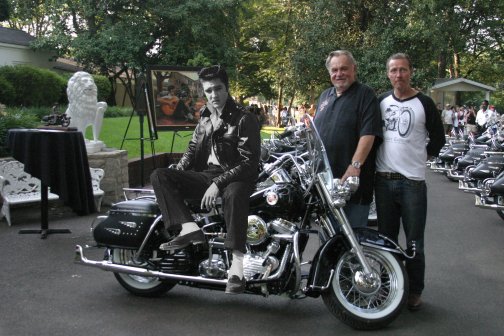 "This is an event that Elvis probably would have loved"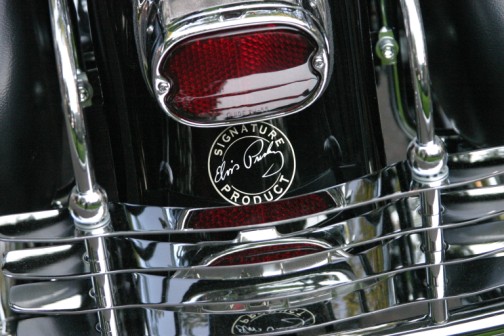 Bike number 30 is currently stored at the store in Horn Lake, MS but may at some point be on display there until its auction next year. One of the two prototypes built is on display at Graceland in the Harley Davidson Store. The other was purchased by Jay Leno. This endeavor has been successful enough that plans are being discussed for possible future Elvis themed edition Harley-Davidsons though doubtfully anything on this large a scale. For more info on these Anniversary Bikes and other planned editions, please contact Lisa Rossmeyer Wade at Bruce Rossmeyer's Southern Thunder Harley-Davidson 662-349-1099.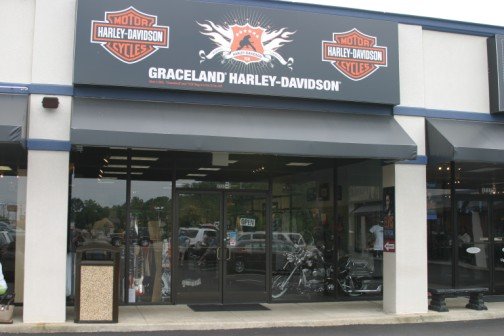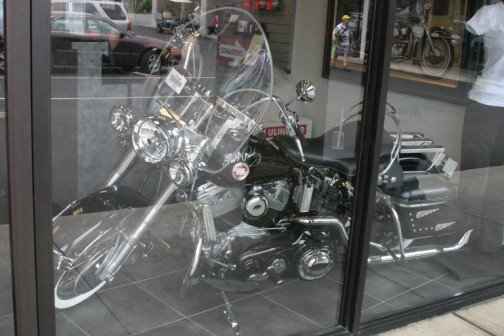 added August 23, 2007

1text courtesy 8-15-2007 press release kit by Zucker Public Relations, Inc. for Bruce Rossmeyer, Southern Thunder Harley-Davidson and EPE, Inc.
---
Bruce Rossmeyer, Harley-Davidson empire builder, dies in motorcycle crash in Wyoming
"World's Largest" Harley-dealership owner Bruce Rossmeyer killed in motorcycle accident on way to Sturgis biker rally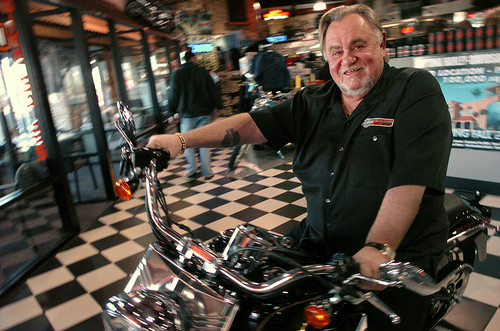 Bruce Rossmeyer (ORLANDO SENTINEL FILE / March 2, 2005)
Ludmilla Lelis
Sentinel Staff Writer
July 31, 2009
Bruce Rossmeyer staked his claim as the world's largest Harley-Davidson dealer, amassing an empire of 15 dealerships and stores across the nation, including his crown jewel, Destination Daytona off Interstate 95.

He made his face and name synonymous with motorcycles on TV commercials and massive highway billboards. Using his blockbuster persona, he promoted Daytona Beach's Bike Week and his favorite charities.

On Thursday, Rossmeyer died on a Harley, riding a Wyoming highway with a pack of friends on his annual trip to Sturgis, the biker mecca in South Dakota.

Rossmeyer, 66, lived in Ormond Beach. He is survived by his wife, Sandy; five children; and several grandchildren.

"He was in that moment that he lived for. He was doing what he loved to do," said Richie Supa, a fellow biker and musician who performed at Rossmeyer's charity events. "How ironic it is for him to be on a motorcycle in one of the most beautiful riding territories in the U.S.

"It's sad, but he couldn't have picked a better spot on God's earth to feel that freedom when you ride."

Rossmeyer was traveling with friends on his way to the 69th annual Sturgis motorcycle rally, one of the nation's largest. He had recently left Colorado, where he owns two dealerships.

The Wyoming Highway Patrol said Rossmeyer and five other bikers were headed east on Highway 28 in Sweetwater County when they were trailing a Ford pickup pulling a double-axle camper-style trailer.

The truck driver, Robert L. VanValkenburg, 73, of Rock Springs, Wyo., slowed down and began making a left turn when Rossmeyer tried to pass him, the Highway Patrol said. Rossmeyer, who was not wearing a helmet, struck the driver's-side door. VanValkenburg's turn signals and brake lights were working at the time of the crash, the report said.

In Sturgis, news of his death shocked the many bikers who had arrived at the rally, said Woody Woodruff, owner of Buffalo Chip Campground, a Sturgis landmark.

"His death is going to change the entire motorcycle industry," Woodruff said. "You have movers and shakers, and Bruce was definitely a mover and shaker. He made things happen. You lose someone like that and it creates a big void."

Born in New Brunswick, N.J., Rossmeyer built his first career as an automotive dealer, starting with his own Dodge dealership in New Jersey in 1969.

A longtime motorcycle rider, he opened a Harley-Davidson dealership in Daytona Beach, almost as a hobby. "I thought this would be neat to mess around on weekends and have some fun," Rossmeyer said in a 2007 interview with the Orlando Sentinel.

But that 1994 opening of the Daytona dealership coincided with the dramatic jump in motorcycle sales. During the next decade, Harley-Davidsons and the whole biker culture roared into the mainstream, becoming a billion-dollar business, and Rossmeyer enjoyed the ride.

He continued to expand his Harley empire, opening dealerships in New Smyrna Beach, Fort Lauderdale and Pompano Beach, as well as in Colorado, Massachusetts, Mississippi and the Graceland-themed dealership in Memphis, Tenn.

The crown jewel of his empire was the 109,000-square-foot Destination Daytona in Ormond Beach, a 150-acre resort for bikers with hotels, condos, restaurants and stores anchored by his big-box-size dealership, which ranks as the world's largest Harley dealership. It opened in 2005 as Bike Week hit its peak in Daytona Beach and was attracting a half-million bikers to town.

Rossmeyer never envisioned he would become such a motorcycle magnate and credited his success to hard work, luck, family support and good timing.

He reveled in building a business that he called " Halloween for adults."

"You can dress up, put on your leathers, go act like you're a biker and on Monday morning, go back to Wall Street," he said in a Sentinel interview.

Rossmeyer was a major fundraiser and benefactor for several charities, including Camp Boggy Creek, Boys & Girls Clubs of Volusia/Flagler Counties and of Broward County, and Joe DiMaggio Children's Hospital in Broward.

Daytona Beach police Chief Mike Chitwood said Rossmeyer's dealership supplies his department with a dozen Harley-Davidsons, for a mere $150 a year.

"He always would grab you with that big paw of a hand and say, 'Chief, don't be afraid to call me.' He had the look: 'I'm doing this because I believe in it.'"

"It's a tremendous loss also for this community," Daytona Beach Mayor Glenn Ritchey said. "Bruce was not only a friend. He was a great community leader."

At heart, Rossmeyer was just a teddy bear, his friend Supa said. "He loved to laugh. He was just a very fun guy."

Susan Jacobson of the Sentinel staff contributed to this report. Ludmilla Lelis can be reached at llelis@orlandosentinel.com or 386-253-0964.
Copyright © 2009, Orlando Sentinel
article added August 12, 2009