Elvis' 1969 Ebony Custom Gibson Dove

Elvis in concert Boston, MA November 10, 1971
Photo© courtesy Eter Silvester
From November 5, 1971 through September 3rd, 1973 Elvis performed in concert on tour and in Las Vegas with this customized Gibson Dove with an Ebony finish, numbered 539461. This was one of the most photographed and well known guitars in his performing career due mostly to the use of it on the January 1973 worldwide broadcast via satellite "Aloha from Hawaii".

a replica of Elvis' Ebony Dove on display and the rear of a '70s Ebony Dove
The guitar featured gold keystone tuners, a black 2 ply traditional Dove shaped pickguard attached by screws, a rosewood bridge with dove pearl inlay and adjustable saddle, a kenpo karate decal on the body and Elvis' name inlaid in script on the rosewood fret board. The Mother-of-Pearl inlay was done at Gruhn Guitars in Nashville in 1970. According to George Gruhn "Gibson ordered the inlay work from us because they didn't have anyone to do this type work. They sent us a blank fingerboard and my repairman Randy Wood did the inlay. We never saw the finished guitar."


Script Mother-of-Pearl inlay
Photo © courtesy Mike Harris
Like other Dove models the guitar has a maple back and sides with a solid spruce top. Originally introduced with a Mahogany neck by the 70's they were Maple. The most common ones were normally finished in Cherry with a natural top, they also offered sunburst, Cherry sunburst and Ebony.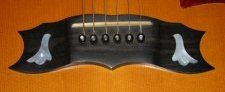 Evolution of the Dove bridges

When introduced in 1962 the Dove model featured a sculptured Rosewood bridge with adjustable saddles like a tune-a-matic. By 1969 the Dove featured an adjustable rosewood saddle and some pickguards attached with screws (often covered with pearl dots, like Elvis').

An adjustable saddle can be raised or lowered via screws to adjust string height but on acoustics provide very poor contact and coupling.

In 1970 they went to a non-adjustable bridge saddle and through the '80s a more sleeker sculptured shape. By the '90s they returned to the original full shape but with a non-adjustable bone saddle.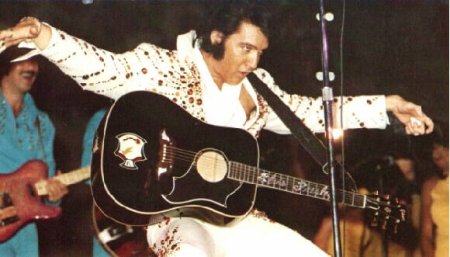 Elvis in concert Atlanta, GA June 29, 1973
Photo© courtesy Eter Silvester from Vienna
During a show in Little Rock, AR on April 17, 1972, one night before the last show of a tour a member of the audience there that night recalls Elvis fumbling with his "guitar at the end of 'See See Rider' and it fell and broke off at the joint of the body/neck and he just kicked it off the stage saying I really didn't mean to break my guitar........."* He evidently had it repaired by the beginning of the next tour in June. Elvis retired this guitar after his last performance of 1973, on September 3rd, and in 1974 began using an Ebony finished J200. He began using the Dove again in the middle of a tour in July of 1975 after tossing away the J200 during a show in Springfield, MA. He used it for the remainder of the tour, less than 2 weeks.

Elvis in concert Asheville, NC July 24,1975
Photo© courtesy Jeff Parris
On July 24, 1975, the end of a tour and the last of 3 nights performing in Asheville, NC, Elvis gave this guitar away to a member of the audience in the front row. John Boyle, senior writer for the Asheville Citizen-Times interviewed Mike Harris of Ashville and his wife in an article published August of 2002. He wrote the king was barely into "C.C. Rider" when he walked over to Harris and changed his life. "I said, `Mike, Elvis keeps looking at you,'" said Harris' wife of 25 years, Debbie, who was sitting next to Harris at the show. "That's about the time he bent down and tossed him the guitar. He told him, `Hold on to that. Hopefully, it'll be valuable one day.'" Much of the night is a blur to Harris, but he still clearly remembers the exchange. "He struck a couple of licks on it, and then he just came to the edge of the stage and held it out by the neck," Harris recalled. "He said, `This is yours.'"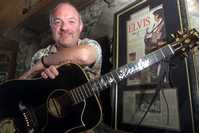 Mike Harris and Elvis' Dove #539461
Photo © courtesy Mike Harris
As of this date it is still owned by Mike Harris and he keeps it stored in a bank vault. The article says that in the past he has rejected offers of up to $200,000.00 for the guitar.
The Gibson company in association with EPE, Inc. currently offers a production signature series based on this guitar called the Elvis Dove Model, though its not quite an exact replica (obviously).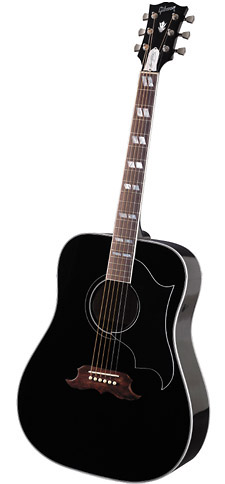 Elvis Dove Model
Photo © courtesy Gibson
*this according to Frankie Rider II of Locust Grove, AR. However, Elvis is pictured using this guitar in concert the following night on August 18th in San Antonio, TX which would suggest that either the event did not happen, it wasn't this guitar or the damage was not as severe.
---



Auction Photos courtesy Mike Harris
Mike Harris put his guitar up for auction on eBay but it closed at just over $85,000 failing to meet the reserve on Sept 2, 2008. He is considering re-listing it at a later date with a heavily revised description and advanced advertisement. Some bidders I'm told questioned the authenticity of the instrument that was up for bidding. However, that guitar is in fact the one given to him by Elvis on July 24, 1975 and owned and used by Elvis as described here and in the auction. We will announce the auction in advance here also (as a courtesy to Mike and interested fans) when we get word.
James V. Roy
September 2, 2008
---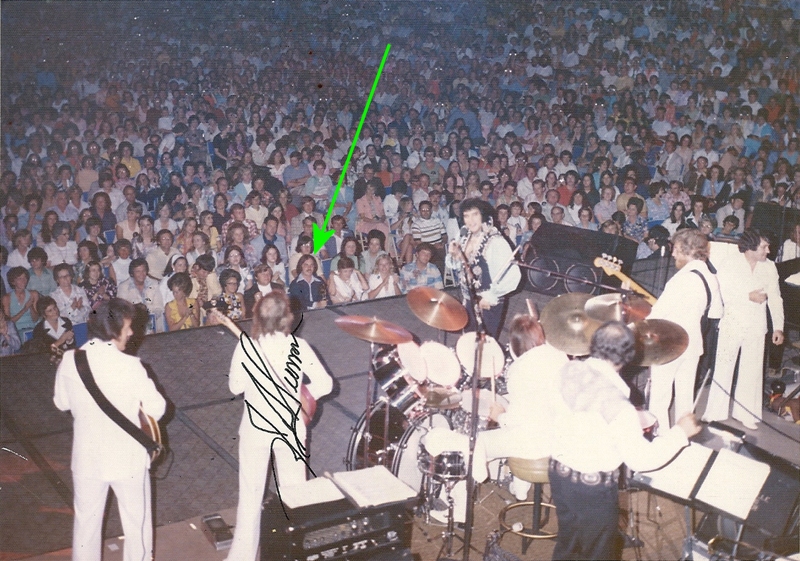 Mike Harris in the audience with 69 Gibson Dove, gifted from Elvis in Concert in Asheville, NC - July 24, 1975
Photos courtesy Graceland Auctions
In January of 2016 the guitar, at least once again, went up for auction, this time through the auctions at Graceland. The guitar did not sell however, failing to meet the reserve of $300K*. The pictures that accompanied it though seem to be some of the best available to date revealing some previously unknown, to me at least, details.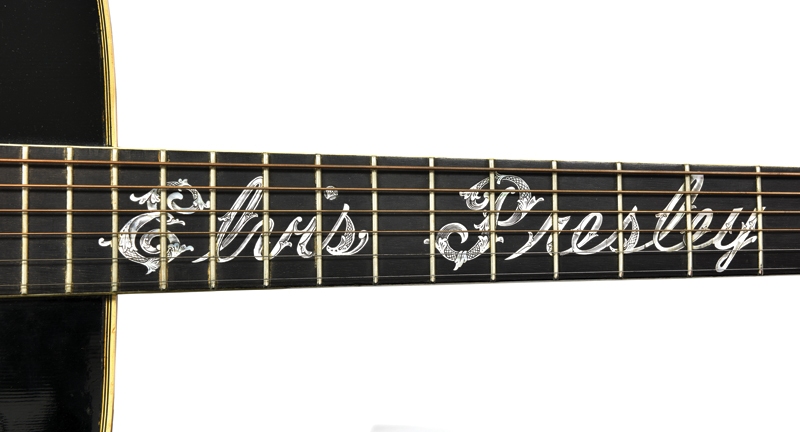 The inlay on Mike Harris' 69 Gibson Dove, gifted from Elvis
Photos © Graceland Auctions, 2016
The inlay on the fretboard bearing Elvis' name is far more intricate when viewed close up, almost simulating a scrimshaw pattern in the pearl inlay.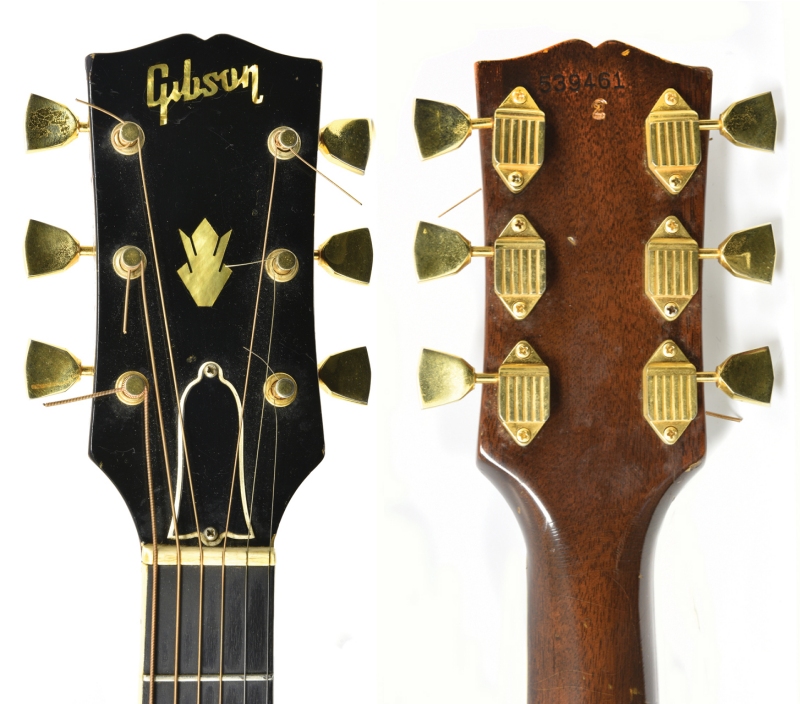 The headstock and tuners on Mike Harris' 69 Gibson Dove, gifted from Elvis
Photos © Graceland Auctions, 2016
Apparently the guitar was initially a factory 2nd, denoted by the '2' stamp below the serial number on the rear of the head stock, and was equipped with Kluson waffle-back tuners.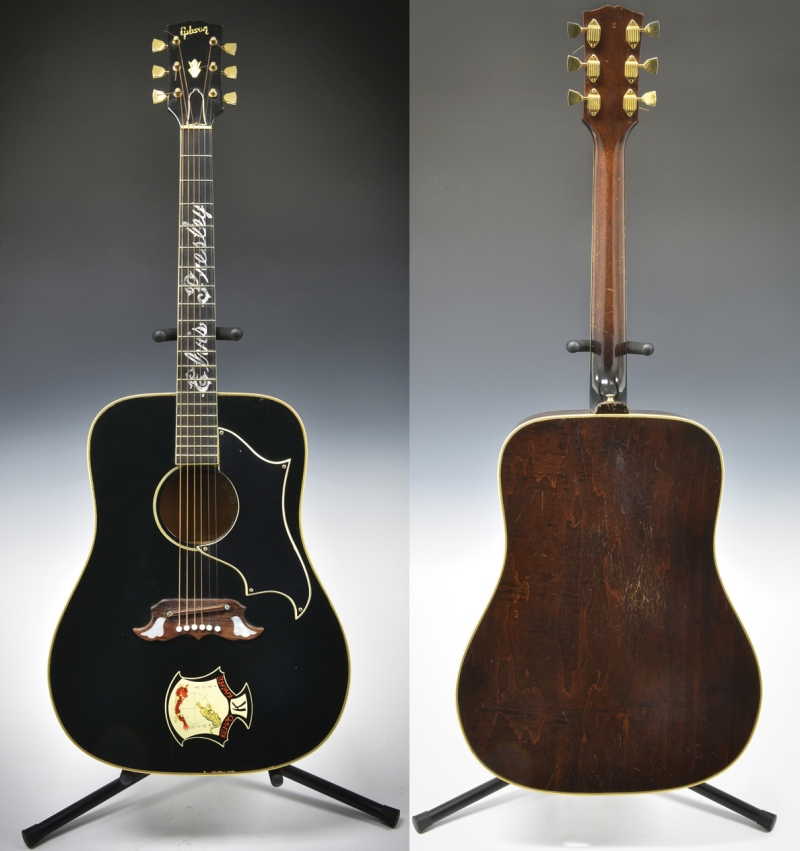 Mike Harris' 69 Gibson Dove, gifted from Elvis
Photos © Graceland Auctions, 2016
Only the spruce top and headstock face was painted ebony black while the neck, sides and body were finished in a walnut stain as used on several Gibsons of that era.
updated June 12, 2017
* In May of 2016 The guitar was auctioned by Juliens in New York finally selling for $334K.