Soprano Ukulele
(used in Blue Hawaii)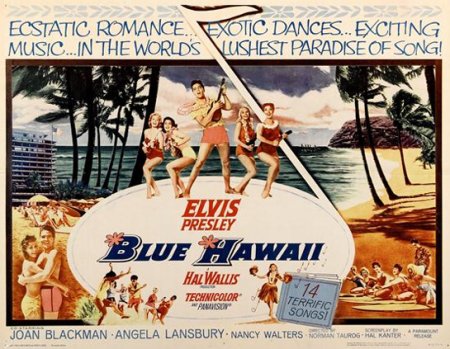 Half-sheet poster for Paramount's Blue Hawaii - 1961
photo courtesy Moviepostershop
Paramount's 1961 release of Blue Hawaii, was Elvis' eighth film, his fourth with Paramount and the first of three that were set and partly filmed on location in Hawaii. In it Elvis is cast as a recently discharged soldier returning home to Hawaii from deployment in Europe with the 3rd Armored Division, his actual unit while in the Army. Arriving home, he rekindles his relationship with Joan Blackman, the love interest in the film, who starts him on a career in tourism with a young teacher and a group of her teenage students vacationing in the Islands.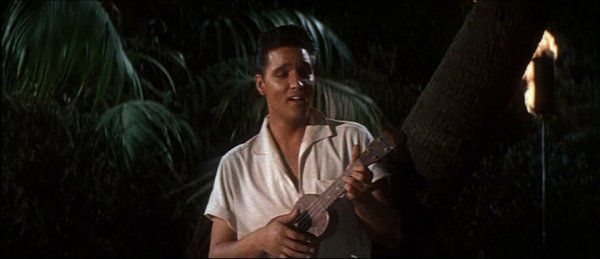 Elvis with soprano ukulele in a scene from Blue Hawaii - 1961
capture © Paramount Pictures
Filming for Blue Hawaii began on location in Hawaii at the end of March after a benefit concert there for the USS Arizona Memorial. In addition to the Gibson J-45 used in previous Paramount films, Elvis uses a ukulele in several scenes, specifically, a soprano ukulele with the standard practice of a blacked out logo.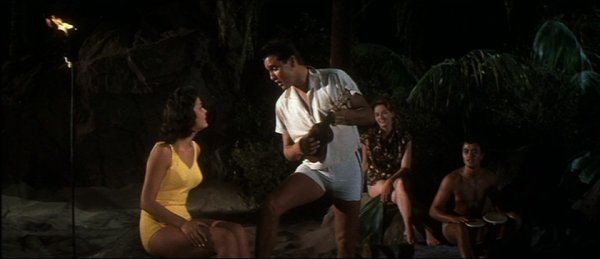 Joan Blackman and Elvis with soprano ukulele in a scene from Blue Hawaii - 1961
capture © Paramount Pictures
Types of ukuleles are classified according to their size, of which there are basically four: soprano, concert, tenor and baritone. The soprano is the smallest, oldest and most common with a scale length of around 13 inches." The most common tuning for all except baritone is GCEA, where the G string is normally pitched higher than the C string, known as re-entrant tuning. Baritone ukuleles are generally tuned the same as the upper four strings of a six string guitar, DGBE. Professional ukulele players in Hawaii usually play tenor size ukuleles.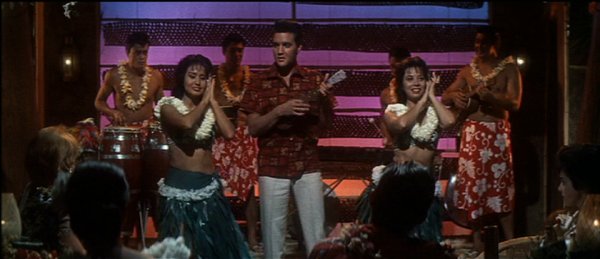 Elvis with soprano ukulele in a scene from Blue Hawaii - 1961
capture © Paramount Pictures
Ukuleles are made from a variety of hardwoods, from Bamboo and Mango to Maple, but Koa (the best-known hardwood of the Hawaiian Islands) and Mahogany traditionally are the most common and preferred for their sound. The Ukulele was first developed in Hawaii after Manuel Nunes, a master craftsman, migrated there from the Madeira Islands with Joao Fernandes and Augustine Dias to work in the sugar cane fields in 1879. They developed it based on the design of a small Portuguese guitar called a Machete. Commonly referred to as a "Uke," the name is said by some to come from the Hawaiian words uku (gift) and lele (to come), while others say it roughly translates as "Jumping Fleas."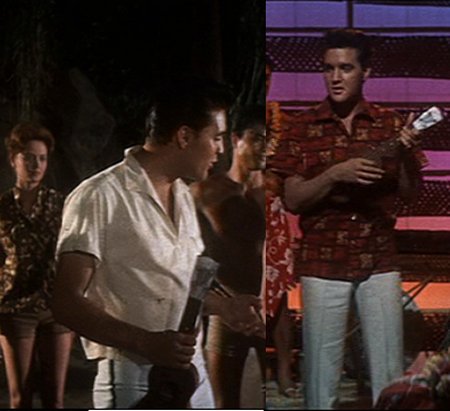 Elvis with blacked out logo on ukulele used in Blue Hawaii - 1961
captures © Paramount Pictures
Though it is only limited musically to a two octave range it soon became Hawaii's most popular musical instrument. By 1910 demand was great. Samuel Kaialiilii Kamaka began his apprenticeship under Manuel Nunes and other competitors like Jonah Kumalae had a new factory that could turn out around 300 instruments a month.


Martin Soprano Ukulele
Photo courtesy eBay
In 1915 after its introduction at the Panama Pacific International Exposition in San Francisco, its popularity started to spread to the mainland and as far as the UK. C.F. Martin and Co., respected everywhere as makers of some of the finest ukuleles, made their first in 1916, the same year Kamaka opened his own company in Hawaii. Competition got fierce when more mainland guitar manufacturers entered the ukulele market and by the 1920s manufacturers such as Gibson, Harmony, Regal, National and Dobro were mass-producing ukuleles by the thousands. Hawaiians created a distinctive trademark, protected by legislation, and were the only ones allowed to place "Made in Hawaii, U.S.A." on ukuleles.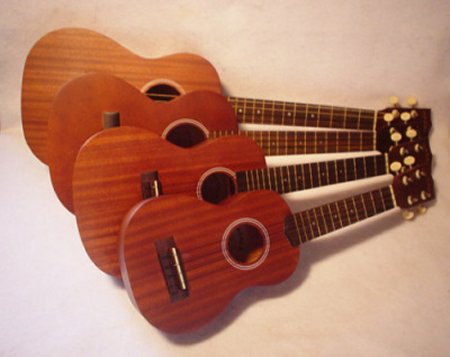 Makala Baritone, Tenor, Concert and Soprano ukuleles
Photo courtesy playukulelenow
The ukulele boom lasted until the 1930s and 40s. In recent years though there has been renewed interest and several new manufacturers making some fine instruments. Of the several original Hawaiian ukulele manufacturers, including Nunes, Kumalae, Kaai and Kaholas, all are out of business except for Kamaka which is still a family owned operation.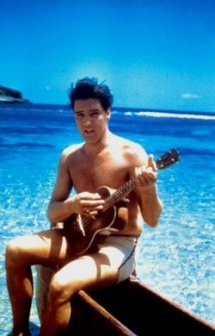 Elvis on the set of Blue Hawaii with Baritone ukulele - 1961
Photos courtesy EIN and Phil Arnold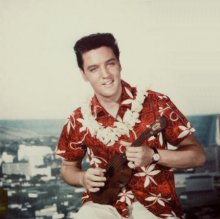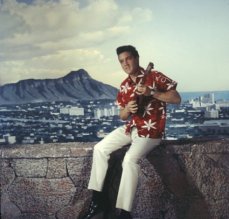 Elvis with soprano Ukulele from movie in studio shots for Blue Hawaii - 1961
Photos courtesy Getty Images and FECC/E-Cat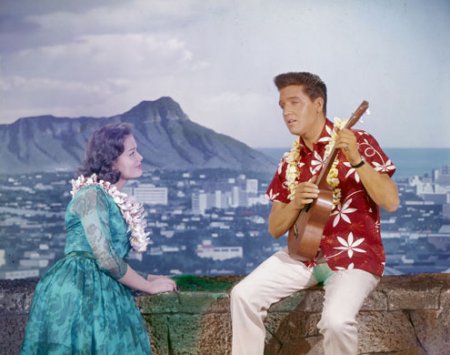 Joan Blackman and Elvis with baritone ukulele in studio shot for Blue Hawaii - 1961
Photo courtesy web
Though Elvis is only pictured using a soprano ukulele in the film, several shots on the set and other promotional shots show him with a baritone. In some of the more popular photos taken in the studio against a backdrop of Tantalus Lookout in Oahu overlooking Manoa valley, east Honolulu and Diamond Head, the logo on the soprano is not yet blacked out. When consulted, neither Fred Kamaka nor Fred Jr. recognizes the logo but they believe the wood to be Mahogany.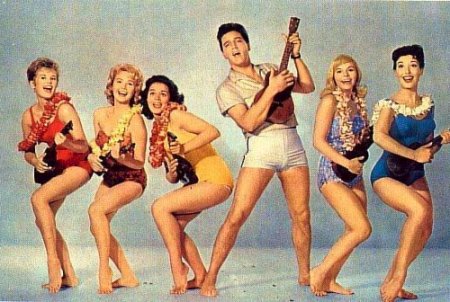 Studio photo of Elvis and costars of Blue Hawaii with Ukeleles - 1961
Photo courtesy Darlene Tompkins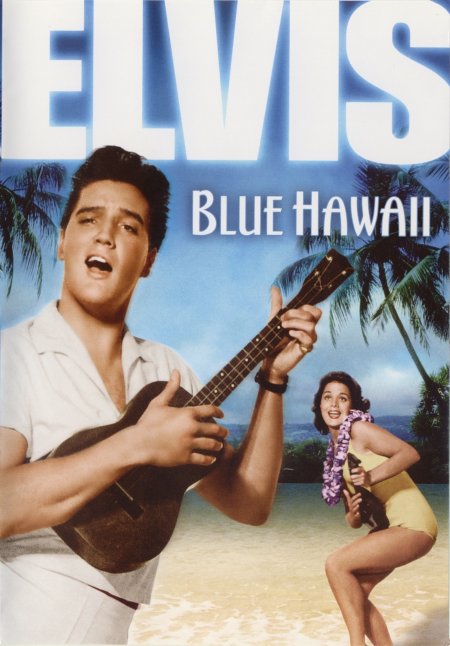 Elvis with baritone and Joan Blackman on DVD release for Blue Hawaii - 1961
Photo © Paramount Pictures
In at least one shot with costars Pamela Austin, Darlene Tompkins, Joan Blackman, Jenny Maxwell and Christian Kay, Darlene is posed with the soprano he uses in the film. She would later appear in Fun in Acapulco while Joan would appear in Kid Galahad and Pamela would appear in Kissin' Cousins. Portions of this photo were used in various promotional materials for Blue Hawaii. In fact, posters for Blue Hawaii can be seen on sets of his next film with Paramount, Girls! Girls! Girls!, also set in Hawaii.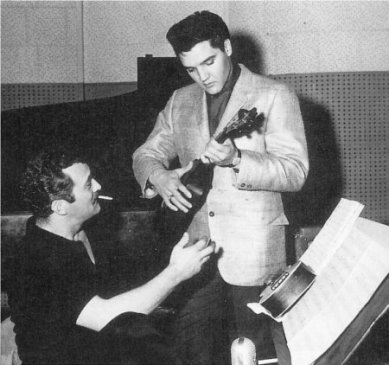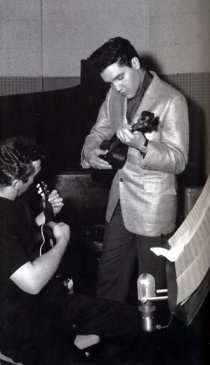 Bernie Lewis and Elvis with soprano Ukulele at sessions for Blue Hawaii - 1961
Photo courtesy FECC/claude91
The songs for Blue Hawaii were recorded at Radio Recorders in Hollywood in three days before any filming began with Fred Tavares and Bernie Lewis playing the ukuleles in the sessions. Elvis later gave a ukulele as a gift to Hank Garland, a Martin, possibly one used in the sessions. According to Bob and Kittra Moore it was a gorgeous instrument, loud and bright. Hank's mother wrapped it in a blanket and kept it in the bottom drawer of her dresser for years.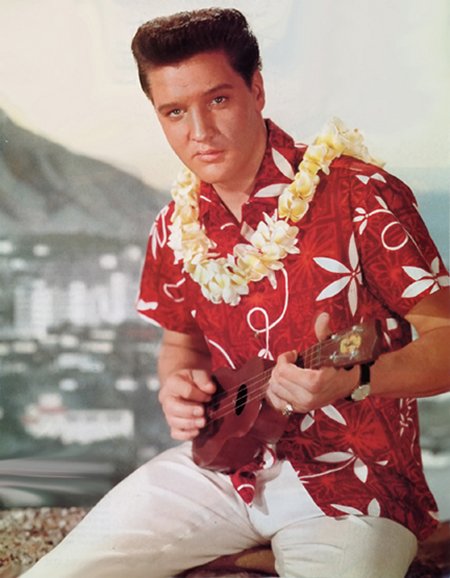 Elvis with soprano Ukulele from movie in a studio shot for Blue Hawaii - 1961
Photo © EPE, Inc.
Considered the first of his "travelogue" type movies, the success of Blue Hawaii at the box office pretty much set the format for many of Elvis' films to follow.
This page added August 15, 2010 is part of the section The Movie Guitars of Elvis Presley.
Much of the history of the Ukulele presented here was collected from various sources on the web, not the least of which includes the Bounty Music - Hawaii Ukulele Guide, Ukulele Guild of Hawaii and Brudda Bu's Ukulele Heaven.