Elvis and Everything After
This article appeared in the July 1997 issue of Guitar Player magazine.

Scotty Moore's comeback special

Scotty (trying out an ES-5n)*, Elvis and pianist Shorty Long between takes of "Don't be Cruel"
at RCA's New York studios July 2, 1956
Photo© courtesy Alfred Wertheimer
By Rusty Russell
"You've got to hear this," said the 14-year-old English girl, dropping the needle on a spinning 78. It was the spring of 1956, and all her friends at school were going crazy over Elvis Presley's "Heartbreak Hotel"—it was like nothing they'd ever heard before. The girls younger brother sat staring at the record player, transfixed as she explained that the slapping, metallic sound he was hearing was an electric guitar. "We didn't know the guitar player's name when we heard that song," recalls Jeff Beck, the youngster in that room. "They didn't list the musicians in those days. But my sister kept drawing my ear to different things, the solos and all that. If it wasn't for that experience, there's no way I would ever have thought about any of it. I'd have been off playing with my bow and arrow or something. Cliff Gallup had a big impact on me too, of course, but the Elvis stuff was the real start of it. That was the rocket ship taking off for a whole bunch of us."
Beck—and the world—would know before long that Elvis' guitar player was Scotty Moore. And while Scotty would never reap his share of the reward, his need to create "something different" was a basic ingredient in the potent mixture that would be called rock and roll. Scotty, the late bassist Bill Black and, later, drummer D.J. Fontana—the Blue Moon Boys—inspired countless scenarios like the one Beck describes, lighting the fuse for one of pop culture's biggest explosions.
Over several months last year, an all-star roster of players caught in that blast came together to pay tribute to Moore and company on the Sweetfish Records project All the King's Men (a similarly titled documentary film is scheduled for release later this year). Scotty joined Keith Richards and members of The Band at Levon Helm's Woodstock, New York, studio. Guests at sessions in Nashville, where Scotty and D.J. have lived since the early '60s included Steve Earle, Joe Ely, the Mavericks, Tracy Nelson, Cheap Trick, Ronnie McDowell & The Jordanaires with Millie Kirkham, Joe Louis Walker, and a reformed Bill Black's Combo with guitarist Reggie Young and former Stray Cat Lee Rocker. In early December, Moore and Fontana traveled to Ron Wood's Sandy Mount studio outside Dublin, Ireland, to record the album's final track with Wood, Beck and bassist Ian Jennings.
"It feels really good to know these guys remember us," says Scotty, relaxing on a barstool in Wood's private pub while Ron, Jeff and others watch a tape of Elvis and the boys in action. "Makes you feel like what we did counts for something after all these years. This was never intended to be an Elvis tribute album. We told everyone to bring in some songs of their own—new stuff. I don't have any idea what we're gonna do over here, but I'm sure we'll come up with something."
That spontaneous approach has served Scotty well since the hot July 1954 night in Memphis when he, Elvis and Black picked through a mixed bag of standards at Sam Phillips' Sun Studios. On a break, Elvis began singing "That's Alright (Mama)," a blues tune by Arthur "Big Boy" Crudup. Bill and Scotty joined in, Sam hit the red button, and rock and roll history was made.
Today Scotty is universally known as "Elvis' guitar player," but the relationship started out quite differently. Scotty had invited the 19-year-old singer by his house the previous afternoon to see if he might be Sun Records material. "I remember thinking, 'What in the hell kind of name is that—Elvis.' He was real nice, though. Kinda shy, and he sang pretty good. He had a good time, and I told Sam I thought the kid knew every song ever written. It was kind of like a pre-audition. I had a band, the Starlite Wranglers, and we had a steady gig on the weekends at a place called the Bon Air. I knew we had to have a radio show or a record out to book better-paying jobs, so we'd done one record with Sam. I think it sold about 12 copies. He'd been telling me about this kid, and I wanted to see what he was all about.
"when Sam set up the audition, which ended becoming Elvis' first Sun session, he said he just wanted to hear the voice with a little background in there for rhythm, so it was just me and Bill. With no drums it sounded so empty, and I was trying to fill things up a little. That's why I went to that thumb-and-fingers style, trying to keep a heavier rhythm and just stabbing in fill notes. I'd been listening to Merle Travis and Chet Atkins for a couple of years after I got out of the Navy in '52. I would try and figure out how in the hell they were doing all that. Any way, that's what I was trying to do on all those early things—just fill it up. The second song we cut with Elvis was 'Blue Moon of Kentucky,' which Bill Monroe had already done, and I didn't want to play the same thing that's already been played, but something that would still complement the song and the singer. That's what people still have such a hard time doing, and that's really all I ever had in mind."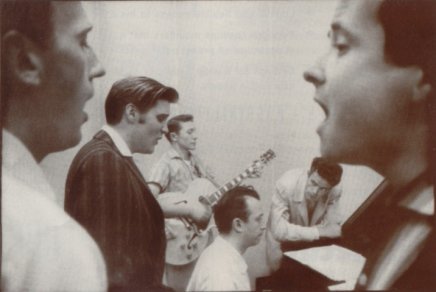 Hoyt Hawkins, Elvis, Scotty (with L5), Shorty Long, Junior Smith and Gordon Stoker
rehearsing "Don't Be Cruel" at RCA's New York studios July 2, 1956
Photo© courtesy Alfred Wertheimer
Introduced to the guitar by his father and brothers, the Gadsden, Tennessee, native played mostly by himself from age eight until enlisting in the Navy at 18 (16). After leaving the service, where his musical pursuits included jam sessions and a short-lived radio show, Scotty headed for Memphis and took a job cleaning and blocking hats in his brother's laundry business. Soon he began working local gigs and trying to pull licks off records by Tal Farlow, Django Reinhardt, Johnny Smith and Barney Kessel.
"I wanted to play jazz," Scotty says. "That's about all I was listening to. But most of what we played in clubs or at dances, I'd guess you'd call it a mixture of country and blues. We called it 'honky tonk' music at the time. Just roadhouse stuff, feel-good music. You had to know plenty of country and pop and R&B songs so people could dance. For a while I didn't really have a band. I'd go out and book a gig with a club owner, and the guy would just say, 'Show up Saturday night.' I had no idea who I was going to get. I might end up with a steel player and a guy on trumpet—I never knew. After a while I thought, 'Man, this ain't getting' it! I gotta find some guys who're gonna stay together, work or no work.' I used to be more interested in the business side of things, setting everything up. Matter of fact, the week after we did the first session with Elvis, I became his manager, but that was mainly because all these people were trying to get to him, and that way he could say he already had somebody. I did that for most of the first year I guess."
Moore provided the signature sound on all of the King's hits, appeared in Elvis' movies and soundtracks, and toured with the star. When Elvis went into the Army in '58, no provisions were made for keeping his band together, so Scotty hung up his archtop to concentrate on engineering and working behind the board. (He would eventually serve as production manager for Phillips in Nashville and Memphis.) Elvis restarted his movie and recording career after his discharge, but booked no live dates. For Scotty, this was a workable schedule, since he could fly to L.A. to cut soundtracks and keep any engineering bookings that didn't conflict. By 1965 he owned his own Nashville studio.
As suddenly as it all started, life as a big-time guitar player came to a screeching halt after the 1968 "comeback Special," which was originally broadcast on TV as a Christmas show, Singer Presents Elvis. "After the special, D.J. and I went out to Elvis' house for dinner, and he called us into the back room. He said he wanted to go to Europe, and he wanted to book my studio for a couple of weeks straight—what we called a lock-out—although he never said what for. Neither of those things ever happened, for whatever reason, and that's the last time I ever saw the man. I never talked to him on the phone again or anything. His manager [Colonel Tom] Parker, never would let him tour Europe, which was a shame, because they loved Elvis over there. Anyway, I got real busy engineering in Nashville, and D.J. was busy playing sessions. Then the management company called up and said Elvis wanted us to come play Vegas with him. They called the Jordanaires too, and the money they offered us was just ridiculous. For every week out there, they wanted to pay us about what we would have made in a day back home. I mean, the Jordanaires had 40 sessions on the books. So we all got together and made a counter offer, and that's when Elvis put his new band together with James [Burton] and those guys.
"I just laid my guitar down, cold turkey. I didn't play for 24 years—not a note, except for just a few overdubs for some friends. Didn't even own a guitar for a long time. I sold my Super 400, everything except my amp. If somebody would ask me if I missed playing, I'd say, 'Hell no! I'm playing a whole band here with the console.' Besides, I really didn't want to deal with all the bullshit that had grown up around the other part of the business anymore, and I wanted to stay home. I'd done all the traveling I wanted to do for a while."
Scotty was still retired from playing when Keith Richards invited him and D.J. to St. Louis for a Stones Steel Wheels concert in '89. Though he liked some of the band's songs, Scotty didn't consider himself a fan until that night. "I timed them, and they played for 2 hours and 40 minutes without stopping. I don't think we ever played longer than an hour and 15 or so. I was impressed. Keith and I stayed up all night. I don't know how many hours I spent trying to show him how to play 'Mystery Train.' We had a ball. That guy's a party within himself."
Gradually Scotty was coaxed out of retirement. He and D.J. played an Elvis tribute concert at the Pyramid in Memphis and started working with singer Ronnie McDowell, whose vocal impression of Elvis is close to the real thing. The group also feature Fontana and the Jordanaires.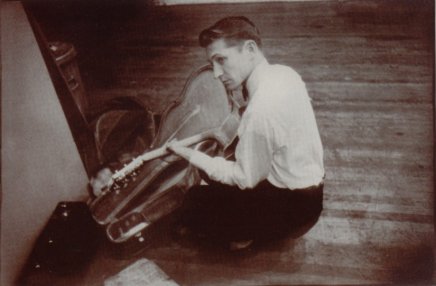 Scotty backstage at the Mosque Theater, Richmond, VA June 30, 1956
Photo© courtesy Alfred Wertheimer
Known around Nashville for having two of the best ears in the business, Scotty oversaw each mix on All the King's Men. But if he's a stickler in the control room, he's maintained his appreciation for a less-than-perfect track played with energy and emotion. "that's one thing, thank God, that Elvis and I agreed on. If it feels good, leave it! Sometimes it's the little mistakes that make a record special. Like on [1956's] "Too Much," man, if I ever played a jazz solo, that was it! We'd played through it a few times, and it was fine. And then we did a take where I just got completely lost—had no idea where I was. But I kept playing, and I came out in the right place. Elvis goes over and leans into this big speaker on the floor to hear the playback, and here comes the solo. He turns around and gives me this shit-eating grin, and he says, "that's the one!" I said, 'You asshole! You know I'm lost in there!' But it felt good. It had a hook, and that's the way we left it."
Held in Ron wood's converted sheep barn, the session for "Unsung Heroes" unfolded like many of the early Elvis dates. Scotty settled into a chair in the center of the main room, plugging his late-'80s Gibson Chet Atkins country Gentleman into Boss delay and chorus pedals and a tweed Fender Twin. Beck, hearing him warming up, dashed from the control room and hurriedly unpacked his guitar while Ron got him a vintage Vox AC30. "I'd planned to bring a large rig from London," Beck smiled, "but decided that ran counter to the spirit of the meeting." Instead he only showed up with a Strat Plus and 10 foot chord. As D.J., Ron and Jennings joined in, Beck picked the melody of blue Moon of Kentucky." For nearly an hour, politeness prevented everyone from suggesting any specific direction, and, as on the first Elvis session, the players bogged down after jamming on a few standards. A break was called, during which Scotty began to play around with a funky lick that caught Ron's ear. "What's that? He asked.
"I dunno," Scotty replied, "just something I was fooling with a week or so ago."
"Well, that's it! Keep that going!" With that, Ron grabbed a '54 Strat and started chunking rhythm and ad-libbing lyrics about meeting his two heroes. Beck suggested an occasional line between otherworldly bends and fills. Eventually, "Unsung Heroes" became a song. "This is incredible. It's just the way they used to do things—somebody gets an idea and they just go with it. The amazing thing to me—and Jeff was saying this too—is that Scotty and Bill came up with that original stuff completely out of the blue. They didn't have any real precedent to go on, and that's the very last time that happened in rock and roll. Everyone who came along after that had those guys to listen to. You take Jeff Beck—he and the Yardbirds were a big part of the British Invasion, and he'll tell you they were bouncing off what they'd heard from America. Then American bands bounced it back, and so on and so on. And the guy sitting right in there [points to the control room window to Scotty] started it all."
Later over pints of Guinness, Scotty and his host listen to a working mix of "Unsung Heroes." He and his contemporaries, Scotty says as Ron Wood's eyes begin to mist, have done their part. "You guys have to carry the torch now—you and the younger guys. We did our thing." In the film, Keith Richards answers for his generation: "Mr. Moore, Mr. Fontana, Mr. Black, the Hillbilly Cats—that's the world's greatest rock and roll band. Without them, there wouldn't be any others. Give thanks, give praises."
Spry at 65, Scotty has emerged from retirement with a new book—That's Alright, Elvis, published by Schirmer—and a renewed passion for playing. Save for occasional bouts with arthritis in his thumbs, the man who invented the licks for "Mystery Train," "Hound dog," "Jailhouse Rock," "Heartbreak Hotel" and "don't be Cruel" seems to have picked up right where he left off. He's comfortable with his legacy, he says, and finds a special satisfaction in playing with those he inspired. "People sometimes expect you to be bitter for one reason or another. Well, yeah, a lot of things happened along the way that weren't right, but we got to be part of something pretty special, and we're still getting to go out and play with a lot of great people. You can't complain about that. I feel lucky, to tell you the truth."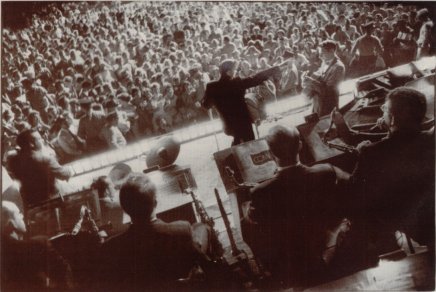 Bill, DJ, Elvis and Scotty at Russwood Stadium, Memphis, TN July 4, 1956
Photo© courtesy Alfred Wertheimer
---

This article was obtained from a copy of the July 97 issue of Guitar Player magazine. The text is included here for preservation and consolidation purposes.

*Scotty didn't own this ES-5 or use it on any session. He would sometimes play someone elses guitars between takes but even to this day has only ever used his own guitars for sessions and performances