Honolulu Stadium
Honolulu, HI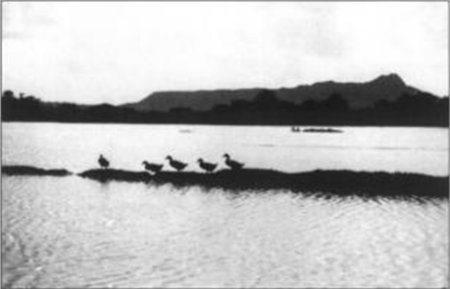 The area was originally kiawe trees, white coral and duck ponds
Photo from Bishop Museum courtesy "Honolulu Stadium: Where Hawaii Played"
The city of Honolulu, the capital of Hawaii, is located on the southeastern shore of the island of Oahu. John Ashman Beaven, originally a newspaperman and lawyer from upstate New York relocated to Honolulu in 1910. In 1912, at the age of 43, he started the Oahu Baseball League and by 1917 leased land along King Street from the Honolulu Transit Company to build Moiliili Field as the new home for his League. Until then the heart of local sport had been the old Athletic Park near downtown Honolulu. Prior to the completion of the dredging of the Ala Wai Canal in 1927 by the Army Corp. of Engineers, much of the area and that of Waikiki in Honolulu were wetlands, swamps and rice paddies.1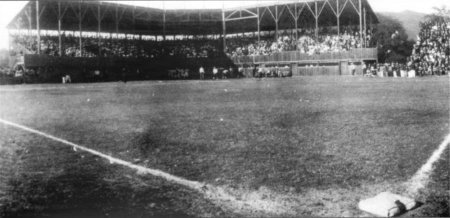 Moiliili Field across the intersection from site of Honolulu Stadium
Photo by Williams Photography courtesy "Honolulu Stadium: Where Hawaii Played"
Beaven's teams played at Moiliili Field for 8 years, as did the football league and many visiting teams from the mainland, Korea and Japan before becoming obsolete. In 1925 he borrowed $96,000 from industrialist William Castle to buy acreage located virtually across King Street from the Kaauila Land Trust and the following year founded Honolulu Stadium, Ltd. a corporation of Honolulu's prominent citizens in which he would be General Manager. With its startup funding the corporation bought a total of fourteen acres for $100,000 of which they sold five, and six were for the new field and bleacher area bordered by King, Isenberg and Banyan Streets and Makahiki Way. 1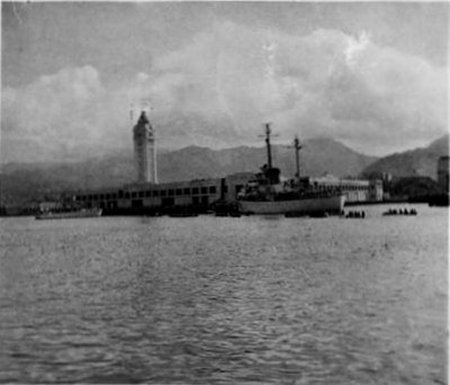 Aloha Tower and Pier in Honolulu Harbor, Hawaii - 1940s
Photo © Evil-J
In 1926 Oahu's population was less than 200,000, Wallace Farrington was mayor, some Japanese women walked the streets in kimonos and Oahu's tallest structure was Aloha Tower (built that year).2 Construction began in September of that year and concrete bases were sunk onto the coral below grade to support the steel framework for seating for 10,000. Temporary seating for 6,000 were set up in the end zones and a 10 foot high wood and barbed wire fence was built around the perimeter. Permanent bleachers along the mauka, ewa and Diamond Head borders wouldn't be completely in place until the end of World War II.1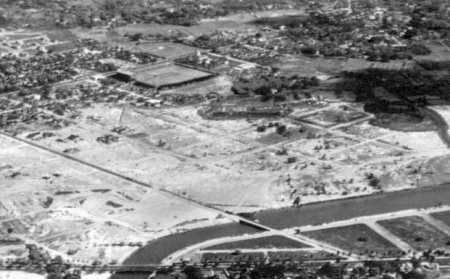 The year old Honolulu Stadium with the canal in the foreground - 1927
Photo from Bishop Museum courtesy "Honolulu Stadium: Where Hawaii Played"
Opening day was November 11, 1926, Armistice day, with an American Legion Benefit football game between the University of Hawaii and the Scotty Schumann's Town Team to decide the 1926 championship of the Senior Football league. The Town Team won 14 -7 before a crowd of 16,000, the largest to date to see a football game in Hawaii.1

Babe Ruth at Honolulu Stadium - 1933
Photo by Tai Sing Loo courtesy "Honolulu Stadium: Where Hawaii Played"
In 1931 the Associated Students of the University of Hawaii negotiated a sublease to manage the Stadium during football season for a $10,000 a year rental fee. Babe Ruth played at the stadium in 1933 during an exhibition tour. By 1936 most of the share holders had donated their interests to the University and over the next three years smaller shares were purchased until ASUH and the University owned almost two thirds. They then were the ones to handle food and beverage concession rights, usage rights by baseball, football, polo and stock car racing. Beaven continued at the stadium until ill health prompted his retirement in 1939. He was succeeded by Ernest Tucker Chase, and then Theodore "Pump" Searle who was replaced by sports promoter Mackay Yanagisawa in 1956.1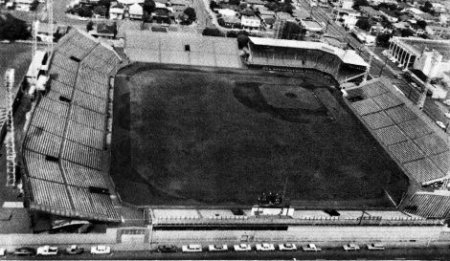 Aerial view of Honolulu Stadium (aka The Termite Palace) - c1960s
Photo from David S. Eskenazi collection courtesy Dave Baldwin
When the permanent bleachers were finally added, the stadium held about 24,000 people but at times as many as 30,000 crammed inside. With just 87 parking space, including 11 for management and eight for the media, parking was obviously a problem. But the lack of parking created more of a community feeling, not less. People forced to walk for blocks through neighborhoods bought shaved ice, saimin or sweet bread from sidewalk vendors. Part of the event was finding a place to park, by paying someone to park in their lot or yard or parking at Central Union Church and taking the bus.2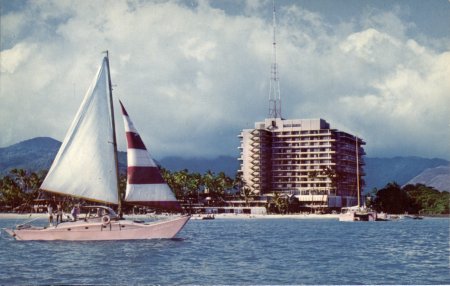 Hawaiian Village Hotel with one of the famous "Pink" catamarans in foreground - 1957
Photo by Mike Roberts
In 1955, 108,000 tourists visited the islands, spending an estimated $56 million. That year three high-rise hotels opened in Waikiki and Henry Kaiser's Hawaiian Village opened its first 70 rooms.3 Henry J. Kaiser was one of the earliest and biggest boosters of the Hawaiian tourist industry. The Hawaiian Village Hotel complex was the territory's first destination resort, extending over 22 acres of beach front in Waikiki.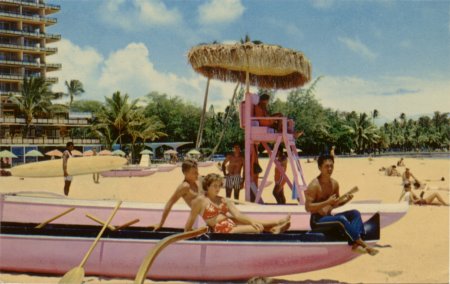 Hawaiian Village Hotel with "Pink" outrigger canoes - 1950s
He added its first tower, The Ocean Tower, at 14 floors in 1957. It was one of the worlds first theme hotels and it had a man made lagoon. They also rented "pink" catamarans to tourists. Kaiser also started his own radio station, KHVH, which stood for Kaiser Hawaiian Village Hotel and broadcast from rooftop studios in the hotel.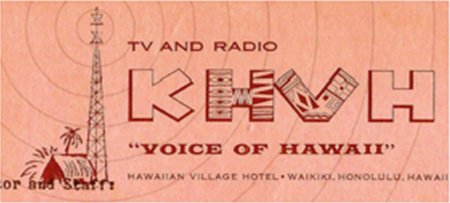 KHVH Logo
courtesy Ron Jacobs
At the end October of 1957, Elvis, Scotty, Bill and D.J. had just completed a short tour of three cities in four days that included San Francisco, Oakland and Los Angeles. Like the tour just before that, it was promoted by Lee Gordon. Peter Guralnick in "Elvis Day by Day" wrote that booking agent and bandleader Al Dvorin recalled that this was intended to be the last show of the tour until Lee Gordon, who has been booking all of the biggest shows into Australia since the war and has been trying desperately to persuade the Colonel to let him book Elvis there, rolled dice with the Colonel for two Hawaiian dates. From Gordon's point of view, this was like getting Elvis halfway to the goal, and the Colonel continues to talk with Gordon about booking Elvis in Australia until at least 1961, though how serious he is may be judged by the results.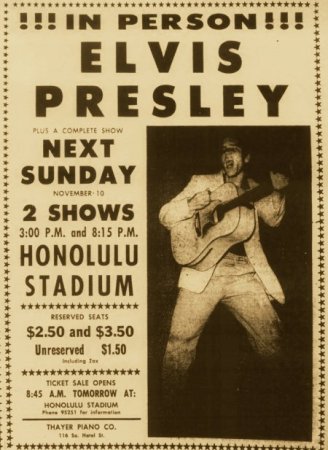 Honolulu Sunday Advertiser - Nov. 3, 1957
courtesy Hawaii State Library
Varying accounts have been given as to why the shows in Hawaii were added and the Colonel himself would later refute the dice story as a joke. Jailhouse Rock, Elvis' third film, opened nationally on November 8th and Elvis, when interviewed on his arrival said that the shows in Hawaii were added as a result of a delay in the start of his next movie. In Day by Day, Peter Guralnick suggested that it quite possibly was at least influenced by the fact that the Colonel himself had been stationed in Hawaii during his brief Army career between 1929 and 1932 and he took the opportunity to visit with old friends. An article in the Honolulu Star-Bulletin also gave this explanation:
21,000 Isle Christmas Cards in '56
Gave Elvis Idea to Sing Here Sunday
Elvis Presley's manager, Colonel Tom Parker, said today the biggest incentive for the rock 'n roll singer's appearance here were the 21,000 Christmas cards received from Hawaiian Island fans last year.
The gyrating Presley is scheduled to perform in two shows, 3 and 8:15 pm., Sunday in the Honolulu Stadium.
He arrives on the Matsonia scheduled to dock at 9 a.m., Saturday and will probably take the next ship back to Los Angeles and on to Memphis, Tennessee, according to Parker.
"The boy, hates airplanes, I don't know why." he added.
He said the show was mapped out "in 30 minutes over lunch last Thursday" and two days later he was here making arrangements.
Original plans for an Australian tour were canceled, "but we may change our minds at the last minute," he said.
Presley, who grosses $800,000 annually, will be assisted on stage by the Blue Moon Boys, a band combo: the Jordanaires quartet, and a variety troupe.
Parker, who has been managing the money-making Presley for more than two years, describes his charge as "a very popular kid—but real humble."
According to Lee Gordon, show promoter, Presley is getting a guarantee on the show, "but I can't tell how much. It's in the contract."

Honolulu Star-Bulletin Nov. 8, 1957 courtesy Hawaii State Library

Passengers board the Matsonia for Hawaii at the Port of Los Angeles - c.1962
Photo © James V. Roy
On November 5th, Elvis sticking to his promise to his mother not to fly unless it was absolutely necessary, along with his entourage boarded the S.S. Matsonia in Los Angeles for the 4 day boat trip to Hawaii. His mother's, and likely his own, fears were no doubt reaffirmed by the fact that a Pan American flight en route to Hawaii from San Francisco with 44 people aboard had gone down in the ocean the night before his arrival.
There was one small surprise at the dock: Billy Murphy showed up with his bags packed just as the ship was about to sail. Bill was a Hollywood regular and friends with John Wayne and Robert Mitchum. He had had several roles, including one in "Sands of Iwo Jima," and was well liked by Elvis and many of the guys. Elvis had invited him sometime earlier, but there had been no further discussion of the subject, and now a mild flurry of confusion arose before someone finally purchased a ticket for him. Other than that, the cruise was a dull one, made up of typical tourists and retirees and a notable absence of eligible girls.4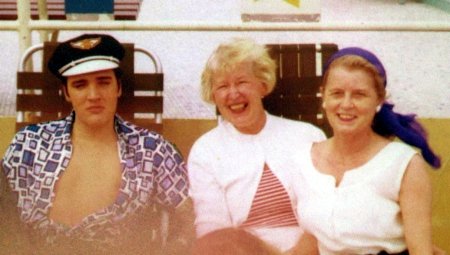 Elvis with passengers Gladys Rohr and Margaret Grove on the Matsonia - Nov. 1957
Photo courtesy FECC/sheila
Cliff Gleaves, who continued to aspire to Hollywood hipness, followed Billy around to the point that Murphy finally told him, "Cliff you're colorful and you're interesting, but you're ninety percent exaggeration and ten percent lies." Which kind of took the wind out of Cliff's sails and gave the others something to chew on.4

1956 ad announcing the addition of the Matsonia to service
Matson began passenger service to Honolulu in 1908, just two years before Beaman arrived in Honolulu. In 1931 Matson Lines commissioned the SS Monterey, built by Bethlehem Steel in Quincy, Massachusetts, at a cost of $8,300,492.00 with 472 first-class accommodations, 229 cabin-class and a crew of 360. In June 1932, the first cruise included San Francisco, Los Angeles, Honolulu, Auckland, Pago Pago, Suva, Sydney and Melbourne. In 1941 it was commissioned by the U.S. Marines and carried missionaries and U.S. citizens stranded in Asia, back home. It was used as a troop ship for the duration of WWII, and returned to civilian conversion in 1946. Sold to the government in 1952, it was re-fitted and re-purchased by Matson Lines in 1955 and christened the Matsonia by Mrs. Lucy Blaisdell. 5

Hula dancers on the pool deck of the Matsonia en route to Hawaii- c.1962
Photo © James V. Roy
To meet the increased demands of tourism to the islands, in June of 1957, it joined its sister ship, the Lurline (commissioned in 1932) in service between San Francisco, Los Angeles and Honolulu. With a length of 632 feet and a speed of 22 knots it was now completely air-conditioned. Spacious and distinctively designed public rooms and staterooms accommodated 761 passengers, all in first-class.

Hula dancers on the pool deck of the Matsonia en route to Hawaii- c.1962
Photo © James V. Roy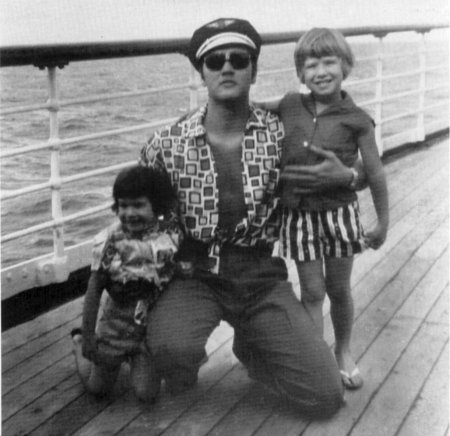 Elvis with Jana and Luana Fisher on the deck of the Matsonia - Nov 1957
Photo by Velma Fisher courtesy Jim Curtin's "Candids of the King"
On the Matsonia, Elvis met Kailua resident Velma Fisher, whose husband, Luther, was a Matson chief engineer. Velma and her four children, Skip, Mona, Luana and Jana (ages eleven, nine, six and four) occupied a cabin three doors away from his and they met the first day when he and his entourage went to the daily bingo game. Velma handed out the game cards and introduced herself. She was forty three. "I didn't want to make a big fuss over him," Fisher remembers, "so I didn't ask for an autograph, but I did take pictures of him with the kids." 6

pool and aft deck of the Matsonia - c.1962
Photo © James V. Roy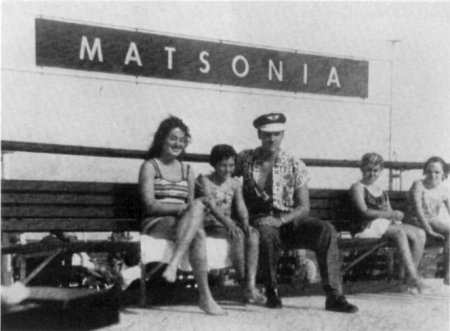 Elvis with Mona Fisher and passengers on the Pool deck of the Matsonia - Nov 1957
Photo by Velma Fisher courtesy Jim Curtin's "Candids of the King"
"He was always polite, a real gentleman," Fisher said, "and friendly. Ever day at cocktail time in the lounge, he played the piano for everybody and he was real easy to meet. My daughters took to him and I didn't mind leaving them in his care. He wasn't really a baby-sitter, but when I was away from the cabin, he looked in on them." Mona remembers sitting on the piano bench next to Elvis. "He started singing 'Love Me Tender,'" she said. "He told me he wrote that for me! I believed that one for years." 6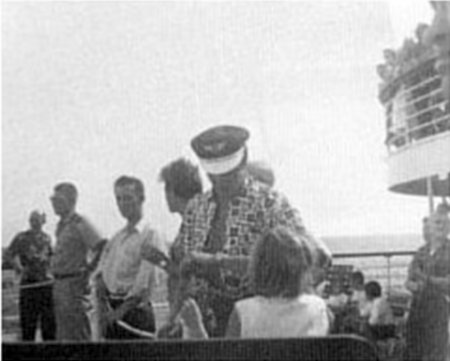 Elvis with passengers on the aft deck of the Matsonia - Nov 1957
Photo courtesy FECC/Desert Strorm
Another couple that became friendly with Elvis on the voyage were Jim and Marilyn Waste. My parents sailed to Honolulu, Hawaii in November, 1957 onboard the Matsonia. Much to their surprise Elvis Presley and his entourage were fellow passengers. Elvis caused quite a sensation by freely mixing with the other passengers. My parents knew who he was because they were young (28 and 27) and listened to Top 40 rock n' roll radio stations. All the women on the ship were excited Elvis was onboard except for my Mom. She says that Elvis took it for granted that they all wanted to meet him and he flirted with them. But the fact was that my Dad was every bit as good-looking as Elvis, back in those days, if not more so, so my Mom failed to be smitten. She "wasn't impressed." 7

Elvis with passenger Marilyn Waste - Nov. 1957
Photo by Jim Waste courtesy Corby Waste
Then one day she was on the deck reading the paperback version of Peyton Place and Elvis came up to her and offered her a red rose. He wanted to get to know her! Perhaps it's because even though she was a mother of three (with the fourth on the way) my Mom was very beautiful back then. The students at San Mateo High School had voted her "Best Looking" and yet she was unspoiled by it all. Anyway, Elvis put his arm around my Mom and my Dad took some pictures. My Mom looks amused by it all in the pictures but you can tell she really wasn't that excited. Later my Dad and Elvis did some trap-shooting together on the ship so they got to know each other a bit more. My parents said Elvis was a real gentleman and very polite.7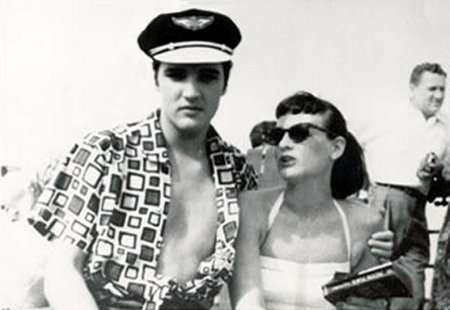 Elvis with passenger Marilyn Waste, Ken Moore at rail - Nov. 1957
Photo by Jim Waste courtesy Corby Waste
The end of my parent's encounter with Elvis actually happened in their Waikiki hotel lobby. Suddenly there was a great commotion as Elvis arrived in the same hotel lobby, surrounded by his entourage and a large number of people. They said it was almost a mad mob scene, with reporters and fans whipped up into a frenzy. Elvis looked over and recognized my Dad and Mom and gave them a knowing shrug of the shoulders and expression on his face that meant, "Well, this is how it is for me, all of the time!" 7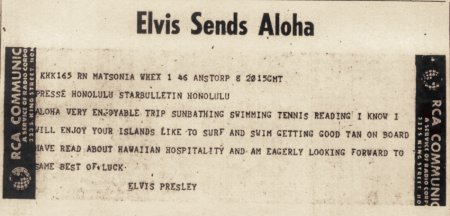 Telegram from Elvis in Star-Bulletin - Nov. 8, 1957
Star-Bulletin Photo courtesy Hawaii State Library
The day before Elvis arrived, a telegram was sent from the ship to the Honolulu Star-Bulletin which they published in the paper. Lamar Fike, who among others accompanied Elvis on this trip also recalls the Colonel made at least one of the trips with them by ship, thinking it was the trip over but it had to have been on the way back. The Colonel actually flew to Hawaii the day before Elvis was scheduled to arrive to secure things and meet with the press.

Al Dvorin, Col. Parker, Lee Gordon and Tom Diskin in Honolulu - Nov. 1957
Photo courtesy Al Dvorin
He's a Promoter and a Gentleman
by Cobey Black

AS MIKE TODD whirled out of the Hawaiian Village, in ambled a soft-spoken, molasses · moving Southern gentleman who knew all the tricks of show business before Mike could spell his own name. (He still can't. That's why it's Todd.)
Colonel Tom Parker deserves his honorary Tennessee title. He's won countless victories on the precarious field of entertainment, the latest and greatest being the triumph of Elvis Presley.
Half a dozen years ago the good colonel was booking teen-age Elvis in a package deal on a small-town circuit. Last year his protégé received 400,000 Christmas cards — 20,000 of them from Hawaii.
THIS YEAR THE Youth Foundation chose as the world's four top personalities: Elvis, President Eisenhower, Queen Elisabeth and Princess Grace," said Colonel Parker. He was modestly stating a fact.
And the longer I lingered over lunch with Colonel Parker and Tom Diskin, a gentle, sandy-haired young man who is tour manager for the Presley show, the more I enjoyed their homespun candor. After a week on Todd's pressure cooker. it was a relief to be among the grits and gravy folk. Naturally, the conversation turned to—who else?
"Call it personality - magnetism. Valentino had it. Only the kids can tell you what it is. It hasn't spoiled Elvis. I can tell you that. Just made him more mature, more seriously interested in his career. Did you know that of his 20 personal appearances this year, eight of them benefited charities, and four of them gave all the proceeds to charity?"
THE COLONEL WAS interrupted by Tom Diskin, who added "I've read at least 50 letters to Elvis from blind and handicapped children who are confined to their beds or homes, and they all used the same phrase 'You've made life worth living.' Elvis is a very sensitive boy who thinks about these things. In two years we've sent out 50.000 books and pictures to organizations, and we've paid for the shipping and merchandise."
"Yet when he sang 'Peace In the Valley' on the Ed Sullivan show." continued the colonel, "he received 5,000 letters from religious groups asking him to build churches.
"One lady has been writing constantly asking Elvis to sell five of his six cars because her father is along in years and could use the money. I wonder lf she knows that last month he raised $20,000 in Tupelo for a youth center.
"HE'S SUCH A pro-and-con personality that all kinds of stories crop up. I read in one of your papers that I'd been talking to Hal Lewis over dinner about Elvis. I've never had dinner with Hal Lewis. I called him right away to ask who'd picked up the tab.
"Several months ago an article in a Georgia paper described Elvis's life In the Army, and said I was working in the commissary selling pictures. We were on tour 2.000 miles away. Elvis is 1-A of course, but he's still on the waiting list.
"Yesterday I had over 30 calls, mostly from kids, actually if Elvis was REALLY coming—if it wasn't just a joke.
"HE'S REALLY COMING, on the Matsonia, with a party of 10 friends and relations. Boy, will they be all shook up when they land. He won't fly, you know. We once chartered a plane in Texas and two motors went out. We ditched in a field."
And that cured him? I asked.
"Cured him. honey? It scared the living daylights out of him. The only thing he was sure of was his safety belt and it was so tight it nearly cut him in two."
Do you know if he has any plans for marriage? I asked Tom D.
"When he meets someone and falls in love. everybody'll know. He wont hide it. He thinks love is something to be proud of."
And will you, Colonel Parker. continue to be his manager as long as his career lasts?
"MY CAREER WILL GO ON with or without Elvis, and his will with or without me. He's going on 22 and I'm going on 50, so he'll be going on a lot longer than I. Also I'm all shook up already.
"For my next promotion, I'm going to try to get that little dog in Sputnik II. Seriously, honey, he'd be great on a personal appearance tour. And I could get a good deal on dog food."

Honolulu Star-Bulletin Nov. 11, 1957 courtesy Hawaii State Library
For this trip, Elvis had reserved the entire 14th floor of the Ocean Tower at the Hawaiian Village Hotel and plans for security were detailed in the newspaper the week before.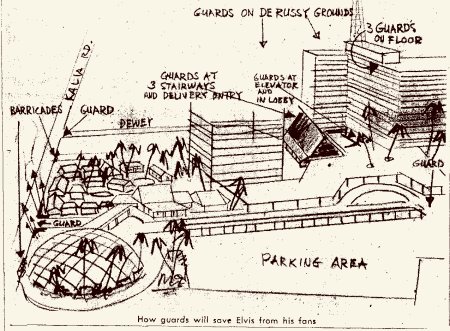 Plans for security at the Hawaiian Village Hotel in the Star- Bulletin - Nov. 4, 1957
courtesy Hawaii State Public Library
Teen-agers Will See but Not Touch Elvis
Officialdom said today that Elvis Presley's fans will get to see him but not touch him when he arrives on the Matsonia at Pier 10 at 9 am. tomorrow.
He will come in on the ship, all right, officials said, but their plans are such that they predict no fan will get within 10 feet of him at the pier and few will get within yards of him at the Hawaiian Village Hotel where he will have a 14th floor refuge.
Security plans for Elvis match those for visiting chiefs of state.
A web of about 30 men, including personal guards, police officers and Castle & Cooke security officers will surround the dock area.
Assistant Chief of Police Dewey Mookini said 22 additional men will be on call should-there be any mob action.
Castle & Cooke is also ready with an extra guard crew - just in case things get out of hand.
Terminal officials reported a double fence may also be put up as an additional safeguard.
They said security measures mapped for the Presley entrance will make it impossible for fans to get closer than 10 feet. from the rock 'n' roll idol.
Chief Mookini believes that this reinforced security was never accorded any other person arriving here.
"Even (ex-President) Truman had about 20 men," he recalled.
But dockside preparations appear niggardly compared to the security strategy outlined at the Hawaiian Village Hotel, where the singer will be quartered in a 14th floor penthouse.
About a dozen men, including Al Pinoli, chief of security at the hotel, will be on 24—hour duty, guarding each entrance, staircase and elevator.
Two side entrances to the hotel will be barricaded, thereby, cutting the stream of traffic through the main entrance only.
In the 14th floor Presley hideout, three of his personal guards who are traveling with him will on watch.
'TEEN-AGED PROOF'
As Mr. Pinoli puts it: "Teen-agers may as well forget about seeing him up close. They aren't going to have a chance. This place is teen-aged proof."
He said all teenagers wandering around by themselves will be suspect and that only guests will be allowed to go up to the floors.
If a guest wants friends up to his room, he will have to come-down to meet them and personally escort them up.
He noted "this is going to be rough on the rest ofthe guests too, but we can't take any risk of property or personal damage."
And "absolutely no one will be allowed to go up to see Presley," he pointed out.
HE'S HOPEFUL
Although Chief Mookinis hands are presently full with Presley security plans, he is still hopeful-with a great
deal of reservations--that Island teenagers will behave like "little ladies and gentlemen. ·
"I have a lot of faith in them," 'he said, but in the next breath murmured - "I don't know, this boy seems to be a little different than the rest."
Mookini emphasized the police officers at the dock-and the hotel area are not escorts for Presley, but will be there "for the protection of life and property."
He said 35 officers, including a lieutenant and three sergeants; have been hired by the show promoters for Sunday's performance in the Honolulu Stadium.

Honolulu Star-Bulletin Nov. 4, 1957 courtesy Hawaii State Library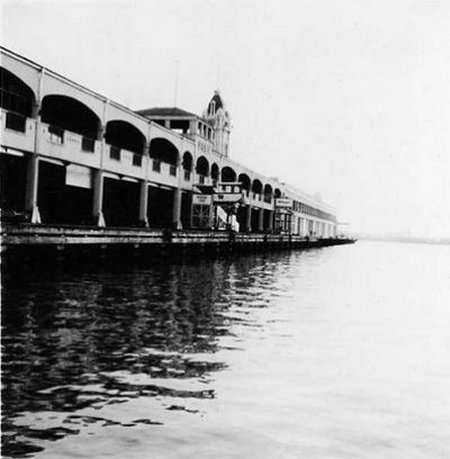 Pier 10 from Pier 12, Honolulu Harbor - c 1940s
Photo ©
Evil-J
Boat Day was a Hawaiian tradition of greeting arriving and departing passenger ships in a style that is island-indigenous and therefore unmistakably warm and welcoming. Ships had always been important to Hawaii. They brought provisions to the islands, as well as mail, materials, and people--and that included tourists, honeymooners, celebrities, and military personnel who were reporting to duty at the local Schofield Barracks. Pageant-like with color and crescendo, the scene back then was enhanced by the lush island melodies of the Royal Hawaiian Band, the excited scurrying of passengers to locate and claim luggage, and a profusion of animated friends and relatives poised pierside to proffer leis. Boat Day reached its pinnacle in the 1930s and continued as Matson liners, like the Lurline and the Monterey, brought passengers to Oahu.18 On Saturday, November 9th, the S. S. Matsonia arrived in Honolulu, on Boat Day.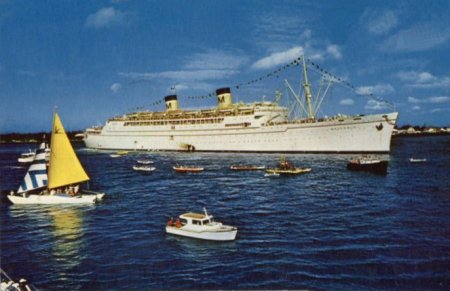 The S.S. Matsonia arriving in Honolulu Harbor on Boat day
"Back . . . back please. Presley is first—then the Congressmen," a harried Matson official muttered as he made way for Elvis Presley's debarkation this morning from the Matsonia at Pier 10.
The rock 'n roll idol drew in his breath at the top of the gangplank, slicked back his long locks, planted a few moist kisses on nearby hula girls for the cameramen, and descended to the wild shrieks of some 4,000 fans.
Brownie cameras clicked, girls, jostled and pressed forward, the while emitting a variety of Comanche yells. The teenagers weren't outfought but they were slickly outmaneuvered. 8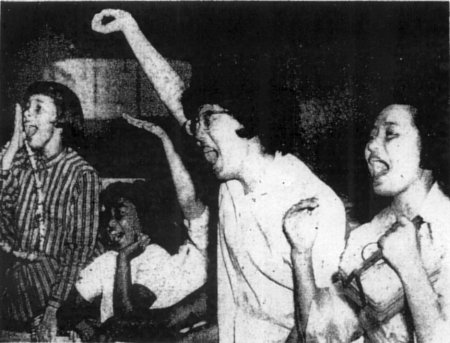 Fans crowd dockside, scream as their idol appears aboard the Matsonia - Nov. 9, 1957
Star-Bulletin Photo by Al Yamauchi
Colonel Torn Parker, Presley's manager, murmured a few quick comments to Elvis. Then the manager smoothly guided him to a waiting taxi and they disappeared in a matter of seconds, leaving the crowd milling uncertainly. Presley's fans may not get too close to the guitar-playing Tennessean, but they will see and hear him at two shows tomorrow. at 3 p.m. and 8 pm. in Honolulu Stadium.
Elvis met the press (and two resolute lasses who managed to crash the function) aboard ship an hour before he landed.8

Elvis waves to fans from the Matsonia after docking in Honolulu - Nov. 9, 1957
Photo courtesy FECC/Desert Storm
Flying Wedge Defeats Admirers

Elvis Greeted by Mob Of Screaming Teenagers
Elvis Presley arrived in Honolulu Saturday morning on the Matsonia. Several thousand orderly but screaming teenagers waited inside Pier 10 for him to disembark. (The first teenage fan took up her vigil at 6:30 a.m. She's a cousin of Alfred Apaka.)
As he hurried off the ship via the crew's gangplank, surrounded by his bodyguards and traveling companions, a scream went up that sounded like a hurricane at its height.
As if they had practiced the maneuver many times before, Presley's party formed a V in front of the singing idol and ran at a trot down the stairs, past the screaming crowd. Then they hopped into a waiting limousine and sped away.
It was much like a well-rehearsed get away for a bank robbery.

PRESSLEY'S room number at the Hawaiian Village hotel is 14-A, kids, but knowing it won't do you much good.
Barbara Wong of Kaneohe, a teenage Presley fan, made a 63-foot plumeria lei and brought it clear over the Pali only to find that the rock 'n roll star isn't answering his telephone.
With tears in her eyes, she asked the manager of the hotel if he couldn't take her up to see Presley. "Sorry," he said, "there's nothing I can do."


Honolulu Advertiser Photo courtesy Hawaii State Library

ABOARD THE Matsonia, as the ship entered the harbor, Presley obligingly posed for photographers, preferably with a hula girl in his arms.
"Take your time," he told the photographers at one point, "this in the best part of the trip."
A short time later when Snookie Skoglund, a 15 year old from Minneapolis squeezed beside Presley and gave him a lei and bussed him soundly, he kissed her right back and murmured. "Honey, it's been five days since I've seen a girl. You better watch out."


Star-Bulletin Photo courtesy Hawaii State Library

IN A BRIEF interview with reporters on shipboard, Presley said he took the Matsonia to Hawai rather than an airplane because he's afraid of flying. Asked why, he replied. "Just listen to the headlines. I could have been on that flight (which disappeared Friday afternoon between San Francisco and Honolulu with 44 persons aboard.)
However, he added, he has, no Hawaiian tunes on his program. The only Hawaiian "that I ever sung is 'Until We Meet Again.' That's 'Aloha Oe,' isn't it?"

A REPORTER ASKED, "What do you think of being called Elvis the Pelvis?" Presley answered, "It's very immature and childish. Like a kid trying to find something to rhyme with Elvis."
He explained that the nine persons traveling with him are all friends from Memphis whom he takes with him for company wherever he goes and "to have a little touch of home."
The waiting list of applications for these positions, he added, is quite long.

"WHAT ARE the prerequisites for the job?" asked one reporter.
"What's that, sir'?" said Elvis blankly.
"The prerequisites for the job?"
"How do you pick 'em?" asked another reporter.
"Oh, they're just old friends . . . from school and around home."
Elvis, who was wearing a maroon jacket, black slacks, black loafers, gray socks and a white knit sweater, said he brought along only three suitcases.

ASKED TO DESCRIBE what he had on he said, "Don't ask me. I'm real green about clothes." He said he picks out his own and never pays more than $7 for a shirt, $10 for a pair of shoes.
A fellow passenger, who made the trip with him, described Presley as likeable. "He spent a lot of time posing for movies with the waitresses so they could show their children."
The only note of discord to his welcome to Honolulu appeared in the harbor before the Matsonia tied up. It was a small outboard runabout manned by three teenagers who held aloft a banner reading, "Elvis Go Home."

Honolulu Sunday Advertiser - Nov. 11, 1957 courtesy Hawaii State Library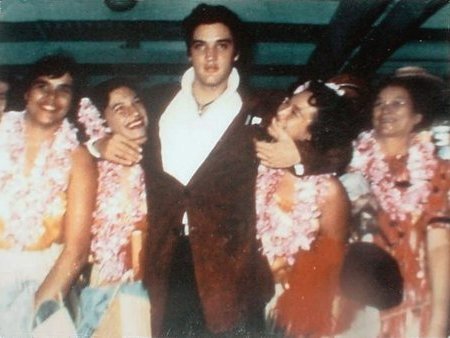 Elvis hugs with hula girls, Happy Kuaimoka and Georgia Richards - Nov. 9, 1957
Photo by T. Umeda courtesy eBay and Adam Taylor
He wore a white knit sweater with a large rolled collar, a wine-colored sports coat flocked with black, black slacks, dark well-shined loafers and white socks checkered with brown. This 22-year-old with the build of an-Oklahoma halfback soon had skeptical newsmen singing his praises. Speaking with a Southern slur and liberally punctuating his answers with "suh," Elvis freely admitted, "I'm pretty green when it comes to clothes. "I don't pay over $7 for a shirt and $10 for a pair of shoes. But I do plan to stock up on a Hawaiian outfit while I'm here." 8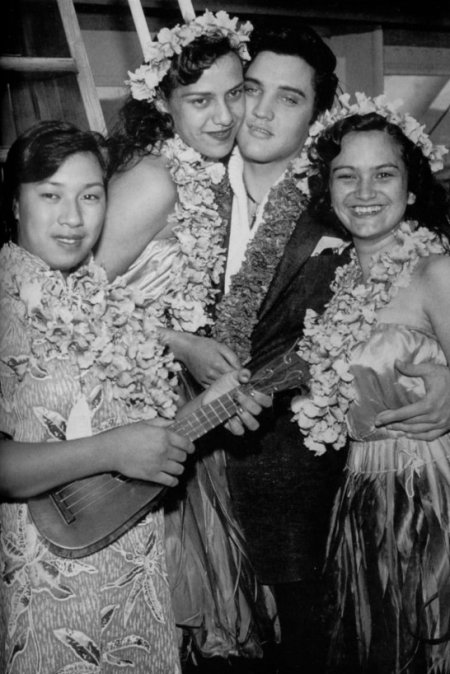 Elvis aboard the Matsonia with hula dnacers - Nov. 9, 1957
Photo courtesy FECC/claude 91
He said present plans call for his party of nine to return to Memphis, Tennessee, next week. Asked if he might visit any Neighbor Islands, he said. "It depends on how we're received here. Presley and Parker both indicated an Australian tour following their visit here is unlikely, although "We're always open to a last minute switch."
He explained their sudden decision to visit the Islands this way: "It was a real rush deal. We were in Hollywood to make a picture (as yet unnamed), but it was postponed until the first of the year. We weren't doing anything, so Mr. Parker asked if we'd like to go to Hawaii. "I said, 'Huh!' and was packed right away."
As for his traveling companions, mostly high school friends and disc jockeys, Presley said, "I like to have my friends along . . . it gives me a little touch of home. Anyway, it's more fun to see things together. "I've got a waiting list . . . pretty long one . . . of friends who want to make trips with me. "In fact I've heard from lots of so-called old friends from years ago who always say, 'You remember me, don`t you?' "
He said his latest hit, "Jailhouse Rock." has sold more than two million records in its first two weeks out. He didn't indicate whether this might be on his Hawaiian program, but he said enthusiastically that "Hawaiian music will certainly be on my program if I can learn any in time." 8

Honolulu Advertiser's Bob Krauss and Eddie Sherman with Elvis at the Pier - Nov. 9, 1957
Photo from Eddie Sherman collection courtesy Jerry Hopkins' "Elvis in Hawaii"
BACKSTAGE with EDDIE SHERMAN

Elvisit
The only ones who were "all shook up" when Elvis arrived in Honolulu Saturday were thousands of teenagers who caught a fleeting glimpse of the singer. Presley admitted he loves crowds. "When there's a mob waiting," said Elvis, "it doesn't upset me a bit. Just the people in my group."
Elvis received his first lei in Hawaii from Milwarde Rathburn of Matson. The "ceremony" took place at sea—during his first Hawaiian press conference in the Marine veranda of the Matsonia. "He's a very polite boy," said Milwarde, "and much handsomer than I thought."
The tall husky Elvis punctuated his conversation with many "yes sirs" and "no sirs." He combed his hair a half dozen times, but the long locks had trouble staying in place.
We asked him about that brawl in a Memphis filling station. '"If I have to, I can take care of myself pretty good. As a kid I scrapped about as much as anyone." His 180 pounds seems fairly well distributed over a large six foot frame.
Does Elvis have a favorite entertainer?
"Not really. If the talent is good. I like it."
His ambition?
"I hope to be a good actor, someday."
His pet peeve? Being called Pelvis.

Honolulu Advertiser - Nov. 11, 1957 courtesy Hawaii State Library
Other Presley views in a nutshell; Such nicknames as "Elvis the Pelvis" are strictly juvenile.
"There's nothing I can do about it, but it sounds like little kids trying to find something to rhyme with Elvis.
"I have no steady girl friend nor do I have any plans of marriage right now.
"I would eventually like to be a good actor. I haven't had time up to now, but I would like to study for it.
"I don't like airplanes. I'm scared stiff of them. In fact, we could've been on this one missing now.
"I brought only three pieces of luggage. But I guess there must be about 40 for all of us."
There was no confusion and no throngs of juveniles when Presley and his party arrived at the Hawaiian Village Hotel. Several teen-age girls were waiting quietly, and one of them-Babette (Bobby) Andre-presented the singer with a lei and the kiss that goes with it. Presley returned the kiss vigorously. Miss Andre walked away in a happy daze.
The Jordanaires and Presley's guitar, bass and drums accompanists are scheduled to arrive by plane at 4:30 this afternoon.8
Scotty, Bill, DJ, and the Jordanaires took a United Airlines flight. This time they would break tradition and stay in the same hotel with Elvis, who had reserved the entire fourteenth floor of the Hawaiian Village Hotel. Scotty's $12-a-night room was plusher than he usually got on the road.9 In spite of the security, it didn't sway all fans from going to the hotel. Elvis threw cut up scraps of clothing and records down to them. Naturally, not all of the records would survive the drop from the 14th floor intact.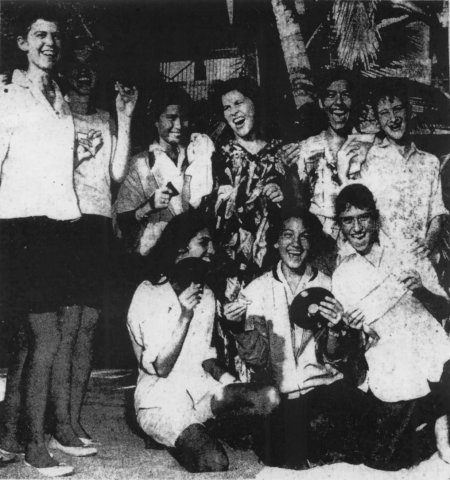 Elvis Presley fans who hounded him at the Hawaiian village Hotel with shouts of "We Want Elvis" show the booty Elvis threw down from his room. Kneeling, from left, Sandra Farias with record, Pat Blake record and part of tie and Judy Blake with part of tie. Standing, from left, Linda Snyder with a piece of record cover, Raynette Raynor with a piece from a gold tie, Viola Kalama with a part of a record, Bernadette Santos with a handkerchief, Anna McMullin with part of a record and Francine Carvalho with a piece from a gold tie.
Star-Bulletin Photo courtesy Hawaii State Library
The Honolulu Star-Bulletin announced the line-up and format for Sunday's shows, albeit on Monday, the day after.
Program for Sunday's Elvis Presley Show

The Elvis Presley show in Honolulu Stadium is divided into two parts, with a 15 minute intermission.
Elvis will appear in the second portion of the show and will sing for at least half an hour, a spokesman says.

The program:
Opening medley by Ray Tanaka and his 11-piece Honolulu show orchestra.
Introduction by comedian Howard Hardin, of Chicago, who will be master of ceremonies and also do specialty numbers.
Island entertainers to be seen in the first half of the show include Sterling Mossman, known as "the hula cop"; Kaui Barrett, dancer; Phyllis Brooks, singer; Eddie Spencer's Queen's Men, all from the Queen's Surf floor show.
Then the Jordonaires, Capitol recording artists, who are touring with Presley, will sing.
INTERMISSION FOLLOWS
After the intermission, Ray Tanaka's group will play before Hardin introduces Elvis.
Elvis's selections will vary according to audience reaction. He will sing several of his RCA-Victor record hits.
Accompanying Presley are the Blue Moon Boys, musicians who have been with him since the beginning.
Both shows follow the same general format.
Running time of each show: from 90 to 120 minutes.

Honolulu Star Bulletin - November 11, 1957 courtesy Hawaii State Library
For the Hawaiian shows, it was obviously cost prohibitive to bring the acts that they had been touring with on most of their stateside performances during the last year and a half. This time they supplemented the show with local acts. The anchor band for most of the acts at the Stadium shows was the Ray Tanaka Orchestra. Ray Norito Tanaka, a Honolulu native, had been performing since the forties and over the years would head different bands. The other acts were regulars at the Queen's Surf.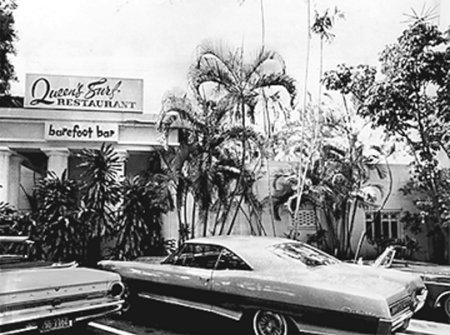 The Queen's Surf Restaurant and Barefoot Bar - c1960s
Photo source unknown
In the 1950's and 1960's the Queen's Surf restaurant and bar, at 2709 Kalakaua Avenue, overlooking the beach in front of Kapiolani Park was Waikiki's most popular nightspot. It was built in 1949 in the former beach home of multimillionaire Chris Holmes, heir to the Fleischmann's Yeast fortune, by Spencer and Clifton Weaver, sons of famed architect Fullerton Weaver who had designed the Waldorf-Astoria in New York. The Tahitian Revue at the Surf, specialty luau and South Pacific presentations gave it at times an atmosphere of at three-ring circus. The Barefoot Bar was upstairs where the footprints of the most prominent locals in the travel industry were placed on the wall along with their names. It was said to be always packed with local and Hollywood celebrities and you had to know someone to get in.11


Sterling Mossman at the Barefoot Bar (click to play "Hula Cop Hop")
Photo courtesy eBay
Sterling Edwin Kilohana Mossman, was a detective with the Honolulu Police Department by day, and the central character of the Barefoot Bar by night.Nicknamed "The Hula Cop," Mossman combined impressive singing talent with hilarious comedy and novelty songs, and surrounded himself with a sterling group of talented Waikiki entertainers.12 Mossman paved the way for what would be called the "modern" style of Don Ho, who started his career at his mother's bar, Honey's in Kaneohe, and began to sit in at the Barefoot Bar when Mossman took breaks.11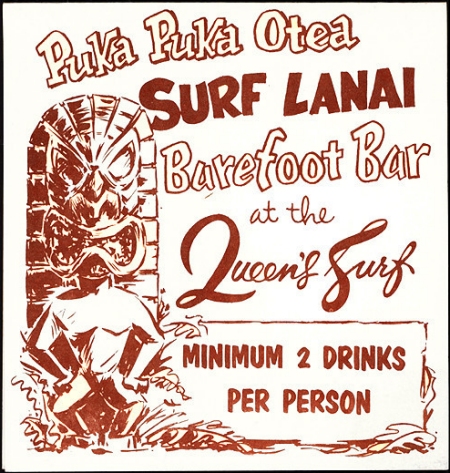 Table card for Surf Lanai / Barefoot Bar from Queen's Surf
courtesy Arkiva Tropika
The Eddie Spencer Band included bassist Joe Marshall and singer/guitarist Gabby Pahinui (click

to play "Aloha Sunset Land" by Eddie Spencer). Spencer did all the talking for the group but among musicians, Gabby Pahinui was known as the most talented practitioner of a guitar style called "slack key," which in the late 1950s, was still heard mostly at backyard parties and at family gatherings (click

to play "Paradise Isle" featuring Gaby Pahinui on Slide Guitar).13 Phyllis Brooks would at times sing and record with Spencer's band (click

to play "Tahiti Nui" featuring Phyllis Brooks). The hula dancer listed on the show was 23 year old Madeline Alexander "Kaui" Barrett, who would later become a cruise director and give hula classes on the Lurline as well as Royal Viking Lines and American Hawaiian Cruises.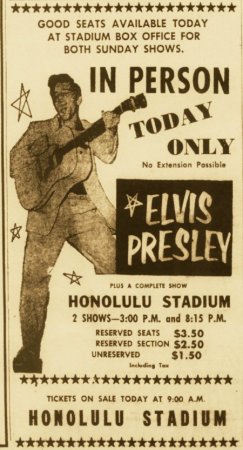 Honolulu Sunday Advertiser - Nov. 10, 1957
courtesy Hawaii State Library
Tom Moffat and Ron Jacobs were two of the deejays hired by Kaiser at KHVH radio broadcasting from the studio on top of the hotel. Ron said, fellow deejay Tom Moffatt and I pulled a prank that became "The First Elvis Impersonator." They had the station's engineer dress up like Elvis with a black wig and ride around town in a convertible making frequent stops to phone in their location to the station and then driving away quickly when fans approached. However, Tom and Ron's prank created enough of a stir to attract the attention of the Colonel. Fortunately Elvis and Colonel dug it. We each emceed concerts at Honolulu Stadium. Ron emceed the matinee show while Tom emceed the evening. Ron said, a lifelong friendship began with Parker, who became a mentor. On his many Hawaii trips, Colonel arranged exclusive Elvis promotions for us.14

Fans at Honolulu Stadium - Nov. 10, 1957
Star-Bulletin Photo by Gordon Morse courtesy Jerry Hopkins' "Elvis in Hawaii"
Walt Christie of the Honolulu Star Bulletin reviewed the shows the following day. Those frenetic fans who "loved" Elvis Presley before seeing him in person yesterday are even more ardent today. And those who werent "sent" before still aren't. About 15,000 Honolulans spent $32,000 yesterday to see for themselves just what sort of entertainer sparks the Presley cult. Response, it must be chronicled, was maxed. On the plus side of the ledger is the fact that the hula-hipped, crazy-legged Elvis is a versatile singer.15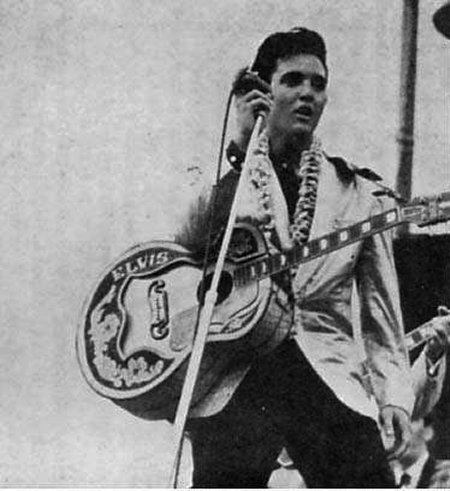 Elvis at Honolulu Stadium - Nov. 10, 1957
Photo by Pipi Wakayama courtesy FECC/PEP
He's America's top money entertainer and, more significantly, tradesters predict he'll be around for several years to come. Once his fanatical folIlowing abates, Presley can emerge as a mighty competent "straight" singer. On the negative side is the fact that Americas two-legged answer to the Sputnik violates every rule in the book when it comes to showmanship. Right now—obviously—that doesn't matter. lt there ever were a "pre·sold" attraction, Elvis is it. He could do no wrong as far as last nights shrieking, beat-clapping enthusiasts were concerned.15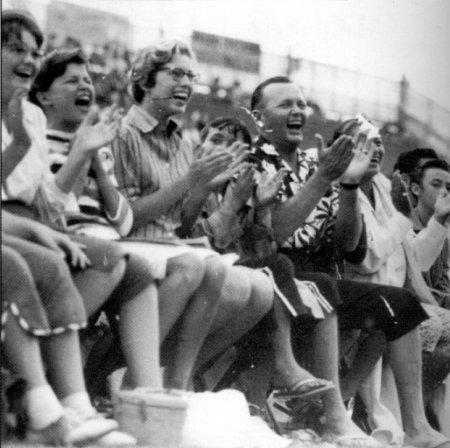 Fans at Honolulu Stadium - Nov. 10, 1957
Photo by Pipi Wakayama courtesy Arthur Suehiro's "Honolulu Stadium: Where Hawaii Played"
He scratched his ear--and squeals of joy echoed through the uninhabited audience that jam-packed the makai side of Honolulu Stadium. He shrugged a shoulder of his sparkling metallic-threaded jacket—and the girls literally bounced up and down in their seats. The king can do no wrong. And Elvis, make no mistake, IS the king of the teen-agers who—the same teenagers who snap up each of his recordings by the millions and who sacrifice lunch money so they can buy a ticket to see him. Elvis, it appears, enjoys this mass hero worship. Indeed there are times when you wonder how he can keep a straight face as he watches his audience.15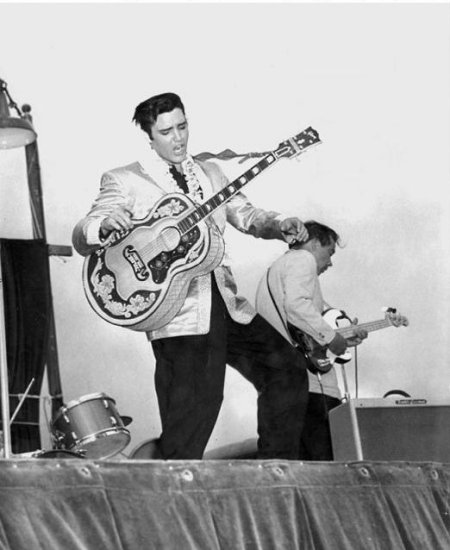 Elvis and Bill at Honolulu Stadium - Nov. 10, 1957
Star-Bulletin Photo courtesy FECC/PEP
Presley had 'em rockin' if not always rollin' to the tempos of many of his best-known songs. Matter of fact, he was on stage for about 40 minutes, accompanied by his own trio and the Jordanaires quartet. Surprisingly, he spent more time at the piano than he did with his guitar. His routine is paced effectively, gradually mounting in tempo to a climax that sees him jumping offstage and toward the front rows of the audience, then making a hasty retreat to a waiting auto.15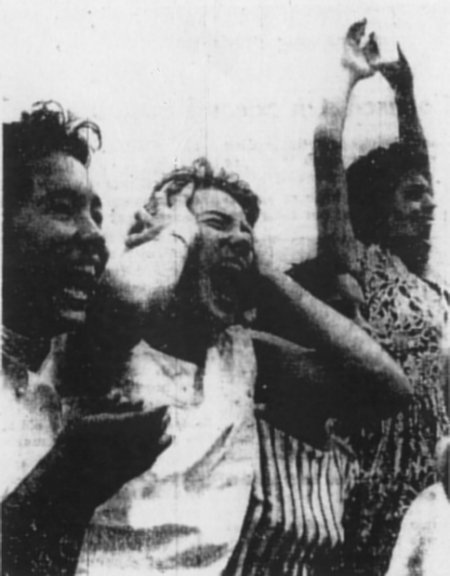 Fans at Honolulu Stadium - Nov. 10, 1957
Star-Bulletin Photo by Gordon Morse courtesy Hawaii State Library
The audience's mass emotion wasn't dampened in the least by two flurries of rain, a whirl of dust, the poor lighting of the on-field stage, and mediocre public-address facilities. It would be a mistake to generalize about audience reaction. The king is all things to all people. It's not only teenagers who were "oohing" and bouncing and shrieking to his beat and loose-legged gyrations. Many of the teenagers' mothers were, too. And a 7-or-8-year-old girl sitting near this writer was equally responsive.15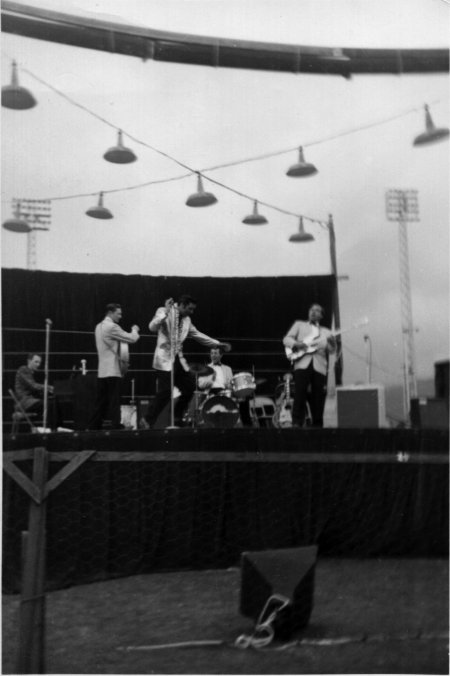 Hoyt Hawkins, Scotty, Elvis, DJ and Bill at Honolulu Stadium - Nov. 10, 1957
Photo courtesy Erik Lorentzen, added August 25, 2013
The male audience, for the most part, was far more reserved or, at least, stoic. In some eases, it was bored. That, in the long run, may be Presley's biggest handicap. Right now, without going into social significance or sex appeal or personal magnetism, he's strictly for the girls. If you're still wondering about his bewildering effects upon the bewildered parents and their bewildering offspring, you can see him in action tonight at Schofield Barracks. Of one thing you can be sure. It'll be the most memorable thing that's happened at Schofield since December 7, 1941.15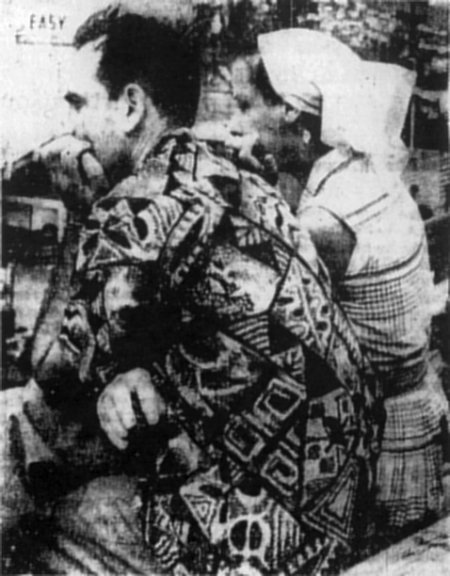 Not everyone in attendance shared the enthusiasm at Honolulu Stadium - Nov. 10, 1957
Star-Bulletin Photo by Goerge Cabral courtesy Hawaii State Library
In an almost unrelated incident, Walt included in his review the odd snippet:

The Jordanaires, Elvis and Scotty at Honolulu Stadium - Nov. 10, 1957
Photo by Pipi Wakayama courtesy FECC/PEP
MOTHER LAUGHS OFF STABBING AFTER ELVIS SHOW
A 40-year-old Kaneohe mother of two is in Queen's Hospital today after her husband stabbed her Saturday night when she kidded him about going to Honolulu to welcome singer Elvis Presley. Asked if she wanted to press charges against her 50-year-old husband, the woman laughed and said, "It was just a family argument," police said. 15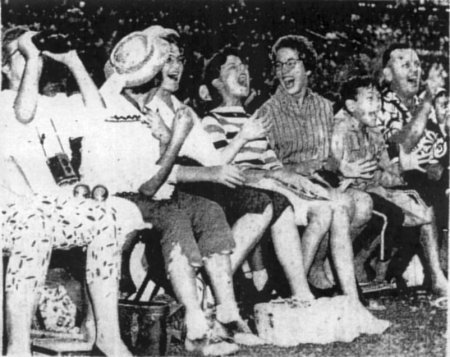 Fans at Honolulu Stadium - Nov. 10, 1957
Photo by Pipi Wakayama courtesy Hawaii State Library
Bob Kraus reviewed the Stadium shows the following day in The Honolulu Advertiser. Elvis Presley left Honolulu teenagers all shock up yesterday after two rock 'n roll concerts at Honolulu stadium. Thousands of kids nearly went out of their minds screaming at the loose-jointed antics of their singing idol as he wiggled and wobbled and clowned his way through an hour-long performance.
His two performances drew 14,963 spectators, evenly divided, between the two shows. who paid $32,000. Elvis is reported to get more than half of it.16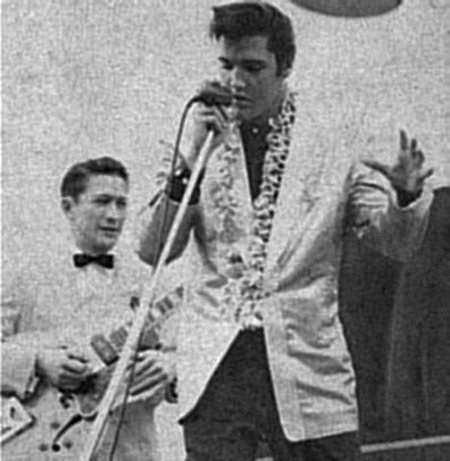 Scotty and Elvis at Honolulu Stadium - Nov. 10, 1957
Photo by Pipi Wakayama courtesy FECC/PEP
Primed by an opening half program of Juggling, hula sword dancing and jive, the teenage audience (mostly girls) set up a shrill, continuous scream an Elvis romped on the open air stage dressed in a gold lame jacket trimmed in silver, a black shirt, black slacks and black loafers. He stood still for a moment, then threw an experimental wobble at his fans. As if he had pushed a button, the audience erupted with screams. From then on the concert resembled some kind of primitive religious ceremony with the audience gradually working itself into a greater and greater frenzy.16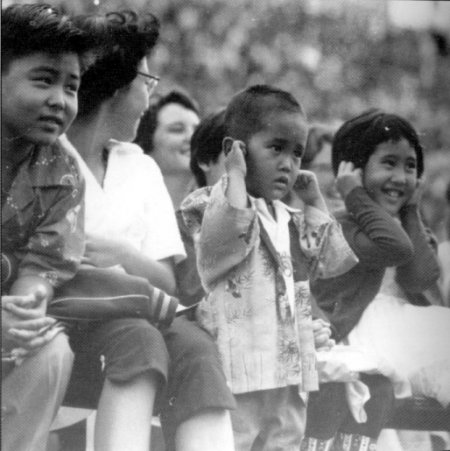 Fans at Honolulu Stadium - Nov. 10, 1957
Photo by Pipi Wakayama courtesy Arthur Suehiro's "Honolulu Stadium: Where Hawaii Played"
One girl behind me kept screaming with shrill intensity of hysteria. Between screams she gasp, "Oh, Elvis, you're killing me. I can't stand it, I can't stand it." It is difficult to judge Presley's performance as a singer on the basis of yesterday afternoon's concert. The screams drowned out his voice a great portion of the time. This apparently didn't bother his teenage fans, who seemed to recognize each melody from the opening word. "Don't Be Cruel" and "Hound Dog" drew the maximum decibels of admiration.16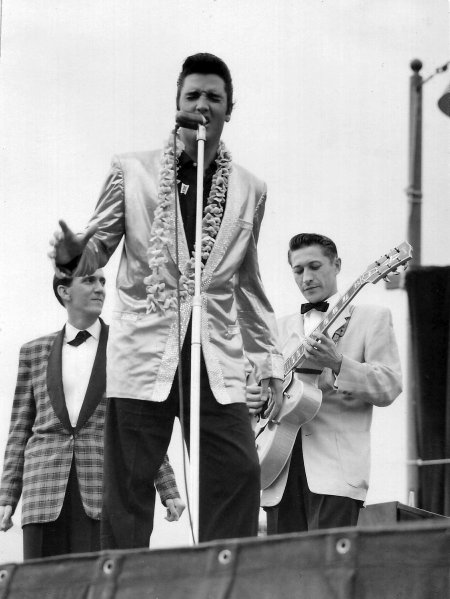 Hugh Jarrett, Elvis and Scotty at Honolulu Stadium - Nov. 10, 1957
Photo courtesy Erik Lorentzen, added Feb. 6, 2014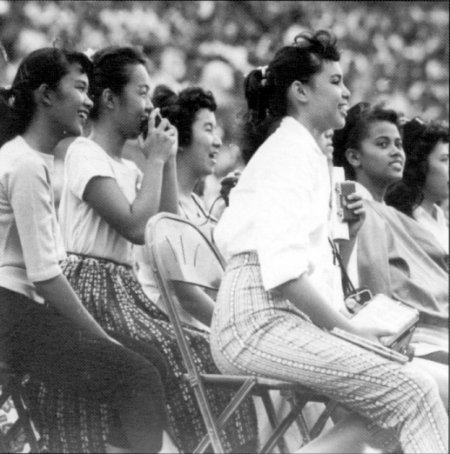 Fans at Honolulu Stadium - Nov. 10, 1957
Photo by Pipi Wakayama courtesy Arthur Suehiro's "Honolulu Stadium: Where Hawaii Played"
Ooddly enough, there was very little clapping after each number. But Presley had only to say, "thank you very much." and the audience would scream. He'd scratch his nose; another scream. He'd laugh; another scream. At times, the singer seemed to deliberately push the button by dropping his arm or wiggling his shoulder, just to hear his fans react. Then he'd laugh, it seemed to me, partly at himself and partly at the audience.16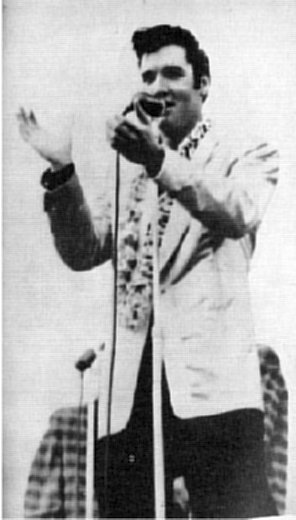 Elvis at Honolulu Stadium - Nov. 10, 1957
Photo by Pipi Wakayama courtesy FECC/PEP
FOR ALL of his inept clowning on the stage, the singer is obviously an expert at teasing the greatest possible hysteria from his teenage worshippers. The best example was his closing number. "You Ain't Nothin' But a Hound Dog," which brought the audience to its feet from the opening note. Presley threw his hips around. wobbled his knees, flopped his shoulders and shook all over until the girls in the stands were hopping up and down with excitement.16

Fans at Honolulu Stadium - Nov. 10, 1957
Photo by Pipi Wakayama courtesy Arthur Suehiro's "Honolulu Stadium: Where Hawaii Played"
Then, for the first time, he sat down on the edge of the stage. Teenagers began pressing forward to see better and the police (I counted 30 inside the stadium) nervously closed ranks. Finally, he hopped dawn upon the grass in front of the stage. The crowd nearly went crazy. Girls climbed up to stand on the sides of the box I was sitting in. Others were standing precariously on chairs.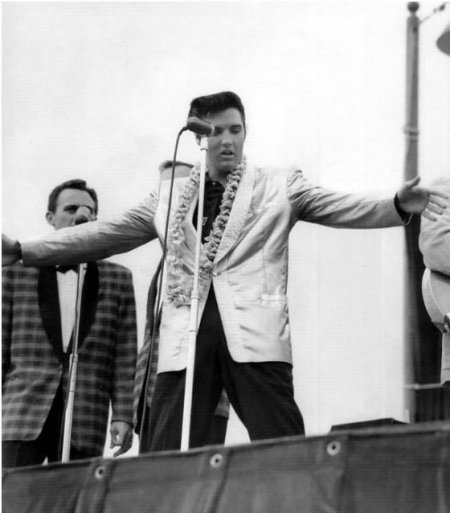 The Jordanaires, Elvis and Scotty at Honolulu Stadium - Nov. 10, 1957
Photo by Pipi Wakayama courtesy FECC/PEP
Meanwhile. Presley was rolling on the grass moaning out the words of "Hound Dog." He kissed a girl across the barricade set up to keep the audience away from the stage, grabbed a coconut hat and paraded with it on his head.16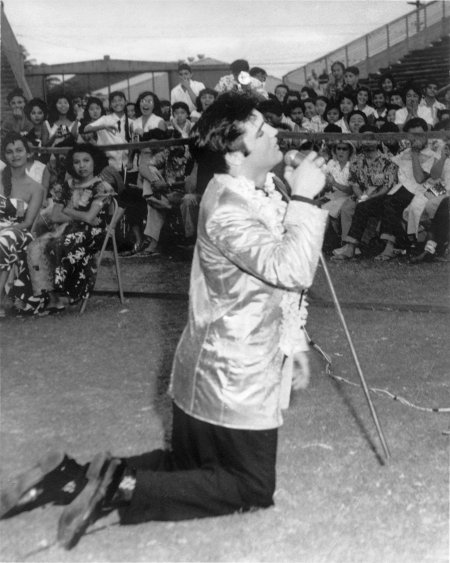 Elvis at Honolulu Stadium - Nov. 10, 1957
Photo © James V. Roy
WAVE AFTER WAVE OF screams rolled across; the stadium as he finished the song. Then, he turned, stepped into a waiting car and sped out of sight before most of the excited teenagers knew he was gone. Often criticized for lewdness in connection with his hip swinging gyrations, Presley, in my opinion, was not objectionable at the stadium. He was loose but he wasn't lewd. Tonight, Presley will give a final show at Schofield Barracks.16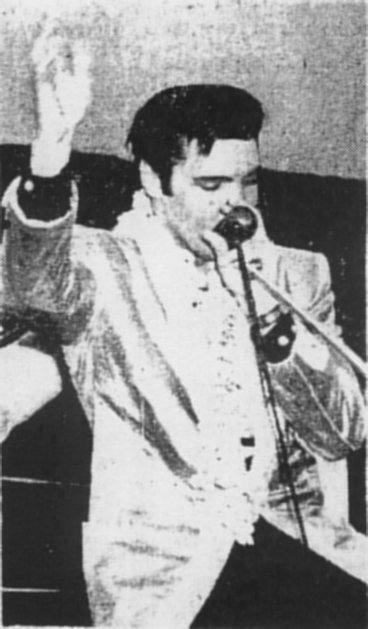 Elvis at Honolulu Stadium - Nov. 10, 1957
Star-Bulletin Photo courtesy Hawaii State Library
In between Sunday's performances at the stadium, Elvis returned to the Hawaiian Village Hotel for a press conference.
Elvis Is 'The Most"
Says New Presley Fan
By LYNN CLAUSEN
Teen-agers say Elvis is the most, to say the least. But would the singing sensation of the rock·and·roll crowd "send" a girl his own age?
"Heavens, no," thought I, and I sallied forth to meet Mr. Presley with tongue in cheek and a closed mind.
I went, I saw—and I was impressed. Elvis is really charming. To begin with, he's good looking, much more so than his pictures-tall, broad-shouldered, and slim-hipped. with deep-set dark blue eyes fringed with long lashes.
HIS CLOTHES weren't loud, as I had rather uncharitably expected; for an informal press reception at the Hawaiian Village he chose a gray sport jacket and light beige slacks, a black, open necked shirt, and well polished black loafers, with black socks.
Loud colors he loves for cars, but "I like dark clothes, honey."
He has a slow, almost hesitant smile, which matches his way of speaking. And he has a rather appealing trick of giving you a side-long, questioning glance before he answers you.
At all times, he's tactful, hurting no one and stepping on no one's toes. He thinks the Islands are wonderful, Hawaii's girls beautiful, the Hawaiian people "so friendly," and his Hawaiian fans "so well behaved and kind."
I ASKED the handsome young eligible what he was looking for in a wife—"A female, honey." No, he has nothing special or specific in mind, he'll "just know when his love comes along."
When I asked for his autograph, he obliged quickly and graciously, even inscribing my name at the top. And before I could thank him, he thanked me for asking.
He's really just a very nice boy, this soft-spoken, good looking idol of the younger set. In fact, minus pompadour and side burns, he's something even a young lady his own age wouldn't mind "taking home to mother."

Honolulu Star-Bulletin Nov. 12, 1957 p20 courtesy Hawaii State Library
Elvis was 15 minutes late for his press conference at the Hawaiian Village, which gave me time to chat with a young lady who had arrived an hour early to assure herself of a front row seat. "I'm Barbara Wong, president of the Kaneohe Elvis Presley Fan Club," said the pony-tailed teen-ager, adjusting a 63 foot lei and a pair of binoculars. She was wearing a pink dress appliquéd with profiles of Elvis in black. "Pink and black, his favorite colors" she sighed. "I made it myself when 'Love Me Tender' came out. I've written him a letter every week for two years. He answered one. I haven't had a wink of sleep for four days." She turned a pair of glazed eyes on me in proof of her sleepless devotion.
Just what do you see in Elvis? I asked.
"OHHHH," she moaned. "His dreamy looks. His voice. His southern accent. He's just a livin' MAN?"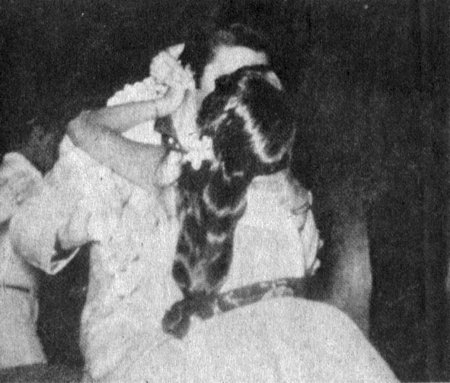 Kaneohe Fan club president Barbara Wong greets Elvis - Nov. 10, 1957 (?)
Photo courtesy FECC/hilton22000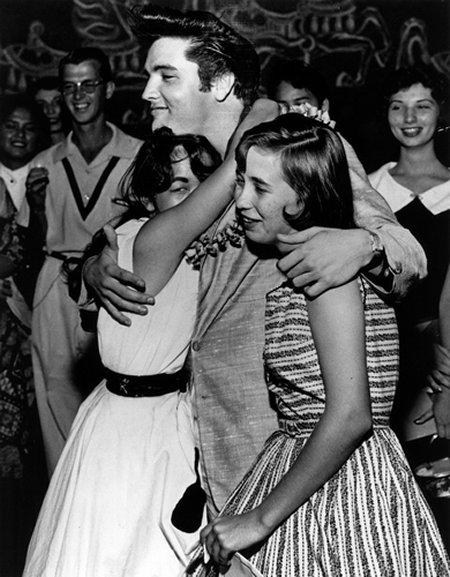 Kaneohe Fan club president Barbara Wong, Elvis and fan - Nov. 10, 1957
Photo courtesy FECC/denon3910
With that, the livin' man strode into the room and the president of the Kaneohe Elvis Presley Fan Club threw herself on him like a meringue pie. The members of the press shifted uneasily as Elvis, powerless as Laocoon in the coils of Miss Wong and her 63-foot lei, attempted to extricate himself. Finally he lifted her bodily and carried her to her front row seat.17

RCA Victor Honolulu rep Arte Kaye at the Hotel between shows - Nov. 10, 1957
Photo courtesy FECC/claude 91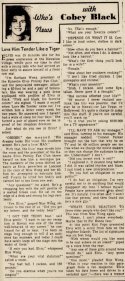 "Any questions?", he asked. He's strapping boy with the soft profile of a melted Greek coin. He sat on the edge of a desk and swung his legs restlessly.
"Yes, Elvis," gasped Miss Wong, oblivious to the rest of us "Did you get my letters, and the teddy bear?"
"I GOT THE TEDDY bear," said Elvis gently. "I want to say my reception in Hawaii was one of the most well-behaved of my career," he continued for all to hear. "I've been on stage long enough to tell if an audience has manners, and today I could have safely leapt off the stage into the midst of them."
"If only you had, Elvis," whispered Miss Wong.
"What are your vital statistics?" called a voice.
"Six feet tall, I reckon, and 180 pounds."
"Do you exercise when you're not singing?"
"No. That's enough."
"What are your favorite colors?"
"DEPENDS ON WHAT IT IS. Cars I like in loud colors, clothes in dark colors."
"How often do you have a haircut?"
"Not often, and when I do, it doesn't look like a haircut."
"What's the first thing you'll look for in a wife?"
"Female."
"How about her southern cooking?"
"I don't like fried chicken. I like pineapples and coconut." `
"What's your ancestry?"
"Irish, I reckon. And some Eyetalian. Never gave it a thought."
"Has success affected your life?"
"Of course. I never realized anything like this was possible, that I'd ever be in Hawaii—or Las Vegas, or Hollywood. It`s quite a change to jump into this stuff. If you're not careful, you'll crack up." 17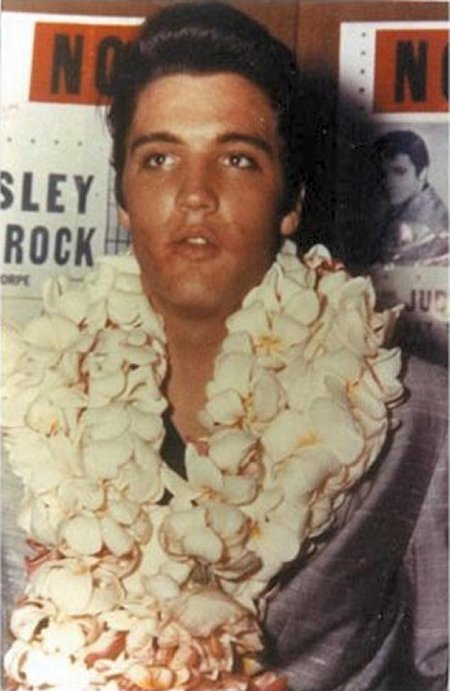 Elvis at the press conference at the Hotel between shows - Nov. 10, 1957
Photo courtesy FECC/Desert Storm
"Is it true you're asking $100,000 for a TV appearance?"
"I'LL HAVE TO ASK my manager," said Elvis, turning to his manager. His manager nodded. "Colonel Parker brought out the fact that why be on TV and let 60 million people see me free when we charge the movie makers so they can charge the audience to see me. Understand? I don't."
"Did you invent rock 'n roll'?"
"I explored it. It existed long before I did. It was called rhythm and blues. I just tried a new interpretation."
"Do you feel an obligation to your public?"
"I do feel an obligation. I'm very careful not to do anything that would disappoint my fans. I behave myself. People have preconceived ideas about me. It's natural. I've often said "I won't like that person," and then found out he's a nice guy." 17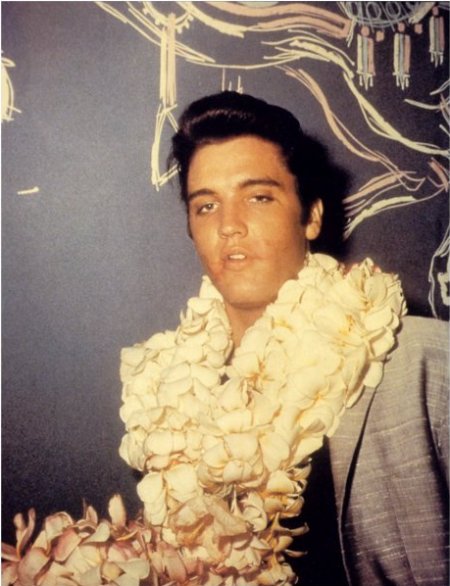 Elvis at the press conference at the Hotel between shows - Nov. 10, 1957
Photo courtesy FECC/Desert Storm
"WHATS YOUR REACTION TO those older people who don't like you?" This was from Miss Wong again.
"Honey, I can't please everybody. Maybe they're Pat Boone fans."
At this point Kini Popo presented Elvis with a scroll from fans on the neighbor Islands. The list of signatures was six feet long.
"With whom would you like most to be cast ashore on an island?" piped up a voice from the rear.
"Any one of these girls around here would do," said Elvis. "Any more questions'!"
"One more," pleaded Miss Wong. "What is your reaction to this paragraph from a fan magazine: 'Elvis takes his date home and drives to a secluded spot',"—there was a tremor in Miss Wong's voice-" where he gives her the love-me-tender kind of kiss a girl won't fight . . .' " 17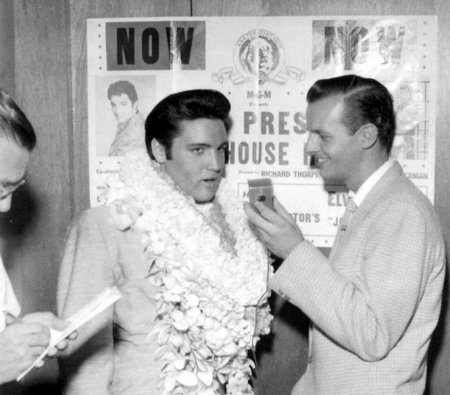 Arte Kaye, Elvis and Tom Moffat at the Hawaiian Village Hotel - Nov. 10, 1957
Photo from Tom Moffat collection courtesy FECC/claude 91 and Jerry Hopkins' "Elvis in Hawaii"
"That's enough." broke in Elvis's manager. "Will the radio people now come forward to record their questions."
UNDAUNTED. Miss Wong pressed forward with the radio people. She was unfastening a chain around her throat. "I've been wearing this necklace all week," she confided, winding her arms- around Elvis's neck as she fumbled with the clasp behind his head. "I want you to have it, Elvis. It's my lucky ivory fang." 17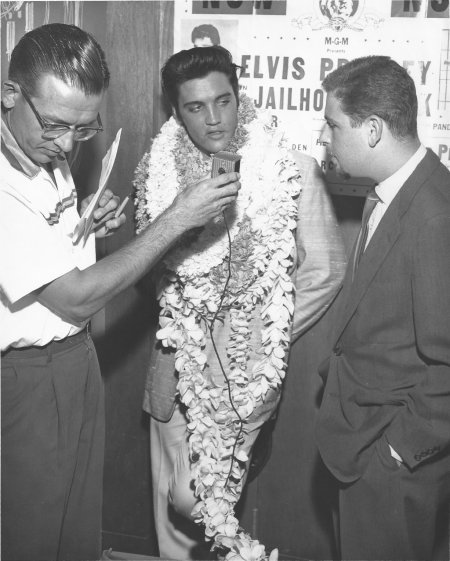 Arte Kaye, Elvis and Ron Jacobs at the Hawaiian Village Hotel - Nov. 10, 1957
Photo from ebay courtesy FECC/claude 91
Following the press conference, Elvis penned a short note to Antoinette Mendonca, age nine. She had been a patient at the Mahluhia Hospital since an operation the previous August to relieve pressure from a brain tumor. For the first time in months, Antoinette grinned and she tried to talk after seeing the note that read, in part, "Please get well, honey. I'll be thinking of you."10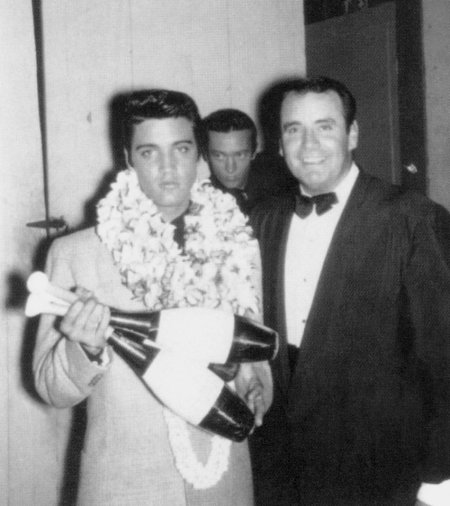 Elvis, Gene Smith and comedian Howard Hardin - Nov 10, 1957
Photo courtesy FECC/claude 91
The two concerts at the Honolulu Stadium attracted nearly 15,000 fans, bringing in more than $32,000 to the promoters. The next day they performed for 10,000 civilians and military personnel from Schofield Barracks Army Base near Pearl Harbor. Scotty was happy to be back onstage again with Elvis and company, but with Elvis facing the draft, questions about their future lingered.9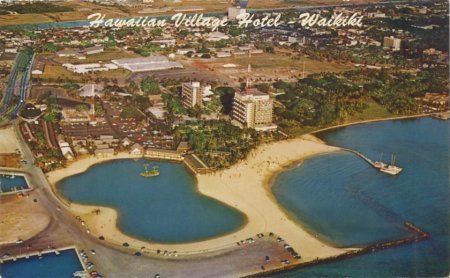 postcard courtesy ebay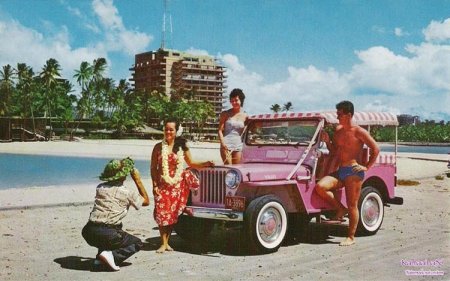 Pink Willy's jeep with the Hawaiian Village Hotel towers in background - 1959
postcard courtesy Kamaaina56
In 1958 Kaiser added the second of several more towers to the Hawaiian Village hotel complex. Starting in 1959 they also rented pink Jeep surreys to tourists, not surprising since Kaiser Industries owned Willys-Overland, the company that made the jeeps. (Do they look familiar?) Ron Jacobs said, Pink was Kaiser's color. Everything was pink, from his many Mercedes to the stationary and paycheck. In 1961 Kaiser sold the Hawaiian Village Hotel to Hilton. The original Ocean Tower was renovated in 1982 to become the present day Alii Tower.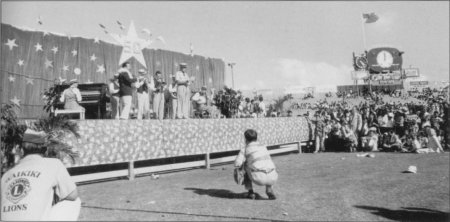 Statehood celebration at Honolulu Stadium - Mar. 1959
Photo by Camera Hawaii courtesy "Honolulu Stadium: Where Hawaii Played"

Statehood celebration at Honolulu Stadium - Mar. 1959
Photo by Camera Hawaii courtesy "Honolulu Stadium: Where Hawaii Played"
In March of 1959, Congress passed legislation allowing Hawaii Statehood and on August 21st of that year President Eisenhower officially declared Hawaii the 50th State in the Union. More than 25,000 filled the field and bleachers in Honolulu Stadium in celebration. The photos with the stage should give some perspective of the view of fans sitting in the bleachers for Elvis' shows.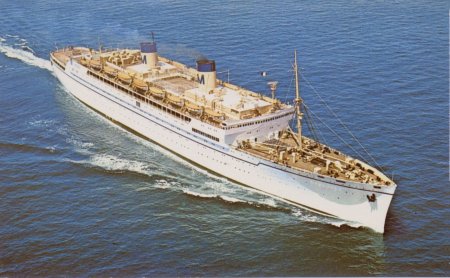 An altered photo of the Matsonia used for a new postcard of the Lurline
By the early 1960s air travel was becoming more reliable and popular and as tourism increased, passenger service by ship decreased. The Matsonia was put in dry dock in 1962 but brought back to service when its sister ship, the S.S. Lurline, was damaged in 1963. Re-christened Lurline by Mrs. Harry Statts, December 6, 1963, it cruised the Pacific Ocean under this name from 1963 until 1970.5

Honolulu Stadium - 1963
Star-Bulletin Photo by Warren Roll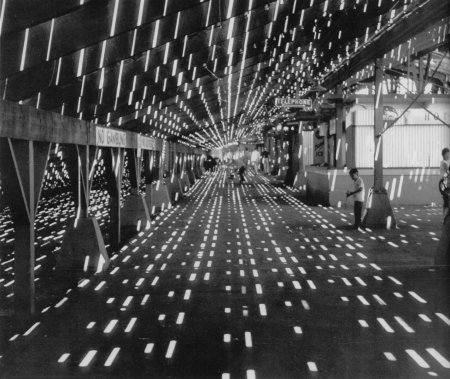 Under the bleaches at Honolulu Stadium
Photo from Bishop Museum courtesy Arthur Suehiro's "Honolulu Stadium: Where Hawaii Played"
At the peak of its popularity, the Queen's Surf became the subject of a feud between the Weavers and Mayor Frank Fast. Fast, a powerful and opinionated mayor, was never fully attuned to tourism. He also had personal differences with Weaver and decided that the "Surf' should be eliminated and the property converted into beachfront for the public. 19 It was shut down on December 31, 1969 and nearly 700 people tried to crowd into to the club to say goodbye. The mayor's decision was appealed and then upheld by the Hawaii State Supreme Court, which terminated the nightclub's lease as of May 31, 1970. The building was torn down in 1971.20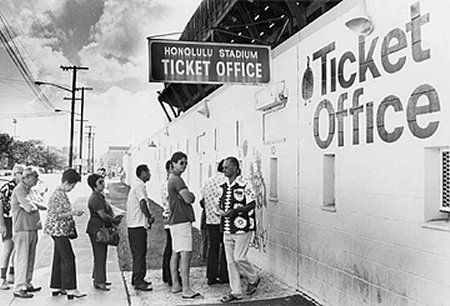 People were still lining up for tickets in 1975
Photo courtesy Honolulu Star-Bulletin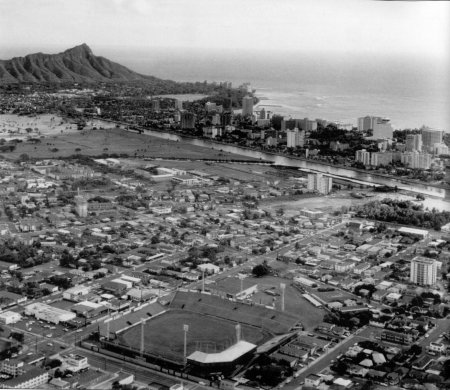 Aerial view of Honolulu Stadium and Diamond Head
Star-Bulletin Photo by John Titchen courtesy Arthur Suehiro's "Honolulu Stadium: Where Hawaii Played"
Honolulu Stadium would also sport professional football, with the Hawaiian Warriors, and minor league professional baseball with the Hawaiian Islanders for more than 10 years.21 In its day it also saw prizefights, rodeos, spiritual crusades and hula festivals and the list of professional athletes and other celebrities that appeared or competed there include Irving Berlin, Billy Graham, Knute Rockne, Jesse Owens, Joe DiMaggio and Bobo Olson.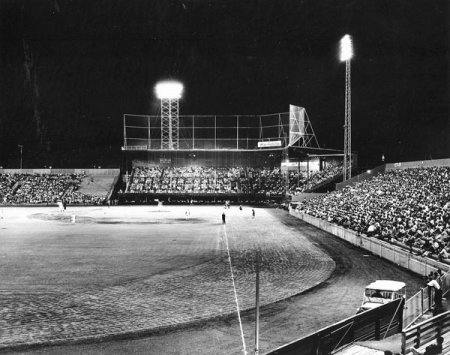 Still playing ball at the Honolulu Stadium - Oct. 4, 1976
Photo courtesy Honolulu Advertiser

After the bulldozers demolished the stands and the rubble cleared
Star Bulletin Photo courtesy Arthur Suehiro's "Honolulu Stadium: Where Hawaii Played"
Plagued by termites, the wooden Honolulu Stadium was nicknamed the Termite Palace by the sports media. In 1975, the 50,000 seat Aloha Stadium was built west of downtown Honolulu in Halawa, as a replacement for Honolulu Stadium and the following year, in 1976, Honolulu Stadium was demolished. Just before it was demolished, insect researchers were given permission to conduct termite lab experiments there.21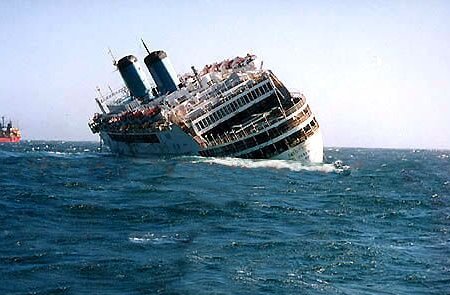 The Belonfin - 1 (Matsonia) lists as she takes on water prior to sinking - Oct 21, 2000
South African Media release Photo courtesy ssMartime.com
In May 1970, the SS Matsonia was sold and became the successful Chandris passenger liner RHMS Britanis, then sold again in 1998, to become the ill-fated Belofin. On October 21, 2000 while being towed to be broken up, the ship took on water and sunk about 50 miles off Cape Town, South Africa.22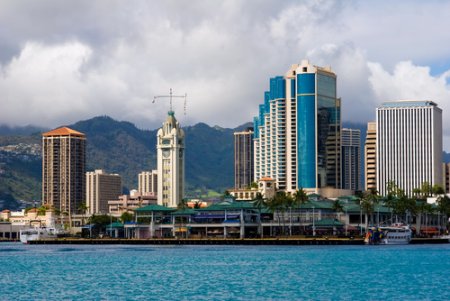 Aloha Tower and Market Place
Photo courtesy Planetware
Today, 177,756 visitors are in the State of Hawaii on an average day, spending more than $11 billion a year.3 The site of the old Honolulu Stadium is now a park.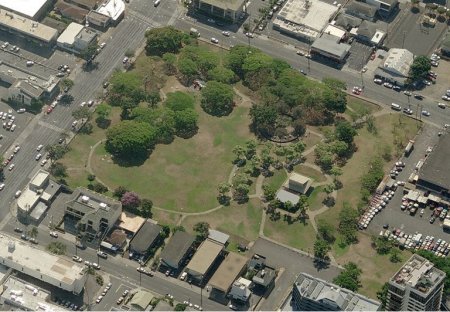 Old Stadium Park - 2009
Photo © Microsoft EarthData
page added August 31, 2009
All articles and ads are courtesy Linda Sueyoshi of the Hawaii & Pacific Section and the Hawaii State Library. Honolulu Advertiser ads and articles are Copyright © the Honolulu Advertiser, Honolulu Star-Bulletin articles are Copyright © the Star-Bulletin. Special thanks to Ron Jacobs and to Russell Letson for their input with this page.
1 according to "Honolulu Stadium: Where Hawaii Played" by Arthur Suehiro
2 excerpt from "Honolulu Stadium: Hawaii's field of dreams" by Tim Ryan, Star-Bulletin - Nov 25, 1996
3 excerpt from "Honolulu: Now and Then" by Craig Gima - Honolulu Star-Bulletin May 14, 2001
4 excerpt from "Last Train To Memphis" by Peter Guralnick
5 excerpt from "Barracks Ballads, Sea Stories and War - One Marine's Memoirs" by Dick Bailey
6 excerpt from Elvis in Hawaii" by Jerry Hopkins
7 as told by Corby Waste
8 from "Presley Descends to Comanche Yells Of 4,000 Admirers As Matsonia Docks" by Orman Vertrees, Honolulu Star Bulletin - Nov. 9, 1957
9 excerpt from "That's Allright Elvis" by Scotty Moore and James Dickerson
10 excerpt from "Did Elvis Sing in Your Hometown?" by Lee Cotton
11 courtesy contributors to the HawaiiThreads forum
12 courtesy "Territorial Airwaves on Hawaii105.com", hosted by Harry B. Soria Jr.
13 according to "When Eddy Met Gabby" By James Houston, Honolulu Magazine - Nov 2004
14 as told by Ron Jacobs and according to The Story of The Elvis Presley Story by Ron Jacobs courtesy the Ron Jacobs Collection
15 from "Presley Proves He's 'King' To Squealing Teen-Agers" by Walt Christie, Honolulu Star-Bulletin - Nov. 11, 1957
16 from "Hipster Hexes Hysterical Hepsters" by Bob Krauss, Honolulu Advertiser - Nov. 11, 1957
17 from "Love Him Tender Like a Tiger" Who's News with Cobey Black, Honolulu Star-Bulletin Nov 11, 1957 p13
18 excerpt from "Bringing Back 'Boat Day' " by Marty Leshner - July 2001
19 excerpt from Creating Hawaii Tourism: A Memoir by Robert C. Allen
20 excerpts from Queen's Surf Beach in Waikiki by Kathie Fry for Hawaii for Vistors
21 from Honolulu Stadium by Brandon Masuoka, Honolulu Advertiser - July 2, 2006
22 from "SS Monterey / RHMS Britanis" by Reuben Goossens and ssMaritme.com
---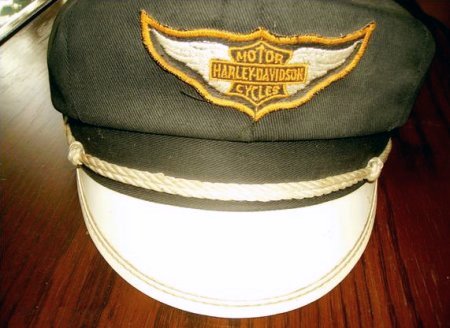 1950s Harley Davidson Cap
Photo courtesy eBay