Kingsport Civic Auditorium
Kingsport, TN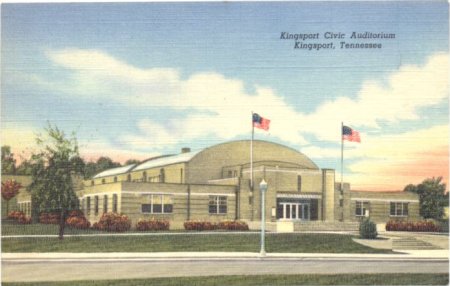 Kingsport Civic Auditorium - Kingsport, TN
Postcard courtesy eBay
On December 20, 1938, the City of Kingsport, Tennessee approved a preliminary estimate of the proposed City Auditorium (the armory and recreation building). A resolution was passed to issue bonds for the acquisition of land and the construction of the auditorium, estimated at $100,000. The winning bid and contract for the construction of the auditorium was awarded to Allen Dryden, architect.1

The Civic Auditorium stage is decorated for a fashion show - 1948
Photo by Thomas McNeer Jr. © Archives of the City of Kingsport
The Civic Auditorium at 1550 Fort Henry Drive opened in March of 1940 and its auditorium and meeting/party rooms were available for rentals.1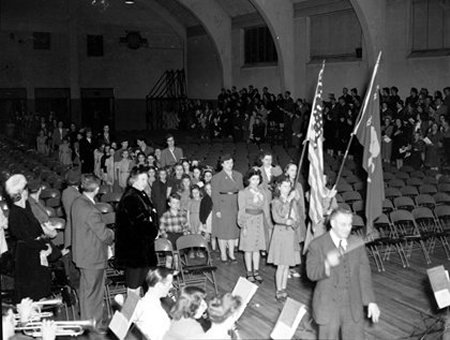 Procession of Girl Scouts inside the Civic Auditorium - 1947
Photo by Thomas McNeer Jr. © Archives of the City of Kingsport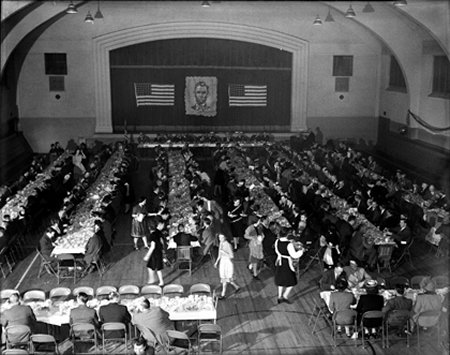 Republican party Lincoln Day dinner for Scott Roller at the Civic Auditorium - 1947
Photo by Thomas McNeer Jr. © Archives of the City of Kingsport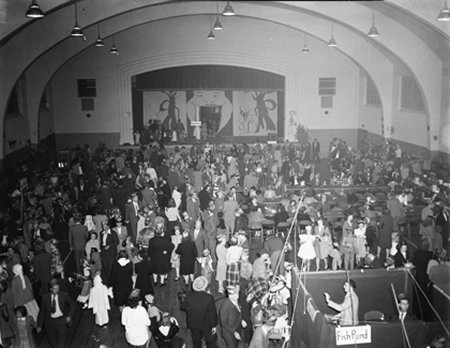 Lincoln School P.T.A. Fall festival activities at the Civic Auditorium - 1947
Photo by Thomas McNeer Jr. © Archives of the City of Kingsport
The main auditorium measures 110 by 70 feet, with a 40 foot ceiling and a 21 by 32 foot raised stage. The auditorium holds a capacity of 800 persons theatre style seating or standing, and 560 persons dinner/dance seating.1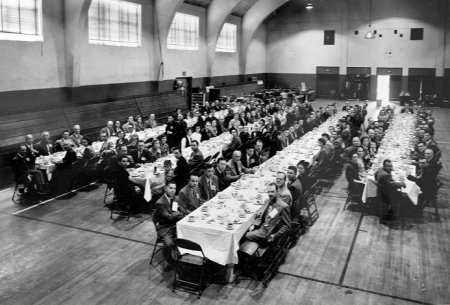 View from the stage of the Kingsport Amateur Radio Club fest - c1952
Photo courtesy Dan Jones

KARC Exhibit at Kingsport Hobby Show in the Auditorium - c1952
Photo courtesy Dan Jones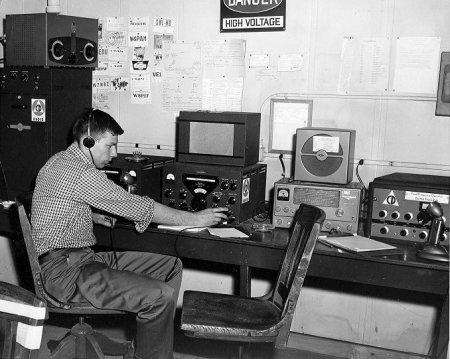 Eddie Palmer at the Radio club station located in the basement of the Auditorium - c1950s
Photo courtesy Dan Jones
The auditorium through the years has been used to host a variety of events and functions. At one time the basement was also home to the Kingsport amateur ham radio club.2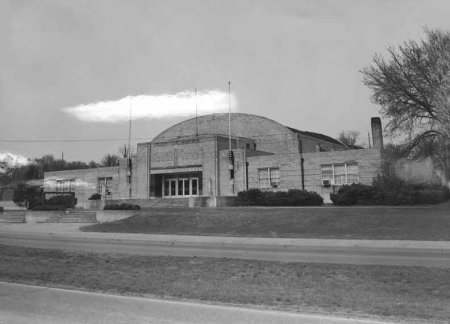 The Civic Auditorium at 1550 Fort Henry Drive, Kingsport, TN - 1955
Photo courtesy Kenny Stallard
In September of 1955 Elvis, Scotty and Bill made their only appearance in Kingsport, at the Civic auditorium. The local papers did not review the show but Vince Staten, a reporter for the Kingsport Times-News interviewed a couple of dozen local people about that show back in the mid-1970s, when their memories were still relatively fresh. He has since published their recollection on several occasions.

It was Sept 22, 1955, when Elvis arrived in town for his first, last and only Kingsport date. He was traveling with a couple of country acts, Cowboy Copas and the Louvin Brothers, and Elvis was the middle act on the bill. This was a couple of months before he signed with RCA and four months before his breakout hit "Heartbreak Hotel."3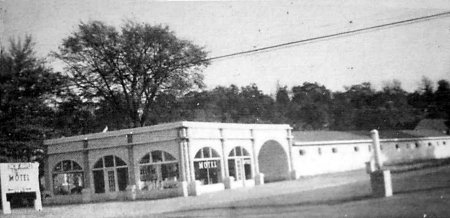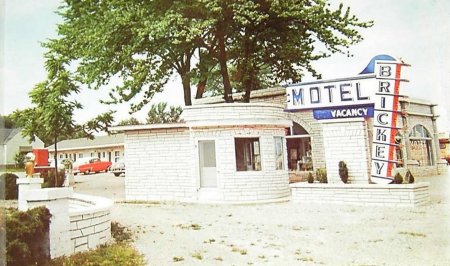 The Brickey Motel in Kingsport - c 1950s
Photo and postcard courtesy Vince Staten
"Elvis and party" checked into the Brickey Motel on Memorial Blvd. in Kingsport, against the better judgment of motel owner Leonard Brickey, who rented to the four boys anyway, according to Jean Harris, Brickey's daughter. Elvis had been performing all over the area in the week before the Kingsport show.3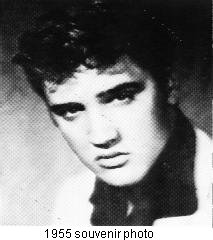 The Kingsport show was promoted by WKIN-AM deejay Chuck Foster and WKIN station manager Dia Bahakel. They rented the Civic Auditorium and advertised the show on their station. Admission was a dollar and in 1976 Bahakel recalled to me that a grand total of 270 people were in attendance. People I talked to remembered Elvis as wearing white buck shoes, electric pink socks, denim pants, a pink shirt and a black leather jacket. He opened his set with a joke - "Where is Kingsport, Tennessee anyway?" - before launching into his first song, "Rock Around the Clock." He played for about half an hour, closing with the ballad "I Love You Because."3
That's when the real story begins. During intermission Elvis and his band, the Blue Moon Boys, set up in the hall outside the stage door and signed autographs and sold photos for fifty cents. Darla Hodge told me he pointed to her and said, "Hey Liz, hey Liz Taylor, come up here." She did and he gave her a photo autographed "I love you, Liz - Elvis."3
After signing a few autographs - how many would he have to sign when the total crowd was less than 300? - he led a group of admiring girls outside to show off his pink Cadillac. And that's when our story gets good. Billie Mae Smith and two friends came up. When one of the girls was too shy to ask Elvis for an autograph, Billie Mae spoke up. "I went up and I said 'When you get through showing off your car, my friend would like your autograph.' He said, 'What's the matter? Don't you want it?'" Billie Mae said she replied, "'Not particularly.' I was playing hard to get." He asked her name, she told him and he invited her to come back stage after the show was over. "I told him I might." 3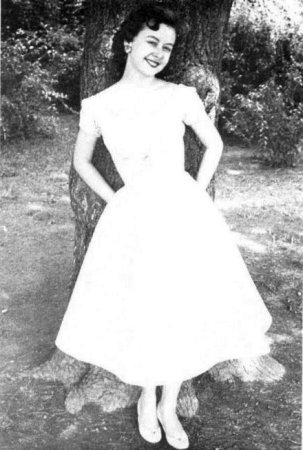 Billie Mae Smith
Photo courtesy Vince Staten
After the show, the three musical acts gathered round while Bahakel counted the money. After taking her cut, she divvied up the proceeds. She told me Elvis and his band made $37 and change for their show.3
Enter Billie Mae Smith, no longer as standoffish. She joined Elvis in his Caddy. He was hungry so she steered him to a local hangout, Jimmy's Restaurant, which was on Memorial Boulevard, about where the Bethel Presbyterian Church parking lot is now. But first she wanted to cruise Broad. Billie Mae and Elvis were stopped at the red light at Center and Wilcox when a green and white Chevy Bel Air pulled up in the lane next to them. Wayne "Booge" (pronounced BOOJ) Allen glanced over and who should he see but his girlfriend, Billie Mae Smith, sitting next to some greasy haired dude.3

Jimmy's Restaurant in Kingsport
Photo courtesy Vince Staten
Allen told me, "She leaned over and rolled down the window and told me to come down to her house later, there was someone she wanted me to meet." Allen remembered thinking he didn't want to meet the guy with her. Meanwhile Billie Mae and Elvis had pepperoni pizza at Jimmy's then went to her house. Billie Mae said, "I remember I kept looking at his hair because he had a permanent in it so that when he shook his head a curl would fall in his eyes." (Barbara Ketron, who was in the group that went to Jimmie's with Elvis, sent word through Lou Richards that the group didn't eat pizza, they had club sandwiches.)3

The Civic Auditorium at 1550 Fort Henry Drive, Kingsport, TN - 2009
Photo courtesy Judy Haynie Kingsport Parks and Recreation Department

From the stage at the Civic Auditorium - 2009
Photo courtesy Judy Haynie Kingsport Parks and Recreation Department
Once back at her house on Catawba, she invited Elvis in for a cup of coffee. They were sitting at the kitchen table, talking and sipping coffee, when she heard a commotion outside. Booge Allen had reappeared. One of Elvis' bodyguards met Booge and told him, "You're not wanted here." Wayne didn't take this too well. "I said, 'The hell with you; two can play this game.'" He raced down to the Texas Steer Drive-In - it was on Center just before you got to Kingsport Press - picked up two of his friends, and returned to Catawba. "I told the guy outside that if he wanted trouble there was more than one of us now."3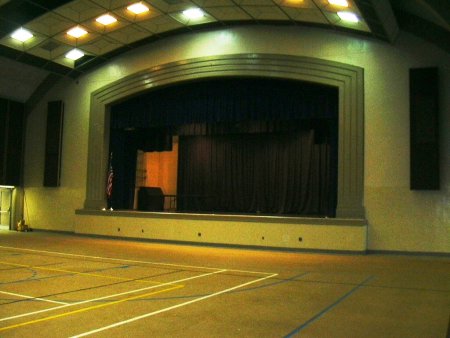 The stage at Civic Auditorium - 2009
Photo courtesy Judy Haynie Kingsport Parks and Recreation Department
Elvis and Billie Mae heard the noise and came out. Billie Mae introduce Booge and Elvis. But they didn't shake hands. Allen remembered, "Elvis said, 'I'm breaking this guy's heart. Maybe I'd better leave.'" Billie Mae took Booge aside, told him everything would be all right and sent him home. Elvis didn't stay much longer. It was the last night of the tour and he was anxious to be back to Memphis. Just one thing before he left: a goodnight kiss for all time. "He sure could kiss," cooed Billie Mae. "It was very thrilling." Booge came back later and circled the block but Elvis had gone.3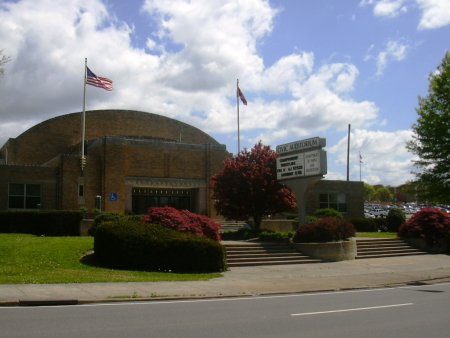 The Civic Auditorium at 1550 Fort Henry Drive, Kingsport, TN - 2009
Photo courtesy Judy Haynie Kingsport Parks and Recreation Department
Elvis was back in Tri-Cities two decades later. He played four shows at Freedom Hall in 1976, staying at a hotel in Bristol. As far as anyone knows, he never set foot in Kingsport again after that one night in 1955. But no one who was there has ever forgotten it. Billie Mae Smith Barker now splits her time between a home in Ormond Beach, Fla., and her parents' old house on Catawba. Wayne Allen is in St. Petersburg, Fla., where he has lived for the last 26 years. They went separate paths after Elvis, but Wayne says, "We still talk to each other every year on our birthdays. And she's still as pretty as she was in high school."3
Today the Civic Auditorium building houses the administrative offices of the Kingsport Parks and Recreation Department along with the Athletics Office. The auditorium and meeting and function rooms are still available for rental.1
page added May 6, 2009
Vince Staten is a metro columnist for the Kingsport Times-News and the author of twelve books, including a 1978 book on Elvis called, "The Real Elvis: Good Old Boy." He has published his story of Elvis' appearance in Kinston on his blog several times and it is reprinted here with his permission. Special thanks also to E-Cat of the FECC for posting about Vince's blog and to the Kingsport Library and Judie Hynie of the Parks and Recreation Department and to Dan Jones for the use of their photos.
1 courtesy Kingsport Parks and Recreation Department
2 courtesy Dan Jones of the Kingsport Area Ham Radio operators
3 as written by Vince Staten, March 20, 2004
---
Backstage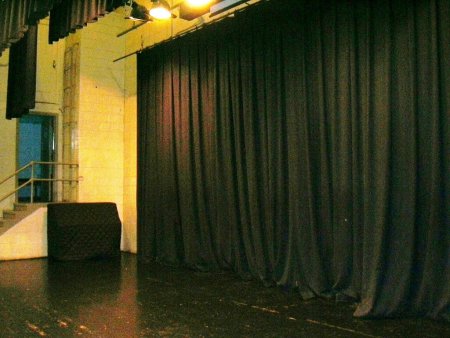 Onstage behind the curtain at The Civic Auditorium - 2009
Photo courtesy Judy Haynie Kingsport Parks and Recreation Department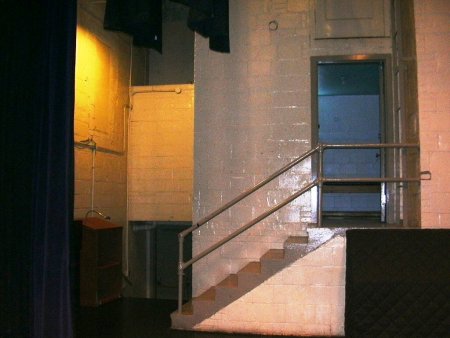 From the stage to the dressing rooms at The Civic Auditorium - 2009
Photo courtesy Judy Haynie Kingsport Parks and Recreation Department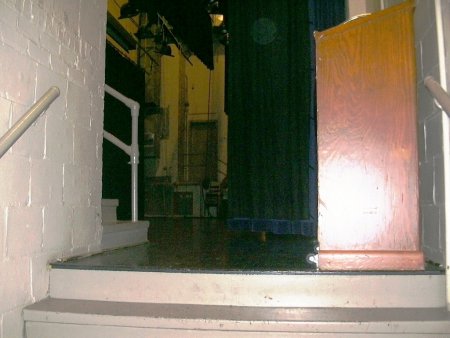 Down the stairs from the stage at The Civic Auditorium - 2009
Photo courtesy Judy Haynie Kingsport Parks and Recreation Department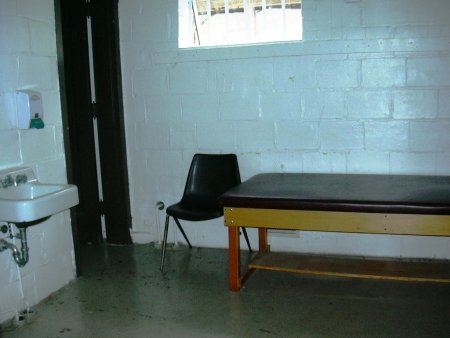 Downstairs dressing room where Elvis likely changed at The Civic Auditorium - 2009
Photo courtesy Judy Haynie Kingsport Parks and Recreation Department