Rock This Town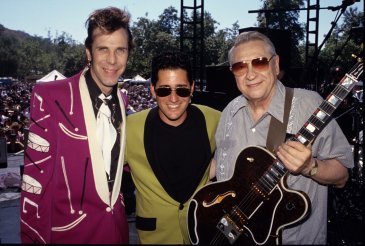 Slim Jim Phantom, Lee Rocker and Scotty Moore - July 1, 2000
Photo © Robert Matheu
In 1993 Lee Rocker met Scotty for the first time while recording in Memphis with his band "Big Blue". Lee's guitarist, Mike Eldred, a long time fan of Scotty's had recently began a friendship with him and at his invitation Scotty traveled to Memphis for the sessions. Since then Scotty and Lee have become good friends and on many occasions through the years have shared bills and performed together.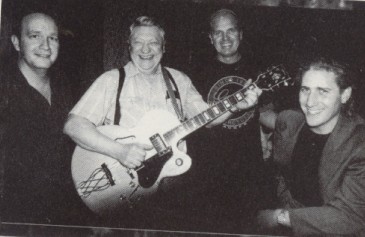 Mike Eldred, Scotty, Henree DeBaun and Lee Rocker - Big Blue
Lee, while with the Stray Cats helped reintroduce Rockabilly music to the pop world and a style of playing upright bass reminiscent of Bill Black when he played with Scotty and Elvis in the '50s. Unknown to a lot of people, Lee, in addition to bass, is also a phenomenal guitarist in his own right.

Tara, Scotty, Lee and Brophy
The Gibson Lounge February 16, 2002
photo© courtesy Gibson
As recently as 2002, Scotty went on tour with Lee's current band which features Lee on bass, Tara Novick and Brophy Dale on guitars and Jimmy Sage on drums. They toured all around the mid-west, mid-south and northeast hitting many venues from Memphis to New York and Boston. Scotty has lots of fun playing with them and affectionately refers to them as "The Little B**tards".

Scotty, Lee and Brophy
House of Blues in Cambridge, MA May, 19, 2002
---
The following article was originally published online in The Memphis Flyer and is included here for posterity.
Music legend Scotty Moore hits town with a Stray Cat and a Country Gentleman.
ANDRIA LISLE
2/15/2002
It's been almost half a century since guitarist Scotty Moore reinvented rock-and-roll with Bill Black and Elvis Presley down at 706 Union Avenue. In those days, Sam Phillips' Recording Service and Sun label were hardly tourist attractions. Even locals scarcely glanced at the small storefront on the west side of town, and had anyone noticed the activity going on inside -- bluesmen like Howlin' Wolf and Ike Turner coming and going, wannabe singers recording acetates for $3.98 plus tax, and hillbilly groups like Moore and Black's Starlite Wranglers trying to catch Phillips' ear -- they would've shaken their heads and walked on, hardly aware that within those four walls a revolution was under way.
When Phillips put Elvis (who, in the beginning, was one of those $3.98 customers), Scotty, and Bill together, nothing jelled until the group took a break. Elvis was fooling around on his guitar when the blues song "That's All Right, Mama" popped into his head. "All of a sudden," Scotty told author Peter Guralnick, "Elvis just started jumping around and acting the fool, and then Bill picked up his bass, and I started playing with them." Sam Phillips stuck his head out of the control room to ask the trio what they were doing. "Back up," he said. "Try to find a place to start and do it again."
And the rest, as they say, is history.
Elvis, Scotty, and Bill inspired countless would-be rockers, from the Beatles and the Rolling Stones on through Bob Dylan and Tom Petty. Yet until the Stray Cats came along in 1979, no one took what they did -- the sound, the style, the lyrics -- and reinterpreted it so literally. Formed in the midst of the mainstream punk/new wave movement, the Stray Cats -- Lee Rocker and his pals Brian Setzer and Slim Jim Phantom -- took rock-and-roll back to the ground floor with their songs about fast cars and faster women, house parties, street rumbles, and cool characters galore.
For the Stray Cats, all natives of Long Island, Memphis was their mecca -- home of not just Sun Studio and Elvis Presley but also Dorsey and Johnny Burnette and Paul Burlison (the original Rock and Roll Trio), Charlie Feathers, and Jerry Lee Lewis. But Presley, Black, and the Burnette brothers were dead by the time the Stray Cats came on the scene, and despite occasional flickers from Feathers and Lewis, Memphis rockabilly was forgotten. When Lee Rocker finally found the nerve to look up Scotty Moore, he discovered that this hero, too, had abandoned the Bluff City in 1964.
Back in '57, Moore and Black had resigned their positions backing the world's biggest rock-and-roll star after Elvis refused to bump their salaries up from a paltry $200 a week. Moore began engineering and producing around Memphis, working for the Fernwood label (where he produced a Top 10 hit, Thomas Wayne's "Tragedy") and at Sam Phillips' new studio at 639 Madison Avenue, just around the corner from Sun. But in early '64, after he recorded his own instrumental album -- The Guitar That Changed the World -- Phillips let him go, and Moore headed straight to Nashville.
Soured, Moore hung his guitar up for 24 years. But he continued to work behind the scenes as co-owner and engineer at Music City Recorders. He opened a tape-duplicating business and bought a print shop. Moore was a hardworking businessman when Rocker called him in '94. The Stray Cats had broken up the previous year, but Rocker had a new band, Big Blue, that was set to record in Memphis. "I came down there and we just hit it off," Moore says. It marked a career high for Rocker, who was ecstatic about working with the legendary guitarist.
"Scotty put his guitar in the car and drove over to Memphis," Rocker recalls. "We were recording at Kiva [now the House of Blues Studio], and he came in and did two songs with us -- 'Little Buster' and Jimmy Reed's 'Shame, Shame, Shame.' It was just incredible!"
Moore was familiar with Rocker's work. "I had seen [the Stray Cats] two or three times on television. I kept wondering why they were playing that stuff so fast," he laughs. "Lee's a great bass player. The stuff that he does is right in the groove. We've been working together ever since."
Though a 30-year age difference separates the two musicians, it's obvious that they enjoy working together. "We do some of the stuff that Lee's recorded, of course some Elvis tunes, some different blues, Carl Perkins," Moore says. "What I'm real proud of is how the music's held up over all these years. This is still what people want to hear."
And the two are excited to bring their act to Memphis and the Gibson Lounge. "I don't know, offhand, when I last played in Memphis," Moore says. "I'm looking forward to playing the Lounge. That's how I like playing, in a real small room. We're gonna be in your face!"
Moore should feel at home in the Gibson-operated club -- he's been playing Gibson guitars since 1952. "I played a Fender Esquire for a little while, when I was in the Navy," he says. "But when I started playing standing up, it wasn't comfortable, which is why I switched to Gibson." Although he currently plays a Chet Atkins Country Gentleman model, Moore played an ES-295 when he was with Elvis. A few years ago, Gibson issued twelve Scotty Moore signature guitars, "a modified ES-295," he relates. "There's one in the Rock 'N' Soul Museum [in Memphis], but I want to design a guitar from scratch."
"In fact," says Moore, lowering his voice conspiratorially, "the Country Gentleman I'm playing -- I made a few changes on it. I made it feel good -- like an old pair of house shoes or like cuddlin' a girl up in the cradle of your arm."
When, at the end of our conversation, Scotty Moore declares, "I'm glad I'm still playing," it's obvious he means it. "I didn't realize until I started back how much fun it was," he says, taking a deep breath. "When I'm playing with Lee, I feel at home on stage. I have a lot of time to make up for."
---
more photos of Lee Rocker and Scotty Moore at The Lounge, Saturday, February 16th and others in the scrapbook photopage