Les Paul's 81st Birthday Party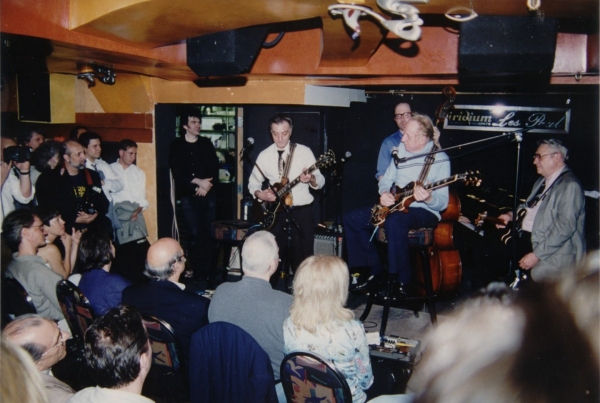 Jon Paris, Lou Pallo, Paul Nowinski, Les Paul and Scotty - Iridium Jazz Club in New York, NY - June 17, 1996
Scotty and I went to Tom's River, NJ to the private party given at his home by Scott Chinery to introduce his "Blue Guitar" collection. Scott, who was a major guitar collector, had commissioned 22 Luthiers and guitar manufacturers to create guitars in a specific shade of blue for his collection. Scotty was more interested in the fact that that two of his guitar heroes, Les Paul and Tal Farlow, were to be there than in seeing the guitars. Tal was there and the picture of them together are on the site. Les, however, was not in very good health at the time so he was not there but his good friend and band member Lou Pallo was. Scotty talked to Lou and told him how much he had always admired Les, including the story about Hank Garland being told by Chet Atkins that there was only one guitar player on "The World is Waiting for the Sunrise" and Hank going home and learning to play it.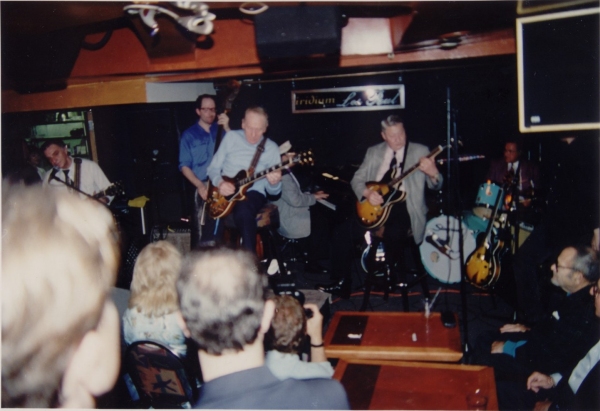 Les Paul Trio with Scotty at the Iridium in NYC
A short time later Scotty received an invitation to Les' 81st Birthday Party at the Iridium Jazz Club in New York City so he got on a plane and went to New York for the party. He was just hanging around the bar, looking and keeping quiet (and drinking), when Les called him up to the stage. He was very reluctant to play with Les even under good circumstances, and was extremely reluctant to play someone else's guitar on a stage in front of people when he was already way too 'gone' into Johnny Walker Red Scotch! But Les called, so he went.

Les Paul, Paul Nowinski and Scotty Moore at the Iridium
as Al "Jazzbo" Collins wishes Les the best on his 81st birthday

Scotty Moore, Les Paul and fan at the Iridium
The pictures are hilarious to people who know Scotty...He's obviously not himself (to say the least)! Anyway, he played a little although he said his hands and fingers felt more like spatulas. A couple of years ago Scotty played a gig in New York at B.B. King's club with Lee Rocker and he invited Les to come. Les sent a friend, Ron Lovely, to the show with a gift for Scotty...a 12 string guitar signed "Now You Have Moore".

Muriel Anderson's All Star Guitar Night "Tribute To Les Paul" July 18, 2003

Les and Scotty backstage at the Ryman
photo© courtesy Steve King/WGN-AM, Chicago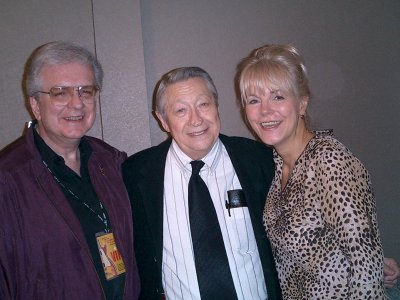 Steve King, Scotty and Johnnie Putman from Chicago's WGN Radio
photo© courtesy Steve King/WGN-AM, Chicago
In July of this year Les played in Nashville at the Ryman Auditorium. Scotty and I went to see him and immediately ran into Lou Pallo again and also Les' son. We were invited to go back to Les' dressing room and visit with him before and after his set. He had a great time laughing about Scotty playing at the birthday party "Drunk as a Skunk" (his words). We had a very good visit and Les still is one of the best players and most enjoyable entertainers in the business.
Gail Pollock
September 26, 2003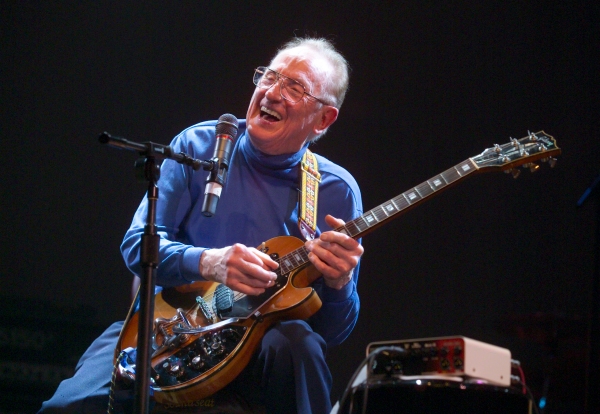 Les Paul at the Ryman July 18, 2003
Photo © courtesy Gibson