The Mosque Theater Revisited
(The Who, Hendrix and The Supremes)
1968 & 1969

The Mosque Theater - Richmond, VA
Photo courtesy Getty images
Even sometime after writing a brief history of the Mosque theater in Richmond I'm still amazed at the number of major acts that have graced its stage and the coincidences surrounding how many of their paths have, or almost, crossed. In late January of 1952, more than three years before Elvis, Scotty and Bill's first appearance there, another Louisiana Hayride alumni had a short run there. Hank Williams, barely a month after his back surgery and assets frozen pending his divorce from his first wife was in Richmond for his first big show of the last year of his life. Horace Logan wrote, it was a total catastrophe. His back was still killing him, and he was so full of pills and booze that he couldn't remember the words to his own songs. The crowd booed and jeered at him, and a writer for the Richmond Times-Dispatch gave him a scorching review. The next night, he stormed to the microphone at Richmond's Mosque Theatre and dedicated his first song-- "Mind Your Own Business"—to a "certain lady writer that you all know." It earned him a laugh and got the crowd off his back. At least Hank still had a sense of humor.1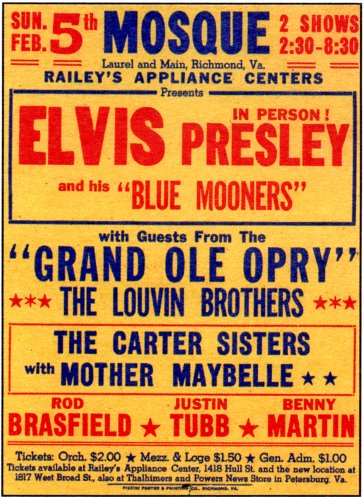 Elvis, Scotty and Bill would themselves make five appearances there in 1955 and 1956.
Ron Brandon got his start in "radio" when he took a course in the tenth grade in Memphis, passing FCC tests for various licenses such as ham, second class telegraph, and first phone licenses before graduating high school. He went to work for WTUP in Tupelo, Mississippi as their engineer where he would later run the board and be allowed to eventually play some top 40 at odd hours. In September of 1956, months after Elvis, Scotty, Bill and DJ made their last appearance at the Mosque, they performed at the Tupelo fairgrounds. Ron was there with a one-track Magnecorder and recorded interviews with Elvis and his parents. When RCA refused to let him record the show he placed the recorder under the stage, snaked a mike out in front of the speaker, and recorded it anyway. It would be years later before it was heard.2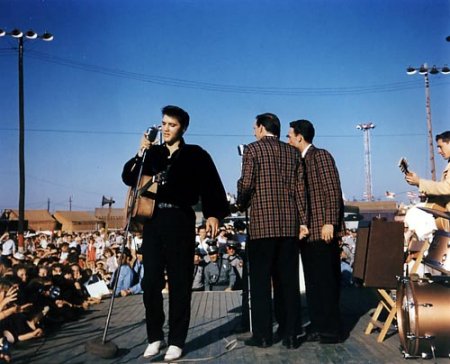 Elvis, The Jordanaires and Scotty
color photos© courtesy Jimmy Velvet
By the '60s Ron was still working in Radio and now in Richmond, Virginia at WLEE. As he put it, WLEE was his first taste of programming. He also hosted a weekly dance party on WTVR-TV6 and promoted concerts at a number of venues under a variety of company names, i.e. Ronnie Ronnie Productions, ABC Enterprises, etc... "ABC" stood for Abeloof (a local attorney), Brandon and Cottrell (Cottrell Electronics in Richmond). He said that the Mosque was the only available venue for a large act. It was one of those great old, plush halls with great acoustics. It was always a pleasure to take an act there. In order to recover your costs, and hopefully make a profit you would have to do two shows, as it seated only about 3300 as I recall.3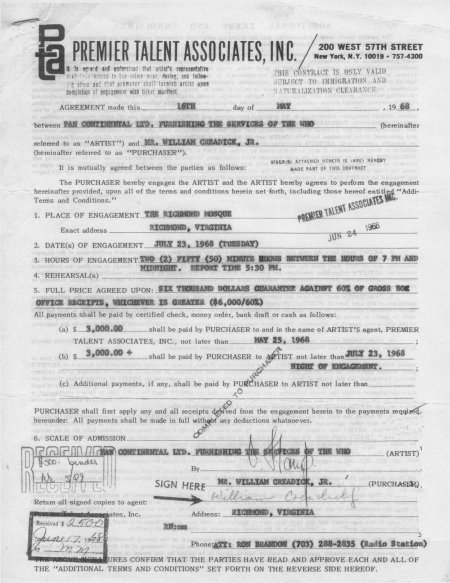 Contract agreement for the Who concert at the Mosque Theater - May 16, 1968
Ron was basically the promoter, but for the big shows requiring big cash (The Who, Jimi Hendrix, The Supremes, Chicago, etc...) he needed a money man and William Creadick Jr., for example, was the money man for the Who show. He never had the financial to be able to back the shows on his own. The contract for the Who's appearance in Richmond was with Premier Talent ( Creadick ), at the time a major talent booking outfit out of NYC, and Pan Continental on behalf of the Who. As it reads, the Who received $6,000 for their two appearances at the Mosque on July 23, 1968, of which the Troggs had to be paid a cut out of that.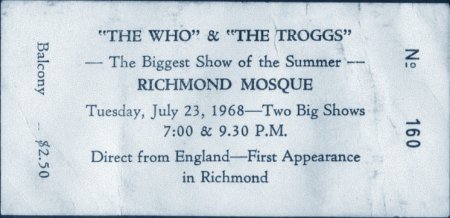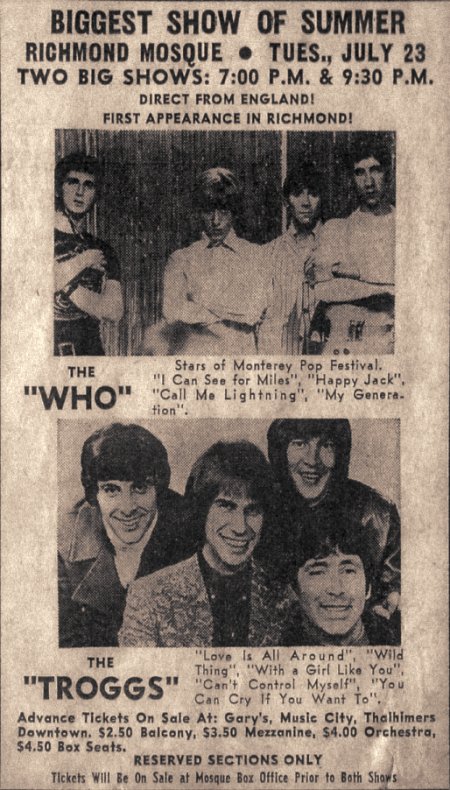 Excerpts of Promotions and reviews in the Richmond papers for this appearance read:
The WHO, a British musical aggregation with its own special brand of pop sound, a wardrobe more "out" than mod. and an instrument-smashing concert format, will appear here at two shows, at 7 p.m. and at 9 p.m. Tuesday at the Mosque.
Another popular English foursome, The Trogs, will share the musical chores.
The four men known as The WHO all stem from a tough area of London, a district known as Shepherds Bush, where most boys would sooner join a street gang than be caught playing the guitar.
However, the four, who share a distaste for any sound that is not in rebellion against what is currently acceptable, joined together and within a short time became popular with the young set in rebellion against everything else. Starting with rhythm and blues, adding their own ideas, writing their own songs and arrangements, the youngsters quickly hit the big time.
Their first original. "I Can't Explain" written by guitarist Peter Townshend, hit the top ten not only in England but all around the world when it was finally recorded.
Since the 1965 success of "I Can't Explain" the WHO have turned out a succession of hit records: "Happy Jack" a record that is really and entire radio show, including songs, commercial take offs and crazy patter, was releases in 1967 to coincide with their first American appearance and proved to be a major hit here. It was followed by "Pictures of Lily," which also got a big play.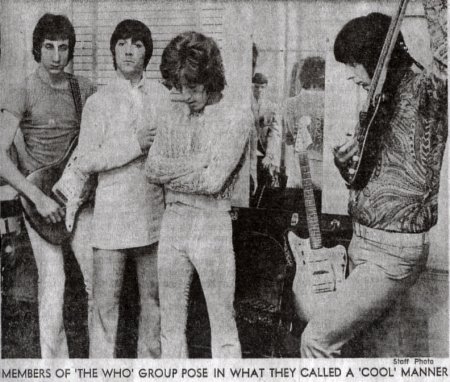 The Who backstage at the Mosque - July 23, 1968
Mosque Concert
Life Is A Big Joke to 'Who'

Life is a big joke.
At least it has to be for the four members of "The Who," one of two English rock groups who appeared at the Mosque Tuesday night.
Just before their first show, "The Who" learned of contractual difficulties. When the curtain went up for their performance, the sound system was not ready.

* * *

Much or the difficulty the group has had on its seven tours of the United States comes from people who reject the group's mode of dressing and their appearance.
For Tuesday's performance, none of "The Who" dressed alike. One sported a T-shirt and jeans, another velveteen pants and a lace shirt and all had somewhat long hair.

* * *

CHANGE IS 'GOOD'
Townshend said it was good see a change in the youth in America. Referring to student unrest in France and the United States, both Daltrey and Townshend commended student participation and their escape from "middle class maturity."
Musically; "The Who" has had great success in England and similar American success with such songs as "My Generation," "Substitute," and "Happy Jack." The group has also become associated with guitar-breaking antics and other "wild" performance techniques.
Tuesday during their performance, Townshend continually jumped high and moved excitedly around his section of the stage. Daltrey had a favorite technique of swinging his mike in lasso fashion and then expertly catching it, while Keith Moon, the drummer, continually threw his drum sticks into the air.
Such movements on stage and the usual breaking of a guitar in the show's last song - an accident, originally — are continued, according to Townshend, "for the lemons in the front row."
ENTERTAINERS FIRST
Townshend admits, however, that he and the other members of "The Who" are not so much musicians as entertainers. "We are interested in our stage performance," he said.
Their music, judging from Tuesday's show, is generally loud, loud, loud without any real variations in repertoire. The group has a driving rhythm that keeps excitement moving throughout their music, but it is simply impossible to hear lyrics.

* * *

As a display of the kind of music much of the younger generation enjoys more than any other, last night's program showed at least one thing: there is a definite style and direction to this hard rock music, and the groups who performed at the Mosque are serious about it.

If it weren't all so loud, though, the older generation might dig it more. As it is it takes a while to get used to, and then even older feet tap and heads nod in rhythm. This music might just be the medium to bridge the gap in understanding.
Though the reviews mentioned the Who "learned of contractual difficulties," Ron said there were none. The contract as displayed here was the whole thing. Pete Townshend, he said, was complaining about doing two shows and pulling only half a full house for both. They lost money on that show. Further he said that any problems with sound was their responsibility. He remembers that the various amps/speaker stacks were considerably beat up. Those were the days when they were knocking everything over and beating their guitars to splinters. In between the two shows they were taking the trashed guitars apart for salvageable parts. Although they had several top 40 hits they were not at that time mass appeal and were not particularly well received by the audience.3
Of the band, Ron described Pete Townsend as aloof, Keith Moon as a party animal and Roger Daltrey as friendly. Other shows that I had did much better. In those days, pop acts (total mass appeal) did best. Real rock still was not mainstream. The Supremes sold out two shows, so did Tommy James. Hendrix did not sell out but we probably broke even on him. He was a complete wizard on guitar.3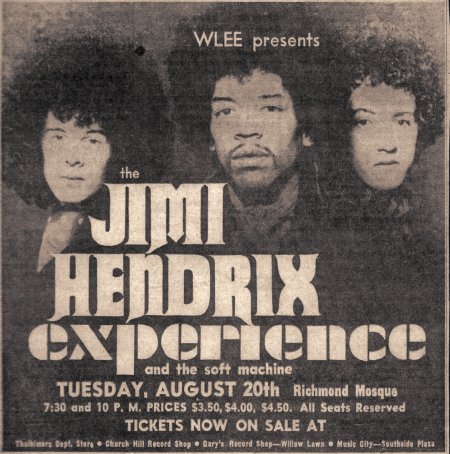 Music

By Carole Kass

---

He calls it the Jimi Hendrix Experience, and like it or not, that's what it is.
Hendrix is a soft-spoken Negro. He plays his innovative style of music with two English boys, and While the sound is white, what Hendrix himself does is alternately intellectual or frenzied.
He was dressed for last night's Mosque concert in bellbottom cerise pants. He also wore an exotically embroidered vest over a black shirt, two belts — one wide and gold — and three ornate rings. His carefully clipped hair stands high and round like a topiary tree.
Hendrix, who taught himself guitar by listening to old rhythm and blues artists, has put that style of music aside.
Instead, he has originated a music of his own, using amplifiers and electronics as a part of it.
The result is a lot of noise and harsh sound, but listen carefully and there are some startling musical effects emerging.
Such as when he uses the shrill sound of feedback as a key note in his harmony, or when the overtones that swell over and beneath his music become an intrinsic part of it.
Intricate Figures
Other than that, his musical understanding is shown in the intricate figures he weaves on the guitar, often holding the instrument tight against his chest, as if he were a human resonator. At other times he is strictly a sensational showman, as when he swings the guitar between his legs, or lifts it high and seems to chomp on it like an ear of corn. All time he keeps playing, never losing the thread holding the song together.
Between shows the 24·year-old sensation of Europe and the United States, was a warm, but shy person, tired from the hectic grind of one-night stands, on an eight-week tour, but happy to make his music and have it appreciated.
Traveling in the same musical package is a group known as The Eire Apparent, a group of terribly young and strangely dressed young men - one looked as if he had borrowed his Aunt Fanny's hat - who display a good deal of talent; and a three man group called The Soft Machine that features a topless drummer, a leather-jacketed organist and a guitarist, complete with Stetson hat, who looked like Cat Ballou, as he slumped over his guitar.
It was almost impossible to bear the music out front, as it was so amplified. But backstage, where the resonance wasn't as strong, the music the two lesser—known groups made was much more palatable. Too bad they can't give up those umbilical cords that tie them to their sound boxes, or at-least hear how they negate their own efforts with the amplification.
When the amplifiers are lowered, and the music emerges a bit more, one realizes that Hendrix is playing blues and protest songs, as much as he is fiery, possessing ones.
He dedicated "I Don't Live Today" to "all the self-appointed soldiers in St. Petersburg, Chicago, Vietnam and, or yes, the American Indian." The song ends in a special effect like a catcall. His "Red House Blues" displayed his original harmonic technique around the old jazz form, but his version a squalling, wailing blues — the lament is there, but it is shriller. In fact, if the music is representative of Hendrix' own soul, then his soul seems to be a shrieking and demanding a place in the sun.

Richmond Times-Dispatch - August 21, 1968
A couple of Hendrix stories: First when I took him to check in where I had his reservation, the Jefferson Hotel, an old time fine Richmond hotel near the Mosque, they would not admit him. They took one look and said no way, and I had to take him somewhere else. You could still do that in that day. Secondly, when I went back to check on him prior to the first show, it was my impression that he was so stoned that he likely could not go on. I could not have been more mistaken. He was outstanding, both shows, just as good as you have heard he was for all these years.3

Following are several ads and some reviews that Ron has kept over the years from some of the other shows he promoted at the Mosque: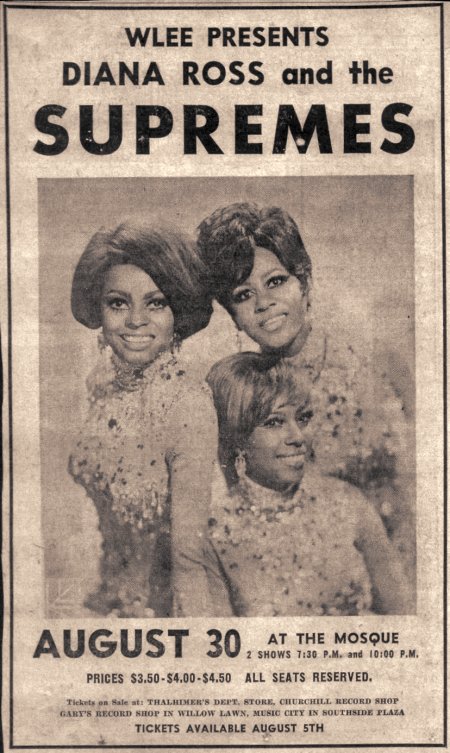 Music Supremes Summer's Best Show

By Carole Kass

A varied package of talented Negro entertainers proved a crowd pleaser to two almost sold-out houses at the Mosque last night.
While it was undoubtably the top-rated Supremes who drew the big houses, baritone Chuck Jackson, the belting Yvonne Fair and ventriloquist Willie Tyler (with Lester) kept the audience swinging, clapping in tempo and generally happy until the headliners appeared.
Opening the show last night was Miss Fair, who sings strictly rhythm and blues. Formerly with James Brown and his entourage, she shows a lot of his influence.
Chuck Jackson is a handsome, personable young singer who has been seen in Richmond recently both at the Mosque and at local clubs. He has a fine voice, a versatile style, an engaging manner and, except with his overly dramatic rendition of "Any Day Now," held a close rapport with the audience.
The Supremes appeared in full length beige gowns asparkle with sequins. They looked like nubile mermaids in the ever-changing lights. The flashy-looking trio are all svelte and pretty. Their pattern generally is to have lead singer Diana Ross sing solo, while the other two girls, Cindy Birdsong and Mary Wilson, dance and harmonize.
The girls are patently provocative - they are slinky and sexy, and their movements, if not as controlled as they are,' might exceed good taste.
But good taste they have, as well as talent and an obviously well-rehearsed act. They sang a number of their popular hits, and then switched into an amusing parody of "King of the Road" called "Queen of the House." Their own personal style of phrasing, note bending and stretching, and harmony was particularly evident in "Falling in Love" with Mary doing the solo, and in their B e a t l e s medley, including "Michelle" and "Yesterdays."
They danced their way through a light show during "Reflections" and had a fine time kidding each other between their swinging choruses of "You're Nobody Till Somebody Loves You."
What makes these girls a commodity versatile enough to please the sophisticates at Las Vegas and the kids in city after city is an informality of manner. They are, by all criteria, professional. Their precision of rendition, their line arrangements, their tasteful clothes, give them the presence to brighten a stage. But they have taken the time to develop a combined personality which they project, so it is warmth and friendliness - as well as their music — that makes them popular.
Of all the recent rock 'N' roll type shows presented here this summer, The Supremes were undoubtedly the best. If the trio keeps on the way it has been going, they should be around for quite a while.

Richmond Times-Dispatch - August 31, 1968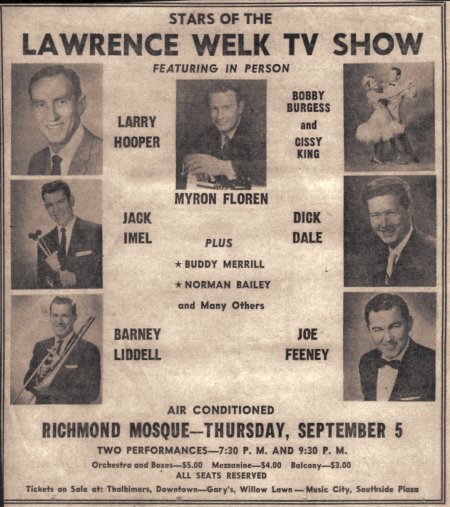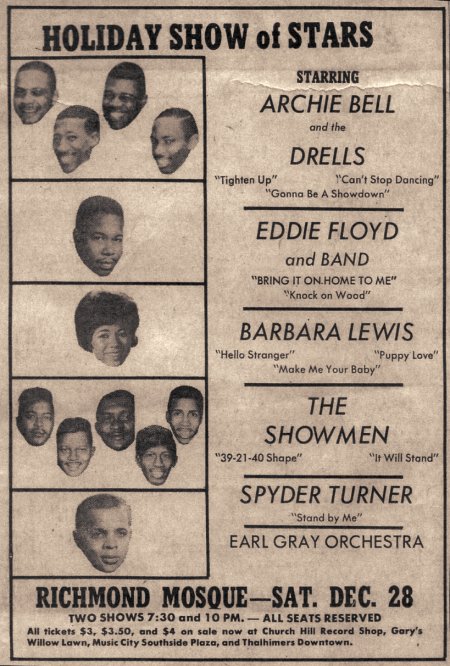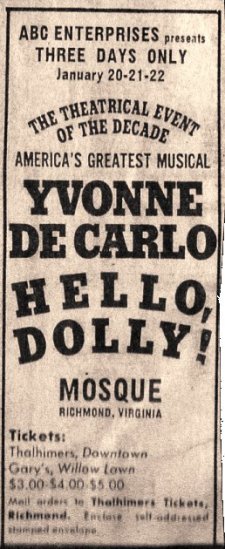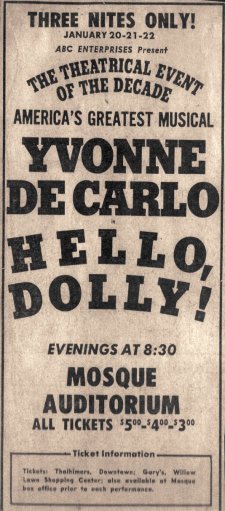 ads for Hello Dolly! presented by ABC Enterprises
Stage By Carole Kass

'Hello, Dolly!'
(Mosque)

The Cast
Mrs. Doll Gallagher Levi ----Yvonne De Carlo
Horace Vandergelder ..... Don De Leo
Cornelius Hackel -------- George Cavey
Barnaby Tucker ------- Rick Grimaldi
Irene Molloy -- Kathleen Devine
Minne Fay . ........... Suzanne Simon
Ambrose Kemper .... .... David Gary

Whether it was the soggy night or an epidemic of doubt that there could be any other Dolly than Carol Channing, the Mosque was less than half-filled for the newly—formed Third National Touring Company's production of "Hello, Dolly!" which opened last night for a three-day run.
Since the company Miss Channing headed played here so recently, it is difficult not to compare the current one with the original. By the same token, we suppose, this new company should be judged on its own merits — but there's the rub, comparison is insistent.
The play itself, of course remains the same. It has Thornton Wilder's creaky story of a middle-aged matchmaker, a jane of all trades, who wants to use her wiles, for once, for her own matrimonial ends. She
glibly fibs and schemes until she catches her man, but dear old Dolly remains a sympathetic and spirited character from beginning to end.
As played by Carol Channing, Dolly was cute and winsome. Ginger Rogers gave her more brass, and Dorothy Lamour made her a bit of a seductress.
In the hands of Yvonne De Carlo, Dolly is an earthy Irish woman, tired of loyalty to her dead husband and weary of a life in which she is always hungry.
During the first act, Dolly De Carlo doesn't come to life a bit. She is an unimportant Dolly, one who doesn't involve the audience too much in either her plight or her desires.
Lesser Lights
Indeed, it is the lesser members of the cast who shine best in Act I, starting with the strong chorus, a group of young people who excel in singing and in dancing, especially the men.
Too, there is the captivating innocence of Horace Van Der Gelder's employees, two impecunious young men who seek just one day and one night of adventure. And Vandergelder himself seems a stronger, more sympathetic character than Dolly.
It is not until the second act that Yvonne De Carlo brings Dolly to life. From the moment she walks down the stairs into the Harmonia Gardens and joins in the bit title song production number, she suddenly becomes important and brings spirit to the role and to the play, where it was lacking before. On into the amusing
courtroom scene, where Dolly's hunger and avidity are made evident, and to the final curtain, the whole production catches fire from her and becomes much like the original.
Earlier, it was a tired Dolly. Miss De Carlo made it seem as if she were looking hard, even in the big "Before the Parade Passes By" number, when it seemed as if even smiling were an effort. Perhaps she saves her voice and her energies for later on, but in the first act, Miss De Carlo seems to lack charm and warmth-the charm and warmth Carol Channing brought to a creaky play and made it a big, smash hit.
Don De Leo, who plays Horace Vandergelder, is an old-time song and dance msn. He takes control of the stage whenever he is on it, even when the spotlight is directed elsewhere, and even seemed to be cuing the orchestra during his "It Takes a Woman" number.
Of the others, standouts are comedienne Suzanne Simon who plays the frivolous young Minnie, and Kathleen Devine, a young woman of beauty and fine voice who plays Irene Molloy, George Cavey and Rick
Grimaldi are attractive as Cornelius and Barnaby, respectively, and David Gary displays a lot of talent in the
smaller role of Ambrose Kemper.
This touring company retains the attractive choreography of Gower Champion, which is clever and inventive; it has a good, fast pace thanks to the re-staging of Lucia Victor.
The sets and scenery, as well as the costumes, are all fresh and attractive and similar to the originals. A few minor scenes have been cut, but they would probably not be noticeable" unless one was making comparison.
Since this new company has been on the road only weeks, it may be that the first act will pick up as it moves on. Unfortunately, Miss De Carlo doesn't have the charisma of her predecessors, but she has
made a Dolly of her own, even, if it is not as winning as some of the others.
On the whole, "Hello, Dolly" provides a pleasant evening's entertainment. It's not standout, but it has a breadth and scope too seldom seen locally.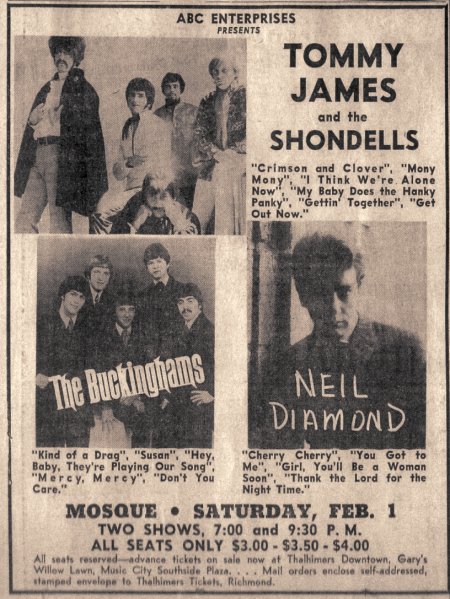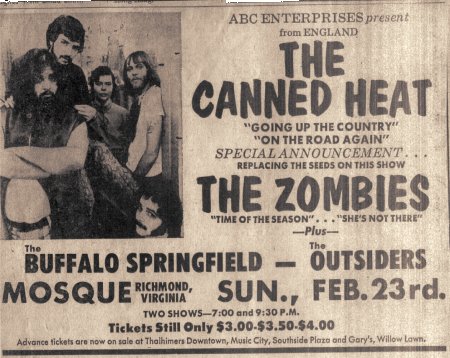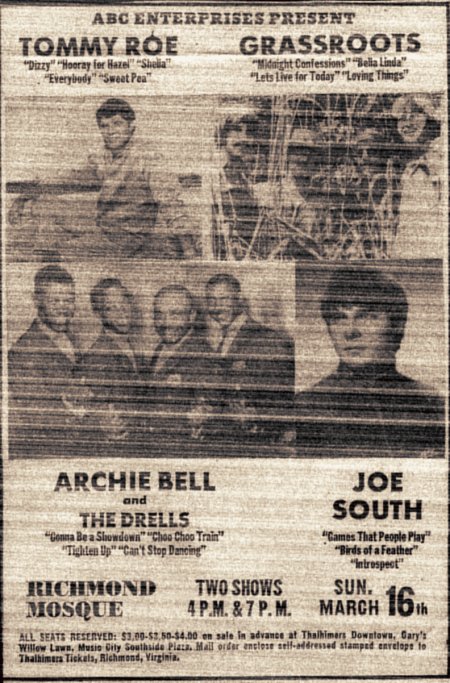 Ron worked in Richmond for about three years and then ultimately got out of the business. He said it was lots of fun, made some money on a few shows and lost a bundle on others. It was much simpler then, but remembers it also could be very stressful. I can remember standing on stage, welcoming the crowd, and not even knowing if the headline act was in town or not.3
Years later Ron had located the "Mystery Kisser," the girl believed to have been in the famous photos of Elvis in Richmond by Al Wertheimer, particularly the one referred to as "The Kiss." He said, I had the lady and Wertheimer in agreement and Vanity Fair all ready to publish, when she backed out and wanted to talk to her attorney further. I suspect that her husband, church, and/or who knows who, gave her advice about how much money she was due, etc. and that's about as far as it has gone and suspect will go.3
Ron had sent Elvis a copy of the tape he recorded in Tupelo soon after his mother died. It was found in his closet at Graceland after his death. RCA released it in 2007 for the 50th anniversary.
James V. Roy
Page added November 5, 2010
All advertisements (except Elvis at the Mosque) and reviews are courtesy Ron Brandon.
1 excerpt from "Elvis, Hank, and Me: Making Musical History on the Louisiana Hayride" by Horace Logan and Bill Sloan
2 according to The Ron Brandon Collection at REEL TOP 40 RADIO REPOSITORY
3 according to Ron Brandon