At the NAMM show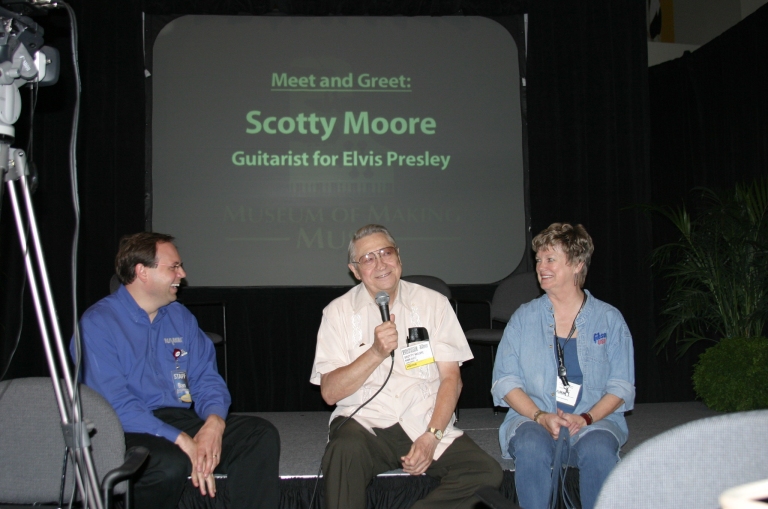 Scotty and Gail Pollock
On Saturday July 19, 2003 Scotty made an appearance at the Summer NAMM show in Nashville. The NAMM show (National Association of Music Merchants) is a trade show held semi-annually for the merchants and manufacturers of Musical Instrument products. It is not open to the public and attendees are required to wear ID badges at all times.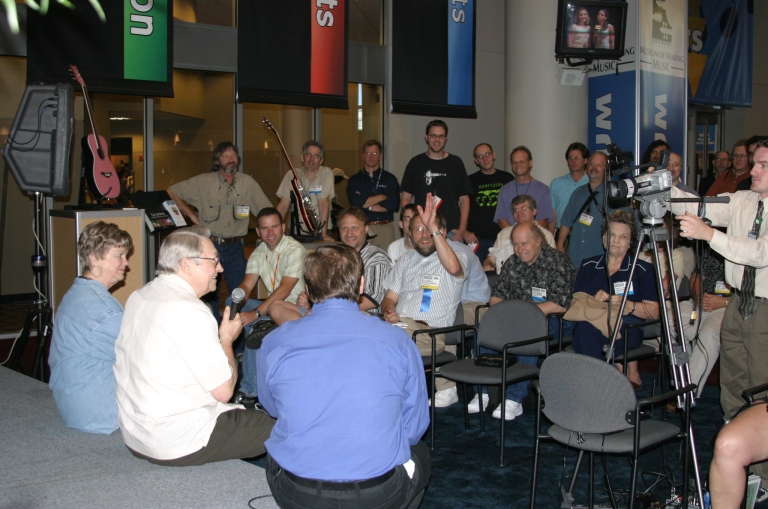 Gail and Scotty address the crowd
Scotty performed in the capacity of a meet and greet where he was first interviewed by a NAMM representative and then he and Gail Pollock shared stories and answered questions from the guests.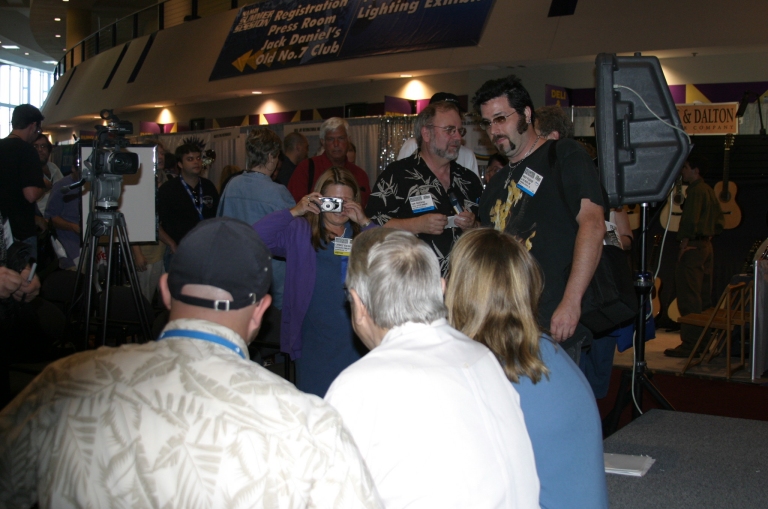 getting pictures and autographs from Scotty
Afterwards everyone had the opportunity to come up and say hello, take pictures and to get autographs.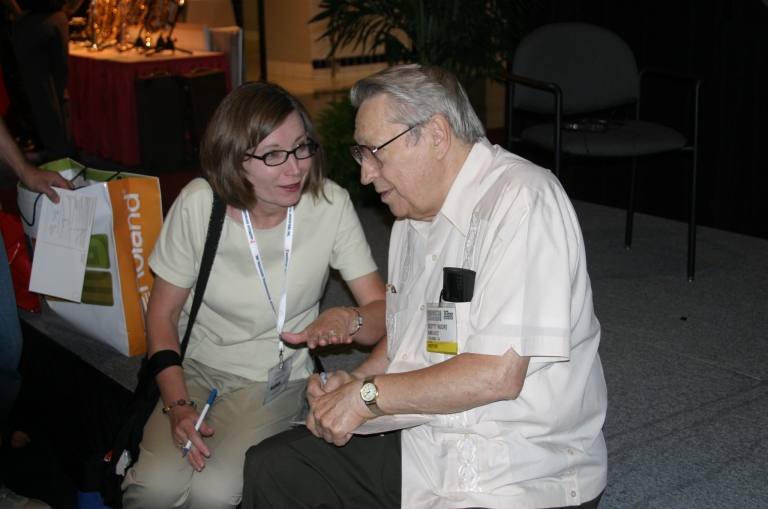 NAMM attendee meeting and getting an autograph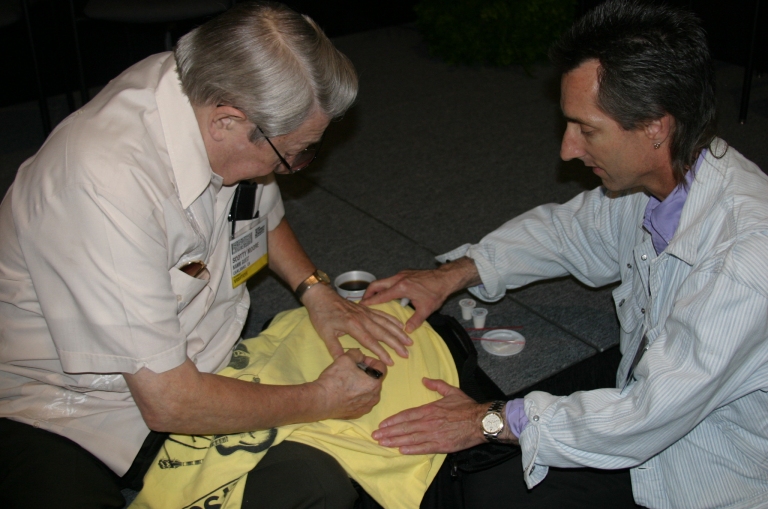 Scotty autographs a fan's t-shirt
In addition to meeting a lot of his fans the show also afforded the opportunity to visit with a lot of old friends that were also attending the show. Brad Birkedahl and Joe Fick of The Dempseys, a phenomenal Rockabilly trio dropped by the meet and greet. Seymour Duncan who had a booth there at the show also stopped by to visit at the same time as long time friend and sometimes bandmate Boots Randolph. Boots has played and recorded with Scotty and Elvis through the years and was having a meet and greet there right after Scotty.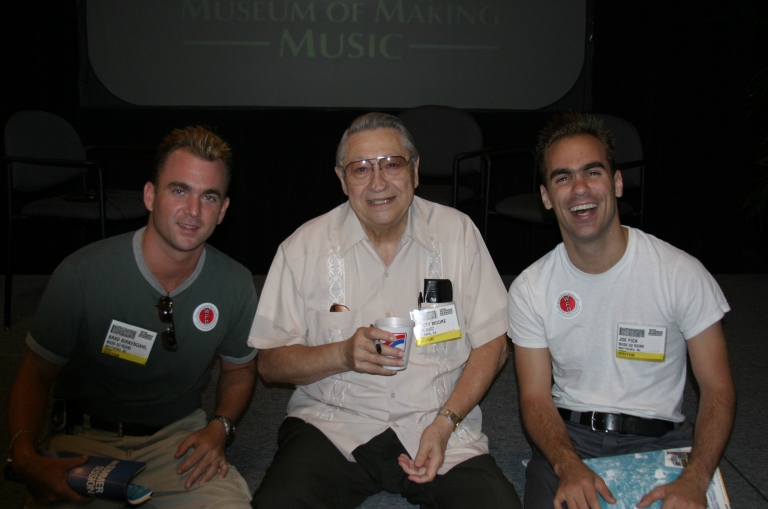 Scotty with Brad Birkedahl and Joe Fick of The Dempseys.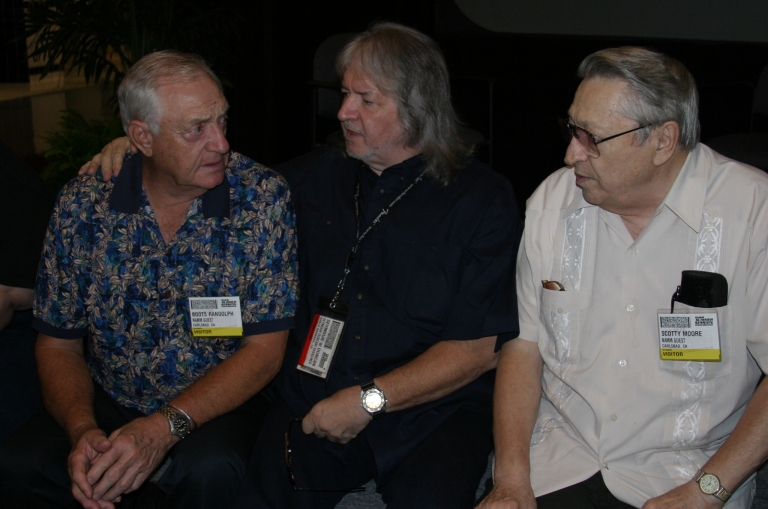 Boots Randolph, Seymour Duncan and Scotty
After the meet and greet was over Scotty had time to visit a couple of the booths at the show. The first stop was the Gibson booth where he got to meet more long time fans and some of the Gibson/Valley Arts guitar employees like Todd Money and Brent Wilson. At one point a guitarist came up to Scotty for a picture and an autograph . It happened to be Harvey Jett, the original guitarist with Black Oak Arkansas. This gave Gail the opportunity to reciprocate and get Harvey's autograph. As luck would have it he ran into another bandmate, Bob Moore and his wife Kittra in the Epiphone booth.

Scotty in the Gibson booth

Todd Money introduces Brent Wilson to Scotty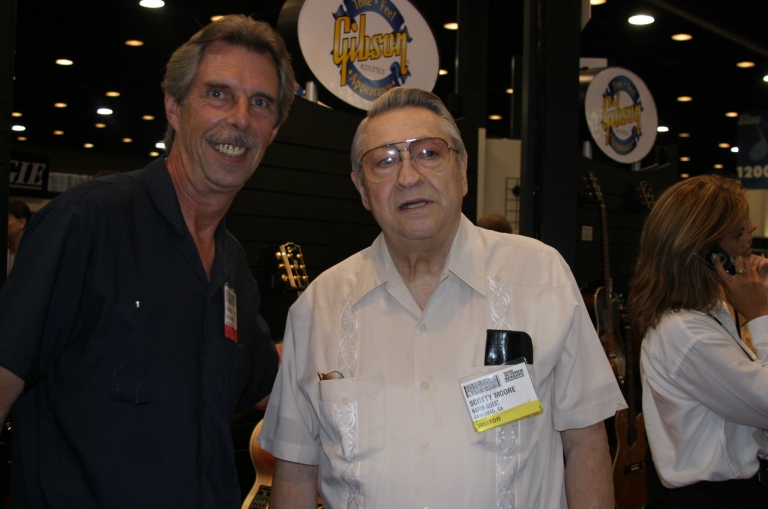 Harvey Jett and Scotty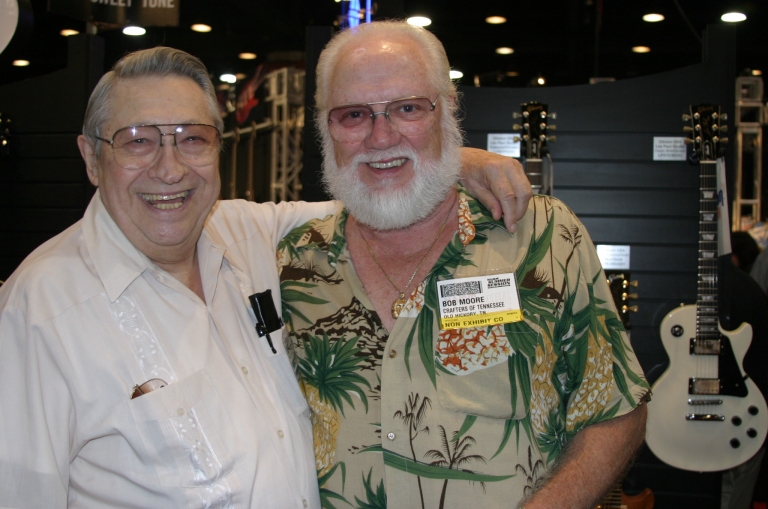 Scotty and Bob Moore
Before leaving the show Scotty stopped by the Fender booth to visit with longtime friend Mike Eldred and to insure that he was coming to dinner that night. While there he got the chance to say hello to Bob Benedetto. Scotty first met Bob several years ago when Bob was one of the 21 chosen to built a guitar for "The Blue Collection". This also afforded the opportunity to meet another associate of Mike's, Shane Nicholas.

Gail and Scotty talk to Bob Benedetto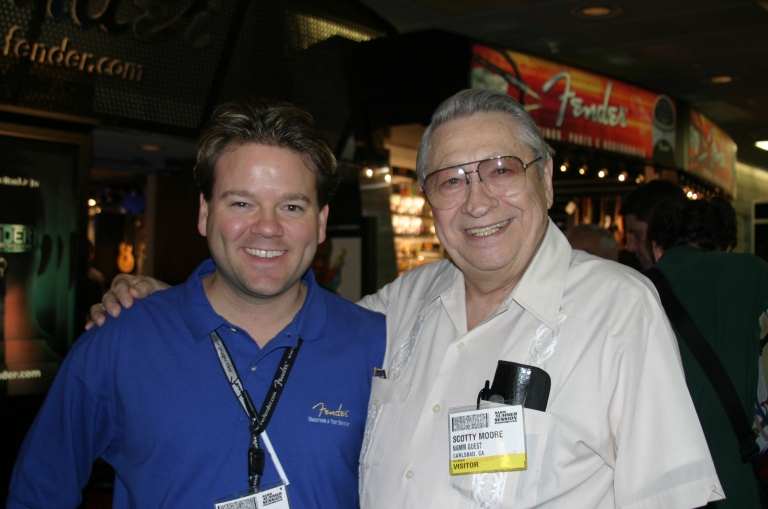 Shane Nicholas and Scotty
It was a good day all around and though Scotty didn't get to see as much of the booths and displays as he would've liked to he did get to meet a lot of his fans and old friends. Though the show wasn't quite over for the day he and Gail had to get going so that she could get a head start on cooking another of her famous Fried Chicken dinners. A few of us were invited to that but that's another story.
James V. Roy
July 29, 2003