Ponderosa Stomp April 30, 2003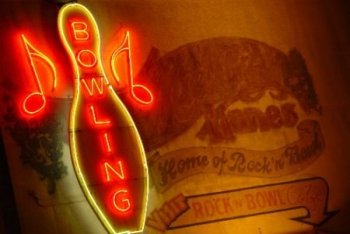 Photo courtesy Royal Knights of the Mau Mau
Scotty and I just got back from his first live gig since his hearing was damaged. He was at the Rock N Bowl in New Orleans for the Second Annual Ponderosa Stomp!!! It was a truly new experience, to say the least. We knew that it was a concert hall and also a bowling alley, but we did NOT know that they were in the same room! No kidding, there were people bowling while the show was going on, all in the same room. It was kinda disjointed, the way that festivals always are. Scotty played briefly in two sets....one with his old friends Paul Burlison (who is looking GREAT after being very ill last year), Rocky Burnett and DJ Fontana. The other was a slower set with Scotty's keyboard player, Steve Shepherd, and Earl Palmer. They did a killer version of "Kansas City" that I hope Scotty cuts for his next CD. Steve Shepherd, who some of you know as Ronnie McDowell's keyboard player, and his wife Ella and our friend Molly Blanks from Quitman, MS, all went down to New Orleans with us. We had a great time looking over the town again, and the weather was great. Last year in the mid-90's, but this year around high 70's low 80's, much better.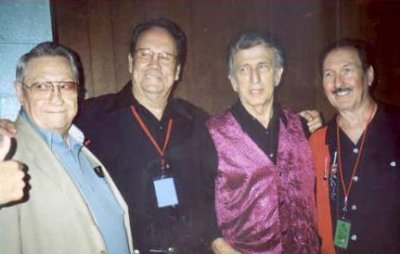 Scotty, Paul Burlison, D.J. Fontana and James Burton
Photo © Alan Clark Archives
If any of you reading this were at the festival, please write in to the guest book and let Scotty know what you thought. Since his hearing loss, he is not sure that he can still play, because he cannot hear as well on stage. I told him that he has been playing since he was 8, only lost his ear four months ago, the playing will last as long as he lives. Anyway, we had a great, if strange, show in New Orleans. Hope some of you were there and had a good time too.
Gail Pollock
May 03, 2003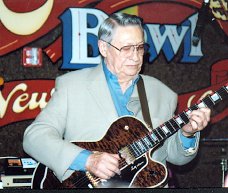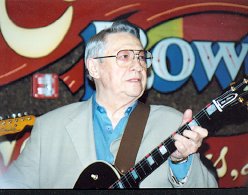 Scotty on stage at the Ponderosa Stomp
Photo© courtesy S. Homer
Hi Scotty, Gail, and all. My mom and I were at the Ponderosa Stomp as well Wednesday night. We went specifically to see our friends play. The music was stellar as usual, but it was very unorganized. The stage should have been higher, autograph tables set up, and no bowling. There were too many people there that night.
Anyway, I was thrilled to see so many Elvis songs performed. Scotty was great again as usual. Even though he may have lost some of his hearing, his guitar expertise is still there. He sounded as good as ever. His set with Paul Burlison and Rocky Burnette was my favorite of the night. They were really rocking. It was great to see Paul up and about again. I really wish you guys could come to Green Bay, Wisconsin when they have the rockabilly festival again next year. It is really a well organized event, and they treat the musicians with the respect they deserve. Scotty, once again, GREAT JOB!
Sheree and Carole Homer
Kenosha, WI USA - Sunday, May 04, 2003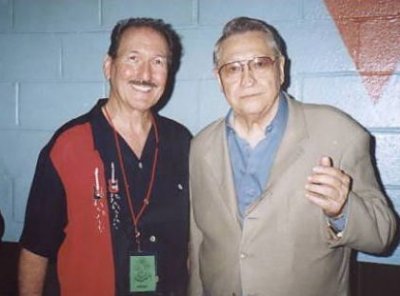 James Burton and Scotty
Photo © Alan Clark Archives
Scotty, I drove over 800 miles to watch you play and I wasn't disappointed. I read that you play so much by "feel" and noticed how you really came alive during your solo on "Kansas City". My only regret is that I was unable to have you autograph my copy of your book. I practically learned how to play guitar from your work on the Sun Sessions and I'm continually moved by your solos. (My wife was very sore with me when I borrowed the battery from the CO detector to replace the dead one in my delay switch.)

Brian Turner
Fort (Winfield) Scott, KS USA - Wednesday, May 07, 2003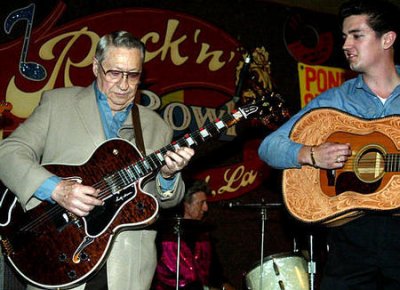 Hello there Mr. Moore, I just wanted to tell you that I had a great time backing you up and singing for you at the Ponderosa Stomp, I was playing rhythm guitar as part of the Deke Dickerson band if you recall. It is definitely something I wont soon forget, and also something I hope I get the chance to do again in the future. You're not only a genius on the guitar but a class act as well. I'm working on finishing up a record pf my own here soon and have a few tours thru Europe in the spring but I'm always around traveling here and there, and perhaps our paths will cross again soon. Thanks for your music, and also for giving the time to answer some of my questions and share old stories. All my best to you and yours
Eddie Clendening
Denver, Co USA - Thursday, November 20, 2003