Elvis' Record Collection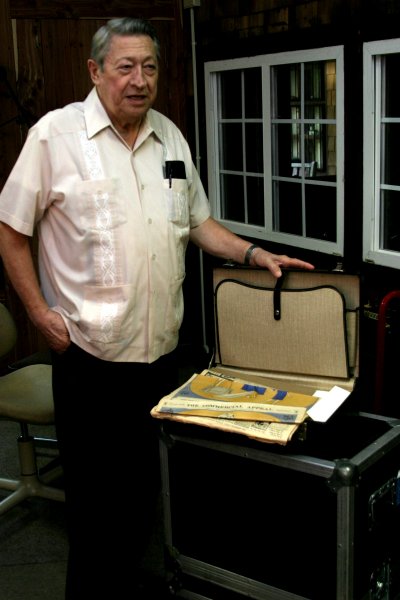 Scotty with suitcase full of Elvis' old 78 records
Photo © James V. Roy
In January of 1968 Elvis, knowing that Scotty had a studio in Nashville and the capability, asked Scotty if he could transfer some of his old records to tape (reel-to-reel). He wrapped them in copies of the January 14th edition of the "The Commercial Appeal ", Memphis' leading newspaper and packaged them in a suitcase. At some point while recording at Nashville's Studio B on January 15th and 16th he gave them to Scotty with instructions to copy them on tape saying that he would send someone later to retrieve the records. Scotty did as instructed and waited but no one ever came for the records.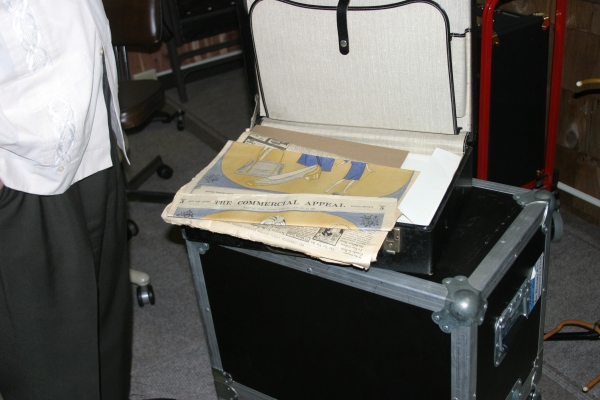 The records wrapped in newspaper
Photo © James V. Roy
Four months later Scotty and D.J. were contacted and asked to perform in the NBC-TV Special that would be recorded in June in Burbank, CA and shown the following December. While there they met with Elvis and during dinner at his house Elvis asked him about getting together in his studio for a week or so like the old days and mentioned that he would also like to tour Europe.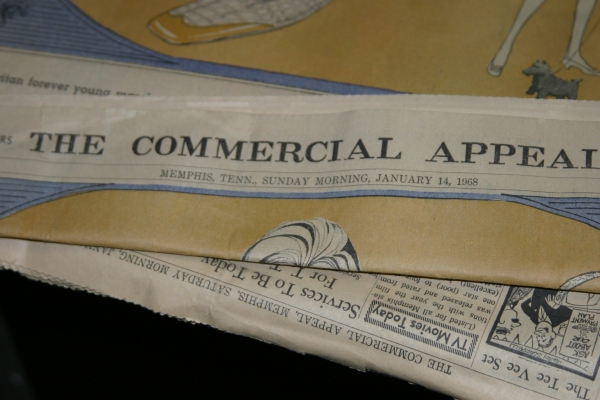 copies of "The Commercial Appeal" January 14, 1968
Photo © James V. Roy
Scotty made several attempts to contact Elvis but to no avail so he just put the records in the closet at the studio at Music City Recorders and decided that he would give them to him the next time he saw him. Unfortunately the session they talked of would never happen and in fact it was the last time that Scotty saw or spoke to Elvis. The records remained in the closet all but forgotten until the studio was sold in 1973.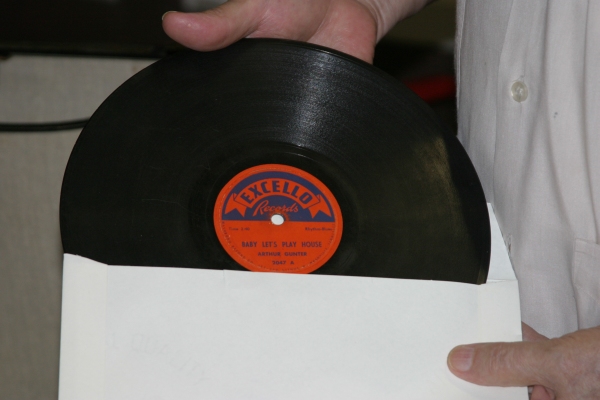 Excello Records - "Baby Lets Play House" - Arthur Gunter
Photo © James V. Roy
In all there are 26 records in the collection, far from the total number of records that Elvis owned, the majority of which at Graceland has recently been cataloged. Its not known why Elvis chose just these to be copied, whether they were his favorite or most worn from playing or what. Scotty said about some of them "when I first saw them, I remembered them from the first time I went to his house. He played them on one of those wind-up record players". Several of them the band would eventually go on to cover.
James V. Roy
August 17, 2003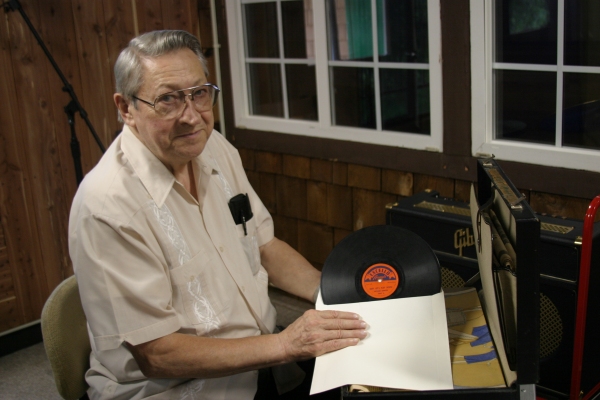 Scotty holds one of the records
Photo © James V. Roy
The collection is as follows:
Corrine Corrina / Boogie Woogie Country Girl - Joe Turner

That's What You're Doing To Me / When The Swallows come back to Capistrano - The Dominoes

It's A Sin / Don't You Believe Her - Ivory Joe Hunter

Hurry, Hurry Baby / Travelin' Man - Roy Brown

Blueberry Hill / Honey Chile - Fats Domino

You're Mine / Milk And Gin - The Crickets

It's All In The Game / All Over Again - Tommy Edwards

I Got A Woman / Come Back - Ray Charles

I'm Gonna Bid My Blues Goodbye/ Just A Faded Pedal From A Beautiful Bouquet - Hank Snow

Rock And Roll Bells / All Over, Goodbye - Louis Jones & His Band

Reconsider Baby / I Believe I'll Give Up - Lowell Fulson

Moments To Remember / Dream On, My Love, Dream On - The Four Lads

My Song / Follow The Rule - Johnny Ace with The Beale Streeters

Hurt / Star Of Love - Roy Hamilton

Because Of You parts 1 & 2 - Sammy Davis Jr.

Ain't It A Shame / La-La - Fats Domino

Lawdy Miss Clawdy / Mailman Blues - Lloyd Price

I'm 10,000 Years Old / Cherry Red - Brownie McGhee

Rosie / You'll Cry For Me - Buddy Blake

Your Cheatin' Heart / I Sure Need You - The Pearls

Since I Met You Baby / You Can't Stop This Rockin' And Rollin' - Ivory Joe Hunter

Matchbox / Your True Love - Carl Perkins

Rags To Riches / Don't Thank Me - Billy Ward & His Dominoes

The Shifting Whispering Sands parts 1 & 2 - The Billy Vaughn Orchestra

Baby, Let's Play House / Blues After Hours - Arthur Gunter

Hound Dog / Night Mare - Willie Mae 'Big Mama' Thornton
page added 2003