Benefit for the Davis Triplets
(in memory of Richard Davis)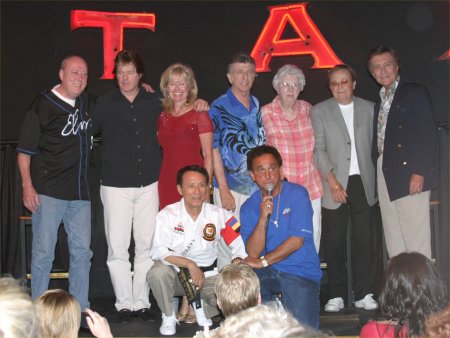 Richard Davis, Jerry Schilling, Suzanna Leigh, DJ Fontana, Marian Cox, Gordon Stoker, Ray Walker
Kang Rhee and George Klein at the Memphis Mafia reunion at Alfred's on Beale St. Sunday August 10, 2003
Richard Davis was a longtime member of Elvis's inner circle. He started working for Elvis after Elvis returned from the Army and continued to work for him until 1971 as a body guard, a stand-in in 23 movies and eventually a wardrobe manager. He remained friends with Elvis long after his employ until Elvis' death in 1977. Known among the other Memphis Mafia members for his quick wit and for being a bit of a prankster he once dropped a water balloon on Elvis' head as he walked out of his trailer in fresh makeup for a movie shoot.
After leaving Elvis, Richard worked as a promotions director for Stax Records and Warner Brothers Records and as a casino host at Horseshoe Casino in Tunica. He later worked as a security guard at the Horseshoe until retiring in 2001 to take care of a new set of triplets. His wife, Kimberley, 33, said, "He was a devoted father. Those children lit up his world." He was also a regular at many of the celebrated Elvis related gatherings in Memphis and elsewhere sharing his stories with the fans.
Richard died in his sleep at age 64 at his home in Southhaven in August of 2004. In addition to Kimberley he left behind his children, Brandon Richard Davis, Dylan Huges Davis and Madison Danielle Davis, and another son, Ronnie Davis, by a previous marriage.
On Thursday, January 6, 2005 The Patsy Anderson Group will present a concert for the benefit of the the Davis triplets, in memory of Richard at the Bluesville Club at the HorseShoe Casino in Tunica, MS (only a half hour south of Memphis).
Entertainers and guests scheduled to appear are: Scotty Moore, Charlie Hodge, Ronnie McDowell, Steve Cropper, TG Shephard, Jimmy Velvet, Billy Swan, George Klein, Jerry Schilling, Joe Kent, Kevin Adams, Jerry Presley, Suzanna Leigh, Sonny Burgess and the Pacers.
Additional happenings: Special exhibit of Elvis Artifacts and special appearance by The Davis Triplets.
Several other entertainer invitations are pending and will be posted as confirmed.
All proceeds go to the triplets. Tickets available November 5, 2004 at 1:00 PM. through the Casino boxoffice, online at Ticketmaster or by phone at 901-525-1515.