"We Record Anything, Anywhere, Anytime."
Sam Phillips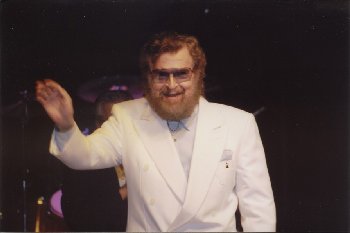 Sam Phillips 1923-2003
Photo© courtesy D. Ferich
ROCK'S VISIONARY
Sam Phillips,1923–2003
BY JON GARELICK
Last Train to Memphis, the first of Peter Guralnick's two-volume biography of Elvis Presley, is of course about Elvis, but Sam Phillips emerges as just as great a hero. It's generally a mistake to give an entrepreneur as much credit as the artists he "discovers." But Sam Phillips is a special case.

Phillips, who died on July 30 in Memphis at the age of 80, is also credited with the line "If I could find a white man who had the Negro sound and the Negro feel, I could make a billion dollars." Phillips used to say this "over and over," remembers his former secretary and right-hand woman at Sun Records, Marion Keisker, as quoted in Gurlanick's 1971 collection, Feel Like Going Home: Portraits in Blues and Rock 'n' Roll. On the surface, you'd have to say this was the ultimate statement of entrepreneurial opportunism. Phillips long disavowed the comment. The New York Times obituary cited a 1978 piece from that paper in which Phillips said, "That quote is an injustice both to the whites and the blacks. I was trying to establish an identity in music, and black and white had nothing to do with it."

But you could say that black and white had everything to do with it. As a white man from Alabama, raised on his father's farm where he picked cotton, Phillips had always been drawn to black music. When he later recorded black artists like Howlin' Wolf and B.B. King, his appraisal was, "This is where the soul of man never dies."

In fact, he got into the record business specifically to record black artists. Besides Wolf and B.B., Phillips also recorded what is often considered the first genuine rock-and-roll record, Jackie Brenston's 1951 "Rocket '88.'" But there was a ceiling on selling blues and R&B by black performers. They just couldn't break through to a white audience. "They liked the music, but they weren't sure whether they ought to like it or not," Phillips says of Southern white teenagers in Last Train to Memphis. Elvis was a way to break the color barrier, to bring black music to the rest of America, to give white kids permission to listen to black music — in Guralnick's words, to "democratize American culture."

After Elvis's breakthrough "That's All Right," Phillips went on to record Carl Perkins, Johnny Cash, Jerry Lee Lewis, Roy Orbison, and many more. Last Train to Memphis depicts an epic confrontation between Phillips and Elvis's manager, Colonel Tom Parker. "These were two very strong, independent men with two very different visions of life," writes Guralnick. "Sam's embraced the sweep of history; it very consciously conjured up the agrarian hero as the focus of the democratic dream. The Colonel's vision, on the other hand, denied history; it centered on the here and now, focusing on survival by wit and instinct in a universe that was indifferent at best. There was room enough for sentiment in the Colonel's view but little for philosophy; Sam was perhaps less inclined to the sentimental gesture but more to the humanitarian impulse."

The difference between Tom Parker and Sam Phillips was the difference between a colorful businessman and a visionary. The rock-and-roll revolution owes everything to Sam Phillips.

From the Boston Phoenix
Issue Date: August 8-14, 2003
Sam Phillips/Sun Records Timeline

Jan. 5, 1923
Sam Phillips is born in Florence, Ala.

June 1945
Phillips moves to Memphis, taking a job as an announcer and maintenance and broadcast engineer at WREC.

Oct. 1, 1949
Phillips signs a lease on a storefront at 706 Union Ave. in Memphis.

1950
Phillips opens Memphis Recording Service and begins recording several local blues artists, including B.B. King, Howlin' Wolf and James Cotton.
1951
Phillips records "Rocket 88" with singer Jackie Brenston and Ike Turner's band for Chess Records. This recording, widely considered the first rock 'n' roll record, hits No. 1 on the R & B chart. Phillips records "How Many More Years/Moanin' At Midnight," the first single by Howlin' Wolf.

1952
Phillips launches his own label, Sun Records, with the release of "Drivin' Slow" by saxophonist Johnny London.

1953
Elvis Presley stops at Memphis Recording Service to record two songs, "My Happiness" and "That's When Your Heartaches Begin," as a birthday present for his mother. Phillips notes that Presley has a good feel for ballads and should be invited back. Sun releases "Mystery Train" by Little Junior Parker.

1954
Elvis Presley, Scotty Moore, and Bill Black record "That's Alright Mama" at Sun Studios. It becomes Elvis' first hit.

1955
Drawn to Sun by Presley's first single, Carl Perkins and his band audition for, and are signed by, Phillips. Phillips signs aspiring country singer Johnny Cash and releases his debut single, "Cry! Cry! Cry!/Hey! Porter." Despite Presley's growing popularity, his five Sun singles fail to make a dent on the national charts. Phillips sells his contract to RCA Records for $35,000.

1956
Carl Perkins' "Blue Suede Shoes" becomes Sun's first certified million-seller.

1957
Sun releases "Flyin' Saucer Rock 'N' Roll" by Billy Riley and His Little Green Men. Featuring Roland Janes on guitar and Jerry Lee Lewis on piano, the song is a rockabilly classic. The label also issues Lewis' second single, "Whole Lotta Shakin' Goin' On."

1958
Phillips launches a new label, Phillips International. Carl Perkins and Johnny Cash sign with Columbia Records. Perkins leaves Sun immediately and Cash leaves in August when his contract is up. Jerry Lee Lewis hits No. 1 with "Breathless."

1960
Phillips opens a new studio at 639 Madison Avenue in Memphis.

1969
Phillips sells Sun Records to Shelby Singleton.

1970 - present
Phillips' sons run the family studio, the Sam Phillips Recording Service, and a music publishing company in Nashville. Phillips focuses on radio stations he owns in Alabama.

1986
Phillips is inducted into the Rock and Roll Hall of Fame.

2001
Phillips is inducted into the Country Music Hall of Fame.

July 30, 2003
Phillips dies in Memphis of respiratory failure.

NPR's page on Sam