Strat® Masters DVD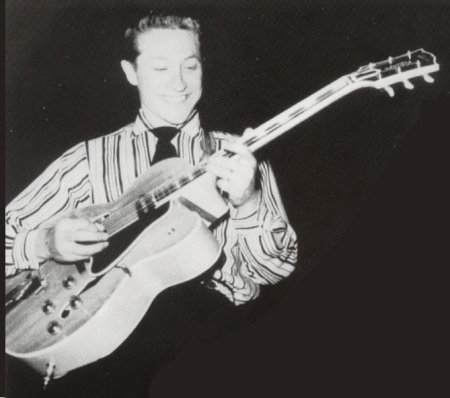 Scotty with his 1954 Gibson L5 in 1956
Scotty and Bill are acknowledged and depicted in the new independent DVD documentary Strat® Masters, in which U.K. filmmakers Michael Bayley Hughes and Bob Hewitt tell the story of the famous instrument and interview some of the world's most noted Stratocaster® guitar slingers. Though Scotty never played a Strat® and only owned a Fender Telecaster for a short time in the early '50s his impact and influence on many of the players who went on to make this guitar famous is undeniable.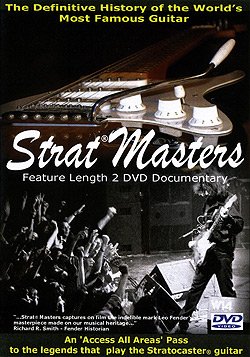 DVD cover of Strat Masters.
Image courtesy Headstock Productions Ltd.
Clocking in at nearly three hours, Strat Masters was shot in California, Japan and the U.K., and includes exclusive factory footage inside Fender's U.S. and Japanese facilities. The best parts, though, are the interviews in which several of the instrument's foremost exponents—past and present—describe in their own words what the Stratocaster means to them. Feature interviews include Jeff Beck, Ry Cooder, Robert Cray, Mark Knopfler, Chris Rea, Rory Gallagher, Al Jardine, Albert Lee, Hank Marvin and others.
"Strat Masters has been a labor of love and a passion for Michael Bayley Hughes and me, as we have both been Fender nuts since the early '60s," Hewitt said. "All of the great Fender players who took part greeted us with warmth, kindness and hospitality."
Strat Masters is now featured on Fender's new website - and you can preview a clip of the film footage there. Strat Masters is selling in every corner of the world and will make the rounds on the worldwide indie film circuit this fall and on into 2008; more about the film and ordering information can be found online at www.stratmasters.com.

Fender and Strat are Copyright © Fender Musical Instruments Corporation. All rights reserved.
page added September 26, 2007