The Tribute to Elvis
On October 8, 1994 Scotty and D.J. performed at the Pyramid arena in Memphis in what would be at the time the biggest Elvis tribute ever. The event was offered to the public on pay-per-view television and aired on ABC-TV in an edited form later that year. There was no video release of the concert due to the inability of the producers to work out clearances with the performers however, Mercury Records would subsequently release an album of material recorded live at the concert and others recorded at Javelina Studios in Nashville.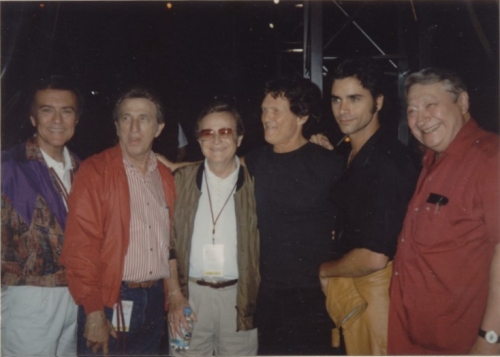 Ray Walker, D.J., Gordon Stoker, Kris Kristoferson, John Stamos and Scotty
The list of performers signed up for the concert was impressive: Tony Bennett, Melissa Etheridge, Chris Isaak, Michael Bolton, Carl Perkins, Bryan Adams, Aaron Neville, Dwight Yoakam, Tanya Tucker, Marty Stuart, Michael Hutchence, NRBQ and Travis Tritt.

D.J., John Stamos, ?, Scotty and Neal Matthews
In late September, two weeks before the event was scheduled to take place, Scotty recieved a call from one of the producers asking if he would be interested in putting together a band and performing at the concert? Already booked with D.J. and the Jordanaires to perform in Indiana with Ronnie McDowell and with no intention of canceling the producers agreed to buy out that gig, reimbursing the promoter for any loss in rescheduling and adding the Jordanaires, D.J., Ronnie, Kevin Woods and Steve Shepherd to the show.
Arriving in Memphis and going to rehearsal the day before the show they discovered most of the performers not yet there. Ronnie helped the producers by filling in for them. Almost in lack of appreciation the producers feeling short on time, limited Ronnie's performance to the pre pay-per-view show.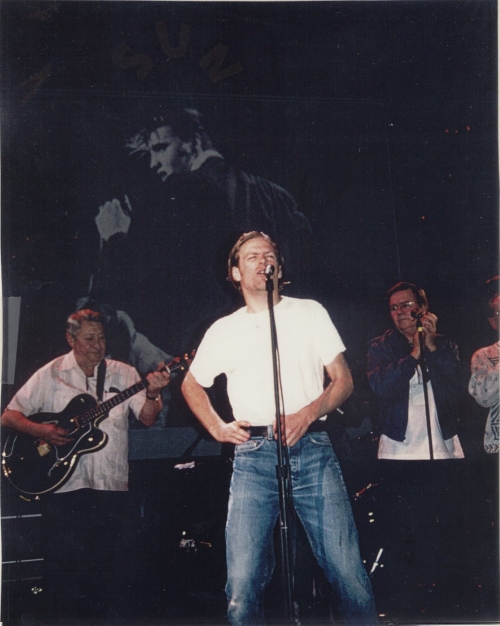 Scotty, Bryan Adams and Neal Matthews rehearsing "Hound Dog"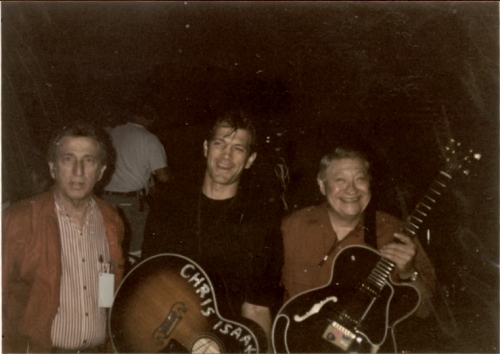 D.J., Chris Isaak and Scotty
Scotty backed Chris Isaak on "Blue Moon," Michael Bolton on "Jailhouse Rock," Carl Perkins on "Blue Suede Shoes" and Bryan Adams on "Hound Dog."

Scotty and Chris Isaak doing Blue Moon - 1994
courtesy Sherwin Peterson
---

A portion of the proceeds from the sale of IT'S NOW OR NEVER: THE TRIBUTE TO ELVIS was to go to St. Jude's Medical Center and the T.J. Martell Foundation.
---

Scotty, DJ, Bryan Adams and the Jordanaires performing "Hound Dog"
courtesy AEK/Mr.T
An interesting little note to this! Scotty got a photo from Bryan Adams from their rehearsal a few months later and was asked to sign it and return it to Bryan. Scotty did, but did not hear from him again for 4 years. In 1998 Scotty had a heart attack and triple bypass surgery. While he was in the hospital after the surgery, a woman from the business office came to his room. I was there.
She gave me a piece of fax paper and said, "we must ask that you not have people send faxes for patients to the business office. We do not pass them on." Then she looked at me and said, "Is this the REAL Bryan Adams?" I have no idea how he or someone representing him got Centennial Hospital's fax number, but there was a note from Bryan on his own letterhead wishing Scotty a speedy recovery!

Gail Pollock
September 17, 2009
---
A couple more clips courtesy the AEK TV Lounge

Chet Atkins

Jerry Lee Lewis, James Burton and NRBQ