The Woodstock Strap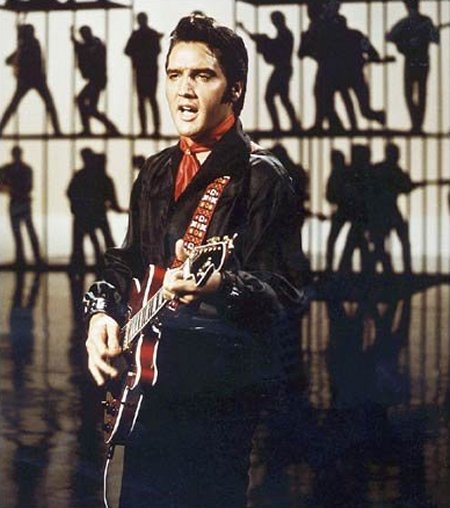 Elvis - June 1968
Photo © courtesy EPE, Inc.
In 1968 when Elvis was taping the NBC Special, he borrowed Al Casey's Red Hagstrom guitar for use in several segments of the production. Coincidentally, the following year Jimi Hendrix performed at Woodstock using an identical guitar strap. These straps and many others of the era were manufactured by a company called Ace during the '60s and '70s and their designs were widely popular and identifiable as used by many musicians of that era.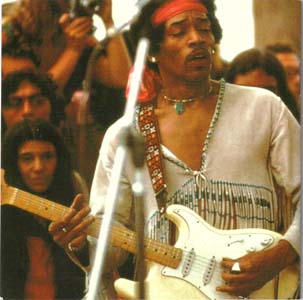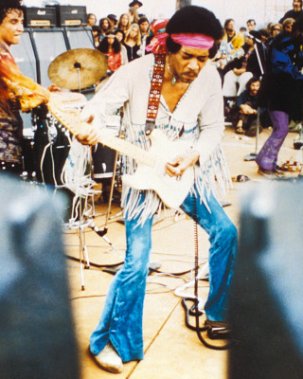 During the production of the CBS mini series 'Elvis' in 2005, the prop shop, History for Hire, went to great lengths to supply production with accurate representations of instruments and studio equipment used by the boys back in that era, which include a strap like the one on the Hagstrom. When Fender's Custom Shop produced five replicas of the Woodstock Stratocaster several years ago they also offered them with copies of the Ace strap. Today, a company in Chicago, Souldier, has bought all the original Ace patterns and are offering these straps once again, handmade to order. This will likely be of interest to the avid collector and no doubt to the plethora of tribute artists.
In addition to the Elvis/Hendrix strap they offer a full line of designs and patterns used by many other performers of the day. Check them out at www.souldier.us.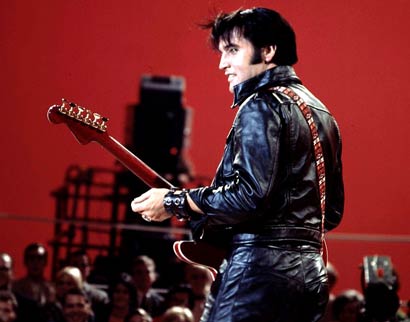 Elvis onstage with Hagstrom - June 1968
Photo© courtesy EPE, Inc.

June 26, 2008