Elvis' Martin 000-18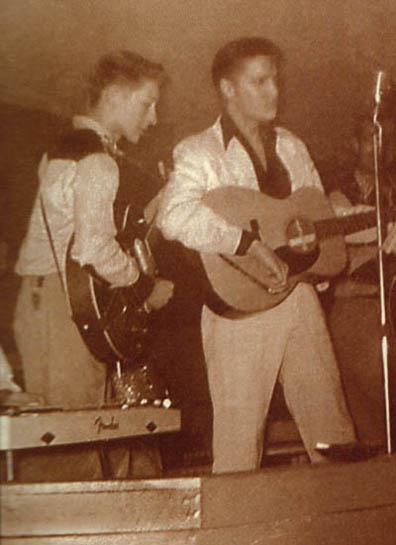 Scotty with ES295 and Elvis with Martin 000-18
at the Mint Club, Gladewater, TX (approx. Nov/Dec 1954)
Sometime before their first performance on the Louisiana Hayride show in October of 1954 Elvis bought a used Martin 000-18 from Sid Lapworth at O.K. Houck Piano Co. in Memphis. According to Sid he paid $79.50 for it, mostly on time with $5 down and $10 per month. According to an article reputedly written in the April 1955 issue of Country and Western Jamboree, Elvis received $8 in trade for his first guitar that was used to record his first tracks at Sun but Sid has no recollection of that trade (the story about the $8 first appeared in an article in the Memphis Press-Scimitar on Feb 5, 1955). It was used for performing and recording until sometime around mid January of 1955 at which time he traded it for a Martin D-18.

Scotty, Elvis, Bill and Frank Page at the Louisiana Hayride Oct. 16, 1954
Photo © Louisiana Hayride Archives courtesy of J. Kent
All of the strings, picks and accessories sold at Houck's came from the David Wexler Company in Chicago, as did the stick on letters (Autograms). When Sid sold guitars he gave the buyer either a set of strings, some picks or their name in letters. Often people would apply the letters to the case instead of the guitar itself. Elvis applied his diagonally across the body of this guitar. Sid said this guitar was resold to a Memphis vacuum cleaner salesman again for $79.50 days after Elvis traded it in. The person chose to keep the lettering spelling "ELVIS" applied, according to Sid's recollection.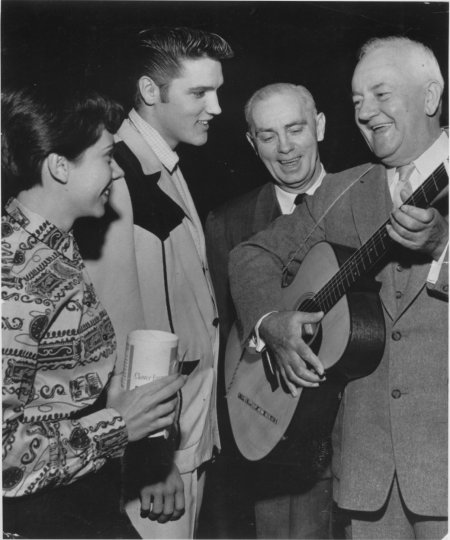 Barbara Burnette, Elvis, R. M. Robinson and Mayor Frank Tobey with 000-18 Nov. 8, 1954
photo courtesy Ger Rijff

1936 Martin 000-18 (similar to Elvis'*)
Photo© courtesy American Vintage Guitar
The Martin 000-18 has a 39 13/16" total length, a 19 3/8" body length, 15 3/16" body width and a 4 1/8" body depth. It features a solid Mahogany neck, 20 fret Rosewood fingerboard with a 24.9" scale length, solid Spruce top, Mahogany back and sides, Rosewood bridge, Black Boltaron® endpiece and binding.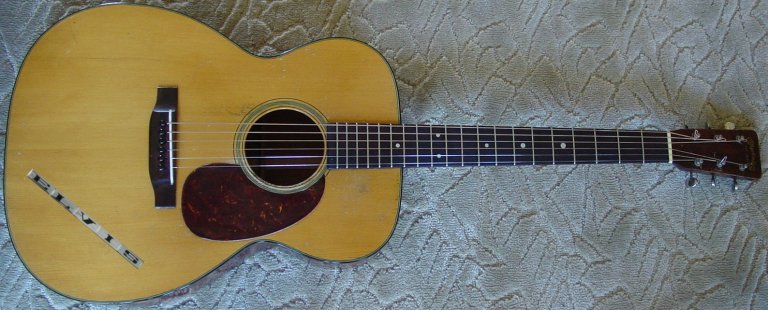 Simulated facsimile showing orientation of letters on a 1951 000-18
Photo© courtesy nachase
specifications courtesy C.F. Martin Co.
page added 2002

*note: at this time lacking the serial # we do not know the model year of this Martin guitar only that it was purchased used in 1954.