Elvis' 1942 Martin D-18

Elvis Presley's 1942 Martin D-18 #80221
Photo © Dick Boak and C.F. Martin Co.
This Martin D-18 bearing serial #80221 was manufactured on January 15, 1942 at the Martin factory in Nazareth, PA. Sometime around mid January of 1955 Elvis traded his Martin 000-18 for this 1942 Martin D-18 at O.K. Houck Piano Co. in Memphis.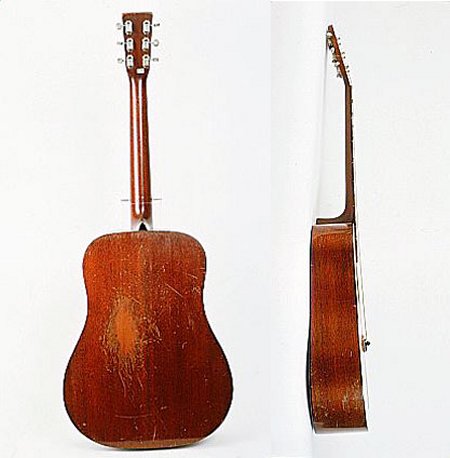 Rear and Side view of Elvis' Martin D18
Photos © Dick Boak and C.F. Martin Co.
A new D-18 at the time sold for $140 (cases went for about $40-$45). This guitar used would've been discounted anywhere from 25% to 40% of that. Sid Lapworth said he gave him the payments Elvis had made on the $79.50 purchase price of the 000-18 in trade towards it. The D-18 was used for performing and recording until sometime after June 15 of 1955 at which time he purchased and started using a Martin D-28.*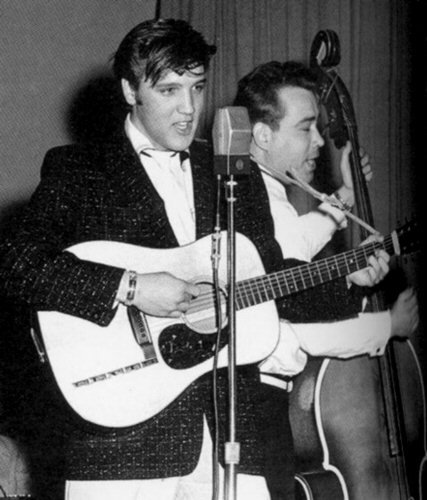 Elvis with D18, and Bill at Messick High School - Feb. 1955
Note the excessive wear due to Elvis' aggressive strumming style. Scotty has said "He'd break strings all the time. In the early days he'd just keep beatin' on it until we got through the set." Like the 000-18 he used stick on letter's spelling "ELVIS" on the top, only on the D-18 they were positioned in a parallel orientation. Bill Black also applied "BILL" likewise to his bass. The letters came with the guitar when he bought it at Houck's. Sid said that the letters came from the David Wexler Company in Chicago as did all of their strings, picks and accessories. They were actually made by Signa-Craft, Inc. When he sold guitars he gave the buyer either a set of strings, some picks or their name in letters. Often people would apply the letters to the case instead of the guitar itself.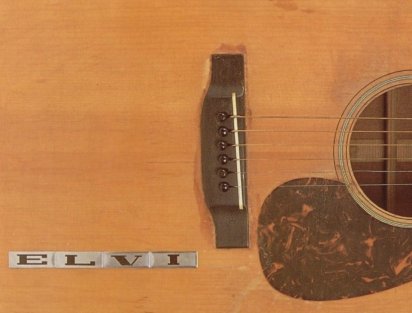 Photo© courtesy T. Bacon "The Ultimate Guitar Book"
According to Martin's Historical notes, "This particular instrument was handcrafted in the Martin guitar factory, which was at that time located at 10 West North Street in Nazareth, Pennsylvania. January 15, 1942 is considered to be the birthday of this guitar, the date the serial number was stamped into the neck block. It was made under the Martin shop order No. 592 of that year. Martin made approximately 326 style D-18 guitars during that year. Production was quite low due to the war time restrictions."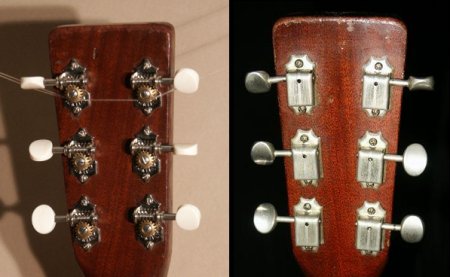 Martin D-18s with open back and Kluson sealed case tuners
Photo's courtesy Greg Boyd and Exceptional Guitars
Many of the models, including the D-18 produced during the war years, 1942 - 1945, used open back tuning machines with plastic buttons to conserve metal. Elvis' was at some point prior to his purchase installed with Kluson sealed case tuners used regularly on many guitars in the '50s. When Sid took this guitar back on trade he seems to recollect removing the original letters selling Elvis and cleaning it up before reselling it.

Scotty with ES 295 and Elvis with Martin D18 (1955)
Photo© courtesy of Louisiana Hayride Archives - J. Kent
This guitar was on loan to the Country Music Hall of Fame from 1974 until 1991 (the 'S' on the letters long since missing) when it was sold at auction in the U.S. to a British collector. On May 14, 1993 it sold again at auction by Christies in London to Michael Malone for $151,700 who then had it on loan in 1998 to the Rock and Roll Hall of Fame. It had been on display at the corporate offices of DMX Music, Inc in Seattle, WA at the time this page was published.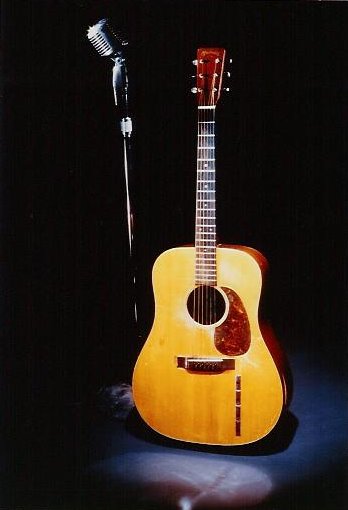 Elvis Presley's 1942 Martin D-18 #80221
Photo © courtesy Michael Malone, DMX Music, Inc.
The Martin D-18 has a 40 1/2" total length, a 20" body length, 15 5/8" body width and a 4 7/8" body depth. It features a solid Mahogany neck, 20 fret Rosewood fingerboard with a 25.4" scale length, solid Spruce top, Mahogany back and sides, Rosewood bridge, Black Boltaron® endpiece and Black/White binding.
page added 2002

*In addition to the 1942 model, Elvis owned a 2nd D-18 that he occasionally used on tour as a backup guitar to his D-28, at the very least from March through May of 1956.
specifications courtesy C.F. Martin Co.