Scotty Moore Modeled Country Gent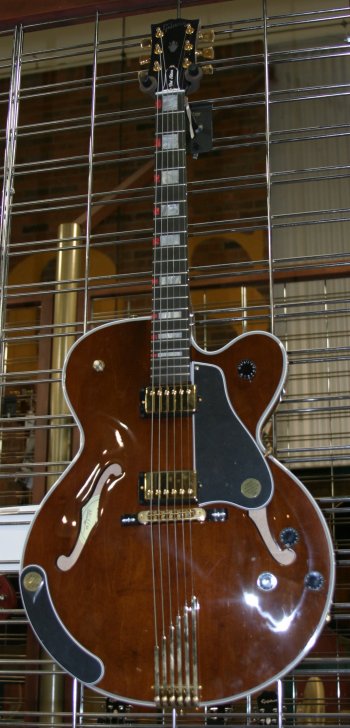 2003 ARCF Brown Serial #01393760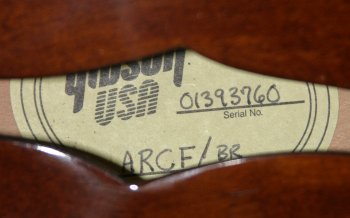 2003 ARCF Brown Serial #01393760
In February of 2002 Scotty was performing with Lee Rocker at the Gibson Showcase in Memphis. Mickey Butler, the then head of Gibson operations in Memphis, at that time took photos, measurements and note of the specifications of Scotty's custom made/modified Chet Atkins guitar. Prior to that the Chet Atkins Country Gentleman guitar (ARCA*) was only offered with a Bigsby tailpiece. It was Gibson's intent to offer a new version based on the original prototype given to Scotty by Chet and Scotty's modifications.

ARCF's (Scotty Moore Models) in Brown and Wine Red
By May of that year a limited run of these guitars based on Scotty's modifications were begun. These models, as are all the Country Gentlemans now, are made in Memphis. Several more were made in 2003, but unlike Scotty's custom built guitar that has highly figured maple they feature plain grain maple much the same as the prototype given to him by Chet Atkins himself. They also feature the block inlays and fingered tailpiece like Scotty's and unbound f-holes. When Scotty was shown pictures of this one (the brown), he said, "This one is much more like Chet's than the one I had made. I wish they had made mine plain instead of the curly maple."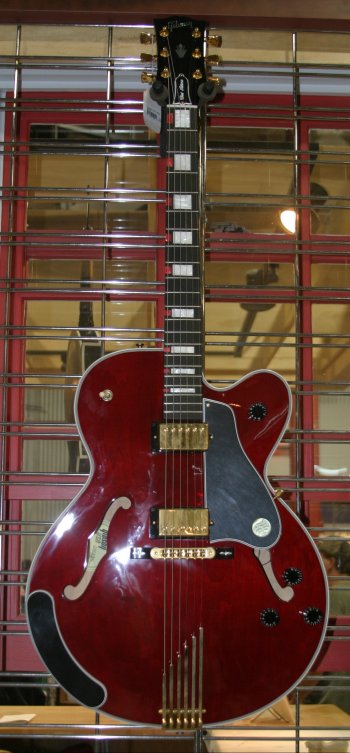 ARCF Wine Red Serial #01403706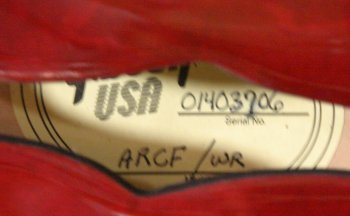 ARCF Wine Red Serial #01403706
Though not a high volume model, sales have been steady. The ARCFs feature a single round cutaway semi hollow bound (plain grain) maple body, raised bound black pickguard, bound arm rest on bottom bass bout, 3 piece (plain grain) maple neck, 22 fret ebony fingerboard with offset red block inlay and block inlaid mother of pearl fretmarkers, ABR-1 tune-a-matic bridge with pearl inlaid ebony bridge base/ fingered tailpiece, blackface peghead with pearl plant/logo inlay, 3 per side tuners, gold hardware, 2 covered humbucker pickups, master volume on upper treble bout, 2 volume/1 master tone controls, 3 position switch. Available in Country Gentleman Brown (Scotty's), Ebony, Sunrise Orange, and Wine Red finishes.**

Maryanne Brockett of The Gibson Showcase in Nashville
---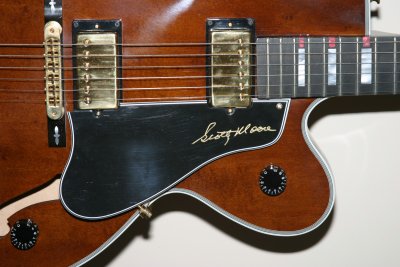 The same guitar pictured above with pickguard autographed

The same guitar pictured above with pickguard autographed
*ARCA designator stands for Artist Series Chet Atkins; ARCF indicates same with "Fingered" tailpiece
**Commencing with the exhaustion of current stock sometime this year (2005) Gibson will no longer be manufacturing this model, at least not with the Chet Atkins name.