Three Amigas
Carol, Gail and Marty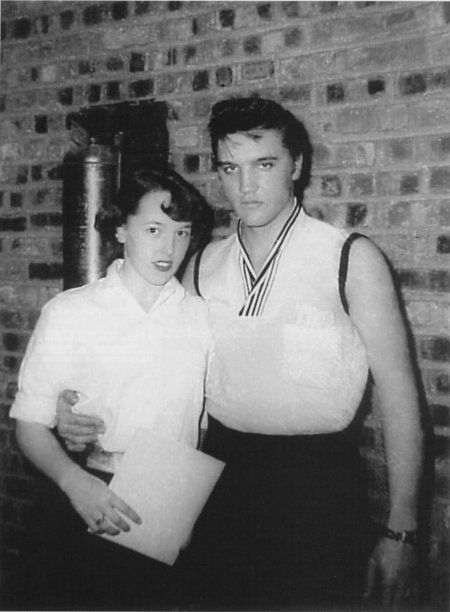 Carol Golemon and Elvis backstage at the Municipal Auditorium - Mar. 10, 1956
Photo by Joan Putnam © Carol Golemon courtesy John Golemon
Carol Golemon, nee Mangham, and Marty Hooper are cousins and were originally from Shreveport, Louisiana. They along with Marty's best friend Gail Reaben of Houston, Texas, like countless other girls (and boys) since the '50s, are Elvis fans. Carol we've written about before and is responsible for taking more than a few fantastic photos with her Brownie camera of Elvis, Scotty, Bill and DJ, among others, during their tenure in Shreveport on the Louisiana Hayride. Gail also we've mentioned having had the good fortune and opportunity to be able to see them several times in 1956, all from the front row, though only had a few photos she took of her own at the time.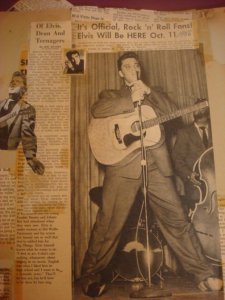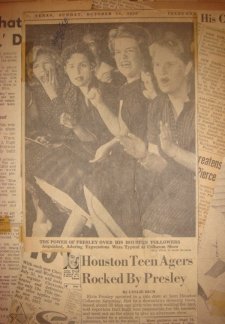 News clippings from Gail's scrapbook
Photos courtesy Gail Reaben
One of her big regrets though was when she brought her 8mm movie camera to Elvis' show at the Sam Houston Coliseum, hoping to film from the front row. She said, when I went to plug in my camera, I realized that the cord on my lights wouldn't reach underneath anywhere close so I couldn't take any film! However, I got the autographs of all three of Elvis' famous band members, Scotty Moore, Bill Black and D. J. Fontana, that night, right after Elvis left the stage. When the show was over and Elvis finished, Scotty, Bill and D.J. were still on stage putting their equipment away, as was "Rebel Without A Cause" actor Nick Adams who was traveling with Elvis and the band. We walked over to the stage, about 10 feet from our seats, and got their autographs.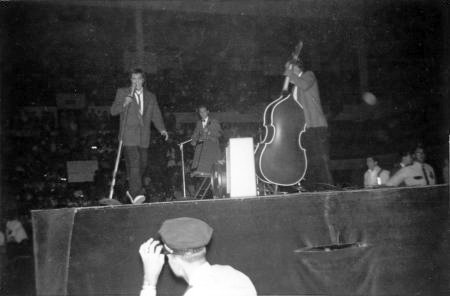 Elvis, Scotty, DJ and Bill at the Sam Houston Coliseum - Oct. 13, 1956
Photo © James V. Roy
Gail and Marty have been friends since 1952 when her family moved to Houston and for a time kept competing scrapbooks which included photos and newspaper articles about Elvis and concert reviews. Marty would return to Shreveport each summer to visit with her relatives from her mother's family. Carol, in turn, would also visit Houston and through Marty met Gail. Each of Gail and Marty's scrapbooks contained copies of Carol's photos taken at the Hayride and you may have read the story where Carol described one instance where hers were all in a shoebox in the back of the un-air conditioned car. Once, on our way from Shreveport to Houston - windows down - the whole box flew out onto the brand new East Texas Freeway with signs posted everywhere...NO STOPPING! My uncle refused to stop and my cousin, Marty and I started crying and threatened to jump out of the car, until my aunt told him to stop. We ran all up and down the road gathering up Elvis photos. Probably lost some then and others from just carelessness."

Marty and Gail at home in Bellaire Texas, a suburb of Houston, in January of 1957
Photo courtesy Gail Reaben
Gail said that everything that Marty got about Elvis from the 50's, besides newspaper articles (and even some of those came from there), were given to her by someone in Carol's family. In addition to photos their scrapbooks contained numerous articles. Gail's mother let her subscribe to the Memphis paper so she could get all the latest on Elvis and that summer while visiting her aunt and uncle in Orlando got to see Elvis perform there.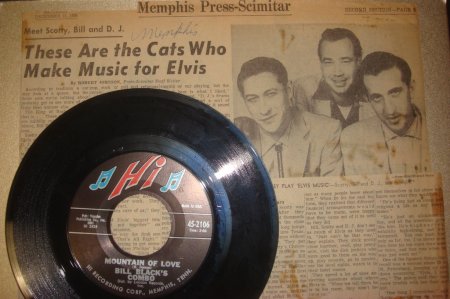 Un-played Bill Black Combo 45 & Press-Scimitar Article from Gail's scrapbook
Photo courtesy Gail Reaben
She got several articles from Miami and Orlando for both her and Marty and saying, I had the Miami ones because I was actually in Miami when he was performing. My aunt and uncle had taken me down there for sightseeing but because I'd just seen him in Orlando, where they lived, they wouldn't take me to the Miami show but I got the papers!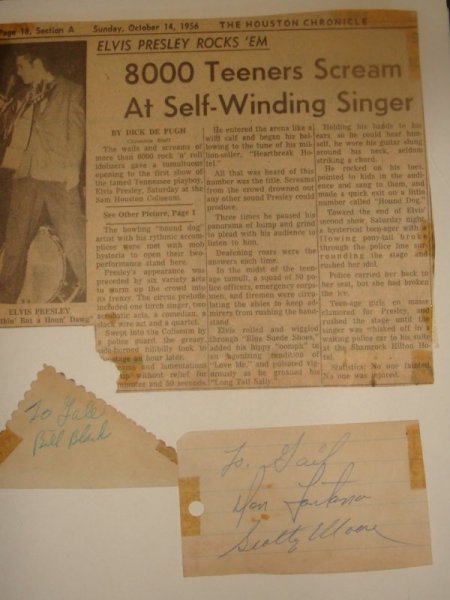 Article and autographs from October 1956
Photo courtesy Gail Reaben
Gail has since sold her Elvis collection and scrapbook. Many of the photos she had from Carol were later sold to and published in Elvis The Louisiana Hayride Years by Frank Page and Joey Kent, much to Carol's surprise. Carol had lost the picture with her and Elvis years before and "was over the moon to see it again." She later met Fabris G. Luca, who, from Italy, has been doing a lot of the legwork for the recent comprehensive FTD publication "A Boy From Tupelo" which includes photos from the collections of Ger Rijff, Brian Petersen, Cecil Holifield and many others. Carol said, he got in touch with me through a strange connection with someone at Ernest Tubb's Record Shop. He actually paid me for using 3 of my pictures that were not already published in the Kent book. My son, John, (unaware) posted all those photos (on Facebook) but Luca forgave me.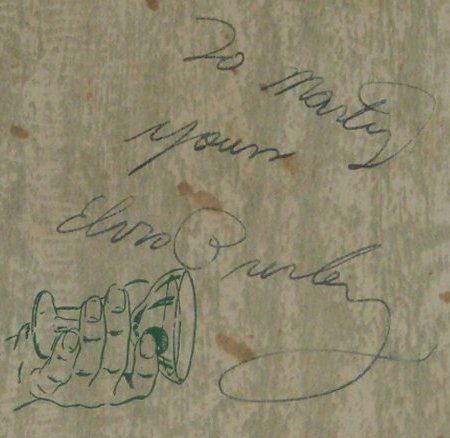 The autograph from Elvis to Marty Hooper - Sep. 2012
Photo courtesy Gail Reaben
Earlier this month Gail and several high school friends got together with Marty to celebrate Marty's birthday. She was over whelmed when Marty gifted her with her scrapbook. While Gail described her collection and copies of photos as worn and sometimes creased by years of handling, Marty, she said, had kept hers virtually pristine. One treasured piece was an autograph from Elvis on a drink menu from the Bungalow Restaurant and Lounge in Biloxi, Mississippi. They weren't sure though if it had been from 1955 or 1956 and Marty didn't recall who it was that actually got it for her (see below).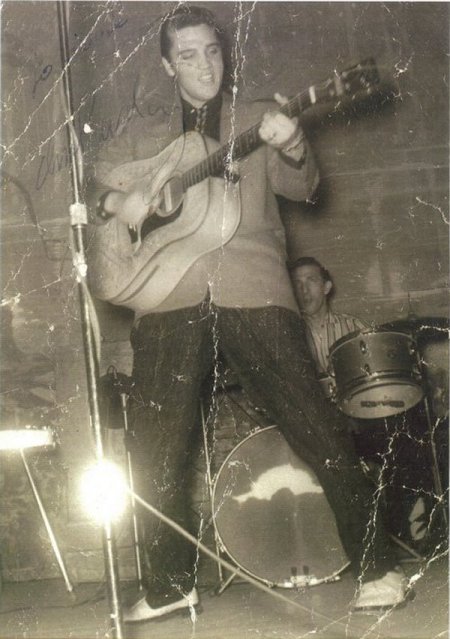 Carol's fading autographed photo of Elvis
Photo © Carol Golemon courtesy John Golemon
Carol herself actually remembers having a slip of paper with Elvis' autograph on one side and Johnny Cash's on the other, that she had carried in her wallet until it disappeared. She said she had enlarged one of the pictures she had taken of Elvis and he signed it "To Carol" with a ballpoint pen but it is fading away. I confess to not being a good steward of priceless artifacts. C'est la vie...., she said.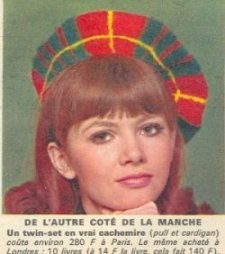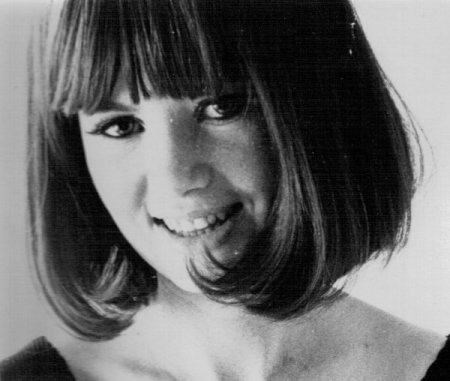 various collection of ads featuring Gail as a model
ads courtesy MiniMadMod60s
Carol and her husband Guy along with their sons John and Will eventually relocated to the Nashville area where as a teacher in Hendersonville she taught, then tutored, Rose Carter Cash (Rosie, as Carol calls her). At times she also stayed in the Cash household as a "nanny." She feels lucky to have come into Rosie's life at at time when she was needed. Marty married, taught school for a while after college and has a daughter in the film industry. Gail became a fashion photography model in the Sixties in New York and Paris, appearing in Glamour, Vogue, Seventeen and magazines of that type. She ran a video production company for fifteen years and more recently has been producing and directing documentaries, including the 2006 short "Be Bop Babies" using home footage she shot as a teen in the 1950s (where she was able to plug in the lights).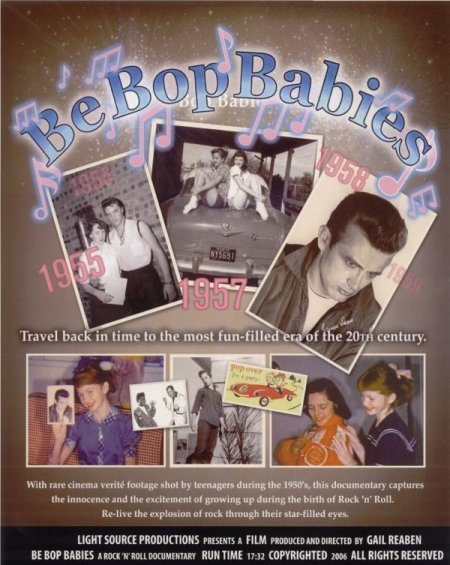 Poster courtesy Gail Reaben
She is currently in pre-production on a feature length documentary to be shot in Havana, called Cuban Dreams. Though Marty and Gail still stay in touch, Marty hadn't talked to Carol in several decades. Gail and Carol haven't seen each other since the 1950s and only recently as a result of Elvis, if you will, and each of their contributions to Scotty's site, have they reconnected.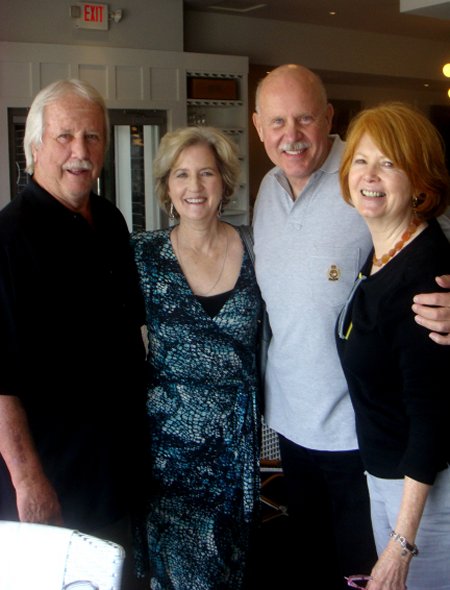 High School classmates Tom Gail, Marty, Glynn Dyess and Gail - Sept. 2012
Poster courtesy Gail Reaben
Page added September 24, 2012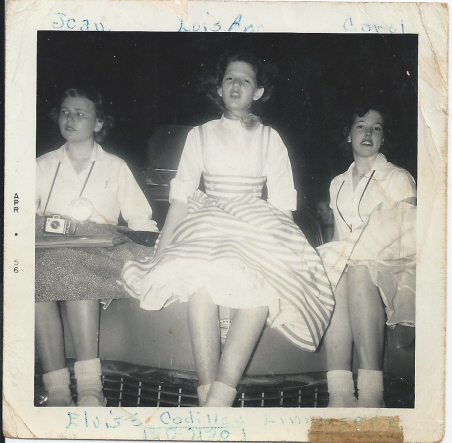 Joan Putnam, Lois Ann Harrington and Carol Mangham on Elvis' limo in Shreveport
Photo from Marty's scrapbook courtesy Gail Reaben
Special thanks to Gail Reaben and Carol Golemon for their assistance with this page
---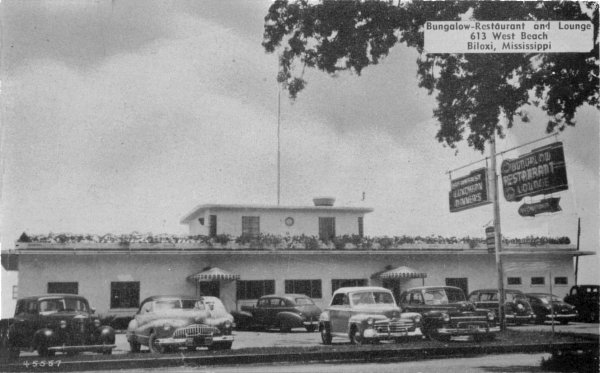 The Bungalow Restaurant and Lounge in Biloxi - c.1950
The popular Bungalow Restaurant & Lounge was originally located on the South side of Highway 90 - Central Beach Boulevard near Reynoir Street on the present site of the Beau Rivage in Biloxi. It was a popular 24 hour restaurant and lounge which included a motel in the rear and was conveniently located close to several of the venues where Elvis, Scotty and Bill performed in 1955 though no record exists of them having stayed there. June Taranto, nee Juanico, native to Biloxi and Elvis' girlfriend at the time, recalls going there on more than one occasion but said she never did with Elvis. The autograph signed by Elvis for Marty Hooper is on a drink menu from the Bungalow and was likely obtained while Carol and Marty's cousins were vacationing in Biloxi in July of 1956. Carol said her brother, Jim Mangham, went along on their cousin's trips as entertainment for their cousin Bill of the same age. Jim remembers that their cousin Gayle, Bill's older sister, had contact with Elvis and they feel sure that she is the one who got the autograph for Marty.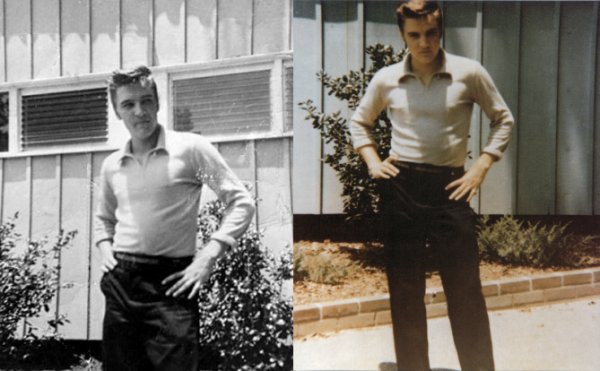 Elvis at the Gulf Hills Dude Ranch and Country Club in Ocean Springs, MS - July 1956
Photos courtesy Cristi Dragomir and Jim Curtin's Candids of the King
Gayle said, I remember one summer when we were in Biloxi hearing that Elvis was across the bay in Pascagoula ( I remember it was maybe a golf resort) and he was staying there. I got a friend, can't remember who, but I had made friends with some of the kids from Biloxi, or a friend that had come with us to Biloxi. Anyway we drove over to where ever Elvis was. The place had cabins and he was staying in a cabin, I sort of remember his mother being there, but we talked to him for a minute and he signed autographs. I remember he was very polite and all we did was giggle. We always stayed in a cabin behind the White House Hotel, but that's not where we saw him. It was across the bay, it could have been Ocean Springs, but I remember it was a big golf resort and there was a club house and individual cabins. That has to have been over 55 years ago. I probably was 16 or 17.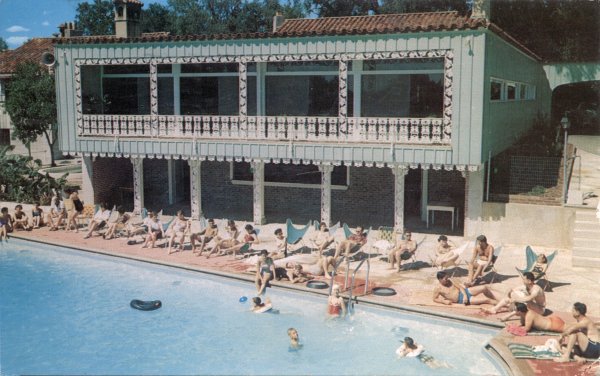 The pool and hotel at Gulf Hills Dude Ranch and Country Club in Ocean Springs, MS - ca.1955
This would have been in July of 1956 during his vacation there with June Juanico. Staying initially at the Sun 'N Sand Hotel Courts on West Beach in Biloxi, Elvis relocated across the bay to the Gulf Hills Dude Ranch and Country Club and then a villa there because of the fans and for more privacy. Gulf Hills was originally planned as a playground for the rich in the late 1920s with the intention of developing the area as a community for winter escapes and eventual retirement homes until the depression halted that plan. They later adopted the Dude Ranch and western theme as a gimmick to attract visitors (see Gulf Hills history reflects an era lost in time).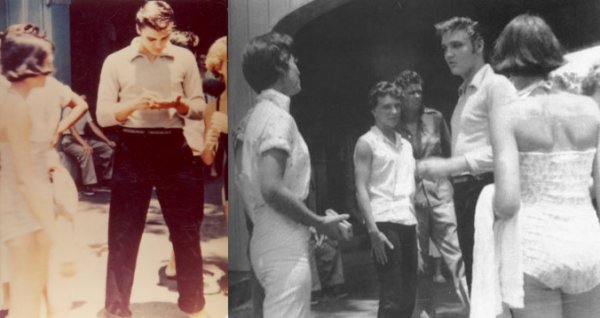 Elvis with fans (left) and June Juanico, Pat Napier and Junior Smith (right) at the
Gulf Hills Dude Ranch and Country Club in Ocean Springs, MS - July 1956
Photos courtesy Brian Petersen and Jim Curtin's Candids of the King
Gladys and Vernon, though likely visited with Elvis and June at the resort, actually stayed at the Sun 'N Sand Hotel Courts. It is probable that the drink menu from the Bungalow just happened to be the most immediate and available thing they could find or had on hand to get Elvis to sign when the opportunity presented itself.

The autograph from Elvis to Marty Hooper - Sep. 2012
Photos courtesy Gail Reaben
In any case, Marty kept it all this time and ultimately gave it to Gail along with the rest of her scrapbook.
added September 24, 2012
Special thanks to Carol Golemon, Jim Mangham and their cousin Gayle and also to June Juanico Taranto for their assistance with this section.
---
Holiday Greetings from Elvis and the Colonel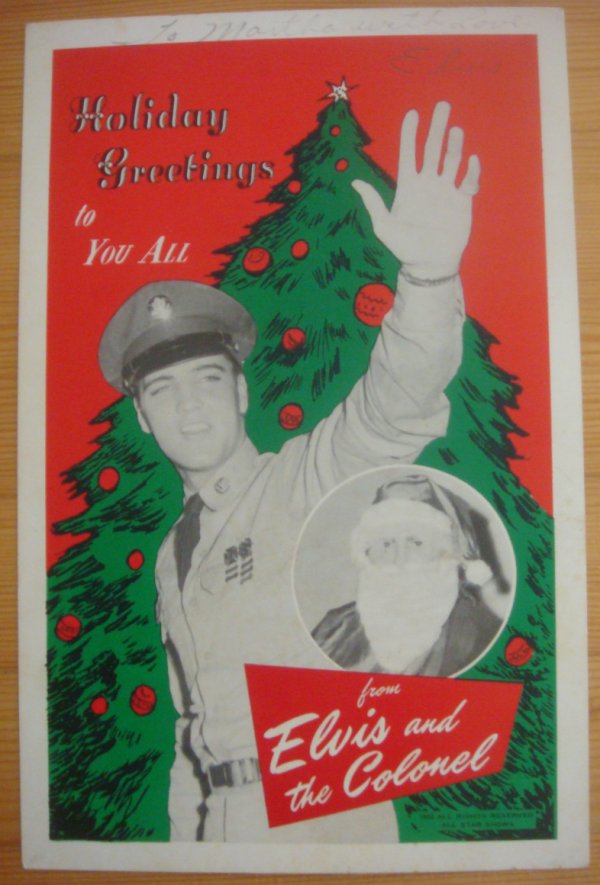 A 1958 Christmas Card signed for Marty ("Martha") from Elvis
Photos courtesy Gail Reaben and eBay
An item recently sold by Gail Reaben from her friend Marty's scrapbook was a 1958 Christmas card from Elvis and the Colonel inscribed and signed by Elvis. The card features a picture of Elvis on the front in uniform taken in September of 1958 during the time of his departure to Germany from Brooklyn, NY along with an insert photo of the Colonel in a Santa suit.


Marty's 1958 Christmas Card with the inscription "To Martha with Love Elvis" in pencil
Photos courtesy Gail Reaben and eBay
The inscription, in pencil, reads "To Martha with Love Elvis." The back of the inscription shows red ink on the indentation probably as a result of Elvis signing several in a batch.

The stamp from Bill Williams Restaurants in Houston on rear of Christmas Card
Photos courtesy Gail Reaben and eBay
This card is stamped on the rear "Compliments of Bill Williams Restaurants" indicating it was likely obtained for Martha by someone at the request of Bill Williams. Williams, from Houston, owned and operated a chain of restaurants in the area and was a good friend of Colonel Parker.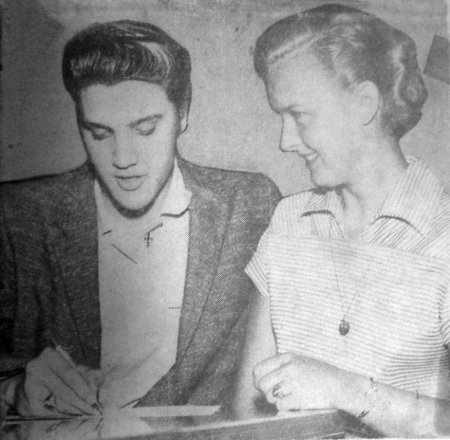 Elvis signing an autograph for Jo Ann Williams, Bill's 18 year old daughter, at the So. Main St. restaurant when in town to pick up his 4th Cadillac - June 13, 1956
Houston Chronicle Photo courtesy Gail Reaben and eBay
Elvis, when performing in the area in the '50s, had been known to eat there and at the Colonel's suggestion no doubt, had even written a letter of endorsement for one while filming Love Me Tender.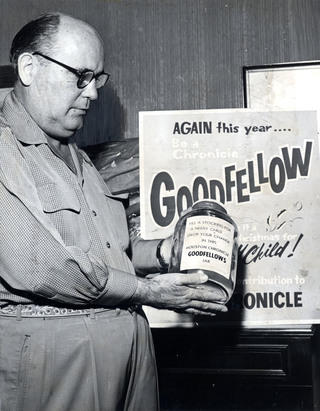 Restaurateur Bill Williams at the Chicken House in 1960
Photo by Al Startzman © Houston Chronicle
Williams was also an executive committee member of the Houston Livestock and Rodeo Show which was originally held in the Sam Houston Coliseum, a venue that hosted one of Elvis' last appearances in Texas in the 1950s. In 1970 his association with the Colonel was instrumental in getting Elvis to perform at the Houston Astrodome. According to Francesc Lopez and Elvis Presley in Concert, he sang to audiences totaling 207,494 in six shows in the 40,000 seat arena which were his first appearances outside of Las Vegas after returning to performing live.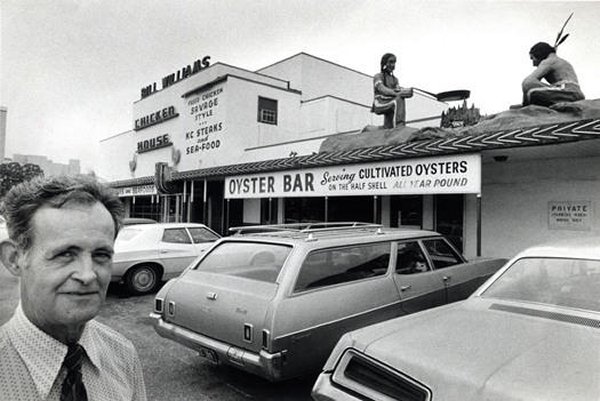 Manager Walter Roberts at Bill William's Chicken House on S. Main St. in Houston prior to closing in 1973
Photo by Curtis McGee © Houston Chronicle
section added December 9, 2012