Slavonian Lodge
Biloxi, MS
The seafood industry is at the heart of Biloxi's culture and history, and ethnic diversity is at the heart of the industry. The arrival of Croatians (people of South Slavic origin mostly from Croatia, Bosnia and Herzegovina and nearby countries) in Biloxi, Mississippi is tied to the oyster industry which began in that city around 1880. Croats dominated the oyster and shrimp trade in Biloxi and also became very active socially, having a CFU (Croatian Fraternal Union) lodge as early as the1930s . The Croats had their own hall, Slavonian Hall (1939).1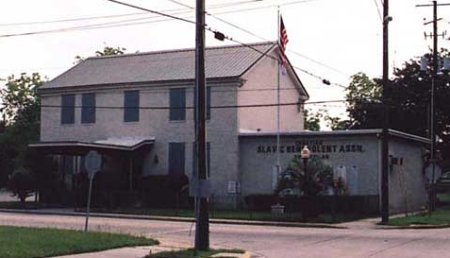 The Slavonian Lodge in Biloxi at Myrtle and First Streets
Photo courtesy Sun Herald
The lodge, a 13,000 square-foot building which was able to accommodate 600 people, was located on the corner of Myrtle and First streets on Point Cadet. Originally the Austrian Benevolent Association, and then the Slavonian Benevolent Association, the various name changes of the Slavic Benevolent Association indicate that the lodge welcomed members from various Slavic ethnic groups: Croats, Serbs, Slavonians.1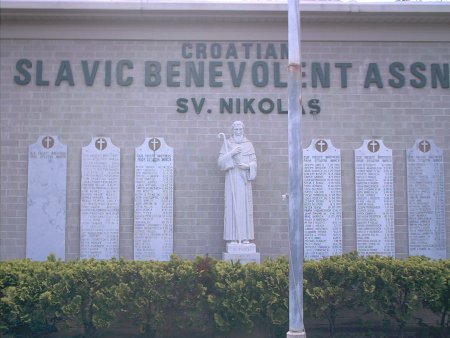 Statue of St. Nicola and the tablets at the Lodge
Photo courtesy Sun Herald
Predominantly Catholic, outside the lodge stood a statue of their patron saint, St. Nicola. Flanking the statue were cement tablets inscribed with the names of all the Slavic families who had settled on the Coast. In the beginning, only full-blooded Slavonian men could join, but the dynamics of culture and environment stimulated an alteration of cultural boundaries. Full-blooded Slavonians were hard to come by, and so eventually they opened the doors to men whose fathers were Slavonian. In recent years they have allowed sons of Slavonian women to join.1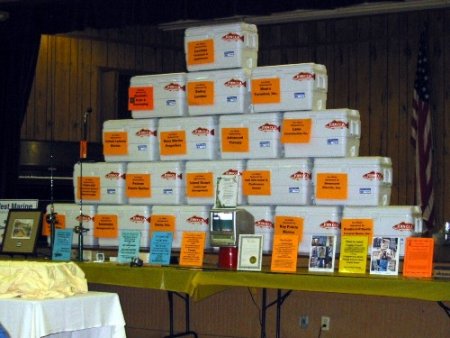 Stage during Biloxi Bay Chapter Fundraiser in Lodge - Apr. 2, 2005
Photo courtesy Mike Sharpe


Biloxi Bay Chapter Fundraiser at Lodge - Apr. 2, 2005
Photo courtesy Mike Sharpe
The lodge had a large dining/meeting area, a kitchen, a barroom, and card playing rooms upstairs. It hosted wedding receptions, banquets, and a dinner during the annual golf tournament fundraiser. The dining/meeting area was an open room with the stage at the distant end from the entrance.1 The hall has often been used to host dances for local youth.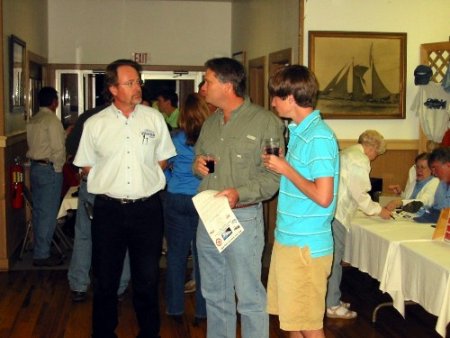 Biloxi Bay Chapter Fundraiser at Lodge - Apr. 2, 2005
Photo courtesy Mike Sharpe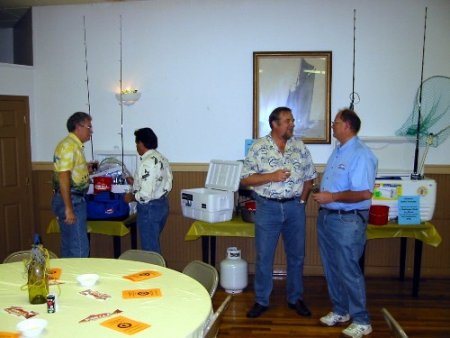 Biloxi Bay Chapter Fundraiser at Lodge - Apr. 2, 2005
Photo courtesy Mike Sharpe
Hanging on the walls inside were poster size photographs of the old Biloxi schooners. Some of the men could point to a boat and name the builder and/or the owner, the boat's dimensions, and relate remarkable stories about the vessels. When asked about Slavonian heritage and about the seafood culture, lodge members really opened up, and the stories came rolling out.1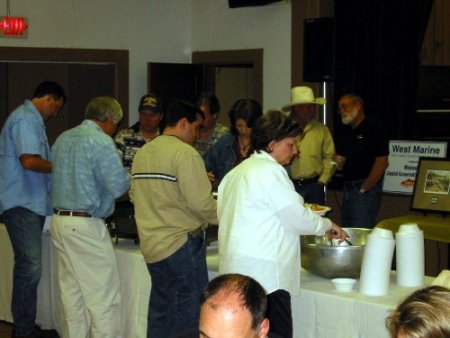 Biloxi Bay Chapter Fundraiser at Lodge - Apr. 2, 2005
Photo courtesy Mike Sharpe
Slavonian women have their own organization, the Ladies' Auxiliary. The day before Christmas Eve the Ladies' Auxiliary gathered at the lodge to prepare pusharatas, a Slavonian doughnut filled with fruit, cinnamon, nutmeg, raisins, and other delicacies. Each woman has her own recipe, every one different, and none wrong. They would sell over 500 dozen pusharatas to Biloxians before the day was over.1
Frank "Yankie" Barhanovich, a Biloxi native and district manager for American National Insurance Company who had gotten into the talent booking business partly because his young daughter was a rising star, was booking the Slavonian Lodge. Martha Ann Barhanovich, for a time, recorded under the name of Ann Raye on Decca. Yankie said in an interview. "We met Elvis at Jesuit (High School) auditorium. We played two shows. One in the afternoon, one at night. They paid each of them a hundred and fifty dollars."2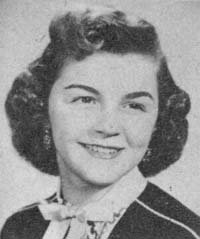 Martha (Ann Raye) Barhanovich
Photo courtesy Hillbilly-Music.com
Martha (Ebberman), now a grandmother and owner of Burger Burger restaurant, recalls: "I said to Daddy, 'You need to book him in Biloxi.' I saw something in Elvis. I was a teenager myself. Daddy was booking all these people not as young as Elvis, and well, I just knew Daddy needed to book Elvis for people my age. But I don't think he was too impressed the first time, not with the way Elvis jiggled.3 Barhanovich booked Elvis at the Slavonian Lodge after meeting him, wanting to try him out.2

Advertisement for show at Slavonian Lodge - June 25, 1955
ad courtesy Ger Rijff
On June 26, 1955, Elvis, Scotty and Bill performed in Biloxi at the lodge. The lodge that night was dedicating its new air conditioning unit, making it the newest air conditioned venue along the coast.2 An advertisement in the Biloxi newspaper that day before read: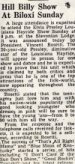 Hill Billy Show At Biloxi Sunday
A large attendance is expected to attend the Elvis Presley Louisiana Hayride Show Sunday at 8p.m. at the Slavonian Lodge, it was announced today by President Vincent Rosetti. The 20-year-old Presley, diminutive star of the Louisiana Hayride, will appear in person for one show and dance and he is expected to prove that his unit which is claimed by both critics and press that he is one of the top attractions of the folk-world, now appearing throughout the country.
Rosetti stated that the teenagers just love him and with his nation-wide popularity this good looking youngster who dresses in pink will be sure to have the young 'uns—from 9 to 90 with him all the way.
From the response and the telephone calls received for tickets, it is expected to be a sellout, according to Rosetti. The success of "That's All Right Mama" and "Blue Moon of Kentucky" started a series of hits including "I Don't Core if the Sun Don't Shine," "Good Rockin' Tonight" and his latest release .....
Those who didn't catch Elvis' appearance at the Slavonian Lodge were being told as early as the next day what they missed, and as early as two weeks later, they were drowning in their sorrows as Elvis' reputation began mushrooming. "It was so different from any type of music, that you couldn't even relate to it at the time," said Salvadore "Penue" Taranto, who played in Johnny Ellmer's Rockets, the band that Elvis filled in for that night. Barhanovich "asked us if we would mind if he brought Elvis in for one night," said Taranto. "We didn't mind. It was a Sunday night and we wanted a night off. I had heard Elvis on the juke box before the Slavonian gig, so I dropped by the Lodge to see him. We used to play the Lodge and we'd get three hundred, four hundred kids in there. On Elvis' first show, they had about fifty to seventy-five. It was just real different, Rockabilly. Here was everybody making fun of this guy shaking like he had something wrong with him. But what he did, he did good. When he popped that first hit, he really took off!"3
John Lewis was a teenager working part time at Rosetti's restaurant on Point Cadet in Biloxi, a few doors down from the Slavonian Lodge. The lodge often had dances for the Coast's young people, for a whopping $1.25. Rosetti's profited from these events because people were hungry and would come for po-boys, the French bread sandwich that Vincent Rosetti popularized. Barq's, the now popular national root beer, was created in Biloxi so it was commonly served there, too.3

Shrimp Po-boy and a Barq's from Schooners (Rosetti's)
Photo courtesy Wombat Nation
Lewis would go to the dances but during breaks run over to Rosetti's to help with the expected crowds. Lewis, at 68, recalled: "Mr. Rosetti was president of the Slavonian Lodge, too, and whenever a band took an intermission, he'd bring them down to the restaurant kitchen to feed them. Elvis wasn't well known at that time but it was a nice band. I remember bringing Elvis a Barq's root beer, and if my memory serves me right, Mr. Rosetti fixed them all shrimp po-boys. Every time I gave Elvis! s something, he thanked me politely. But I noticed every time I walked by his table that he was a nail-bitter. He really bit his fingernails down. I remember that because my grandmother would have knocked my head off if she'd caught me doing it. I knew that wasn't the thing to do, so I was surprised to see Elvis doing it."3
Though this was Elvis' only show at the Lodge, Barhanovich booked him the next two nights at the Keesler Airmen's club. Barhanovich remembers Elvis wasn't an instant hit in Biloxi. "My brother members at the Lodge were all making fun of me for bringing in this hillbilly," he laughed. "They booed him at Keesler several times when we did the shows out there."3 The following November Barhanovich brought Elvis back for a show at the Bilxoi Community House and two more nights at Keesler. After that he became just too expensive.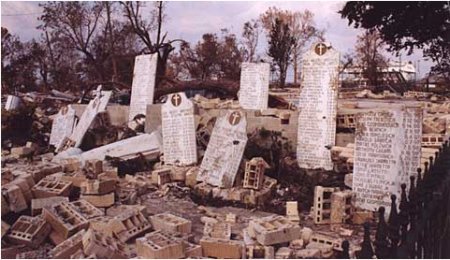 The remains of the Slavonian Lodge after Katrina - 2005
Photo courtesy Sun Herald
Today the Croatian community is still active in the seafood industry but is also present in various professions while demonstrating an active role in community and political leadership. In August of 2005, Hurricane Katrina devastated the Mississippi Gulf Coast displacing approximately half of the 10,000 Croatians living there. The tidal surge swept inland for ten miles, destroying the Slavonian Lodge, as well as almost all of the Croatian community in East Biloxi.4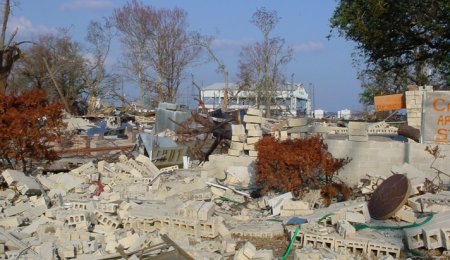 The remains of the Slavonian Lodge after Katrina - 2005
Photo © Aftermath of Katrina
At the time of Katrina, the Slavonian society's president was Andrew Gilich and he vowed that the Slavonian Lodge will be rebuilt on East Biloxi Avenue.4 The Slavics believe in staying on the Point. They've received several enticing offers since the hurricane to sell their corner lot. So members are busy searching for a new property to call home.5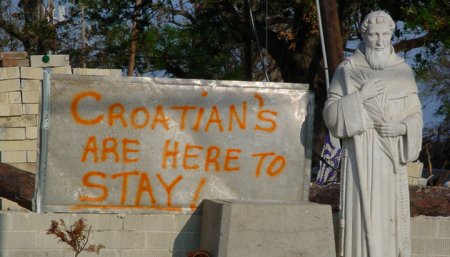 The remains of the Slavonian Lodge after Katrina - 2005
Photo © Aftermath of Katrina
As of November of 2008, the City Hall approved variances which will allow plans for construction of a new lodge in the Third Street neighborhood on Point Cadet. The association is temporarily meeting in downtown Biloxi where they took over some office space on Main Street.6 The Slavic Ladies Auxiliary to date has continued having its annual pusharata sale.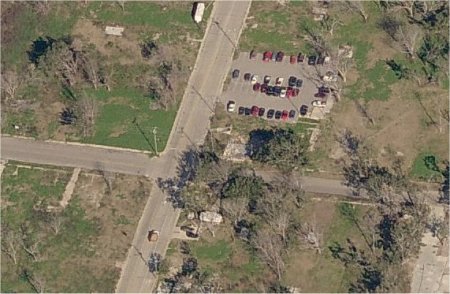 Intersection of Myrtle and First Streets in Biloxi - 2008
Photo courtesy Microsoft EarthData
page added December 10, 2008
1 excerpt from Mississippi Folklife: Culture and Identity in the Biloxi Seafood Industry by Aimee Schmidt
2 excerpt from "Early Elvis: The Sun Years" by Bill E. Burk
3 excerpt from "When Elvis came to the Coast", Biloxi Sun Herald, March 2005 republished August 16, 2007
4 excerpt from "Hurricane Katrina Destroys Biloxi's SlavonianLodge" by Dr. Arthur B. Keys, Jr. for IRD
5 according to Biloxi City Council to Consider Zoning Change to Allow New Slavic Benevolent Lodge from: City of Biloxi Vincent Creel June 9, 2008
6 excerpt from Slavic Golf Tourney Is Back by Brad Kessie WLOX-TV and WLOX.COM
---
Airmen's Club - Keesler AFB
Biloxi, MS
Keesler Air Force Base in Biloxi, MS was activated in 1941 as an Army Air base when the Air Force was still part of the Army. It was named in honor of 2nd Lieutenant Samuel Reeves Keesler, Jr., of Greenwood, MS who had died of wounds during WWI while serving in France as an aerial observer with 24th Aero Squadron, U.S. Army Air Service.1

Entrance to Keesler AFB, Biloxi, MS - c.1950s
Photo courtesy Keesler AFB - Library
The Airmen's Club at Keesler opened in 1951 as a recreation and entertainment center for enlisted service personnel stationed there. The original building was formerly a warehouse that was converted into two function rooms (the Continental Room and Rustic Room), a cafeteria/mess hall and office space. The club was also occasionally used to book dances and concerts that were attend by the locals in addition to the service personnel.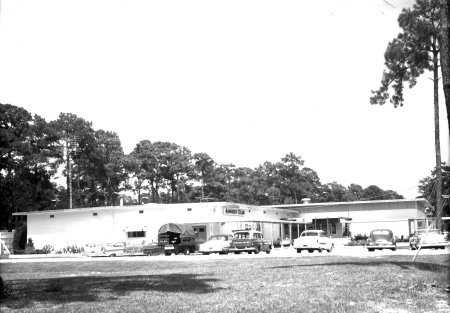 The Airmen's club - c1958
Photo © Rusty Zoller
By 1954, the club was run by Master Sergeant Otto Zoller who booked all kinds of entertainment for the young airmen, everything from comedy acts and magic shows to country music, to give them variety. When Frank "Yankie" Barhanovich, a Biloxi promoter who had met Elvis at the Jesuit High School in New Orleans and had booked them in Biloxi at the Slavonian Lodge for June 26, 1955, Zoller decided to try Elvis and also booked them for the following two nights for their first appearances at the Airmen's Club.
Ads in the Keesler News, the base newspaper, days before the shows read:

Recording Star Elvis Presley At Airmen's Club
One of the start of the popular Louisiana Hayride radio show, Elvis Presley will be a headliner on a musical comedy stage show set for the 27th and 28th of this month at the Airmen's Club.
Backing up the young recording star will be Elvis' side kicks, Scotty Moore and Bill Black who are also members of the Louisiana Hayride cast.
Presley, a good looking youngster whose promising career started after a recording manager overheard him making a personal recording, has become a juke-box favorite with his "That's Alright, Mama," and "Blue Moon of Kentucky."
Presley is expected to repeat some of his hit tunes at the Airmen's Club show in addition to mixing up a few country tunes with some "bop" and novelty numbers.
Louisiana Hayride Star Booked For Club
Elvis Presley, 20 year-old vocalist from the Louisiana Hayride show, is slated for personal appearances at the Airmen's Mess next Monday and Tuesday from 6 to 10 p.m.
Presley's success has been attributed to the fact that he offers his country music in the fastest selling style available and appeals to crowds of all ages.
He came upon his career quite by accident when a recording manager heard him making a personal record. He immediately signed Presley to a singing contract and some of his following recordings of "Blue Moon of Kentucky," "That's All Right Mama," and "Good Rockin' Tonight." Presley also does a number of novel and rhythmic tunes on his show that he has not recorded.
Providing accompaniment for the singer is Scotty Moore on the hot guitar and Bill Black thumping the bass.
According to Barhanovich, Zoller was not satisfied with Elvis' shows, "and I asked him, 'How in the world can you not be satisfied with this man's work when you can't put another person in the building? He wanted Elvis to sing more songs, so I went up to Elvis and told him. "And Elvis said, 'Yankie, I only know seven songs.' "So I told him to sing anything. 'You know, like they mix up jambalaya. Mix it up.' He was trying to play the piano. He couldn't. Ann (his daughter) told him; You can't even play the guitar, much less the piano.'"2
During the first show at Keesler, Elvis also met June Juanico, a local Biloxi girl that he would start dating regularly over the next year. He would ask for her every time he came back to Biloxi and would eventually vacation with her in Biloxi and have her come along on tours prior to going to Hollywood.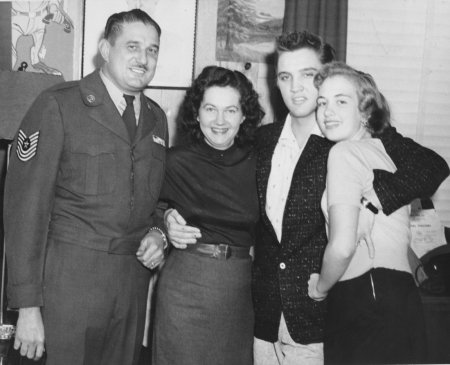 Otto and Gladys Zoller, with Elvis and Kay Brodnax at Keesler AFB - Nov. 1955
Photo © Ray Zoller & Rusty Zoller
Sgt. Zoller thought Elvis was a nice kid and was impressed with how polite he was, but he didn't think he would go anywhere with a music career. Though he may not have been impressed, Elvis became the talk of Biloxi after those first three nights. "I told Bob Neal, his manager, I would like to book him another week, but the price went up from a hundred and fifty a night to three hundred dollars a night, said Barhanovich. "We booked him for a second week."1 According to Dan Seal, a bandleader who owned the Hambone Club in Gulfport just west of the Airbase, Keesler had agreed to have Elvis back a second time only if there was another band, so Barhanovich arranged to have Seal and his four-piece band open the show and in exchange Elvis would play several nights at the Hambone.3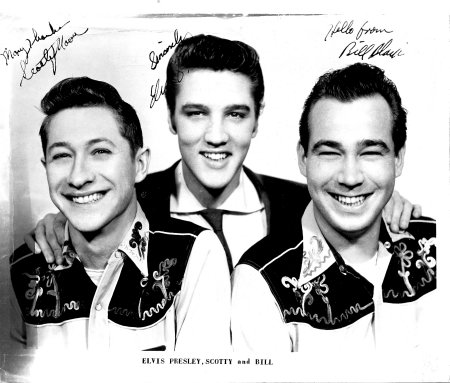 Photo autographed by Elvis Scotty and Bill for the Zollers
Photo courtesy Rusty Zoller
"I told him if he would go down there, Dan Seal would play the first forty-five minutes to lighten his load," Barhanovich said. The following November, Barhanovich booked Elvis into the Biloxi Community House on the 6th and then two more nights on 7th and 8th at the Airmen's Club. According to Barhanovich, "He packed them in, though. They were climbing through the windows. Later, I tried to book him again and he (Neal) wrote me back and said he's fifteen hundred dollars a night now. I replied, 'Let me know when he gets back to three hundred a night and I'll take a week."2
Rusty Zoller, Sgt. Zoller's son, said, "after the 2nd time my dad said he wouldn't book Elvis again, mainly because the local girls were climbing in the windows to see him and it was a crowd control nightmare. However, my dad made a statement we never let him live down, "…besides, he doesn't have any talent – he'll never make it." Elvis would sign with RCA by the end of the month. We ribbed my dad about it all the rest of his life.

Headlines of the Biloxi Daily Herald tell of Fire at Airmen's Club - Jan 14, 1956
Keesler News Photo courtesy Rusty Zoller
In January of 1956, just over two months after Elvis' appearance at the Airmen's club, it caught fire and burned down. The Biloxi Daily Herald reported:
Fire destroyed the airmen's Open Mess at Keesler AFB, Saturday morning. Keesler and Biloxi firemen fought the blaze in weather that dipped below freezing. Loss to the building and contents was estimated at $160,000. The fire was discovered by a cleanup crew around 5:30 and the alarm turned in. The blaze was believed to have started in an electrical circuit system in the ceiling of the building.

Charred wreckage of the Airmen's club - Jan 14, 1956
Keesler News Photo courtesy Rusty Zoller
Forty firemen from Keesler and twelve from Biloxi were in the fire fight directed by Chief F. L. Boteler. Eight lines were laid and nine pumpers and trucks were used. Flames that towered more than 50 feet engulfed the one story framed building and flying sparks endangered the Field Printing Plant nearby, but firemen quickly controlled that threat.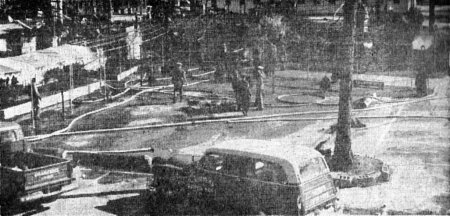 Awning entrances remain to the burned Airmens club - Jan 14, 1956
Keesler News Photo courtesy Rusty Zoller
Records were salvaged from the office of the building, but other contents and furnishings valued at approximately $110,000 were destroyed. This was covered by insurance. The Airmens' open mess would have observed its fifth anniversary in the building this month. Converted from a surplus warehouse, it was developed into a fine recreation center that included a Continental Room, a Rustic Room and a cafeteria. Three Biloxi pumpers from Central, West End and Back Bay stations also went to the scene.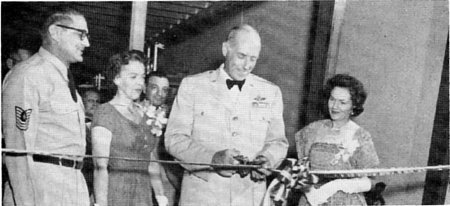 Ribbon cutting at the new Airmen's club - April 1958
M/Sgt. Zoller, Mrs. John R. Sutherland, Gen. Sutherland and Mrs. Zoller
Photo from AF Club Management - April 1985 courtesy Rusty Zoller
By April of 1958, the Airmen's club had been rebuilt on the original foundation of the old club at a cost of $36,045.4 Part of the central heating system from the destroyed club was salvaged and used in the new club as well. The new building covered more than 20,000 square feet of floor space, contained a main ballroom with a maximum capacity of 804 with a 90 foot semi circular bar running along one side of it. The was also a cafeteria that sat 110, banquet room with 150, television lounge that accommodates 50, two game rooms accommodating 60, manager's office, accounting office, two-window cashier's cage, kitchen and four storerooms.
After Elvis entered the Army in 1958 and Scotty produced and recorded the hit "Tragedy" with Thomas Wayne, he returned and performed at the Airmen's club once again with Thomas.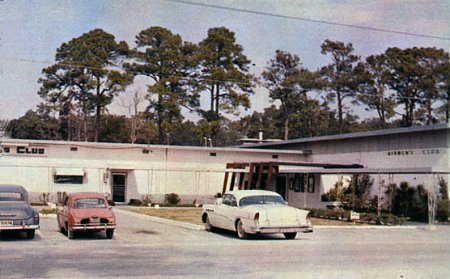 The Airmen's Club at Keesler AFB - c1960
Photo courtesy Tasha Hairston, 81st TRW Historian, Keesler AFB
Joel Scarborough who had met Elvis, Scotty and Bill at Pontchartrain Beach in 1955 prior to joining the Air Force was assigned to Keesler in 1960 where he worked for Armed Forces Radio and for the office of Public Information until his discharge in 1964. While stationed at Keesler he wrote publicity articles for the Keesler News about featured performers and also worked part-time at the local Radio station. For the next ten years while in Biloxi, Otto Zoller provided him with opportunities to "bring on" acts that appeared at the Airmen's Club like Jerry Lee Lewis, Johnny Rivers, Bill Haley, Jim Weatherly, Brenda Lee, Dale & Grace, Charlie Rich and many more.
Otto Zoller was involved in managing Air Force service clubs for most of his 27 years in active duty and for 10 years after he went into civil service. He ran the Airmen's club at Keesler until 1970. According to Joel, Otto came down with Parkinson's disease in the 70s and they sold their home in Biloxi and moved next door to Rusty's country home in Livingston Parish, Louisiana. He died a few years later. His two sons Rusty and Ray are both former deejays. Rusty is now retired and living near Baton Rouge, Louisiana and Ray is the IT director for Encana living in Evergreen, Colorado. Joel relocated to Los Angles in 1970 after losing much in Hurricane Camille.
June Juanico later married Fabian Taranto, the cousin of Salvatore Taranto, who's band Elvis had replaced at Slavonian Lodge.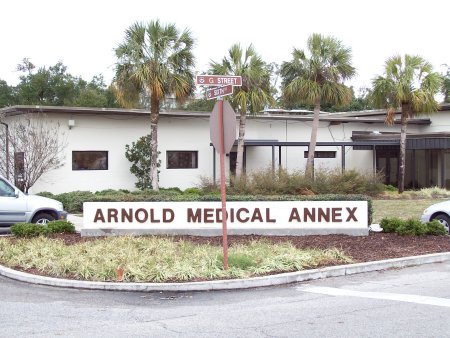 Arnold Medical Annex (formerly Airmen's Club) at Keesler AFB - Dec. 11, 2008
Photo courtesy Tasha Hairston, 81st TRW Historian, Keesler AFB
The building (Building 5901) that was the Airmen's Club at Keesler is now called Arnold Hall and houses the Arnold Medical Annex. In addition to the Airmen's club, over the years it was also used for Medical Services Operational support, ex. Physical/occupational therapy, brace shop, Bio Environ mental offices, media center, Red Cross office and since 2006, as an Armed Services Blood Program center.4

Arnold Medical Annex (formerly Airmen's Club) at Keesler AFB - Dec. 11, 2008
Photo courtesy Tasha Hairston, 81st TRW Historian, Keesler AFB

Blood donor center opens new facility
By Jill Peterson
---
81 st Medical Support Squadron
Today at 1 pm., a formal ribbon-cutting ceremony marks the opening of Keesler's new Armed Services Blood Program donor center in the Arnold Annex, adjacent to the temporary lodging facility.
The center, one of only three ASBP centers in the Air Force, enables Keesler donors to give blood on a regular basis. The other locations are at Wright-Patterson Air Force Base, Ohio, and Lackland AFB, Texas.
ASBP is a joint—services mission that provides blood for American armed forces at home and abroad.
Blood donations through the ASBP benefit the military community and provide direct, immediate impact to support the global war on terror and ongoing operations in Iraq and Afghanistan.
ASBP donors help ensure the blood is available to the military community. More than 79,000 blood products are transfused at military hospitals each year.
The military has transfused more than 68,000 blood products in support of Operations Iraqi Freedom and Enduring Freedom.
Soon after Hurricane Katrina, the blood center began handling processing and blood distribution in a temporary shelter, rather than the former location in Keesler Medical Center's laboratory.
The 81st Training Group provided a room in Bryan Hall for a drawing location.
The staff sets up blood drives on base and throughout the region. The staff travels to other bases, such as Tyndall AFB and Naval Air Station Pensacola, Fla., and Maxwell AFB, Ala. The team has also participated in joint drives at the U.S. Military Academy in New York and the Air Force Academy in Colorado.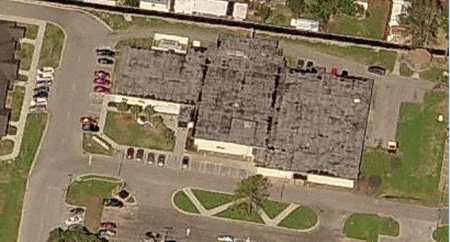 Aerial View of Arnold Hall (formerly Airmen's Club) - 2008
Photo courtesy Microsoft EarthData
page added December 10, 2008, updated December 11, 2008
Keesler News ads for Elvis' appearance are courtesy Ger Rijff. Special thanks to Joel Scarborough, Rusty and Ray Zoller for their input and assistance with the history of these venues.

1 courtesy Keesler Air force Base - Facts Sheet
2 excerpt from "Early Elvis: The Sun Years" by Bill E. Burk
3 excerpt from "When Elvis came to the Coast", Biloxi Sun Herald, March 2005 republished August 16, 2007
4 courtesy Tasha Hairston, 81st TRW Historian, Keesler AFB

---
Biloxi Community House
Biloxi, MS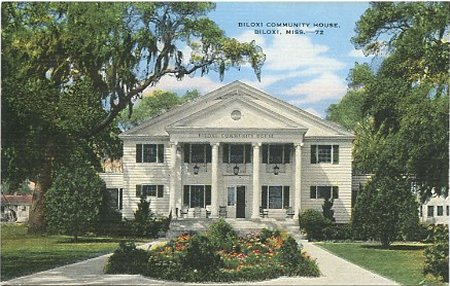 Biloxi Community House - c1930-1945
postcard courtesy eBay
The Biloxi Community House was a huge two story structure built in 1931 facing the Gulf on East Beach Boulevard near the small craft Harbor in the Point Cadet area of Biloxi. The oak draped grounds contained four cannon embedded in concrete salvaged from the sunken wreck of a Colonial French vessel found in 1892 that sank in Biloxi Bay near Fort Maurepas during the early 18th century French occupation.1

Over the years the Community House played host to a variety of city events from concerts to Mardi Gras balls to productions of the Biloxi Little Theater group. According to Joel Scarborough, who emceed many events there, it was run and maintained by the Slovonian Lodge. Yankie Barhanovich, who was later responsible for building the Biloxi Coliseum, promoted many shows there. On November 6, 1955, Barhanovich booked Elvis to perform at the Community House during a return visit to Biloxi and prior to his last two appearances at Keesler Airmen's Club. Barhanovich's daughter, Ann Raye, also shared the bill.
Elvis Presley In Two Shows At Biloxi Sunday

Frank Barhanovich, chairman of the East Harrison County Lion's Club's fund raising campaign for the Daily Herald Doll and Toy Fund said today that he expects a large attendance at the Elvis Presley shows in Biloxi Sunday. The two shows, scheduled for the Biloxi Community House, will be at 2 p.m. and at 8 p.m., with a dance following the 8 o'clock performance.
Peewee Maddux, Jim Owen, Dan Seals, Eddie Camp, Ernie Chaffin and others will assist Presley with the two-and-a-half-hour show. In addition, fans will have an occasion to hear a record recently released by little Betty Ashley, Pascagoula. Barhanovich said that Miss Ashley's recording promises to be one of the country's leading hillbilly tunes.
Proceeds from the shows will go toward the benefit of the Biloxi Doll and Toy Fund, Barhanovich said.
Elvis Presley started singing in his home town of Tupelo, Miss. His first experiences were singing in churches, schools, and on street corners.
His first recording was "That's All right", backed up by "Blue Moon of Kentucky," on the Sun label. A self-taught musician, Presley worked out his unique singing style while listening to records and picking out tunes on an inexpensive guitar.
Only 19, Presley enjoys playing football, listening to records, and going to movies.
Tickets for the shows are available at Kimbrough and Quints Drug Store, Grants Drug Store, Avenue Pharmacy and the Sport Center.

courtesy HCLS Local History and Genealogy Dept. Biloxi Public Library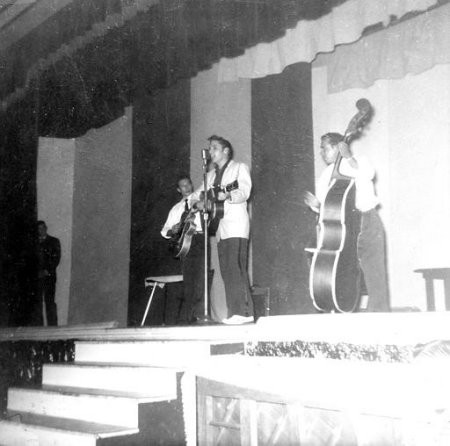 Scotty, Elvis and Bill at the Community House in Biloxi - Nov. 6, 1955
AP Photo Al Lewis

June Juanico (on right) at an event at the Community House - ca.1960
Photo © courtesy June Juanico Taranto (added 9/29/12)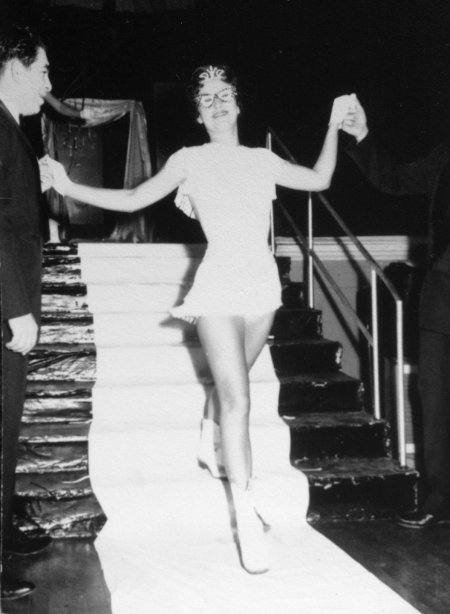 June Juanico (on right) at an event at the Community House - ca.1961
Photo © courtesy June Juanico Taranto (added 9/29/12)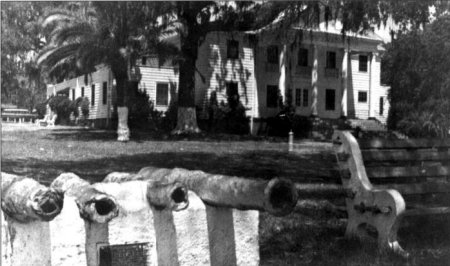 Biloxi Community House - c 1960s
Photo from Scholtes Collection courtesy Maritime Biloxi by Val Husley
The Community House also saw other acts like the James Brown review and the "Shindig Show", but on August 17, 1969 it was destroyed by Hurricane Camille.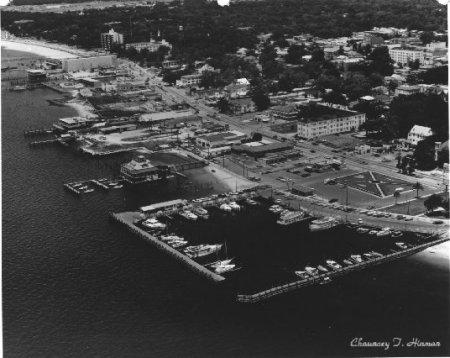 Biloxi Yacht Club (over water) and small craft harbor before Camille
Photo by Chauncey Hinman © Harrison County Library

Biloxi Yacht Club (over water) and small craft harbor after Camille - Aug 1969
Photo by Chauncey Hinman © Harrison County Library
Today the site is occupied by the Santa Maria retirement home, near the Hard Rock Cafe/Hotel/Casino. The cannons are still there.

Retirement home on grounds of the former Community House - 2008
Photo courtesy Microsoft EarthData
page added December 10, 2008
1 according to Maritime Biloxi by Val Husley
special thanks to Jane Shambra and Jamie Ellis of the Biloxi Public Library for their assistance with the article from the Biloxi Daily Herald
---