Allen County Memorial Coliseum
Fort Wayne, IN

The Allen County Memorial Coliseum - ca. 1952
Photo courtesy Allen County Community Album
In 1944 the buildings in the Fort Wayne area were too small to house larger community functions such as sports events and concerts so the Jaycees proposed the undertaking of a project to build a field house as a war memorial, ultimately The Allen County War Memorial Coliseum. The idea of a permanent memorial to Allen County's war heroes appealed to many residents and a county-wide referendum was passed in 1946.

The Allen County Memorial Coliseum - ca. 1952
Photo courtesy Allen County Community Album
The site purchased was 60 acres of prime real estate located 2 miles outside the city's center at California Road and Parnell Avenue, near two farms, Johnny Appleseed Park and US highway 30 under construction nearby. Financing was secured through a bond issue and they broke ground for the project in January of 1950.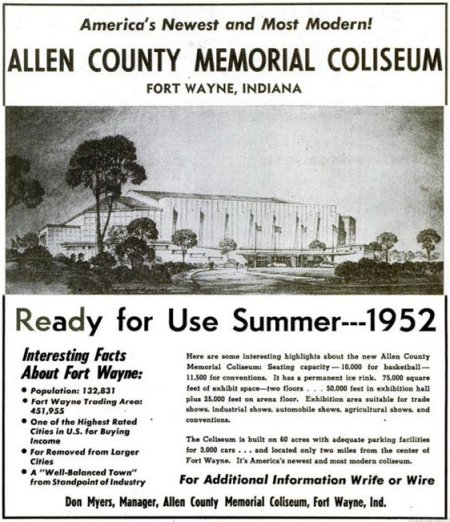 Billboard Magazine article and ad - Dec. 22, 1951
The $3 million coliseum was completed and dedicated as a permanent memorial to Allen county WWII veterans on September 28, 1952 in a ceremony with 24 area veterans' organizations and 10,000 people attending.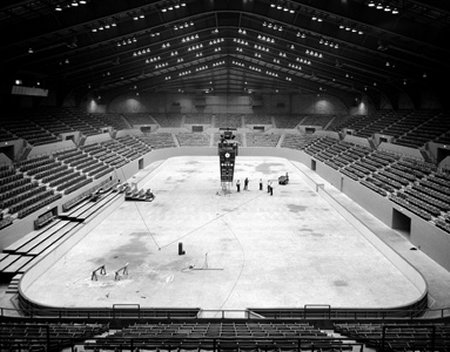 workers adjusting the arena scoreboard at the Coliseum - ca. 1952- Aug. 25, 1952
Photo courtesy Allen County War Memorial Coliseum
The Coliseuem at the time had 75,000 square feet of exhibit space on two floors: 50,000 in the exhibition hall plus 25,000 feet on the 322 foot long arena floor. While the exhibition area was suitable for trade shows, industrial shows, automobile shows, agricultural shows and conventions, The arena had 7,500 permanent seats and sat 10,000 - 11,500 for spectator sports, i.e. basketball, boxing, and also featured a permanent ice rink for hockey.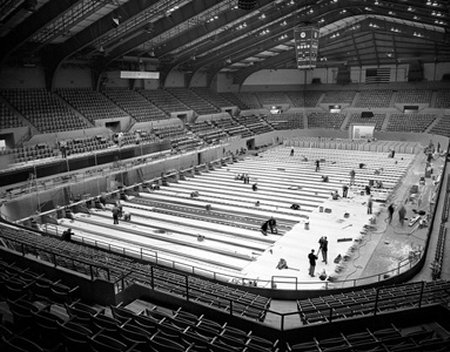 Floor installation for the American Bowling Congress Tournament - Mar. 1955
Photo courtesy Allen County War Memorial Coliseum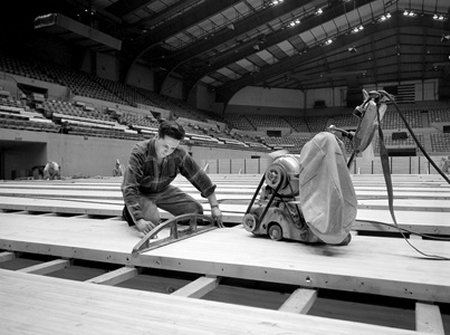 Floor installation for the American Bowling Congress Tournament - Mar. 1955
Photo courtesy Allen County War Memorial Coliseum
The Memorial Coliseum quickly became the site of major professional and amateur sporting events, circuses, ice skating shows, religious gatherings, political rallies, civic and school events and patriotic observances. The Fort Wayne Komets hockey team started playing at the Memorial Coliseum in 1952 and would win a total of six championships. The Zollner Pistons, Fort Wayne's first pro basketball team, moved to the Memorial Coliseum in 1952 and played five seasons there before moving to Detroit in 1957. The NBA All-Star game was played at the Memorial Coliseum in 1953 to a sell-out crowd of 10,322 fans.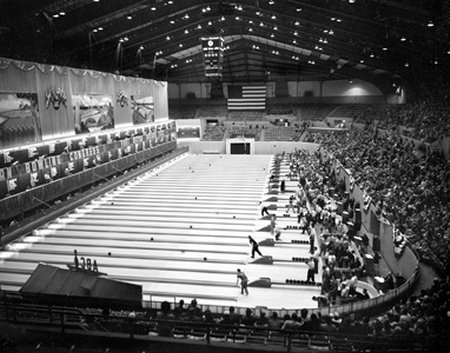 The American Bowling Congress Tournament in the Memorial Coliseum - Mar. 1955
Photo courtesy Allen County War Memorial Coliseum
High school basketball semi-state tournaments were also held at there from 1953 to 1998. In the spring of 1955 more than 31,000 bowlers came from 42 states, the District of Columbia, Canada, Alaska, Ontario, Quebec, Manitoba and even Saudi Arabia to compete for more than $425,000 in prize money.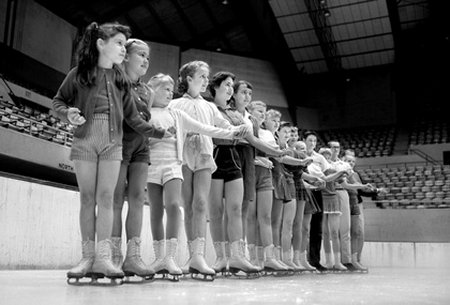 Summer Skating School at the Memorial Coliseum - June 26, 1957
Photo courtesy Allen County War Memorial Coliseum
On March 30, 1957, Elvis, Scotty, Bill and DJ performed at the Memorial Coliseum in Fort Wayne on the third stop of their first tour of the year. The tour had started in Chicago and included stops in St. Louis, Detroit, Buffalo, Toronto, Ottawa and end in Philadelphia. This was only their second appearance in the state of Indiana, the first being a four-day stretch in December of 1955 at the Lyric theater in Indianapolis. The appearance was well heralded in the local press.
$2.98 GUITAR STARTED IT
Presley To Shoot For New Coliseum Crowd Record

From a $2.98 guitar to the fanciest clothes, cars and homes is the amazing success story of Elvis Presley, who is now gunning for a new Memorial Coliseum attendance and gate receipt record. He'll be shooting for the mark when he appears here Saturday night, March 30.
Because of Elvis' pending career with Uncle Sam, it could be his first and last Fort Wayne appearance. Fort Wayne Enterprises, Inc., sponsors of the Presley appearance here, through their spokesman general manager Ernie Berg, are freely predicting a full house for the Elvis show here.
In the manner of many other Tennesseans, or Southerners, Elvis did quite a bit of singing as a youngster and shortly after his family moved from Tupelo, Miss., to Memphis, he was rewarded with a $2.98 guitar as a gift from his father.
He was going to school days and studying nights when he decided to make an amateur recording as a gift for his mother. He went to the Sun Record Co. in Memphis and cut a record titled 'That's All Right Mama.' Sam Phillips, Sun's president, heard the youngster sing and saw possibilities in his unique style and asked Elvis to leave his name for a possible audition at a later date.
Presley heard no more from Phillips for more than a year and a half and meantime had taken up truck driving, it being a more lucrative job ($35 a week) than ushering at a theater ($14 a week). Then Phillips called and before Elvis knew what had happened, he was hustled into a recording session, a contract was signed and 'That's All Right Mama' with 'Blue Moon Kentucky' on the other side was released.
They clicked, through the plugging of a Memphis disc jockey, and the first week 7,000 of the records were sold in Memphis alone. From then on, things moved fast. He found himself with stacks of fan mail, was called in for more recordings and found himself a celebrity.
It is to his credit that he took it all in stride. 'Heartbreak Hotel,' recorded soon after for RCA Victor, became the big hit that really sent him on his way.

Ft. Wayne News-Sentinel March 1957 courtesy Ger Rijff'

HERE'S ELVIS - Elvis Presley, celebrated singing sensation, will make his first Fort Wayne appearance here Saturday night, March 30, at the Coliseum. His two-hour stage show here is being sponsored by Fort Wayne Enterprises, Inc

Elvis Presley To Try to Set Records Here

Elvis Presley, the singing sensation who has been described as a cross between Johnnie Ray and Marlon Brando, and who has electrified show business just as Marilyn Monroe did when she first broke into public view, will be trying for two new Coliseum records when he appears here Saturday night, March 30.
Presley will be striving to break the Coliseum entertainment records in two divisions - attendance and gross receipts. Bob Hope's first crowd of 11,123 still stands as a crowd record and a $25,000 plus gate was the mark hung up by Liberace.
Presley will be here for one show Saturday evening and Fort Wayne Enterprises, sponsors of his appearance here, say the ticket demand via mail orders has been tremendous. They'll have a better indication of the trend next week when the over-the-counter sale of tickets starts.
Elvis (Mr. Hound-dog to many) will be coming from the West Coast where he is making a movie on the Paramount lot. He'll have a stop in St. Louis en route and will appear in Detroit on Sunday.
The celebrated Tennessee truck driver-turned-singer is one of the more controversial figures in the entertainment field, primarily because of the eloquent hip movements and gestures which accommodate his singing. Presley will have a complete two-hour show here.

Ft. Wayne News-Sentinel March 9, 1957 courtesy Allen County Public Library
Elvis Target In Tirade at City Council

Elvis Presley, the gyrating idol of the bobby-soxers, was the target of a councilman's wrath Tuesday night.
Although councilman John H. Robinson in his tirade against Elvis didn't mention the performer's name, he left no doubt as to his identity.
Presley's scheduled appearance at the coliseum Saturday night caused Robinson to vent his feelings against the teen-agers' idol in no uncertain terms.
He described Presley's exhibition as a "one-man burlesque show."
Robinson teed off on Elvis by referring to him as "a certain entertainer whose exhibition is of the social quality I seriously doubt that the children of Fort Wayne ought to see.
"When that certain character starts exhibiting himself as a 'one-man burlesque show' I think the police ought to step in and stop it," he said.
Robinson said he felt that Fort Wayne citizens should demand that Elvis "put on a decent show."
While none of the other councilmen offered any comment at the meeting, several said afterwards that Robinson's remarks would have little effect on the attendance.
"The Coliseum is already sold out," one councilman said.

Ft. Wayne News-Sentinel March 27, 1957 courtesy Allen County Public Library
George E. Sokolsky

Elvis Fans Speak Up

Since I got off my punditic horse to discuss the affairs of the young, they have been going for me good and proper, telling me of my ignorance of things important and how a square can not be expected to understand anything. I am, however, pleased to know that so many of these teeners read the newspapers because after all, they will some day grow up and get married and even become old. And their kids will regard them as either squares or morons, depending upon what happens to them during the interval.
One young lady of 17 does not think I'm old yet, that is, if I am not over 50. This girl must have gone to a progressive school because she writes:
". . .The schools nowadays teach the children to express themselves. And they sure do. They tell their parents what to do and sometimes where to go. And to be truthful about it the teachers don't know much more about teaching school than their pupils."
Another young lady of 14 writes that she considers herself fairly intelligent. But she has this to say about her favorite, Elvis:
"I am not trying to prove that Elvis is the greatest thing the world has ever known but I am saying that he is by far one of the greatest entertainment personalities ever and the greatest inspiration young people have had to follow in a long while. What I am saying is that when the history of our century is written there should be a nice fat chapter or two devoted to the great Mr. Elvis Presley."
It is too bad that the President of the United States is not the source of such devotion and admiration amounting almost to adoration. Of a child of 14, one expects a romantic view of life, a glorification of an heroic personality. But not this child. She is practical. She says:

How Elvis Inspires Her

"I will tell you-Elvis is an inspiration to strive for a high goal. He shows America's youth that nothing is impossible. What could seem more impossible than a poor Tennessee truck driver becoming a millionaire within one year? These teenagers who love Elvis feel that whatever trade they plan to enter they can reach the top of the heap. Therefore they do not strive to be just a minimum salaried employee, they strive to be a highly paid employer."
There is a materialistic interpretation of human development. Way back in the days when Elbert Hubbard was writing his "Little Journeys," George Westinghouse, J.P. Morgan and other rough and ready souls were extolled for their ability to earn money by concentration on invention and organization. Horatio Alger wrote his guide-books to success, the easiest road to it being to marry the boss's daughter.
However, it is something new in the story of a man's progress that a yodeler becomes an inspiration because he, having been a truck driver, became a millionaire in one year. I believe that even Al Capone did not do it so quickly.

Mozart Is 'Total Loss'

This young lady listened to Tchaikovsky and Mozart but felt "absolutely nothing." Of course, Mozart had a rather tough time especially. There were no recordings in those days and teenagers were seen and not heard.
I saw a letter to the editor about all this, in which the writer believes that one of the world's greatest anthropologists, Margaret Mead, and I are naive - "amazingly - naive" because we do not yet know "that teen-agers conform not to their parents' morals, but to the morals of their own generation." This is something that needs to be learned by the elders who do not understand why the world seems to be going backwards. For if civilization has any meaning at all, it must be that morality-the revealed law of God to man-is eternal, universal and changeless. I do not know the age of this writer from Oradell, New Jersey, but I wonder if it ever occurred to her that such a codification of morality as the "Ten Commandments," is the symbol on man's progress up from the tom tom.
Forsooth, these children do fight for what they believe. But we oldsters need not retreat and leave the world to darkness and to noise. Civilization always wins after a struggle.

Ft. Wayne News-Sentinel March 28, 1957 courtesy Allen County Public Library
THEY'LL BACK ELVIS - The Jordanaires, vocal quartet who have provided the background for many of Presley's recording hits, will be one of the six variety acts appearing Saturday night at the Memorial Coliseum with Elvis Presley.

10,003 Fans To See Show With Presley

A sellout crowd of 10,003 will attend the Elvis Presley show in the Memorial Coliseum Saturday night making it impossible to use the new stage and curtain arrangement. The fans will be seated on all sides of the stage for the two hour performance.
The Jordanaires, vocal quartet will headline the list of supporting acts for the show. They have provided the background for many of the celebrated Tennessean's smash recording hits. All told, there will be six other acts besides Presley.
Rex Marlowe, comedian; Jimmy James, musical novelties; Frankie Trent, a teen-age tap dancing sensation; Frankie Connors, tenor, and June Day, a blues singer will complement the show.
Show time will be 8:30 p.m., Central Daylight Time.
Fort Wayne Enterprises, with Ernie Berg, general manager, are paying for 25 of the police officers on duty there that night, Police Chief Mitchell Cleveland said.
Chief Cleveland issued this statement that he said he had received several letters and cards criticizing the use of police officers at what they termed 'taxpayers money" for the Presley show.
"Fort Wayne Enterprises is paying the expense for the 25 officers on duty there that night," Chief Cleveland said. "These officers are off-duty policemen," he said.
Chief Cleveland said he, Police Inspector Joseph Heidenreich and Det. Capt. John Carpino and several other officers, mostly police women will also be on duty.
The police chief said that the "other officers" on duty would be no more than the city offers any other celebrity or noted person as its "moral obligation" to that person and the citizens of Fort Wayne.
The policewomen, he said, will be assigned to supervise the large audience of girl teen-agers expected to attend the show.

Ft. Wayne News-Sentinel March 29, 1957 courtesy Allen County Public Library
The concert at the coliseum which could accommodate more than 10000 spectators was sold out in advance. Though they had anticipated breaking the record for attendance, they fell short.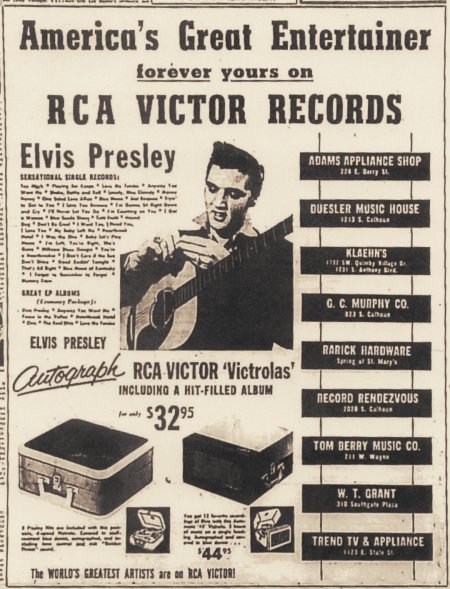 RCA Victor Ad in Fort Wayne News Sentinel - Mar. 29, 1957
courtesy Allen County Public Library
Presley Show's Police Ready for Teen-age TNT
By Marjorie Barnhart

'Everybody's going to stay in his seat tonight,' said Ernie Berg, referring to the 10,003 who will jam the Memorial Coliseum at 6:30 p.m. to see and hear Elvis Presley.
(They will watch almost two-hours' worth of vaudeville attractions before the Great One will come on.)
'We aren't selling any standing room,' said Mr. Berg, general manager of Fort Wayne Enterprises which is sponsoring the appearance of the controversial singer. 'The only people who will be allowed to move around the floor will be six authorized photographers. Other photographers will have to take their pictures from their seats.'
'If anyone gets out his seat, the police and the ushers will stop him,' said Berg.
He said that the officials held a meeting to map strategy to avoid such violence as occurred in Chicago where girls swarmed up on the stage, sending an usher to the hospital with head injuries.
In addition to the 30 policemen who will be on duty, the Red Cross will have a nurse at the Coliseum and an emergency unit will be available.
Show Gets $22,000
'We have a certified check for $22,000, which will be the share which the show will take,' said Mr. Berg. 'I don't know how much Mr. Presley will get. l do know that this is one of seven dates for which he will get $75,000.'
Although Presley tickets are selling like a house afire everywhere, Fort Wayne's ticket sale was the most rapid of all. The ads used in St. Louis, where he appeared Friday night, and in Detroit were patterned after the Fort Wayne advertising approach, Mr. Berg said.
Following the same plan used elsewhere on his tour, Presley's arrival here today is cloaked in secrecy with the local backers kept in the dark about the time and method of his arrival or plans for his over-night accommodations.
The show (which includes the Jordanaires, a vocal group; Comedian Rex Marlowe, Jimmy James, musical novelties; Frankie Trent, teen-age tap dancer; and singers Frankie Connors and June Day) are believed to be traveling by car.
In other cities, the performers have whisked in immediately before the show and disappeared immediately afterward as miraculously as the morning dew when the sun comes out.
Presley has granted a press conference for a favored few to be held in his dressing room during the first half of the show.
'Only a well-screened group will be admitted for interviews, and no one who has been drinking will be allowed in,' said Mr. Berg, passing on the regulations set up by Presley's press agent.
He didn't say whether we women reporter will have to wear long gloves and three feathers in our hair as for presentation to Queen Elizabeth.
'Presley takes a terrible beating,' said Mr. Berg, referring to the crazy antics of the fans over the ex-truck driver who also takes a terrible ten thousand or so for singing several songs a night.
Mr. Berg had it on good authority that Presley is a really good kid, courteous, a good talker.
Berg said that at Cleveland it was discovered that Gordon-Stratton of the Cleveland Hockey Team looks exactly like Presley, sideburns and all.
During an intermission, they put him in Presley's shirt and let him fight off the crowd. After that was over Stratton said, 'Gee, I'm glad I'm not a celebrity.'
Unknown in 1954, Elvis quickly rose to become the top figure in the entertainment world, out-grossing such all-time greats as Rudy Vallee, Frank Sinatra, Liberace, Johnny Ray and Bob Hope.
Elvis sold 13 million records in 1956 and earned a previously unheard of $50,000 for three appearances on TV. The number of Presley -endorsed products to be sold this year is fantastic.
His present series of performances is in the nature of a farewell tour before he goes (first to Hollywood for another picture) into the armed services.
'I'll be glad when this is over,' said Ernie Berg. 'You'd be surprised how many headaches there are in bringing something like this to Fort Wayne.'

Fort Wayne News Sentinel March 30, 1957 courtesy Ger Rijff's Long Lonely Highway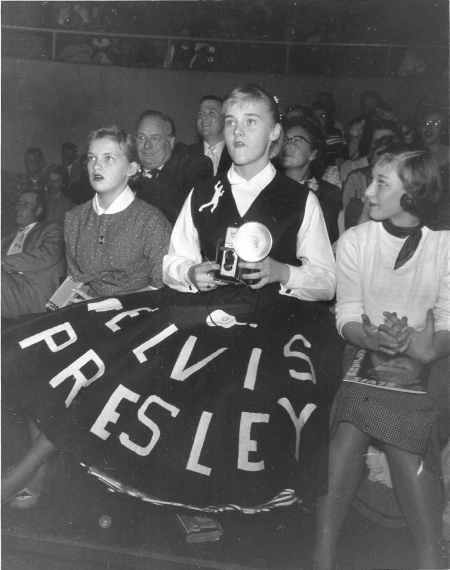 Fans wait for Elvis' show to start at Fort Wayne's Memorial Coliseum - May 30, 1957
Photo by Tommy Wadelton courtesy Indianapolis Star
PRESLEY'S A NICE GUY
Enjoying Popularity While It Lasts
By William Disbro

He was 30 minutes late, but there he was. Elvis.
We were a small band of news hawks and hens, there to play a game of 'This Is Your Life' with the hottest thing in the entertainment field today.
He bounded into the room with a hearty Hi! No one squealed. He squinted his catlike eyes, shifted the gum in his mouth, jumped on the table to rest his pelvis for the grueling ordeal ahead, and smiled broadly.
WHAT? NO STRINGS ATTACHED - Two Elvis admirers, both presidents of hometown Elvis fan clubs, showed up at Memorial Coliseum last night to give their idol a pink guitar made of paper and cardboard. Elvis appreciated it. Kay Timmons, left, president of the Richmond, Ind., fan club constructed the replica. Wanda Grubb, head of the Bradford, Ohio, group joined in the presentation. Elvis told the girls that he, too, had no strings attached.
If any objective conclusion could be reached after 40 minutes with the King of Rock and Roll, the best simple summary might be: A nice guy with a likable personality, who murders even Americanized English, but who has a money-making gimmick and is riding it for all it's worth.
He entered in anything but sartorial splendor. He did have on his gold embroidered shoes with the rhinestones in the frazzled laces. '$100.' His coat was a two-tone brown stripe. Tan socks. Black trousers. Small hole in knee.


Elvis backstage at the Allen County Memorial Coliseum - Mar. 30, 1957
Photo courtesy News-Sentinel.com

The questioning wandered from Memphis to suggestiveness, but basically these are the highlights.
Mr. Presley, how did you get here'?
The former Tennessee teamster made his first public appearance about two and a half years ago before a barn dance crowd in Memphis. He used his patented style.
'They were screaming and liked it,' Elvis said, 'so I kept it up. I make my own arrangements.' Ad libs? 'Those, too.'


Elvis backstage at the Allen County Memorial Coliseum - Mar. 30, 1957
Photos by Tommy Wadelton courtesy News-Sentinel.com and Indianapolis Star

One young questioner wished to know how he developed what his publicist terms a 'romantic leer.' This is when he drops his eyelids to halfmast and raises the corner of his mouth. It twitches. He pushed at his check with a finger and said, 'I always have smiled that way.'


Elvis backstage at the Allen County Memorial Coliseum - Mar. 30, 1957
Photos courtesy Ger Rijff


Elvis backstage at the Allen County Memorial Coliseum - Mar. 30, 1957
Photos courtesy Ger Rijff


Elvis backstage at the Allen County Memorial Coliseum - Mar. 30, 1957
Photos courtesy Ger Rijff


Elvis backstage at the Allen County Memorial Coliseum - Mar. 30, 1957
Photos courtesy Ger Rijff


Elvis backstage at the Allen County Memorial Coliseum - Mar. 30, 1957
Photos courtesy Ger Rijff


Elvis backstage at the Allen County Memorial Coliseum - Mar. 30, 1957
Photos courtesy Ger Rijff

Elvis definitely doesn't think he's 'suggestive.' Quizzed about Fort Wayne councilman John Robinson's statement that last night might be the time to stop this 'one-man burlesque' type of show, 'the Pelvis' sobered. 'I don't intend it to be like burlesque. It's the way I express a song. You have to give the people a show or they'll go to sleep.'


Elvis backstage at the Allen County Memorial Coliseum - Mar. 30, 1957
Photos courtesy eBay

Mr. Presley, do you think you're a lasting type of entertainer?
"I'm enjoying it while it lasts. If the people lose interest in me, I'll understand. I won't go to pieces."
The wealth?
"The government gets most of it." Of his eight cars, Elvis prefers his white Continental. His suit of gold, he said, cost him "about $4,000," rumors of up to $25,000 notwithstanding.


Elvis backstage at Memorial Coliseum - Mar. 30, 1957
Photos courtesy web

The future:
Elvis explained that after the present tour, which will net him $75,000, he will go to Hollywood for a prison picture, and then to the Army. Hollywood barbers will get the honor of clipping his mane, he said. Prisons don't allow three-inch hair-dos. On the Army, he becomes slightly philosophic. "I'm not going to ask for anything. I'll do what they want me to do."
Late in the interview he expressed a new angle on his critics., to wit: "They was people who didn't like Jesus Christ. And they killed Him."


Bob Chase interviews Elvis for WOWO Radio at Memorial Coliseum - Mar. 30, 1957
Photos by Brian Tombaugh courtesy News-Sentinel.com, and web

The interview's end came with a series of poses for the photogs. Elvis, always ready to please, matched pancake makeup with several beauties. It was part of the job.
In several minutes he was again bounding. This time it was onto the stage amidst sounds heretofore heard only at hog ringings.
He had about $2,000 worth of gold jacket on. He was a new man.

"THE PELVIS SENDS 'EM' - IN VARIOUS WAYS - Typical of the reactions elicited by Elvis Presley last night at Memorial Coliseum are these studies in the balcony. some sobbed, some squealed, some showed embarrassment some passively resisted, some left. One young mother carried out a 3-year-old child, cringing in fright, his eyes like saucers. At the show's conclusion, one girl sat and sobbed hysterically as she clutched her hand. "He kissed it, he kissed it," she whimpered.

The reaction was altogether different than at the press conference. One distaff worshiper of the golden idol followed the entry of 'the pelvis' with egg-shaped eyes - so wild, so hopeful, so hungry. It was the look of an Arabian washer woman asking King Saud for a palace position.
Elvis wriggled, twisted and bent his knees.
He still had on the trousers with the tiny hole in the knee.

Fort Wayne Journal-Gazette March 31, 1957 courtesy Allen County Public Library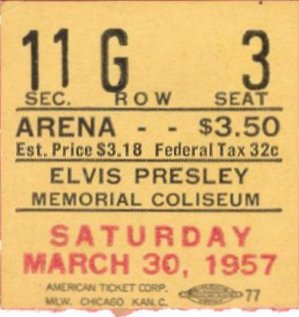 Ticket stub for Fort Wayne show
courtesy eBay
The review in the the News-Sentinel:
Elvis' Entrance Would Have Scared Savages
By Marjorie Barnhart

Those who weren't there think you're exaggerating.
The 10,003 who took part in the mass hysteria, known as the Elvis Presley Show, aren't quite sure that they remember rightly. On a cold, damp Monday it is hard to believe in the strange goings-on in the Allen County Memorial Coliseum last Saturday night.
But the entrance of Elvis Presley will remain in Fort Wayne history as a dramatic entrance to end all dramatic entrances.
The crowd had been carefully and deliberately built up, not only during the first half of the show, but during the months of Elvis Presley publicity filling the newspapers and magazines.
The highly-charged atmosphere of suspense and excitement which distinguishes a crowd assembling for a crucial game could be felt as the teen-agers poured into the Coliseum.
The sense of suspense was built up during the first half of the show which had the youngsters clapping with the rock n' roll rhythm and screaming for performers.
Then, after the intermission, came Presley.
The screams of the audience were ear-splitting and sustained, as if no one found it necessary to breathe.

THIS IS FORT WAYNE - These girls, shown in the Memorial Coliseum Saturday night, followed the nationwide pattern for reactions to Elvis rPesley[sic]

Photo courtesy News-Sentinel.com

As Light As Day
The flash bulbs from cameras flashed all over the huge arena making a light as bright and blinding as the finale at the Fourth of July celebration - but without the booms.
The light was as brilliant as that seen during a severe thunderstorm when the flashes pile up one upon the other in rapid succession. But there was no thunder.
Presley with his tousled black hair and sideburns, his gleaming gold jacket swayed and moved about the stage as if blown by a gigantic gale. But there was no wind. Only screaming, loud, long, shrill, unending.
We couldn't help but think that uneducated savages, without knowledge of flashbulbs or teen-age behavior in civilized countries, would have seen in this the materialization of a pagan god! There was the scary feeling of the supernatural about it.
They tell me that Presley then sang "I Was The One," "Don't Be Cruel," "No Good Woman," "I'm All Shook Up," "When My Blue Moon Turns To Gold," "One Night," and "You Ain't Nothing But a Hounddog."

THE HERO - The adolation shown Elvis Presley by the 10,003 fans gathered in the Memorial Coliseum Saturday night beat anything in Fort Wayne Theater history.

Photo courtesy News-Sentinel.com

Couldn't Hear Him
I wouldn't know. I was sitting on the front row. But I couldn't hear a thing. The girls never stopped screaming. I would have liked to have heard at least a snatch of something.
Not being able to hear him sing, the audience had only two other possibilities for reward. For some it was enough just to look at the ex-truck driver with his gold shoes with rhinestone ties, black slacks and before-mentioned gold coat with its rhinestone lapels and rows of rhinestones down the center seam in the back.
But the sight of him brings me no special joy.


fans at Memorial Coliseum - Mar. 30, 1957
Photo courtesy News-Sentinel.com

So that left his controversial gyrations as the only reason for sifting there in the midst of all that screaming. I can believe that, at first, the boy used his hip-swinging movements unconsciously to sell his songs. But this was not the case Saturday night where his songs could not be heard. Presley used the motions deliberately to tease the girls and to lure them into demonstrations. His control over the girls amused him, and he and the Jordanaires, his vocal quartet, exchanged many a laughing glance over the crowd reactions.

Eagle-eyed Girls
It was as if the crowd were something he could touch. Although they stretched out to the distant back wall of the Coliseum, the eagle-eyed girls seemed able to see his slightest movement. They screamed when he moved a finger. They screamed when he lifted a shoulder. And the din was deafening when he bent a knee or wiggled with vigor.
I don't know enough to trace the origins of his movements, whether from burlesque as some claim or from the native Negro snakehips as other content. Once I saw a tassel-twirler at the Allen County Fair do the same all-over shake he exhibited.
But I've seen sexier dances on Broadway, in the movies or even on the stage here. As a shimmy dancer, he's no great shakes. His choreography is put together as he goes along, without form or pattern. I didn't see anything specific to rise up in indignation about, but the mass hypnosis and sex-conscious build-up probably deserves a second look.


Scotty, Neal Matthews, Elvis and Bill onstage at Memorial Coliseum - Mar. 30, 1957
Photo courtesy News-Sentinel.com

On stage Presley was what I had expected. Elvis Presley at the press interview was a surprise. He did not have the bleary eyes, the slack mouth, or the loose-jointed, drunken demeanor of his stage appearance. On stage, he flirted with specific girls near the stage and teased a group behind it until they stood up shrieking. In the press conference he did not try to charm any of the women present.
Although he finds himself suddenly powerfully rich and popular, Presley does not seem at all impressed by himself. He tried very hard to answer the questions fully and honestly. With dignity he fended off some personal probes and exhibited more intelligence than I had anticipated.
Presley kept repeating that he was a guy who had "hit it lucky" and he meant to enjoy it while it lasted. He gave the impression that the whole thing is as flabbergasting to him as it is to us. His show will be long remembered not as entertainment, but as an experience in mass reaction.

Ft. Wayne News- Sentinel April 1, 1957 courtesy Allen County Public Library
The review in the the Journal-Gazette:
Elvis (Shriek!) Wows 'Em, Fells 'Em (Young Ones, Anyway) In Coliseum
By JERRY KELLY

A hip-swinging, guitar-strumming hurricane blew through the Coliseum last night and practically leveled rock 'n' roll hipsters from as close up as section II and as far out as the upper balcony: Hurricane Elvis.
The storm gathered in Memphis and picked up momentum in stopovers in New York and Hollywood. From the time the first forecasts were sounded you could tell then it would be one of the most ferocious and cause much damage until it finally wore itself out.
Well, the readings were right: Elvis is a pretty stiff wind to have to wait out, but like all other hurricanes that blow with such twisting velocity, we're certain it won't take too long.
Before a mixed crowd of followers and curious observers that numbered more than 10,000, elvis, who makes a good living by attracting more adolescent attention than the PTA, gave a wild performance that will long be remembered. If not for the quality of the performance then for the sheer dynamics ot demonstrated.
Long before Elvis appeared, the crowd warmed up in its seats with small twists, nail-biting, voice clearing and a sort of apprehension.
With the first indication of his appearance, wide-eyed teenage girls gripped the edge of their chairs, stamped their feet in passionate furor and started clutching each other for emotional support.
So help me, the kid in the gold coat could only manage a silly giggle for the first three minutes he was onstage, so great was the din. About two minutes later he was able to mumble: "ladies an' gennemen." so terrific was the roar, you would have thought he'd announced everyone in the crowd had hit uranium.
Hoosier hysteria, notwithstanding, this had to be youth's finest hour in the Coliseum. And certainly, the Coliseum's finest moment in history came when Elvis skipped to the rear of the during a number to gently kiss the fingertips of a couple of his swooning admirers.


fans at Memorial Coliseum - Mar. 30, 1957
Photo courtesy News-Sentinel.com

When Elvis announced his first number, "I Was the One," a long loud agonizing screech arose form the audience. After many attempts to begin, he finally succeeded in getting through.
An ominous announcement went out over the speakers for Doctor 2377.
"Don't be Cruel," one of the Memphis meteor's more popular exercises, came next and caused one girl in the back of us some pretty anxious moments. We were certain that at the end of the number a torn seam sounded its shrill note.


Scotty, Elvis and Bill onstage at Memorial Coliseum - Mar. 30, 1957
Photo courtesy News-Sentinel.com

Hip And A Lear.
Elvis executed these first two with just a few mild taunts at his fans - a hip here, a lear there. By the time he was in to the third number, we thought that his music was beginning to get to him: his eyes gave that spooky look that let us all know that we were really in for something.
equipped with some very special props - a pair of uncut sideburns, an autographed Gibson guitar and the top half of the famous gold $2,300 suit - Elvis launched out into "No Good Woman."
All through his performance from here on it was a demonstration of gyrations, arm flailing and mike hugging.
He carried the microphone, which gave some initial trouble because it refused to stay attached to the post supporting it, from one end of the stage to the other. at times he would pause at the far end and taunt young girls by focusing his staring and cries to their group.


Elvis onstage at Memorial Coliseum - Mar. 30, 1957
Photo lead courtesy Jove Pascual

Coos To Her
Elvis, doing a back-breaking number appropriately titles "I'm All Shook Up," drifted to the other side of the stage and literally coaxed another teenager out of her chair with his fracturing cooings.
The members of the small band playing in back of Presley made noises similar to those of a raided Chinese crap game and we wondered how Doctor 2377 was making out.
The hero of most of these numbers is a frustrated creature who goes his was trying to get along. He has a sense of aesthetics - "When My Blue Moon Turns To Gold;" fond memories are his treasure - "One Night;" a good sense of values - "You Ain't Nothing but a Houndog."
They said Presley would sing 11 of his hit songs. Maybe he did, but with shrieks of ecstasy and the thud of fainting bodies, it was hard to tell where one number left off and another began.
The end to all this drama came unexpectedly. Elvis mumbled the last of "Hound Dog," shook his hips a couple of times and suddenly beat a retreat from the stage like a scared jack-rabbit.
So he left them in tears on his farewell tour before entering the army.
Well, he'll probably make a good soldier, anyway.
The rest of the show was a pretty well put together group made up mostly of comedians. The one we liked the most was a young Texan named Rex Marlowe. The Jordanaires, a vocal quartet that has made records with the star, rendered some examples of their talents and got a very fine reception.
The lead act was a Irish tenor, Frankie Connors, who looked and sang a lot like Frank Parker.

Ft. Wayne Journal-Gazette March 31, 1957 courtesy Allen County Public Library
Elvis returned to perform at the Memorial Coliseum in Fort Wayne two more times, in the '70s with the TCB Band.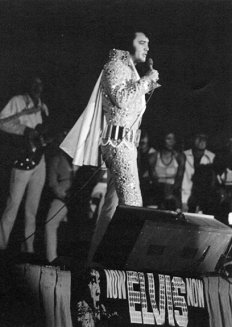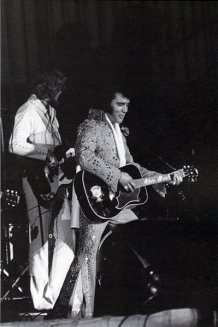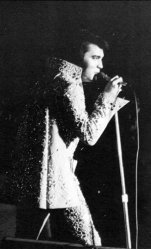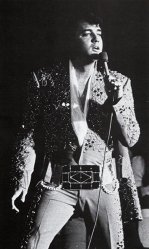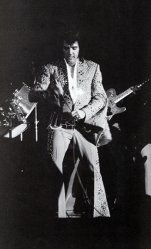 Elvis at the Memorial Coliseum - June 12, 1972
Journal-Gazette Photos by Dean T. Musser, Jr. courtesy Frankie Rider II
He performed on June 12, 1972 and again for the last time on October 25, 1976. The last appearance was reviewed as follows:
ELVIS PRESLEY MATURED AS "SWEETEST TOUGH GUY"
by Connie Trexler

Elvis Presley is probably the sweetest tough guy this ol' world has brought forth.


Elvis in Concert at Memorial Coliseum - Oct. 25, 1976
Photo courtesy News-Sentinel.com

In the Fifties he was threatening but tantalizing. When he hit his stride and became a legend in his own time, he was delicious. Lately he has been like a Viennese dessert - all puff and no nourishing substance.

Review
Monday night at the Memorial Coliseum all the puff was trimmed away, and all that was left was pure delight for a full house of devoted fans.


Fans at Elvis concert at Memorial Coliseum - Oct. 25, 1976
Photo courtesy News-Sentinel.com

Those saddening reports that Elvis had gone fat - in his attitude as well as in body - were probably true, but he seems to have overcome both physical and attitude problems. He seems to have matured into an excellent and sensitive artist.

Elvis cared about that audience's happiness Monday night. He postured and sneered and strutted about, but he did it for his own and the audience's pleasure not to glorify himself.


Elvis in Concert at Memorial Coliseum - Oct. 25, 1976
Photo courtesy News-Sentinel.com

He didn't need to glorify himself with any little status games, though the respect his fellow performers gave him was obvious. When he came out, people screamed. When he turned toward the people seated behind the stage, they screamed and a meteor of flash bulbs went off. Elvis is a superstar - he got there by singing well and caring about pleasing his audiences, and it seems he's realized he'll stay on top if he keeps on pleasing those audiences with the good songs and high regard they deserve.

Elvis's voice was in fine shape Monday night. Through more than an hour on stage he sang cleanly and with all the expressiveness he is known for. "You Ain't Nothing But a Hound Dog" was greeted with peals of screams, and it was only the oldest of a long string of old favorites. The only one he may have missed was "Love Me Tender".


Fans at Elvis concert at Memorial Coliseum - Oct. 25, 1976
Photo courtesy News-Sentinel.com

Not unremarkable was the power and high quality of "Hurtin", the song he featured on his latest album. The song pushes him to put out his best singing and expressing abilities, and he did both Monday night. The album should be selling briskly today in the Fort Wayne area.

The impression of the concert one cannot escape is that it was so much fun - fun to see Elvis at his best, fun to see everyone scurrying toward the stage and fun to hear the music performed live when the singer, the chorus and the band were all in top form. It's an energizing experience, and one it would be tempting to repeat often.


Elvis in Concert at Memorial Coliseum - Oct. 25, 1976
Photo courtesy News-Sentinel.com

The band and chorus deserve as Elvis himself. The playing was crisp and clean, and the chorus, most of whom doubled as warm-up acts, did a good enough job that the people managed to look relaxed and happy and not like a choir.

It was a very friendly show, not marred at all by the high power status plays one might expect. The only bad move all evening was the 25-minute intermission before Elvis came on stage during which souvenirs were heavily hawked at the audience. Maybe the Coliseum is small enough that even with the high ticket prices the tour needs the concessions to make a profit, but it was a low blow after such short, interesting warm-up acts.


Elvis tossed this blue scarf to fans at his 1976 Memorial Coliseum concert
Photo courtesy Marilyn Goggans and News-Sentinel.com

He is an impressive sight. He's lost all the fat that recently plagued him, and he looks as young and sassy as he ever did - without a single tinge of the forbidden which gave him such early notoriety. It is a tribute to his entertainment abilities that the lifestyle and music he first popularized have become the accepted standard now. He can be spiffy and respected now, because he's a winner. He can be nice, too, because he's a winner, and it's good to be able to say he is nice and gives his fans a nice concert evening.

Fort Wayne News-Sentinel October 26, 1976 courtesy Francesc Lopez
The following year Elvis gave his final concert ever, also in Indiana, on June 26, 1977 in Indianapolis.
Over the years many entertainers appeared at the Memorial Coliseum including the Rolling Stones, Bob Hope, Liberace, Louis Armstrong, Johnny Cash, the Beach Boys, Jefferson Airplane, Yes, Fleetwood Mac, Bob Dylan, Aerosmith, Elton John and many others. In the 1980s, a new convention hall was proposed as an addition to to increase the floor space and make it more marketable. In May 1989, the 108,000 square foot Exposition Center was built and the project included the construction of the new entrance rotunda to serve the Expo Center and Arena.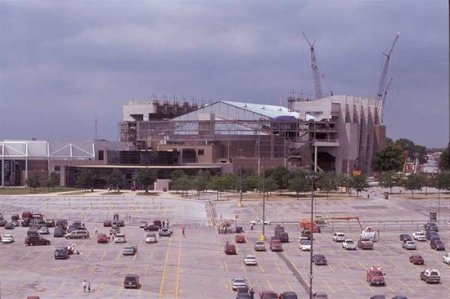 Raising the roof in the spring and summer of 2002
Photo courtesy Allen County War Memorial Coliseum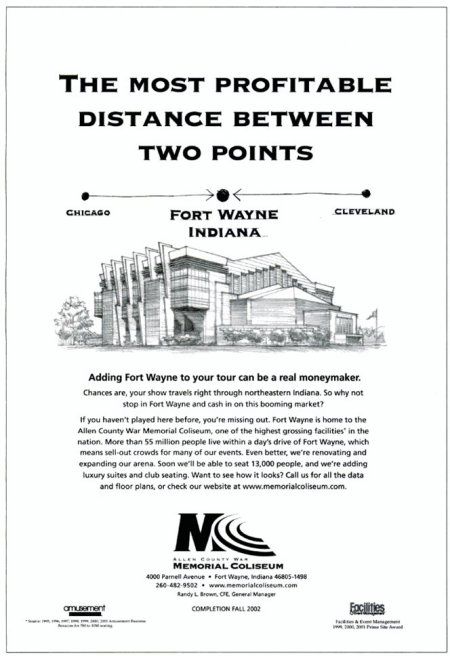 Billboard Magazine ad - July 27, 2002
In 2001, a major renovation was initiated to expand the Memorial Coliseum Arena. The Coliseum's 1,200 ton roof was slowly raised 41 feet, 10 inches, increasing seating capacity to nearly 13,000 with more comfortable seats, 24 luxury suites and greater accessibility for guests with disabilities.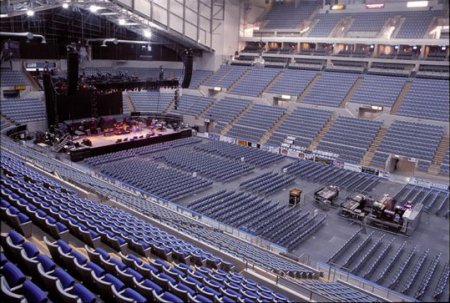 Auditorium style seating in the Memorial Coliseum
Photo courtesy Allen County War Memorial Coliseum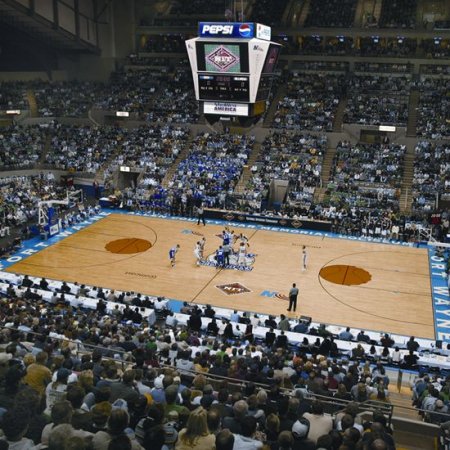 Basketball in the Memorial Coliseum
Photo courtesy Allen County War Memorial Coliseum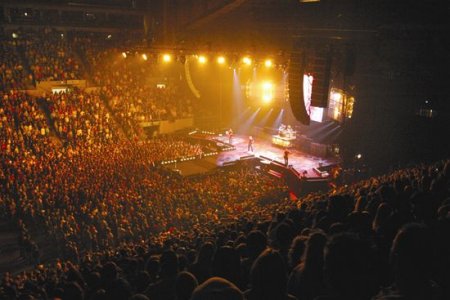 End stage concert in the Allen County Memorial Coliseum
Photo courtesy Allen County War Memorial Coliseum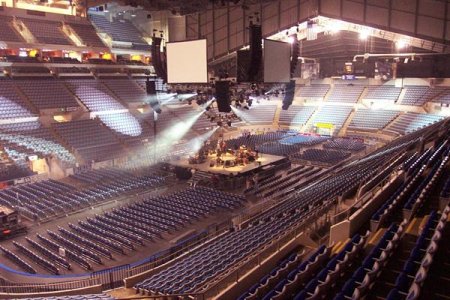 Center stage concert in the Allen County Memorial Coliseum
Photo courtesy Allen County War Memorial Coliseum
Today, the Memorial Coliseum is home to four different sports tenants, the Fort Wayne Komets of the International Hockey League, the Indiana-Purdue University Fort Wayne NCAA Division I men's basketball team, the Mad Ants of the NBA Development League and the FireHawks of the Continental Indoor Football League. It continues to serve the tri-state area of Northeast Indiana, Northwest Ohio and Southern Michigan as a focal point for touring musical acts, family entertainment, arts and culture, sports and community gatherings drawing visitors from all over the Midwest.

Aerial view of the Allen County Memorial Coliseum and Expo Center - 2010
Photo courtesy MicroSoft

Entrance rotunda to the Allen County Memorial Coliseum
Photo courtesy Allen County War Memorial Coliseum
Page added March 14, 2012

Most of the history of the Coliseum presented here was derived from and courtesy of the Allen County War Memorial Coliseum site.
---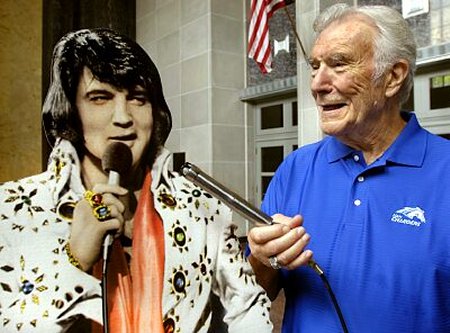 WOWO legend Bob Chase with cardboard Elvis in August 2007
Photo courtesy News-Sentinel.com
Bob Chase moved to Fort Wayne in 1953 at the age of 27 and began his radio career with WOWO Radio which included broadcasting Komet hockey games. During the summer of 2009 Chase retired as Sports Director of WOWO Radio but has continued as play-by-play broadcaster of the Fort Wayne Komets. Bob is currently serving his 58th consecutive season as the voice of the Fort Wayne Komets.