Olympia Stadium - Detroit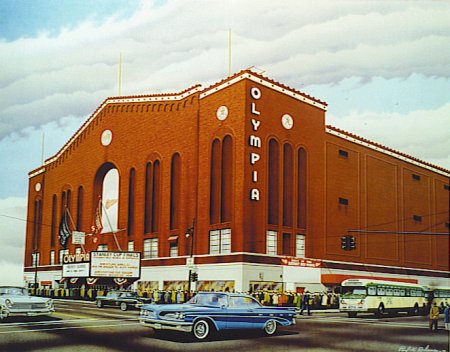 The Red Barn (Olympia Stadium) - 1963
artwork © courtesy Paul H. Adams
In 1913 the Detroit Athletic Club, in Detroit Michigan, was reborn by a group of the city's prominent automotive and industrial leaders. It was originally founded by a group of privileged young men in 1887 under the spell of amateur athletics sweeping the country at the time.1
In 1926, plans were announced to build an arena across from the old Ford plant in Highland Park in Detroit. The heavyweights at the Athletic Club opposed that arena and set about to build their own, the Olympia, with financing from such notable names as Fisher, Townsend, Buhl, Kern, Ford (Henry and Edsel) and Butzel.2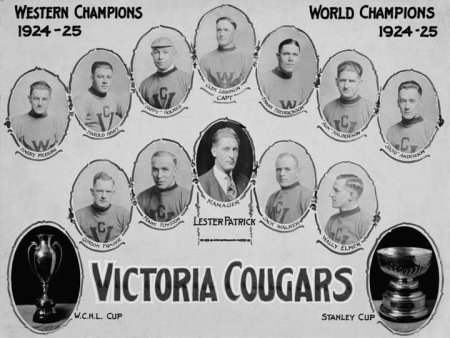 The Victoria Cougars, the last non NHL team to win a Stanley Cup
Photo courtesy Legends of Hockey
The Olympia Stadium, known as the Red Barn, at 5920 Grand River Avenue was designed by architect C. Howard Crane, initially with a seating capacity (bleachers) of 11,563. With standing room, total capacity was over 16,000. Only after they had the rink under construction did they go about getting a team to play in it.2
The Victoria Cougars, of British Columbia, were purchased for $100,000 by Detroit Athletic Club member, Charles Hughes. They played the 1926-1927 season across the Detroit River in Windsor, Ontario and moved to the Olympia after it opened on October 15, 1927. The first season was a shaky one. The team finished last and lost $84,000 at the gate.3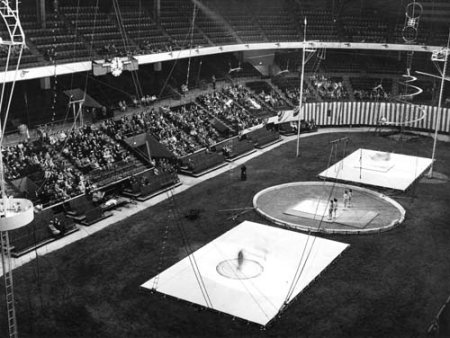 A circus at the Olympia
Photo © courtesy Detroit News Archives
The stadium played host to a motley crew of events; ice shows, boxing, lacrosse, soccer, circuses and political rallies. The first event at Olympia was a rodeo, but a fight 11 days after it opened brought in the first huge crowd. Heavyweights Tom Heeney and Johnny Risko fought before a crowd announced at 16,000, but according to newspaper accounts, there were far more in the building. They were hanging from the rafters, and that's when the term wasn't a cliché; many fans actually wormed their way out onto the rafters and thousands of others jostled for prime standing-room spots.2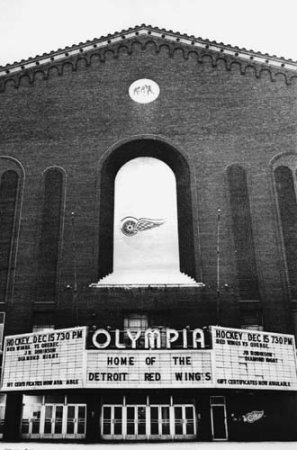 Photo © courtesy Detroit News Archives
The Cougars changed its name to the Falcons as a result of a newspaper promotion.3 The Olympia went bankrupt during the Depression and James Norris, a 56 year old czar of commerce, bought it and the team for $5 million in 1933.2 He kept Jack Adams to run the team and told him: "We will now be known as the Wings. In fact, we'll call ourselves the Red Wings. Our emblem will be a winged wheel, which ought to sit good with Henry Ford and the Detroit car people."3

Joe Louis (Barrow)
Photo courtesy Arlington National Cemetery Website
In 1934, Joe Louis, a promising amateur, made his debut there, and nearly got whipped in the Golden Gloves by a kid named Stanley Evans. Louis knocked him down in the first round, then got pummeled the rest of the way en route to a win that was booed by the fans.2
Boxing hit its prime there in the early 1940's, with some classic bouts, including two historic matches between Jake LaMotta, "The Raging Bull", and Sugar Ray Robinson.2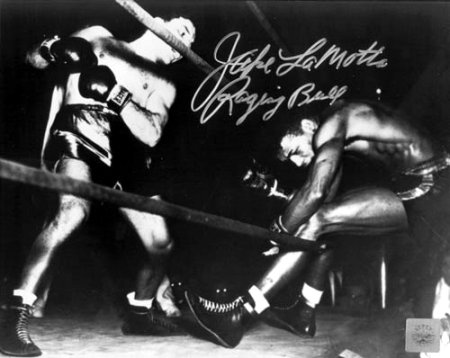 Jake LaMotta defeating Sugar Ray Robinson for the first time ever - Feb 5, 1943
Photo courtesy Sportsonline.com.au
Having out pointed the Bull in their first contest in 1942, Robinson was a strong favorite going into the rematch the following year in Detroit at Olympic Stadium. He was unbeaten in 169 bouts - 129 as an amateur and 40 as a pro. But, 16 pounds lighter on the night, Robinson was guilty of allowing his opponent to bully his way inside. LaMotta pounced, knocking his opponent through the ropes.4
Before a frenzied crowd of 18,930, LaMotta barely missed out on a knockout when the bell rang at the count of nine to save Robinson at the end of round eight. Three weeks later, LaMotta and Robinson went at it again at the Olympia, with Robinson winning a 10-round decision. Other famous fighters to appear there included Jersey Joe Walcott, Ezzard Charles, Kid Gavilan and Thomas Hearns.2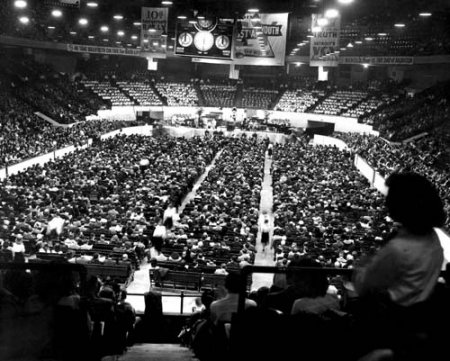 Detroit's Voice of Christian Youth 10th Anniversary Rally - Mar. 26, 1948
Photo © courtesy Detroit News Archives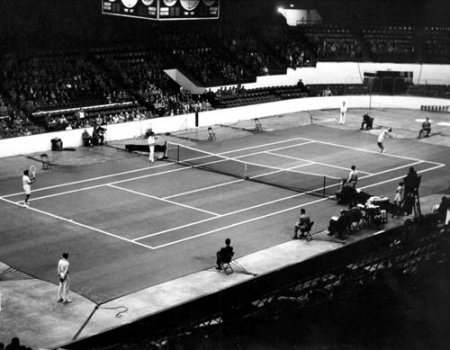 Tennis at Olympia Frankie Parker loses 6-4 to Pancho Segura - Nov 8, 1949
Photo © courtesy Detroit News Archives
In 1944, 19,500 showed up at the Olympia to hear vice president Henry Wallace tell them that the Republican nominee for president, Thomas Dewey, had "a sterile mind (and his) campaign is conceived, concocted and speech-written by expert manipulators."2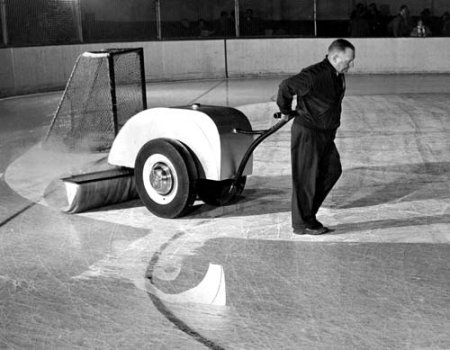 Bill Derr pulling a machine to resurface the ice rink Nov. 1947
Photo © courtesy Detroit News Archives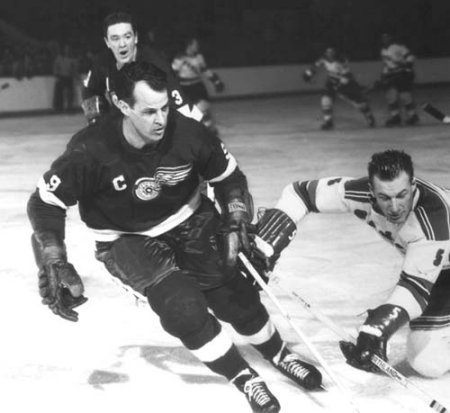 Gordie Howe in action!
Photo © courtesy Detroit News Archives
Hockey hit its heyday in the late 1940's and early 1950's. Led first by Sid Abel and then Ted Lindsay and Gordie Howe, the Wings won seven straight league championships from 1949 to 1955, eight in nine years, and four Stanley Cups.1 Gordie Howe carried the team for years. He was so good the Red Wings paid little or no attention to their farm system. Old No. 9 was always there to bail them out.2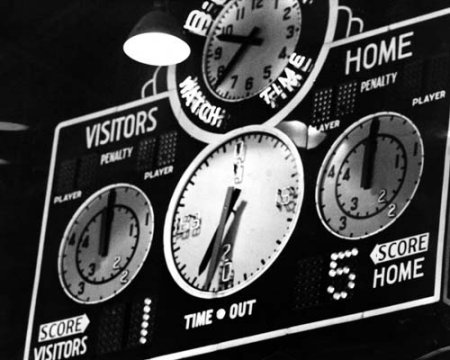 The score board at the red barn, the Olympia Stadium in 1953
Photo © courtesy Detroit News Archives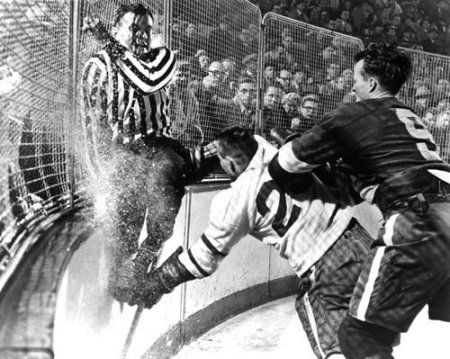 Gordie Howe takes out an opposing player as the referee escapes collision
Photo © courtesy Detroit News Archives
Gordie's stats (World Hockey Association and playoff games included): 2,421 games, 1,071 goals, 1,518 assists, 2,589 points and 2,418 penalty minutes. He held NHL records of 801 goals (regular season) and 1,850 points until Wayne Gretzky came along. Besides Howe's endurance, there was the ability and determination that enabled him to win six MVP awards and six scoring championships with the Detroit Red Wings.5
On Sunday March 31, 1957 (Gordie Howe's 29th birthday), Elvis, Scotty, Bill and DJ made their second appearances in Detroit, this time performing at the Olympia. Less than a year earlier they had performed in Detroit at the Fox Theater to about 15,000 fans. On the day after the Olympia shows the Detroit Free Press reported they had this time performed to at least 24,000.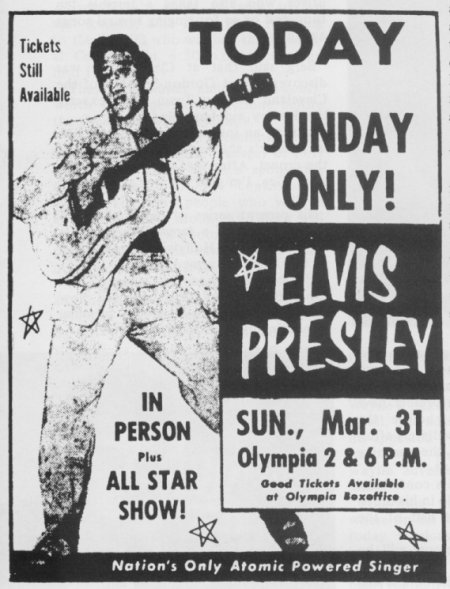 Detroit Newspaper Ad
courtesy Ger Riff's "Long Lonely Highway"
Elvis Presley fans — 24,000 strong and all screaming — smashed the sound barrier twice yesterday at Olympia. The pandemonium and hysteria created by Presley's two appearances here, especially the afternoon jamboree attended by the smaller fry, all but drowned out reports that the swivel-hipped, guitar-strumming singer is losing his hold on the teenagers.6
He may be, but it's not noticeable in Detroit. The kids were whipped to a frenzy of anticipation by the preliminary rock 'n' roll variety show, but it was the main event -Elvis himself- that drove the teen-age audience to a peak performance in participation that was even more startling than the show itself.6

Elvis backstage at Olympia Stadium - Mar. 31, 1957
Photo courtesy ebay and Adam Taylor
It was like a Saturday matinee at the movies, only a thousand times more shrill, penetrating and hysterical. His fans shrieked, sobbed, moaned and writhed in their seats, the noise reaching deafening crescendos with each intonation of the palpitating Presley voice. Only occasionally could his songs be heard and recognized. But sing, stomp, stagger and strum he did for a perspiring 40 minutes. And when he got around to his closing number, 'You Ain't Nothin' but a Houn' Dog,' the ultimate in acoustical terrors was achieved. Hearing became a liability for uninitiated eldsters.6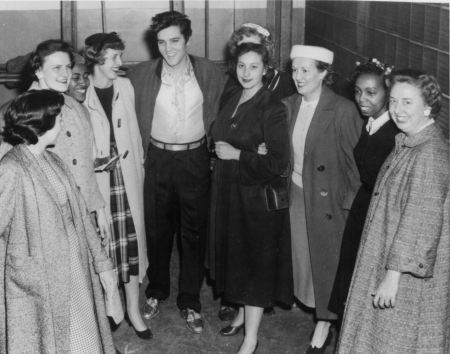 Elvis backstage with members of the Detroit Police Dept. women's Division - Mar. 31, 1957
Photo © Detroit Public Library Digital Collections, courtesy Robert van Beek, added Oct. 28, 2016
The 140 extra Detroit policemen assigned to Olympia, including a squad of police commandos (12 men) and 10 policewomen, in addition to the reinforced Olympia ushering staff, fought a nip-and-tuck battle to keep Elvis out of the clutches of his fans. Flashbulbs popped like frantic fireflies on a summer evening. Presley's security squad of four huskies got him on and off the stage without damage, whisking the steaming singer through a cordon of policemen and into a waiting cab after each appearance.6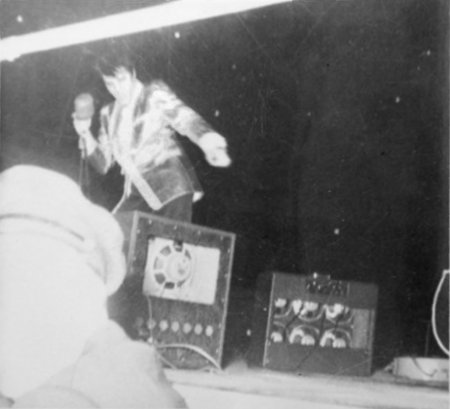 Elvis at Olympia Stadium - Mar. 31, 1957
Photo courtesy ebay
An unnerving situation developed after the afternoon show, with Presley safely out of the building. His fans, refusing to believe he was gone, piled up behind police barricades about 1,000 strong and threatened to trample the police and each other in an effort to get to Presley's dressing room. The evening crowd, equally as large, was older and more orderly. It set up a tremendous din on occasion, but generally it reacted to Elvis' wailings and wiggles on cue.6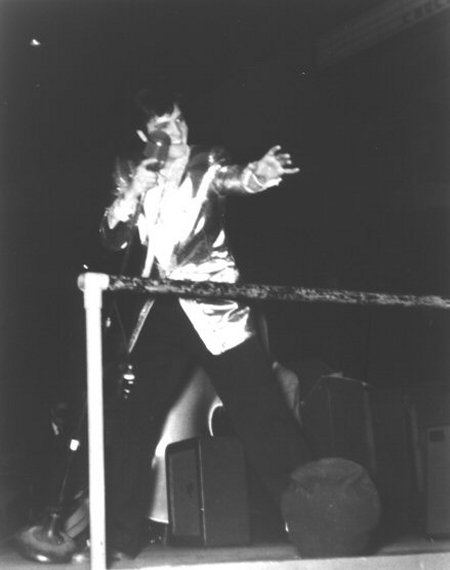 Elvis at Olympia Stadium - Mar. 31, 1957
Photo courtesy Brian Petersen
In an interview before his first show, Presley met officers of his fan clubs and autographed his new album. He answered questions readily and was scrupulously polite. Would he have his hair cut when he is inducted into the Army? Elvis said he wasn't worried about it, since his famous hairdo, sideburns and all, would soon fall on the cutting room floor of a Hollywood studio. (He is to play in a prison melodrama, 'The Hard Way,` following his current tour. Will he seek a special services assignment in the Army as an entertainer? 'I don't intend to ask for any favors,' Presley said. 'What I do is up to them.'6
Is he considering marriage? Elvis' smoky, black eyes roved over his audience, composed largely of females, and he said he wasn't thinking of anything of the sort. There were sighs of relief from the officers of the Presley fan clubs. Would he share a proffered spot on the first television program of a series planned by his crooning rival, Pat Boone? Elvis said, 'Sure, if I am invited and it can be arranged.' As for continuing his singing career after his service in the Army, Presley said he would 'if people haven't forgotten me by then.'6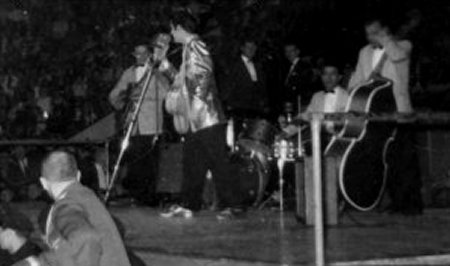 Elvis at Olympia Stadium - Mar. 31, 1957
Photo courtesy Brian Petersen
For those who relish statistics, the pouty-looking Lothario of the guitar supplied the information that he is 22, weighs 180 pounds and is six feet tall. He now owns eight automobiles, including a sports car, and is building a colonial-style Southern mansion, 'with pillars,' on an 18-acre tract in the suburbs of Memphis, Tenn.6
For his appearances yesterday, Elvis wore a coat of gold metallic material, gold shoes and tie, and twanged a guitar on which his first name was written in gold script. One of Presley's sidekicks said the gold coat with matching pants cost $2,500.6
Elvis also retains a golden touch at the box offices, his Detroit representatives said. Seats sold for up to $5 for his show. They figured he would collect more than $10,000 for each performance here, adding that his appearances in Chicago and St. Louis were both sellouts.6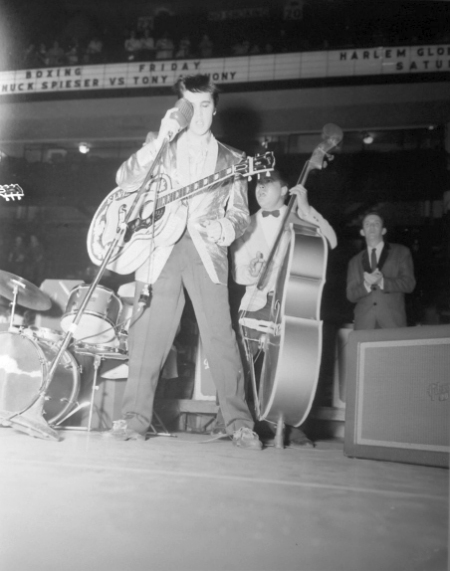 Elvis and Bill at Olympia Stadium - Mar. 31, 1957
Photo courtesy ebay and Adam Taylor
Not bad for a lad who three years ago was attending a Memphis high school and fooling around with a 'gee-tar,' who since then has become a singing and recording phenomenon (more than 13 million records). No one can quite explain his success—not even his most avid fans. An enraptured teen-ager, wearing an 'Elvis for President` button, was asked—between sobs and screams—the question. 'I don't know—and I don't care,' she shrieked. 'He's just wonderful. It's the way he does it. When he sings I get goose bumps all over. I just can't explain it.'6
Another article in the Free Press read, The trouble with going to see Elvis Presley is that you're liable to get killed. The experience is the closest thing to getting bashed on the head with an atomic bomb. Elvis gave two performances Sunday in the Olympia —each to shrieking audiences of around 14.000.7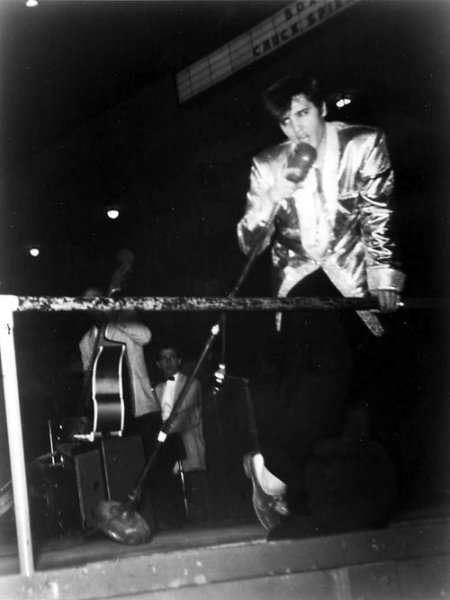 Bill, DJ and Elvis at Olympia Stadium - Mar. 31, 1957
Photo courtesy web
PRESLEY, the singing troubadour with the long sideburns, gives off more electricity than the Detroit Edison Co's combined transmitters. When he made his grand entrance, pandemonium broke loose and carnage waited in the wings. Most of the afternoon throng were little girls, nice little girls who just adore Elvis. They wore Elvis buttons, Elvis hats and carried Elvis pictures.7
Before the show, Elvis sat still long enough for a brief press conference. He didn't seem a bit self-conscious in his red suede jacket, flashy blue shirt and blue pants. Elvis is very polite. "Yes. ma'am and "yes sir" he was careful to say. He was asked whether he worried about his popularity waning. "If they forgot me, I'll just have to do something worth remembering," he said.7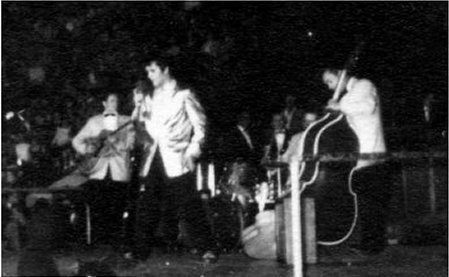 Elvis at Olympia Stadium - Mar. 31, 1957
Photo courtesy web
AND WHAT ABOUT the Army, Elvis? "When I took my physical, they told me it might be three months, six months or a year." Eight cars are a lot, aren't they, Elvis? Ever thought of selling any of them? "If I wanted to sell them I wouldn't have bought them in the first place. I just built a new four-car garage. Guess I'll have to build another one for the other four cars."7
Elvis came here in a Cadillac limousine from Ft. Wayne, Ind. His young fans were up early trying, to no avail, to track him down. The young'uns started to congregate at the Olympia as early as 9 p.m. for the 2 o'clock show. Some tried the hotels with no luck.7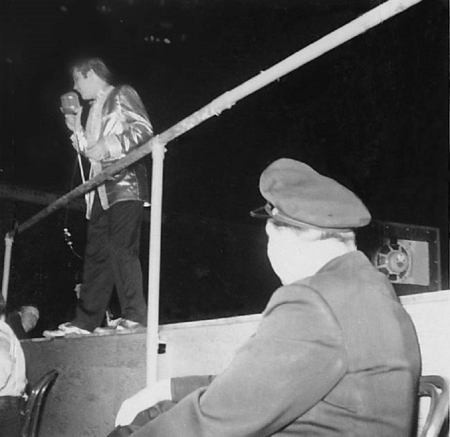 Elvis at Olympia Stadium - Mar. 31, 1957
Photo source Sheila Roth, ownership unknown, added May 24, 2014
INSIDE THE Olympia, the youngsters surged against police lines in hopes of getting an early look at their idol. "Insane, isn't it?" said one of the 175 policemen assigned to the "Sideburn Detail." Except for climbing up each other's backs, the crowd was fairly orderly.7
The 22-year-old Presley, who had changed into a gold jacket, gold shoes and a gold string tie, dashed onstage to the hysterical shrieks of unleashed bedlam. Hundreds of flashbulbs popped and swoons reached a crescendo. "Elvis, Elvis, Elvis, Elvis."7

Elvis at Olympia Stadium - Mar. 31, 1957
Photo source Sheila Roth, ownership unknown, added May 24, 2014
Before the show, Tom Parker, general manager of the Hillbilly singer, talked about Elvis popularity. "We get 25,000 to 30,000 fan letters a week," Parker said. "Why, he even got more than 270,000 Christmas cards, a lot of them from right here in Detroit." ELVIS IS A nice boy, said Parker. "None of this has gone to his head."7
There is a fanatical loyalty among Presley fans. A teen-aged girl sporting a "I Hate Elvis" button, was forced to remove it by a group of fans before they would allow her to reach her seat. From here Presley will go to Buffalo, then to Toronto, Ottawa and Philadelphia. Then Elvis will hike out to Hollywood, where eight movies await him. Apparently, Elvis is still the most.7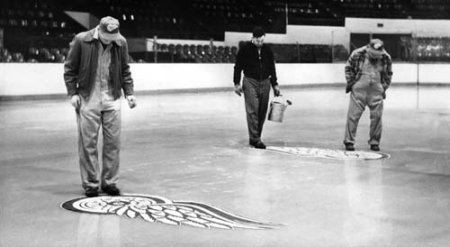 setting emblems and making ice for the Red Wings Hockey season in 1957
Photo © courtesy Detroit News Archives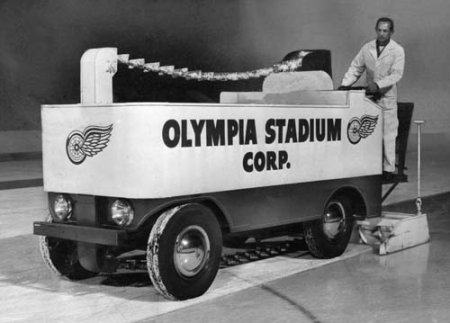 a staff member preparing the rink at Olympia for play in 1957
Photo © courtesy Detroit News Archives
Finally, it caught up with the Wings as Gordie Howe got older and they went through one of the longest droughts in NHL history. When Norris bought the team he told Adams he had one year to produce a solid team. Adams never had a contract but under his bold leadership, he led the Red Wings to 12 first-place finishes and seven Stanley Cups in his 35 years on the job.3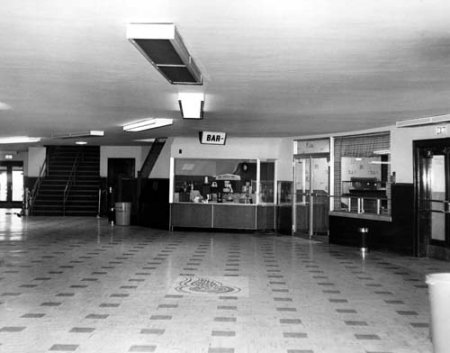 Part of the Olympia Stadium lobby - Sep. 1962
Photo © courtesy Detroit News Archives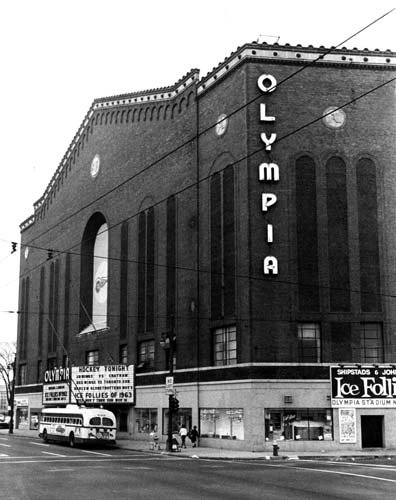 The Olympia Stadium hosting the Ice Follies 1963
Photo © courtesy Detroit News Archives
The 60's and 70s saw a host of events and new rock acts perform at the Olympia. The Beatles made their first appearance there with two shows on September 6, 1964. Ticket prices for the afternoon and evening shows were $2, $3, $4 and $5.


Ticket courtesy Unique Beatles Rarities

The Beatles performing at The Olympia - Sep. 6, 1964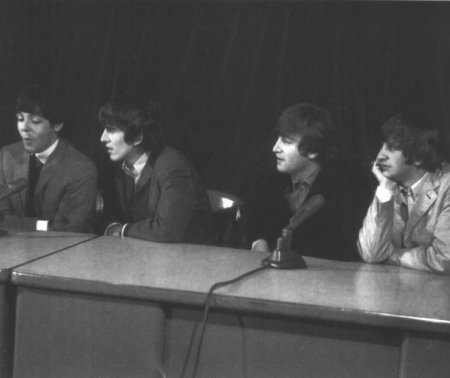 The Beatles at a press conference backstage between shows - Sep. 6, 1964
Photo © Robert Wimmer courtesy Images of America: Detroit's Olympia Stadium
It was the 14th stop of their 1964 North American Tour. The Motor City was the place of origin for the music the Beatles had professed to love in almost every interview and press conference -- The Detroit Sound, and the recording artists of the Tamla-Motown label. The press conference was held backstage at the Olympia between the two performances.8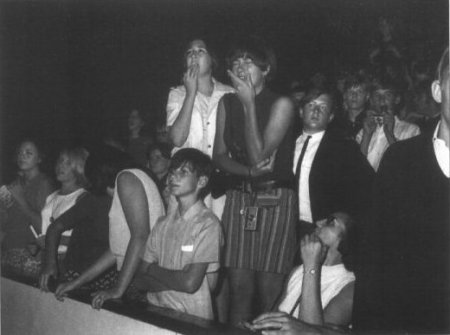 Beatles fans at The Olympia - Aug. 13, 1966
Photo © Robert Wimmer courtesy Images of America: Detroit's Olympia Stadium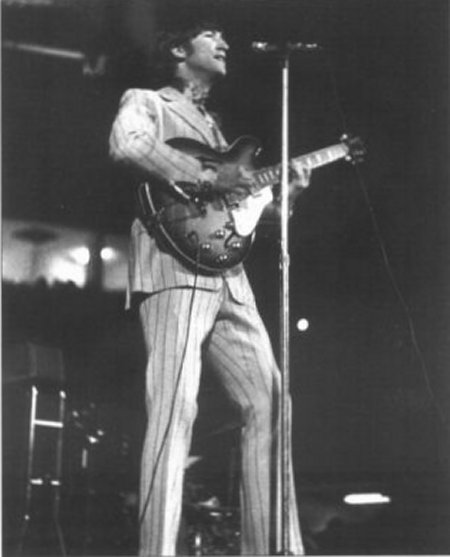 John Lennon at The Olympia - Aug. 13, 1966
Photo © Robert Wimmer courtesy Images of America: Detroit's Olympia Stadium
By the time of their next, and last, appearance at the Olympia in August of 1966, bleacher seating capacity had been increased to 13,375. A little over 2 weeks later, the Beatles would perform their final tour date in San Francisco at Candlestick park on August 29th. After confining themselves primarily to the studio for the next few years, they broke up officially in 1970.

Patrolling past the Olympia during the 1967 Riots
Photo courtesy Shorpy/brianvnt90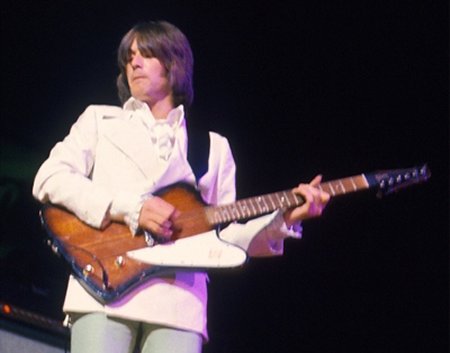 Eric Clapton with Cream at the Olympia - Oct. 12, 1968
Photo © T. Weschler courtesy Don Green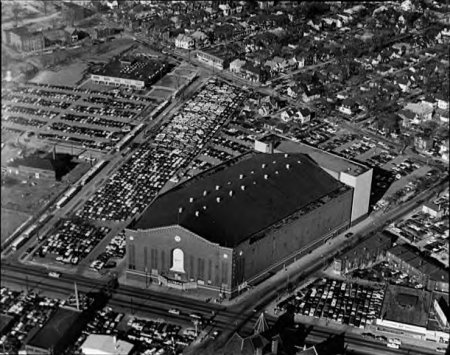 Aerial View of Olympia Stadium - Feb 9, 1969
Photo courtesy Hockey Forum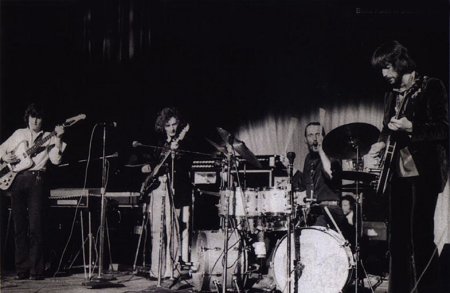 Eric Clapton with Blind Faith onstage at Olympia Stadium - Aug 1 1969
Photo © Robert Matheu courtesy Blind Faith Website
The Olympia continued to host other large acts like The Who, Cream, and Blind Faith as well as Frank Sinatra and John Denver. Elvis also returned to the Olympia five more times in the 70s with the TCB band. On May 7, 1976 when Paul McCartney and Wings played at the Olympia a fan gave him a Detroit Red Wings sticker that he stuck on his 1964 Epiphone Texan.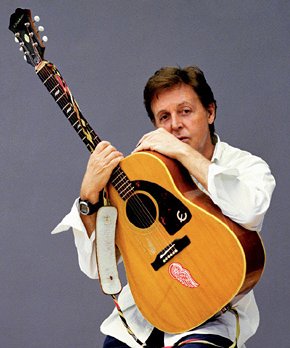 Paul McCartney with his 1964 "Red Winged" Epiphone Texan
Photo courtesy Epiphone
In the 70's, when under first Ned Harkness and then Alex Delvecchio the Red Wings dropped to the bottom of the NHL. Even then, except for only two seasons, the fans supported the team and the building. In 1979, with the team way under .500 and out of the playoffs all season, the team set a new single-season attendance record. Olympia Stadium had become the smallest arena in the National Hockey League. After considering moving to Pontiac, the City of Detroit came up with another offer the Wings couldn't refuse. They were offered control of Cobo Arena, Louis Arena and two parking structures, all at one-third the rent they would have paid in Pontiac.2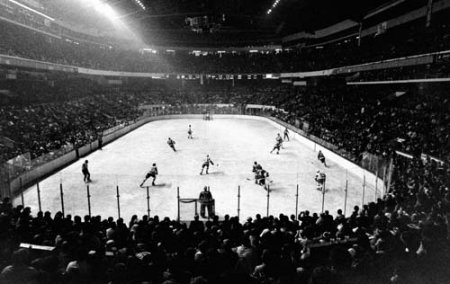 The last Hockey Game at Olympia - Feb, 21, 1980
Photo © courtesy Detroit News Archives
One February 21, 1980 the last hockey game ever was played at Olympia Stadium by the Red Wing Old Timers to commemorate the end of an era as the old red barn on Grand River was to be shut down. The new Joe Louis stadium would house the Red Wings the following season. Red Wings both old and new attended the grand retirement party for the arena.9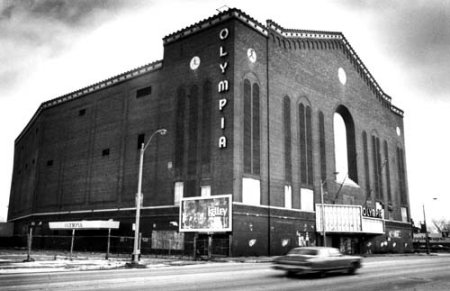 Olympia Stadium abandoned and boarded up during the winter of 1985
Photo © courtesy Detroit News Archives
The Red Wings moved to new quarters in the fall of 1980 with the opening of the clean, well lit, air-conditioned Joe Louis Arena. The building was demolished in July of 1986. A Cleveland company razed the 60-year-old building at Grand River and McGraw, and was replaced by a National Guard armory.9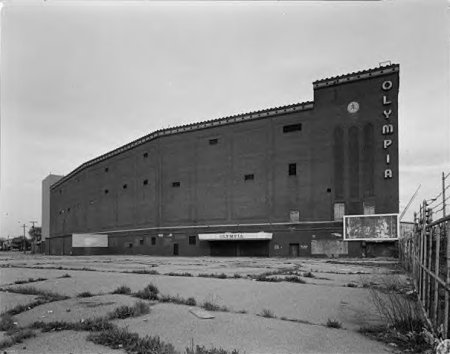 Olympia Stadium abandoned and boarded up during the winter of 1985
Photo © courtesy Detroit News Archives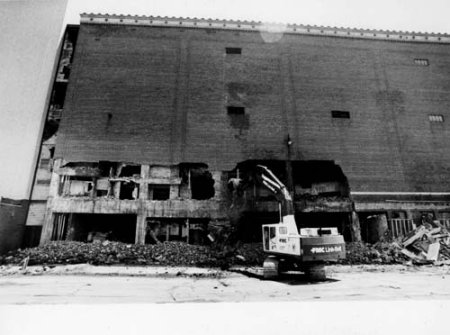 Demolition of Olympia Stadium - July 1986
Photo © courtesy Detroit News Archives
Sugar Ray Robinson and Jake LaMotta fought each other three more times after Detroit. Robinson won two bouts in 1945, and on Feb. 14, 1951, at Chicago Stadium, Robinson brutalized La Motta to take the middleweight crown in what was called the "St. Valentine's Day Massacre."10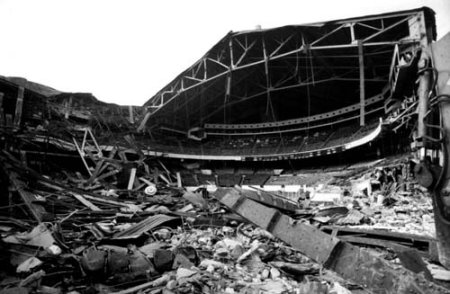 Demolition of Olympia Stadium - July 1986
Photo © courtesy Detroit News Archives
Excluding exhibitions, Joe Louis won 68 professional fights and lost only three. He scored 54 knockouts, including five in the first round. After retiring, he continued to appear in exhibitions and in 1950 he decided to make a comeback, but was beaten by Ezzard Charles in 15 rounds. His final professional bout took place on October 26, 1951, when he lost to Rocky Marciano in New York.11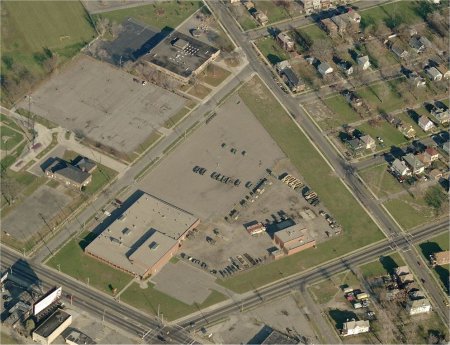 The site of the Olympia today - 2008
courtesy Microsoft Corporation © EathData
The Red Wings were bought in 1982 by Little Caesars pizza king Mike Ilitch, who also later bought the Fox Theater. Gordie Howe celebrated his 80th birthday this last March. The Red Wings won their fourth Stanley cup in 11 years last week, on June 4th.
While spanning three centuries, the Detroit Athletic Club remains a rock-solid force in the city where it was born.1
page added June 13, 2008
1 according to history of Detroit Athletic Club
2 excerpt from "Olympia Stadium" by Tom Henderson, The Detroit Free Press, Jan 1980, courtesy Ballparks by Munsey & Suppes
3 excerpt from "Those magnificent men in red" by Joe Falls, The Detroit News, Sep. 30, 1995
4 excerpt from Boxing Memorabilia . com
5 excerpt from "Howe kept going and going and ... " by Larry Schwartz, courtesy ESPN Classic
6 "Elvis Wiggles and Wails as 24,000 Scream and Sob" by John Fislayson, Detroit Free Press, Apr. 1, 1957 courtesy Ger Rijff's "Long Lonely Highway"
7 "Hysterical Shrieks greet Elvis in his Gold Jacket and Shoes" by Frank Beckman and Carter Van Lopik, Detroit Free Press Apr. 1, 1957 courtesy Ger Rijff's "Long Lonely Highway"
8 by Jay Spangler, The Beatles Ultimate Experience
9 excerpt from Detroit News Archives
10 excerpt from Reel Life: Raging Bull by Jeff Merron, Special to ESPN's Page 2
11 excerpt from Arlington National Cemetery Website
---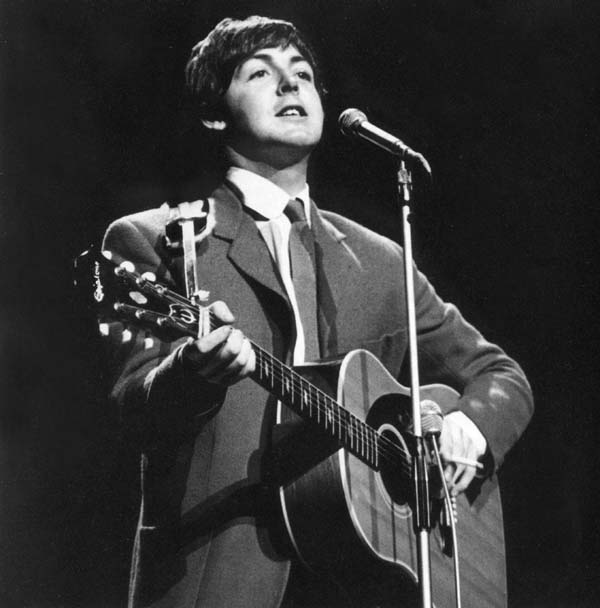 Paul McCartney on the Ed Sullivan Show performing Yesterday with his 1964 Texan - 1965
Photo courtesy Epiphone
In 2008 we put up the venue page about the Olympia Stadium in Detroit and mentioned how Paul received a "Red Wings" sticker from a fan backstage during a concert there with his band "Wings" in May of 1976 which he prominently applied to his 1964 Texan. The following year, in 2009, Epiphone released a limited run of 100 Paul McCartney signature 1964 Epiphone Texan replicas, distressed like his complete with scuffs and the "Red Wings" sticker.
Paul bought the guitar in New York in 1965 and used it to record the song Yesterday and also to perform on the Ed Sullivan show. Oddly, in 2006 Epiphone had announced the third and final series of McCartney Epiphone Texans when they produced a limited run of 1,964 Texans, sans sticker.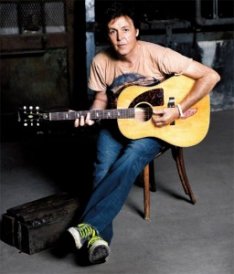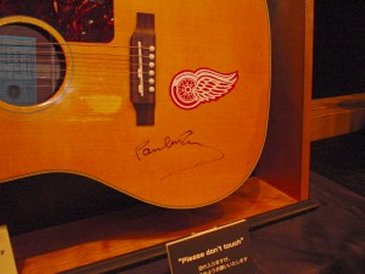 Paul McCartney with his Epiphone and a 2009 signature model
Photos courtesy feelnumb
Yesterday we received email from the fan that gave Paul the sticker in 1976 and thought we'd share it here:
James,

I visited your Scotty Moore Olympia site and notice you show Paul with the Red Wing sticker. I gave Paul the sticker, backstage, that night. I was an employee in the concession dept. run by Raul Sartori and worked all Red Wing games and most events at that time. At the end of the show, I went back stage and gave the sticker to Paul as his band was named Wings and he was at the home of the Red Wings.

I don't have a ticket stub….because I wasn't working that night but went in early, like I was working, and then sat side stage with another employee doing exactly the same thing!!! I did a radio interview with WOMC last year about this. You must understand that I was an 'opportunist' back then who did 'almost' anything to meet the 'stars' including Elvis, George Harrison, Gordy, Alex, ect. That was frowned upon by our bosses but they didn't care IF we didn't get caught. This was my college job.

Thought you might like to know who actually gave it to him.

Michael Kudzia
March 25, 2013
section added March 26, 2013