1965* Honda Dream CA77
Elvis Presley's Motorcycles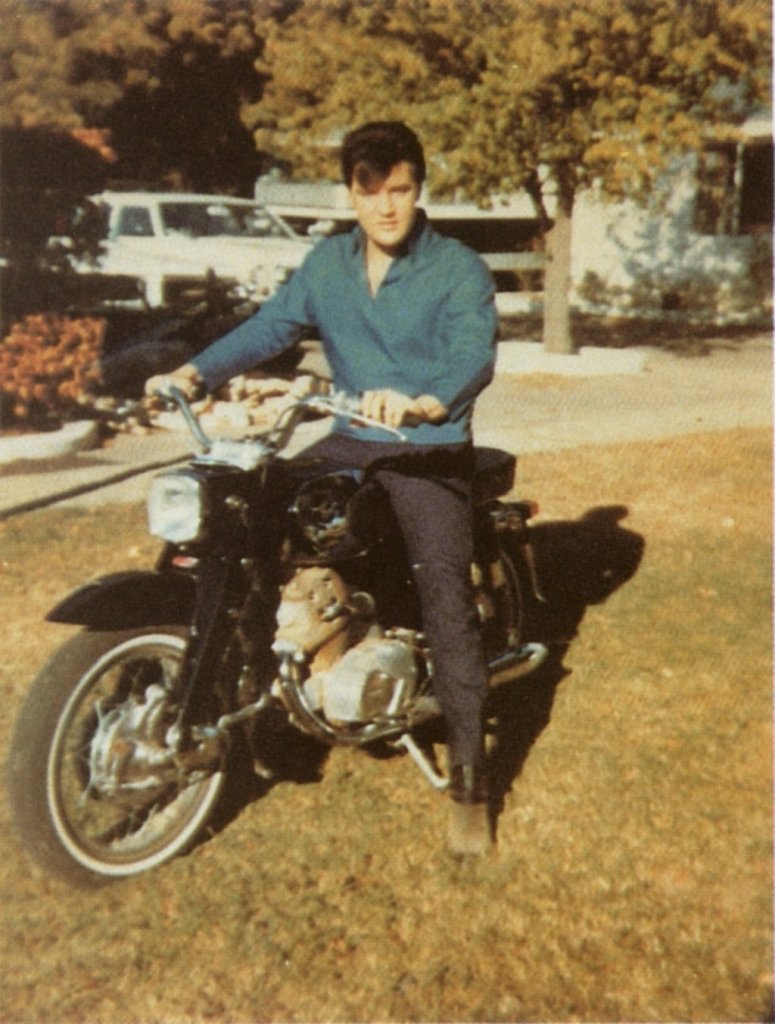 Elvis on his Honda Dream CA77 at Graceland (sans crash bar) - ca. 1967
Photo courtesy Jim Curtin's Candids of the King
In one scene of the 1964 MGM release of Viva Las Vegas Elvis was pictured riding a Honda CA110 Sport 50 (Honda 50) and later in 1964's Roustabout he rides the larger 1963 Honda 305 Super Hawk. Though his personal preference was normally a Harley-Davidson FLH, he did own a Honda of his own, and also bought one for his future bride at the time, Priscilla.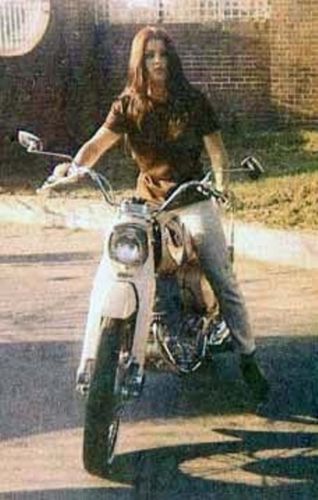 Priscilla on her white Honda Dream CA77 at Graceland - ca. 1969
Photos courtesy ebay and web
Their bikes were mid-60s CA77 Honda Dreams* ("late" models), hers white and his black. Priscilla's was possibly purchased in April of 1965 in California around the time he purchased several bikes for his group to ride. He had it shipped from there to Memphis in October of that year, according to Peter Guralnick, so she could go riding with him.1 Elvis' was likely purchased from Al's Cycle Shop in Memphis, if the stickers on the bike are any indication, but when is not clear at this time. Al's Cycle was started in 1958 by "Big" Al McAlexander, the former service manager at the Memphis Harley-Davidson Co. Some unsubstantiated accounts however say Elvis bought a truckload of them when they were first imported.2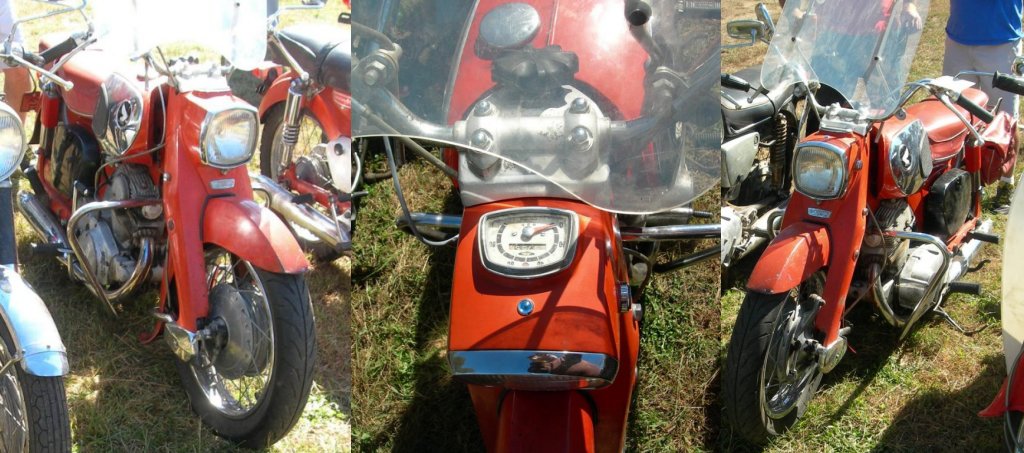 Corey Bourassa's red 1963 Honda Dream CA77 from the Antique Honda Shop, with windshield and (1) saddle bag
Photo © James V. Roy
The Honda Dreams started out as the the 247cc 4-stroke twin C70 Dream introduced in May of 1957. Soichiro Honda had dubbed many of his earlier bikes 'Dream' after his dream of building complete motorcycles.3 Honda himself said, I designed the lines on the side of the Dream C70 gas tank with a picture in my mind of the curve from the eyebrow to the nose on a figure of the Buddha.4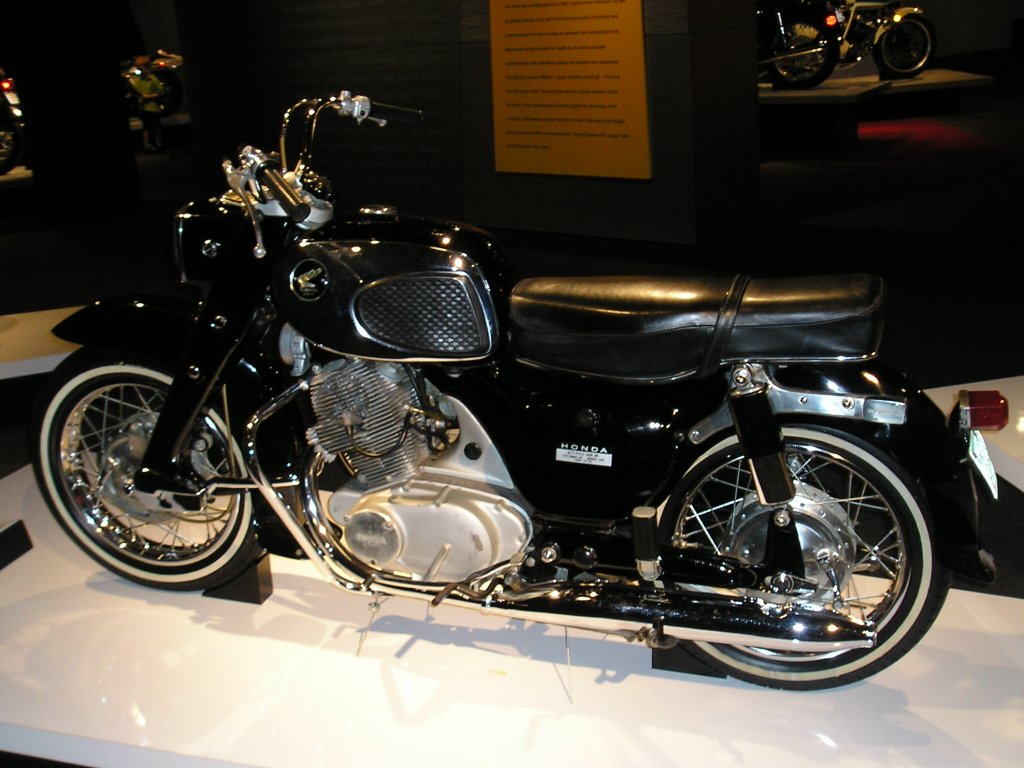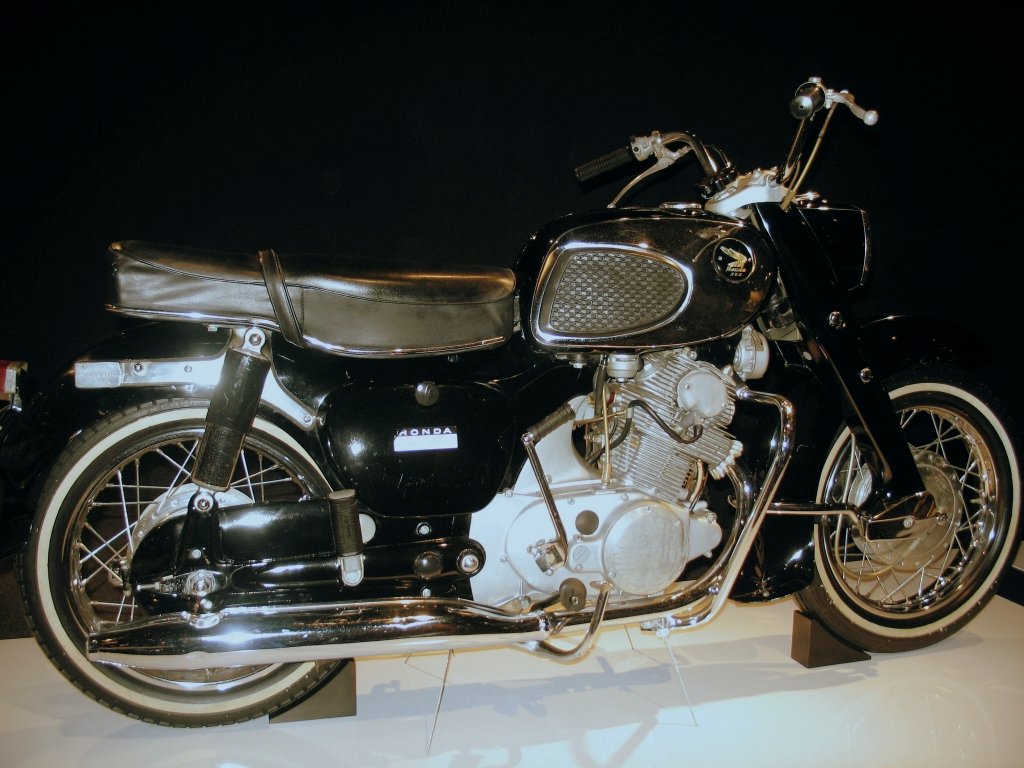 Elvis' Honda Dream on display at the Art of the Motorcycle exhibit in The Pyramid in Memphis - 2005
Photos © Leonard Temple, and txinkman
After the C70, Honda developed the 247cc C71, which featured an electric starter, and the C72. Increased to 305cc, the same engine was introduced to North America in the CA76 Dream in 1959 and CA77 in 1960. They were the first larger-capacity motorcycles that Honda mass-exported. The CA77 dreams produced from 1960 to 1963 are called "early" models, while those built from 1963 to 1969 are dubbed "late" models, the difference of which are are few. Visually, the shape of the gas tank changed, but the rectangular rear shock absorber upper covers and the square headlight nacelle, complete with speedometer, remained. Over its production run, Dream specifications continued virtually unchanged.3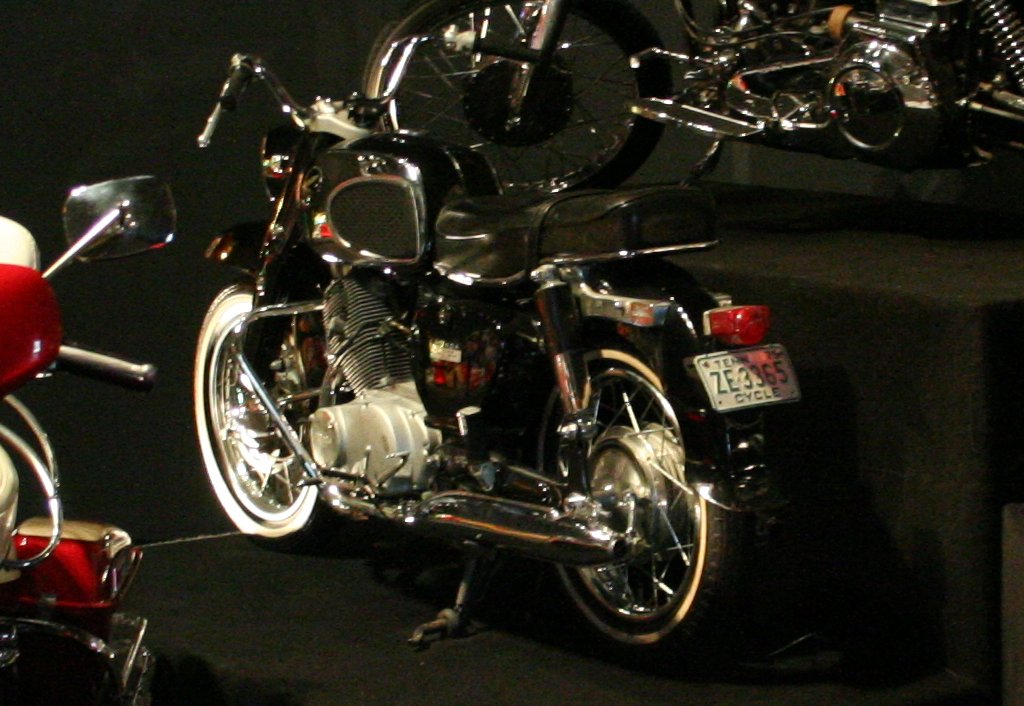 Elvis' Honda Dream CA77 - Dec. 17, 2008
Photo © Paul & Kelly
Available in white, black, blue and scarlet red, they were characterized by a pressed steel frame and alloy overhead cam twin cylinder engines. They were very well equipped, with 12v electrics, electric starter, indicators, dual seats and other advanced features, not common to most motorcycles of the period. The front and rear wheels were 16-inches each, and most Dreams came equipped with whitewall tires. They weighed 350lbs., were rated at about 24hp and had a top speed of 86 mph. They have a 2.5 gallon fuel tank and got anywhere from 50 to 70 miles to a gallon. They retailed for under $600 at the time.3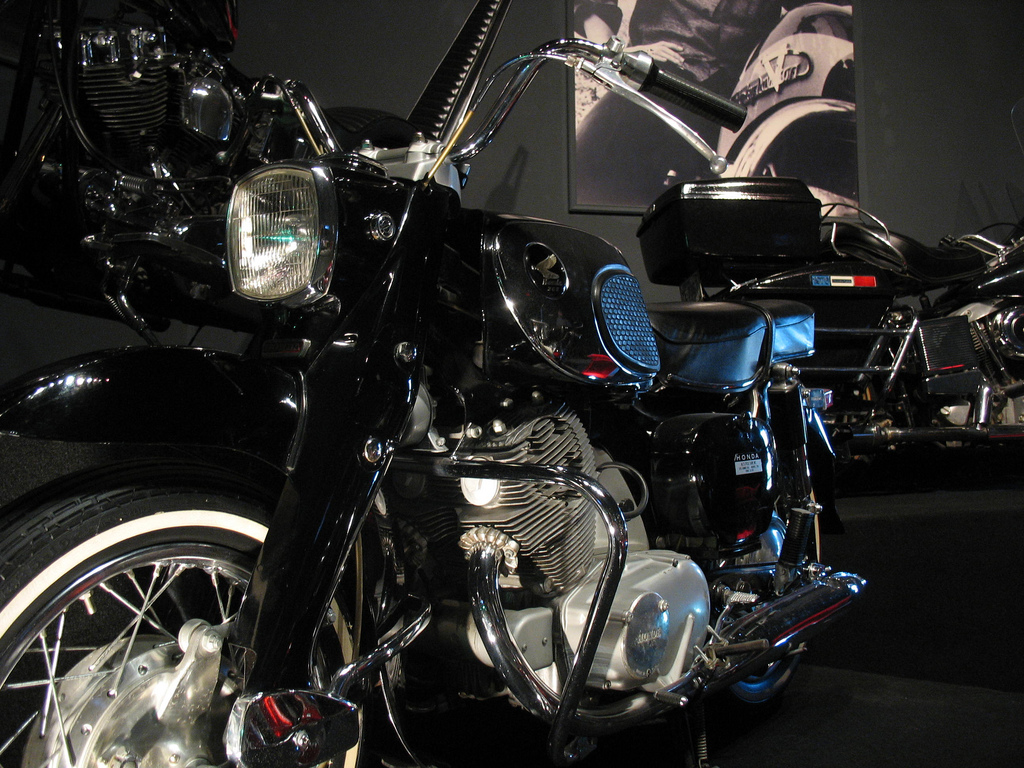 Elvis' Honda Dream CA77 at Graceland - Jan. 30, 2009
Photo © K. M. Hahn
Honda Dreams weren't exactly high-performance motorcycles, but then they weren't designed to be. The Dream emphasized other elements of Honda's approach to motorcycle-building. It was inexpensive to own, unintimidating to ride and reliable to maintain. While those qualities may not have attracted a lot of traditional motorcyclists, they struck a chord with a new generation of riders interested in fun on two wheels. On that score, the Dream hit the mark.5 One can only speculate that Elvis might have bought one to keep back with Priscilla. Hers is gone but Elvis' is still part of the collection at Graceland where it is regularly on display. At some point a crash bar was added to it. In 2005, however, it was on loan to the Art of the Motorcycle exhibit that ran at the Pyramid from April 22nd to October 30th that year.

page added October 5, 2015
1 according to Careless Love: The Unmaking of Elvis Presley by Peter Guralnick
2 according to The Harley-Davidson Reader by Michael Dregni
3 according to or excerpt from Honda Dream CA77 by Greg Williams, Jan/Feb 2014 courtesy Motorcycle Classics
4 according to A Product the Looks Good is also Good on the Inside courtesy Honda Worldwide|History
5 according to or excerpt from 1962 Honda Dream Sport courtesy AMA Motorcycle Hall of Fame
* It should noted that we are only assuming the model year as 1965 based mainly on when we think Priscilla's may have been acquired. As mentioned above the model years are visually indistinguishable and according to Corey Bourassa of the Antique Honda Shop in Lowell, Massachusetts, Honda often titled their bikes the year they were sold with several often carried over to the next model year. The preferred method for accurately dating them is the engine number on the top of the clutch case and/or tags on the wiring harness, neither of which we have access too. Suffice to say that both Elvis and Priscilla had mid-60s Honda Dreams.
---

The sound of Honda Dream CA77