1975 Super Cycle Stinger VW Trike (by Stires)
Elvis Presley's Motorcycles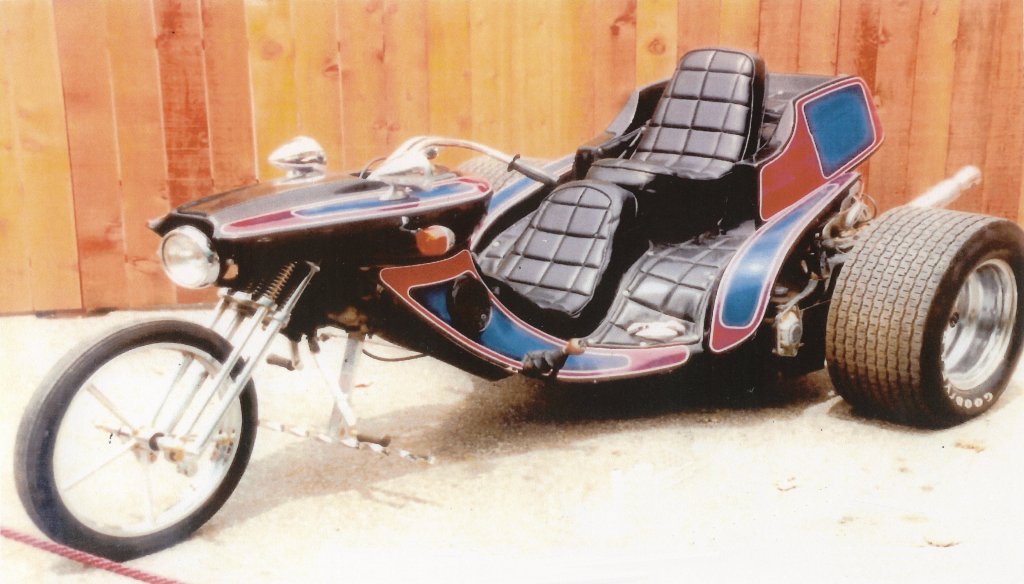 The Elliott's replica of Elvis' 1975 Super Cycle Stinger VW Trike
Photo © Super Cycle
Sometime in the summer of 1975 Elvis bought his second trike. Some accounts say that he initially saw one around town driven by Marvin "Shack" Shackleford, a former partner at Super Cycle in Memphis first,1 but Ron Elliott there remembers him first coming in on his Rupp Centaur with his girlfriend (Linda Thompson) asking if there was anything they could do to give it more power. He said the motor was less than adequate for a two-seater and though they could improve it he recommended one of the Volkswagen powered trikes they built there from kits. The first of two that Elvis would buy there was a Stinger, built from a kit obtained from Trikes By Stires in Garden Grove, CA.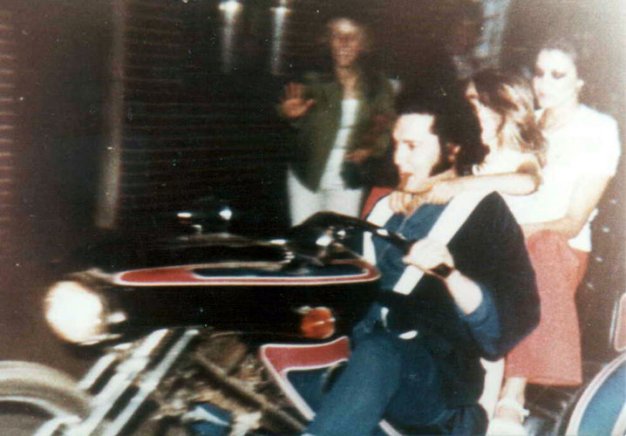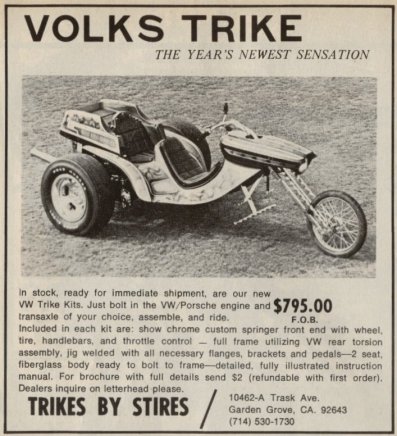 Elvis, Lisa Marie and Ginger Alden riding through the gates at Graceland on the Super Cycle Stinger VW Trike - April 8, 1977 and a 1974 ad for the Trikes By Stires kit it was built from
Photo courtesy Candid Central, Ad photo from Choppers Magazine May 74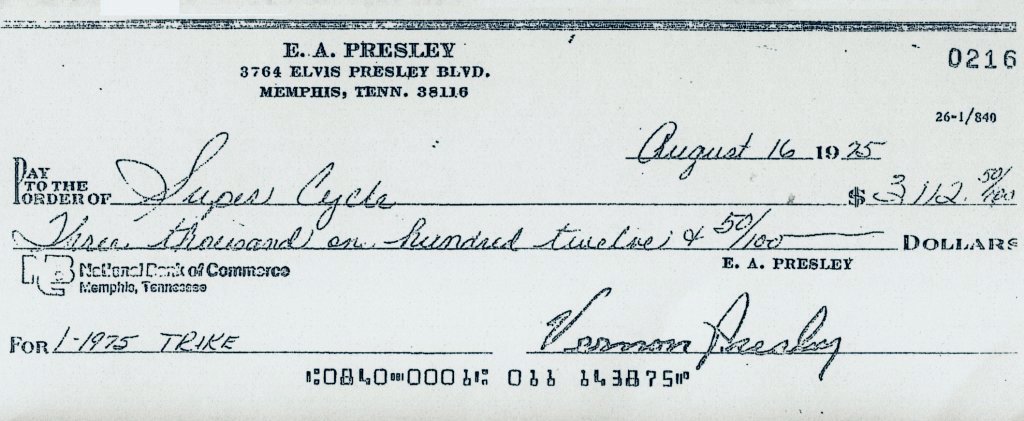 colorized copy of the check for one of the trikes signed by Vernon Presley, August 16, 1975
Photo © Super Cycle, courtesy Ron Elliott
Super Cycle in Memphis was started in 1971 by the Elliott brothers, Lew and Ron, and Shack as a motorcycle parts and custom service shop.2 At one time they had ten people working in the shop in the early seventies when bikes and trikes were becoming the rage. There were several manufacturers offering kits and completed VW based trikes but "Trikes By Stires" was one of the largest and, according to their literature, the only licensed as an Original Equipment Manufacturer in the State of California.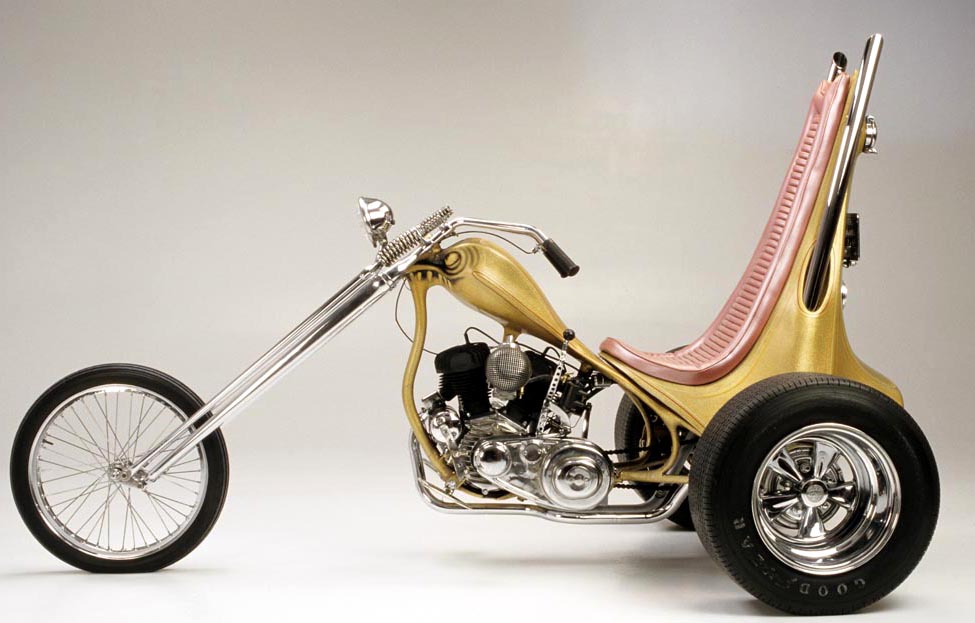 Ed Roth's Candy Wagon Trike designed and built from a Harley-Davidson Servi-car in 1967/68, currently on display at the Motorcyclepedia Museum
Photo courtesy The Best Car Causar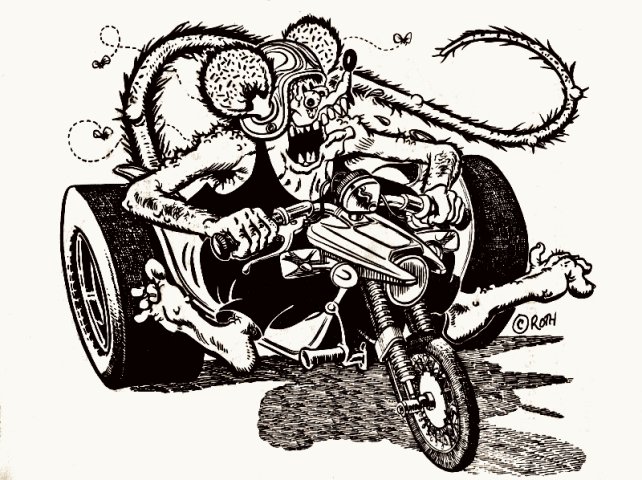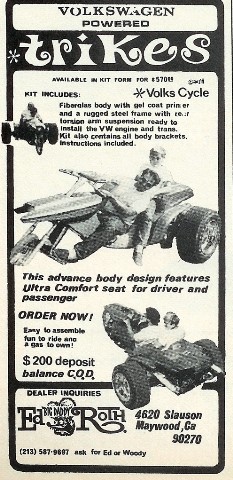 Ed Roth's Rat Fink on a Trike art and an old ad the short lived Volkswagen Trike kits
Photos courtesy Big Daddy, and The Samba.com
Ed "Big Daddy" Roth, the hot rod builder and artist responsible for "Rat Fink" however is credited as the originator of the VW Trike kits and most that were offered since were inspired by, if not copied from his designs. He built his first trike, the Candy Wagon from a Harley-Davidson Servi-car around 1967 and got the idea for his next after seeing the rear half of a VW bug with Harley-Davidson forks welded on to it. He made his first, the American Beetle, in 1968 from a 1957 bug with a 36 hp engine, Honda fork and a fiberglass body.3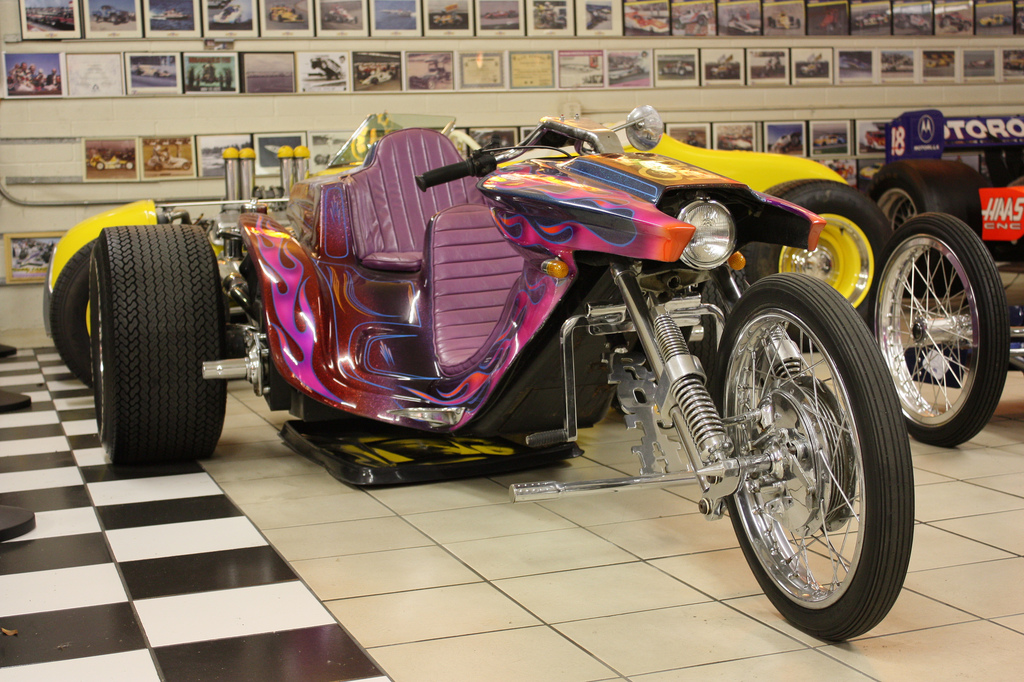 The first VW powered trike - Ed's 1968 American Beetle
Photo courtesy Kustom's US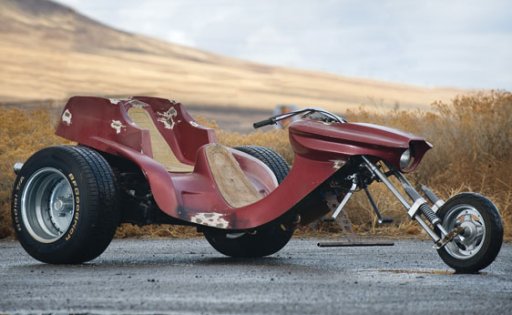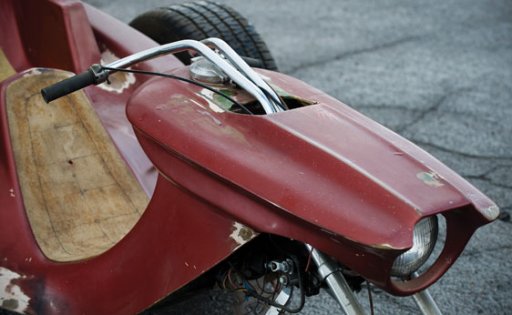 Other Roth built VW trikes that followed his "American Beetle" that inspired the Stinger Trike by Stires
Photos courtesy "Hot Rods by Ed "Big Daddy" Roth, Bike- Urious and RM Auctions/Sothebys
Several more like it with various themes followed and in 1971 Roth applied for a patent for a three wheeled motorcycle. He had planned to license kits but was pretty much out of the VW Trike phase when he received the patent in 1973.

Figures for Ed Roth's Patent for Three Wheeled Motorcycle applied for April 12, 1971, granted Dec. 4, 1973

ABSTRACT
A motor vehicle having two spaced rear wheels and a single centered front wheel mounted for steering movement, with the frame and body of the device having relatively wide rear portions between the two wheels carrying and enclosing a driving motor, and having narrower forwardly projecting portions carrying a driver's seat at a location at which the driver's legs straddle those portions, with the forwardly projecting portion of the frame extending upwardly toward its forward end to connect pivotally to a fork mounting the front wheel. A second seat is desirably located back of and at a lever higher than the driver's seat, with the driver's seat preferably being located lower than, and the second seat preferably being located higher than, the level of the tops of the rims of the rear wheels. A motor vehicle having two spaced rear wheels and a mounting the front wheel. A second seat is desirably located back of and at a lever higher than the drivers seat, with the drivers seat preferably being located lower than, and the second seat preferably being located higher than, the level of the tops of the rims of the rear wheels.

SUMMARY OF THE INVENTION The present invention provides a novel three wheeled vehicle which overcomes the disadvantages of the prior three wheeled devices of which I am aware, and which in particular achieves vastly improved operational stability under much higher speed conditions and more abruptly turning conditions than has been possible with such prior vehicles. My arrangement enables the center of gravity of the vehicle and its driver to be extremely low and very close to the road surface, while still maintaining a required minimum clearance between the lowermost portion of the vehicle and that road surface. At the same time, the driver is given very full and free visibility in all directions, in spite of the low center of gravity. Further, a passenger in addition to the driver may be carried at a location minimizing any adverse effect on the handling characteristics of the vehicle which might be caused by the weight of this passenger, and also locating the passenger to himself have very wide and free visibility. In addition, the vehicle is so constructed as to be simple in manufacture, and therefore low in cost of production.

Three wheeled motor vehicle - US 3776353 A - Inventors E Roth - Original Assignee E Roth courtesy Google Patents
Tony Thacker, who with Ed wrote his biography "Hot Rods by Ed "Big Daddy" Roth" wasn't sure "if Roth ever licensed anybody to build versions of them—maybe, but mostly people just stole the idea and modified the design somewhat. He added that trikes "are inherently unstable: three wheelers work much better when the two wheels are in front rather than in back. That said, Roth defied convention and put a lot of miles on his trikes. They come up for sale occasionally and don't fetch much money."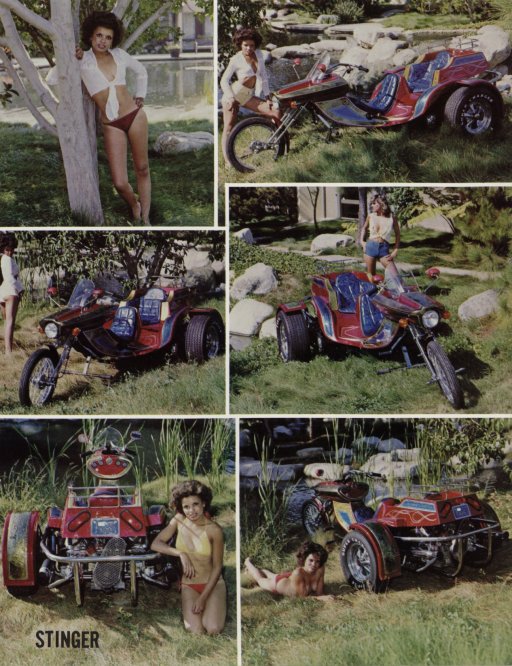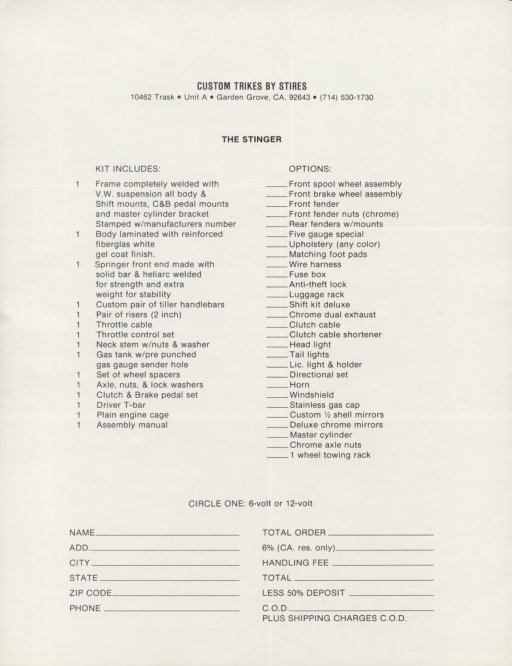 Trikes By Stires flyer for the "Stinger" model from the Seventies
"Trikes By Stires" (Clyde Stires) began manufacturing their own version of a mail order kit in 1970 in a garage and grew to an International organization with distributors throughout the United States and Europe. They advertised that their kits were capable of being put together by most anyone in a few weekends. At the very least they acknowledged Roth as the concept originator in their literature. The Stinger model that the Elliotts built and first sold to Elvis was based on Roth's "American Beetle." It has a rear-mounted, air-cooled VW engine, four-speed manual transmission in rear-mounted transaxle, springer-type front forks, VW independent rear suspension, and rear-mounted VW drum brakes.


Marvin "Shack" Shackleford on a similar trike, mechanic Earl Smith 2010 and Lew Elliott with their replica at Super Cycle
Photos courtesy Memphis Magazine 2009, Commercial Appeal 2010 and Tom Wilemon - Daily News 2008
According to Shackleford, Elvis wrecked it the day it was delivered. "He got the front end just fine through Graceland's gates, but the back fender got hung on the stone."1 If true, that may have been the motivation for buying the second one, while the Stinger was in for repairs. Ron said Elvis had been pulled over and written up for driving it without a helmet. The police called him to find out if there was a way around having Elvis go to court. Ron told them he could re-title it as a VW which would eliminate the need for a helmet. The legality of it was questionable but none the less Ron wound up with the original plate from when Elvis was cited.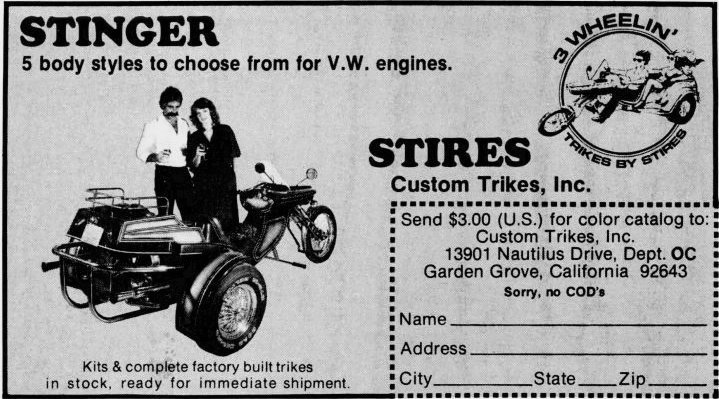 Stinger ad by Stires Custom Trikes, Inc.
courtesy Orange Coast Magazine - July 1981
Stires continued to offer both models of trikes and kits through the seventies which had increased to five models before selling their operation in the eighties. The trikes weren't the only things the Elliotts sold Elvis. He continued to do business there until he died, having his motorcycles serviced there and getting specialty items like golf carts for Lisa Marie and a snow mobile with wheels instead of skis in the front so he could drive it around Graceland.2 They've nothing but good things to say about him and also his cousin Billy Smith who they dealt with on many occasions. The business at 624 S. Bellevue Blvd. continued to grow and out lived many of the motorcycle businesses in the city.

Ron and Lew Elliott at Super Cycle, Memphis, TN in 2010
Photo © wherethehellismurph
With a large inventory of hard to find parts for vintage Harley-Davidsons and a full machine shop and paint booth Super Cycle can rebuild components or custom build machines to your specifications. They employ licensed Harley-Davidson mechanics.4 A long time employee, Earl Smith had worked for several shops in the city since the '50s and at the Memphis Harley-Davidson in 1956 serviced Elvis' first bikes. He was at Super Cycle into his 90s.5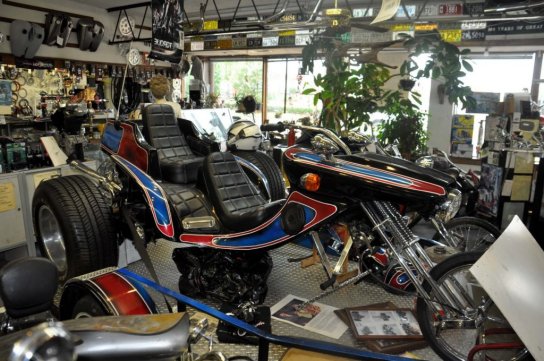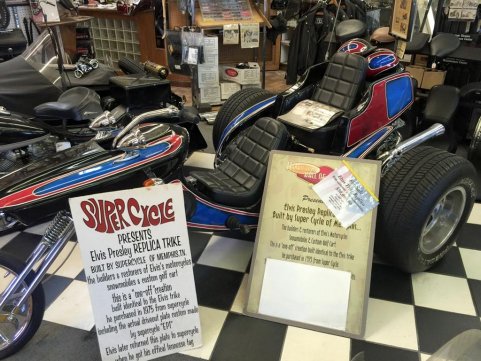 The replica of Elvis' Stinger trike on display at Super Cycle in 2010 and Jan. 2015
Photos © wherethehellismurph, and Gabe Rodriguez
After 44 years the business is still in operation. Earl Smith passed away in 2012 at 91, and Lew, now 84, has had several strokes which as can be expected has slowed his contributions leaving Ron, 81, at the helm. They are only open now Wednesday thru Sunday but its still a regular stop for many of the area serious riders. They have a replica of Elvis' Stinger on display in the shop, along with Elvis' original plate which is a popular photo op for the fans that visit. Elvis' trikes are still part of the collection at Graceland and regularly on display across the street at the Auto museum along with the other vehicles sold and serviced by the Elliotts over the years at Super Cycle.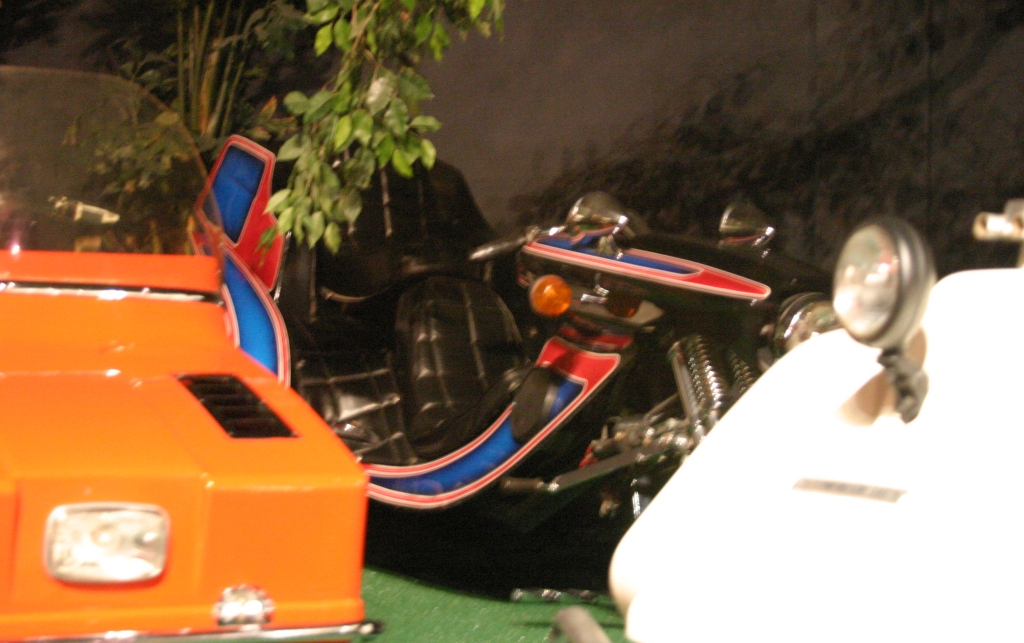 Elvis' 1975 Super Cycle Stinger VW Trike (from Trikes By Stires kit) on display in the Auto museum at Graceland - Dec 9, 2011
Photo © James V. Roy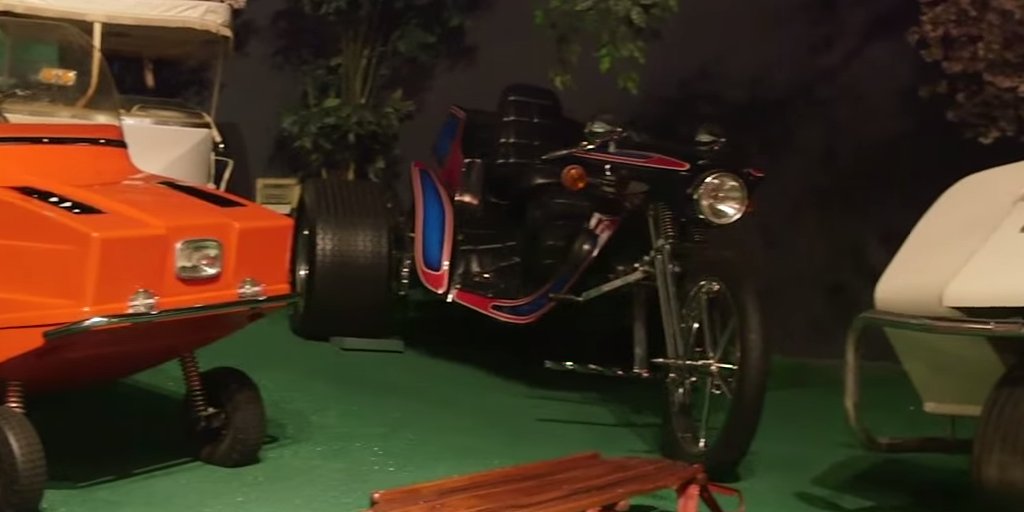 Elvis' 1975 Super Cycle Stinger VW Trike ( from Trikes By Stires kit) on display in the Auto museum at Graceland
screen capture courtesy youtube
Special thanks to Ron Elliott at Super Cycle and Tony Thacker for their input and assistance with this page. Much of the history of Trikes By Stires presented here was obtained directly from advertising and promotional materials of the day.
page added October 5, 2015
1 according to or excerpted from Rolling with the King - Memories of Elvis from his motorcycle-building pal by Marilyn Sadler, Memphis Magazine July 2009
2 according to Super Cycle Finds Longevity in 'Easy Rider' Fad - Memphis Daily News October 20, 2008
3 according to or excerpt from "Hot Rods by Ed "Big Daddy" Roth by Ed Roth, Tony Thacker
4 according to Super Cycle Blog
5 according to On the Job: Super Cycle's super mechanic by Mike Maple, The Commercial Appeal, Sep 28, 2010