Santa Claus is Back in Town
and The Royal Court of China

In February of 1992, Scotty got together with Carl Perkins and they returned to Sun Studio to record "706 ReUnion: A sentimental Journey." It heralded his return to recording and the following August he performed with Carl at Ellis Auditorium as part of the "Good Rockin' Tonight" show which among others also reunited him with D.J. Fontana and the Jordanaires. It was his first live appearance since the '68 NBC special. In October of that year he received a call from Grace Reinbold, the manager at the time of the band The Royal Court of China.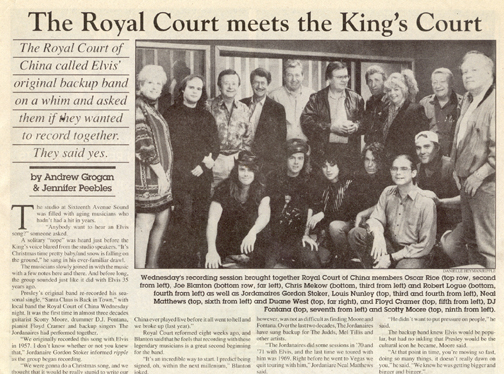 Nashville Press article about the session at 16th Avenue Sound - Oct. 1992
courtesy RCC
The band which featured Joe Blanton on vocals, Robert Logue on bass, Oscar Rice on guitar and Chris Mekow on drums, was a Nashville-based rock band that had started in the mid 80s, had broken up and then reformed to record material for a new album. One song they planned to record was a cover of Leiber and Stoller's Santa Claus Is Back in Town, recorded first by Elvis in 1957. Grace Reinbold called Scotty to ask if he would play on the session which would also include DJ and the Jordanaires, several of the musicians that performed on the original, and Floyd Cramer. The song was written by Leiber and Stoller at the request of Elvis for a song on his first Christmas album and recorded the same day at Radio Recorders in Hollywood on September 7, 1957. Jerry Leiber has called the recording one of Elvis's great blues performances.*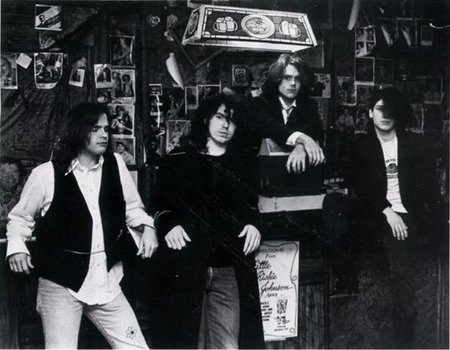 Royal Court of China at Tootsies Orchid Lounge in Nashville - 1986
Photo courtesy RCC
It was one of the last songs, and sessions, Scotty and Bill played on before resigning later that day. Ironically the song was also the last song ever played by the original members of the Royal Court of China during a show when they opened for the Hooters in Atlanta in 1987. Scotty agreed to play on it and Grace said, "Well, we can put you at 7:30 just before the Jordanaires at 8." Scotty asked, "Why don't we just do it all at once?" Grace said, "Can you do that?" Scotty replied, "Well, we did the first time." So the session was set up for 7:30 pm on October 14, at Sixteenth Avenue Sound in Nashville.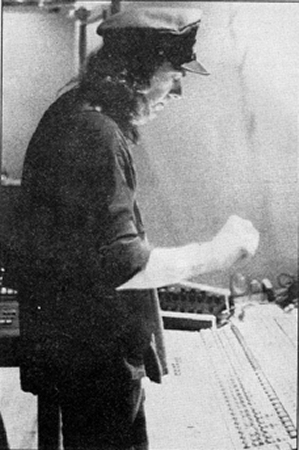 Scott Baggett engineering Santa Claus is Back in Town
Photo by Danielle Heymanripple courtesy RCC
Scotty, always early, got there around 7:00 and DJ, Floyd, and the Jordanaires were already there.  It was like old home week for the guys who had not recorded together in years. When it was time to start the session, Joe Blanton, the lead singer could not be found. He had been there earlier, talking to everyone, and his car was still in the parking lot, so the rest of the band started looking for him. They found him up on the second floor in a dark room. He said he was trying to psych himself up to play with those guys.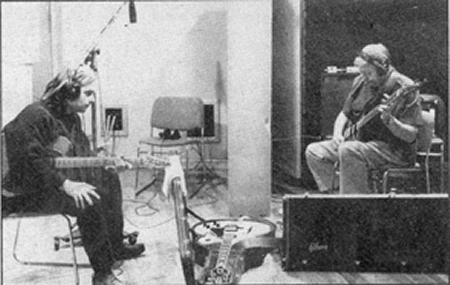 Oscar Rice and Scotty at 16th Avenue Sound - Oct. 14, 1992
Photo by Danielle Heymanripple courtesy RCC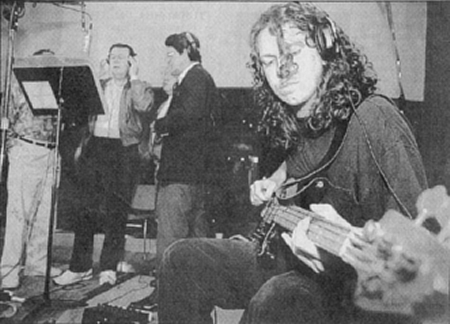 Robert Logue on bass with the Jordanaires at 16th Ave. Sound - Oct. 14, 1992
Photo © Bill Steber courtesy RCC
When he came down, they ran through it a couple of times, then cut the whole song in two takes. Floyd played piano on this version though Dudley Brooks, the LA sessionist, had played on the original. Gordon Stoker, Neal Matthews, Louis Nunley and Duane West sang backing vocals though only Gordon and Neal were members of the Jordanaires in 1957. DJ played bells and percussion. Scotty played the first lead with Oscar taking the second.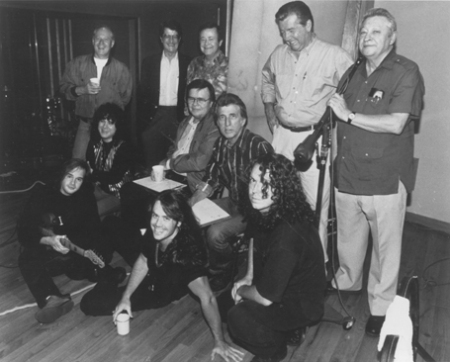 Scotty, DJ, Floyd, the Jordanaires and The Royal Court of China - Oct. 14, 1992
Photo © Don Putnam courtesy RCC
They were through by 8:00, and the guys hung around and talked a little, then left. At the door, Grace said, "you need to stay around. We thought it would take longer, but we've got a caterer coming for the party at 10 pm." Of course this bunch was not going to hang around that long, so they all thanked her and went home.

Nashville's Crook and Chase Show coverage - Oct. 15, 1992
Video © Jim Owens Productions courtesy Grace
The session was highly publicized, locally, and covered by both newspaper and television. The song was released to radio only in December of 1992 The song was distributed to radio in December of 1992 for the Christmas season but was never otherwise released. The Royal Court of China disbanded once again the following year. Scotty, DJ and the Jordanaires would later tour and record together periodically over the next 15 years.

Santa Claus Is Back In Town - 1992
courtesy Carol Golemon
page added December 12, 2012

Special thanks to Gail Pollock, the Royal Court of China and to Dave Habeeb for their assistance with this page.
* according to Hound Dog: The Leiber & Stoller Autobiography by Jerry Leiber, Mike Stoller