South Side Elementary School
Bastrop , LA
Wes Helbling is a staff writer with the Bastrop Daily Enterprise in Bastrop, LA and on at least two former occasions has written of Elvis, Scotty and Bill's appearance there on February 24, 1955 at the South Side Elementary School in addition to local recollections of their stops to eat there at The Patio Diner and Arlie's Cafe while traveling between Memphis and Shreveport during their Louisiana Hayride days. Today, on the 57th Anniversary of their appearance there, Wes and the paper published a new article. With his permission and assistance the articles are reprinted here.
Bastrop a tour stop for Elvis 57 years ago today

By Wes Helbling

Feb. 24, 2012

On this date, more than half a century ago, Elvis Presley wowed an audience at South Side Elementary School in Bastrop.
Not yet famous in 1955, the 20-year-old singing phenom from Memphis was already stirring excitement at small venues throughout the South.
"At the beginning of the tour, people asked who Elvis was," said Jimmie Rodgers Snow. "The crowds went wild, and by the end of the tour, people knew who he was."
The Rev. Jimmie Snow, of Nashville, performed with Elvis on the Jamboree Attractions tour that brought them both to Bastrop on Feb. 24, 1955. His father, country legend Hank Snow, had introduced Elvis at the Grand Ole Opry in Nashville and the Louisiana Hayride in Shreveport.


Jimmie Rodgers Snow and Elvis parade in Meridian, MS. - May 26, 1955
Photo © Southern Folklife collection of the Wilson Library UNC courtesy Field Trip South

"I was one year younger than Elvis, so we were quite close in that sense," said Snow. "When he came over [to the Snow home in Madison, Tenn.], we would ride motorcycles around."
In 1955, Hank Snow entered into a 50-50 partnership with his manager, Col. Tom Parker, resulting in "Hank Snow Enterprises-Jamboree Attractions." Elvis and the Blue Moon Boys, Scotty Moore and Bill Black, were booked with the tour as extra attractions.
"I carried the letter of intent to Lubbock, Texas that made them part of Jamboree Attractions," said Snow.
Snow shared the bill with Elvis, Buddy Holly and other performers at a show in Lubbock just weeks before the Bastrop concert.
"We toured for about a year and a half," he said. "I used to ride in the car with Elvis, Scotty and Bill. Dad was the one who was basically drawing the crowds at first, because people didn't know who Elvis was at the time."
That soon changed, however. Audience reactions to Elvis convinced Hank Snow to move him from the middle of the shows to the end.
"Dad finally told him, 'Close the show, so you can stay up there as long you want,'" said Snow.
The second phase of the Jamboree Attractions tour, billed as "WSM Grand Ole Opry," began in Little Rock and ended with two shows in Bastrop on Feb. 24. The event was sponsored by local radio station KTRY as a charity event. Tickets were sold for $1 apiece at Bastrop Drug Store.
Snow said he does not have specific memories of Bastrop after this many years, but he does recall an incident related to the Enterprise by Harry Howard in 1995. Howard said after the South Side shows, Elvis went to eat at Arlie Williamson's Busy Bee Cafe on the courthouse square, where a local man challenged him to scuffle.
"I wasn't there when it happened, but Elvis mentioned it later," said Snow. "That actually happened several times, in several different places.
"I never saw Elvis smoke, drink or curse, but he did have a weakness for women. Flirting got him into trouble sometimes -- I think that's why he took up karate later on."
Snow remembers comedian Benjamin Ford, "The Duke of Paducah," and Mother Maybelle and the Carter Sisters, who also performed that night and were family friends back in Tennessee.
The following year, Col. Parker asked Hank Snow to help him persuade Elvis' parents to sign a contract with the agency they shared. However, as Snow writes in his 1994 autobiography "The Hank Snow Story," Parker surprised him by signing Elvis to a management contract with himself rather than the partnership agency.
"Parker actually cheated my dad out of that 50 percent," said Snow. "Of course, my father had no idea, at the time, that Elvis was going to be a superstar."
As Elvis rose to national fame, Jimmie Snow committed his life to Christ and left his own recording career for the ministry.
"The last time I saw Elvis was in 1958," he said. "I had become a preacher by then, and he asked to me to spend three weeks with him."
Snow declined an offer from Elvis to act in his new film, "King Creole." He would later found Evangel Temple in Nashville, the home church of Johnny Cash and other country stars, where he pastored for three decades. In recent years, Snow has returned to both the road and the recording studio. Photos and videos from Snow's career and his travels with Elvis can be found on his Web site (www.jimmysnow.com).
He notes the indelible mark Elvis made on American music and culture: "Elvis was basically a country singer with a beat. Back then, nobody knew what rock 'n' roll was."


By Wes Helbling - Feb. 24, 2012, Copyright Bastrop Daily Enterprise
The 2007 article:

He was barely Elvis ... But he was in Bastrop

By Wes Helbling

The date was February 24, 1955.
The place: Bastrop's own South Side Elementary School.
Music fans packed the auditorium, breathless with anticipation, anxious for the curtains to raise at 7:30 p.m. for the first of two shows.


The South Side Elementary School at 500 S Vine St. in Bastrop, LA
Photo © Wes Helbling

Lurking somewhere out of sight, 20-year-old Elvis Presley awaited his cue.
In 1955 the future King of Rock 'n' Roll stood on the cusp of worldwide fame, and few could have predicted how meteoric his ascent into the public consciousness would be.
Just two years before his Bastrop appearance, Elvis had graduated high school and worked as a truck driver for Crown Electric until signing his first contract with Sun Records in Memphis.
Despite humble origins -- his parents had bought him his first guitar because they couldn't afford a bicycle -- Sun magnate Sam Phillips saw potential in Elvis' brash musical style.
Phillips teamed Elvis up with Scotty Moore and Bill Black, with whom he recorded his first album, "That's All Right, Mama" just months before coming to Bastrop.
Known as the Blue Moon Boys or the Bill Black Combo, they traveled half a million miles in 1954 with Shreveport's Louisiana Hayride, burning up stages in Texas, Louisiana and Arkansas.
Elvis' Bastrop appearance was probably orchestrated by Memphis disc jockey-turned-manager Bob Neal, who was known for combining second-string acts from the Grand Ole Opry and Hayride, slating rural school houses to perform in and giving the schools a cut of the profits.
For the '55 Jamboree Attractions tour, Neal signed the boys with Mother Maybelle and the Carter Sisters and comedian Benjamin "Whitey" Ford, known to radio listeners as The Duke of Paducah.
According to a story published in the Feb. 24, 1995 edition of the Enterprise, the Bastrop show was planned as a charity event for a local civic club, and was sponsored by local radio station KTRY. The Enterprise ran ads for the show Feb. 22-23, and tickets were sold at Bastrop Drug for $1 apiece.
Oral Herndon, 80, only went to the show because his wife saw the ads.
"I hadn't really heard of Elvis yet. I had no idea he would get so famous," Herndon said.
Martha Crumley and her sister-in-law, Dorothy Rowland of Searcy, Ark., borrowed money for tickets and left their husbands on baby-sitting duty.
"They couldn't have stopped us from going if they tried," Crumley joked.
"They used to have things at the schools all the time. We used to go, no matter what was happening," said Ida Dumas, 82, who went to the show with her husband, Reese, and son, Dennis Ainsworth.


The Cafeteria stage in the Elementary School where Elvis performed
Daily Enterprise Photo courtesy Wes Helbling

"I was just eight years old, and it was my first secular concert," said Ainsworth, who now lives in San Diego. "When Elvis came on stage the girls and women cheered wildly."
As Dumas tells it, Elvis "came out and did a lot of twisting and so forth."
Crumley remembers that Elvis wore all black, tight fitting clothes, he had an escort for protection, and the audience was all shook up.
"The young folks thronged him. They were doing everything but pull him down from the stage," Crumley said.
Asked if she shared in the tearful hysterics, Crumley said, "I was too old for that. I was cheering."
For Ainsworth the scene has taken on a dream-like quality.
"I just remember his figure on the stage as opposed to really remembering him and his face. What I remember most is being in shock at all these screaming women!" Ainsworth said.
"He had an encore, maybe two. Afterward the women kept screaming, but he didn't come back out. People just looked at each other like they were trying to figure out what they just saw. Was it really real? To me it was like a creature from outer space had just landed! I didn't know what kind of music this was, but it wasn't country, and I loved it!"
Even in 1955, Elvis was the act none dared follow. But what about the performers who graced the stage before him?
Herndon remembers someone comparing another man's girlfriend to a bureau, "because she sits in the corner all day and has big drawers." The joke likely came from Ford, alias the Duke of Paducah.
Ford began his career as one of the McGinty Cowboys who originated "She'll Be Comin' Round the Mountain." His tag line at the end of each act was, "I'm goin' back to the wagon, boys. These shoes are killin' me!"
Crumley remembers Ford as the announcer from the Grand Ole Opry radio broadcasts: "He'd say, 'Let 'er go, boys,' and the show would start."
Also at the show was June Carter, second generation member of the Carter Family Singers whose courtship with Johnny Cash -- they married in 1968 -- is recounted in the 2005 film "Walk the Line."
"June was cuttin' up and acting stupid, telling jokes," Crumley said, adding that the comedienne wore oversized bloomers.
At the time, Carter was married to country singer Carl Smith and pregnant with their daughter, future recording artist Carlene Carter.


the former Arlie's Cafe location, now Choose Life Gospel Entertainment Lounge
Photo © Wes Helbling

According to the 1995 story, Hank Snow Jr. also performed that night. After the show, Elvis went to eat at Arlie's Café on the courthouse square, and was challenged into a fight by a local man who took offense to his long sideburns.
Elvis won the fight.
Within two months of the Bastrop show, Elvis cracked the Billboard's top ten with "Baby, Let's Play House." Colonel Tom Parker replaced Neal as his manager and began slating him for TV appearances.
America, and the world, couldn't help falling in love.
Crumley remembers watching Elvis -- from the waist up -- on the Ed Sullivan Show in 1956. Ainsworth recalls a sold-out box office when Elvis' first movie, "Love Me Tender," played at the Rose Theatre. Herndon remembers an A&W Root Beer stand on North Washington Street where a jukebox never seemed to stop playing Elvis tunes.
"We all tried to act like Elvis. Even now, I'm 80 years old and I still try to act like Elvis," Crumley said. "His fame lives on. I don't know if it will ever die."

By Wes Helbling - Oct. 6, 2007, Copyright Bastrop Daily Enterprise
The 2011 article:
Elvis Was Everywhere
'The King' came through Bastrop frequently

By Wes Helbling

Today marks the 56th anniversary of an event that longtime residents of Bastrop still talk about -- the night Elvis Presley shook up an audience at Southside Elementary School.


The South Side Elementary School at 500 S Vine St. in Bastrop, LA
Photo courtesy Microsoft Corporation

Local memories of the Feb. 24, 1955 show have been collected and published in the Enterprise at least twice since then. However, readers may be surprised to learn "The King" stopped in Bastrop more than once during his early career.
Elvis recorded his first single, "That's All Right, Mama" at Sun Studio in Memphis in 1954. In November he signed a one-year contract for 52 appearances on the Louisiana Hayride, a country music show broadcast live from Shreveport on Saturday nights.
Merton Bowe of Mer Rouge recalls that Elvis made several stops at a local drive-in called The Patio during his trips from Memphis to Shreveport and back.
"He was just a common person then," said Bowe. "He wasn't real popular yet. I would see him and talk to him."
Bowe had returned from service in the U.S. Army and was close in age to Elvis, who was 19 years old at the time. He said the future icon wore plain clothes and was always very friendly.
"He just came in there and got something to eat, and hit the road again. He wouldn't stay long. He wanted to get in and out before there was a crowd."
Faye Bowe said The Patio included the drive-in eatery and a a motel with five or six cabins, located near the intersection of Grabault and Mer Rouge roads.
"It was where the teenagers used to hang out," she said. "We used to go by and get a Coke, burger and fries."
The Bowes met at The Patio in 1956 and were married the following year. In the meantime, Elvis played to a packed house in Bastrop and went on to nationwide fame.
Southside Elementary was the final stop in the Jamboree Attractions tour, which included four shows in Arkansas. Elvis played with the Blue Moon Boys, Scotty Moore and Bill Black. The tour included the Duke of Paducah, comedian, and country legends Mother Maybelle and the Carter Sisters -- including June Carter, the future wife of Johnny Cash.
Harry Howard told the Enterprise in 1995 the show was sponsored by local radio station KTRY as a charity event. According to ads published in the Enterprise from Feb. 22-23, two shows were scheduled for 7:30 and 9:30 p.m. Tickets were sold at Bastrop Drug for a dollar apiece.
"I remember he broke a string right after he came out," Howard is quoted. "I was backstage and the Duke of Paducah said, 'He does that at every show and I don't know why, but the girls go wild over it.'"
Merton Bowe was in the audience. Faye Bowe said she wanted to go, but her parents would not let her because of the traffic.
One of her school friends went up on the stage and was helped back down by Elvis. Afterward, the friend refused to wash her hand because Elvis had held it.
"I was so jealous," joked Bowe.


The original piano said to have used during the performances
Daily Enterprise Photo courtesy Wes Helbling


The Southside cafeteria still contains the stage upon which Elvis gyrated, as well as an old piano that is believed to have been used in the shows.
Howard recalled that Elvis and the other performers went to eat at Arlie's Cafe on West Madison Avenue after the show. When a local man picked a fight with Elvis over his long sideburns, the two scuffled outside the cafe, and Elvis came out the winner.
Faye Bowe said she and all the local teenagers listened to Elvis on the radio.
She also recalls watching his famous performances on the Ed Sullivan Show in 1956.
"Everybody had to watch him on Ed Sullivan," she said. "They just showed him from the waist up, of course."

By Wes Helbling - Feb 24, 2011 Copyright Bastrop Daily Enterprise
According to Wes, "The Patio" was a drive-in diner but unfortunately was torn down many years ago. A Circle K station was built on the site at the intersection of Mer Rouge and Grabault roads. The Circle K has since closed, but the empty building still stands where The Patio used to be.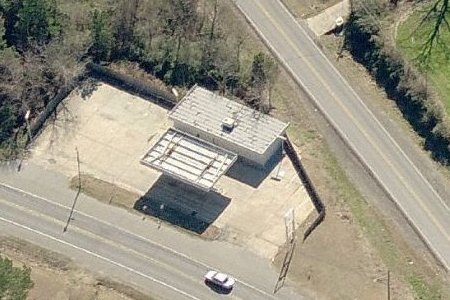 The former Circle K on the former site of The Patio in Bastrop, LA
Photo courtesy Microsoft Corporation
The building where Arlie's Cafe was located in now the Choose Life Gospel Entertainment and has been totally renovated since it was a cafe in 1955. That was where Elvis went to eat after the concert and was reputedly in a fight with a local guy just outside the cafe.
Page added February 24, 2012

Special thanks to Wes Hebling and the Bastrop Daily Enterprise for this page. 1955 Ads courtesy Wes Helbling.