Jimmie Rodgers Memorial Festival
Meridian, MS
Located in Lauderdale County in the east-central portion of Mississippi, Meridian is 20 miles from Alabama, 165 miles from the Gulf of Mexico, 186 miles from Tennessee and 138 miles from Louisiana. It lies along U.S. Route (Highway) 80, at one time a coast to coast highway across the south and second only to Route 66 in legend, and was another of the cities along that Highway played in by Elvis, Scotty and Bill, such as Dallas, Tyler, Gladewater, Longview, Shreveport and Minden.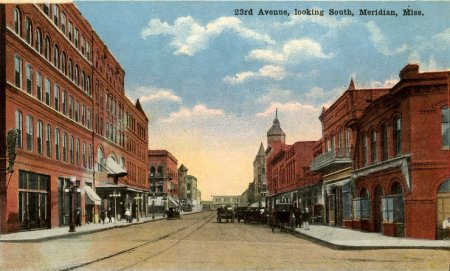 23rd Avenue, looking South across 6th St. in Meridian, MS - ca.1910
Postcard courtesy Mississippi Department of Archives and History
Meridian was founded in anticipation of the intersection of two proposed railroads which linked to the area, the Mobile & Ohio in 1855 and the Vicksburg & Montgomery in 1861. The site of a Confederate arsenal, military hospital, prisoner-of-war stockade and headquarters for a number of state offices during the Civil War, the city's railroads and much of the surrounding area were destroyed by Sherman's army in 1864 only to be repaired in 26 working days. From 1890 until 1930, Meridian was the state's largest city and a leader in manufacturing.1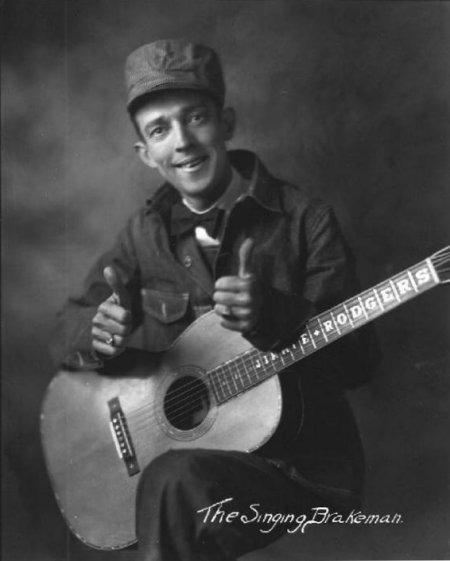 Jimmie Rodgers with Martin 000-45 as "The Singing Brakeman" - 1929
Photo courtesy Erik Hogstrom
James Carter (Jimmie) Rodgers, nicknamed "America's Blue Yodeler" and "the Singing Brakeman," was reputed to be born in Meridian on September 8, 1897, though some historians place his birth just north of there in Pine Springs. His mother, Eliza Boseman Rodgers, died when he was young. His father, Aaron W. Carter, was a section manager on the Mobile & Ohio and Jimmie became a familiar figure in the Meridian railroad yards often entertaining the railroad hands singing and playing his guitar. Working many jobs he eventually became a brakeman on a work train and in following years traveled the country as an itinerant rail worker though entertaining was always his true passion. In his twenties he contracted Tuberculosis and was forced to give up railroading and by 1927, with a (second) wife and child, relocated to Asheville, NC. There he worked as a city detective in addition to forming the Jimmie Rodgers Entertainers. It was during this period while in Bristol, Tennessee in search of an automobile that Rodgers heard about Ralph Peer auditioning talent for the Victor Talking Machine Company (RCA).2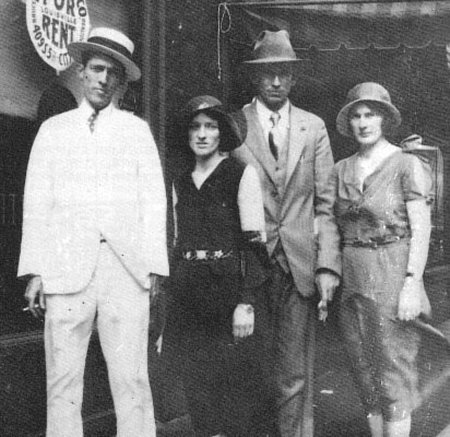 Jimmie Rodgers and the Carter Family (Maybelle, A.P. and Sara) - ca.1931
Photo courtesy Birthplace of Country Music
Ralph Sylvester Peer was an American talent scout, recording engineer and record producer. He pioneered remote recording of music when in June 1923 he took remote recording equipment south to Atlanta, Georgia to record regional music outside the recording studio in such places as hotel rooms, ballrooms, or empty warehouses. In what became known as the Bristol Sessions, Peer, assisted by Pop Stoneman, recorded both Jimmie Rodgers and the Carter Family (A.P., Sara and Maybelle) in August of 1927. Rodgers cut "The Soldier's Sweetheart" and "Sleep, Baby, Sleep," while the Carters' first sides included "Single Girl, Married Girl." 3

Jimmie Rodgers and Will Rogers on tour for the Red Cross - ca.1931
Photo courtesy Field Trip South and SFC
Rodgers was almost an overnight sensation. His record sales skyrocketed and he was in constant demand for personal appearances. Health reasons forced the cancellation of many dates. In his brief career he would record over 100 songs, tour as often as health allowed and even make a movie short for Columbia Pictures in Hollywood singing three of his songs. His last recording sessions were in New York, said to be at the 24th St. studios. He died in New York on May 26, 1933 at the age of 35 and was buried in Meridian.2
He came about during a time when music was not yet so racially segregated, the styles were not so clearly defined and experienced a multi-racial popularity. Like Elvis years later, he had absorbed the sounds of his Southern culture, mainly sharecroppers and railroaders, and helped shape a new musical style. It was considered blues, called folk, and associated with a style only beginning to be called "hillbilly." During the Depression years while the sale of popular repertoire dropped, this new music continued to prosper and develop new artists.2

Jimmie Rodgers, Mrs. and Ralph Peer, Carrie and (daughter) Anita Rodgers
Photo courtesy Bluegrass Messengers
Peer attributed Rodgers' success and popularity "to the simplicity of his style. He understood his audience and he gave them what was easy to hear. Nobody ever had any difficulty understanding what he was driving at, because his songs always delivered an easily understood story and with no complicated music frills to distract the ear." He inspired many artists in various styles, from Howling Wolf and Muddy Waters to Gene Autry and was the first artist in that new genre to endorse an instrument, a guitar, of which he would popularize and inspire the sale of many.2 It was country though, or what it would become, that would ultimately claim him by identifying him as "the start of it all" and label him the "Father of Country Music," in no small part due to the efforts of two devoted fans, Ernest Tubb and Hank Snow.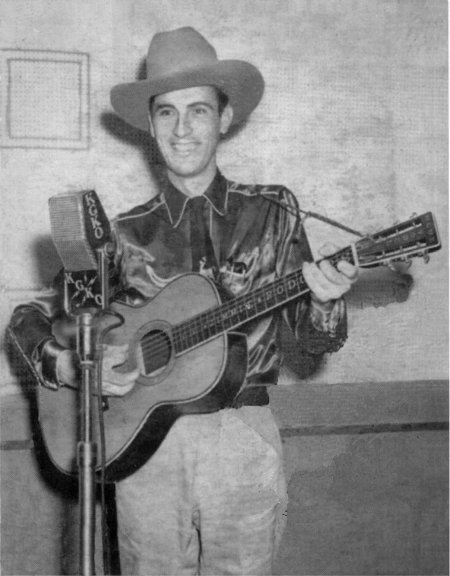 Ernest Tubb with Jimmie Rodgers' Martin on KGKO radio in Dallas - ca.1940
Ernest Tubb, The Texas Troubadour, grew up in Texas and got his start on radio in San Antonio singing the Rodgers songs he had learned listening to his records. He met Carrie, Jimmie's widow, who took a liking to him, offered encouragement and even managed him for awhile. She gave, or rather loaned him Jimmie's Martin guitar, and he would record and perform with it for years.4 Clarence Eugene (Hank) Snow, born in Brooklyn, Nova Scotia, bought a guitar and began imitating Jimmie Rodgers at age 12 while at sea as a cabin boy on fishing schooners. He would later sing of trains and at times bill himself as the "Yodeling Ranger" while on radio in Halifax, the Maritimes and western Canada. He even named his son after him, Jimmie Rodgers Snow. In 1948 he played the Big D Jamboree where he met fellow enthusiast Tubb, joined the Opry and, produced by Steve Sholes, started recording for RCA.5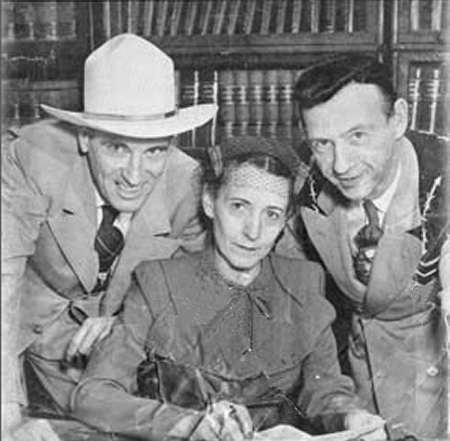 Ernest Tubb, Carrie (Mrs. Jimmie) Rodgers and Hank Snow - 1954
Cash Box Photo courtesy Hillbilly-Music.com
Their efforts led to the first Jimmie Rodgers Memorial Festival in Meridian, held on May 26, 1953. It was primarily a one day affair and meant to honor the memory of Jimmie Rodgers on the 20th anniversary of his death. It was engineered with cooperation from the Meridian Star and the Chamber of Commerce and initially had the support of the Railroad since it was also meant to honor departed railroaders from the area.2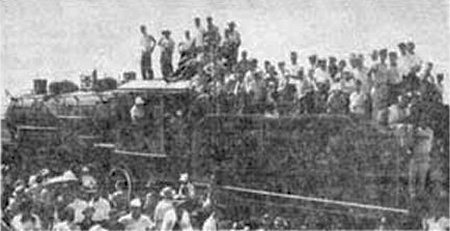 The Steam locomotive and luminaries in Meridian - May 26, 1953
Birmingham News Photo courtesy Hillbilly-Music.com
The Meridian and Bigbee Railroad donated a steam locomotive intended to serve as a memorial to deceased railroad men. It was used to transport special guests and dignitaries from the station to the dedication ceremonies at a railroad spur laid just for that purpose along a section U.S. Highway 11 south of Highway 80. It was later permanently welded to the rails. Tubb, unfortunately, did not make it to the first celebration, though his son Justin and daughter Elaine did.2 In addition to the train, a statue honoring Rodgers was dedicated there. The location was referred to as Rodgers Park and the section of Tom Bailey Drive (Highway 11) was dubbed Melody Lane Highway.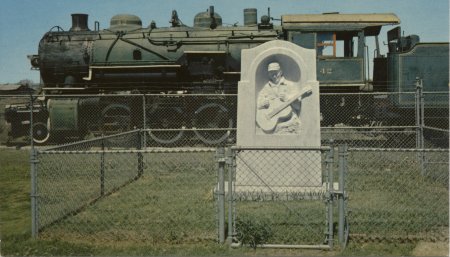 The locomotive and statue at Rodgers Park on Tom Bailey Drive (Hwy 11) in Meridian
The local theater ran continuous free showings of Rodgers' movie short, "The Singing Brakeman." In attendance were Carrie (Mrs. Jimmie) Rodgers, Mrs. Casey Jones widow of the renowned railroader and also Sim Webb, Casey's fireman on his fateful last ride. Also Elsie McWilliams, Rodgers' sister-in-law and co-author of 39 of his songs, Governor Hugh L. White of Mississippi, Governor Frank Clement of Tennessee, W. P. Kennedy, president of the Brotherhood of Railroad Trainmen and other various railroad and union officials in addition to recording executives, music publishers and disk jockeys.2

Ray Stadium and Meridian Senior High School - Junior College - 1937
Photo courtesy MHS 1938 yearbook
At night there was a concert at Ray Stadium that included Roy Acuff, the Carter family, Lew Childre, Cowboy Copas, Jimmy Dickens, Jimmie Davis, Tommy Duncan, Left Frizzell, Bill Monroe, George Morgan, Moon Mullican, Minnie Pearl, Webb Pierce, Marty Robbins, Jimmie Skinner, Carl Smith, Hank Snow and Charlie Walker.2 A.P., Sara and Maybelle Carter had rejoined at the Festival for their last public performance together.*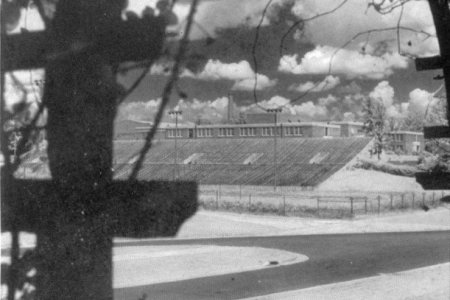 Ray Stadium in Meridian, MS - 1942
Photo courtesy MHS 1943 yearbook
Ray Stadium was built with and adjacent to the Meridian Senior High School and Junior College in 1937 on 26 acres in a residential district of Meridian. The stadium seats 14,000, is home to the Wildcats football team and was illuminated for night games. In addition, the college gymnasium sat 3000.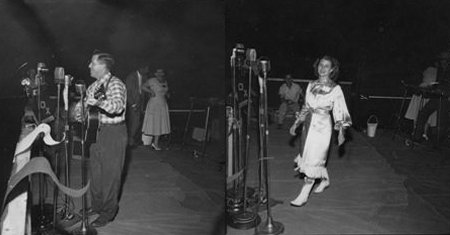 Bill Bruner, Jeannette Hicks onstage at the Jimmie Rodgers Memorial Festival - May 26, 1953
Photo by A. G. Weems © Meridian Historic Preservation Commission
Bill Bruner presented Jimmie Rodgers Snow, then only 17 years old, with one of Jimmie Rodgers' guitars. It was an Oscar Schmidt guitar signed by Jimmie in 1929 and given as thanks to Bruner who would often perform in his place when too ill. All of the artists had volunteered their time and the crowd in town had been anticipated to be as high as 75,000. The event coincided with a movement led by U.S. representative from Mississippi, William Arthur Winstead, also in attendance; to designate May 26th as "National Hillbilly Music Day," said to be in "recognition of the contribution made to American music lore by the writers, singers and players of hillbilly music."2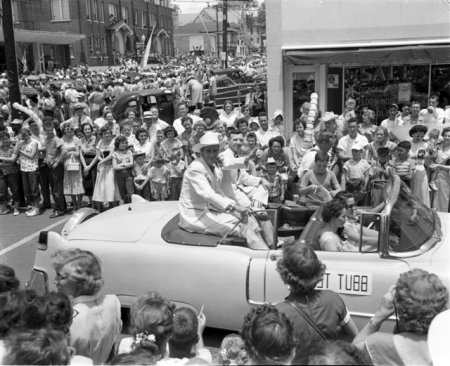 Ernest Tubb and Hank Snow in parade on 8th St at 23rd Avenue - May 26, 1954
Photo by A.G Weems © Meridian Historic Preservation Commission
By the following year it had grown to a two day event with multiple venues for dances and culminated in another concert at Ray Stadium that included performances by the Carlisles, Carl Smith, Jimmie Davis, Rod Brasfield, Red Foley, Jimmy Skinner, Jimmy Dickens, Cowboy Copas, Hank Thompson, Miss Cindy Walker, Hank Snow, Ernest Tubb, Justin Tubb, Jimmie Rodgers Snow, Bill Bruner, Carl Fitzgerald, R. D. Hendon, Charlie Walker, and Curtis Gordon. The focus now was to raise funds for a tuberculosis hospital in honor of Rodgers but the effort was still on for the passing of a National Holiday reflecting the new term "Country Music." 2

4th Street, looking East across 23rd Ave. (pointing to Legion Hall building) - ca.1910
Postcard courtesy Mississippi Department of Archives and History
One venue was the American Legion Hall. It was a large room with a stage located on the second floor of a two story Beaux-Arts style building at 2212-2214 Fourth Street. The building was built in 1901 and originally used as Citizen's National Bank.1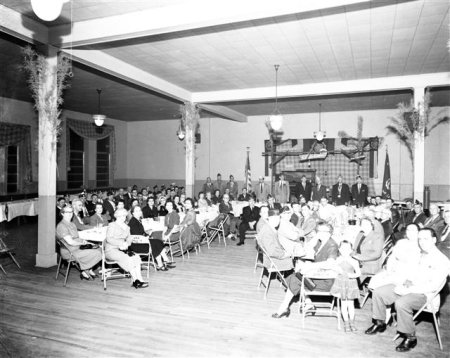 meeting at Legion Hall in Meridian - 1954
Photo by A. G. Weems © Meridian Historic Preservation Commission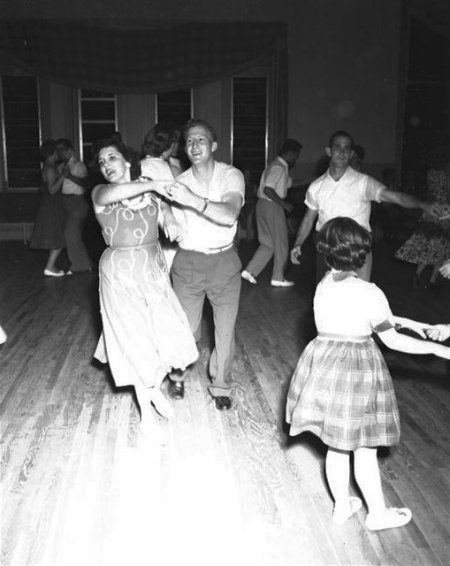 a dance at Legion Hall in Meridian - 1954
Photo by A.G. Weems © Meridian Historic Preservation Commission
Adlai Stevenson, the unsuccessful 1952 democratic presidential candidate, served as the principal speaker and the list of luminaries present included Governor Hugh L. White of Mississippi; W. P. Kennedy, the president of Brotherhood of Railroad Trainmen, Mrs. Jimmie Rodgers; George D. Hay, founder of "Grand Ole Opry," and other country music men including record executives, music publishers, disk jockeys and artists.2 Inevitably though, it was the mixture of politics that would ultimately doom the organization's efforts in Meridian and shift focus to Nashville.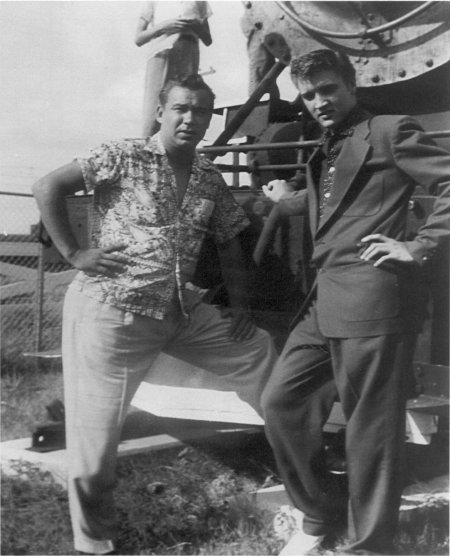 Bill and Elvis pose on the locomotive at the Memorial at "Rodgers Park"- May 25, 1955
Photo courtesy Ger Rijff's Memphis Lonesome
The third year's celebration in 1955 coincided with an election year so all candidates for office, from governor on down made personal appearances. Again there were city-wide decorations, including the decoration of six miles of "Melody Lane Highway," around Rodgers Park.6 The events started on Wednesday, May 25th with a barbeque for 20,000 at Highland Park staged primarily by "trainmen" and sponsored by the Meridian Labor Relations Council.2 It was followed by a memorial service at Rodgers Park and the laying of a wreath at the statue. That year was the first and only year that Elvis, Scotty and Bill performed at the festival, no doubt because of the Hayride's involvement and Hank Snow. They had been touring most of the month with Hank Snow's All Star Jamboree. Multiple venues again were employed to host dances.
According to Lee Cotten the evening's events on the 25th began at 9:00 p.m. and included dances at five different venues.7 The National Guard armory was probably the largest and regularly drew a crowd of 5,000.6 The armory featured R. D. Hendon and his band from Dallas; the Officer's Club at Key Field featured Hank Snow; the Hamasa Shrine Temple Mosque with Jim Reeves; a "name band" at the Junior College gymnasium and the American Legion Hall. Elvis, Scotty and Bill headlined the show there that also featured the Browns, Tibby Edwards and Curtis Gordon.7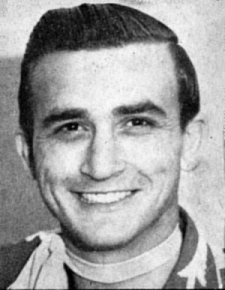 Curtis Gordon - 1954
Photo from Country Song Roundup Vol. 1 No. 36 Jan. 1955
Curtis Gordon was another artist inspired at an early age by Jimmie Rodgers' music. Though he had been with RCA, by the end of 1954 he moved to Mercury records. Originally from Moultrie, Georgia, he made his professional debut in Atlanta in 1952 at the age of 22. At the time of this years celebration he was appearing regularly on a daily radio show at radio WKAB in Mobile, Alabama, and also featured on WABB's "Dixie Barn Dance" also in Mobile. He also ran his own club in Mobile, called the Radio Ranch, where Elvis, Scotty and Bill would perform several times.
According to a great niece of Rodgers and Elsie McWilliams, who attended the event as a child, Elvis also was reputed to have performed in McWilliams back yard or at the very least may have attended a gathering there.8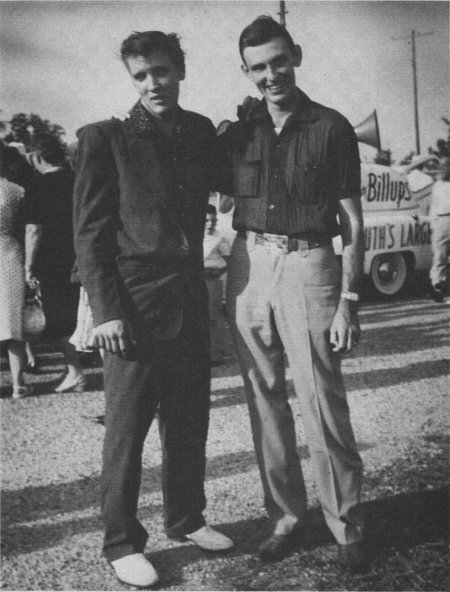 Elvis and Charlie Walker at the Memorial at "Rodgers Park" - May 25, 1955
Photo from The life of Elvis Presley by Sean Shaver
On the second day, the 26th, the festivities started with a parade through town at 11 a.m. Elvis, Scotty and Bill, along with Jimmie Rodgers Snow paraded in Elvis' pink Cadillac which he had hand painted "ELVIS" on the sides. According to Billboard, the parade was one of the largest and most colorful ever seen in Meridian, and attracted an estimated 60,000 people. Stations WTOK , WTOK-TV, WCOC and WMOX co-operated in TV and radio interviews during the two-day festival.2
Bill E. Burk wrote, "All the entertainers marched in the parade down Main Street," said Jo Miller of the Miller Sisters. "We had marched before Elvis, so when he came along, carrying his guitar, we were already on the sidelines watching. He saw us and said 'Hi, ya, punks.' He pitched his guitar to Millie (Miller) and she wagged it around a couple of blocks. After awhile, she gave it back to him; said she wasn't going to carry his guitar around all day."9

Bill Black, Jimmie Rodgers Snow and Elvis parade in Meridian, MS - May 26, 1955
Photo courtesy Jimmie Rodgers Snow
The Louisiana Hayride was in charge of the big show at Ray Stadium that year with former governor Jimmie Davis, Horace Logan of the Hayride, M. E. Rhodes and C. H. Phillips from Meridian in charge of publicity. Horace Logan acted as master of ceremonies and awards were presented by the Meridian and Bigbee Railroad and the Meridian Star.6 According to Logan, there was some bad feelings towards the Opry from some Hayride acts since the previous year several Hayride acts had made the roughly 300 mile trip from Shreveport only to find all the spots taken by Opry acts and none were allowed to perform. This year it was agreed upon that the Opry would get the first and last hour while the Hayride and several CBS acts would get the middle hour. They were content with that arrangement because it was also the portion broadcast by CBS. Horace specifically had Elvis perform last during their portion because he knew none of the Opry acts would want to follow him. As it was, Elvis ran over by popular demand, much to the dismay of Little Jimmy Dickens, who was to open the Opry's second hour.*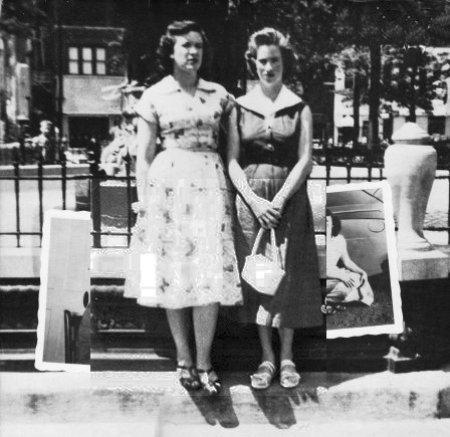 The Miller Sisters, Elsie Jo and Mildred - ca. 1950s
Photo courtesy Bopping
The Miller Sisters, Elsie Jo and Mildred were actually sisters-in-law. Elsie was married to guitarist Roy Miller and the three formerly worked as the Miller Trio on WTUP Radio in Tupelo prior to the girls auditioning for Sun Records in 1954. Sam Phillips paired the girl's harmonies with Quinton Claunch on guitar and Stan Kesler on steel guitar for their first session about a week before the release of Elvis, Scotty and Bill's "That's Alright Mama."10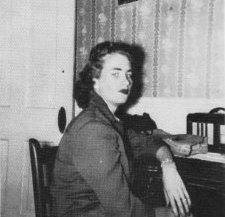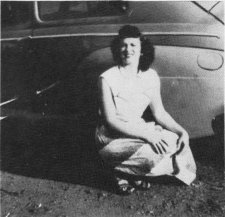 The Miller Sisters, Elsie Jo and Mildred - ca. 1950s
Photos courtesy Bopping
The Miller Sisters were backed by Scotty and Bill during the show later that night at Ray Stadium which ran almost five hours.9 Artists from the "Grand Ole Opry" present were Hank Snow, Ernest Tubb, Little Jimmy Dickens, Del Wood, Justin Tubb, Elaine Tubb and Jimmie Rodgers Snow. The show also featured hundreds of other performers including baseball legend, Jerome "Dizzy" Dean who was sponsored by Falstaff beer.2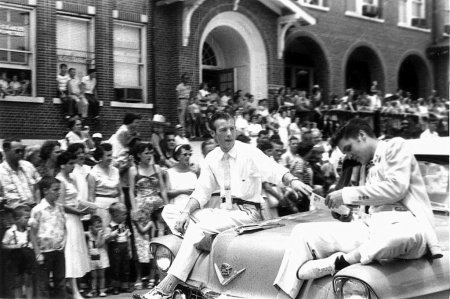 Jimmie Rodgers Snow and Elvis in front of the YMCA on 23rd Ave. - May 26, 1955
Photo © Southern Folklife collection of the Wilson Library UNC courtesy Field Trip South
Burk wrote, "We were sitting on the ground, fifty to seventy-five feet in front of the stage," says Kermit Rasco, who had his own little band in the Meridian area. "The performances were on a flatbed truck. CBS was broadcasting the 8:30-9 p.m. segment nationally. I would say there were more than 4,500 people there at Ray Field. We were there mainly to see and hear Hank Snow and Ernest Tubb. "When they announced Elvis Presley, most of us had no idea who they were talking about. But once he got started singing, an immediate feeling swept through all of us and we were hollering and clapping. There was enough response that Hill promised us they would bring Elvis back on later in the show. He really lit up the crowd.9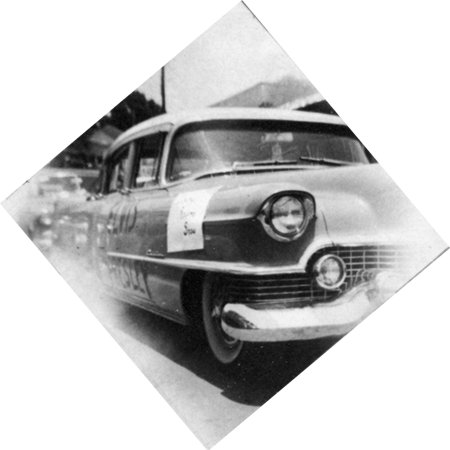 Elvis' 1954 Cadillac with his name painted on the side and Jimmie Rodgers Snow's draped
Photo © Scotty Moore
Sharon Hedgpeth, fifteen at time, had a blind date take her to the concert at the football stadium. "We had heard him on radio a little, but we didn't really know anything about him," said Hedgpeth. "The minute he walked out on that stage, even before he began singing, we were in awe of him, my girlfriends and I. We all fell in love with him at first sight. We went backstage after he finished. He was just standing around. We approached him and got his autograph. I still have it." Years later she would marry John Wayne Hedgpeth, the boy who took her to see Elvis for the first time.9 C. E. "Chick" Crumpacker, at the time a promoter for RCA, was representing RCA at the festival. He had heard of Elvis though by then and had even intentionally caught a show in Richmond the week prior.

Meridian High School Majorettes with Elvis' Cadillac - May 26, 1955
Photo © Scotty Moore
An article in the September 1955 issue of Country Song Roundup said that Elvis was called back for encore after encore, singing such tunes as "Milk Cow Blues Boogie," "You're A Heartbreaker" and his latest pairing: "I'm left You're Right, She's Gone" and "Baby, Let's Play House." There's no doubt about it - this youngster is a real "Folk Music Fireball." 11

Elvis onstage at Ray Stadium - May 26, 1955
Photo (reworked) from Country Song Roundup Vol. 1 No. 40 Sept. 1955
Unfortunately, the celebration in 1955 suffered in both participation and attendance because of the mixture of politics of previous years. According to Billboard, registrations at the convention headquarters totaled around 250, somewhat under par of each of the first two years and there was a noticeable paucity of big—name talent. Several of the major music firms failed to send a rep to the event. The Country Music Disc Jockey association especially felt squeezed out and virtually overlooked in the local planning. This likely contributed to the beginning of competing efforts.2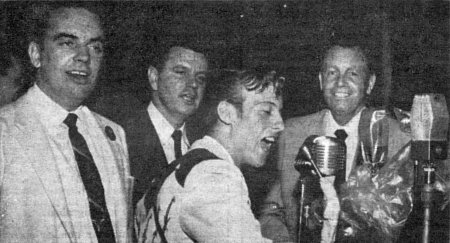 Gov. Frank Clement (TN), Lt. Gov. Carrol Gartin (MS), Jimmie Rodgers Snow and Jimmie Davis singing "The Ballad of Davy Crockett" at Ray Stadium - May 26, 1955
Photo from Country Song Roundup Vol. 1 No. 40 Sept. 1955
During the celebration Houston deejay Biff Collie had called a meeting to determine what recognition the disk jockeys might expect in such future celebrations and invited members of the trade press, music men and deejays present to participate. A suggestion was made by a number present that memorial celebrations honoring certain late "stars" be dispensed with in favor of a more national event to which all related facets of the trade would be invited to participate. Ernest Tubb, himself said that he wasn't entirely satisfied with the manner in which all details were handled for that years event, or the last.2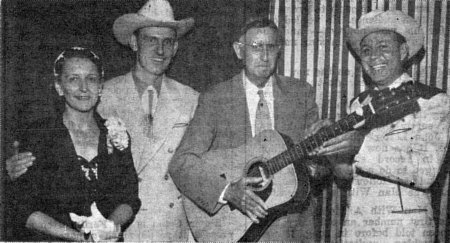 Carrie Rodgers, Charlie Walker, Nate S. Williamson (Carrie's brother)
and Jim Reeves at Ray Stadium - May 26, 1955
Photo from Country Song Roundup Vol. 1 No. 40 Sept. 1955
By that November the Country Music Disk Jockey Association had announced plans of an annual country music festival of its own to be held each year in a different city. Though they encouraged the continued support of other festivals like the one in Meridian, they planned to hold it in a different city each May, almost in competition, offering the first in 1956 to Nashville and WSM. One of their long range goals was the creation of a country and western hall of fame. Connie B. Gay and Tom Perryman were elected members of the board, which essentially led to the beginning of the Country Music Association (CMA). WSM however turned it down and it was instead offered to RadiOzark Enterprises and KWTO in Springfield, Missouri, the producers of the "Ozark Jubilee." They in turn changed the dates to June to coincide with their jubilee and the Rodgers celebration was again held in Meridian.2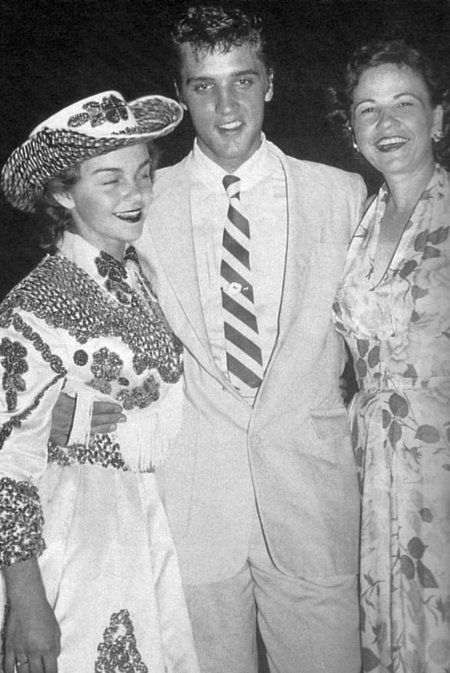 Ann Raye, Elvis and Mae Axton - May 26, 1955
Photo © EPE. Inc
With the absence of politics and participation of the railroad, the fourth annual Rodgers celebration in Meridian in 1956 was by all means a success and the best, attendance-wise, since the one held in 1954. It again was a two day festival with multiple dances and a parade and climaxed with the jamboree at Ray Stadium. That year it was sponsored by the Phillip Morris Company, who had supported it the year before and also had featured Elvis in their employee nights. With prices at 50 cents for children and $1 for adults the show attracted nearly 7500 patrons and proceeds were to go to the Jimmie Rodgers Memorial and Health Foundation, which by now had discharged the idea of building a Jimmie Rodgers hospital in Meridian in favor of the new plan for furthering country music and aiding indigent performers.2
At the time, Tubb stated that work would begin early in June on a Jimmie Rodgers Hall of Fame and that each year a committee chosen from the various facets of the country and western music field would choose an individual to he honored with a place in the Hall of Fame. The first to be so honored at that year's convention was Fred Rose, who until his death headed up the Acuff-Rose music firm. Also introduced for the first time was the Jimmie Rodgers Achievement Award, which each year would go to the man and woman contributing the most to the country and western music business.2
That year's winners were Elvis Presley and Kitty Wells.2 Surprisingly too, because though Elvis' recording of Heartbreak Hotel in January in Nashville literally put it on the map as a recording mecca, at the same time it virtually killed Country music overnight. Elvis, now with RCA, and managed by the Colonel, was not in attendance. At that time they were on tour in the upper mid-west and were no longer booked with any act considered a contemporary. Interestingly enough, Elvis would later go on to star in a film based loosely on a song written and recorded by Rodgers, Frankie and Johnny.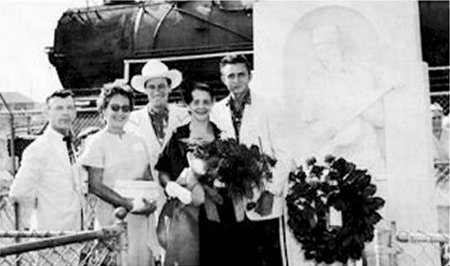 Snow, Anita Rodgers Court, Tubbs, Carrie Rodgers and Johnny Cash - May 26, 1957
Photo courtesy 12th Chancery Court Dist. of MS
In 1957 the celebration was held several days earlier, on the 21st and 22nd of May because of the availability of Ray Stadium and the hangar at Kay field and there were hopes that the (now called) Country Music Hall of Fame would be set up by the 21st. It wasn't. 1957's entertainers included Johnny and Jack, Kitty Wells, Charles Walker, Jim Reeves, the Wilburn Brothers, Don Owens, Lucky Hill, Curtis Gordon, the Louvin Brothers, Ray Price, Porter Wagoner, Wilma and Stoney Cooper, Stonewall Jackson, Jimmy Newman, Marty Robbins, Rod Brasfield, Hank Snow, Ernest Tubb, James O'Gwynn, Carl Perkins, Jimmie Rodgers Snow, Elaine Tubb, Justin Tubb, Warren Smith, George Jones and Johnny Cash.2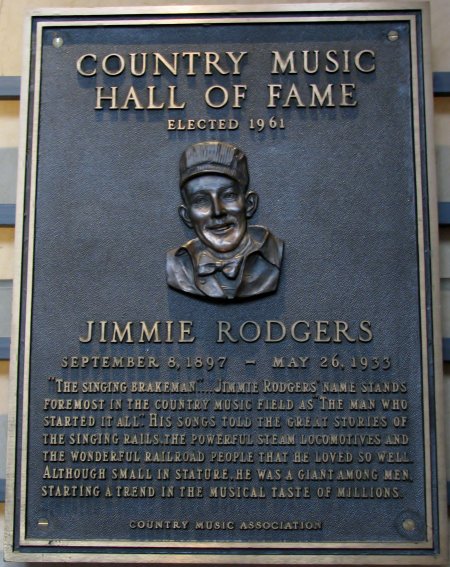 The plaque honoring Jimmie Rodgers in the CMHOF in Nashville - 2011
Photo © Bill McKibbin
Due to the lack of support from local interests and because preparations for the event took so much of their time, Ernest Tubb and Hank Snow called off the celebration in 1958. That year Connie B. Gay, who was also credited as one of the first to coin the term "country music," in place of "hillbilly," became the founding president of the CMA in Nashville. Ernest Tubb was also elected as a director.2
In 1959 however, the Meridian Restaurant Association led an effort to revive the festival and that year it was held in June with the Jimmie Rodgers Memorial Foundation and the newly formed Nashville based CMA splitting the proceeds. By 1961 though, the CMA had announced the creation of the Country Music Hall of Fame in Nashville with Jimmie Rodgers, Hank Williams, and Fred Rose as the first inductees. The last festival held in Meridian by the original founders was in 1965, the year that Tubb himself was inducted into the Hall of Fame. The Jimmie Rodgers Memorial Foundation started by Tubb and Snow became defunct. Until 1967 the plaques with facial likenesses and biographies were displayed in the Tennessee State Museum in downtown Nashville.2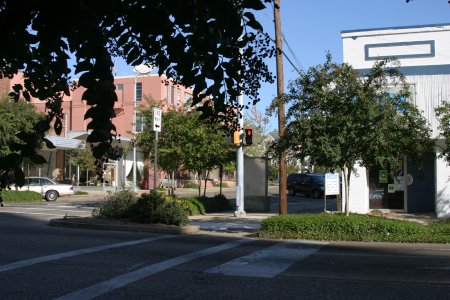 8th Street at 23rd Avenue in Meridian - Oct. 9, 2011
Photo © James V. Roy
Though well revered for their harmonies, the Miller Sisters would record several songs at Sun through 1957 without a hit but performed at various places and events before splitting up around 1960. Mildred moved to Indiana and Roy and Elsie Jo became active participants in the Oneness Pentecostal Church in 1976.10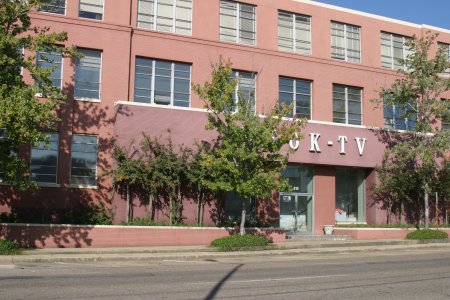 WTOK-TV studio formerly the YMCA on 23rd Ave. - Oct. 9, 2011
Photo © James V. Roy
Hank Snow, and even Elvis would in later years also follow Rodgers into the CMHOF, in 1979 and 1998 respectively. The YMCA building on 23rd Avenue where Elvis and Jimmie Rodgers Snow were photographed during the parade in 1955 received a facelift with a new facade years later and after renovations is now home to the local Television studio, WTOK.




Ray Stadium in Meridian, MS - Oct. 9, 2011
Photos © James V. Roy
Ray Stadium is still home to the Meridian High School Wildcats though the school is now solely a High School. The field there was dedicated in honor of the late Charles A. Armstrong in 2002. Armstrong came to Meridian High School in 1953, the year of the first Rodgers celebration, serving as head football coach and athletic director until 1960, then headed Meridian Junior College and Meridian High School until 1963. He served as Meridian High's principal from 1963-1980, guiding court-ordered desegregation of the city's only public high school to a peaceful commencement in January 1970.12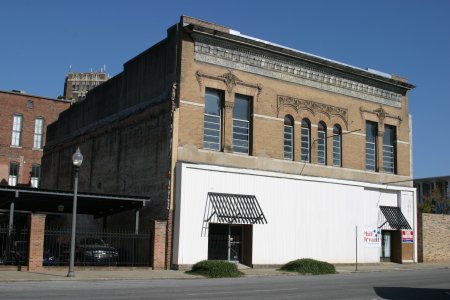 the former American Legion Hall/Citizen's Bank building in Meridian, MS - Oct. 9, 2011
Photo © James V. Roy, aerials © Microsoft
The building on Fourth Street that originally housed the Citizens Bank and the American Legion Hall on the second floor today still stands, remarkably the only remaining original structure on the block between 23rd and 22nd Avenues. It is part of Meridian's Historic district, Multiple Resource Area (MRA) and on the National Register of Historic Places. It is currently vacant though the hall and stage remain much as it was in the '50s.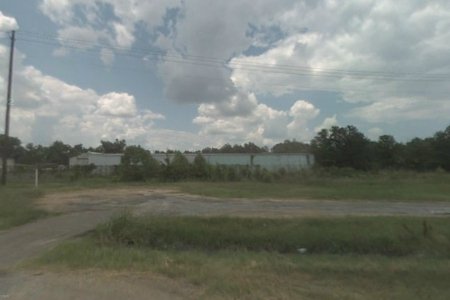 The original location of the locomotive and Jimmie Rodgers Memorial - 2010
Photo © Google Streetview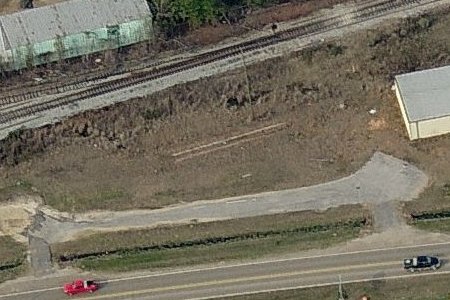 The original location of the locomotive and Jimmie Rodgers Memorial - 2010
Photo © Microsoft
A new annual festival was revived in 1972 to perpetuate the memory of Rodgers and in 1973 Hank Snow and Ernest Tubb returned to appear on behalf of the event with shows at Ray Stadium.2 Efforts led to the creation of a Jimmie Rodgers Museum devoted entirely to him in 1976 in Highland Park across town from what was Rodgers Park. The original location of the monument and train is about 100 yards west of the Queen City Truck Stop, on Frontage Road where Highway 11, the new Highway 80 and I-20 run today.13

The Jimmie Rodgers Museum and steam locomotive in Highland Park - Oct. 9, 2011
Photo © James V. Roy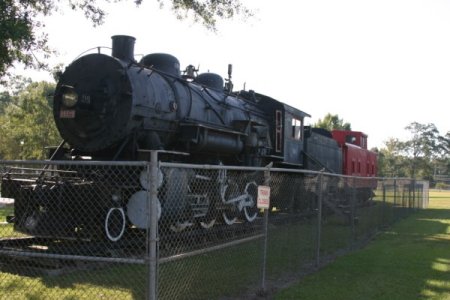 The locomotive in Highland Park honoring the area's deceased railroaders - Oct. 9, 2011
Photo © James V. Roy
Highland Park had originally opened in 1909 as a landscaped 32 acre streetcar pleasure park. The locomotive and memorial monument were relocated there in 1970. Congress never actually passed the bill for a declaration of an official National Country Music Day, hillbilly or otherwise.

The locomotive in Highland Park honoring the area's deceased railroaders - Oct. 9, 2011
Photo © James V. Roy
HIS IS THE MUSIC OF AMERICA.
HE SANG THE SONGS OF THE PEOPLE HE LOVED
OF A YOUNG NATION GROWING STRONG
HIS WAS AN AMERICA OF GLISTENING RAILS
THUNDERING BOXCARS AND RAIN-SWEPT NIGHTS
OF LONESOME PRAIRIES, GREAT MOUNTAINS
AND A HIGH BLUE SKY.
HE SANG OF THE BAYOUS AND THE COTTON FIELDS,
THE WHEATED PLAINS, OF THE LITTLE TOWNS, THE
CITIES, AND OF THE WINDING RIVERS OF AMERICA.
WE LISTENED WE UNDERSTOOD
JIMMIE RODGERS
THE SINGING BRAKEMAN - AMERICA'S BLUE YODELER
HIS MUSIC WILL LIVE FOREVER
DEDICATED BY HIS MANY FANS AND
THE FOLK ARTISTS OF AMERICA
MAY 26, 1953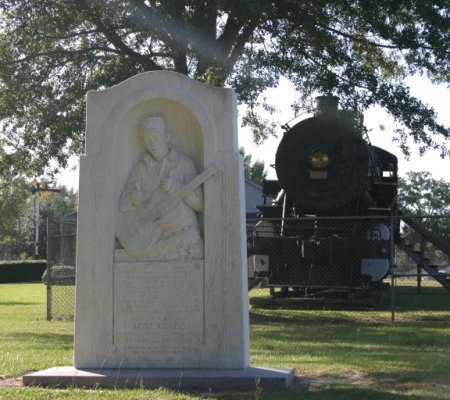 The monument and locomotive in Highland Park - Oct. 9, 2011
Photo © James V. Roy
page added November 14, 2011

Special thanks to Randall Gaither of the Meridian Community Development Department for his assistance with this page. *It should be noted that the May16, 1953 issue of Billboard magazine reported that both Ernest Tubb and Red Foley would be in attendance for the first celebration in Meridian but as written Tubb was not and according to famed guitarist and writer Lloyd Wells, Red Foley was not in attendance either.
1 excerpt from or according to Meridian Multiple Resource Area - National Register of Historic Places Inventory Nomination Form courtesy NPS
2 excerpt from or according to Billboard Magazine, various issues 1953 - 1973
3 excerpt from Ralph Sylvester Peer (May 22, 1892 - January 19, 1960) courtesy Wikipedia
4 according to Ernest Tubb and the Texas Troubadours courtesy Hillbilly-Music.com
5 according to Hank Snow - Home Town Museum
6 according to Country Song Roundup, July 1955 Vol. 1 No. 39 and/or Sept. 1955 Vol. 1. No. 40
7 excerpt from or according to "Did Elvis Sing in your Hometown?" by Lee Cotten
8 according to Barbara Lee, Pawleys Island, SC - Oct 19, 2008 courtesy WTOK- Jimmie Rodgers Remembered
9 excerpt from or according to "Early Elvis: The Sun Years" by Bill E. Burk
10 according to the Miller Sisters' MySpace
11 excerpt from "Folk Music Fireball" - Country Song Roundup, September 1955 No. 40
12 excerpt from or according to "Armstrong Field dedicated at MHS" Franklin County Times - September 7, 2002
13 according to Meeting Jimmie Rodgers by Barry Mazor
* according to Elvis, Hank, and Me by Horace Logan with Bill Sloan
---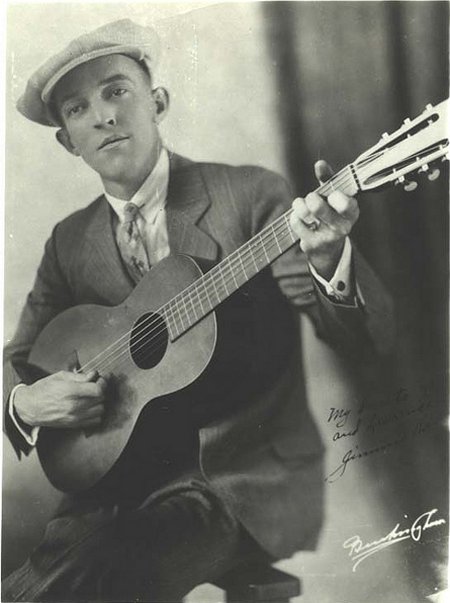 Jimmie Rodgers, said to be soon after the Bristol Sessions - ca.1927
Photo © Southern Folklife Collection
In 1954 Ralph Peer noted that many of the country artists of the day learned to sing from Jimmie Rodgers' records, from the old wind-up phonograph in the parlor at home. He made it possible for cowboy or country singers to get employment on radio stations and was responsible for the sale of more guitars than any other man. He made it possible for hillbilly entertainers to be able to play theaters and first-rate entertainment places and opened the gate for folk music as it is today, a great business with, a great legend that a little country boy with a guitar can climb the heights of fame and fortune.

Jimmie Rodgers with his Martin 00-18
Photo courtesy Ernest Tubb Songbook
In his career there were about a half a dozen guitars of note that he was said to use. In addition, several guitars were reputed to have been owned, given to or given away by Jimmie in his career. A Weymann guitar was reputedly given to a Captain in the Texas Rangers in Texas, who still had it in his possession as late as 1954. Another guitar, a Gibson was bought by Jimmie for Elsie McWilliams, his sister-in-law and there was also rumored to be a Gibson HG-24 made and presented to Jimmie by the Gibson Company. Here specifically are several of the ones we do know about.

Martin 00-18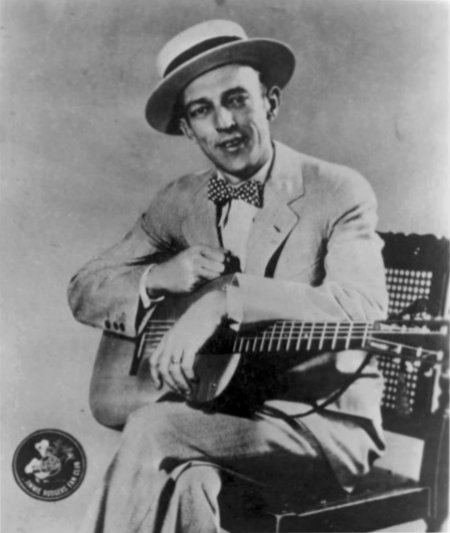 Jimmie Rodgers with his Martin 00-18 - ca.1927
Photo courtesy last.fm
Believed to be, though questionably, the guitar that Jimmie used to first record with for Victor in Bristol, TN, and possibly later, this Martin 00-18 bears the inscription "8-4-27 B. VA-TENN," written inside the guitar's sound hole. He was pictured with the guitar several times and the inscription denotes his initial audition for Victor on August 4, 1927 in Bristol which lies on the border between Tennessee and Virginia.

Jimmie Rodgers' Martin 00-18 at CMHOF
Photo courtesy Premier Guitar
Jimmie's Martin 00-18 is a small bodied guitar with an overall length of 37 3/4 inches. It features a spruce top with mahogany back and sides and a solid mahogany neck with an ebony fingerboard that joins the body at the 12th fret. The guitar is reputed to be in the collection at the Country Music Hall of Fame.
1928 Weymann Special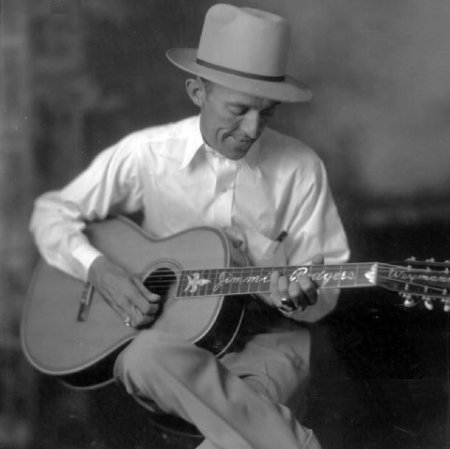 Jimmie Rodgers with his custom made Weymann - ca.1928
Photo credit unknown
Another guitar that Jimmie was often pictured with and endorsed was an auditorium sized Weymann. Like the Martin 00-18, it too featured a spruce top with mahogany sides back and neck. Jimmie's featured ornamental colored purfling inlaid around the sound hole and edges and his name inlaid in the fingerboard.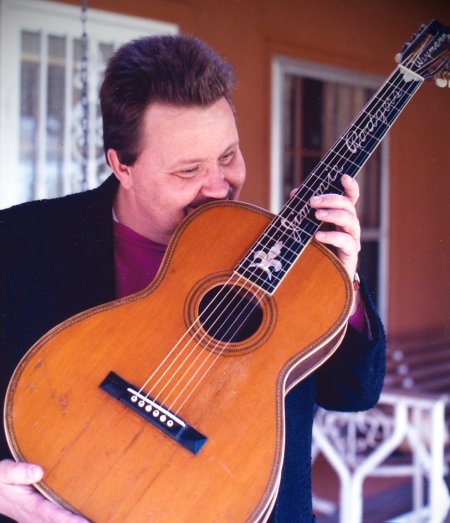 Pat Enright kisses Jimmie Rodgers' 1928 Weymann Special
Photo by Charmaine Lanham courtesy Nashville Guitar Company
Weymann, originally incorporated in Philadelphia in 1894 as H.A. Weymann & Son, continued building guitars, mandolins, ukuleles and banjos through the 1940s. Harmony produced models under that name for awhile. In 1928 Jimmie Rodgers endorsed them and they produced a line called the Jimmie Rodgers Special with a Pyralin fingerboard. Jimmie's is also now part of the collection at the CMHOF in Nashville.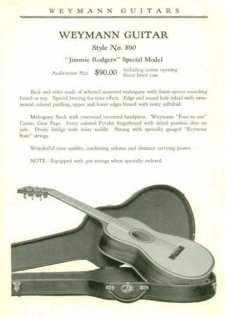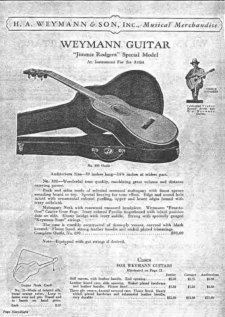 Ads for the Weymann "Jimmie Rodgers" Special Model
Photos courtesy John Arnold and the UMGF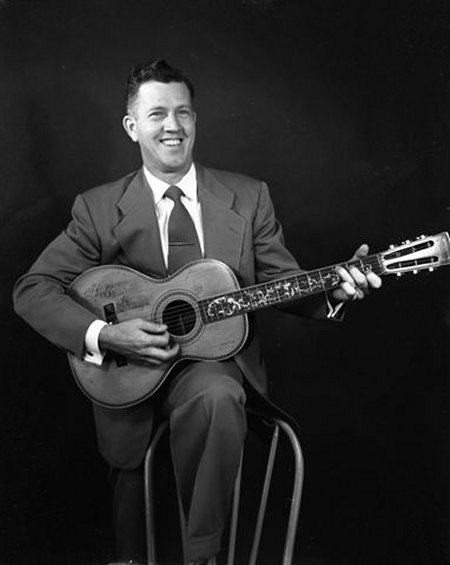 Bill Bruner with Jimmie Rodgers' Oscar Schmidt guitar - ca. 1953
Photo by A.G. Weems © Meridian Historic Preservation Commission
Another parlor sized guitar with intricate inlay of the fingerboard, this Oscar Schmidt guitar was originally given to Bill Bruner by Jimmie Rodgers in 1929. Bill, a performer in the same style as Jimmie who could sound like him occasionally filled in for him while on tour when Jimmie grew to ill to perform. During the early 20th century, the Oscar Schmidt Company of Jersey City, NJ was one of the most important mass manufacturers of guitars. Like Kay and Harmony subsequently, they built high quality guitars under the Montgomery Ward and Sears Roebuck brand names in addition to their own brands like Stella and Sovereign. Today the name is owned by Washburn Guitars and is a division of U.S. Music Corp.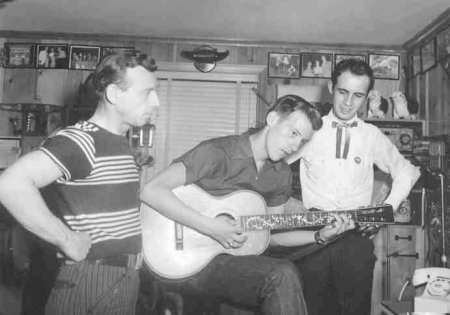 Hank and Jimmie at home with Rodgers' Oscar Schmidt guitar - ca.1953
Photo © Jimmie Rodgers Snow
Bill presented this guitar to Jimmie Rodgers Snow during the first Jimmie Rodgers Memorial Festival in Meridian on May 26, 1953. His father, Hank Snow, hung it on a wall for years. At the time it was valued at about $50 but signed by both Jimmie Rodgers and Bill Bruner, the guitar was later valued at around $10,000. In 2007 Jimmie Rodgers Snow sold it through Gruhn's guitars in Nashville, putting the proceeds into his ministry. The guitar is now owned by Tim White of Bristol and for a time was on display at the Mountain Music Museum there.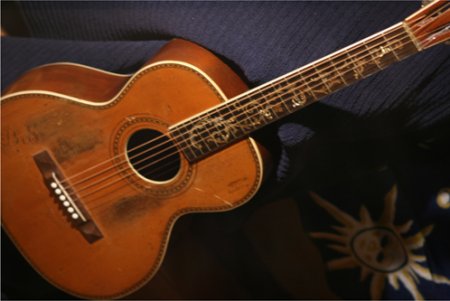 The Oscar Schmidt guitar given to Jimmie Rodgers Snow - 2007
Photo courtesy Premier Guitar

Ernest Tubb at the Opry with Jimmie's 000-45
Photo courtesy eBay
The Martin 000-45 was probably Jimmie's favorite personal guitar. He made nearly all of his popular recordings with this Martin. At the time it was said to be the only special model of guitar made and presented to any artist by Martin. After his death, Carrie Rodgers lent the guitar to Ernest Tubb who performed with it for four decades.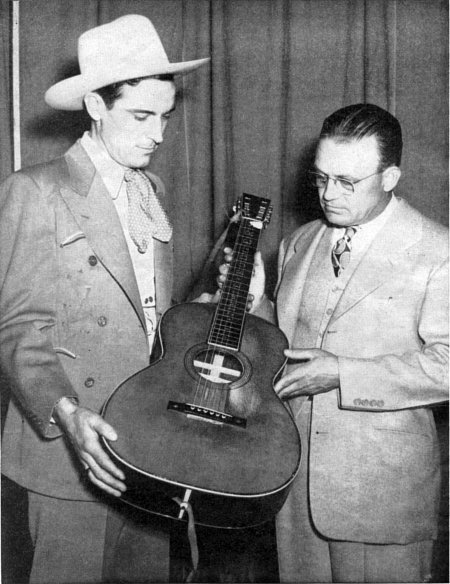 Ernest Tubb and fiddler Clayton McMichen with Jimmie's 000-45
Photo courtesy Ernest Tubb Songbook
When Ernest Tubb died in 1984, the 000-45 was returned to Jimmie Rodgers' daughter, Anita, who made arrangements to donate the instrument to the Smithsonian Institution until she learned the Smithsonian would not have been able to display the guitar on a permanent basis.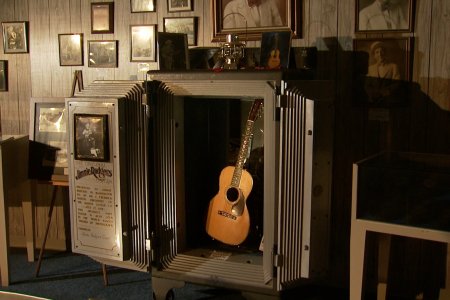 Jimmie's 000-45 on display at the Museum in Meridian
Photo courtesy Jimmie Rodgers Saga
The guitar was then donated to the Jimmie Rodgers Museum in Meridian, Mississippi where it is featured in a vault behind a glass door as part of the permanent display. The 000-45 model is sought after on the vintage guitar market, attracting buyers who pay from $50,000 to $100,000 for one of these very rare instruments.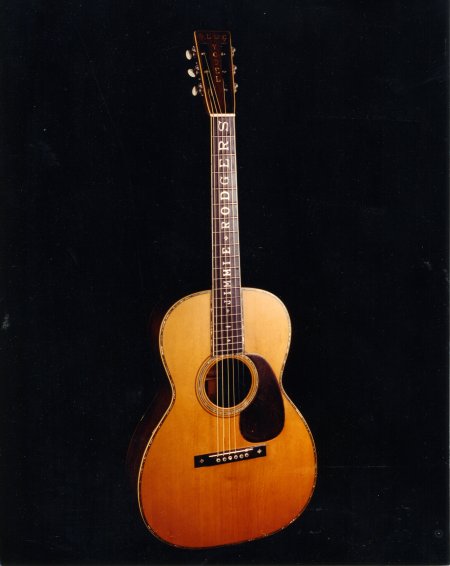 Jimmie's 000-45 at the Museum in Meridian - 1996
Photo © courtesy C. F. Martin & Co. Archives
The "000" 12-fret body shape model is a somewhat obscure but highly sought after pre-war Martin size and style, particularly suited for guitarists who favor more delicate finger style techniques.

It features a solid bookmatched "red" spruce soundboard, braced with scalloped X-brace pattern, forward shifted to a position 1" from the soundhole. Linen reinforcement strips are glued in regular intervals along the interior surface of the Brazilian rosewood sides to further strengthen the body.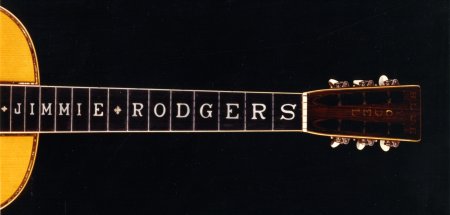 Jimmie's name inlaid on his 000-45 at the Museum in Meridian - 1996
Photo © courtesy C. F. Martin & Co. Archives
The two-piece back Brazilian rosewood features traditional "Style 45 multi-colored mosaic" back inlay strip. Abalone is inlaid around the rosette, as well as the perimeter of the top, sides and back. Ivoroid binding with black/white wood fiber inlay compliments the abalone pearl inlay at all appropriate seams in the 45 style.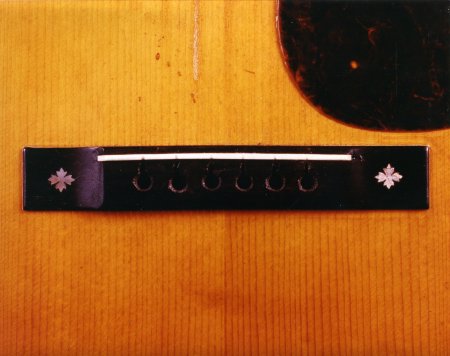 The bridge on Jimmie's 000-45 at the Museum in Meridian - 1996
Photo © courtesy C. F. Martin & Co. Archives
The ebony fingerboard is bound in grained ivoroid and the straight-line ebony bridge features wings inlaid with Maltese snowflakes and bridge pins inlaid with abalone pearl dots.
When he placed his original order, Jimmie Rodgers requested that the headstock be inlaid with his trademark "BLUE YODELER" in Martin Style 45 letters. Martin had a great difficulty fitting all of the "YODELER" letters on the narrow strip between the two peghead slots. As a result, Jimmie Rodgers amended the inlay design to read simply "YODEL."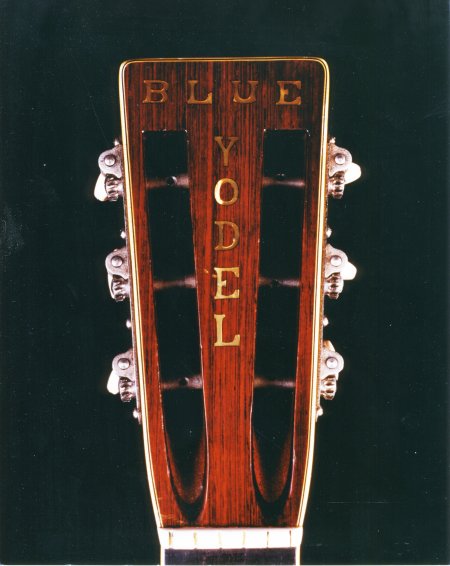 The headstock on Jimmie's 000-45 at the Museum in Meridian - 1996
Photo © courtesy C. F. Martin & Co. Archives
A pickguard was not standard on this model and was not on Jimmies originally. One was later added while Ernest Tubb was in possession of it. The guitar bears a special interior label in C. F. Martin, III's handwriting that reads, "To Jimmie Rodgers, America's Blue Yodeler, with all good wishes, C. Frederick Martin, July 27, 1928."

The back of Jimmie's 000-45 at the Museum in Meridian - 1996
Photo © courtesy C. F. Martin & Co. Archives
Jimmie had "THANKS" hand painted on the back of the guitar and after performing would flip it over to display his gratitude to audience. It was a practice that Tubb would at times follow.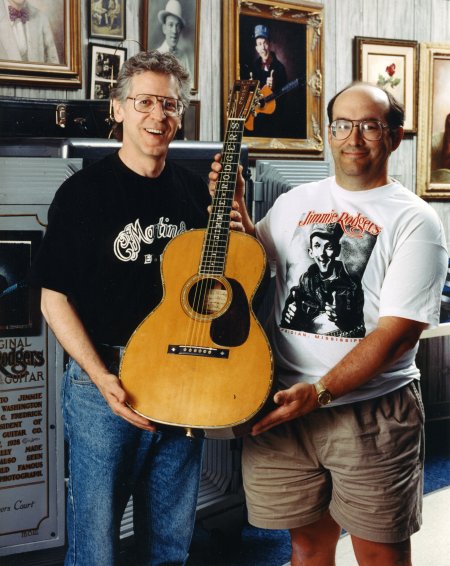 Dick Boak and Dale Eckhart with Jimmie's 000-45 at the Museum in Meridian - 1996
Photo © courtesy C. F. Martin & Co. Archives
In 1996 Martin's Artist Relations Manager Dick Boak and Prototype Coordinator Dale Eckhart traveled to the Jimmie Rodgers Museum to take extensive measurements and photographs of the guitar with plans to replicate it for a limited run of 100 commemorative pieces in honor of the 100th anniversary of Rodger's birth the following year. Dale Eckhart is a Martin master craftsman in the Custom Shop. He builds all of the Authentic Series guitars and was the prototype maker for the Jimmie Rodgers project.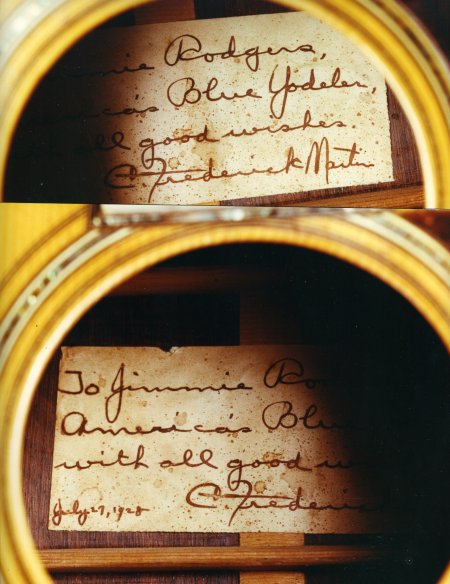 The inside label on Jimmie's 000-45 at the Museum in Meridian - 1996
Photo © courtesy C. F. Martin & Co. Archives
The 000-45JR Jimmie Rodgers model was crafted with Martin's "Golden Era" features, which refers to vintage Martin instruments made prior to World War II, recreating as faithfully as possible models that have long since become legendary. Even the original label has been carefully reproduced for the edition and a specially engraved brass plate, mounted just above the serial number inside the guitar body bears the inscription, "JIMMIE RODGERS, "Blue Yodel," 000-45JR, 100th Anniversary, 1897-1997."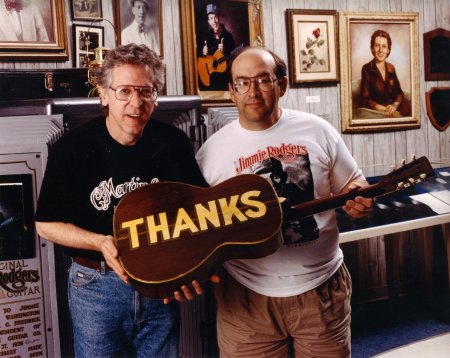 Dick Boak and Dale Eckhart with Jimmie's 000-45 at the Museum in Meridian - 1996
Photo © courtesy C. F. Martin & Co. Archives
section added November 14, 2011
The information about Jimmie Rodgers' guitars presented here was collected from various sources such as Billboard, Vintage Guitar and Premiere Guitar Magazines, Jimmie Rodgers Snow and not the least of which C.F. Martin & Co.