Meeting Beatles (3 anyway, and others)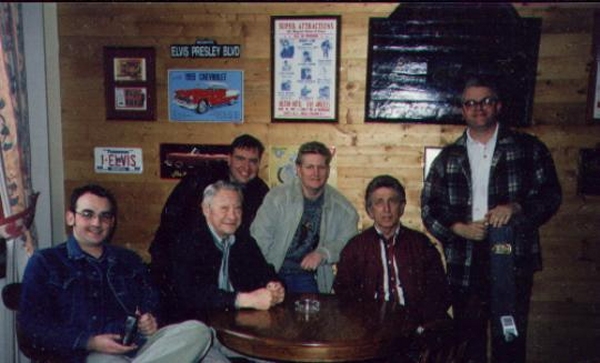 Ian Conningham, Scotty, Liam Grundy, Pete Pritchard, D.J. and Peter Davenport
Prestwick Airport, Glasgow Scotland - April 15, 1999
In 1968 Elvis told Scotty and D.J. that he would like to tour Europe with the band. Unfortunately that would never happen for him but beginning in 1992, more than 25 years later, Scotty and D.J. would fulfill that dream for him many times. In the Spring of 1999* Scotty and D.J. were again on tour in Europe, this time in the UK with their regular UK touring band. During the Scottish leg of the tour, they visited Prestwick airport. Scotty had been there a few years before to open a plaque commemorating the fact that this was the only piece of British soil that Elvis visited (in 1960, enroute home to the US for discharge from the Army). There is now an "Elvis bar" installed and Scotty and DJ were treated like royalty.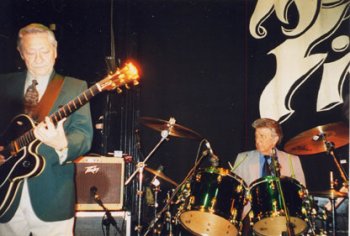 Scotty and D.J. at the Mean Fiddler April 24, 1999
photo© courtesy G. Reiterer
At some point during the tour Pete Pritchard who plays bass with Scotty had a conversation with Geoff Barker of the BBC and he mentioned to him that Scotty would love to meet George Harrison. Geoff happened to be working as a researcher on a radio show being hosted by Joe Brown, a well known UK guitarist from the '50s. Joe was a neighbor and close friend of George. This resulted in George inviting them to dinner at his house and on an off day from the tour, April 28, they went.
Along with Scotty and D.J, Alvin Lee and Joe Brown were also there. When they arrived George greeted them on his golf cart and they spent the afternoon talking and drinking tea. They found out that George was a fan when he showed them an autographed copy of a picture of Scotty and Elvis that was a gift from his wife Olivia.

Scotty, D.J. with Robert Plant on May 1, 1999 and George Harrison at George's home April 28, 1999
After dinner that evening they went up to George's studio where he showed them all the guitars in his collection which included his self painted "Rocky" Stratocaster and his Rickenbacker. Its not too surprising that two people like George and Scotty that are known to be reclusive would get along great and find lots to talk about. Besides sharing a love for the instrument they are two of the greatest inspirational guitarists in two of the greatest rock and roll bands and both shook the world in landmark performances on "The Ed Sullivan Show."
Two days later the band finished up their UK tour with two nights at Ronnie Scott's** in Birmingham. At one of them Robert Plant of Led Zeppelin attended and went backstage to meet the guys. They would meet with Robert again the following year when he recorded a cut for the "Good Rockin' Tonight: The Legacy of Sun Records" documentary/album and have nothing but great things to say about him.
In July Scotty would be back in England at a party in Sir George Martin's Studio to receive an award from Gibson and the first Scotty Moore signature ES295 guitar. Also in attendance there that day were Jack Bruce, Jimmy Page, Gary Moore, Alvin Lee, Jeff Beck, Steve Howe, and Phil Manzanera.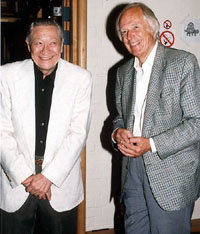 Scotty and Sir George Martin
photo© courtesy Gibson
In 2000 the following year Scotty and D.J. recorded "That's Alright Mama" in New York for the "Good Rockin' Tonight: The Legacy of Sun Records" documentary and CD with Paul McCartney on bass. Paul told Scotty that he wanted to bring the Bill Black's original upright bass that he now owns to the session but was concerned about transporting it in the belly of the plane. This caused Scotty to laugh as he related stories to Paul about how they used to transport that bass to gigs tied to the roof of cars and how one time in an accident late at night it had gone sailing off the roof, over both vehicles and gone sliding down a country road. With he and Elvis rushing to check on the driver of an old truck that had pulled into the road in front of them they could hear off in the dark the plucking of bass notes as Bill rushed to check on it. If it had survived that he was sure it could survive the trip in the plane.

Paul McCartney, DJ and Scotty
Scotty was also again back in Europe in 2000 on tour and made a stop in Hamburg for the opening of the Gibson office there. Pat Foley, Gibson's director of entertainment relations worldwide organized the party and hired a hall for the event. Tony Sheridan, who used to work with the Beatles in Hamburg was there and he got up and sang. The Beatles first studio session ever was in 1961 when they backed Tony on his cover of "My Bonnie".

Scotty and Horst Fascher in Hamburg Germany
At the party Scotty also got to see Horst Fascher again. Horst owned the Star Club in Hamburg where The Beatles played when they returned to Hamburg in 1962 at the start of their rise to fame. The Star Club became the premier music venue in Hamburg from its opening in 1962 until it closed in 1969. The first time Scotty and Horst met was when Horst came to the Masterlink Studio in Nashville when Scotty and DJ were recording Ronnie McDowell's "Soul Mates" for the "All the King's Men" album. Horst then booked a few shows for Scotty in Germany. During the Gibson party Scotty played with his British band and then did some other shows while he was there with a group put together by Horst. Most recently he performed at the Star Club 40th Anniversary concert in 2002 accompanied by his friends Victor Gomez, Jimmy Russell, Jay L. Day and German Elvis impersonator John Barron.


Scotty at the Star Club 40th Anniversary concert
photo© courtesy Wes Paul
Though Scotty never met John Lennon, in June and July of 1970 Ringo Star would be the first Beatle to record in the U.S. He recorded his second solo album "Beaucoups of Blues "at Scotty's Music City Recorders in Nashville with Scotty engineering the sessions and D.J. playing drums. This made Scotty the only person to work for the two largest independent labels ever, Apple Records and Sun Records.
---
*In 1999 the UK tour dates and venues were as follows
Apr 14 Adam Smith Theatre Kirkcaldy, Scotland

Apr 15 Cottier Theatre Glasgow, Scotland

Apr 16 Civic Theatre Ayr, Scotland

Apr 17 Lemon Tree Aberdeen, Scotland

Apr 20 Custom House South Shields, England

Apr 21 Neptune Theatre Liverpool, England

Apr 22 Colne Municipal hall, Colne, Manchester

Apr 24 Mean Fiddler London, England (pix)

Apr 26 The Stables Milton Keynes

Apr 27 Beaufort Theatre Ebbw Vale

Apr 29 Brook Theatre Southampton

Apr 30 Ronnie Scott's Birmingham

May 1 Ronnie Scott's Birmingham
**The Ronnie Scott's Club in Birmingham is no longer there and was not connected to The original and existing Ronnie Scott's Jazz Club in London. Scotty played at the club in London in September of 2001.