Booneville Junior College Auditorium
Booneville, MS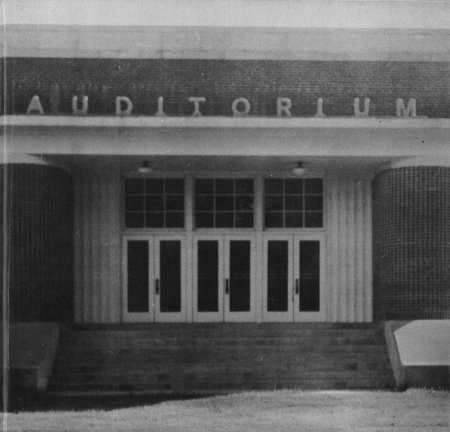 Booneville Junior College Auditorium - 1955
Photo courtesy Glenice W. Stone
Booneville is a small town in Northeast Mississippi located about 30 miles from Tupelo and 110 miles from Memphis, TN. In 1948 an agricultural high school and junior college was founded there on land sold to the state by Dr. W. H. Sutherland, for his desired purpose. It served/serves Alcorn, Prentiss, Tippah, Tishomingo, and Union Counties. In 1949 the agricultural high school status was dropped and the name changed to Booneville Junior College.
On January 17, 1955, Elvis, Scotty and Bill performed in the college auditorium while on tour that month with several other acts from the Hayride. On the 13th, the Booneville Banner ran a short story plugging the show:


Kiwanians To Sponsor Hillbilly Show Here

When the rhythmic beat of "That's All Right Mama" - "Blue Moon of Kentucky," - and other Elvis Presley favorites fills the air at the Junior College Auditorium on Monday, January 17, at 8 p.m., the fastest rising country music star in the nation will be performing in his own top-notch manner. And it's a good bet that folks will leave the show as full-fledged fans for Elvis Presley.

Presley, a recent graduate of Humes High in Memphis, made his first record only about 6 months ago. But since that time he's captured the hearts of the young and old with an unusual style of singing. With his sidekicks Scotty Moore and Bill Black Elvis has made a number of capacity crowd appearances in the South. He's one of the top favorites of the Louisiana Hayride where the audience often just won't let him leave the stage. A good looking single lad, Presley has made three "Sun" records. They are "That's All Right Mama" and "Blue Moon of Kentucky," "I Don't Care If The Sun Don't Shine" and "Good Rockin' Tonight," and his latest release "You're a Heartbreaker" and "The Milk Cow Blues Boogie."

The sister and brother team of J. E. and Maxine Brown also star on the Hayride and their first record release "Looking Back To See" was one of the top sellers of 1954. The Pine Bluff, Ark., youngsters have recently completed a tour of the Northwest and Canada and their close harmony cut-ups have been welcomed back at the Louisiana Hayride.

There'll be other favorites from the Hayride show as well as Bob Neal of WMPS in Memphis along with Elvis and the Browns on the great country Music Jamboree on Monday January 17 at 8 p.m. in the Junior college Auditorium.

The show will be sponsored by the Booneville Kiwanis Club. Proceeds from the event will be used by the club to promote its county wide projects.

Booneville Banner January 13, 1955 courtesy the Booneville Banner and Glenice W. Stone of the NEMCC Library
Peter Guralnick, in Elvis Day By Day, reported that as of the 11th of that month, at a show in New Boston, Texas, the band also included members of the Hayride's staff band, Leon Post on piano and Sonny Trammell on steel guitar till the end of the month.1 It is around this time that the Colonel first enters the picture. Peter wrote that it was reports of the crowds reaction at the New Boston show that prompted Colonel Tom Parker's and Tom Diskin's first interest in Elvis, though they must've have at least heard of him through Oscar Davis from their appearances at the Eagle's Nest the year before. According to Bill E. Burk, Ernest Hackworth, known then as "Uncle Dudley," a DJ on KTWN in Texarkana is the one who called the Colonel and said, "There's a kid at the Hayride tearing 'em up. You've got to come down here and have a look."2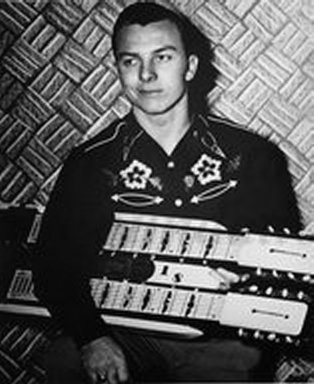 James "Sonny" Trammel
Photo courtesy The R.W. Norton Art Gallery
James "Sonny" Trammel (sometimes spelled Trammell) and Leon Post were regular performers on the Hayride and also played recordings with the likes of Jim Reeves and at times were part of Dale Hawkins' band which included James Burton and Joe Osborn. Some reports say that Dale insists that Sonny played bass on "Susie-Q." The Hawkins' band had a residency at the Skyway Club in Bossier City, Loiusiana.3
On the 15th, two days before the Booneville show, the Colonel and Diskin are at the Hayride show and likely see Elvis for the first, and the Colonel takes steps to forge a link with Bob Neal after the show. Strangely enough, by then, Scotty had written to Diskin's agency in Chicago looking for dates and had only days earlier received a letter of rejection from Tom Diskin stating that there were "few outlets for hillbilly entertainers" in the Chicago area.1

Scotty, Sonny, Elvis and Bill at the Hayride - Jan 22, 1955
Photo © Nick Gulli courtesy of John Griswold.com
On the day of the show at the college, Elvis is said to have visited the local radio station WBIP for an interview with DJ Lynn McDowell to support airplay of his records. Also Bob Neal wrote to Ed McLemore of the Big "D" Jamboree to let him know that Colonel Parker will be doing bookings for him and Elvis, "just like MCA or William Morris or any other agency." According to Neal, Parker is attempting to get a booking at "one of the big resort hotels in Nevada" and is "negotiating a deal that is terrific, to say the least." 1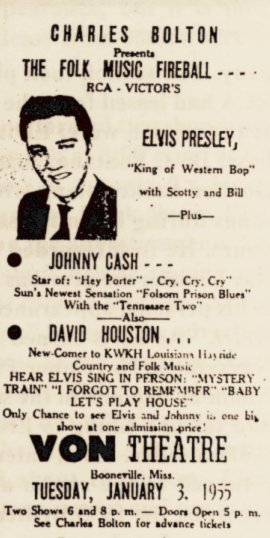 Misdated ad for show in Booneville Banner - Dec 29, 1955
courtesy Brian Petersen's "Atomic Powered Singer"
That January was their only appearance at the college though the following January, in 1956, they performed two shows in Booneville at the 424 seat Von Theater on College Street. The article in the Booneville Banner read:
ELVIS PRESLEY, "the king of Western bop," as many of his fans call him, is a 20-year-old youngster who has set the field of country music to talking with his unusual combination of folk music spiced with a "rock and roll" beat. His Sun Records are in demand by folk music fans coast to coast. He is appearing in person at the Von Theatre along with Johnny Cash and "The Tennessee Two, and David Houston, star of the KWKH "Louisiana Hayride", Thursday, Jan. 3, for two shows, 6 p.m. and 8 p.m.

Presley was horn in Tupelo, Miss., and moved to Memphis, Tenn., at the age of 12. A natural sense of rhythm along with a unique voice quality benefited from his childhood surroundings in which country music and negro blues were everyday music to him. But aside from a few non-professional efforts while in high school in Memphis, his first real work was done when the Sun Record Company of Memphis heard his voice on a personal record and encouraged him to make his first release, "That's All Right" and "Blue Moon of Kentucky."

Since he started his career with the Louisiana Hayride in Shreveport, Presley's career has come along by leaps and hounds. He has drawn record crowds in Texas, Tennessee, Florida, Virginia - as a matter of fact, all through the South.

Elvis is 20, his birthday being on January 8. He is unmarried, and has no serious intentions to become married. Not that he is shy, for he is very fond of the young ladies, as they are of him. His main interests are his cars, a 1955 Cadillac Fleetwood sedan in a striking pink and black color, and a 1954 Cadillac convertible. He has acquired one of the biggest collections of unusual and flashy clothes any artist owns, preferring the "cool cat" type of dress rather than Western apparel. When near water, Elvis is an avid water-skiing fan, having learned at Memphis this summer.

A real fire-ball in his stage manner, Presley pleases young and old. And his tours from coast to coast are building an ever increasing following for "the king of Western bop!"

Advance tickets are on sale now. Contact Charles Boren for yours.

Booneville Banner - December 29, 1955 courtesy Brian Petersen's "Atomic Powered Singer"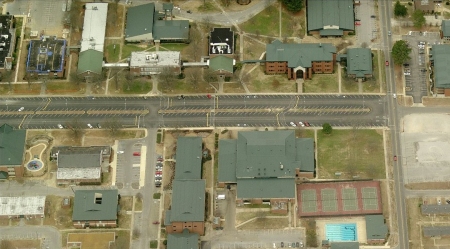 Seth Pounds Auditorium on the NEMCC campus, Cunningham St. side - 2009
Photo © Microsoft EarthData

Seth Pounds Auditorium, Cunningham St. side - 2009
Photo © Microsoft EarthData
The name of the college was later changed to Northeast Mississippi Junior College and eventually to Northeast Mississippi Community College, the name by which they are now known. With an enrollment of 4,000 students, the college today offers curriculums and degrees in Medical Assistance, Medical Laboratory Assistance, Medical Radiology Technology, Nursing – Practical, Pharmacy Assistance and Respiratory Therapy.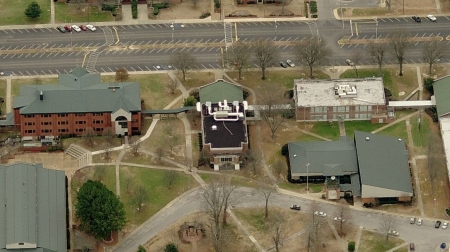 Seth Pounds Auditorium on the NEMCC campus - 2009
Photo © Microsoft EarthData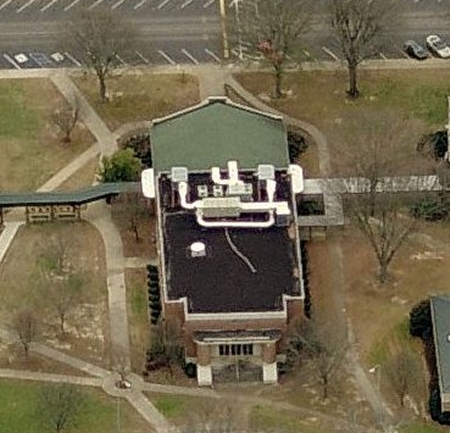 Seth Pounds Auditorium - 2009
Photo © Microsoft EarthData
The auditorium is now called Seth Pounds Auditorium. It has been renovated over the years and bears little resemblance to what it did in 1955. The school library has copies of all the yearbooks except the one year that would have included Elvis' visit. Like several of the the other school's he performed in, that yearbook was stolen at some point.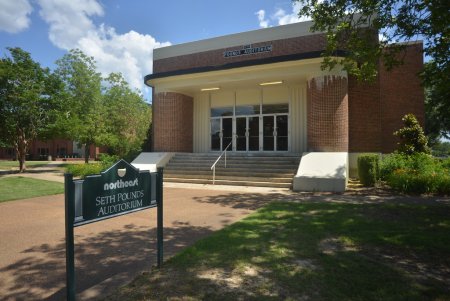 Seth Pounds Auditorium - June 16, 2015
Photo © Northeast MS CC Smugmug, added June 2017
page added October 29, 2009

Special thanks to Glenice W. Stone, Library Director at Northeast Mississippi Community College who along with the College's website and through Wikipedia provided the history of the college presented here.
1 according to Peter Guralnick and Ernst Jorgensen in Elvis Day By Day
2 excerpt from "Early Elvis: The Sun Years" by Bill E. Burk
3 according to Ace Records