Bob Neal
Elvis' second manager
Bob Neal was born on October 6th, 1917 in the Congo in Africa to missionary parents. As a youngster traveled between Africa, Europe and America many times. After college, in 1939, he went into radio, the same year that WMPS Radio in Memphis started broadcasting. Bob settled in Memphis in 1942 at a time when it was just general music; a bit of pop music, some classical music and some country.

Bob Neal, deejay at WMPS in Memphis, 1942 - 1958
Photo courtesy Mike Freeman
In 1948 he started a morning program on WMPS called "The Bob Neal Farm Program", featuring country music entirely. The station was also programming live shows with artists like Eddie Hill, the Carlisles, and the Loden family with a young boy fiddler named James Loden, aka Sonny James.
The reaction to the program was very good and he started doing shows at high schools, gymnasium and ball parks within a 100 to 150 miles of Memphis that would feature local acts and at times Opry acts from Nashville like Johnny and Jack, Kitty Wells or Bill Carlisle. He would promote the shows on his program, sell the tickets and emcee as well. He would later bring large package shows to Memphis using Overton Park in the summers and Ellis Auditorium in the winters. His first show at the Overton Park Shell in 1952 was headlined by Hank Snow and Webb Pierce.
In July of 1954 Bob was one of the local deejays that Sam Phillips gave an acetate of Elvis' first record which he played on WMPS and later Sam contacted him and asked if he had a spot for Elvis, Scotty and Bill on his show in Overton Park at the end of that month. Bob added them but had to get Elvis in the union first.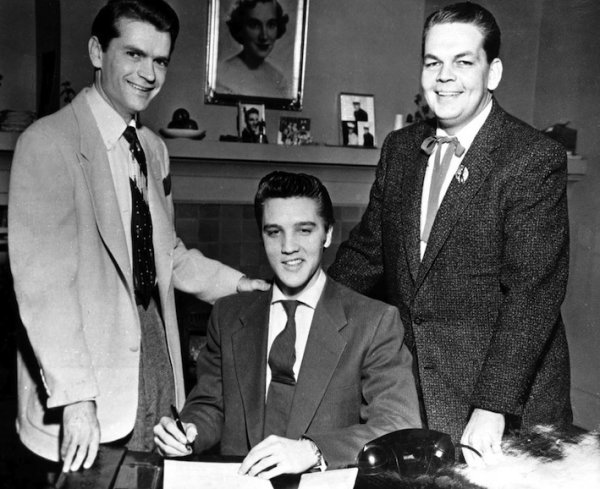 Sam Phillips with Elvis signing a management contract with Bob Neal - ca. Dec. 1954
courtesy David English
Neal is Manager For Young Star

Elvis Presley, the 19-year-old Memphian whose first two records ("Blue Moon of Kentucky" with "That's All right" and "Good Rockin' " with "I Don't Care If the Sun don't Shine") won him quick acclaim, has signed a management contract with bob Neal WMPS folk music disc jockey, it was announced today.
Presley, who appears each Saturday night on the Louisiana Hayride in Shreveport, said increasing demands for appearances made a manager necessary, and he preferred a Memphian for the job. Two other Memphians are in his group and appear with him on the Louisiana Hayride. They are Guitarist Scotty Moore and Bill Black on bass.
The affiliation was announced simultaneously with release of Presley's latest records - "Milk Cow blues" and "Heartbreak." He records for Sun Record Co., a Memphis firm headed by Sam Phillips.

Memphis Press Scimitar, December 29, 1954 courtesy Memphis Public Library
In the fall of that year Bob started doing bookings for the band and through him they met Oscar Davis who would try to make a tentative deal to take over Elvis' management from Scotty. By the end of the year though Bob had signed on as Elvis' manager, commencing officially on January 1, 1955. That month he booked dates in the area along with Hayride members Jim Ed and Maxine Brown in Clarksdale, MS, Helena, AR, Booneville, MS, Sheffield, AL, Leachville, AR, and Sikeston, MO, even attending these shows while maintaining his morning program at WMPS.
By February he started Elvis Presley Enterprises (EPE, Inc.) to promote the product "Elvis Presley" with an office at 160 Union Avenue across from the Peabody Hotel. Their motif was pink and black which included the fan club membership cards, stationery, and envelopes. Bob's wife, Helen was the secretary. He also arranged for the portrait photos by Speers in Memphis that were mass produced and sold at venues.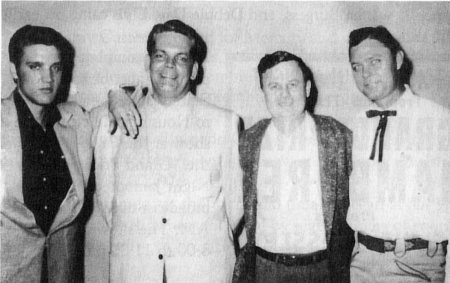 Elvis, Bob Neal, Jimmy Work and Onie Wheeler - Mar. 9, 1955
Photo courtesy Charlie Terrell and Lee Cotten's "Did Elvis Sing in Your Hometown"
Bob regularly supplied Billboard and Cash Box magazines with plenty of material to help promote Elvis and generate interest in his career. Deejays were invited to write in for samples. Bob booked them as one of the headliners at his Five Star Jamboree at Ellis Auditorium in February and took that opportunity to arrange a meeting with Colonel Tom Parker in hopes of having Jamboree Attractions book Elvis, Scotty and Bill. He recognized his influence and the opportunities of package tours to other parts of the country.
Bob also took them for their first trip(s) North for appearances in Cleveland and then to New York to audition for Arthur Godfrey's Talent Scouts. They were rejected. The week before, on March 15th, he signed an amended one-year contract agreement with Elvis giving him a 15 percent commission, though by then Parker had his sights locked on Elvis.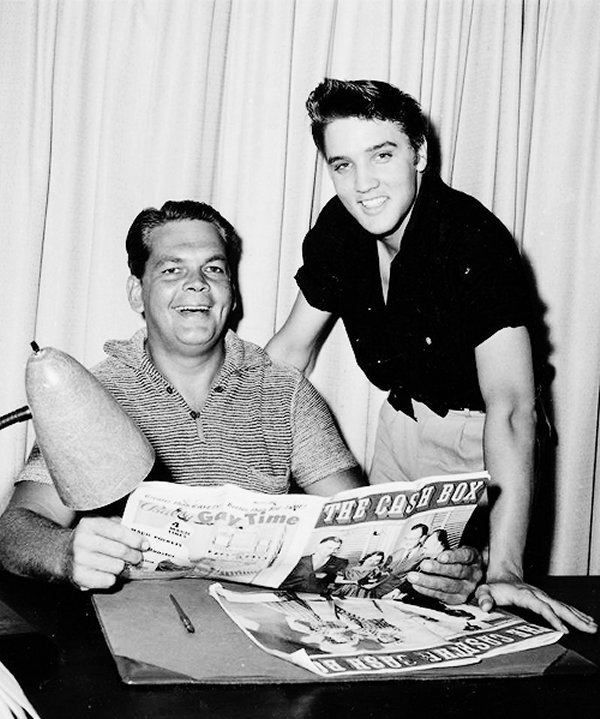 Bob Neal and Elvis looking over Cash Box Magazine - ca. Aug. 1955
Photo courtesy web
Later that year he started including other Sun acts to open shows with Elvis that at times included Johnny Cash and/or Carl Perkins. Still a part of the show and doing morning radio, Bob had Helen do much of the driving so he could sleep whenever he could. She sold the tickets and he collected them or money at the door, then rush on stage to introduce the show.

Bob Neal, Scotty, Elvis and Bill promoting an upcoming show in Texarkana on WMPS
If audio fails to play in your browser click here for mp3.
Elvis, being close to the age of Bob's son Sonny, became close with Bob's family and Bob was well aware it was Elvis he had the contract with and not the band. Scotty had reminded him after he took over that Elvis had promised them a share of the royalties and though Bob acknowledged it, never did anything about it. Unfortunately by October it was his task also to tell Scotty and Bill that their original agreement of a 50-25-25 split would change to a salary of $200 a week when they worked and $100 when they didn't just as things were getting good. Though they blamed Parker, Bob maintained the decision was Elvis'.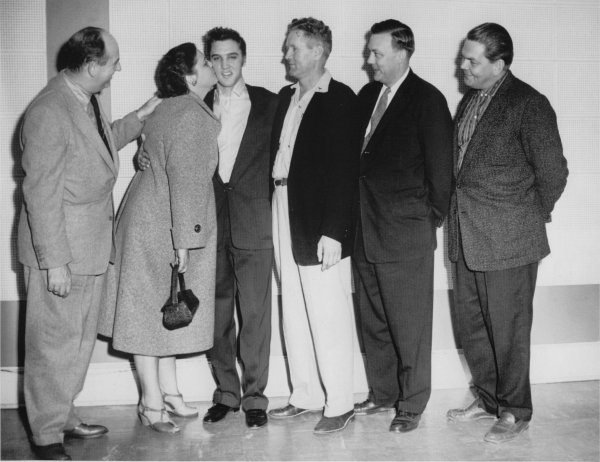 Col. Parker, Gladys, Elvis and Vernon Presley, RCA's Coleman Tily and Bob Neal at Sun - Nov. 21, 1955
Photo courtesy George Klein's Elvis Presley Family Album
On November 21, 1955 Elvis' contract with Sun was purchased by RCA. At that time Parker and Bob agreed to split their combined 40 percent commission on Elvis's earnings. By this time Bob was growing weary of life on the road, he still had his job as a deejay and in March of 1956 had opened a record store on Main St. in Memphis. When his contract with Elvis expired on March 15, he decided not to pursue renewal and Parker become Elvis' manager. He would later say "I always felt that Elvis was going to be a big artist, but I never would have believed how big, so I just preferred to drop out of the scene."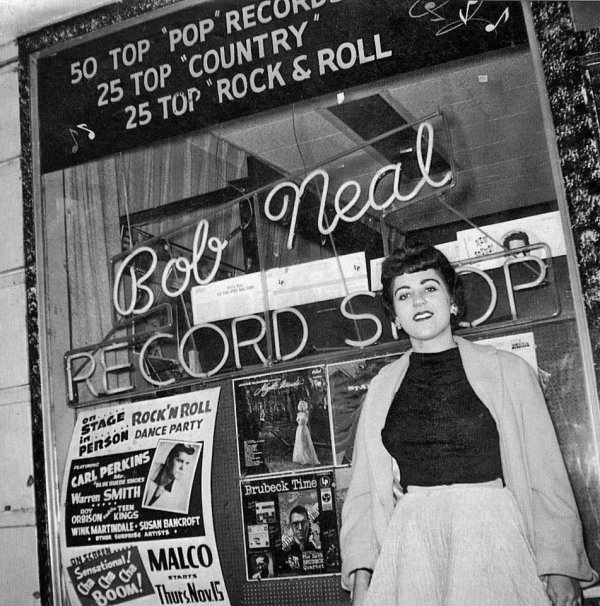 Kay Wheeler in front of Bob's Record Shop in Memphis - ca. Nov. 1956
Photo courtesy web
Bob didn't stay out of the business very long though and a few months later opened a talent agency called Stars, Inc. for representation and booking of artists that would include Johnny Cash, Carl Perkins, Roy Orbison, Sonny James, Warren Smith, Jerry Lee Lewis, Johnny Horton and Faron Young among them. By 1958 he had left WMPS and bought station KCIJ in Shreveport, an ill fated endeavor.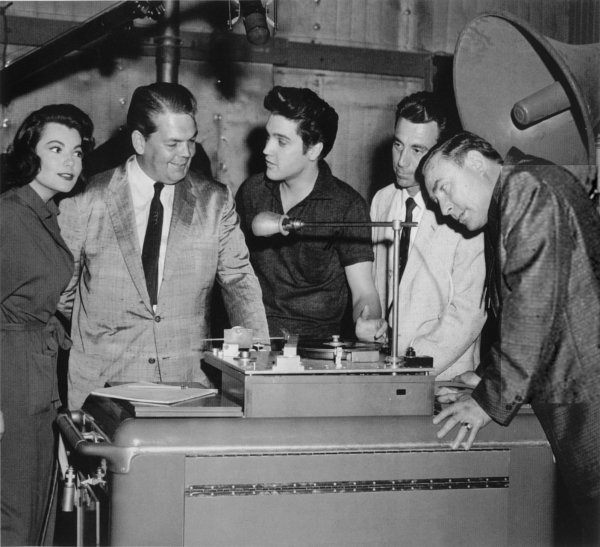 Bob Neal and Dewey Phillips visit with Judy Tyler and Elvis during production of Jailhouse Rock - 1957
Photo courtesy George Klein's Elvis Presley Family Album
Later in 1958 he freed the others from their contracts and focused solely on Johnny Cash, moving his family along with Johnny's to California. The following year he arranged a tour out of the country to Australia for Johnny, something the Colonel should have but would never do for Elvis. The Hollywood scene though was note entirely fruitful for them though as it was for Elvis and late in 1960 when their contract expired they did not renew. They split amicably however with a generous settlement on royalties.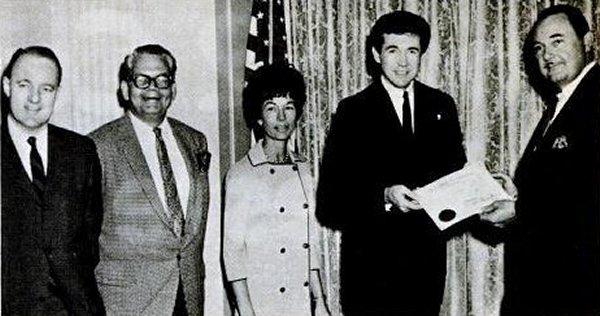 Sonny James, second from right, receives a Certificate of Congratulations from Tom Beasley, executive secretary to Frank Clement of Tennessee for designation November as "Sonny James Month" by Capitol Records. Looking on from left, are Wade Pepper, Capitol's country & western sales manager, and Bob Neal and Mrs. Jo Walker of the Country Music Association
Photo courtesy Billboard Dec. 3, 1966
He returned to Tennessee and set up in Nashville. Through the 1960s he was back in the talent agencies, first with the Wil-Helm Agency, created by the Wilburn Brothers and Don Helms, and then he formed his own. Before long he was managing Sonny James (Loden) and oddly enough signing him to performances on the Johnny Cash show. In 1964 he started Country Music News Service, a firm devoted to offering taped reports and weekly interviews with top country performers to subscribing radio stations, featuring news items regarding the country music field and interviews with top country music performers.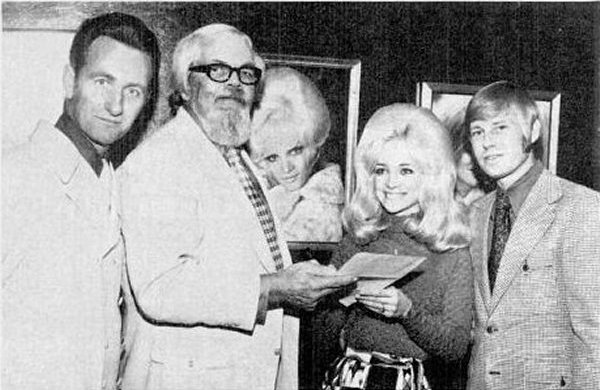 Barbara Mandrell has signed a new booking agreement with the Neal Agency. Left to right are Irby Mandrell, Barbara's father and manager, Bob Neal, Miss Mandrell, and Sonny Neal
Photo courtesy Billboard Mar 18, 1972
In addition to Sonny, other acts he would represent would be Carl Belew, Stonewall Jackson, Warner Mack, Johnny Paycheck, Pete Drake, Connie Hall and Jimmy Martin. By the 1970s he would also serve as a director of the Country Music Association. In 1973 he partnered his agency with William Morris which would eventually it would become their Nashville area office of which he would be the general manager.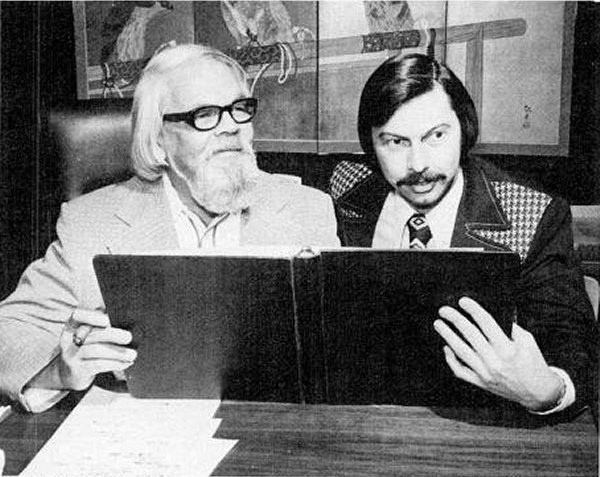 Dave Barton, right, goes over the bookings with Bob Neal, left, after joining the Neal Agency
Photo courtesy Billboard Feb 24, 1973
Never critical, he would later praise what the Colonel did with Elvis, though suggest that he himself would probably not have kept him away for performing for a live audience for so long, something that Elvis always enjoyed. The same year that Elvis died, 1977, saw Bob receive the Man of The Year Award from the Nashville Association of Talent Directors for his great contribution in the field of country music.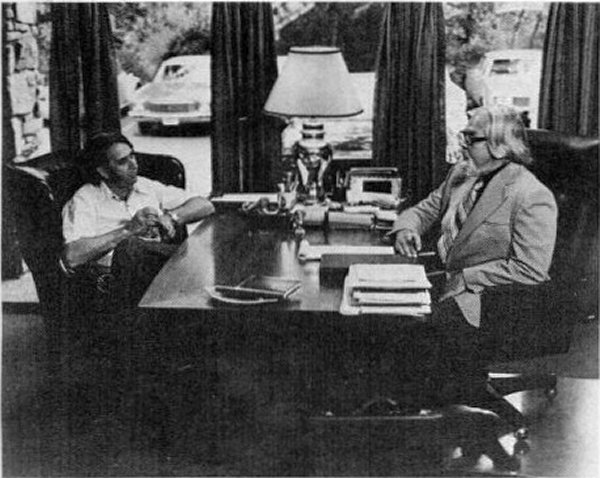 J-M-I Records' Don Williams in an initial planning conference with his new booking representative, Bob Neal, boss of the new William Morris/Bob Neal Agency in Nashville. Williams has now signed with that agency.
Photo courtesy Billboard Oct 20, 1973
In September of 1979 Bob Neal retired and his son Sonny became manager of the William Morris Agency's Nashville office, however, Billboard reported in August of 1981 that he was reactivating the Neal Agency, Inc. that he headed from 1963 to 1973. Bob died, on May 9, 1983 at the age of 65. The following year, on October 12, 1984 he was elected into the Country Music Disc Jockey Hall Of Fame.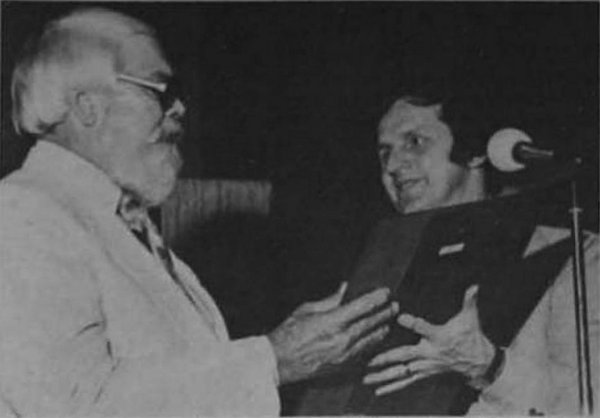 1977's MAN- Bob Neal, first [second] manager for Elvis Presley and former manager of Johnny Cash, receives the man of the year award from the Nashville Assn. of Talent Directors for his "great contribution in the field of country music." Billy Deaton, president of the organization, presents the award to Neal who is now general manager of the William Morris Agency office in Nashville.
Photo courtesy Billboard Nov. 5, 1977 and FECC/djc
Page added May 9, 2013

Much of the info about Bob Neal presented her was compiled from several sources, including a 1973 interview by Rockwell International courtesy of Elvis World -Japan, excerpts from Last Train to Memphis by Peter Guralnick and various pieces and articles in Billboard Magazine.