City (Civic) Auditorium
Clarksdale, MS
Clarksdale, MS is located 75 miles south of Memphis down Highway 61 in the heart of the Mississippi Delta. Many famed blues musicians found their calling in the delta of this region and the proverbial crossroads there at Highway 61 and 49 had long been recognized in folklore as the place referred to by Robert Johnson in his "Crossroad Blues." It was where according to blues legend one could meet Satan at midnight and sell their soul, a myth perpetuated by claims made by Tommy Johnson and for years attributed to Robert. Clarksdale is also home to the "Riverside hotel" that was originally the hospital where blues singer Bessie Smith died after a car accident in 1937.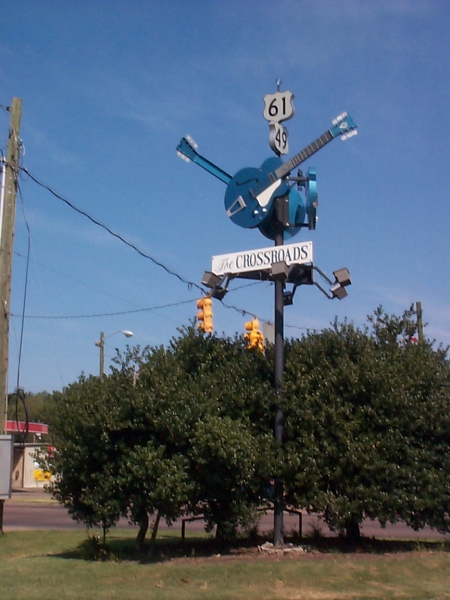 Intersection of Highways 49 and 61 in Clarksdale, MS
W.C. Handy, often regarded as "Father of the Blues," lived for a time in Clarksdale prior to moving his band to Memphis where he wrote "Memphis Blues" and established his presence on Beale St. Muddy Waters (McKinley Morganfield) lived and worked on the Stovall plantation near Clarksdale prior to leaving for Chicago via the Clarksdale Station in 1943 to make his name in Blues. It was also the birthplace and home to Ike Turner, who along with Jackie Brenston recorded "Rocket 88" with Sam Phillips in Memphis, a song recognized by some to be the first recorded Rock 'n Roll song.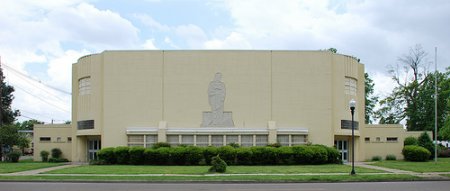 The Civic Auditorium in Clarksdale, MS
Photo courtesy web
The Civic Auditorium at 506 East Second St. in Clarksdale was originally built in 1939 with funds in part from the Works Project Administration. The facility has two meeting rooms and the auditorium has a seating capacity of 1500.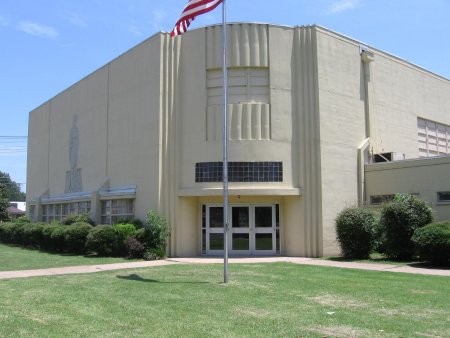 An entrance to the Civic Auditorium in Clarksdale, MS
Photo courtesy Webshots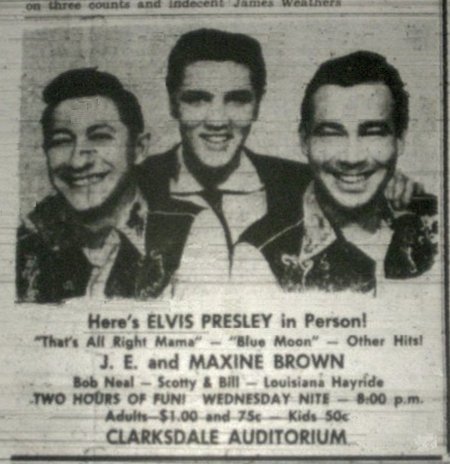 Clarksdale Press Register ad
On January 12, 1955 Elvis, Scotty and Bill performed at the Auditorium at what was billed as their "First Time in the Delta," (referred to as the Clarksdale Auditorium) though according to unsubstantiated reports by Bill E. Burk in "Early Elvis: the Sun Years" they had reputedly appeared at the Auditorium sometime in late 1954. Bill wrote, "perhaps the worst attendance was Elvis' first appearance in Clarksdale, Mississippi, just down U.S. Highway 61 from Memphis, in the heart of the Mississippi Delta. Martha Coleman said at the end of his first perfomance in late 1954 in Clarksdale, Elvis said he wanted to 'thank all three of you for comin'.'" 1
Peter Guralnick wrote in Elvis Day by Day that the January 12th show marked the known beginning of two weeks of touring with Jim Ed and Maxine Brown. Bob Neal has booked the tour and appears as MC at all the shows. The Browns are a highly polished brother--and--sister country act and in many locations attract a majority of the crowd.2 Bob Neal, recently taken over as manager of the band, also shared the stage as a comedian. The Browns though had previously been billed with them as early as December the previous year just across the river in Helena.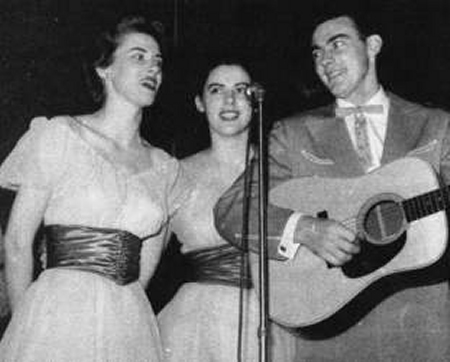 Maxine, Bonnie and Jim Ed Brown, at the Hayride
Photo courtesy Elvis-World Japan
The Browns had first worked with Elvis, Scotty and Bill at the Louisiana Hayride in 1954 where Maxine and her brother, Jim Ed, were already members of the Hayride, having been propelled to the Shreveport-based radio show by their recent hit, "Looking Back to See." Bob Neal, contacted their booking agent, Tom Perryman, who then packaged the two acts together for a 15-day tour. On some dates, The Browns headlined, but that didn't last for long, Maxine said with a chuckle.3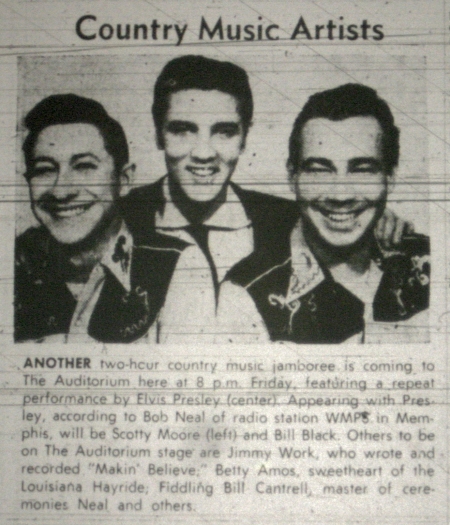 March 1955 ad for show in Clarksdale Press Register
ads added Feb. 27, 2012
On March 10, 1955, Elvis, Scotty and Bill performed again at the Civic Auditorium (advertised as the "City Auditorium"). According to Lee Cotten in "Did Elvis Sing in Your Hometown?," the show again featured humor from Bob Neal and songs from Jimmy Work and Betty Amos. It was emceed by "Fiddling" Bill Cantrell, a local favorite.4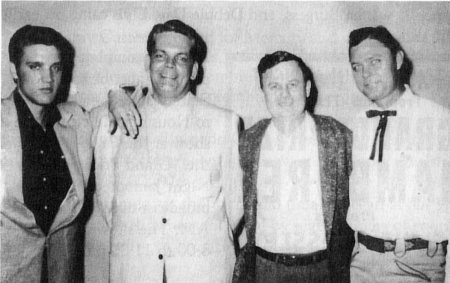 Elvis, Bob Neal, Jimmy Work and Onie Wheeler - Mar. 9, 1955
Photo courtesy Charlie Terrell and Lee Cotten's "Did Elvis Sing in Your Hometown"

Gene Smith, Betty Amos, Helen (Neal) Hobgood, Scotty, Charles Neal, Elvis and Bob Neal with Jimmy Work and Bill Black standing in a cafe in Clarksdale, MS - Mar. 10, 1955
Photo source A. Fernándes, likely scanned from A Boy From Tupelo, added May 6, 2014
Born in Akron, OH, in 1924, Jimmy Work moved to Kentucky at the age of 2. At 6 he started playing guitar. Singing and song writing came naturally to Jimmy who never had a lesson in his life. In 1949 he joined WCAR in Pontiac, Michigan and in 1948 started making records. His first, "Tennessee Border," turned out to be a hit and and really started Jimmy on his way. He had guested on the WLS Barn Dance, WWVA Jamboree, KWKH Louisiana Hayride, WFAA Saturday night Shindig and the Grand Ole Opry.5
Betty Amos was a country and rockabilly singer, born and raised near Roanoke, Virginia. Known also to be a bit of a comedienne while on stage, in the 1950s, she was recording with the Mercury label and also appearing on the Louisiana Hayride.6 In 1950, both she and Martha Carson were the backing ensemble to Bill Carlisle and though unrelated were billed as the Carlisles.

Scotty, Elvis and Bill
initially thought to be Mar 10, 1955, but now said to be Apr 5, 1955 in Charleston, MS
Photo courtesy Colin Escott's "Good Rockin' Tonight"

On September 8th, 1955, the boys performed at the auditorium in Clarksdale for the last time. This show also featured Johnny Cash, new to SUN with his growing hit "Cry Cry Cry."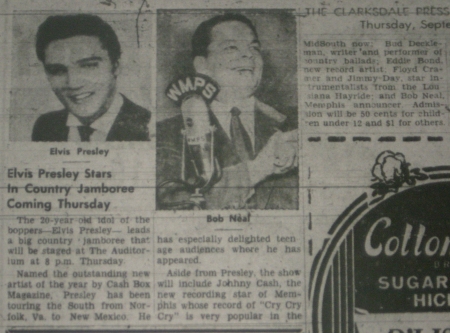 Clarksdale Press Register article - Sep. 8, 1955
added Feb. 27, 2012
Elvis Presley Stars in Country Jamboree Coming Thursday

The 20 year old idol of the boppers - Elvis Presley - leads a big country jamboree that will be staged at the Auditorium at 8 p.m. Thursday.
Named the outstanding new artist of the year by Cash Box Magazine, Presley has been touring the South from Norfolk, Va. to New Mexico. He has especially delighted teen age audiences where he has appeared.
Aside from Presley, the show will include Johnny Cash, the new recording star of Memphis whose record of "Cry Cry Cry" is popular in the MidSouth now; Bud Deckleman writer and performer of country ballads; Eddie Bond, new record artist; Floyd Cramer and Jimmy Day, star instrumentalists from the Louisiana Hayride; and Bob Neal, Memphis announcer. Admission will be 50 cents for children under 12 and $1 for others.

Clarksdale Press Register article - Sept. 8, 1955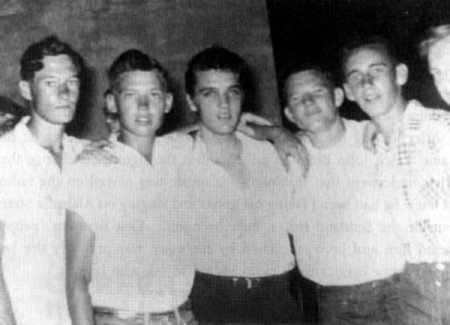 James A. Lindsey, Irby Hazzard, Elvis, Jim Blaylock, Robert Marks and William Harkins
from Merigold, MS at show in Clarksdale
Photo courtesy Memphis - Elvis Style by Mike Freeman and Cindy Hazen
On that day, Peter Guralnick reports that Bob Neal complains to the Colonel that Elvis' fee is too low and receives a scathing telegram in return. The Colonel informs Neal in no uncertain terms that he can either accept the older man's expertise or go his own way. It might be possible, he lectures Neal, to get $500 for certain scattered dates, but it is impossible to get this sum every night of a two--week tour. The Colonel is paying Elvis $250 in locations that he has already played and can be counted on to draw a crowd, and $175 for shows in new territory. "I would like to have a telegram from you immediately," the Colonel concludes, "which way do you want it to go: your way, the way Elvis wants it, or the way I have set it up? It is immaterial to me." 2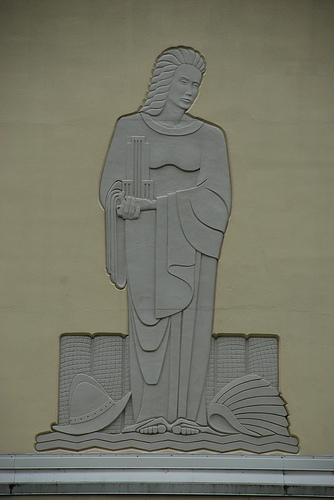 detail of bas relief of the Civic Auditorium
Photo courtesy E.L. Malvaney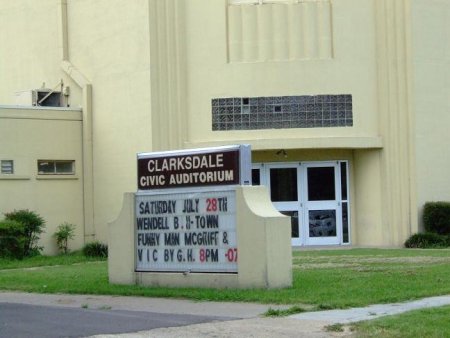 Civic Auditorium - July 28, 2007
Photo courtesy Peter K.
Through the summer of 1955, they would share many other dates with the Browns. Jimmy Work's "That's What Makes the Jukebox Play" became a number six single in the summer of 1955 and he too would share a few more with Elvis, Scotty and Bill. He continued playing dates, recording, and writing songs; occasionally he would experiment with new sounds, as with his rockabilly-style cover of "Rock Island Line," issued in the wake of English skiffle king Lonnie Donegan's hit version (which charted in America). Work wasn't a rockabilly player or a rock & roller, however, and the rise of the new music took away just enough of the impetus from country music in general that he eventually was forced to give up the music business. He sold real estate and cut some singles. By 1959, he returned to a job as a millwright though kept his hand in songwriting signing with the Acuff-Rose organization.7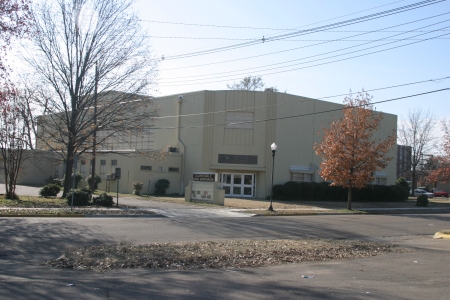 Clarksdale Civic Auditorium - Dec. 12, 2011
Photo © James V. Roy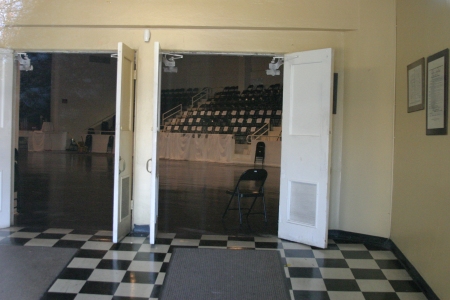 Clarksdale Civic Auditorium - Dec. 12, 2011
Photo © James V. Roy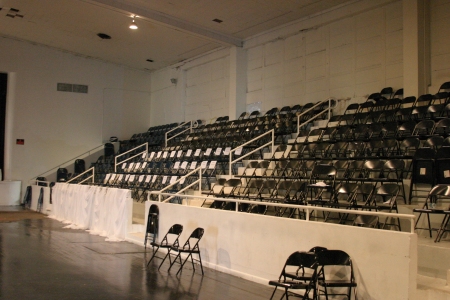 Clarksdale Civic Auditorium - Dec. 12, 2011
Photo © James V. Roy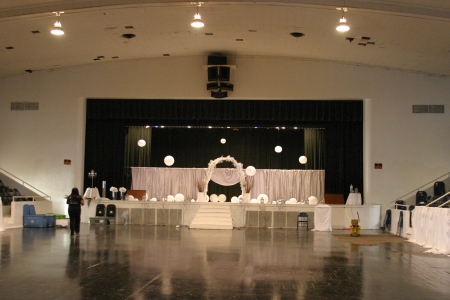 Clarksdale Civic Auditorium - Dec. 12, 2011
Photo © James V. Roy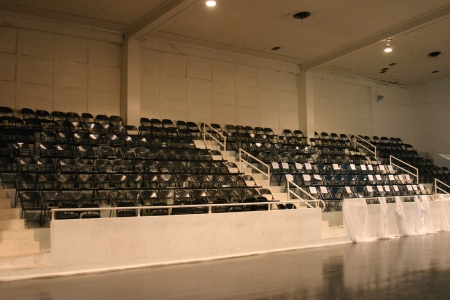 Clarksdale Civic Auditorium - Dec. 12, 2011
Photo © James V. Roy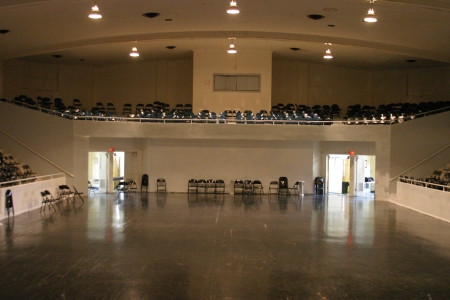 Clarksdale Civic Auditorium - Dec. 12, 2011
Photo © James V. Roy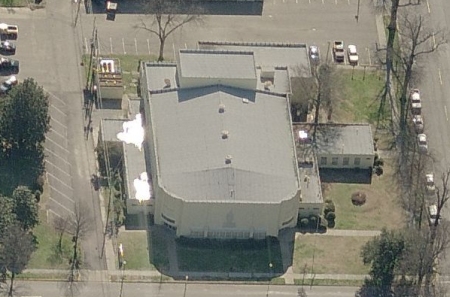 Aerial view of the Clarksdale Civic Auditorium - 2009
Photo © Microsoft EarthData
Today, the Civic Auditorium is still in use and Clarksdale is home to the Delta Blues Museum, built in the former train station.
page added September 15, 2009
updated Feb. 27, 2012

Special thanks James A. Lindsey of Merigold, MS for his input and to AEK's batcave for his clarification of the Robert/Tommy Johnson soul selling legend.
1 excerpt from "Early Elvis: The Sun Years" by Bill E. Burk
2 excerpt from "Elvis Day by Day" by Peter Guralnick and Ernst Jorgensen
3 according to "Maxine Brown Recalls Friend Elvis in New Book" by Edward Morris for CMT News - Aug. 12, 2005
4 according to Lee Cotten's "Did Elvis Sing in your Hometown?"
5 from the 1955 Country Scrapbook courtesy "The Jimmy Work Story"
6 according to Hillbilly Music.com
7 excerpts from biography by Bruce Eder courtesy All Music Guide
---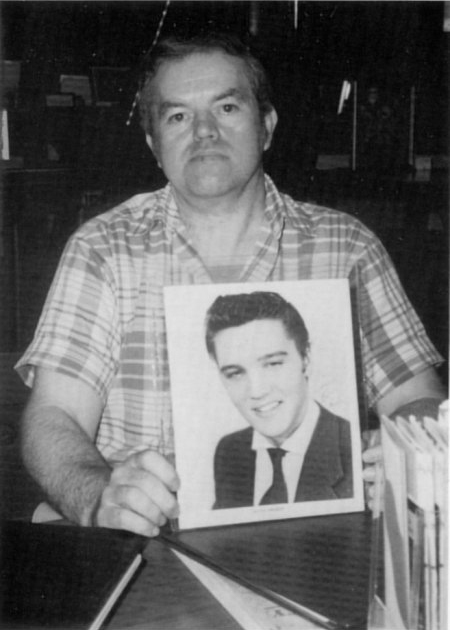 Bobby Moore (no relation to Scotty) holds an autographed
photo from Elvis he got in Clarksdale on January 12, 1955
Photo courtesy Bill E. Burk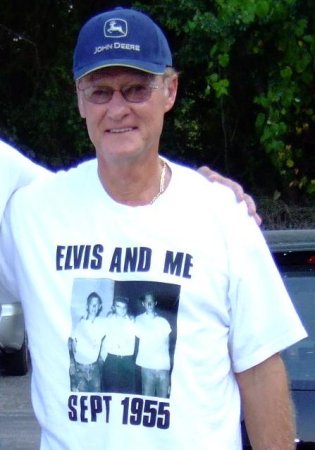 James A. Lindsey in Memphis - Aug. 15, 2007
Photo courtesy Peter K.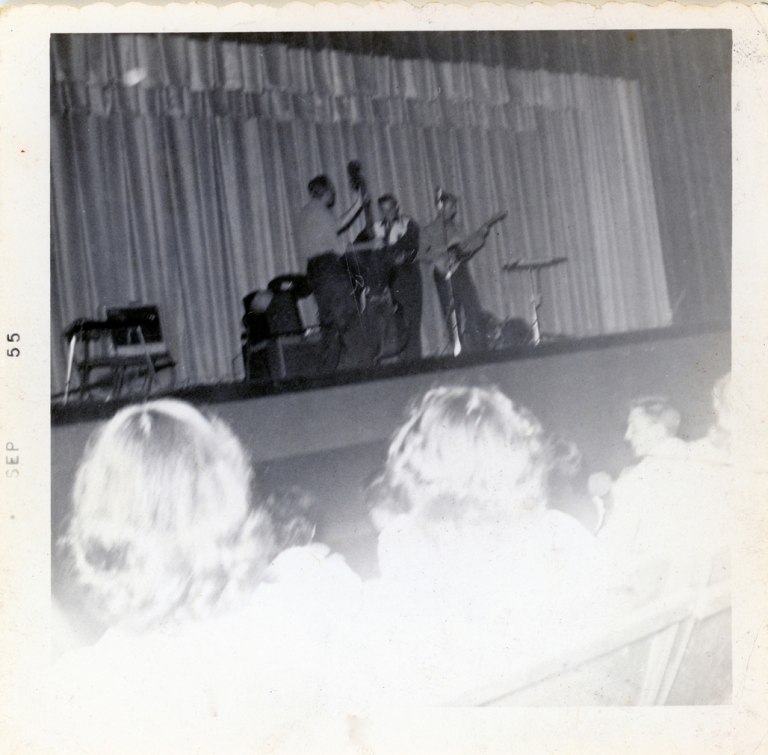 Johnny Cash and the Tennesse Two in Clarksdale - Sep. 8, 1955, added May 8, 2018
Photo by James A. Lindsey courtesy Erik Lorentzen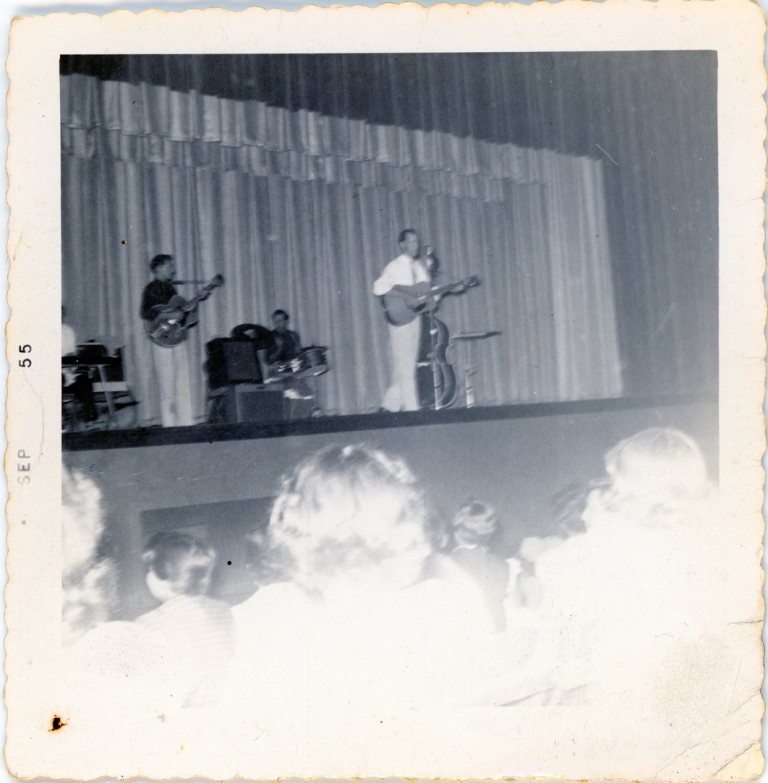 Bud Deckelman backed by Scotty, Bill and DJ in Clarksdale - Sep. 8, 1955, added May 8, 2018
Photo by James A. Lindsey courtesy Erik Lorentzen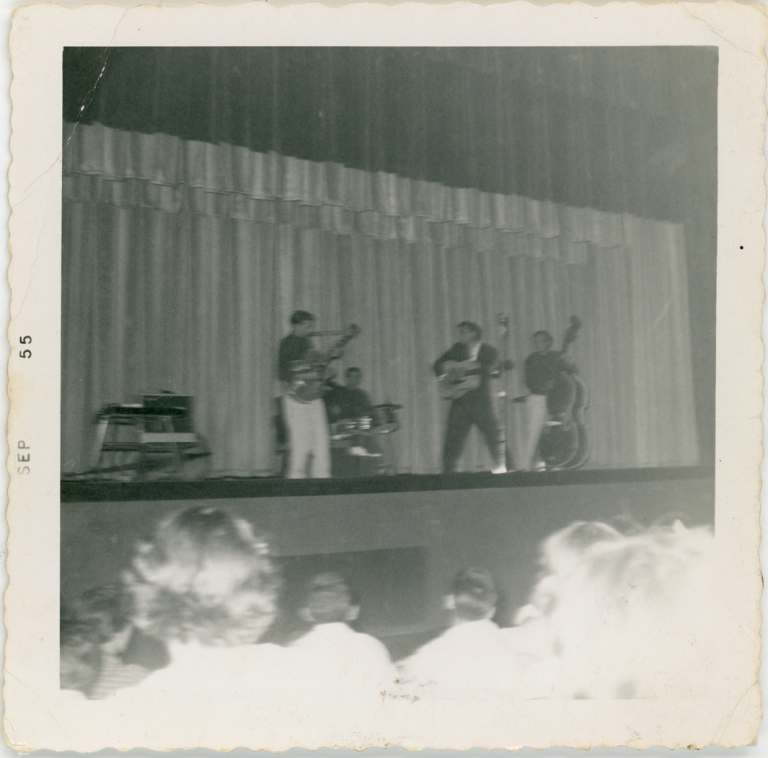 Elvis, Scotty, Bill and DJ in Clarksdale - Sep. 8, 1955, added May 8, 2018
Photo by James A. Lindsey courtesy Erik Lorentzen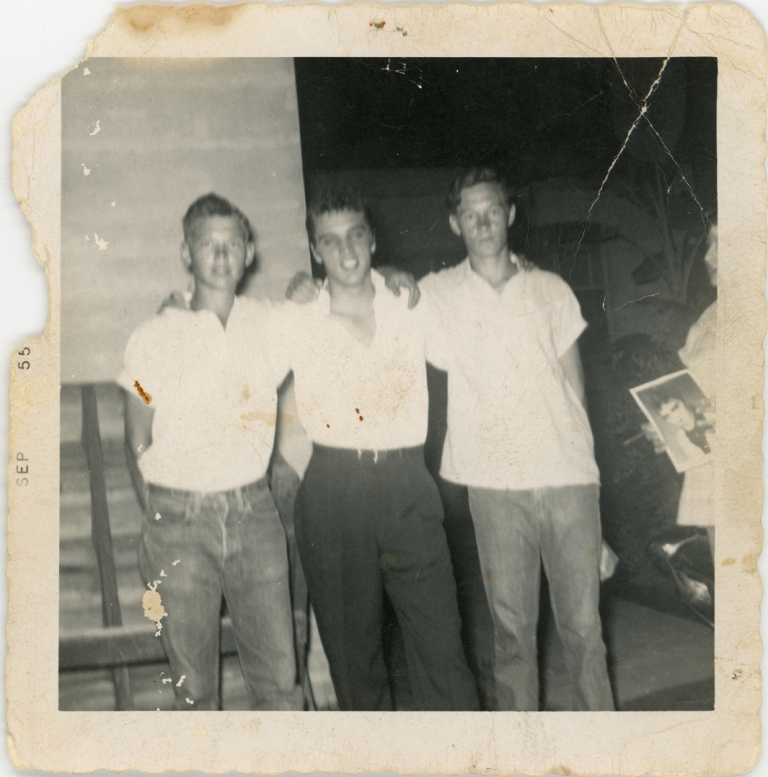 Irby Hazzard, Elvis and James A. Lindsey in Clarksdale - Sep. 8, 1955, added May 8, 2018
Photo by James A. Lindsey courtesy Erik Lorentzen