Tiger Stadium - David Crockett High School
Conroe, TX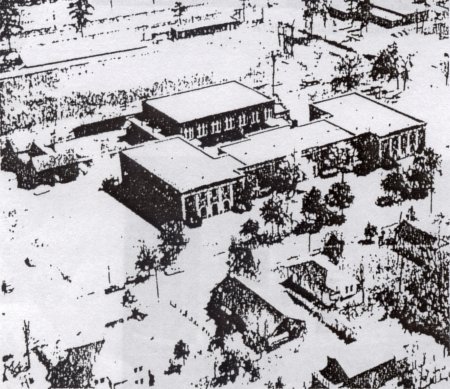 David Crockett High School and Tiger Stadium in Conroe, TX - c.1955
Photo courtesy Montgomery County Library Genealogy Dept.
On the Saturday night broadcast of the Louisiana Hayride, August 20, 1955, Horace Logan introduced Elvis for his segment of the show and in doing announced a weeklong tour in Texas of Hayride acts that would commence that Monday, on August 22nd, and Hayride artists Johnny Horton and Betty Amos, David Houston, Dalton and LuLu Jo, Sonny Trammel, Ray Gomer, Tillman Franks and Willie Birdbrain, the hillbilly comic in addition to Elvis, Scotty and Bill. By this time DJ had started playing regularly with the band, though would not go on the payroll officially until December. There were to be stops in Wichita Falls, Bryan, Conroe, Austin and Gonzales and Horace Logan would emcee each performance.

David Crockett High School in Conroe, TX - c.1955
Photo courtesy Sally Copley at the Heritage Museum of Montgomery County, TX
Less than a week earlier, on the 15th, Elvis had signed a one year contract with the Colonel to act as "special adviser" granting him exclusive territorial rights to book him in 47 cities and the exclusive right to negotiate any renewal to existing contracts on his behalf. 1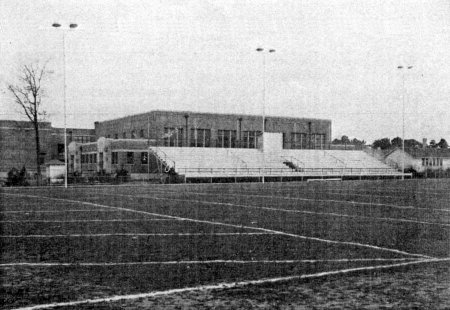 Tiger Stadium behind David Crockett High School in Conroe, TX - c.1955
Photo courtesy Montgomery County Library Genealogy Dept.
Conroe, Texas is located about 40 miles north of Houston. In 1955 David Crockett High School in Conroe was located at 1100 North Thompson Street. On August 24th, the Hayride show performed in Conroe at Tiger Stadium, located behind the high school and named after its football team.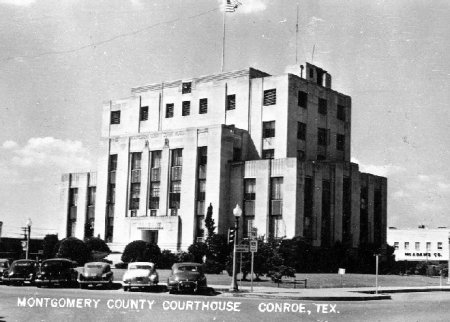 Montgomery County Courthouse, Conroe, TX - c.1940s
Photo courtesy Heritage Museum of Montgomery County, TX
According to Lee Cotten, Elvis arrived early in the day and had his pink Cadillac washed at a local service station. To promote the evening's show, several of the entertainers performed briefly on the courthouse steps in the afternoon.1 Actually, it was not uncommon for acts at the time to occasionally perform in the square across from the courthouse. The stage for the evening's show was constructed by parking two flat-bed trucks side-by-side in the middle of the football field.1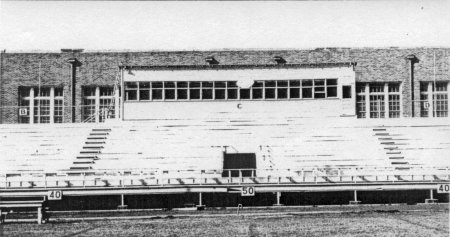 Bleachers at 50 yard line of Tiger Stadium in Conroe, TX - c.1955
Photo courtesy Montgomery County Library Genealogy Dept.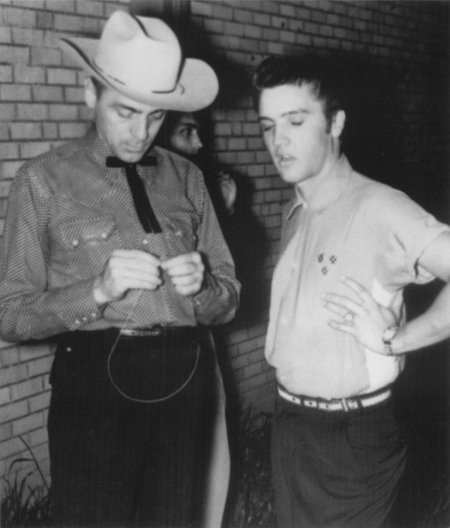 Horace Logan and Elvis in Gladewater, TX - April 30, 1955
Photo © courtesy of Louisiana Hayride Archives - J. Kent
According to Horace Logan, they had advertised the Conroe show the same afternoon on a radio station in Houston. It was a Wednesday night, not the best night of the week to draw a crowd, and we hoped our ads would help build up our attendance, Horace wrote. A couple of hours before curtain time, this guy showed up at the stadium and asked to talk to me. He was young and kind of skinny with a crew-cut, and he looked to me like he was still in his teens, although I found out later he was actually twenty-four years old and a Marine Corps veteran.2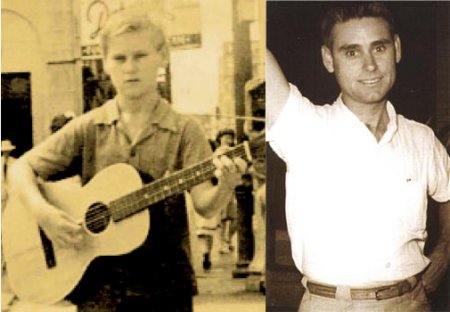 George Jones as a kid and at the Hayride
Photos courtesy web
George Jones was born in 1931 and at the age of twelve was singing with his guitar on the streets of Beaumont, Texas. He had experience as a radio performer and announcer in small stations around that area of south Texas and in 1954 recorded No Money in This Deal and You're in My Heart, for the Starday label.3 Horace wrote, I was vaguely familiar with the Starday label. I knew it was owned by H. W. "Pappy" Daily, and I knew Daily had been kicking around the music business for a long time. I didn't think he'd release a record by someone with no talent at all. He performed Why Baby Why, a song he and a friend had written and impressed Horace enough he let him open the show.2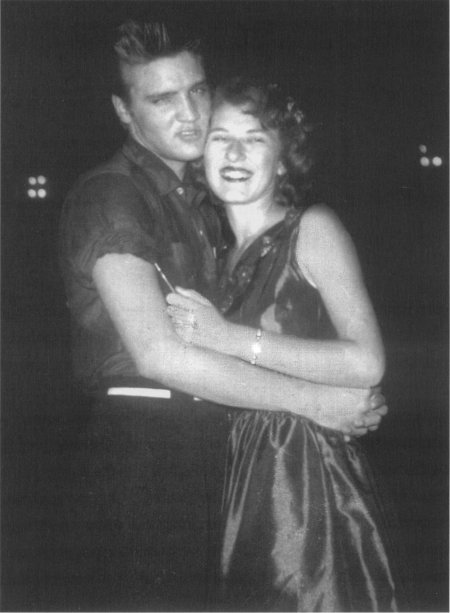 Elvis and Mary McCoy in Conroe, TX - Aug. 24, 1955
Photo © Mary McCoy Coker
Another opening act was sixteen-year-old Mary (McCoy) Coker of Conroe. At the age of three Mary would yodel in the middle of the room on her rocking chair for visiting neighbors and by six and seven-years-old would be singing for members at the Odd Fellows and Rebecca Lodge. She won her first talent contest at the age of eleven. Conroe's KMCO radio had began operation in April of 1951 and soon after, by age twelve, Mary had her own half hour daily show where she would play guitar and sing for the first 15 minutes and then worked as the deejay for the remainder.4
In 1955 while also appearing at the Big D Jamboree in Dallas, she returned to make an appearance on the Louisiana Hayride in Shreveport where she first met Elvis and shared the stage with him, Jim Reeves, The Browns and others. When they came to Conroe she was backed by Scotty and Bill.4 Earlier that day, prior to the show, she picked them up at their motel and took them to KCMO for an on-air interview.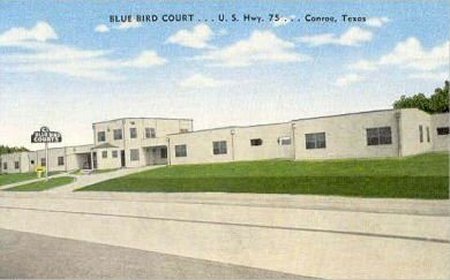 The Bluebird Courts in Conroe, TX
Postcard courtesy TexGenWeb Project
Elvis and his band stayed at the Bluebird Courts on North Frazier Street in Conroe, next to where the Subway Sandwich Shop stands today. That was the premier hotel in town in 1955, said McCoy. The night of the big show, several hundred screaming fans filled the football field at the school to watch Elvis make his grand entrance, circling the track in his pink and black Cadillac. As he leapt up the steps to the flatbed trailer which was set up as the stage, Elvis tripped, hitting his head.4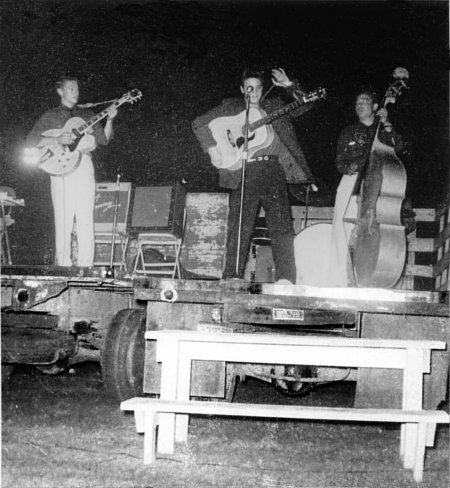 Scotty, Elvis, Bill and DJ on stage at Tiger Stadium - Aug. 24, 1955
Photo © Mary McCoy Coker
Horace wrote, we had quite a scare that night, as it turned out. He knocked himself out cold, and we had to delay the start of the show for about ten minutes until we could get him conscious again and make sure he wasn't seriously hurt. When he sat up and shook his head and said he was okay, I breathed a huge sigh of relief. 2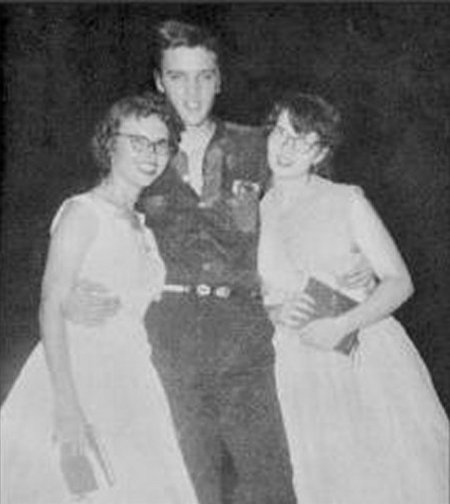 Elvis and fans in Conroe, TX - Aug. 24, 1955
Photo courtesy City of Conroe
I don't know how he performed that night with a huge goose egg on his forehead, but he didn't disappoint the fans," remembered McCoy. Elvis set the Conroe fans on fire.4 He likely performed the same set during this tour that he had done on the previous Shreveport show which consisted of, at least, Baby, Let's play House, Maybelline, and That's Allright, Mama, with possibly others like I'm left You're Right, She's Gone and Blue Moon of Kentucky.
Sally Copley, curator for the Heritage Museum of Montgomery County in Conroe, remembers being at the high school stadium that night. She was nine years old and was at the base of the steps when Elvis finished, walked down them, stumbled and almost fell.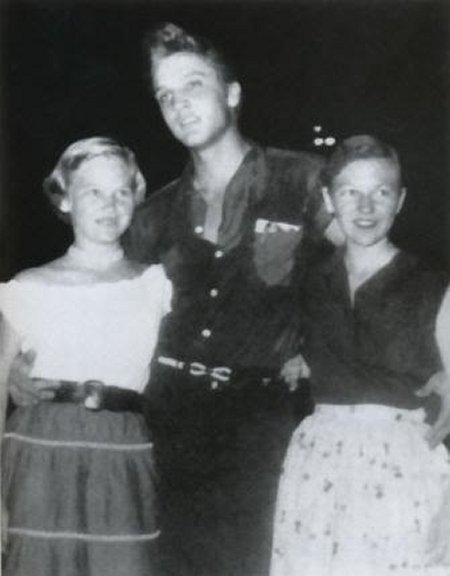 Barbara and Charlotte Dampier with Elvis - Aug. 24, 1955
Photo courtesy Suzanne Finstad's Child Bride
Two teenaged girls approached Elvis on a dare after the concert and asked to be photographed with him. Barbara (Dampier) LaCarter and Charlotte (Dampier) Spurlock still remember the photograph and concert. "It's a treasured personal memory," said LaCarter who still lives in Conroe. Afterward she approached Elvis and asked for the photo. "He was very agreeable," she said. "He was just super." 5

George Jones and Hayride performer James O' Gwynne - 1956
Photo courtesy Elvis, Hank and Me
Horace wrote, after the show that night, I offered him [Jones] a regular job right there on the bed of that truck. Jones joined as a regular performer soon after but only stayed with the Hayride for less than a year, when he returned to Beaumont to record his first hit, Why, Baby, Why, on Starday. He later received an invitation to the Opry in 1956 and then signed with Mercury Records and after a tumultuous career went on to fame in Country music.2
Mary McCoy only continued to play with the Louisiana Hayride for several more shows. She said her dreams were to sing, record and have her own deejay show. She stayed on at KMCO and in 1960 would make her first record Deep Elem Blues followed by others on the Jin label. In 1967 she signed with Gabe Tucker and recorded many singles and duets with Jimmy Copeland.4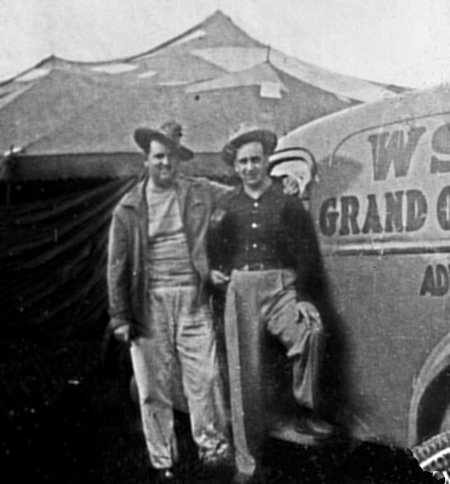 Colonel Parker and Gabe Tucker on the Grand Ol Opty tent show - ca. 1940s
Photo courtesy Ger J. Rijff
Gabe (Gaylord Bob Tucker) was borin in 1915 in Green County, KY. He was originally Eddie Arnold's bass player at the Grand Ol Opry and had known Colonel Parker since 1939. He had recorded for Dot records in Houston in the early 1950s and was also the music director and DJ of a Houston radio show. In 1955 and 56 he managed, among many others, Ernest Tubb, Justin Tubb, The Wilburn Bros and Bobby Helms. After leaving Houston radio in 1963 he returned to Parker's employ reputedly from 1964 until 1966.6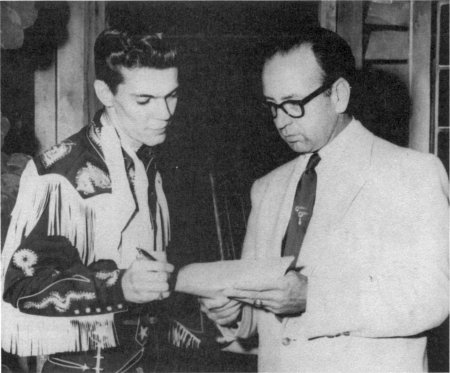 Justin Tubb and Gabe Tucker - c.1955
Photo courtesy Gabe Tucker's Up and Down with Elvis Presley
However, Gabe continued to work with the Colonel and Elvis and remained in the picture at least into the '70s. After Elvis' death he went to work for Eddy Arnold.7 Gabe died in Houston on January 25, 2003.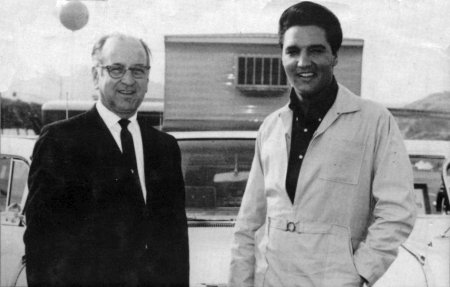 Gabe Tucker and Elvis, on the set of Spinout - 1966
Photo courtesy Gabe Tucker's Up and Down with Elvis Presley
An ailing mother and a young family which she treasures above all else, kept Mary McCoy in Conroe and she finally decided to break her music contract which would have kept her constantly on the road and away from home. She stayed in radio with KMCO and then its successor KIKR.4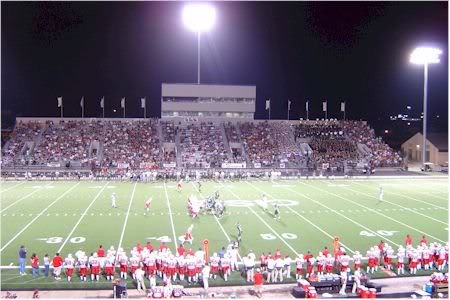 Conroe High School's new football stadium (Buddy Moorehead Stadium)
Photo courtesy Operation Sports
In 1964 a new high school was built in Conroe on Highway 105, and along with it a new football stadium. Sally Copley, by then in her junior year, moved to the new school named Conroe High School for the community it serves. Crockett High then became the William B. Travis Junior high.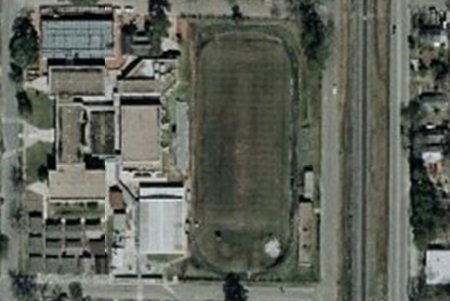 Aerial view of Travis Junior HS and former football field
Photo courtesy Google Streetmaps
One graduate of Travis junior high, John Wade, who was working at the country radio station KNRO in 1977, remembers "the AP wire service machine go 24 Bells" the day Elvis died. "The wire printer machine had a certain number of bells it would ring depending on the severity of the news it was printing," he said. I'd never heard that many bells, so I half sprinted to the machine to read the wire. Needless to say, I read it on air immediately. The news director drove 90mph to get to the station and started doing background stories. Oddly enough Mary was working for the radio station then and came to the station with her pictures (of the show in 1955) for the staff so we could share in the history of it all."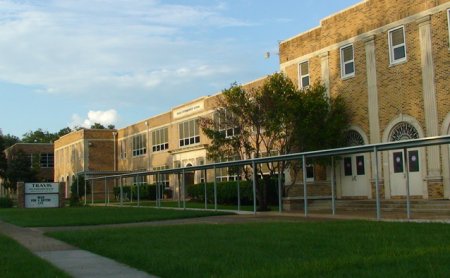 Travis Intermediate School, Conroe, TX - Sep. 2010
Photo © Rick Crofts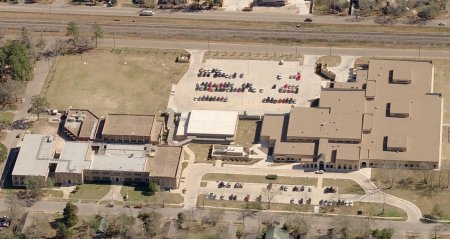 Aerial photo of Travis Intermediate School, field and Sam Houston elementary - 2009
Photos © Microsoft EarthData
Travis Junior High ultimately became the Travis Intermediate School. The Sam Houston elementary school was later added at 1000 North Street, next door to the Travis Intermediate School, and part of the former football field became a parking lot.

Installation of underground storm water retention/detention system - 2010
Photo © Joslin Construction
The remainder of the field has recently been dug up for the installation of a new underground storm water retention/detention system for the Travis Intermediate School and Sam Houston Elementary School. One of the largest of its kind in Texas it involved installing over 4,400 linear feet of 102" diameter corrugated meal pipe in over 15 feet deep of an area over an acre in size. When construction is complete the remainder of the former football field will be a playground.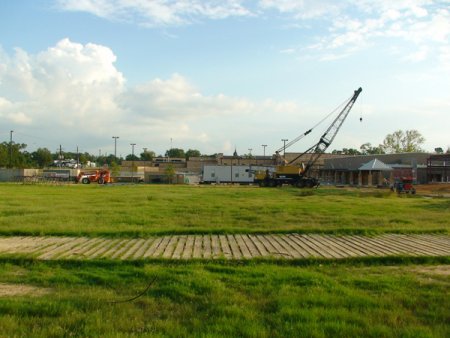 Rear of Travis intermediate school and remainder of field - Sep. 2010
Photo © Rick Crofts
Mary joined KVST (K-Star Country 103.7 FM) in 1990 in Conroe and today still has a daily show from 10-12 where she still goes by her maiden name. In a ceremony on November 14, 2010, Mary will be inducted into the Texas Radio Hall of Fame.

Mary McCoy Coker at K-Star Country - Conroe, TX
Photo courtesy K-Star Country
Of the many pictures from the show in 1955 she had, she has few left. She loaned them to someone and was sorry because they were never returned. However, she still has the picture of her with Elvis and one with Elvis, Scotty and Bill on the flatbed truck for a stage and is kind enough to share them. No one made the music like Scotty and Bill did for Elvis, she said, and also God has blessed me and made my dreams come true.
page added September 28, 2010
1 according to "Did Elvis Sing in your Hometown?" by Lee Cotten
2 "Elvis, Hank, and Me: Making Musical History on the Louisiana Hayride" by Horace Logan and Bill Sloan
3 "Louisiana hayride: radio and roots music along the red river" by Tracey E. W. Laird
4 "Local legend recalls Elvis' visit in '55" by Mike Hallaron, The Bulletin - July 28, 1996 Vol. 27 Issue 60
5 "Remembering the King" by Nicole Ponder, Conroe Courier - August 3, 1997
6 according to obituary for Gabe Tucker, Greensburg Record Herald, Feb. 12, 2003, p. 4A
7 according to Gabe Tucker and Marge Crumbaker, "Up and Down With Elvis Presley"

Special thanks to Barbara Franz and Pat Nichols of the Montgomery County Memorial Library System, Sally Copley and Margaret Melinder of the Heritage Museum of Montgomery County, Texas and John Wade, Rick Crofts and Mary McCoy for their assistance with this page.