Spudder Park
Wichita Falls, TX
Spudder Park baseball stadium in Wichita Falls, TX was built for their first semi-pro baseball team, the Spudders. They had four. The teams' name derives from an association with the oil industry, specifically, a person who prepares and operates a rig for drilling oil wells.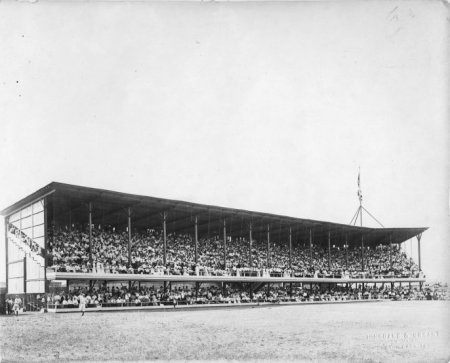 Spudder Baseball Stadium Grandstand in Wichita Falls
Photo by Hinsdale & Bryant courtesy The Portal To Texas History
The Wichita Falls Spudders ran from 1920-1932 and played in the Texas League as an affiliate of the St. Louis Browns. In 1927 they were the Texas League Champs. In 1932 they moved to Longview, Texas and became the Longview Cannibals . They moved to the Dixie League in 1933, the West Dixie League from 1934-1935 and finally the East Texas League from 1936-1939. They were affiliated with the Chicago White Sox from 1934-1939 and disbanded after the 1939 season.1


Wichita Falls Spudders - Texas League Champions 1927
Photo courtesy Heritage Auctions
A second Wichita Falls team, also called the Spudders, operated from 1941-1942 in the West Texas-New Mexico League as an affiliate of the Cincinnati Reds. After that a third Spudders team operated from 1947-1954 as part of the Big State League and then Longhorn League in 1954. This team was affiliated with the St. Louis Browns from 1938-1951, the Boston/Milwaukee Braves from 1952-1953 and the Washington Senators in 1954. They moved away and became the Sweetwater Spudders for the 1955 season.1
On August 22, 1955, Elvis, Scotty and Bill made their second appearance in Wichita Falls, this time accompanied by DJ on drums. They performed in Spudder park on the first night of a weeklong tour with Louisiana Hayride artists Johnny Horton and Betty Amos, David Houston, Dalton and LuLa Jo, Sonny Trammel, Ray Gomer, Tillman Franks and Willie Birdbrain, the hillbilly comic. The tour also had scheduled stops in Bryan, Conroe, Austin and Gonzales. Except for Austin, all the stops were outside in either football or baseball stadiums. Bryan was outside at the Saddle Club's arena.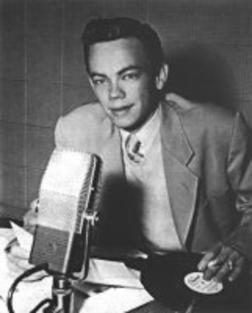 Bill Mack
Photo courtesy Last.fm
Horace Logan served as emcee on this tour and this specific performance also was booked by local KWFT deejay Bill Mack, who with his band opened the show. Ads showed that advance tickets were .25 cents for adults and children at Norsworthy Music Center and Kreutz House of Music and .50 cents at the gate. Lee Cotten wrote that in Spudder Park, a special stage had been constructed on second base by using a flat-bed truck. For the show Elvis wore a black shirt and pink trousers. In the audience, Bill Mack's mother felt that Elvis' mischief on stage was vulgar.2
Like his first appearance in Wichita Falls earlier that April, Elvis again had car troubles. According to Stanley Oberst, after the Spudder Park show Elvis accompanied Bill Mack and Little Joe Carson to the hospital to see the Bill's newborn daughter. Upon their return Elvis found the battery to his Cadillac dead. A push from a farmer's pickup truck got it going.3
The following year brought the final Spudders team to Wichita Falls. They operated from 1956-1957 in the Big State League as an affiliate of the Brooklyn Dodgers. They disbanded halfway through the 1957 season, the last year the Dodgers played in Brooklyn.1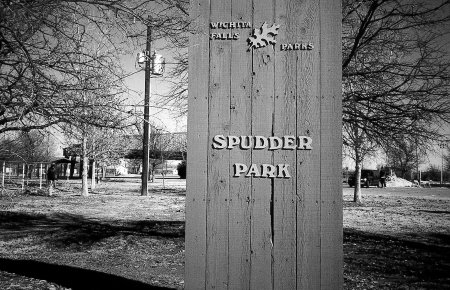 Sign at Spudder Park and sheltered picnic area in Wichita Falls
Photo courtesy Steve Bonner
Today Spudder Park is one of several parks maintained by the City's parks and recreation dept. The grandstands are long gone but the field is used by little leagues. The park also has a large shelter for public use that can accommodate 150 people with its 25 picnic tables. There is a half court basketball setup and there are also restrooms and a playground.4
page added March 19, 2011
Special thanks to Graham Tedesco-Blair and the Wichita Falls Public Library for their assistance with ads.
1 according to Wichita Falls Spudders courtesy Baseball-Reference.com
2 according to or excerpt from Did Elvis Sing in Your Hometown? by Lee Cotten
3 according to Elvis in Texas: The Undiscovered King 1954-1958, by Stanley Oberst
4 according to or excerpt from City of Wichita Falls, TX