EchoSonic Amplifier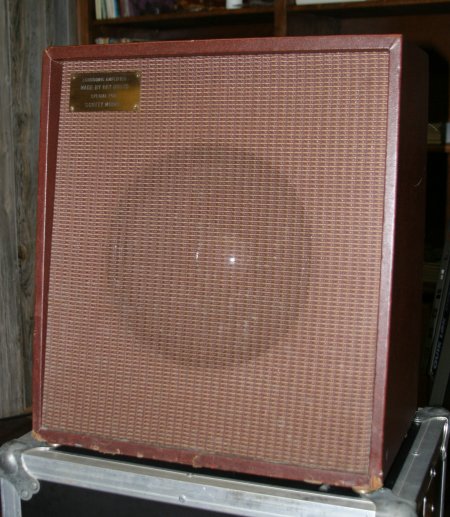 Scotty's EchoSonic (designed by Ray Butts)
Photo © James V. Roy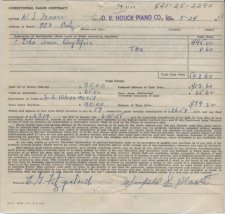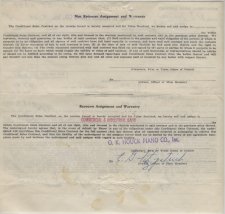 sales contract for Scotty's Echosonic dated May 24, 1955
Photo © James V. Roy
Scotty purchased the EchoSonic custom built by Ray Butts on May 24, 1955. It was ordered by him on January 20, 1955 and financed through the O.K. Houck Piano Co. in Memphis where they gave him $65.00 in trade for his 52 Fender Deluxe. It wholesaled to Houck's for $330.00 and retailed to Scotty for $495.00.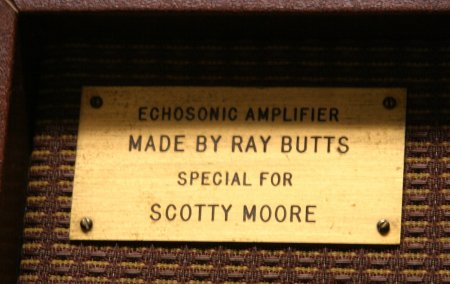 brass plaque added when cabinet replaced in 56
Photo © James V. Roy
The first recordings he used it on was when he recorded Mystery Train at Sun Studios in July of 1955 and used it on every subsequent recording and performance throughout his career with Elvis up through the 1968 NBC-TV Special. He used it still when he returned to performing but has since retired it for fear of damage in transit. The 25 watt amp featured a built-in tape delay system that allowed the ability recreate the signature slapback echo sound of the Sun recordings done in the studio. Scotty first heard Chet Atkins using one in a recording and after some investigation located Ray and bought one.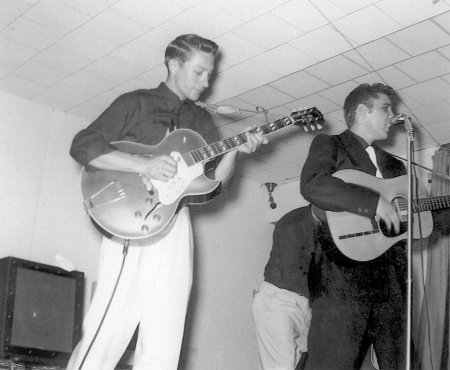 Scotty (with new Echosonic) American Legion Hall, Breckenridge, TX - June 10, 1955
Photo courtesy Steve Bonner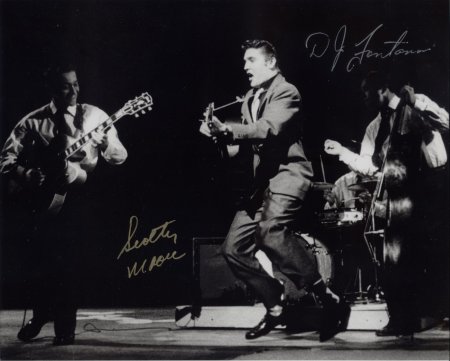 Scotty with Echosonic, Elvis, D.J. and Bill on the Dorsey Bros. Stageshow
Photo © Alfred Wertheimer
Scotty said, "I don't remember the name of the record, but I heard one of Chet's instrumentals on the radio. His guitar had the same slap, but it was a little bit different to what I was use to hearing Sam do with us. I said, "Damn. How is he doing that?" So I checked around and someone told me that he got a new amp that someone had built for him. So I kept digging and finally I got the guy's name who built it and called him. His name was Ray Butts. He lived in Cairo, Illinois. He played accordion in a little band. he was an electronic genius. He had built this amp for a guitar player he worked with on weekends (Bill Gwaltney), just experimenting and trying it out. It sounded good so he brought, I guess, that one to Nashville and showed it to Chet and he liked it and bought one. I believe mine was the third one."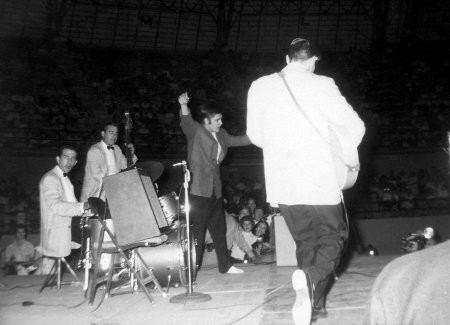 DJ, Bill, Elvis and Scotty onstage at Bexar County Coliseum - Oct 14, 1956
Photo by Sherry Davis courtesy Steve Bonner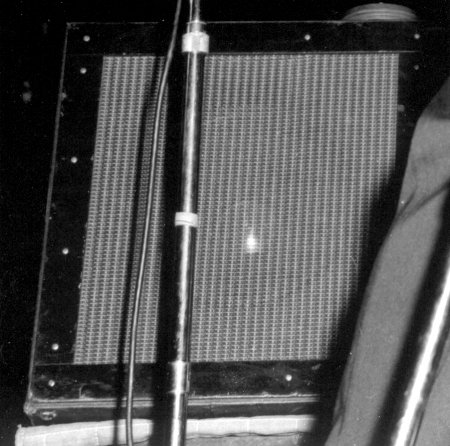 Original cabinet
Photo courtesy Steve Bonner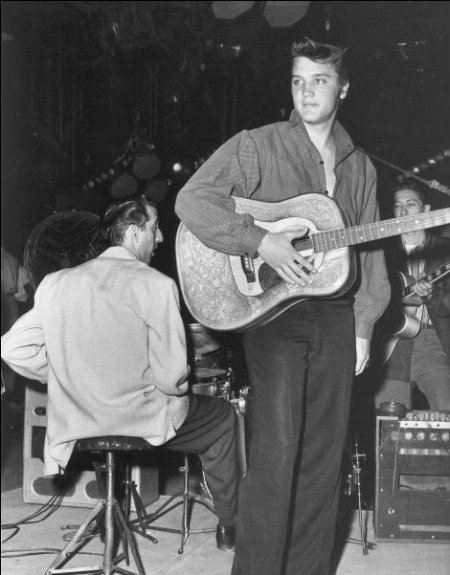 Original cabinet in 1956 with original rear panel
Photo courtesy Lance Stark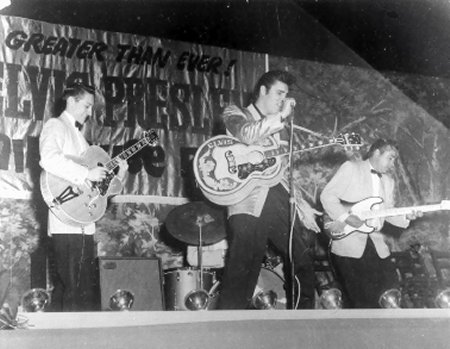 Scotty, D.J., Elvis and Bill onstage in Seattle 1957 (new cabinet)
Photo courtesy Steve Bonner
Scotty's original cabinet to the amp was damaged during a gig and early pictures of it look different than later ones. The cabinet design and rear panel for these amps were modified by Ray overtime. Ray recalled "The first ones I made, the grill cloth was flush with the front of the amp. He was playing a show with Elvis in Buffalo, New York and it somehow got knocked off the stage about six feet to the floor. He brought it back all banged up for me to repair and I decided the grill cloth should be recessed about an inch, so I redesigned the cabinet." (Ray's recollection may be a little off on this. The last time Scotty is pictured performing with the original cabinet is in December of 56. By the Ed Sullivan show in early January of 1957 he was using the amp in its new cabinet).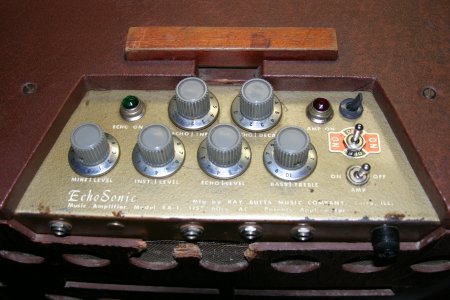 The knob labels read: (top two) "Echo | Input", " Echo | Decay"
(bottom four) " Mike | Level", " Inst. | Level", " Echo | Level", " Bass | Treble"
Photo © James V. Roy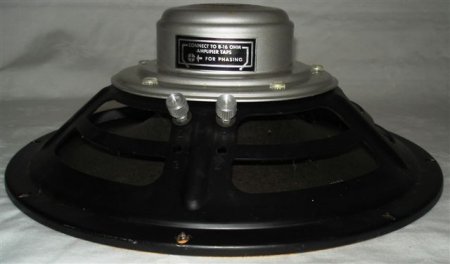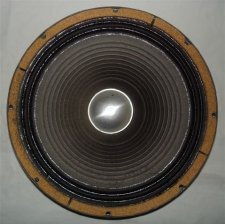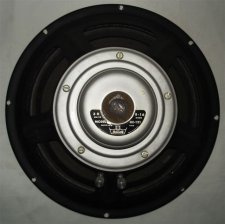 12" University UC -121 speaker like the one in Scotty's
Photo courtesy Peter Dijkema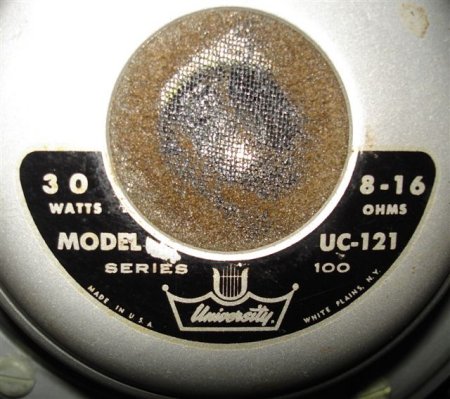 12" University UC -121 speaker label
Photo courtesy Peter Dijkema
There were only about 68 of these amplifiers ever made and they were all handmade one at a time. In addition to Scotty and Chet Atkins, some of the other professional notable performers to own one of these amps were Carl Perkins, Roy Orbison and Luther Perkins. Scotty's however was unique in that due to the ever increasing size of the audiences that he and Elvis were performing for, the initial 25 watts of output soon proved inefficient. He then had Ray design two additional 50 watt booster cabinets to be used in conjunction with the main amp serving as a pre-amp bringing the total to 125 watts.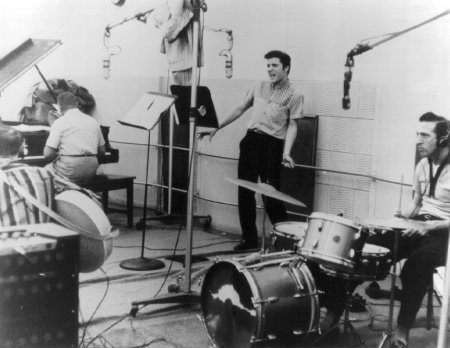 Scotty, Dudley Brooks, Elvis and D.J. in the studio with the EchoSonic
Jailhouse Rock Sessions at Radio Recorders, Hollywood, CA May 1957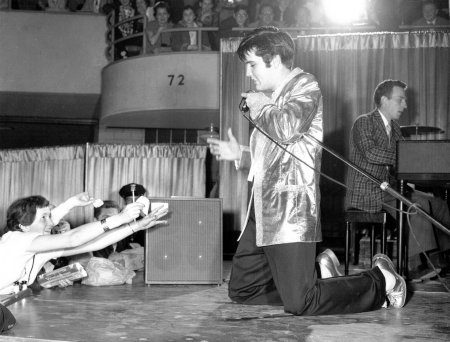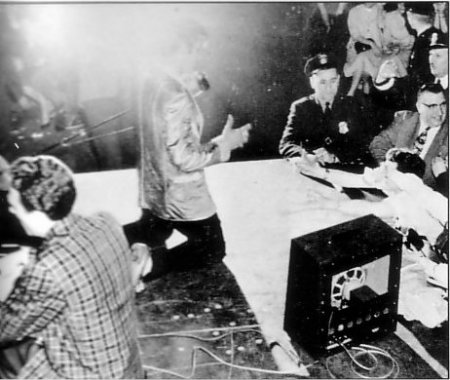 front and rear view of 50 watt booster cabinets in Buffalo, NY Apr. 1, 1957
Photo © courtesy Robert L. Smith, bottom Photo courtesy Lance Stark
Scotty said, "I had the first high power system onstage. This little amp is only 25 watts and as the crowds got bigger, well you couldn't hear it. So Ray built me two 50-watt boosters with four 8-inch Lansing speakers in each one. Then I could set one on each end of the stage and crank them wide open and use the main amp as like a pre-amp. So I had a whole 125 watts, and you still couldn't hear it (laughs)."
While Elvis was in the Army and Scotty began working with Fernwood records, he broke up the extension cabinets to use them as studio monitors.

The rear of the EchoSonic
Photo © James V. Roy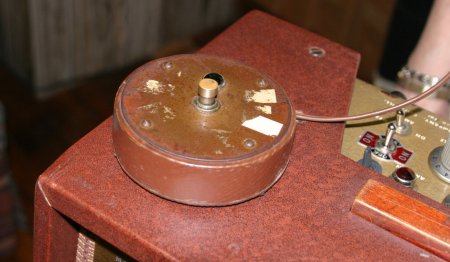 foot switch
Photo © James V. Roy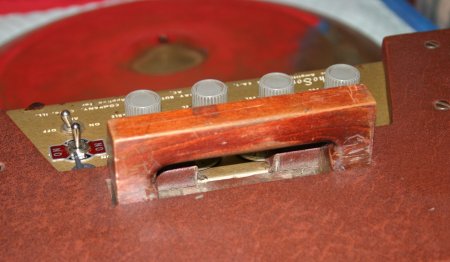 wood handle
Photo © James V. Roy
In the early days of performing the guys were dependent on a PA being supplied by the venue and on more than one occasion it became necessary for them to also plug a microphone into the Echosonic so that Elvis could sing. The amp originally had two inputs, one for a microphone (1st on left) and the other for and instrument (2nd on left). Two outputs to the right of side of the rear of the chassis were added for the external booster speaker cabinets. The amplifier is 18" wide, 20" high, 9.5" deep at the top and 11.5" deep at the bottom. It has a 12" University UC 121 speaker and powered by two 6L6, a 5e4 rectifier, several 12a7 and 12ax7 tubes.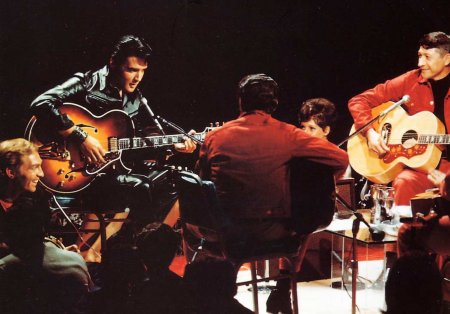 Elvis and Scotty with the Echosonic at NBC-TV special Burbank, CA - June 27, 1968
Photo courtesy Doug Ferich

Scotty Moore in the UK in 1992 with the Echosonic
Photo by Roy Barker © courtesy Guitarist magazine
In the early 90's Scotty had Ray install an on-off-on polarity switch. He retired the amp for fear of losing it after it was nearly damaged by the airlines while transporting it on a tour. He kept it until June of 2008 when it was sold privately. He had another that he picked up several years ago from Paul Yandell but it was never used on an Elvis recording or performance. By the end of the year Scotty sold that also, to Deke Dickerson.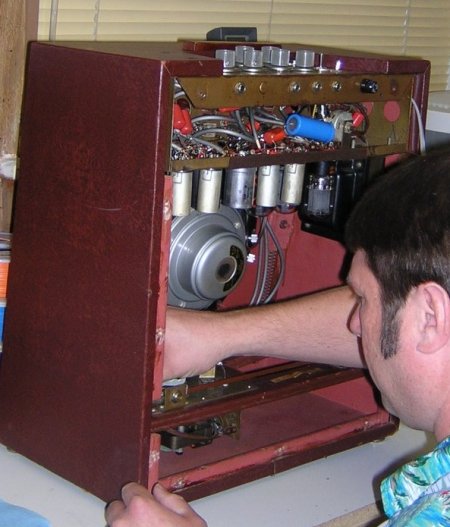 Bob Burris of Burris Amps checking out Scotty's Echosonic
Photo courtesy Burris Amps
originally added 2002

---
The original Echosonic cabinet that was replaced for Scotty by Ray in 1957 was to be auctioned by the surviving members of Ray's family on eBay on March 6, 2007 but the amp did not sell.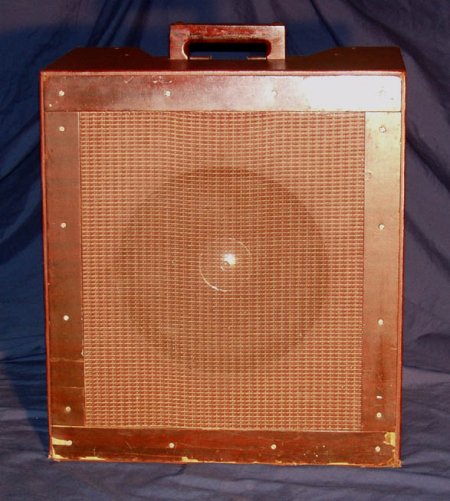 front of Scotty's original cabinet
Photo © courtesy James House

front of Scotty's original cabinet
Photo © courtesy James House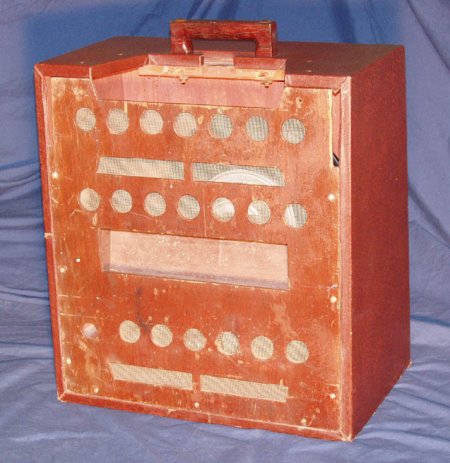 rear cabinet
Photo © courtesy James House

rear open with 12" University UC -121 speaker
Photo © courtesy James House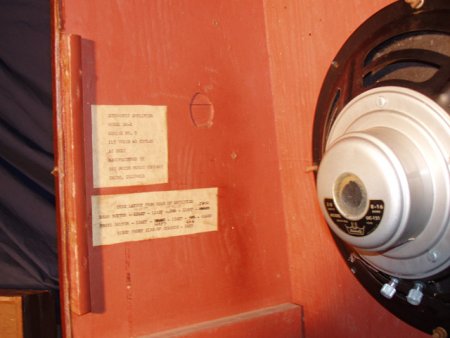 inside labels
Photo © courtesy James House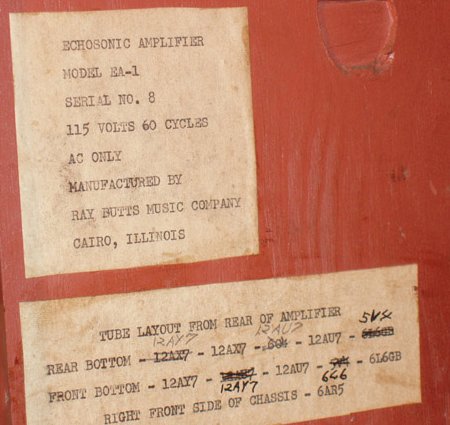 labels
Photo © courtesy James House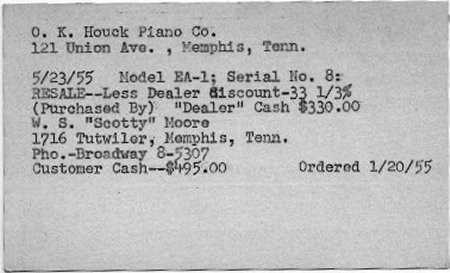 Original order card from O.K. Houcks
Photo © courtesy James House
The March auction failed to meet the reserve price so it was decided that there was more interest in a complete amplifier. Another prototype was located, this one intended to be made for/by Gretsch but never put in production. The components were swapped out and into the original Echosonic cabinet and offered as a package on eBay in October of 2007. It again failed to attract buyer so the amp will now be sold privately.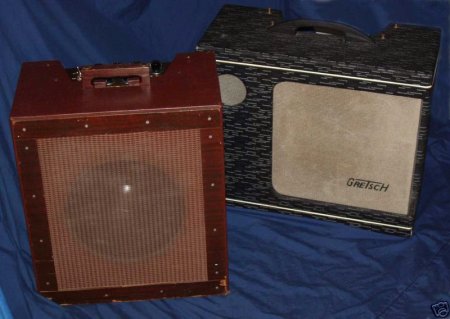 Photo © courtesy James House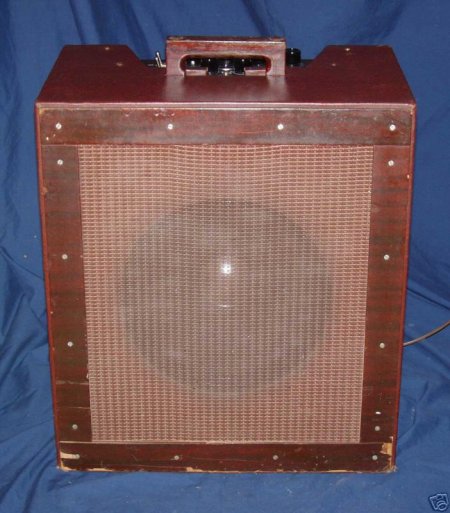 Photo © courtesy James House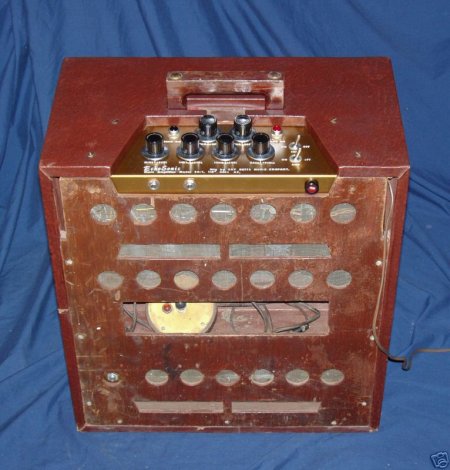 Photo © courtesy James House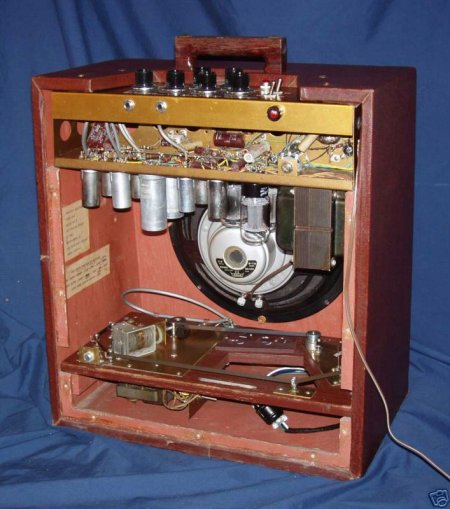 Photo © courtesy James House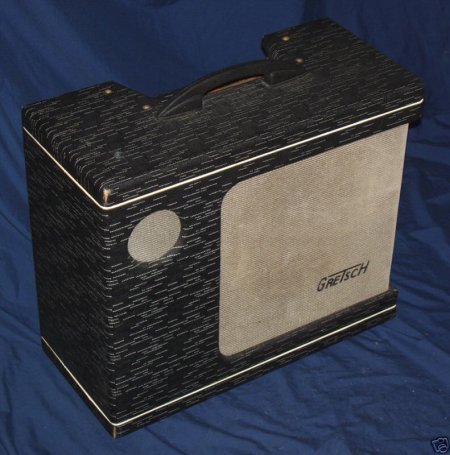 Photo © courtesy James House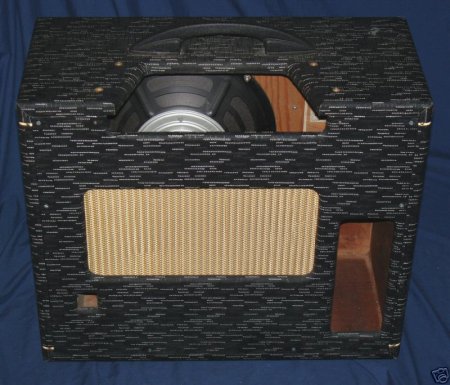 Photo © courtesy James House