From The Cotton Bowl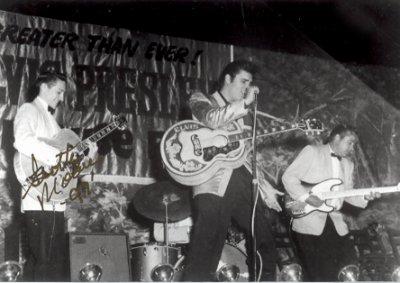 Scotty, D.J., Elvis and Bill onstage in 1957 autographed by Scotty for Steve
Photo© courtesy Steve Bonner
My name is Steve Bonner. For years I have had a hobby of researching and collecting photos and records of my favorite artists. I talked to Scotty one time which was at a guitar show here in Dallas in 1997. I had him sign a photo of him on stage in 1957 that he really liked because you could see his amp so well. I told him the last time I had seen him was when he played in the Cotton Bowl in October 1956. Scotty remembered that gig well and told me that at that time that was the largest crowd they had played to. There were 32,000 present in the Cotton Bowl.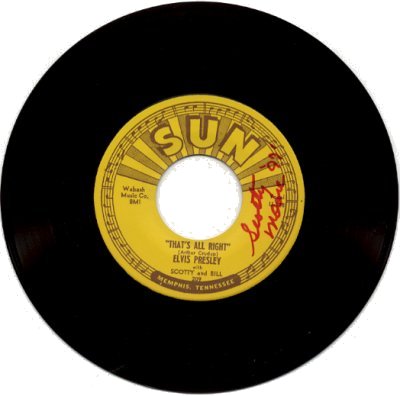 One of the records autographed by Scotty for Steve
I also had Scotty sign reproductions of all five of Elvis' 45 Sun records. Scotty may have thought they were real but made no big deal about it. A record dealer from Memphis was set up next to Scotty. The dealer saw me getting Scotty to sign the records and thought they were real as his mouth fell wide open. I never told the dealer any different. Five real ones in the mint condition my reproductions were in would be worth thousands of dollars.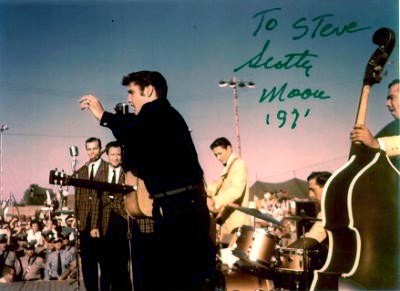 Jordanaires, Elvis, Scotty, D.J. and Bill
Mississippi-Alabama Fair and Dairy Show, Tupelo Fairgrounds September 26, 1956
Steve Bonner
Dallas, TX
July 03, 2003