Elvis' 1960s Fender Precision Bass
(seen in Spinout)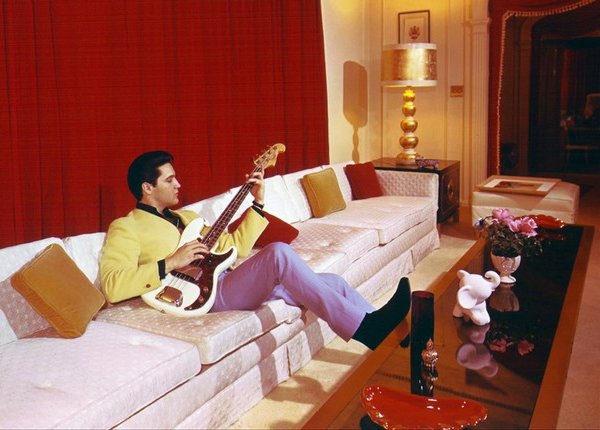 Elvis at Graceland with '60s Olympic white Fender P Bass in 1965
Photo by Charles Nicholas © The Commercial Appeal
In March of 1965 the Memphis Commercial Appeal published several photos taken of Elvis at home in Graceland. Among them were a couple of him pictured playing an early to mid 1960s Olympic white Fender Precision Bass guitar. He had been pictured briefly using a 60s Fender Precision Bass in the release of MGM's Girl Happy that same year.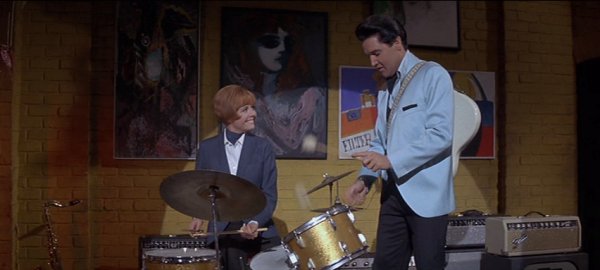 Elvis with P Bass slung in Spinout - 1966
Screen capture © Warner Bros. Entertainment Inc.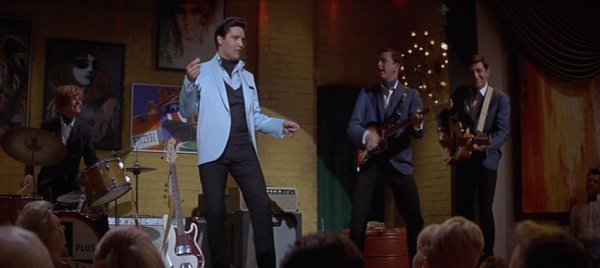 Elvis with P Bass on stand in Spinout - 1966
Screen capture © Warner Bros. Entertainment Inc.
The bass apparently made its way with him him to the West Coast, though its not clear if it was the bass reputedly played by Elvis when the Beatles visited with him in 1965. It can briefly be seen with Elvis the following year in the MGM movie Spinout during the performance of his second song. Though not actually played, it is slung around his neck and then pictured on the stand behind him.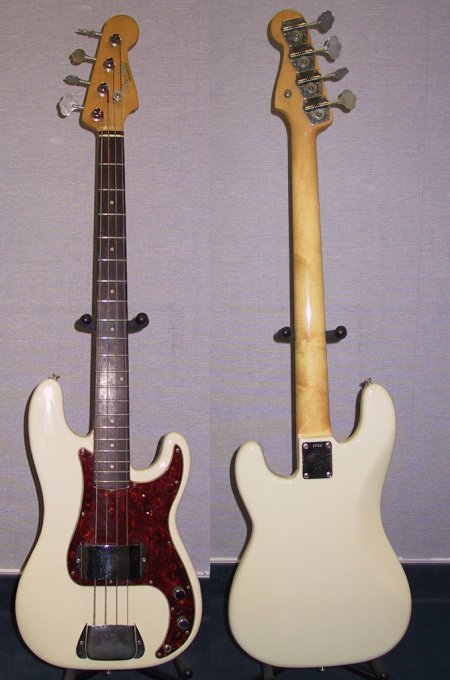 John Entwistle's 1962 Olympic white Fender P-Bass
Photo courtesy WhoCollection.com
Leo Fender (Fender Musical Instruments) introduced the Precision Bass (P-Bass) in 1951. It was fashioned along the lines of Fender's Telecaster. It was the first commercially successful solid body electric bass guitar with frets that allowed precise (hence Precision) notation and was rapidly adopted as the standard in almost all music fields. Bill Black also began using one in 1957.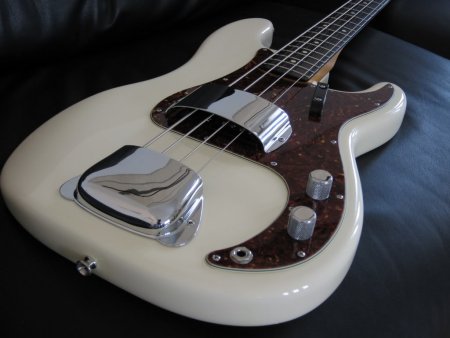 1962 Fender Reissue P-bass in Olympic white
Photo courtesy Talkbass.com
The basses initially featured a slab asymmetrical double cutaway ash body, black flat pole single coil pickup, a black fiber pickguard clear coated with lacquer and a one piece maple neck with a 34" scale length. In 1954 the body received a slightly more contoured design, white pickguard and staggered pole pickup like the Stratocaster. By 1957 a split double-rectangular pickup replaced the single coil and a wider, Strat-style headstock replaced the Tele-style headstock. Custom colors became available and by mid 1959 a rosewood fretboard and tortoise pickguard were introduced (initially celluloid and then 3-ply plastic).*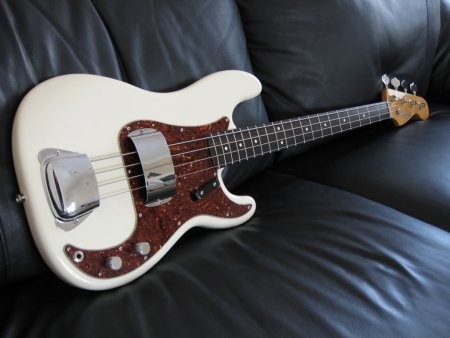 1962 Fender Reissue P Bass in Olympic white
Photo courtesy Talkbass.com
Though Fender has continued to manufacture evolved versions of its P Bass and J (Jazz) Bass since their introduction, in the mid 1980s they introduced several reissues with vintage features of some of their favored line which includes the USA made 1962 Vintage Reissue Precision Bass.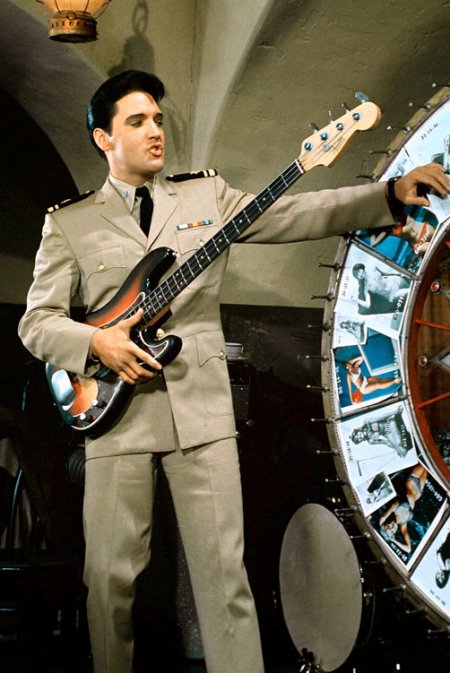 Elvis with a '60s P Bass in Easy Come, Easy Go - 1967
Photo courtesy Alamy Images
Though not one of his, Elvis is again seen briefly using a sunburst 1960s Fender P Bass in the beginning of his next movie, Easy Come, Easy Go, before switching to a Gibson SG for the remainder of the film.

Scotty and Patsy Anderson at Elvis Presley's Memphis (Elvis' P Bass behind them)
Photo by Gail Pollock
Though the nickel bridge and pickup covers no longer adorn the guitar, Elvis' P Bass, like his 72 J Bass and many of his other guitars are still part of the collection at Graceland. Until its closing in 2003 it had been on display at Elvis Presley's Memphis restaurant on Beale Street. It is not currently on display.
This page added August 15, 2010 is part of the sections The Guitars of Spinout and The Movie Guitars of Elvis Presley.
*courtesy Vintage Guitar Info
FENDER®, STRATOCASTER®, STRAT®, TELECASTER®, TELE®, P BASS®, PRECISION BASS®, and the distinctive headstock designs of these guitars are registered trademarks of Fender Musical Instruments Corporation.